Desks can be used for many purposes, including school or home office work. Although there are different sizes, the standard desk is 60 inches tall. These desks are usually located in a room designated as the home office. And every home office needs a good quality 60-inch desk for the most efficient work surface.
Furniture items for the home, of all kinds, should provide comfort and functionality. The 60-inch desk is one of the best choices because it provides the appropriate height for most adults. The tabletop surface, at this level, is great for desktops and other devices.
So, which is the best 60-inch desk? Well, that's what we'll be covering in this guide as we delve in detail into some of the best options that are currently available on the market today.
If you're in a hurry, here's a snapshot of our top picks:
At a Glance: 7 Best 60-Inch Desk Options
| | | | | |
| --- | --- | --- | --- | --- |
| Best 60-inch desk | Best used for | Materials | Dimensions | More info |
| FOLUBAN Rustic Industrial | Simple home office | Metal and engineered wood | 60 x 25.2 x 29.5 | Find out more |
| SIMPLIHOME Ralston | Large quantity of home office work | Solid wood and metal | 60 x 26 x 33 | Find out more |
| Turgeon Desk and Raised Glass | Online work or home office | Metal and glass | 60 x 24 x 30 | Find out more |
| Fully Jarvis Standing Adjustable | Busy home workers. Good for standing work. | Metal and bamboo | 60 x 27 x 30 – 49 (adjustable) | Find out more |
| Tribesigns Large Desk with Shelves | Multiple users, storage, and work | Metal and engineered wood | 64 x 23.6 x 59 | Find out more |
| Sauder Shoal Creek | Writing, home office, and school work | Engineered wood | 65.12 x 29.29 x 30.55 | Find out more |
| Linea Italia | Simple home office | Metal and wood | 60 x 24 x 30 | Find out more |
Selection Criteria
A thorough examination of criteria produces the best overall selection of the home office desk. For a 60-inch desk, function and stability are considered heavily when making a final choice.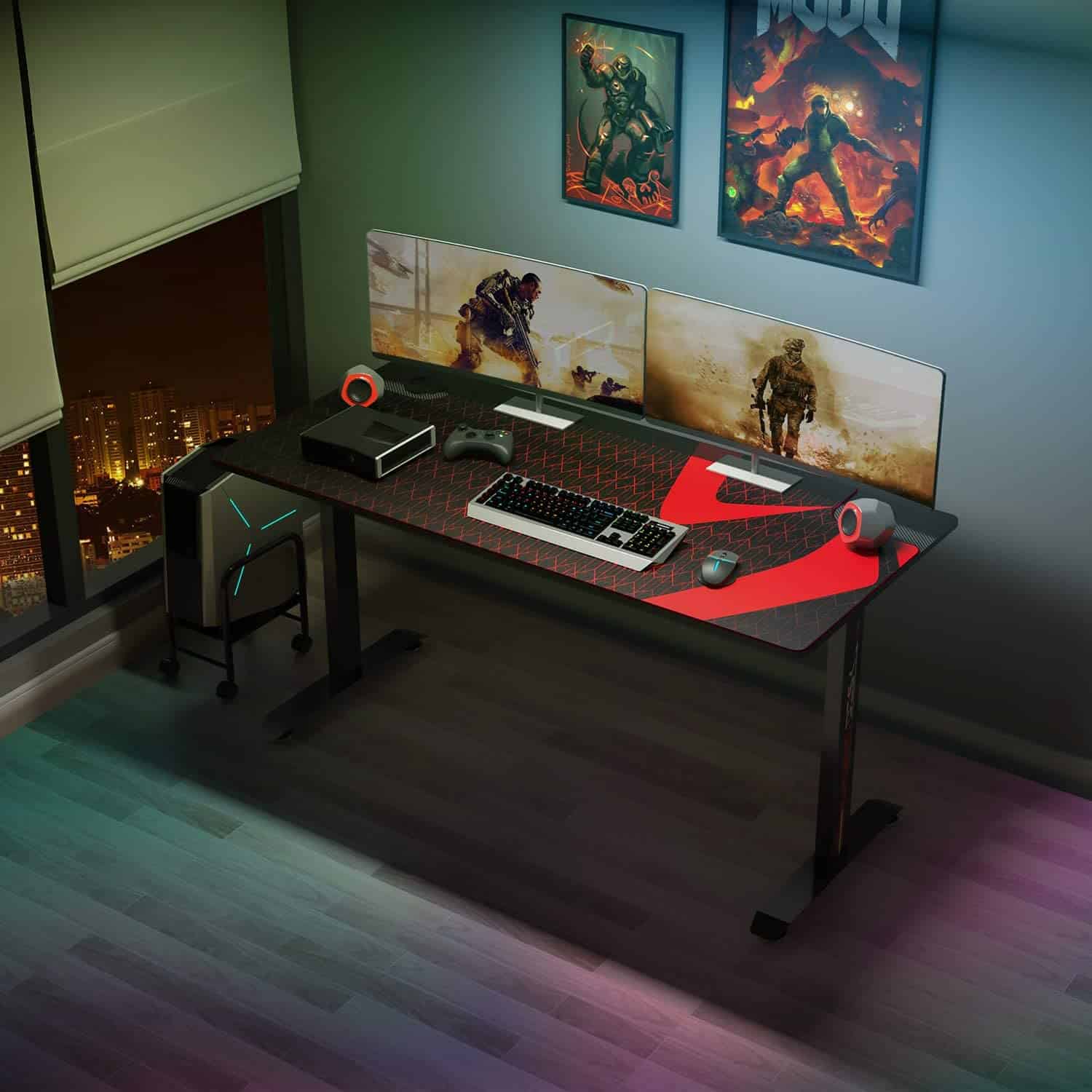 Style
The best 60-inch desk can have any style that fits your décor. Whether it's traditional or modern, it doesn't hold as much weight as the desk's function. However, with the modern desk, you're sure to find more additional aspects that enhance the office desk, such as shelves and drawers, as they fit the modern style.
Types of materials
The product works well for a home office as long as the desk is long-lasting, metal and wood, or engineered wood. Shelves constructed of metal hold heavy objects without warping and are usually easy to clean. An engineered wood tabletop works well also when it has a water-proof finish.
Function/Extras
The best 60-inch desk not only functions well as a sturdy tabletop but also has several extra amenities. Bookshelves, drawers, and tilting tabletop provide ease for the workstation. If you need a book, it's right at your fingertips. Slide out a front drawer, and you have a keyboard. An additional shelving unit below can house your computer tower. With extras, the desk functions full-time.
Types of 60-inch desks
There isn't just one type of 60-inch desk. These pieces can be made from several different materials and in various styles. Some include storage space, while others are only straightforward designs with a simple tabletop for work. Various types of desks fit your individual needs.
Materials
Wood
Metal
Engineered Wood
Glass
Styles
Not all desks are the same. Among the different sizes, there are also various styles to fit each preference according to its usage. In this guide, you will find several styles of 60-inch desks to choose from.
Modern
The modern style desk is often simplistic yet highly functional. It pairs well with any décor as long as it's presented in a neutral color. In addition, most modern styles are constructed of metal and engineered wood, making pieces affordable and lightweight.
Traditional
A traditional desk includes the executive version, which usually includes drawers and a wide tabletop. Some of the more traditional desks are made from solid wood and can be quite heavy but durable. They can include smaller desks as well with only tabletop and legs.
Industrial
The industrial desk is constructed mostly of wood, engineered wood, or glass. The frame is almost always constructed of metal, including heavy metals such as steel. They are built to be used in the traditional workspace or the home office. Some Industrial style desks have storage areas, and some do not.
Vintage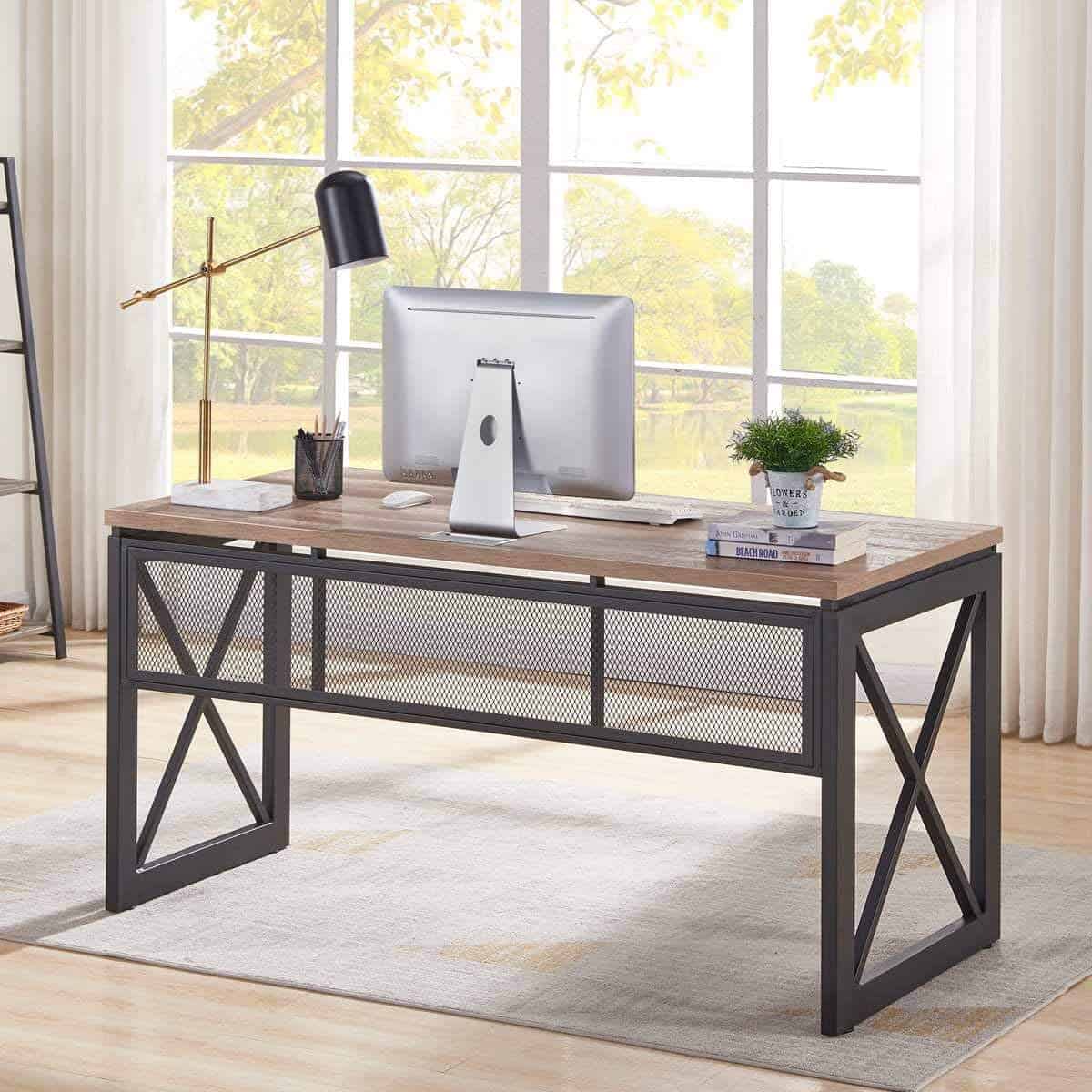 The Vintage desk is usually constructed in solid wood, sometimes with drawer storage and a back panel. The surface can be crafted in a variety of colors, most commonly a dark wood finish.
Contemporary
Contemporary styles are more artistic than modern ones but still constructed in the same basic framework. Some designs are wildly different, while others are only a bit varied with adjustable parts and artistic storage units.
7 Best 60-Inch Desk Options
1. FOLUBAN Rustic Industrial Home Office Desk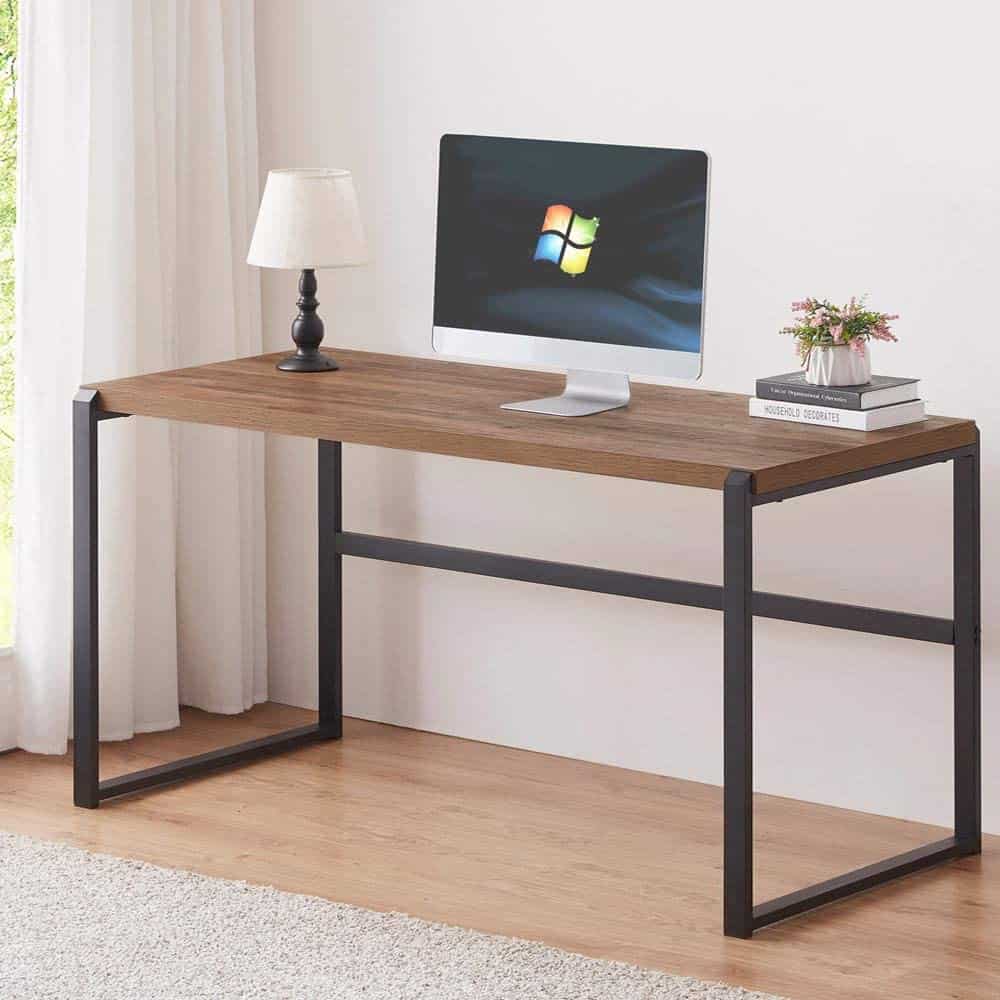 If you need a simple and sturdy desk, this rustic/industrial piece fits the qualifications. The desk can withstand an unbelievable amount of weight for such a narrow table space with a metal frame. In addition, this desk, found on Amazon, works well with a desktop computer and other devices when completing simultaneous projects at once.
The smooth tabletop is made from engineered wood but has a striking resemblance to real hardwood. The desk is crafted to resemble oak, with its deep brown finish and natural design of lines and random knots. These pieces aren't designed only for their simplistic function, but also as a quality accent to your home office.
Overall Dimensions: 60 L x 25.2 W x 29.5 H
Weight: 33 lbs.
Weight Capacity: 350 lbs.
Pros:
Simplistic
Sturdy and durable
Cons:
Not made from real wood
Not extra storage or accents
2. SIMPLIHOME Ralston SOLID WOOD and Metal Modern Industrial Desk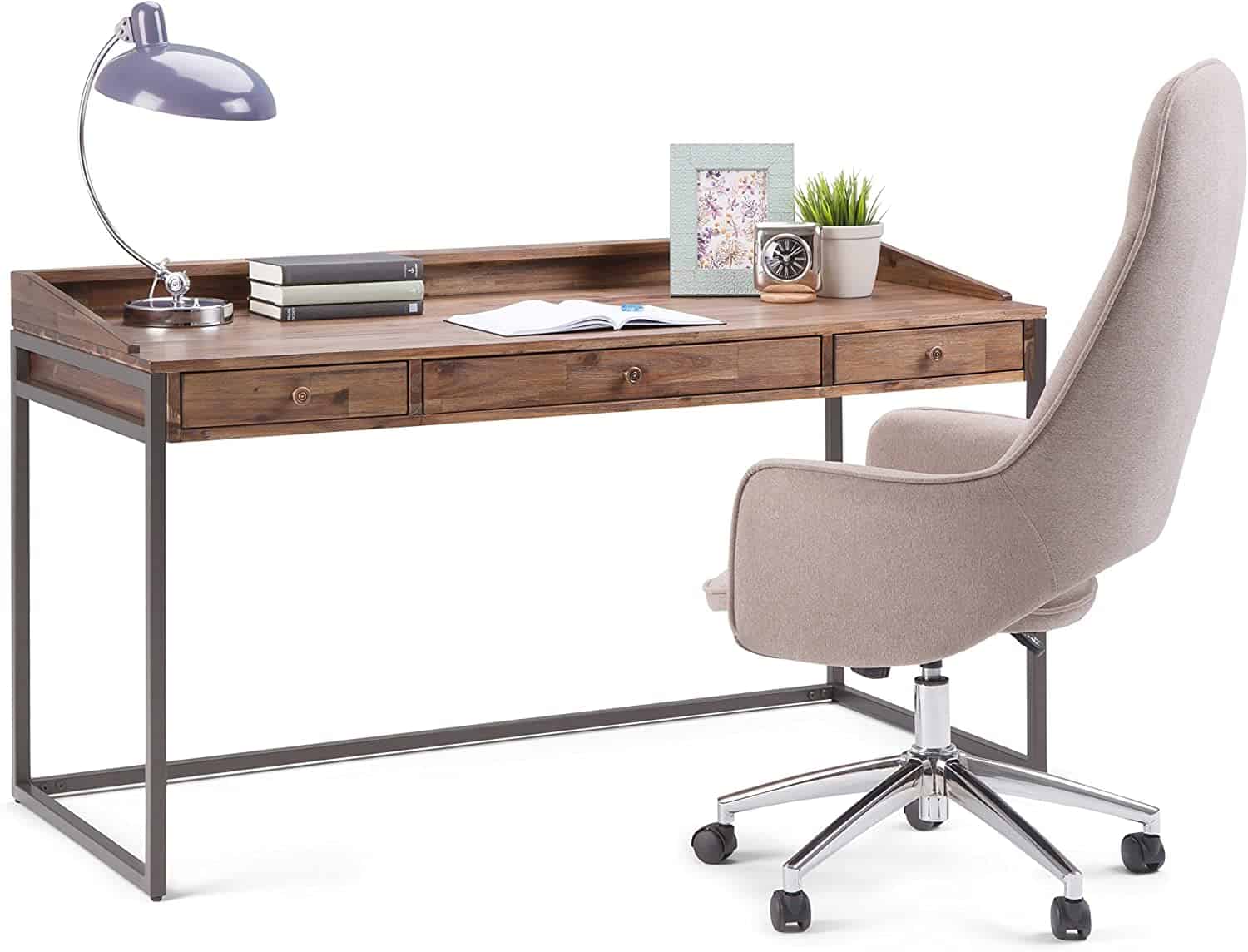 This solid wood desk with a metal frame provides a great place for students and freelance workers. Although this desk is 60 inches long, it still doesn't take up unnecessary space in most home office spaces.
This desk's real solid wood surface is constructed of Acacia wood, stained to a natural aged brown, handcrafted for perfection. There is a keyboard tray designed to look like a large drawer in the center front of the desk with two real drawers on each side. Metal knobs sit in the center of each drawer front. Use this versatile Industrial-style desk for work, school, or many other activities.
Overall Dimensions: 60 L x 26 W x 33 H
Weight: 69.4 lbs.
Pros:
Made from solid wood
Storage space
Center keyboard storage
Cons:
It doesn't match the modern decor
3. Turgeon Desk with Raised Glass Surface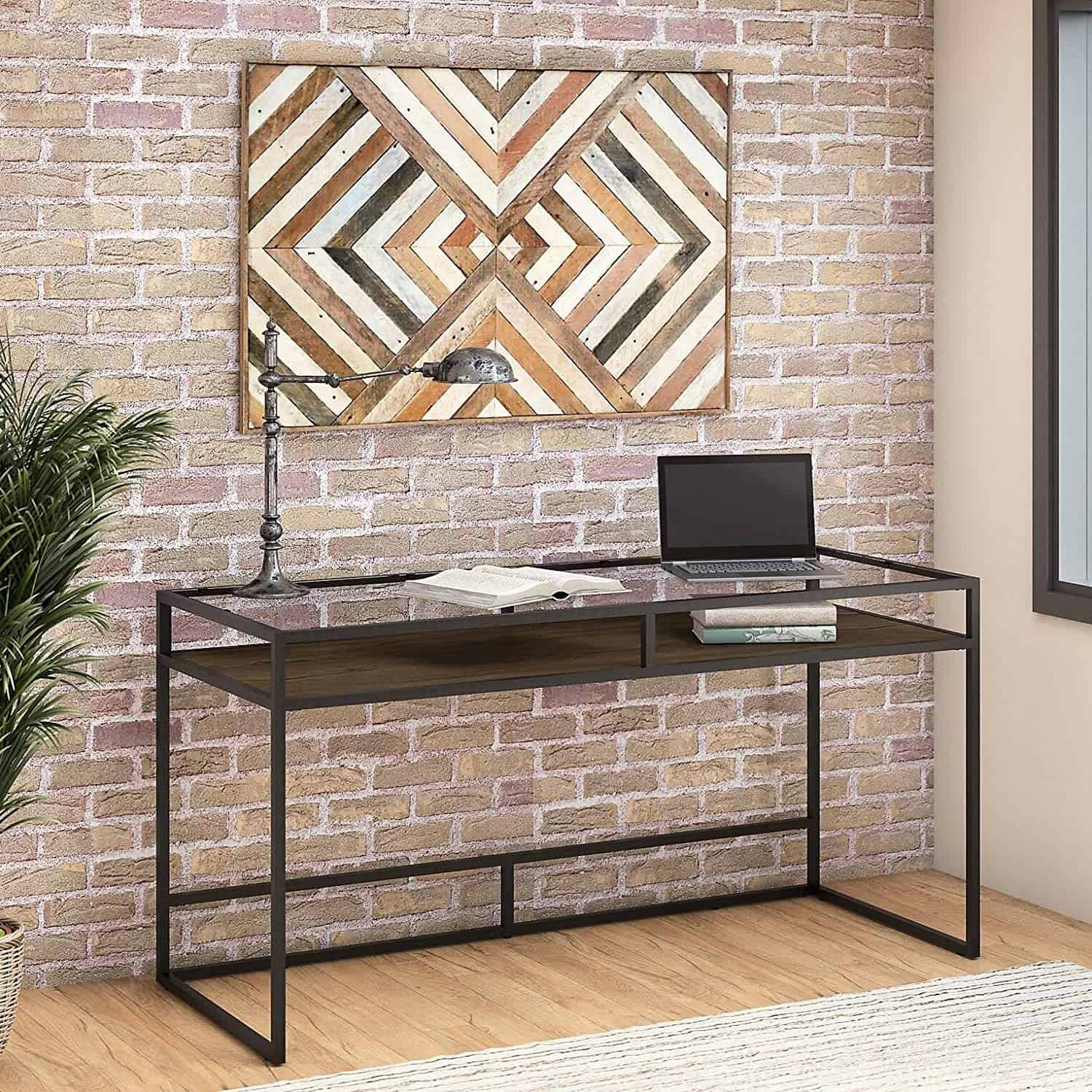 The Turgeon glass-top modern desk is a contender among quality 60-inch worktops. The glass tabletop of this desk is supported by a black polished metal frame with sled-style legs. The frame is constructed so you can rest your feet on the back rail while working.
Underneath the glass top sits a metal shelf serving as a space to put paperwork or a book or two. The metal shelf and glass top are the same sizes, framed together as one – used as a worktop and matching shelf storage.
This modern style desk is as functional as classy, with a strong surface and finished edges in case of replacement. With its neutral colors, this desk can coordinate with almost any décor, making it a quality favorite in home office furniture.
Overall Dimensions: 60 L x 24 W x 30 H
Weight Capacity: 150 lbs.
Pros:
Easy to assemble
Very sturdy
Cons:
The glass can scratch easily
4. Fully Jarvis Standing Adjustable Desk with Bamboo Top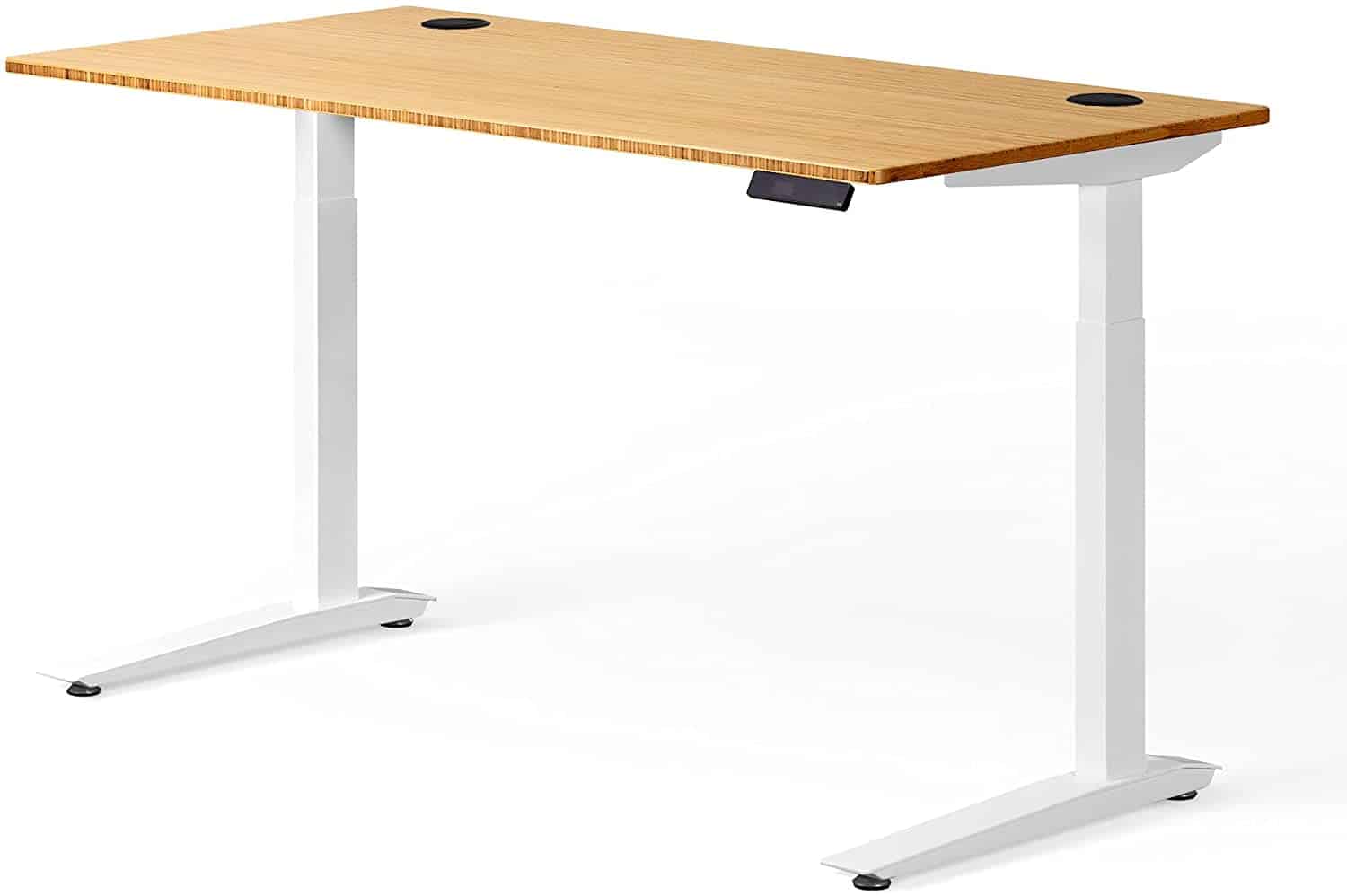 If you often get tired of sitting all the time while working, this adjustable desk allows for standing work instead. One of the most innovative and truly modern ideas in desk furniture is made from a combination of metal and bamboo – there are two adjustable metal legs with wide-berth feet and a bamboo tabletop.
Each adjustable leg contains dual motors and other hidden hardware. Attached to the front of the bamboo tabletop is a LED programmable menu selector in black hard plastic. You can use this menu pad to lift or lower the tabletop and you see fit.
Each movement is smooth and quiet when adjusting this desk. The Fully Jarvis Standing Adjustable Desk's tabletop is constructed from other materials as well. Find your favorite on Amazon.
Overall Dimensions: 60 L x 27 W x 30 – 49 H (adjustable)
Weight Capacity: 350 lbs.
Pros:
Adjustable to sit or stand when working
Clean and simple design
Cons:
No additional storage space
No extra keyboard space
5. Tribesigns Large Computer Desk with Storage Bookshelf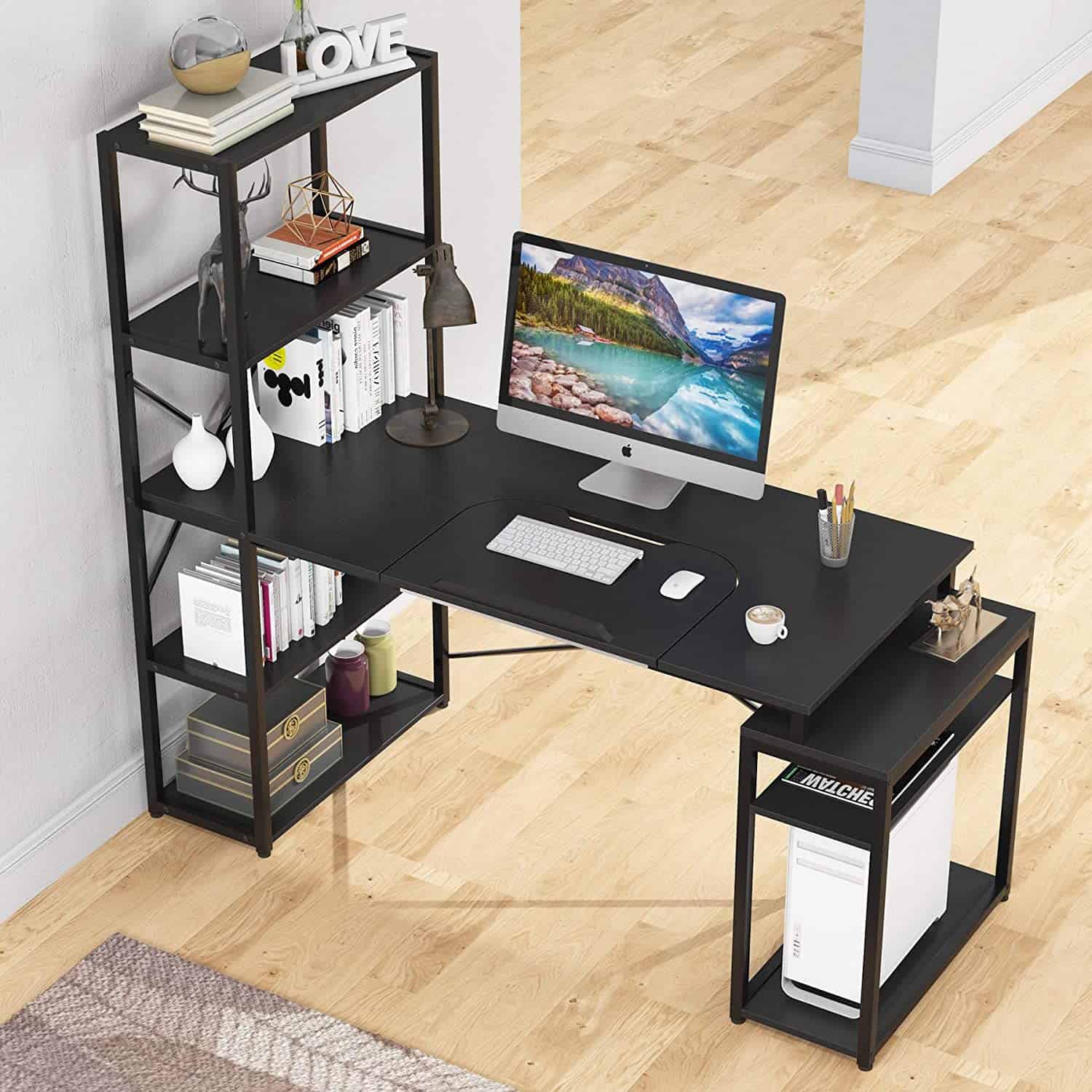 This modern-style desk is a 3 in 1 masterpiece. Constructed with a metal frame and engineered wood tabletop, this desk has a sturdy structure and a clean open look. What makes this desk unique is its 5 tier attached bookshelf on one end and 2 tier shelf underneath the opposite end. In addition, this desk has adjustable feet, support crossbars in the back, and a water-resistant tabletop.
The tabletop can be used flat or tilted forward depending on your needs. A sliding shelf is built into the desk for keyboard storage as well. This multifunctional desk can be used for work, gaming, writing, or even drawing. Adults, teens, and children can use this desk for schoolwork as well. At an affordable price, you can't beat the quality of this piece of office furniture.
Overall Dimensions: 64 L x 23.6 W x 59 H
Weight: 77 lbs.
Pros:
Lots of storage space
Adjustable tabletop
Water-resistant
Cons:
May not fit all home office spaces
6. Sauder Shoal Creek Executive Desk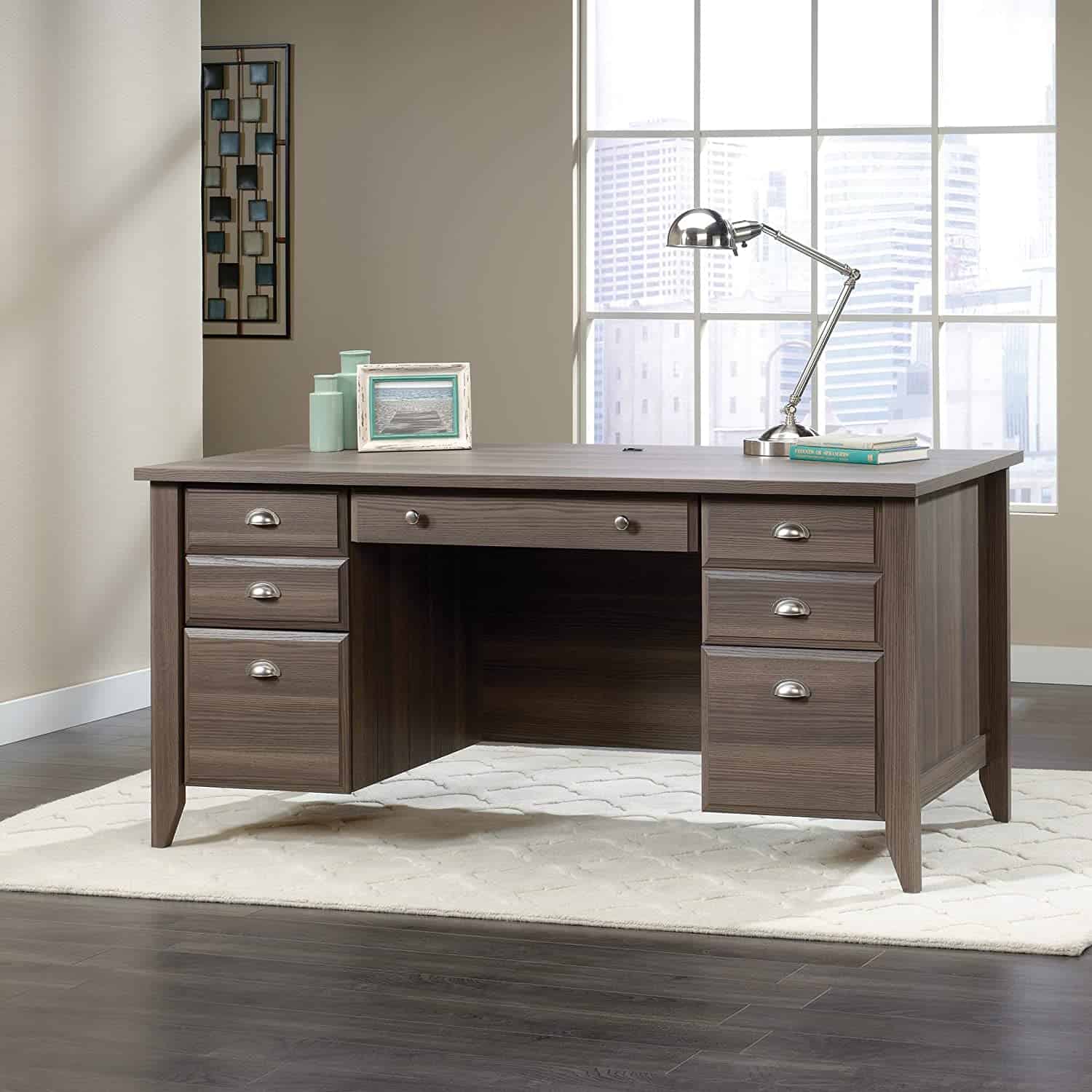 A true office desk complete with multiple drawers can be used for almost any project or pastime. The Sauder Shoal Creek desk is heavy-duty and classy, fitting into almost any home office décor. Do your homework, office work, it doesn't matter. This furniture piece is long-lasting and finished in a nice diamond ash finish.
Made from engineered wood, this piece resembles solid wood and has a few other tricks. It has what appears to be three drawers on each side – Two are large bottom drawers and what appears to be four small drawers, two on each side, are two faux drawers, one on each side.
There's an additional drawer underneath the center of the tabletop that serves as a keyboard tray. The two bottom drawers are equipped for hanging files. Find this beauty on Amazon.
Overall Dimensions: 65.12 L x 29.29 W x 30.55 H
Weight: 185.2 lbs.
Pros:
Classic desk design
Plenty of storage space
Sturdy construction
Cons:
Finish may not match all décor
Maybe too bulky for some rooms
7. Linea Italia Large Executive Desk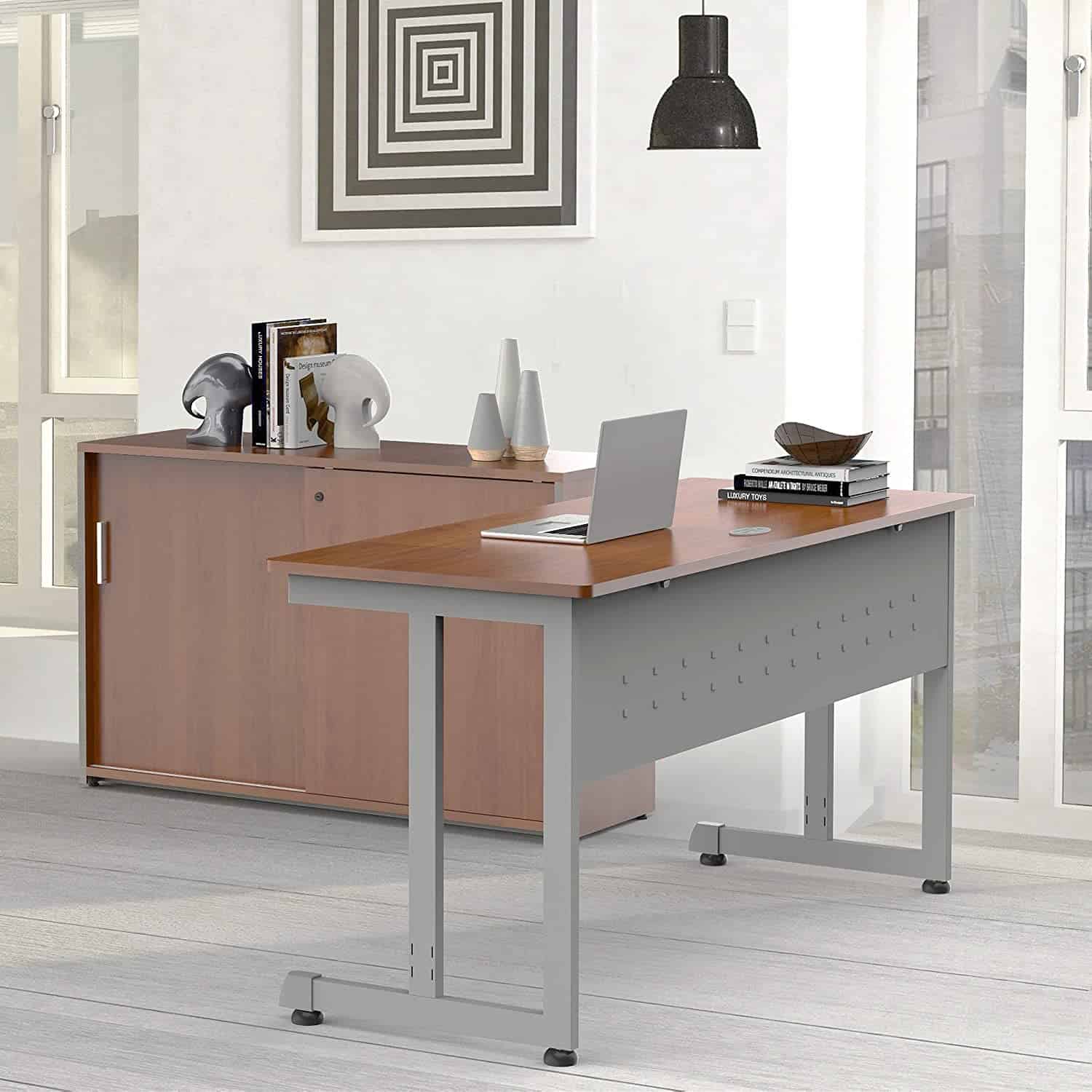 Sometimes there's a need for a simple desk, especially if you already have ample storage space in your home office. This piece is a metal-framed, real wood tabletop design that's simplistic and functions perfectly for any job. The balance of this executive desk is impeccable with its leveling glides on each leg. The Linea Italia has a sturdy design and long-lasting construction.
The charming cherry-finished wood top contrasts quite well with the gray metal frame. In the home office, these colors coordinate with other wood and metal shelves and cabinets. This desk is easy to assemble and comes with a scratch-resistant tabletop with smooth edges. Don't miss out on affordable, and simplistic beauty.
Overall Dimensions: 60 W x 24 W x 30 H
Weight: 56.9 lbs.
Pros:
Simplistic and casual
Real wood tabletop
Cons:
No storage area
It may be too casual for the décor
FAQs
Question: Why should I buy a desk?
Answer: A desk provides the perfect place to complete work of all kinds. Even if you work away from home, you can still benefit from the tabletop of the desk for taking notes, writing lists, and using a desktop computer. A desk is great for children to do homework without being distracted by television or other things. In fact, every home needs a desk, whether there's a home office or not.
Question: Does productivity improve with a desk?
Answer: Yes. Productivity is improved by at least 45%, according to a study by Texas A&M University. Desks offer space away from the general household and provide the right environment for paperwork, online work, and research. Buying a desk is a great investment.
Question: How long does a desk last?
Answer: This is an important thing to consider when purchasing a desk for your home office. The materials, weight, weight capacity, and amount of work are all factored into the life of a desk. You must keep all these things in mind when making your desk purchase.
If you work every day at the home office desk, you'll need the most sturdy desk you can find. If you need ample space, you'll need to add this into your equation as well, as shelves and drawers also have a lifespan, sometimes separately from the desk itself.
Question: What's more important, flexibility or stability?
Answer: This depends on how much work you do. If you aren't working every day, but you do a variety of things at your desk, you'll need a multi-functional desk type, as with extra space. If you do a great quantity of work, you'll need a more stable desk construction. If you need both, then both qualifications must be used to make a purchase.
Best 60 Inch Desk Options Guide: Final Thoughts
Considering the many ways that you can utilize the 60-inch desk, there are quite a few specifications and factors to weigh. When choosing a desk for your home office or other rooms, it takes careful consideration and planning. Mapping out your space, matching décor, and looking at prices is just a start. Choosing the perfect desk is just as important as choosing a table for your living room.
Our guide has a few selections that are quality pieces for your living space. However, there is one that stands out above the rest for its many additional features and quality construction. The Tribesigns Large Computer Desk with Bookcase is our pick for the best 60-inch desk option. With the available space for a computer, books, and paperwork, this desk has it all. It even has a pull-out drawer and tilting top for your convenience as well.
Go ahead, choose the best desk that works for you. Browse our chair selections and other furniture options to finish your décor. Then take a step back and appreciate your masterpiece. From our selection to yours, it's quality all the way.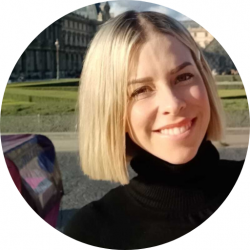 Latest posts by Jodie Chiffey
(see all)