Finding the best Wayfair dresser picks comes down to more than just aesthetics, though when you visit the site, you may initially feel giddy about the number of beautiful options there are to choose from. (I know I did.)
Once the awe wore off, I looked at dresser size, the number of drawers, drawer space, and special (or annoying/disappointing) features the dressers had, too, when determining which options were the best. Of course, pricing factored in, as well. Is a dresser worth the price they're asking? Is it a steal?
I considered the quality of materials (and expected longevity based on how a dresser was made and what was used to make it) versus the price, existing customer reviews (for additional insight beyond the hard facts of materials, measurements, and features), and–last, but not least–the aesthetics, because though they won't necessarily affect the quality of your dresser, they'll affect how happy you'll be to display the dresser in your home.
Nobody wants to be reminded and annoyed that they chose the wrong dresser every time they put their clothes away.
The Best Wayfair Dresser Picks
Here are some of the best dresser designs I found on Wayfair. There's something for everyone, regardless of the space or wardrobe you have.
Danville 7 Drawer 20″ W Solid Wood Lingerie Chest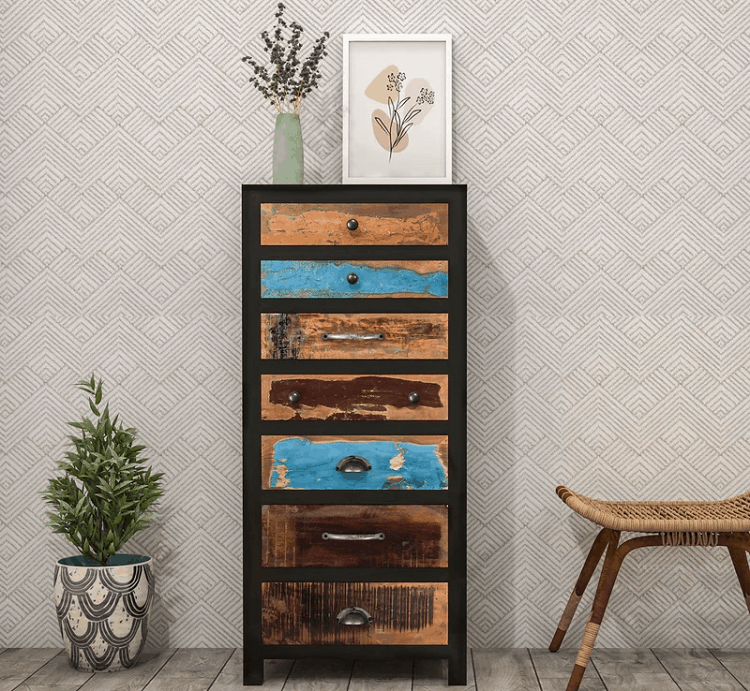 The Danville Lingerie Chest almost looks like it's from a Van Gogh painting, rather than a dresser you could actually use in your bedroom. It's interesting to look at, with its distressed finish in shades of brown and blue–in a black frame–while still functional.
Pros
Solid wood
Handmade
Unusual style
Reclaimed wood
Not so wide that it'll be hard to find a place for it, but wide enough to keep your clothes organized well
Cons
Not the kind of style that'll just blend in with everything else around it (it'll definitely stand out!)
Does not have dovetail drawer joints
Differences in drawer sizes may make matching where to store your things up with your personal preferences a little more difficult than other options
Not all pieces look exactly like the photo, so you may receive one that doesn't have any blue in it, for example
Bridgeview 6 Drawer 56″ W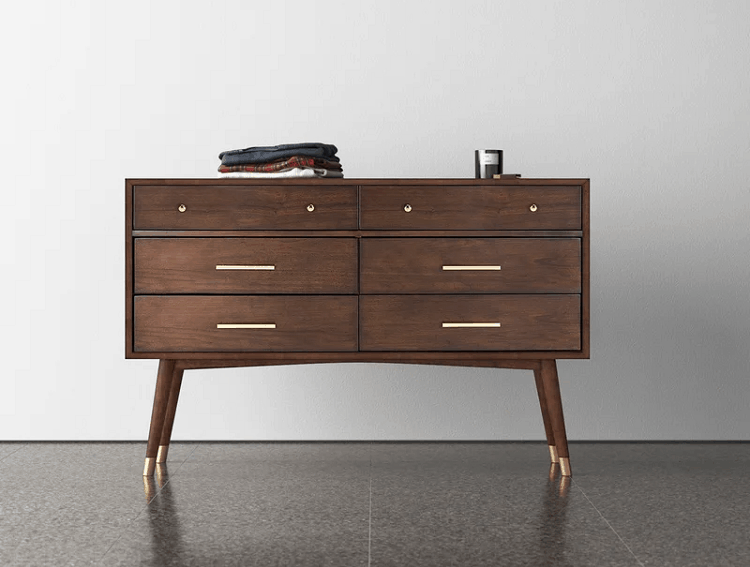 This Bridgeview 6 Drawer option has a modern style that immediately made me think of the furniture from the 1950s. I could see this dresser making its way to the living room, parked under a flat-screen TV, if you ever decide to update your bedroom furniture and go for a different style. There's versatility in its design. It comes in 10 color options.
Pros
Versatile design
Comes in several colors and should complement the color scheme of any room
It will pair well with a large mirror
Felt-lined drawers
Cons
Not sure the price (over $1000.00) is worth it
Manufactured wood
No dovetail drawer joints
Midfield 6 Drawer 31.5″ W Chest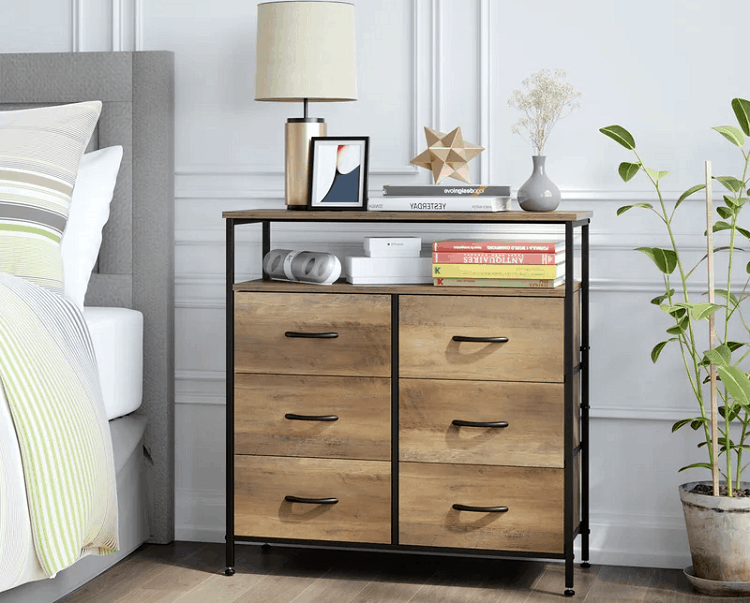 This Midfield option may be good for smaller bedrooms because it can act as a dresser and a nightstand, in one. You get more drawers than you would with the average nightstand, but the height and free space (as well as an open space in place of a top set of drawers to house books, medications, etc.) you'd get from a nightstand.
Pros
Comes in light brown, dark brown, and cherry
Simple, clean lines that will work with most decor
Slightly retro vibe
Versatile enough to use in other rooms
Inexpensive
Cons
Despite the width of the dresser, the drawers may feel narrow to some
Made from particle boards
Remington 8 Drawer 33.9″ W Double Dresser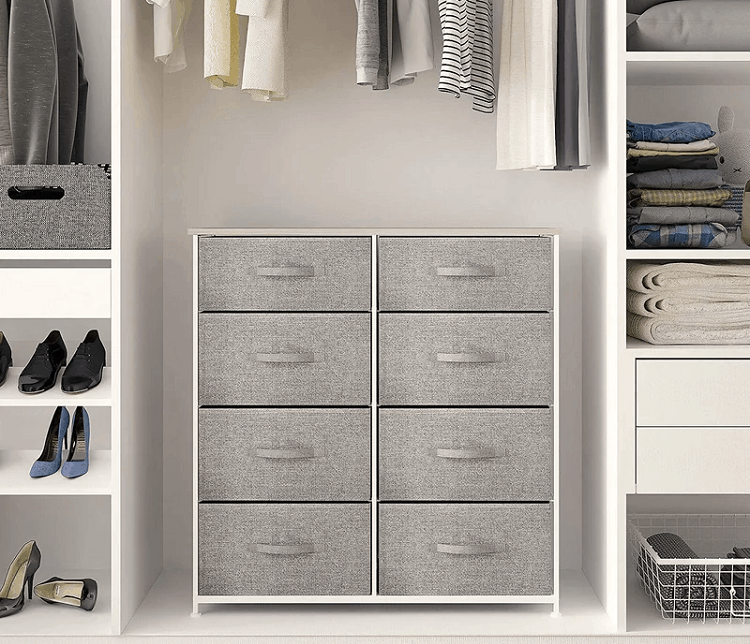 This Remington 8 Drawer Dresser is an inexpensive option that can easily be tucked away into a closet or left out in the open. It comes in cool gray/oak or light gray/white (fabric drawers with a metal frame and wood top), for just under $150.00.
Pros
Not the traditional wood style
Top is waterproof wood, and sturdy
Modern design that works with a variety of decors
Metal frame for strong support and durability
Cons
Not what you'll want if you're looking for more traditional, structured wood dressers
May feel too narrow for some uses and wardrobes (main drawers are 8.7″ H x 15.6″ W x 11″ D; smallest are 5.5″ H)
Stillwell 6 Drawer 54″ W Double Dresser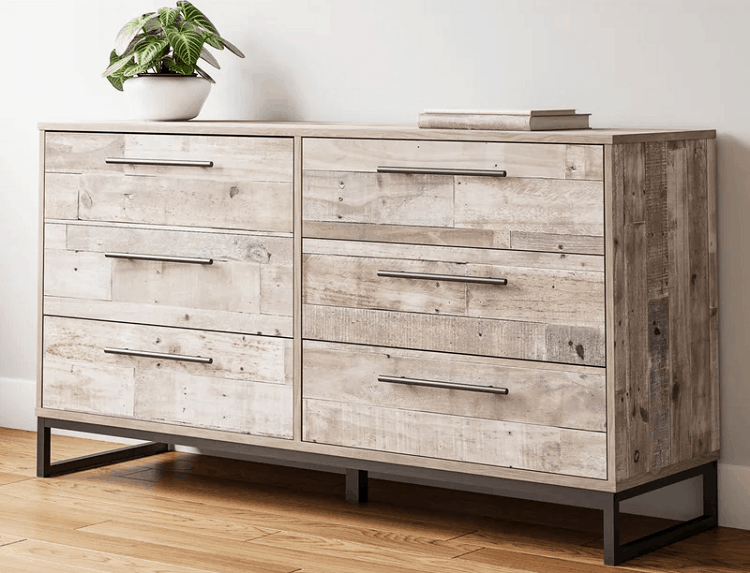 If you love the farmhouse style, you might want this whitewash or multi gray dresser option. It's reasonably priced at just over $300.00 and has six drawers divided into two short columns (making its shape perfect for putting under a large mirror or television).
Pros
Modern shape with farmhouse/industrial vibes, including the trendy whitewash or gray finish
Distressed look
Metal legs
Wide drawers
Cons
Manufactured wood (plus some solid wood)
Reviewers mention the wood grain look is printed on
Theodis 7 Drawer 54″ W Solid Wood Dresser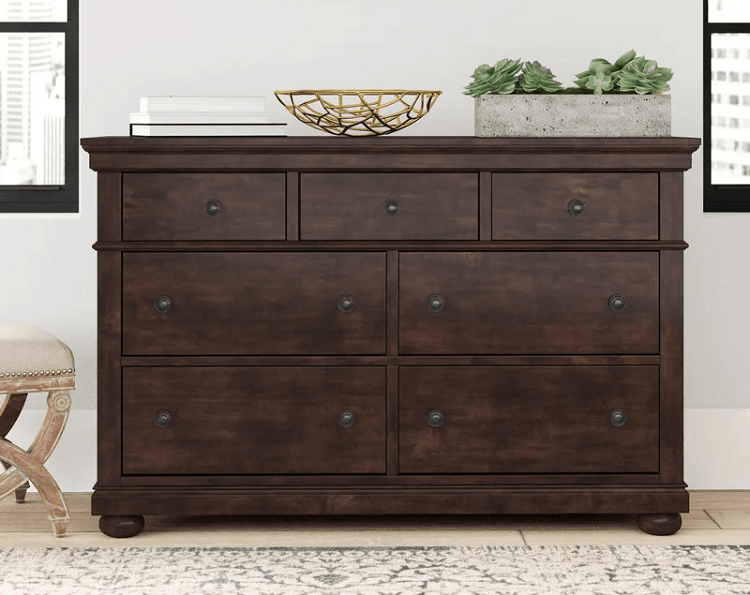 If it's something solid (in appearance, materials, and construction) you want, the Theodoris 7 Drawer dresser makes a good choice. It's available in warm cherry or natural white, so there aren't a wide range of shades to choose from, but these two are far enough apart that hopefully, one will work with your aesthetic.
Pros
Though it's on the more expensive end of options on this list, you're getting a solid wood dresser, so it's a fair price (just over $800.00)
Solid poplar wood with birch veneers
Good width for pairing with a mirror or television
Classic, timeless style
Sanded, stained drawer interiors
Cons
Functional and traditional style may be underwhelming for some
Though the quality is there, it's still a lot of money to shell out at once if you're on a limited budget
Lafever 4 Drawer 28.75″ W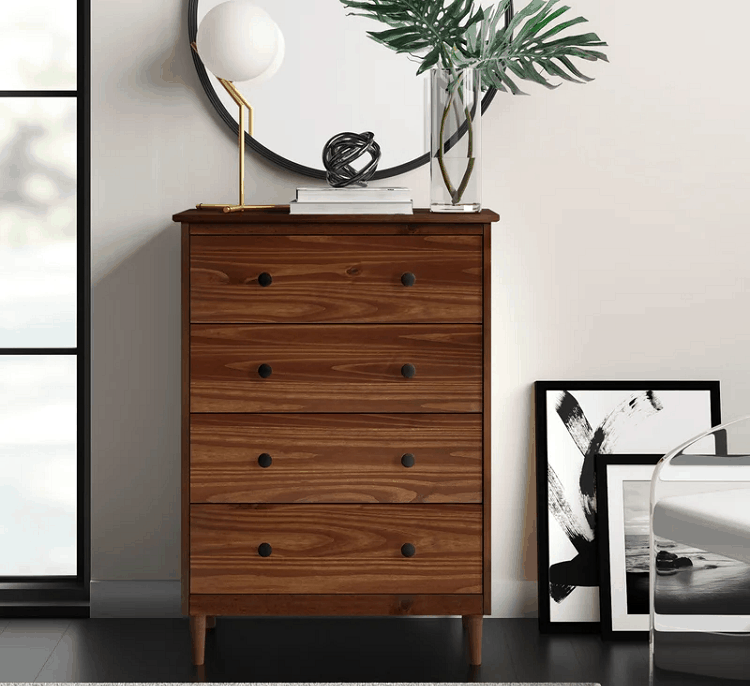 The Lafever 4 Drawer 28.75″ dresser is the middle ground in about all ways. That can either make it absolutely perfect or exceptionally boring, depending on your style, needs, and how long you hope to use it.
Pros
Simple, modern design
Comes in beautiful walnut, caramel, and white finishes
Inexpensive (around $200.00)
Not too tall or too short, not too wide or too narrow
Cons
Simple, basic style
Only four drawers
Manufactured wood
Some reviewers say it was harder than expected to put together
Mannion 5 Drawer 33″ W Solid Wood Chest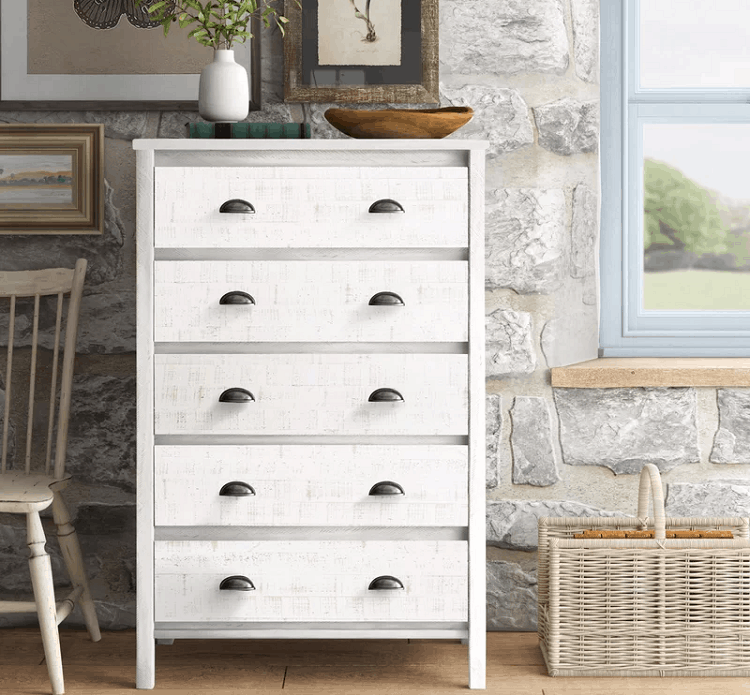 This Mannion design is from Birch Lane, a branch of Wayfair that veers toward the more traditional end of the furniture spectrum.
It's a basic style that would be at home in almost any room, and it comes in shabby white, driftwood gray, walnut, and barnwood finishes to make it even more likely to look right at home in your bedroom, regardless of your style.
Pros
The traditional style looks good in most bedrooms
Variety of finishes
Solid wood
Not especially expensive for solid wood options
Functional, with five spacious drawers of the same size
Shows off the design of the wood grain
Cons
Not especially versatile
Because of its traditional style, some may find it underwhelming in appearance
Could take a good bit of time to put together
Joshua 6 Drawer 48″ W Dresser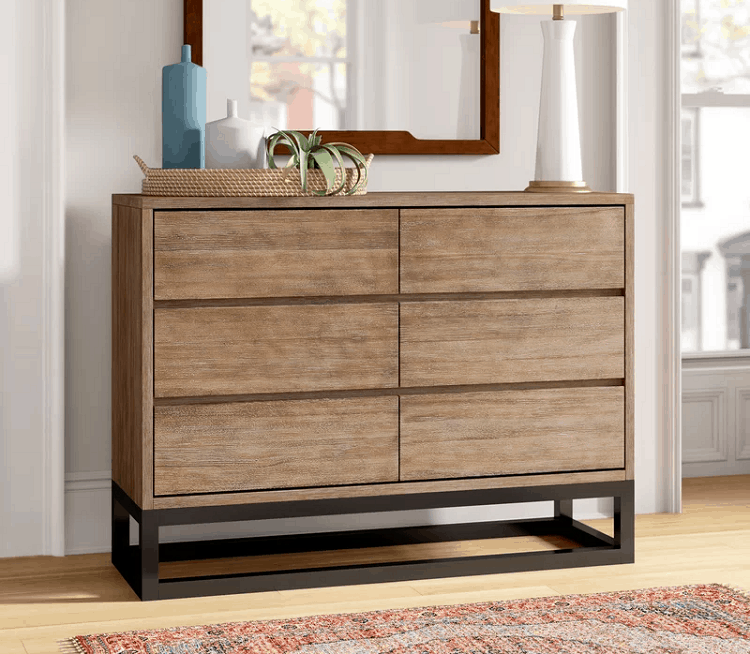 The Joshua 6 Drawer dresser is another solid wood option, this time available in natural, light brown, or white finishes.
Pros
Simple style
Especially sleek, without drawer pulls
Relatively inexpensive
Blends with a variety of decor options
Cons
Extremely basic in style, so it won't stand out much (may be a good thing)
Some reviewers say the drawers don't move as smoothly as they'd like
Burkhead 5 Drawer 42″ W Solid Wood Chest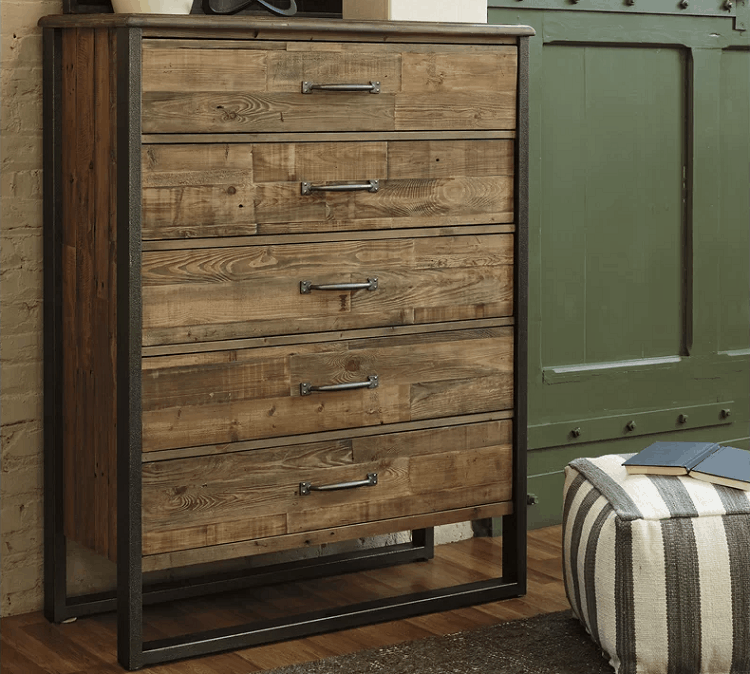 Love that rustic, industrial vibe when it comes to your furniture? The Burkhead 5 Drawer option may be exactly what you're looking for. It's pretty pricy (around $1000.00), but could it be worth it if you're committed to this style and hope to get decades of use out of it?
Pros
Sturdy, solid wood
May be the perfect drawer width, slimmer than some but not narrow enough to feel cramped
Spacious drawers (6″ H x 35.75″ W x 13.25″ D)
Blend of aesthetics that makes it versatile enough to work in a few different settings
Cons
Expensive
Only available in one finish
Some people may wish for a sixth drawer, or two smaller drawers side-by-side at the top
Tips for Choosing a Dresser
What should you consider when choosing a dresser from Wayfair or anywhere else? Functionality and appearance matter, obviously, but let's go a little deeper so you can get the most use out of your new Wayfair dresser possible.
Weigh Price and Quality
If you have flexibility in your budget, look carefully at the materials the dresser is made from. Solid wood (and dovetail joints, if possible, for extra durability) will usually outlast manufactured wood, particleboard, etc. Comparing prices, assuming you like everything else about each option, does it make sense to spring for the solid wood one and (hopefully) not need a replacement for years, if not decades?
That's not to say that all other options are poorly made. If solid wood isn't in the budget or you'd prefer not to go that route for another reason, that doesn't mean you're destined to be disappointed. Look at the other indicators that you'll get strength and durability from the piece you choose, like a metal frame, solid hardware, waterproof tops, and even reviews from others who purchased the item before you did.
You'll get information about whether the drawers close all the way and sit straight on the dresser or tilt to one side, for example.
Measure your Space
Don't forget to measure your space (don't just eyeball it unless you just have a whole free wall and dresser width won't really matter much). Then measure it again. Take into account any space you may need to open the drawers. Width is the most obvious measurement people take, but don't forget height (what do you want hanging over your dresser?) and depth.
For example, make sure you're not measuring how much room, width-wise, you have to put a dresser at the end of your bed only to realize–once the dresser is in place–that it's hard to open the drawers all the way and you'll need to move the dresser or rearrange your room completely.
Surprises are good, but not that kind.
Think Ahead for Additional Uses
If you decide to update your bedroom and the dresser has to go, is it versatile enough to work in another room? Would you want it to? Or will you need to sell it or give it away? Sometimes the perfect piece isn't good for other areas, and that's completely okay. It's just something to consider when you're starting your search.
Do You Want Something Versatile in Style?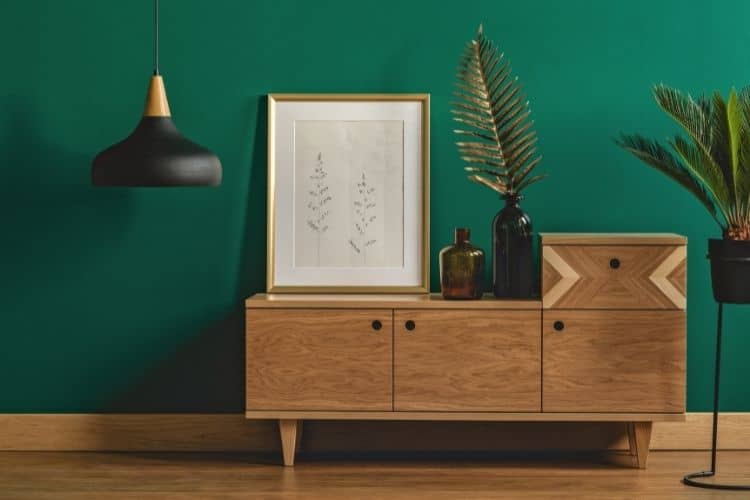 Along the lines of whether or not you could use your dresser in other rooms, what about the specific style? How long will you want it in your room/house? Will you want farmhouse, retro, modern, industrial, etc., later, or does your style tend to change with the trends?
Would you prefer something more streamlined and/or traditional that would fit with shifting preferences when it comes to other decor, or are you sure you'll love a specific style for years to come? Will you want to sell your new dresser in a few years so you can update your furniture?
Again, there's no wrong or right answer. It's all about your preferences.
FAQs
Here are some of the most frequently asked questions, in case you're still not sure you want to order from Wayfair or you're on the fence about what exactly you do want to buy.
Question: Are Wayfair Dressers Good Quality?
Answer: Yes. Of course, there are some that won't live up to expectations, as would be the case with almost any company. Overall, though, their furniture is functional, beautiful, relatively easy to put together, sturdy, and durable.
Question: Does Wayfair Sell High-End Furniture?
Answer: Yes, they do. You'll find a range of furniture options at several different price points, made from a variety of materials.
Question: Is Wayfair a Walmart Company?
Answer: No, Wayfair and Walmart are separate companies.
Question: What is the Difference Between Birch Lane and Wayfair?
Answer: Wayfair aims to please a wider customer base, selling furniture at more of a range of price points and offering styles for everyone.
Birch Lane, on the other hand, has a more narrow focus–traditional, timeless styles. Birch Lane is one of the branches of Wayfair (which includes the Wayfair site, Wayfair Professional, Joss & Main, AllModern, and Perigold, as well).
Question: Why do Wayfair Prices Keep Changing?
Answer: The short answer is, it is based on an algorithm and prices will change by day, season, competition, and more. You can see more detail about Wayfair pricing in this very detailed Vox article.
Conclusion: Is the Best Dresser for You at Wayfair?
Because Wayfair does such a good job covering the bases in all of their furniture options, I think one of the best Wayfair dresser picks is probably right for almost every person shopping for bedroom furniture. Of course, this isn't an extensive list.
My favorite one (that, admittedly, will be right for fewer people than some of the other options) is the Danville lingerie chest. It combines visual interest with functionality. My second choice, with all the points for versatility and wide appeal, would be the Bridgeview 6-drawer option.
Regardless of your decor style or budget, you can probably find the best dresser for you on Wayfair's site. Watch the prices closely, since they change so often. Always read the reviews to see if there will be any unpleasant surprises (or pleasant ones!) if you do purchase that particular dresser.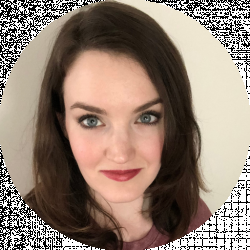 Latest posts by Crystal Schwanke
(see all)