If you've been thinking about adding a mid-century modern recliner to your array of home furniture, you might be a little confused as to what you should look for. Today, we're going to talk about all things mid-century modern, focusing on a list of recliners that are durable, reasonably priced, and very popular amongst customers.
About Mid Century Modern Style
When you hear about the "mid-century modern" style, it often refers to the period between the 1940s and the late 1960s. During this period, both the economy and the population of North America saw rapid growth.
Mid-century modern designs are characterized by the juxtaposition of sleek lines with organic curves, as well as the use of new materials and methods to rethink classic pieces. The clothes had a futuristic feel to them, yet they didn't look completely different from previous styles.
Mid-century modern design, like any other design era, evolved over time. However, although the 1939 World's Fair in New York had introduced the clean lines and geometric forms of the Danish Modernist and Bauhaus movements into the American psyche, the style didn't fully become grounded until the late 1940s, and it remained popular far into the 1960s.
For example, Eero Saarinen ended up creating the popular shapes for the Tulip chair and table that were created in 1956 and Eero Aarnio was able to bring his futuristic-looking Ball chair to life back in 1965 mainly because materials such as plastic, steel, aluminum, foam, fiberglass, or plywood were all malleable when they were first designed.
Key Features of Mid-Century Furniture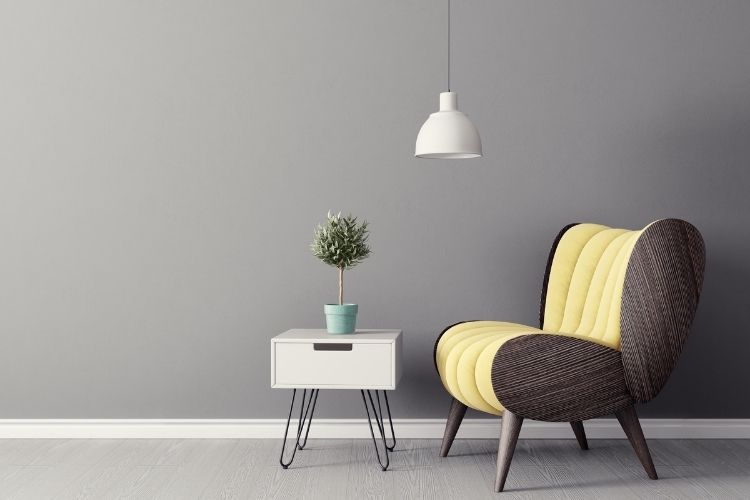 While the mid-century modern design allows you to get creative, there are certain features that are common for furniture pertaining to style, such as:
Combination of Natural and Synthetic Materials
Following World War II, designers had access to a plethora of new technology and materials. The outcome was the ability to combine synthetic fabrics (such as nylon) and traditional wood, or to completely avoid wood and create pieces out of materials such as fiberglass or Plexiglas.
Floating Furniture and Tapered Legs
Using short legs, some of which were severely tapered, provided the "floating" appearance that is characteristic of many mid-century furniture pieces.
Bold Colors
From the deep hues we now identify with the 1960s and 1970s (such as pumpkin orange or mustard yellow) to bolder colors like red and turquoise, sharp whites, and even black, the mid-century color pallet had something for everyone.
Modern Prints
The visual attraction of mid-century modern was not sacrificed in order to maintain the simplicity of the style. Atomic, geometric prints, and starburst patterns were all popular in mid-century modern furniture, as were atomic and boomerang patterns.
Clean Lines
The furniture designed in the post-war era is characterized by its clean lines and straightforward forms. Furniture was stripped of its ornate details in favor of a more modern style.
3 Mid Century Modern Ideas
If you want some extra inspiration to take your mid-century modern decor one step further, we have some pretty cool ideas in store for you, straight from one of the best interior design resources available: Houzz.
Cozy Mid-Century Modern Living Area

Our first suggestion comes from Coastal Vacation Estates, which is suggesting a living space that is divided into two different sitting areas, arranged around a massive stone fireplace and overlooking a breathtaking view of the city.
The living room brings forth elements that are characteristic of this style, such as the brick fireplace, the neutral colors, and the right accessories to match the look of the place.
Mid-Century Modern Home Exterior
This renovation idea by AB Design Studio, Inc. depicts a 1950s mid-century modern blend of elements that include clean wood finishes and board-formed concrete to create a stunning exterior for those who love a cozy patio to relax on at the end of the day.
Exposed Beam Living Area
The ceiling is adorned with exposed beams, the kitchen island is surrounded by walnut barstools, and the wooden floors come in contrast with the other well-chosen decor elements.
Vintage Mid Century Recliner VS Modern Mid-Century Recliner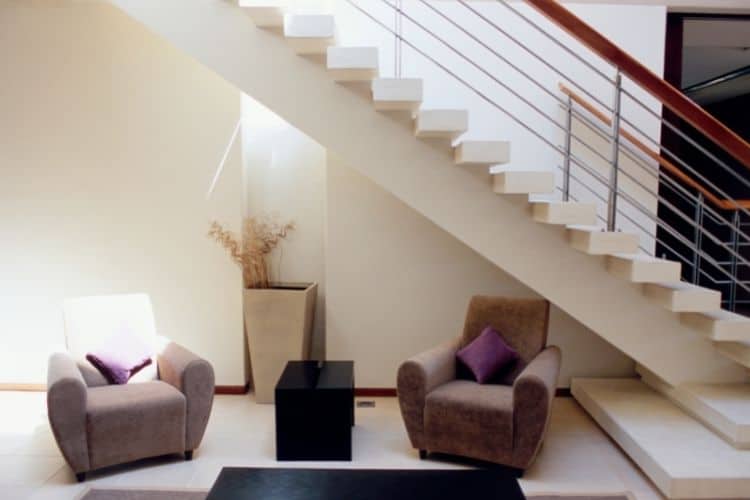 Believe it or not, vintage items can easily find their way in mid-century modern room decor. Naturally, this makes a lot of people wonder whether they should choose a vintage recliner or opt for a modern new one. There are some things to consider, as both of these options have their pros and cons:
What to Consider When Buying a Mid Century Modern Recliner
Mid-century modern or not, purchasing a recliner is something that should follow a list of steps in order to avoid potential post-buying frustration. When you're out shopping for a new recliner, you need to consider the following questions.
How Much Space Do I Have Available?
First and foremost, you'll need to take measurements of your area and determine how much space you have to accommodate the chair before you begin your search for one. If you're purchasing online, make sure you opt for products that have a return window, so you can get your money back if you are not happy with your purchase.
Recliners are available in a variety of different sizes. And, because you'll need some space to recline the chair, it's a good idea to first measure your available area before selecting a recliner chair that matches your needs.
What Does my Body Feel Comfortable With?
Some recliners may be perfectly OK, but they may not be appropriate for your body type. Sit down in the chairs while you're looking through them and pay attention to how they hold your body in place.
When you're sitting, are your feet in contact with the floor? Is it possible for you to rest your head on the headrest without feeling uncomfortable?
These considerations are critical if you want to have the greatest experience possible. Keep an eye out to see if the footrest is properly supporting your heels. The lumbar support, on the other hand, must be just right, meaning neither too soft nor too hard.
Is This Chair Durable Enough?
Recliners are not cheap, and since you won't be spending a low amount of money on them, they need to be a solid investment and give you your money's worth. With that in mind, there are a few things you want to look at which will offer hints about the long-term durability of the recliner.
Some reclining chairs are made with a two or three-sided frame, which is excellent except for the fact that it does not hold up well under pressure. When getting out of a chair, most people apply pressure to the arms of their chair.
This approach has the potential to cause the two- or three-sided frames to distort, wear out, or split before their intended lifespan. It is necessary for your chair to have four-sided frames in order to provide for additional tolerance and durability.
What Materials Are Best?
Springs and Cushions
Your chair's springs and cushions should be separated by a firm mesh layer. Important because it performs the task of distributing weight equally across the surface of the water, this layer is essential.
Because of the springs, your seat cushion would suffer from wear and tear if this layer were not present. Consequently, make certain that the mesh layer is active.
Plastic or Hardwood
The chair's base must be robust enough to support the highest amount of weight for the longest period of time without warping or buckling. Typically, recliner chairs are made of one of two types of base materials: plastic or hardwood.
Plastic bases are more brittle and more prone to breaking easily than metal bases. Hardwood bases are far more stable and long-lasting. As a result, try to opt for recliners made with a hardwood base.
Hardware
Observe the overall architecture of the recliner chair while you're at it to see how well it's been put together. Look at the levers or handles, for example, to determine if they are simple and straightforward to use and operate.  Take a look at what kind of screws were used in the production process, and whether or not the motors are quiet.
What Fabric Should I Choose?
microfiber
cotton
leather
polyster
Your ability to relax in your chair will be hindered if the fabric of your chair doesn't feel pleasant to the touch.  So, make certain that the cloth from which your chair is constructed receives sufficient attention. You have a variety of options to pick from, including microfiber, cotton, leather, and so on. The fabric should be picked based on how comfortable it is as well as your financial limits.
Top 6 Mid Century Modern Recliner Recommendations
Next up, we have some pretty neat recommendations for those of you interested in investing in a mid-century modern recliner.
Newport Taupe Swivel Recliner and Slanted Ottoman – Best Overall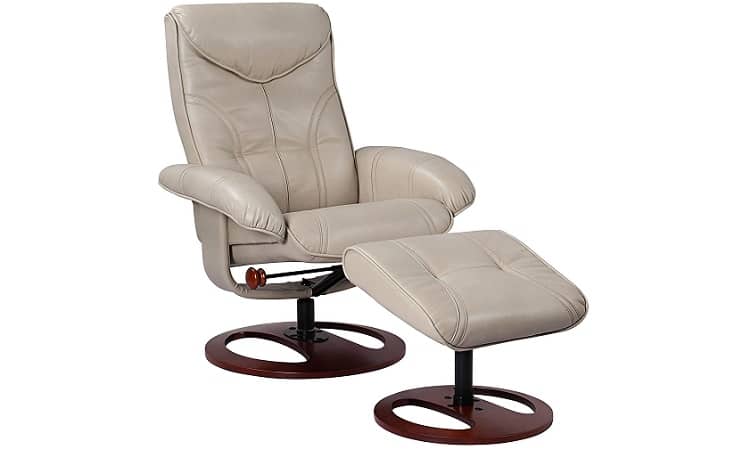 This contemporary reclining chair is incredibly comfy, and it has a sleek and attractive look to match. In addition to the bonded leather upholstery that is exceptionally durable, weather-resistant, simple to clean, and colorfast, the piece has a solid wood base with a walnut finish.
With a full 360-degree swivel and 45-degree recline, this chair is comfortable for any situation.
The addition of a matching ottoman makes this the ideal spot for reading, relaxing, or watching television. The seating of this recliner includes steel springs with foam that add comfort and cushioning.
Pros
 

Quality leather construction.

 

360-degree swivel feature.

 

Comes with an ottoman.
Cons
Who Should Buy This?
If you love spending time reading a good book and would love to create a corner in your home specifically for this activity, the Newport recliner might be the optimal choice for you.
GDFStudio Marston Mid Century Modern Fabric Recliner – Best Set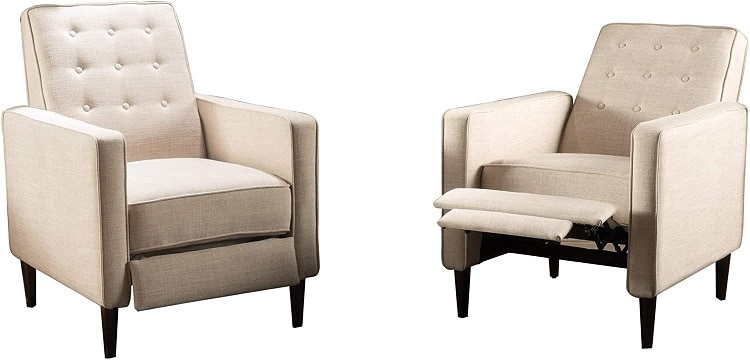 It doesn't matter what room in your house you put these mid-century modern recliners in, they'll look great.  They are complete with added padding for the best cushioning possible, as well as a tufted back that gives them a sophisticated appeal. They are made with polyester upholstery and feature a variety of leg colors to choose from.
You also get to choose between 15 different upholstery colors in what's possibly the most comfortable recliner within this price range. You can purchase a set of two recliners, but you also have the possibility to select a single product.
Pros
 

Available in a set of two.

 

15 upholstery color options.

 

Very comfortable.
Cons
Who Should Buy This?
If you're looking to purchase more than one recliner to perhaps create a cozy corner for coffee drinking, this is a set that comes at a convenient price per product and is surely worth considering.
Christopher Knight Home Trenton Recliner – Best Value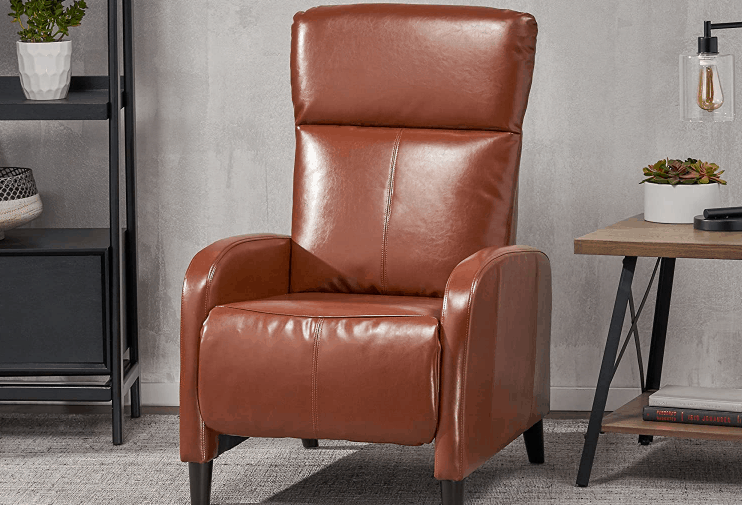 The Trenton Leather Recliner is a versatile piece that may be used in any space of your home. This chair emanates luxury and comfort in both the upright and reclining positions, and the smooth bonded leather gives this recliner an elegant appeal, allowing you to enjoy the benefits of style without sacrificing your ability to relax in ease.
Built on top of a wooden frame, this recliner is designed on top of a solid wooden frame, leading to a product that measures 33.45 x 26.75 x 42 inches. Sadly, you only get one color option, which might be a deal breaker for some of you.
Pros
 

Quality bonded leather construction.

 

Very easy to clean.

 

Easy to assemble.
Cons
Who Should Buy This?
This Christopher Knight Home recliner is a great option for those of you looking for a quality leather chair with a sophisticated look designed to bring mid-century modern flair to your home.
CIMOTA Faux Leather Accent Chair – Best Leather Alternative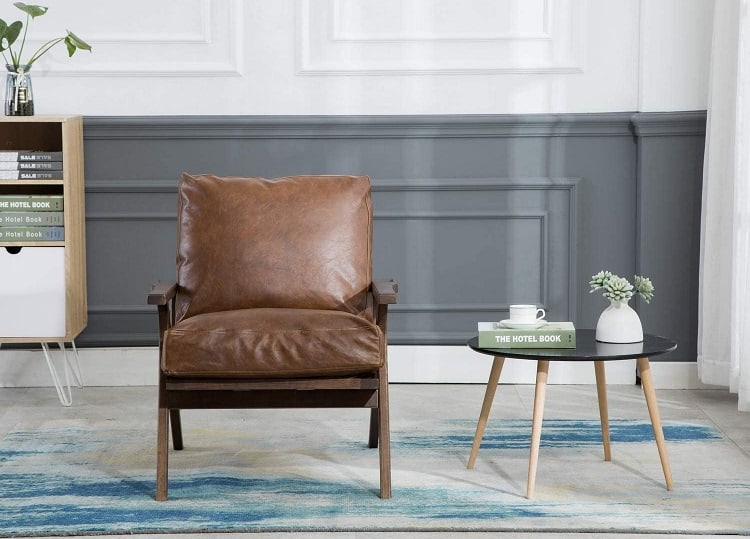 With this recliner, you can complete the look of your living room in a warm and welcoming manner. A ladder-like back and gently inclined seat entices you to lay back and relax. The frame is made of and has open sides to allow for maximum ventilation.
Crafted on top of a solid wood frame, this recliner has a total weight capacity of 300 pounds. The cushioning is provided by a foam fill, covered in gorgeous faux leather with a distressed look. What definitely looks like a vintage piece is actually a brand new mid-century modern recliner that's gorgeous and comfortable to use.
Pros
 

Strong hardwood frame.

 

Extra foam padding for comfort.

 

Removable cushions.
Cons
 

Backrest too short for tall people.
Who Should Buy This?
If you love how leather upholstery looks but don't have the heart or the budget to spend money on a recliner covered in actual leather. The CIMOTA is a worthy replacement.
Baron Tufted Back Fabric Recliner – Best Premium Choice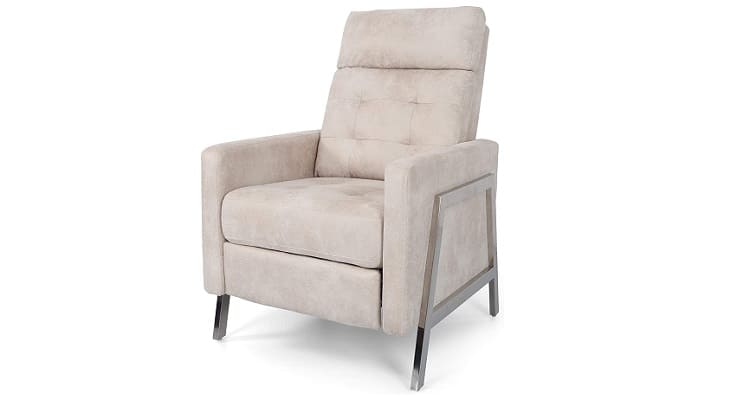 When you're ready to pull out the big bucks, we have the Baron recliner waiting for you. The modern design of this recliner, with its simple structure made of clean, smooth lines, makes it a welcome addition to any home.  Its straight backrest and complementary angled legs will instantly update the style of your décor, bringing it into the twenty-first century.
This recliner has a buttonless tufted backrest and seat, which adds a nice texture to your living room ensemble while also being easy to clean. This style not only adds a contemporary flair, but it also gives additional support to guarantee you sit comfortably.
Pros
 

Strong steel frame.

 

Easy to push back.

 

Assembly tools included.
Cons
 

Could use some extra cushioning.
Who Should Buy This?
If you have a higher budget and would like a recliner with a more luxurious feel to it, this one combines a stainless steel frame and very soft microfiber upholstery that looks and feels amazing.
Macedonia Mid Century Modern Recliner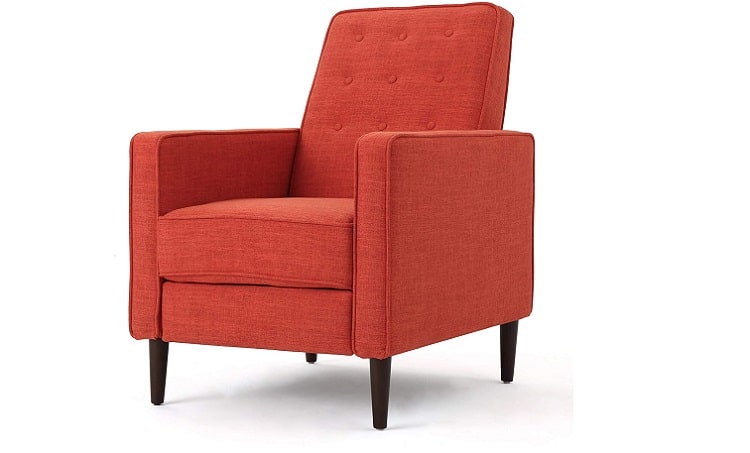 Best Budget Pick
Regardless of the room where you choose to place it, this mid-century modern chair will easily fit into the decor.  With a smooth finish and the clean lines characteristic to the mid-century modern style, this recliner will allow you to throw your feet up at the end of one of those days and enjoy the coziness of this lounging position.
Finished with a gently tufted back design and a cushion that's extra-padded for comfort, this recliner is the ultimate in convenience. The polyester upholstery is available in 15 different color options that match the boldness of the mid-century modern style, including orange, red, and muted green.
Pros
 

15 color options.

 

Sturdy birch legs.

 

Extra padded cushions.
Cons
 

Difficult to recline if you're petite.
Who Should Buy This?
The Macedonia recliner is a great companion for those of you looking for color versatility that matches multiple fabric sofas and can easily fit into different given decors.
FAQs
Question: What is Considered Mid-Century Modern?
Answer: The distinctive characteristics of this design are a classic, understated appearance, as well as clean lines and a minimal amount of bother. In the same way that form follows function, functionality is crucial.
Lines that are uncluttered and clean, having both geometric and organic shapes Ornamentation is kept to a bare minimum.
An investigation into several traditional and non-traditional materials is being conducted. Materials that are juxtaposed with one another, and occasionally in opposition to one another are also characteristic of this style.
Question: Is Mid Century Modern Still Popular?
Answer: Interior design experts are suggesting that mid-century modern elements will soon become unpopular because, even as we speak, they are slowly being replaced by the '80s style.
Question: Is Mid Century Modern Going Out of Style?
Answer: According to a piece published in Real Homes, a move away from mid-century fashion in favor of chunkier, curvier designs inspired by the 1980s has been observed during the last several years. So yes, one might argue that mid-century modern is just a tiny bit outdated.
Mid Century Modern Recliner Ideas Guide: Bottom Line
The Newport recliner is an optimal pick because it delivers great durability for the price, has a design that stays true to the mid-century modern style, and comes with an ottoman for added comfort and foot support.
And check out our site for more awesome home design and decor tips like the best mid-century modern office chair!
Latest posts by Candace Osmond
(see all)