Looking for a great Wayfair console table? Wayfair is one of the best go-to destinations for all stylish furniture ideas and console tables are no exception. We've rounded up the best Wayfair console tables by looking at style, costs, and quality so you can just pick the one that works best for you!
Need something a bit stylish to accompany the rest of the furniture in your den or living room, or you'd like to place a console table in a bedroom or study? We've rounded up the best Wayfair console tables while considering style, price ranges, and quality of construction.
About Wayfair
Wayfair is an American company that sells all types of furniture and home goods. It was established in 2002 and now, their websites offer 14 million home goods across more than 11,000 global suppliers.
Based in Boston, Massachusetts, Wayfair not only has offices across the United States but even in Germany, Ireland, the United Kingdom, and Canada. Wayfair is the parent of four other stubs under the Wayfair hub: Joss & Main, All Modern, Birch Lane, and Perigold – so maybe you've heard of these stores, too.
It was founded by Niraj Shah and Steve Conine 19 years ago and has almost 17,000 employees. Wayfair is known for the high-quality products they sell, including all sorts of gadgets for the kitchen, home décor, pet goods, and plenty of furniture items for the kids.
They sell a menagerie of holiday housewares, which makes them an iconic store to browse through as soon as the holiday seasons begin.
What Is A Console Table?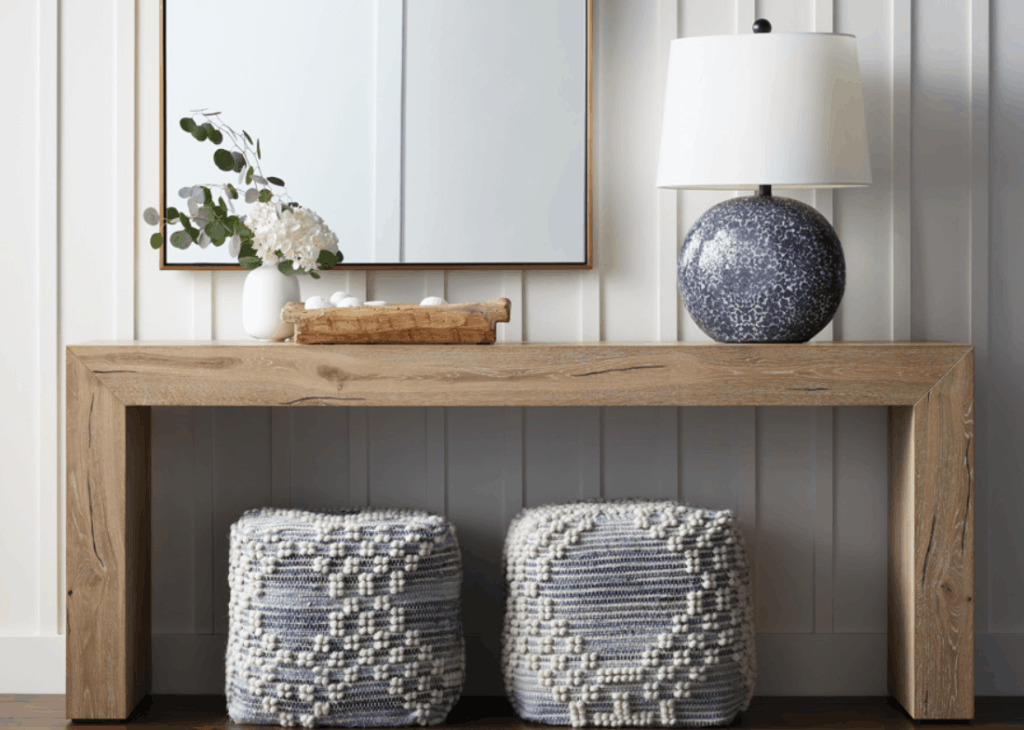 A console table can have many different uses. A console table can easily be used if you need to set up a television or gaming system in a bedroom or living room area. Many consoles come with multiple compartments where you can house games, wires, movies, etc.
Because console tables come in so many different designs, you can pretty much find the exact accent table that meets your specifications. Most console tables for entertainment systems are bulkier to withstand the weight of electronics and come with hidden drawers so you can store more stuff.
Decorative console tables are ideal for hallways, entranceways, or even against a wall as a key piece of furniture in your living room space. These tables can hold a menagerie of decorative items such as lamps, stones, books, pretty much anything you can think of.
These accent tables are usually thinner and a bit more delicate to give more decorative flair into a space.
Where Do You Put a Console Table?
You can place a console table pretty much anywhere.
Behind a sofa

Along the wall of a wide hallway

An empty wall in any room to fill a void

Inside a front or back porch to hold décor and things such as keys

In the bathroom to display soaps and towels

At the end of the bed
You can use a console table as a regular table as they also come with so many different uses. Seeing console tables in bedrooms is also not unusual, as they can act as a place to keep bureaus and personal items that you need to place down at the end of the day.
What Sizes Are Console Tables?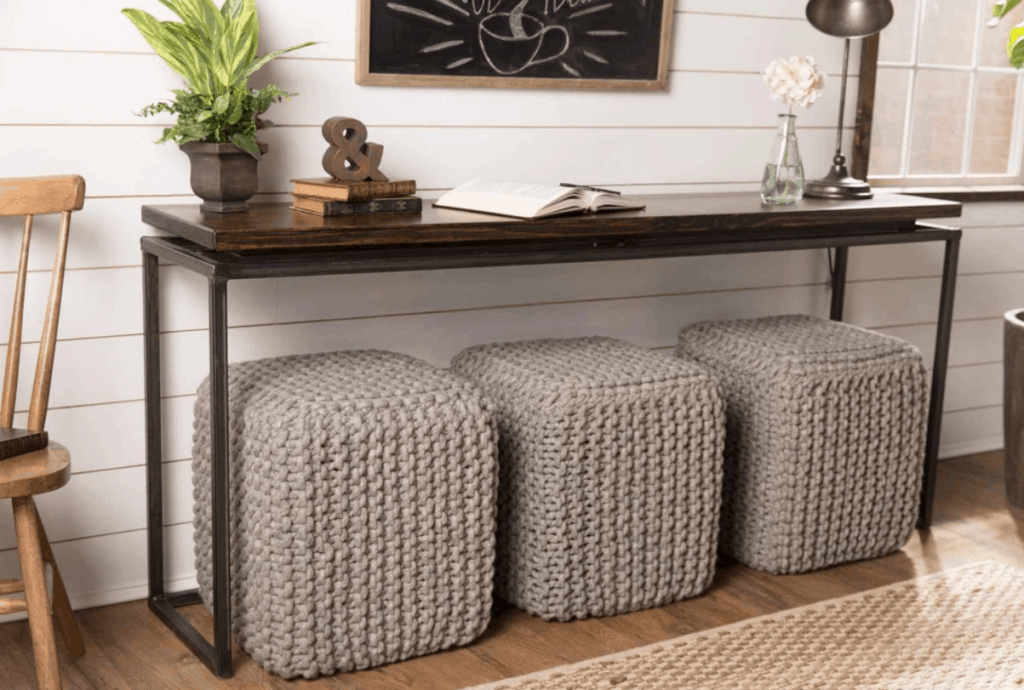 Just like the accessibility of where to place a console, they also come in a variety of different sizes. But a standard console table is usually 30 inches wide and 12 inches deep with a height of around 30 inches. The larger the items you need to place on them, such as a television or gaming system, then the heavier and larger they will have to be.
Consoles for entertainment systems usually come in a very large size depending on what exactly you need to place on the table.
The more decorative consoles can come in a more lightweight setting with a thinner table on top if you only need it to hold a few decorative items and accents. These tables are usually longer and thinner, so they don't take up too much space yet add plenty of decorative flair into a space.
Console Table vs Sideboard: What's the Difference?
If you're confused about the differences between a console table and a sideboard, don't worry. You aren't the only one. One of the main differences is that a console table is either decorative or functional as you can add it into a room for decorative flair or use it as an entertainment system platform.
Console tables can be any size and shape and are very popular to have in bedrooms and common rooms because of this versatility.
Sideboards are often found in kitchens or dining rooms as they have more room for them to store heavier items such as dishes, serving pieces, napkins, tablecloths, table décor, etc.
They are usually more functional than decorative as they can essentially act as another storage area for all things, you'd need to use within your dining room.
The Best Console Table Ideas from Wayfair
We've found the best console tables that Wayfair has to offer and included all the important specifications you may need to help you find the perfect console table for your home. We chose these tables based on affordability, availability, and positive customer reviews. From smaller tables to large, tiered tables and more, you have so many options to choose from within this list.
Arsenault 46" Console Table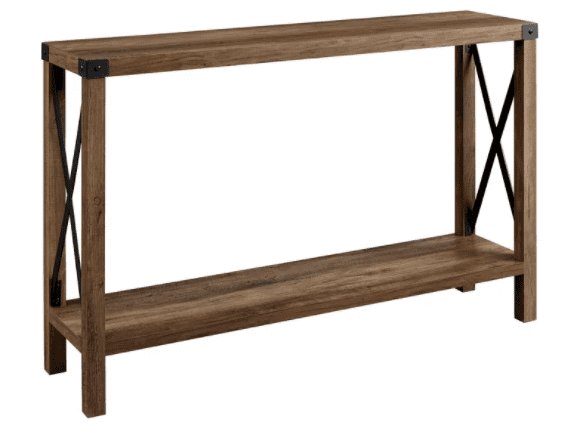 A rustic console table that would make the perfect addition to a living room, sitting room, or even in a hallway or entranceway. The gorgeous X design on either side of the frame gives this table a farmhouse chic look that is sure to draw the attention of anyone who passes by it.
This table comes with two layers of shelving, one at the very top for your lamps, books, or decorative elements and a lower shelf that is perfect for taller items such as candles or decorative lanterns.
Key Features
Size:

30" H x 46" W x 12" D

Color: Natural Wood

Material: Manufactured wood

Warranty: 90-day warranty

Price Range: Between $200 and $300
Regan 35.8" Solid Wood Console Table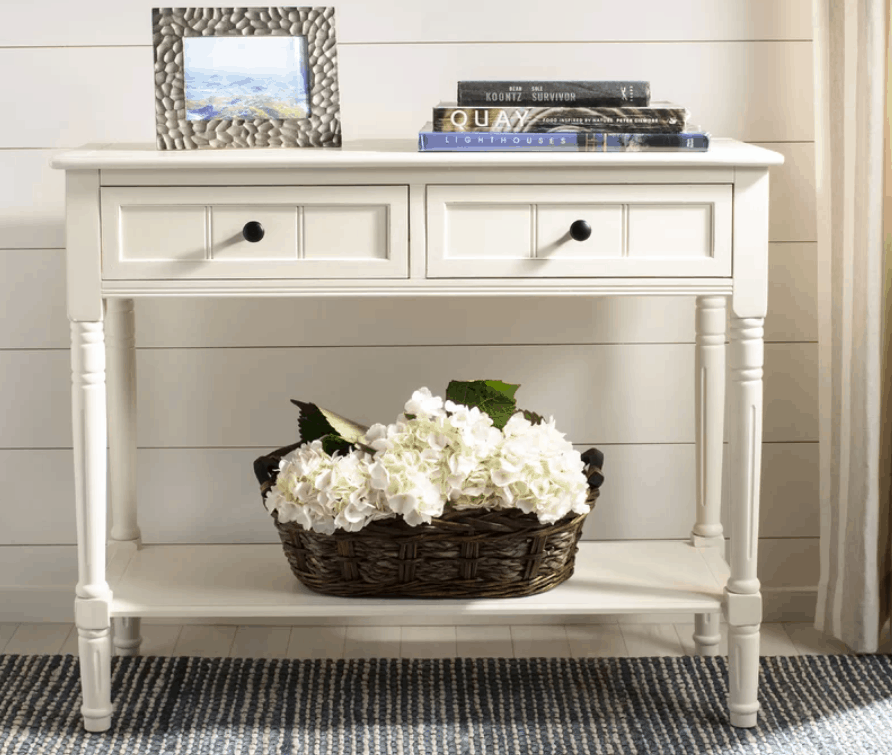 A strikingly beautiful console table, this design features gorgeous draws and long tapered legs that bring in a country, homey feel to any type of decorative setting it's placed in. Made entirely of hardwood and pine, this console table would look great in a porch area, a hallway or even in a bathroom if you have the room and space to put in some more decorative elements.
You can easily display so many decorations on this table, as well as using it for more functional purposes. Best yet, this table comes in several different colors of distressed cream, dark cherry, distressed black, red, and vintage grey so you have plenty of options to choose from.
Key Features
Size:

29.5" H x 35.8" W x 13.8" D

Color: Option of distressed cream, dark cherry, distressed black, red, or vintage grey.

Material: Solid wood and pine

Warranty: No warranty

Price Range: Between $300 and $400
Southside 39.4" Console Table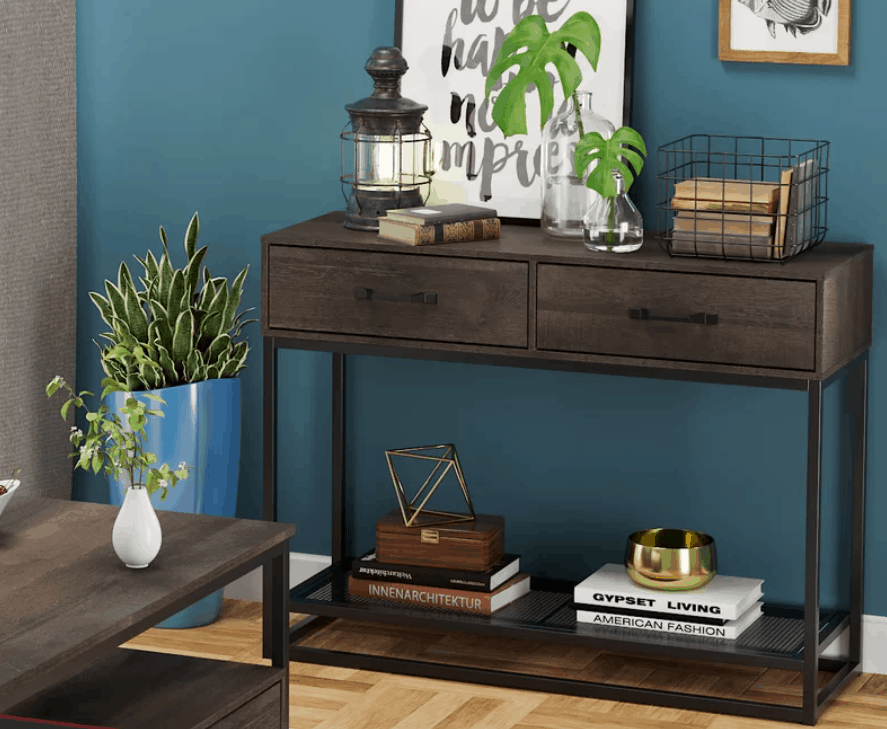 A warm and inviting style in natural wood tones, this retro table will give you a hint of nostalgia all while adding some modern flair into any room that it is placed in. This is a two-tier table that would do well in a kitchen, dining room, foyer, hallway, living room, or bedroom.
It's multifunctional so while it would look great decoratively, it can also be used functionally as a great place to store extra papers, books, and other odds and ends. It is a highly superior design that contains a heavy-duty metal frame and water-resistant wood that will certainly last you for years to come.
Key Features
Size:

29.7" H x 39.4" W x 13.8" D

Color: Option of dark brown or rustic brown

Material: Manufactured wood

Warranty: One year warranty

Price Range: Between $100 and $200
Bromford 36.02" Console Table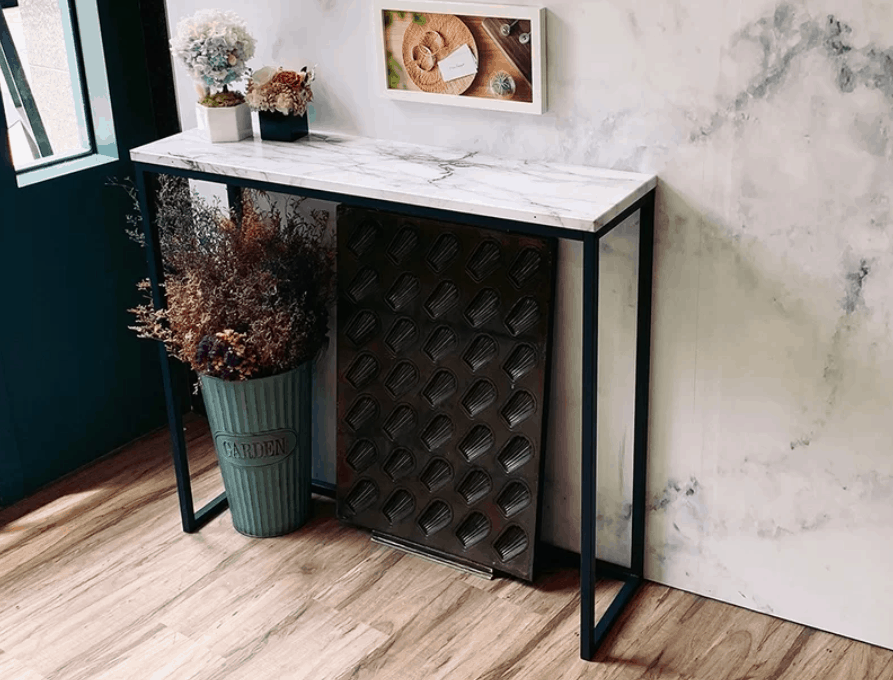 If it's not the marble print tabletop to this console that draws you in, maybe it would be the elegant tapered black table legs that will turn your head. More of a decorative item, the Bromford console table will look elegant no matter where you place it.
It would do wonderfully in hallways, foyers, sitting rooms, and any living space. It'd also make a great accessory table so you can easily grab and go with things like keys, notebooks, or bags. Whatever you choose to do with it, it will look stunning no matter what or where it is placed.
Key Features
Size:

31.88" H x 36.02" W x 10" D

Color: Black or gold

Material: Manufactured wood

Warranty: N/A

Price Range: Between $100 and $200
Sophia 39.4" Console Table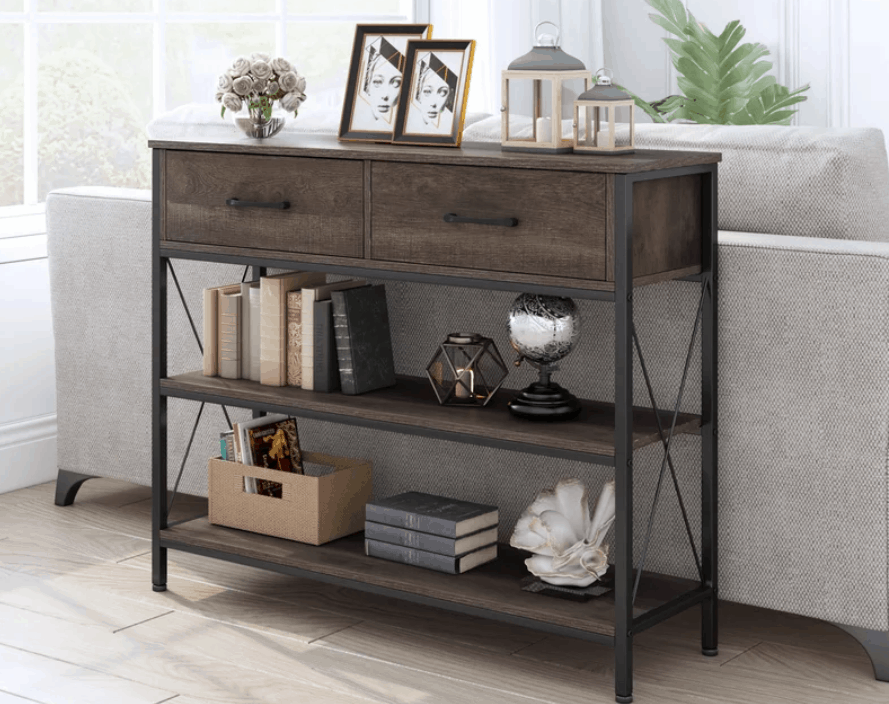 If you have a lot of decorative elements to show off, you can't go wrong by placing your Sophia console table proudly in plain sight. For a smaller console table, the Sophia comes with so many different areas to store things on and in.
It comes with two pull-out drawers to store things like papers or other items and three tabletops to place all your decorative flair on. Whether that includes books and candles, or potted plants and lamps, you have so many options and accessibility with this amazing console setup.
Key Features
Size: 

31.9" H x 39.4" W x 11.8" D

Color: Gray or brown

Material: Manufactured wood

Warranty: One year warranty

 

Price Range: Between $200 and $300
Brycn 47.3" Console Table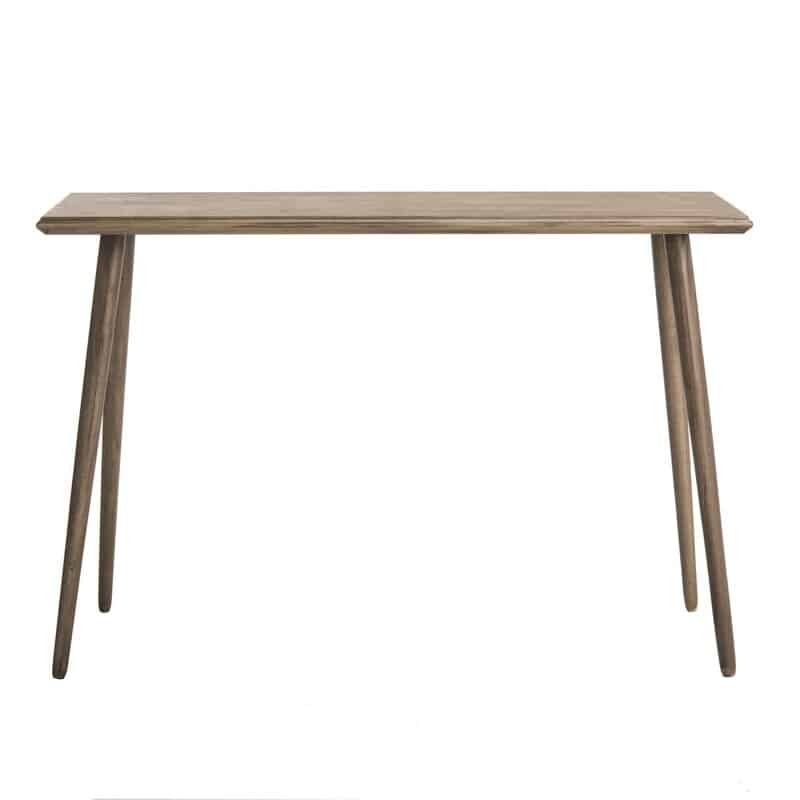 If you are a minimalist or simplicity is just your vibe, look no further than the Brycn console table. This simple yet elegant design is ideal for a smaller space like an apartment or a small house, or even in a room that you would like to insert décor into but don't necessarily have so much space to work with.
Kind of like a bench, this table is ideal as it can fit just about anywhere yet you can style it up with some chic potted plants or a few decorative elements to brighten up the space. It's a nonintrusive piece that will look fabulous no matter how you style it.
Key Features
Size: 

32" H x 47.3" W x 15.8" D

Color: Dessert brown, distressed white, or grey

Material: Manufactured wood and solid wood

Warranty: No commercial warranty

Price Range: Between $200 and $300
How to Style a Console Table
Now that you have seen some of the best console tables out there, here are a few ideas on how to style them. There are design suggestions for large console tables and small ones, it just depends on how much space you have to work with.
Tropical Vibes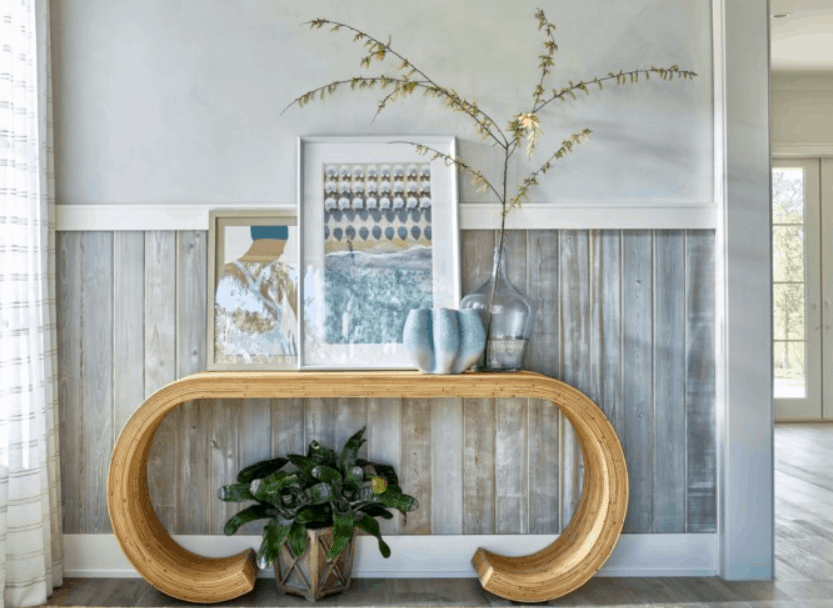 From the beautiful vibrant orange accents to the deep dark wooden furniture, this design scape features plenty of tropical vibes along with some more contemporary and traditional tones. As you can see, the natural wood color console table is opposite a sideboard in a lighter brown color that helps make the entire room pop.
This console table is proudly holding two intricate large vases to complete the circle of white accents throughout the room. This is a gorgeous setup that is perfectly planned out and executed as there is just enough balance between the orange, white and brown that makes this room all the more inviting.
Transitional Entryway
An elegant and contemporary design, this console table acts as a decorative area where the space would otherwise be lacking. A simple orb lamp, a potted fern, and some decorative books and knickknacks make this space eye-catching and more inviting.
Placing a piece of art or a mirror behind a console table will help draw the eyes in and catch more attention.
Contemporary Foyer
Sleek, modern, and contemporary are just a few of the words you could use to describe this foyer entryway. The bold console table sits strong in pewter gray and holds a few decorative vases and some simple white books to help draw eyes into the space.
The elaborate and elegant mirror hanging above this console table goes to show just how impactful other elements can be to help tie the room or space together. Since the mirror is so large and ornate, the console table doesn't have to compete with it, instead, they are placed together in perfect harmony.
Traditional Living Room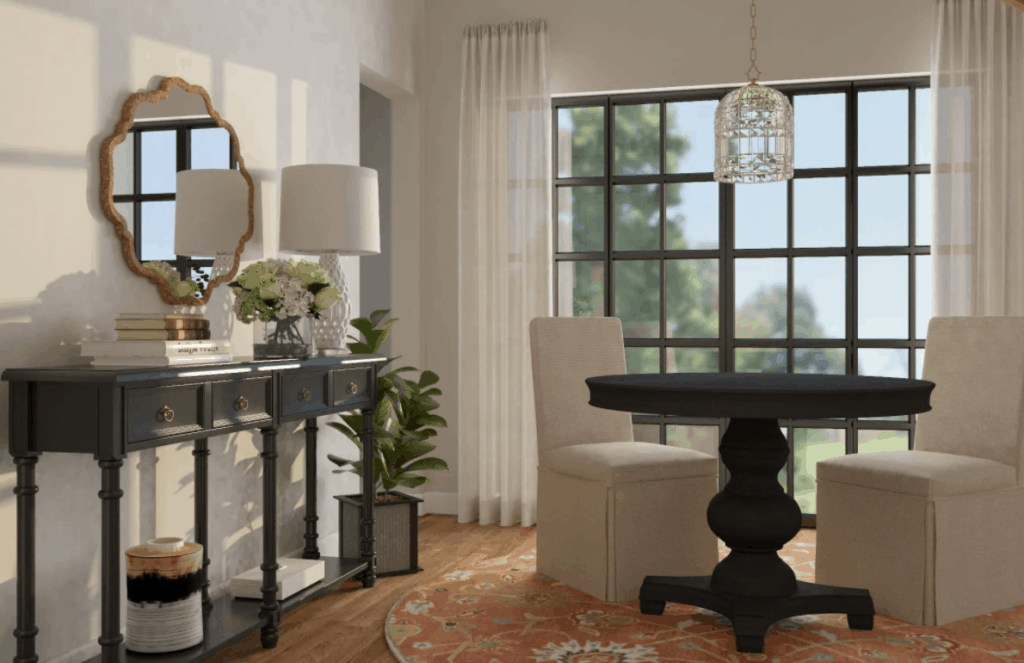 This deep dark wood console table is helping with the lighting elements throughout this gorgeous traditional living room. Two large lamps help bring in the orange glow to the space along with some delicate votive candles that only add more warmth.
This table may not have many tiers to place decorations on, but it has plenty of space to add in just some of your favorite pieces to show off.
FAQs
Question: What is the purpose of a console table?
Answer: A console table can add decorative flair to a space along with being functional as a table to quickly place things on and grab and go.
Question: What can I use instead of a console table?
Answer: A sideboard or shelves can also be used, it just depends on the size and dimension and the space that you have to fill.
Question: What is the difference between a sideboard and a console table?
Answer: A sideboard is used to store things like dishes and table settings and is usually found in a dining room. A console table is used for more decorative purposes and is placed in areas such as living rooms, hallways, entryways, or foyers.
Question: Why are console tables called console tables?
Answer: A console table is called a console table due to its original design which showcased scroll-shaped brackets that the actual table was set upon. The table legs were traditionally in the shape of scrolls or had scroll accents, hence the name console table.
The Bottom Line on Console Tables
Hopefully, you have gained more insight into console tables and how they are used after reading this article. With so many designs, sizes, and types, it'd be hard not to find a console table that would fit perfectly into your home.
Personally, I love the Sophia console table because it's a moderate size to fit in just about any space, a neutral color and style, and comes with ample drawer storage.
Did you find this article useful? Do you have any expertise when it comes to finding the perfect console table and styling it? We'd love to hear from you in the comments below! And for more gorgeous home décor and furniture ideas, check out our guide to gold coffee tables!
References
Latest posts by Candace Osmond
(see all)