Furnishing a home is a constant struggle between functionality and design, so in this article, we're going to take you through some of the best farmhouse console table ideas and picks that let you have the best of both worlds. The most recent rendition of the farmhouse style has gotten rid of often unnecessary decorative elements associated with this style in the past.
Console tables, as well as all other furniture pieces designed in this style, emphasize functionality and accessibility. Consequently, you'll have lots of storage space at your disposal regardless of the console table model you choose.
In this article, we're going to help you find the most creative way to incorporate a farmhouse console table into your home. Go through our guide to the best console table ideas to learn more about different types and styles of console tables.
At a Glance – The 5 Best Farmhouse Console Table Picks
The Main Characteristics Of The Farmhouse Home Décor Style
Over the years, terms such as rustic, country, or primitive were used to describe what is known today as farmhouse home décor style. As the style evolved, it became more minimalistic because it lost the elements that often made it look kitschy.
Although substyles like industrial, modern, or French farmhouses have slightly different features, all farmhouse furniture share some key characteristics.
Wood is the dominant material – The vast majority of farmhouse console tables and other types of furniture is made of wood. Wrought iron and similar materials are commonly utilized for handles and decorative elements.
Highlighted textures – Most farmhouse pieces of furniture are made of wood, making it easy to accentuate their texture. Some pieces even have an unfinished look that reveals the fasteners.
Neutral colors – Natural wood color, beige or white are some of the most common colors for farmhouse furniture.
Read our entryway and mudroom furniture guide for more ideas on furnishing these areas of your home.
Distinctive Features of Farmhouse Console Tables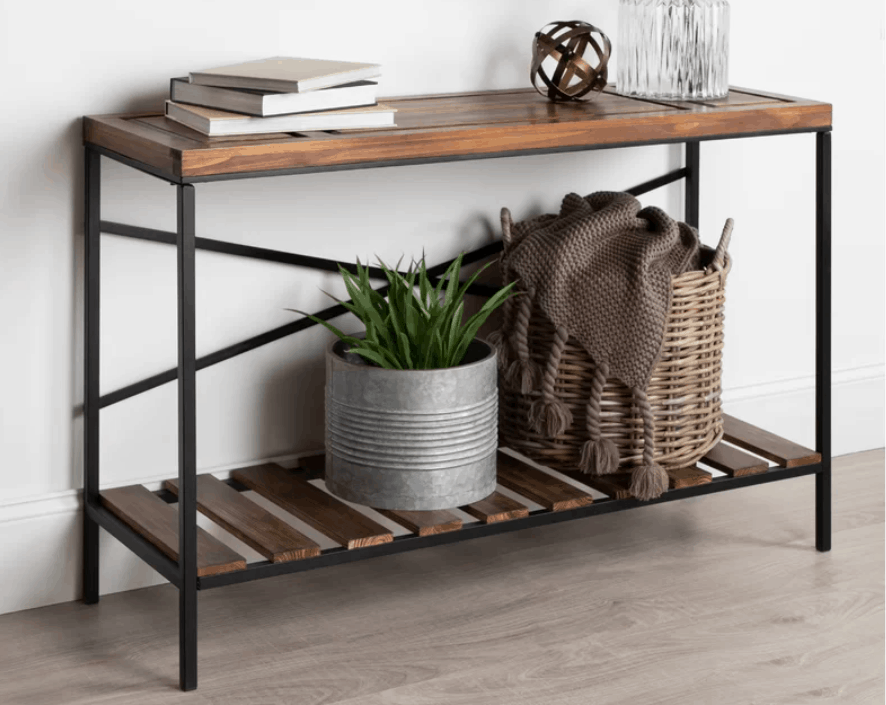 A console table is a complementary piece to the room's décor that provides you additional space to keep things you don't need at the moment. Regardless of their style, all console tables offer a similar set of features, so let's take a look at some of the most important ones.
Compact size – The depth of a farmhouse console table rarely exceeds 20 inches, while the tabletop length varies between 50 and 80 inches. The dimensions of these tables make them an easy fit for hallways and all other types of tight spaces.
Many storage spaces – Drawers and shelves aren't a standard feature on all types of console tables, but most models designed in the farmhouse style offer multiple storage options. So, besides the tabletop, you can use other compartments to store items you're not using.
Unrefined visual appearance – The charm of the farmhouse style is that it doesn't look overly polished. The unfinished and unrefined appearance of farmhouse console tables gives them a recognizable look.
Browse through our guide to living room furniture to discover innovative ways of decorating this area of your home.
Farmhouse Console Table Materials
The furniture designed in this style is aimed at homes located on farms or in deep suburban areas. That's why it is hardly surprising that most console tables designed in this style are made of natural materials. However, pieces designed in industrial or modern farmhouse style are usually built from a combination of materials rather than a single material.
A conventional farmhouse console table is made entirely of wood, although the frame and the tabletop don't necessarily have to be built from the same type of wood. Modern or industrial farmhouse console tables often have a metal frame, wooden tabletop, and shelves.
Although durable, the frame of farmhouse console tables can't carry heavy loads, and most models can hold less than 100lbs of weight. Go through our dining room furniture guide if you want to learn more about the process of furnishing the dining area in your home.
Choosing a Room For a Farmhouse Console Table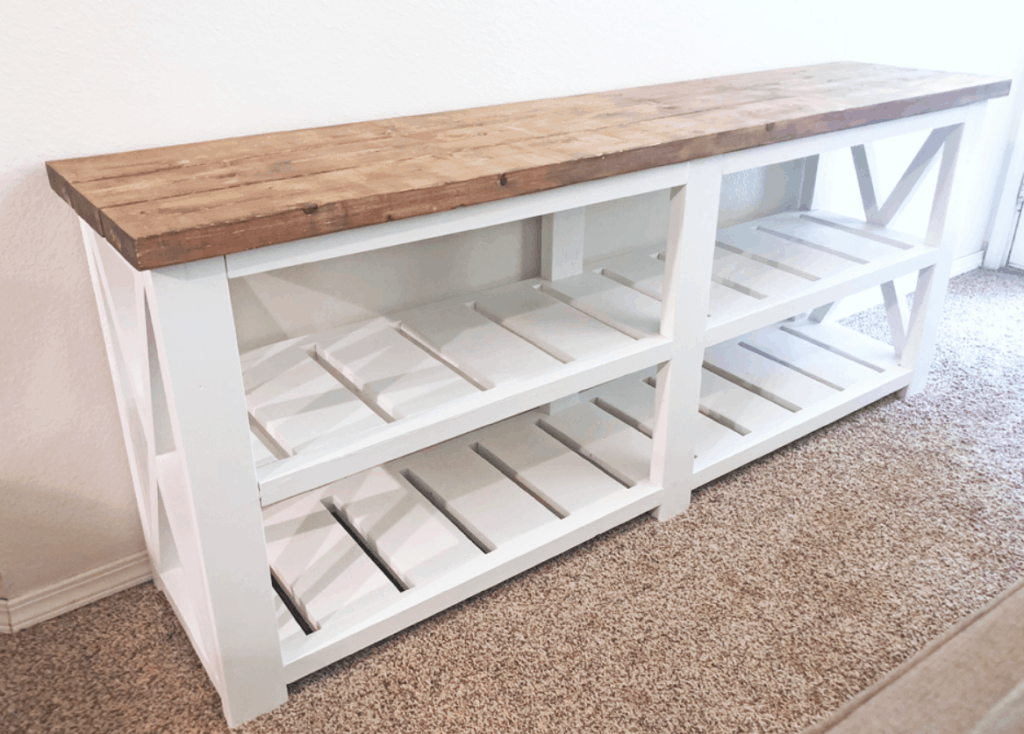 There are no rules in terms of where and how you have to use a farmhouse console table. This table type is usually placed in a hallway because of its relatively small size that occupies a minimum amount of space in an already tight room.
Some types of farmhouse console tables are designed as complementary pieces for sofas, and their tabletops are large enough to hold a lamp, a book, and a handful of other items. On the other hand, some models feature drawers or multiple shelves, making them suitable for home offices, living rooms, and all other spaces where you need a convenient way of storing things.
Farmhouse console tables can also serve as minibars that grant you quick access to your collection of drinks. So, other than ensuring that the model you'd to get has all the features you need in a specific room, there aren't any other limitations preventing you from placing a console table where you want.
Check out our furniture kitchen guide for more information about different styles of kitchen furniture.
Combining a Farmhouse Console Table With Different Home Décor Styles
Light colors and functional design enable you to pair a farmhouse console table with a wide range of home décor styles. The casual look of these tables can create a stark contrast with more elegant or traditional pieces of furniture.
Wood can make any room charming and give it a natural look, while it also matches well with furniture that contains glass or metal components. Besides furniture, you can also combine lamps, art, and other decorative elements with the farmhouse console table you choose.
The options you have at your disposal are endless, and you just have to choose an idea that reflects your vision of a particular room. Go through our bedroom furniture guide to find pieces you can easily pair with a farmhouse console table.
The Most Important Factors To Consider While Choosing a Farmhouse Console Table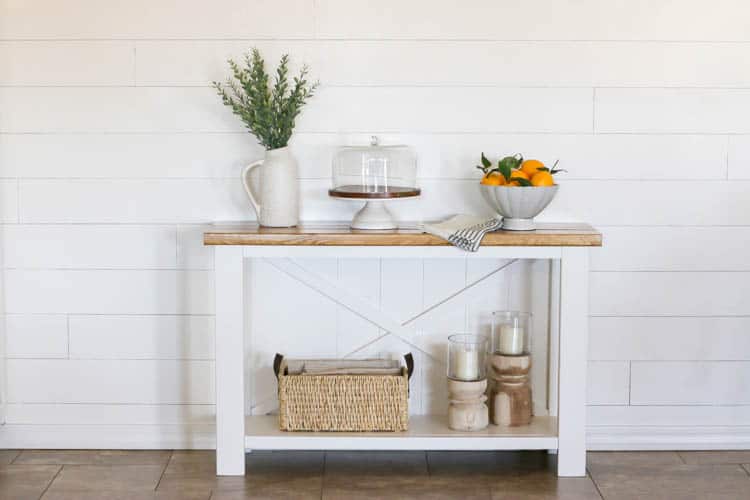 Before you start browsing through hundreds of farmhouse console table models, you should first figure out the purpose for which you plan to use this type of table. This will enable you to focus your search on models equipped with the features you need.
Several other factors can also help you to narrow down the search. We've selected some of the most important ones, so let's take a closer look at them.
The Product's Dimensions
The length, depth, and height of farmhouse console tables vary from model to model, so the amount of space a table will occupy depends on the model you choose. The depth is arguably the most important parameter because it reveals the distance between the wall and the table's outer edge.
These tables are between 30 and 40 inches tall, while their length ranges from 50 to 80 inches. Checking the table's dimensions you'd like to get will help you determine if it is the right size for the space where it should be located.
Quality of The Materials
Wooden furniture is durable, and most farmhouse console tables can withstand daily wear and tear for years. Even so, models made of plywood or engineered wood aren't as sturdy as the tables built from solid wood.
Spending a little extra on a model made of solid wood can be a good investment since you won't have to replace it for a long time.
Frame Sturdiness And Storage Options
These tables can't handle as much weight as kitchen or dining tables, and their weight limit depends on the frame's sturdiness. Checking how much weight a console table can hold will enable you to know which items you can store in it.
The available storage space depends on the size of the tabletop and the number of shelves and drawers, so you should only opt for a model without shelves if you want to keep small and lightweight items on your console table.
Available Color Options
Some console manufacturers offer their models in multiple color options, making matching the table with the rest of the furniture much easier. However, some farmhouse console tables are available in just one color that might be in contrast with the color of other furniture pieces in your home.
Neutral color models fit in a wide range of settings, and they should be your go-to option if you're still in the process of furnishing a room.
The Cost Of a Farmhouse Console Table
On average, you have to spend several hundred dollars on a console table, regardless of its style. Depending on the model, a farmhouse console table can cost you anywhere between $150 and $400.
However, overspending on these tables only makes sense if the model you want to buy is made of a durable material that isn't going to wear out quickly. These tables either have short warranty periods that last for several months, or they don't have a warranty at all.
The Advantages Of Farmhouse Console Tables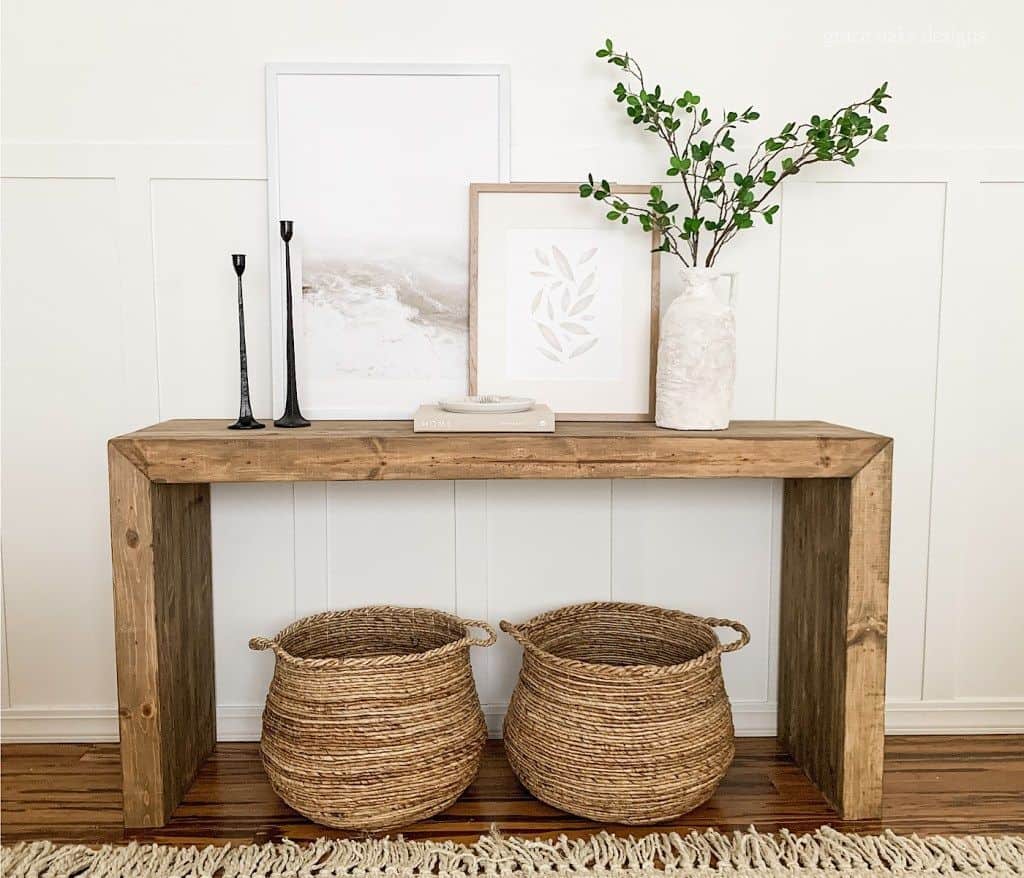 Great for Casual Settings
You won't have to worry about scratching the surface of a farmhouse table because they contribute to their worn-in look. This makes them a great addition to high-traffic areas where accidental damages can occur because of their daily use.
Compatible With Different Home Décor Styles
A farmhouse console table offers a lot of versatility because you don't necessarily have to pair them with pieces of furniture that are also designed in the farmhouse style. Instead, you can combine it with industrial, modern, and numerous other home décor styles.
Farmhouse Console Tables Don't Occupy a Lot of Space
These tables aren't bulky, so finding space for them in your home shouldn't be a problem. The average depth of a farmhouse console table is approximately 15 inches, and they're a near-perfect fit for long and narrow corridors or similar tight spaces.
The Disadvantages of Farmhouse Vonsole Yables
Limited weight carrying capacity
Unlike console tables designed in other styles, farmhouse models can't handle a lot of weight. In fact, even the models with multiple shelves have a weight limit set at approximately 100lbs, which significantly affects their storage capacities.
Top 5 Farmhouse Console Table Ideas
Atglus Farmhouse Console Table – The Best Storage Farmhouse Console Table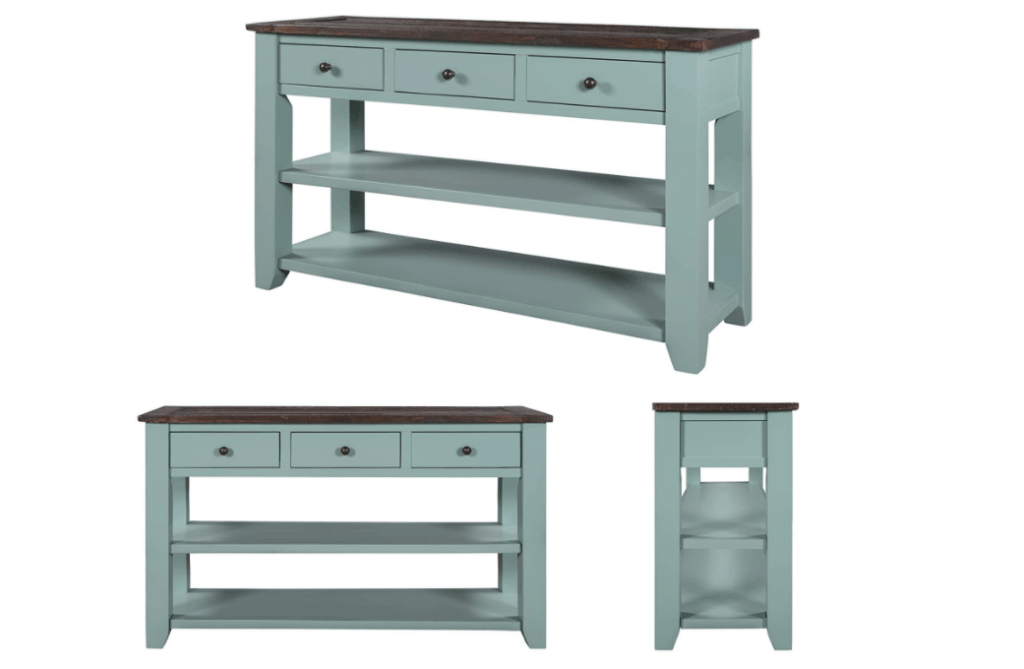 Despite having seemingly robust construction, the Atglus Farmhouse Console Table can't handle more than 99lbs of weight. The table is a great storage option for small and lightweight household objects or documents because it has three drawers and two shelves.
The pinewood tabletop is nearly 16-inches deep and 49-inches long, and it provides you with space where you can keep keys and other items you use every day. The table doesn't ship assembled, but it comes with all the tools you need to put it together quickly.
Pros
4 color options are available
It offers plenty of storage space
Compact and lightweight
Great for living rooms, hallways, or bedrooms
Cons
The frame is made of engineered wood
 The tabletop has a 99lbs weight limit
Ashley Store Susandeer Console Table – The Best Solid Wood Farmhouse Console Table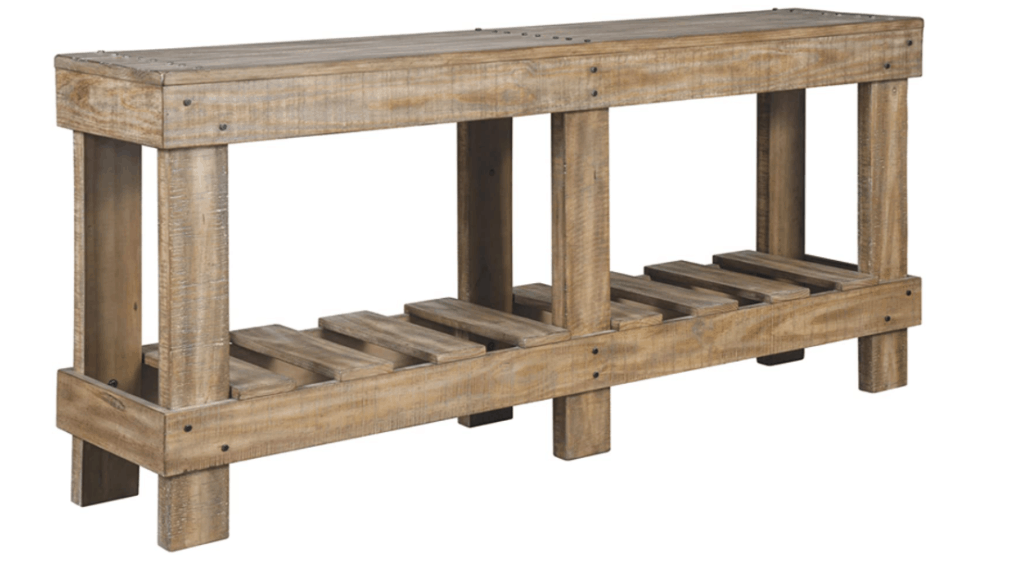 The simple and minimal design of the Ashley Store Susandeer Console Table enables you to pair it with a living room sofa or use it as an additional storage space in the hallway. The frame and tabletop are made of solid wood that gives the table a rustic and natural look.
Besides the tabletop, you can also use the lower shelf to keep items you don't frequently use out of the way. This farmhouse console table is 64 inches long and 14 inches deep, so its storage capacity is relatively limited.
Pros
Durable frame
Neutral light brown color
It doesn't require assembly
Low upkeep requirements
Cons
Expensive
Fasteners are clearly visible
eHemco Console Table – The Most Affordable Farmhouse Console Table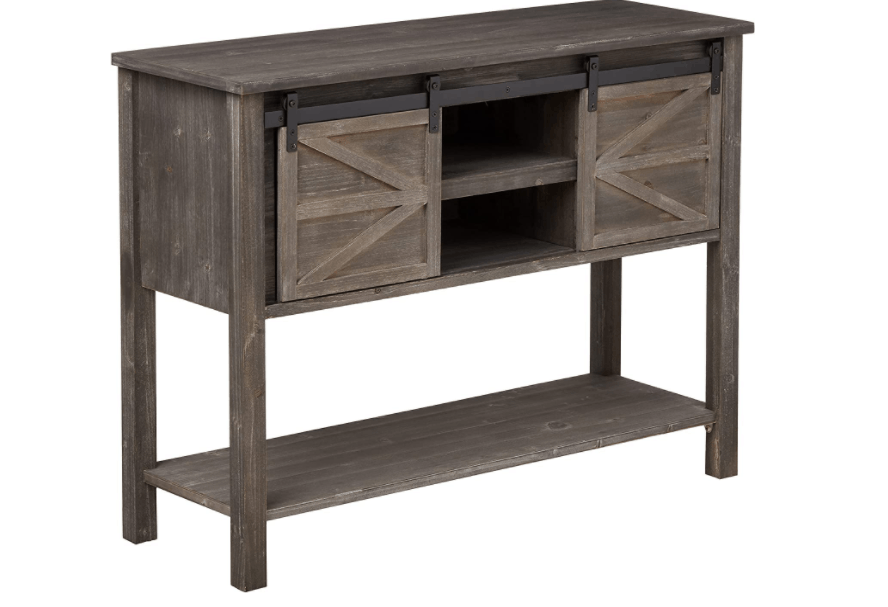 The vintage design and wooden texture give the eHemco Console Table a distinctive farmhouse look. This table is built from a combination of plywood and pinewood, so you shouldn't expect too much in terms of weight capacity.
Even so, the eHemco's model offers plenty of storage space, while its barn doors help keep the stored objects out of sight. The table also features an open shelf at the bottom where you can keep plants or items you want to access quickly when you need them.
Pros
Unique farmhouse look
Multiple storage options
Compact size
Reasonable price
Cons
Complicated assembly process
Flimsy construction
Walker Edison Farmhouse Console Table – The Best Farmhouse Console Table for Entryways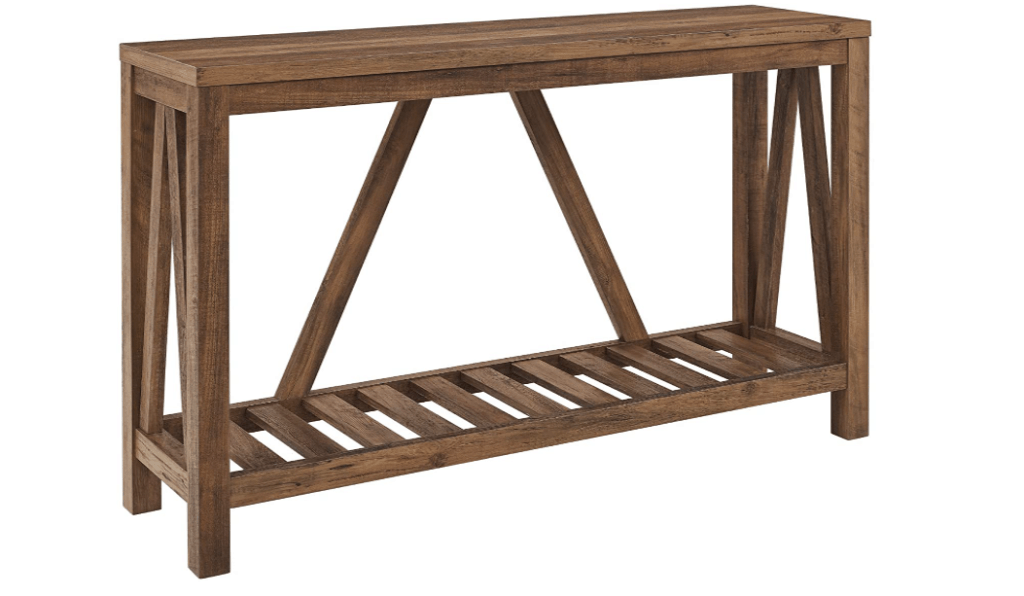 The Walker Edison Farmhouse Console Table provides you with enough space to keep all the things you need to take with you when you go out of your house in one place. This rustic table has a sturdy A-frame construction that can carry up to 100lbs of weight.
The lower open shelf comprises a series of vertically positioned boards, so small items can easily fall into gaps between the boards. The rectangular table is 52 inches long and 32 inches high, and there are four different color options available.
Pros
The frame is made of durable materials
Long and wide tabletop
A great option for narrow hallways and entryways
Natural and casual look
Cons
30-day limited warranty
The price isn't the same for all color options
Dorafair Console Table – The Best Farmhouse Console Table for Living Rooms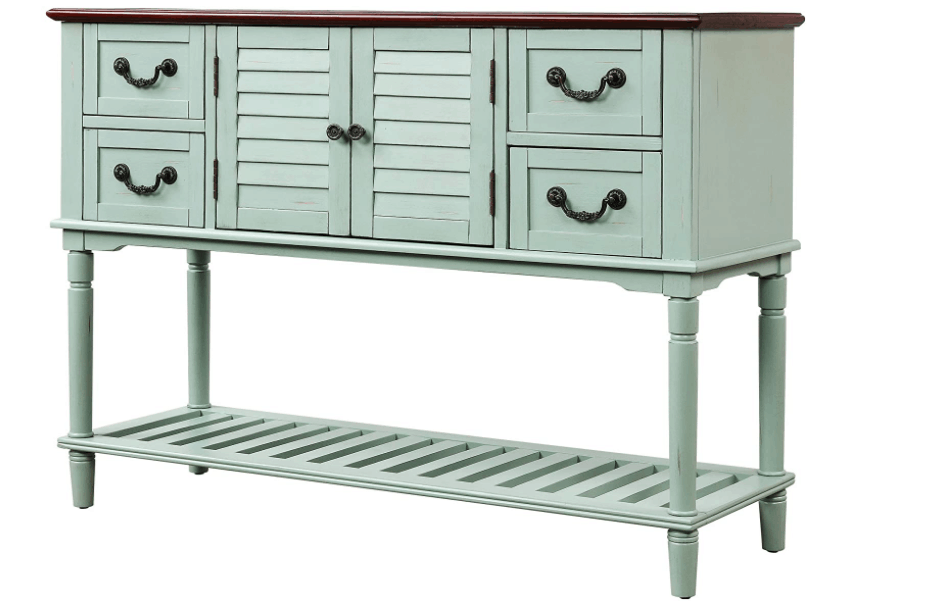 Homeowners in need of a table to place next to a sofa should consider getting the Dorafair Console Table. Besides being highly functional, this table also has a vintage farmhouse look that is accentuated by the centrally positioned double doors and four drawers.
Each drawer has retro handles that match the table's look and feel perfectly and allow you to reach the contents of the drawer quickly. The bottom shelf offers additional storage space, but only for lightweight objects because it cannot handle high amounts of pressure.
Pros
The table is available in different colors
Spacious tabletop
Offers plenty of space for documents and small household items
The table weighs just 67lbs
Cons
High price tag
The assembly process can be difficult
FAQs
Question: Are farmhouse console tables different from other types of console tables?
Answer: Besides stylistic differences, farmhouse console tables can handle less weight than the models designed in other styles.
Question: Can I mount a farmhouse console table to a wall?
Answer: Most models don't have a wall-mounting mechanism as they feature legs that support their weight.
Question: Is it possible to use a farmhouse console table as a TV stand?
Answer: Even though these tables are not meant to be used as TV stands, you can use them for this purpose if they can carry the TV's weight.
Question: Are farmhouse console tables scratch-resistant?
Answer: These tables can be scratched easily if you're not careful, but scratches often fit into their worn-in look.
Our verdict: Which Farmhouse Console Table Has The Most To Offer?
The coziness, warmth, and functionality of the rustic style are an inseparable part of its appeal. Farmhouse console tables should be viewed as complementary pieces of room décor that help keep the space neatly organized.
Besides the traditional farmhouse look, you can also opt for a model designed in one of the sub-styles that combine the characteristic of contemporary or industrial furniture with key features of the farmhouse style.
We recommend the Dorafair Console Table because of its versatility that enables you to blend it with the living room or mudroom furniture equally effectively. However, if this model doesn't fit your budget, you should consider a more affordable option like the eHemco Console Table.
Hopefully, our guide has helped you discover a farmhouse console table that fits seamlessly into your home. Share your opinions with us in the comments or continue reading our guide to white TV stands.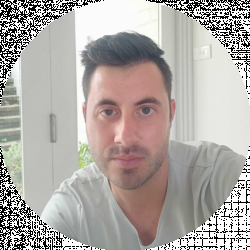 Latest posts by David Borgogni
(see all)