Wondering which accent piece to use for your entryway or on that empty wall in your living room? A glass console table can add a nice touch. These days console tables are fit for any space besides hallways and entryways. They serve to create captivating focal points in drab, empty sections of a space. 
If you don't know where to start your search for ideas and inspiration, fret not. We've done detailed research on what's available. Our search delves into types of glass console tables, designs, usage, styling, and more to help you make that all-important decision. First, though, let's see what you need to look for in the perfect glass console table.
How to Buy a Console Table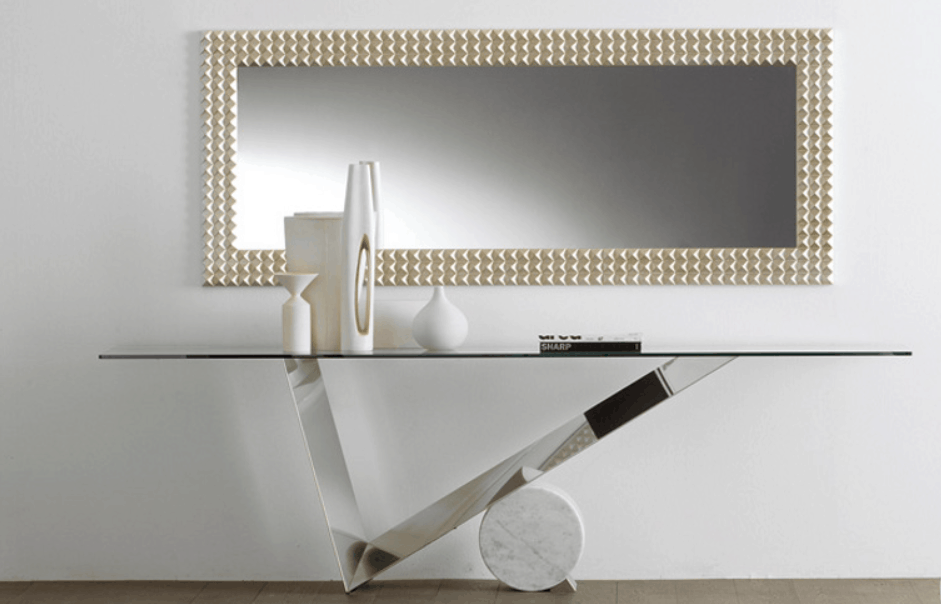 1. Measure, Measure, Measure 
Measurement is the first golden rule to buying furniture and fixtures. Always have accurate dimensions (LxWxH) of the space you'd like to accentuate. It saves you resources and helps you narrow down the ideal piece in time. 
2. Choose the Style
Console tables come in various designs; thus, your taste and preference dictate what to buy. There's also an advantage to sticking with your decor theme because it gives your home continuity and flow. However, don't always let your taste and preference determine your choices. Step away from the tried and tested momentarily because an unlikely design can offer the perfect contrast to achieving your needs. 
3. Decide on The Material
Your use/need for the console table determines what material to go with. If you're going to place heavy stuff like your out of door items (keys, wallets, and phones), you're better off with wood, metal, or marble. Tempered glass is ideal if its only use is to place delicate decor pieces, floral vases, books, or magazines.
4. Settle on a Type
Due to different uses, console tables come in an assortment of designs. They could have shelves, racks, or drawers for wine, books, and toys. Others like those with a narrow top base could be ideal for your out of door items like keys, wallets, and phones. With some, you might want to place extra bulky stuff underneath the console table in a neat manner, so the leg or base design matters.
Glass Console Table Ideas: Our Top 5 Picks
1. Juliette Glass Top Console Table: Best as an Accent Piece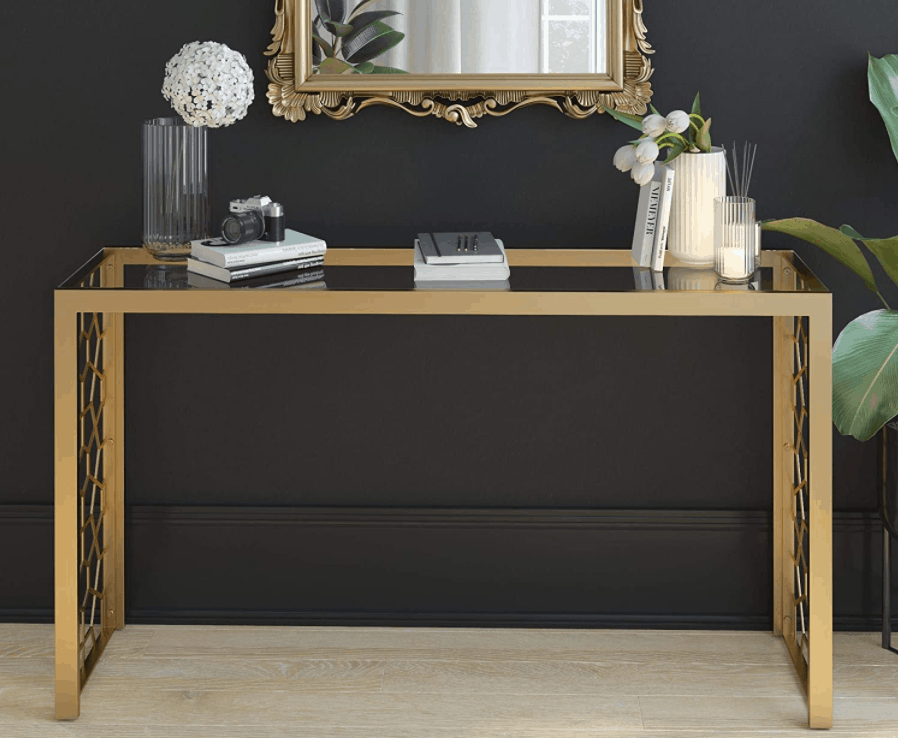 Now, this is one glass console table with some amazing artistic soft brass detailing. The design features clear tempered glass with brass metal side panels in a gold finish and rectangular shape.
It looks complicated to assemble, but that's far from the truth. It has clear instructions to speed up the process. This glass console table can work in several spaces like dining rooms, bedrooms, or even office spaces.
How to Style: If you're dying to splash some color or patterns in and around it, you're on. Colors that are bound to go well with it include; emerald green, dusty pink, purple and egg-yolk yellow. You could also throw in a patterned area rug; the black and white one, in particular, would work pretty well.
If it's against a wall, you could paint the wall in your preferred bold color, fix a suitable wall hanging or use patterned wallpaper. This glass console table would also be fantastic to display your liquor or wine collection in the living room.
Pros
Value for money

Sturdy

Easy to assemble

High quality

Durable
Cons
2. Mission Glass Console Table: Best for Light Delicate Items and Storage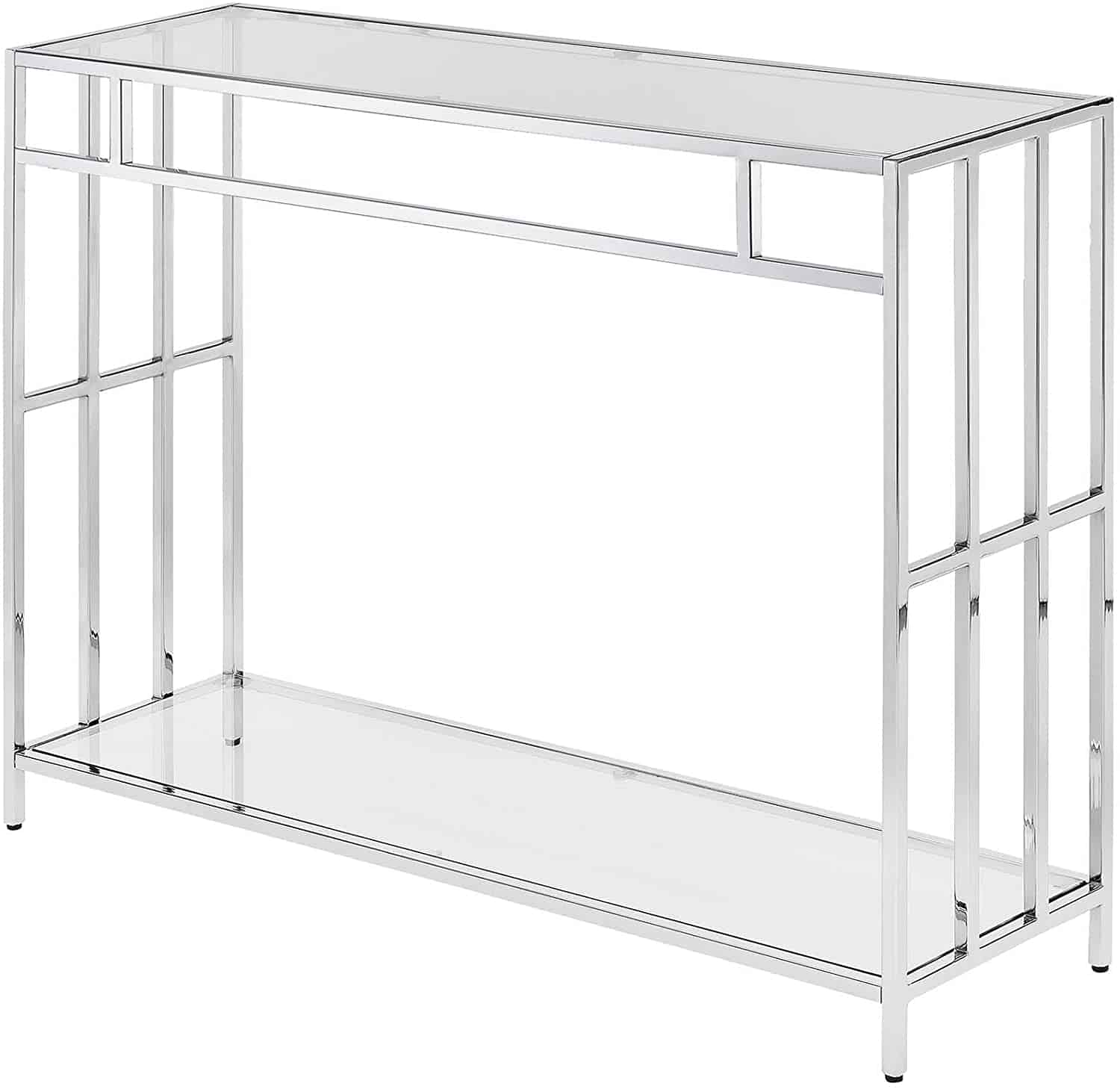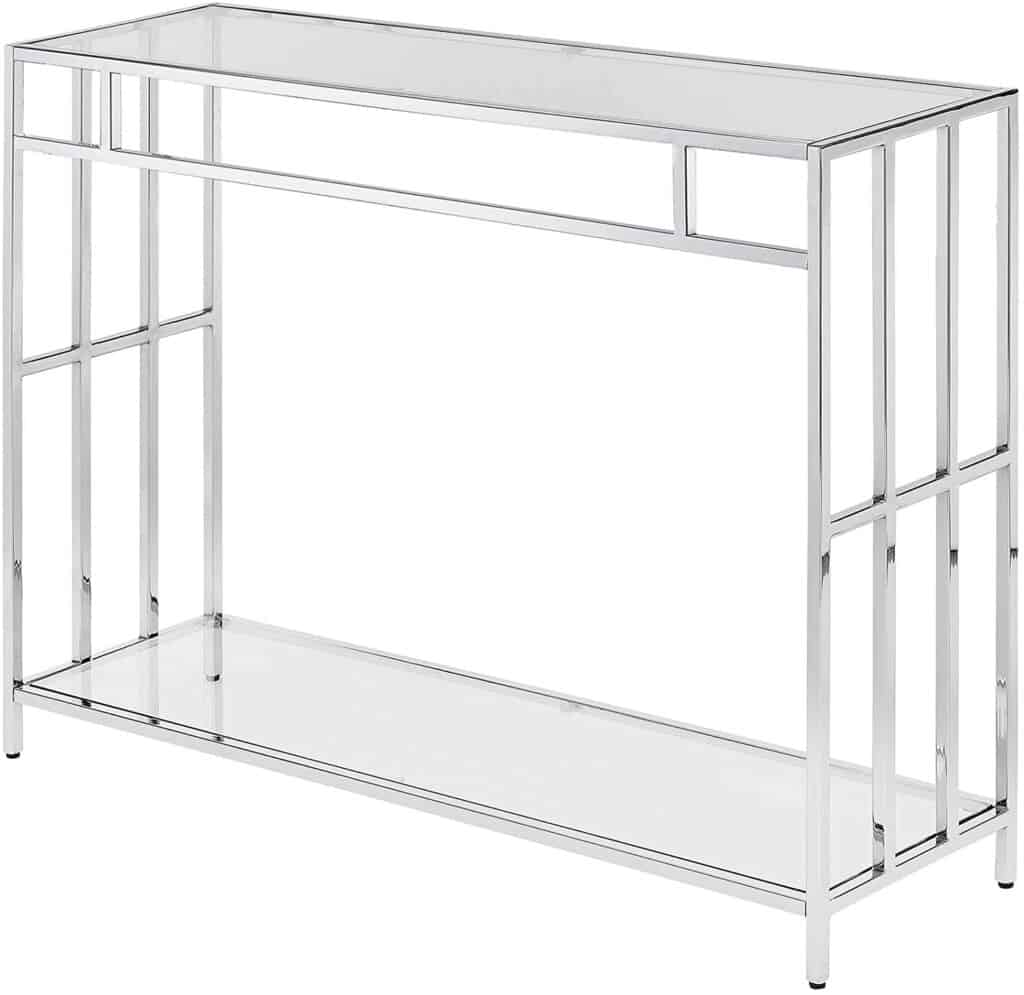 If functionality and beauty were a console table, this glass console table with shelves would be it. The contemporary style in this console table is brought to life by a chrome metal frame and clear tempered glass tiers for the top base and bottom shelf.
Besides being an excellent accent piece, you can use it to store some of your more delicate items like treasured books, picture frames, souvenirs, and light vases.
How to Style: Since it has a clean, linear feel, don't use colorful items to style it. Instead, go for pale colors like dusty pink, gray, black, and ivory. If it's against a wall, try a large abstract painting or mirror with white or silver. Black and white or checked patterns could also get a go.
Pros
Easy to assemble with clear 4-step instructions

Sturdy

Value for money
Cons
Not suitable for heavy items
3. Paschall Glass Top Console: Best for Small Spaces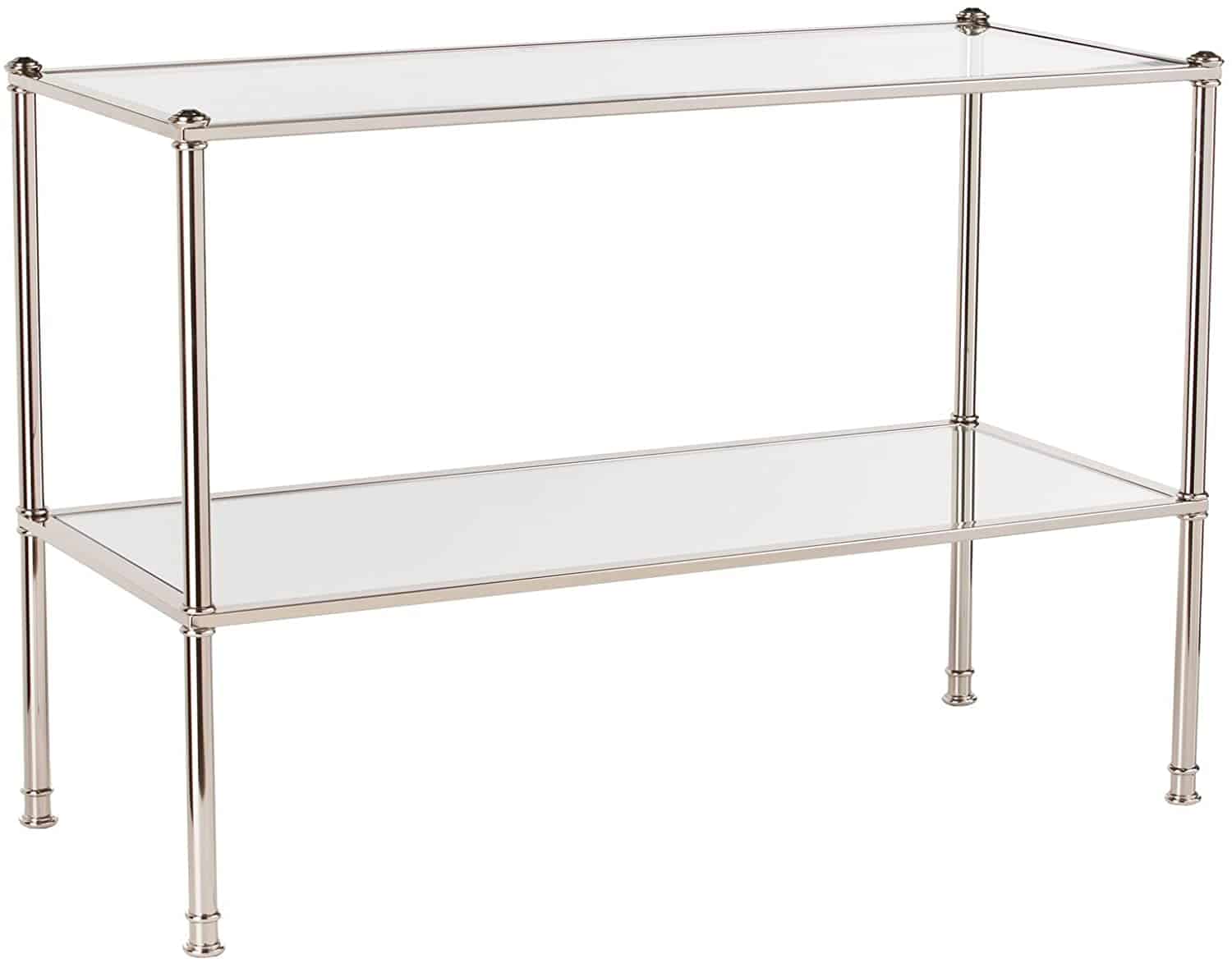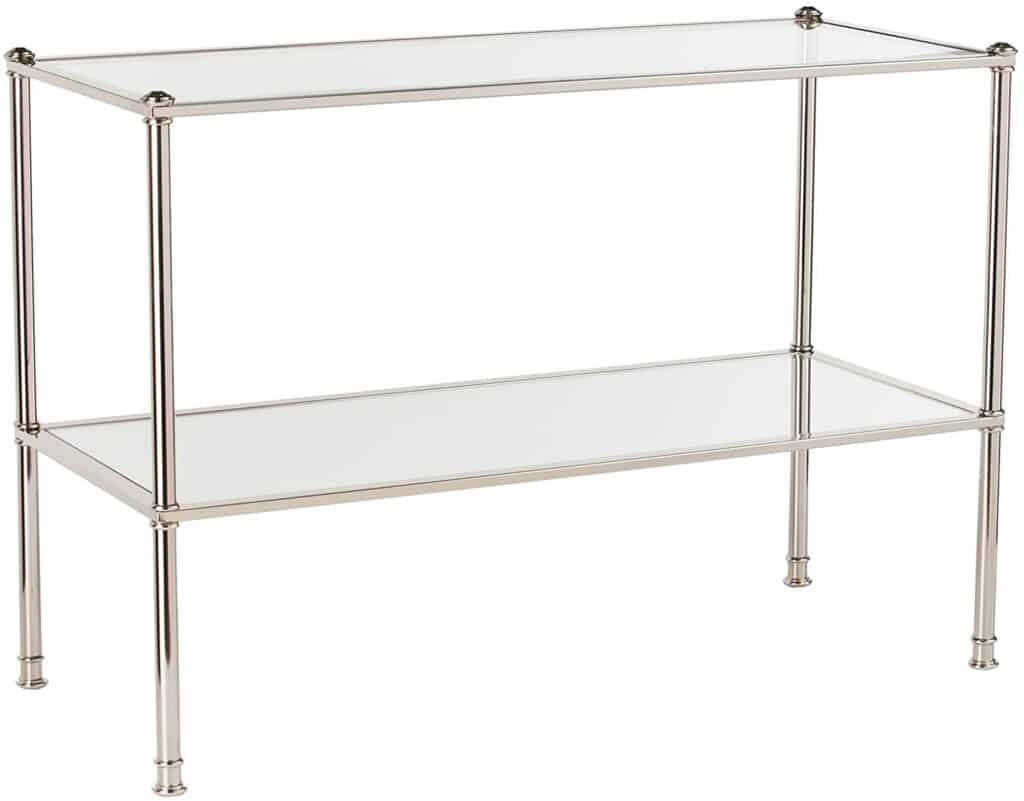 What an exquisite, compact glass console table we found in a soft but glamorous style! It consists of a metallic silver metal frame and tempered glass for the top and a mirror for the shelf top. The design is outstanding since it has a clean and linear composition, making it the perfect console table to draw a focal point. The glass top can support a weight capacity of up to 30 lbs, while the shelf glass top supports 20 lbs.
How to Style: Use it for light and delicate decor pieces like picture frames, small candle stands, abstract art, and pottery. Magazines and coffee table books can go on the bottom shelf. You can also play with the wall by either painting it in a bold color or placing a large colorful painting.
Pros
Affordable

Easy to assemble

Sleek and stylish
Cons
There are some complaints that the table is not as sturdy.
4. Faux White Marble Console Table: Best for a Spacious Hallway or Living Room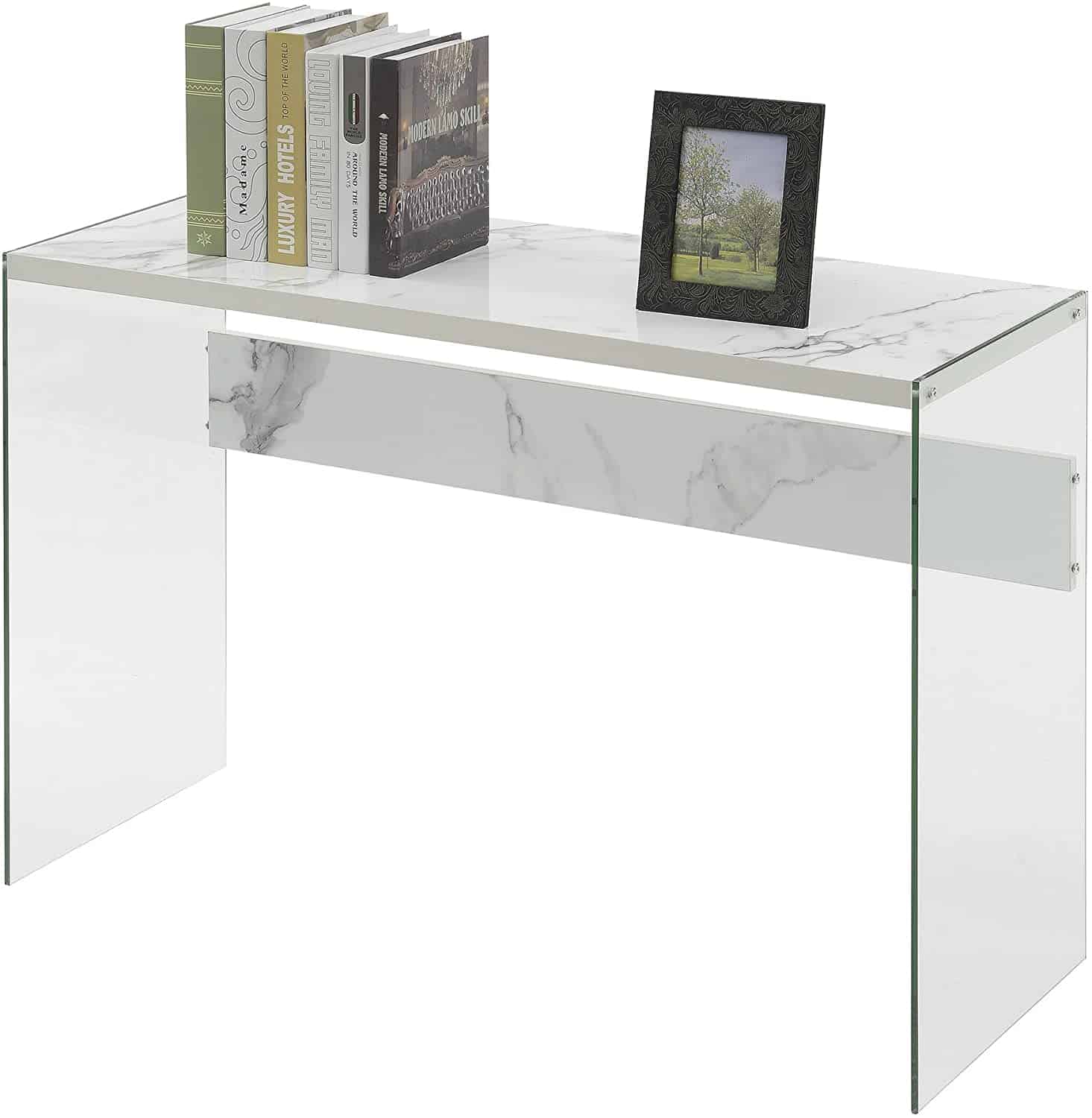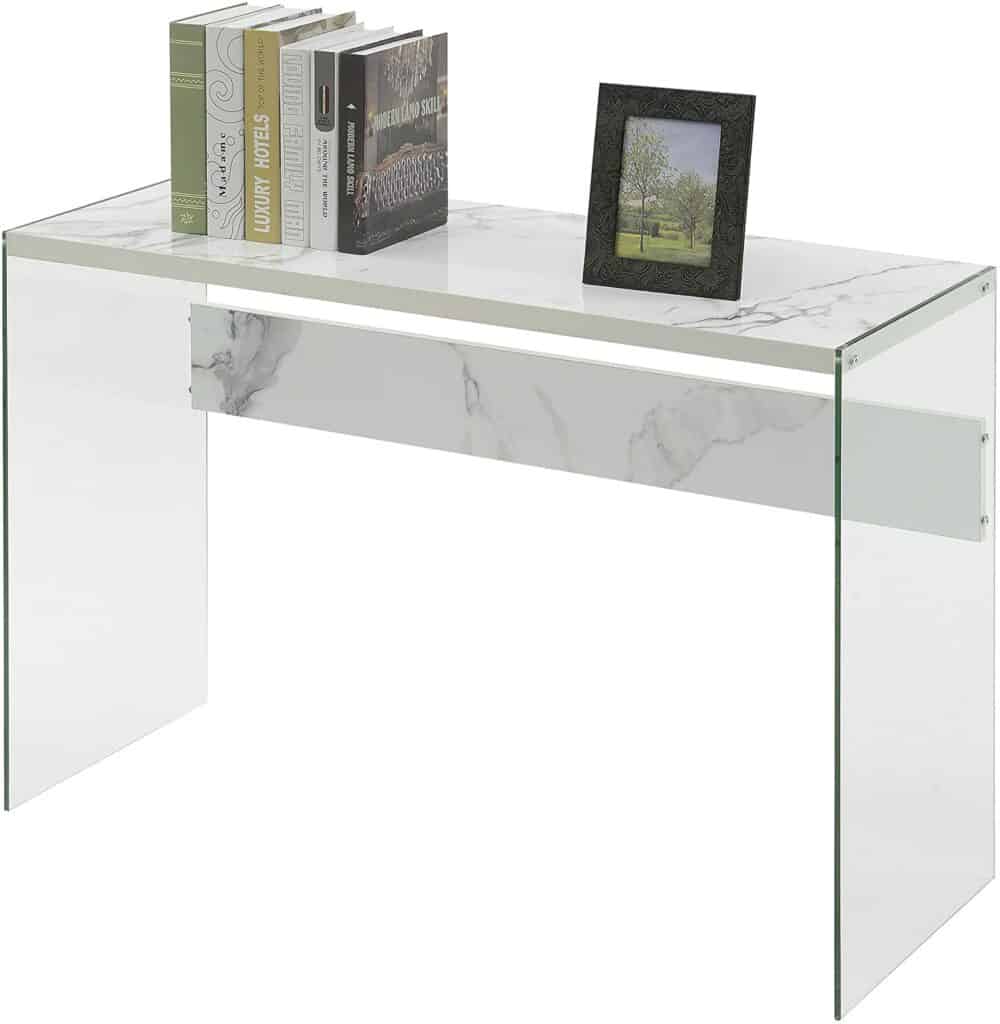 Magnificent is the only way to describe this glass console table's design. It has exquisite clean lines and an elegant silhouette that's bound to give a drastic transformation to whatever space you put it in. The top and back consist of engineered wood with a marble-like finish. The frame features sturdy tempered glass, which makes it appear barely there or floating. It comes with 16 screws and simple instructions for a pretty easy assembly process.
How to Style: Due to its sturdy frame and top base, you can place heavier items like vases, candelabras, and sculptures. Some colors go well with a white marble-like finish.
Try decorating with items in navy or ocean blue, chocolate, dark yellow, and olive green. The space beneath the top base can be perfect for storing giant cushions, ottomans, and baskets of toys and things you'd like to keep away from sight.
Pros
Sturdy

Versatile design

Easy to assemble
Cons
5. 2-Shelf Glass Console Table: Best for Entryways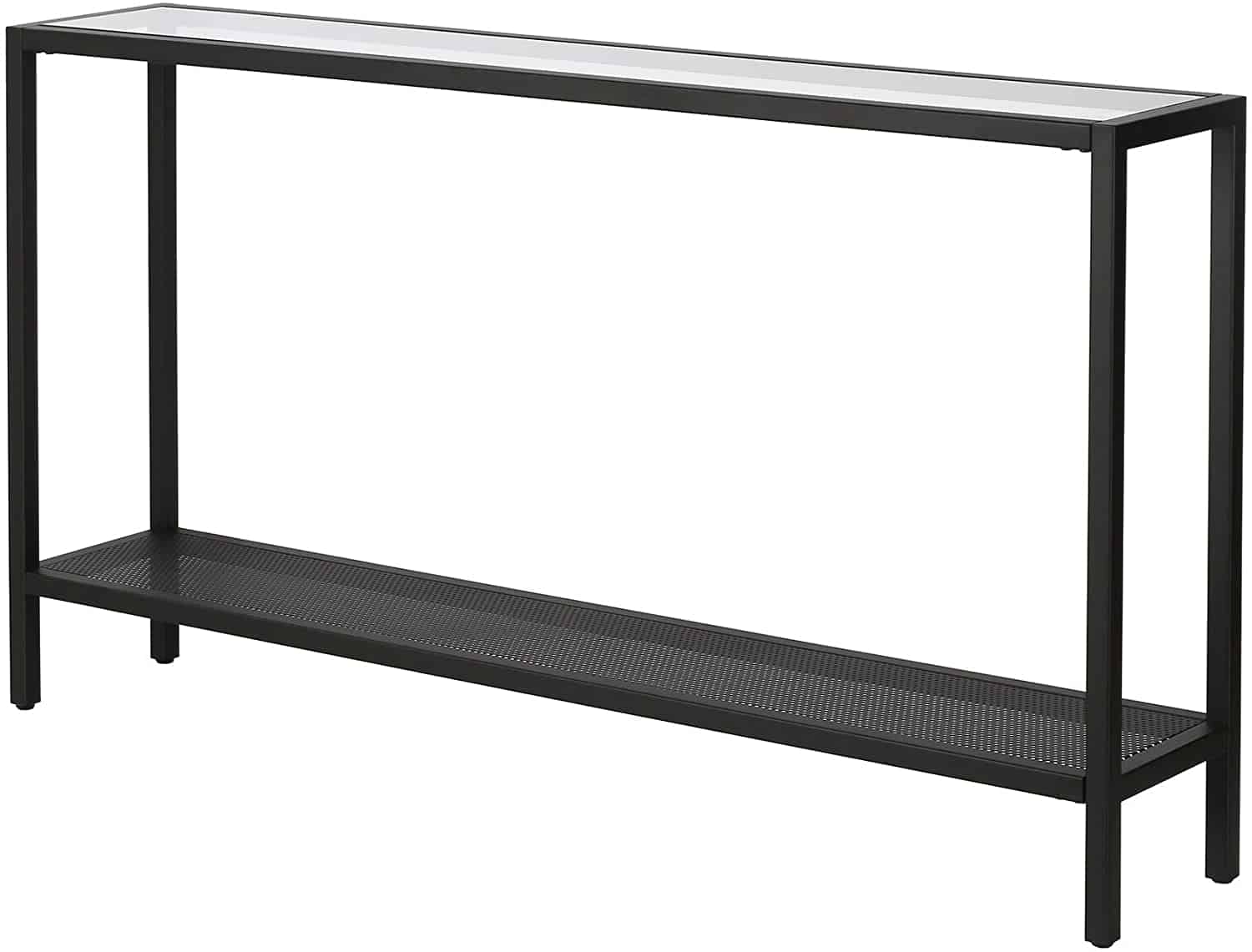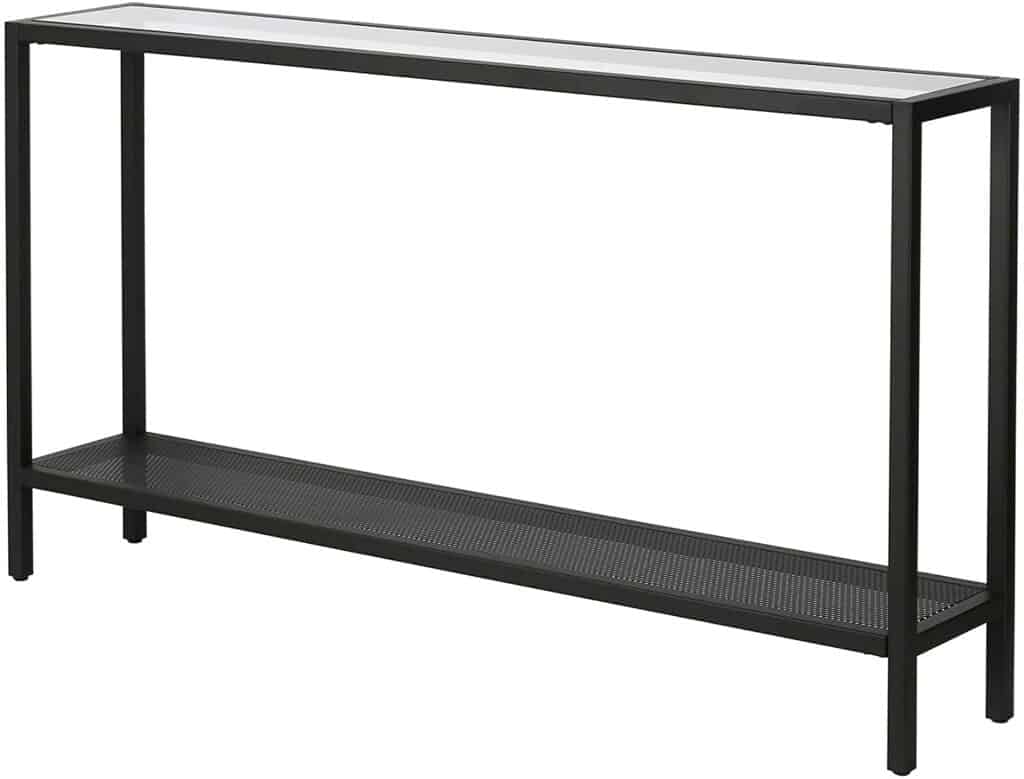 We've searched and found the perfect glass console table for your entryway. It comes in a handcrafted blackened brass bronze frame, a sturdy tempered glass top, and a metal mesh shelf. That means it's strong enough not just for your decor trinkets but keys, wallets, and phones too. The bottom shelf can be lined with boxes or baskets of everyday items you'd like to keep out of sight.
How to Style: Being the first thing everyone comes into the house to see means you've got to think through what impression you'd like to create. For one, let's talk color.
White and ivory are a good place to start, as are Fuschia and teal. You can also create a focal point at the center with a painting or mirror. We vouch for a mirror because people and even yourself may go to have a quick glimpse before you leave or go in.
Pros
Sturdy

Easy to assemble

Perfect for compact spaces
Cons
The color could be a bit limiting
FAQs
Question: How Do You Style a Console?
Answer: There are a million decorating ideas for console tables, depending on your style preferences. Since consoles come in different designs and sizes, here are some styling ideas for your consideration.
Create a central focal point with a stunning piece of art, mirror, or picture frame; the bigger, the better. Alternatively, you can create clever patterns on the wall with plates or baskets, curved cutouts, and more.
Check the weight capacity of your console; if sturdy, place large vases, lampshades, or large abstract art pieces. The rule of thumb is to play with varying heights; high, medium, and low. Always ensure there's a proper balance by not having more decor pieces weighing more to one side. Whether the arrangement is symmetrical or asymmetrical, ensure there's some balance.
Make creative use of the space on top, underneath, and around the console table. If there's no shelving below, use it to store toys in neat baskets or boxes. You could also use that space to store small portable furniture like ottomans, giant cushions, and stools. You can place tall lampshades, potted plants, or carvings at either end of the console table.
Question: How Do I Style My Entryway?
Answer: There are plenty of ways to style an entryway, and it all depends on the size of the space and the impression you'd like to create. For instance, you can use wall hangings to cover the bare wall below the console table. A tall potted plant like bamboo or a yucca, bench, or area rug can create an interesting focal point.  
Then there's what you can achieve with a console table. Create a focal point with a well-designed mirror being the ideal. Decide what you want to place on it. You could use it for keys, loose change, and the mail or display some nicely scented indoor potted plants. If you intend to draw attention to it, use decor trinkets in varying heights. Something else: Don't heap decor; make it look like clutter. Less is more is always the best way to go.
Question: What Goes on a Console Table?
Answer: You can use anything as long as it's functional or of sentimental value to you and your loved ones. To be practical, use table lamps, vases with florals, potpourri, coffee table books, framed photos, ornaments, pottery, and any suitable decor piece. Always remember to incorporate texture, color, and shapes (varying or not).
Question: Can You Put a Console Table in the Living Room?
Answer: Of course, you can. Console tables are accent pieces that you can use in any space to create a focal point. You can use a console table for decoration, storage, or as a handy surface for when you have stuff to place on it. But you must be sure what purpose you want it to serve; otherwise, it will be another excessive piece of furniture you can't wait to get rid of or give away.
Question: How Do You Hang a Mirror on a Console Table
Answer: Whether you're customizing a mirror or have one ready, here's what you need to know. The average height of a console table is 30 inches, though designs vary with some heights ranging between 28" – 32". Say you estimate the height of a console table to be 30" – 36"; the mirror above it should be of a similar height (or slightly more or less) but have lesser width than the table.
A wider mirror dwarfs the console table, and a taller one spoils the balance. The distance between the mirror and the console table should always be between 6" – 8".  However, as with design and style, there's always wiggle room for some exceptions. There's nothing wrong with a mirror taller than the console table if there's a high ceiling. You can also use a smaller mirror or multiple small mirrors to create a dramatic effect. 
Glass Console Table Ideas: Conclusion
Have you drawn good ideas and inspiration from our review of popular glass console tables on Amazon? Do you feel equipped to find the right glass console table for your needs?
It's great to know that glass console tables come in different shapes, sizes and designs. You can also place them in any space as long as you know how to use and style them. When looking for a console table, focus on the console table dimensions vis a vis your space. Factor in the design style, materials used, and usage type. 
If you can't make up your mind or simply need an idea from us, we recommend the Juliette glass top console table. First, it's a fantastic accent piece that would sit well in any space. Second, it's easy to decorate with bold and pale colors, shapes, and textures. The space below it is spacious, and you can customize it to your taste and preference.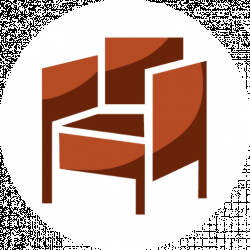 Latest posts by Finally Furnished Team
(see all)