Triple bunk beds are the saving grace of the large family in a smaller home, and they're safe too. Our guide to the best triple bunk bed ideas can help you choose a quality bunk bed that will not only save space but will provide a safe and fun way for your child to sleep. We think these beds aren't just for sleeping, and they can be fun designs as well.
We only detail the best in products with both good and bad points of owning a triple bunk bed. While the good outweighs the bad, we want you to be aware of all aspects of buying a piece of great furniture because, after all, honesty is the best policy.
You see, our carefully picked products will likely last a lifetime when used correctly and maintained for your child or teen.
At a Glance: 7 Best Triple Bunk Beds
| | | | | |
| --- | --- | --- | --- | --- |
| Triple Bunk Bed | Best for… | Foundation | Dimensions | More Info |
| Dorel Living Triple Bunk Bed | Transition: Can be 3 twin beds or bunk bed/day bed. | Pine Wood | 79.25 x 43.5 x 77.13 | Find out more |
| Homesquare Solid Wood Triple Bunk Bed | Most durable and space-saving option | Pine with Walnut Finish | 78 x 44 x 79 | Find out more |
| Merax Twin Over Twin Over Twin | Sleeping and fun (built-in slide) | Gray Plywood | 77.6 x 40.4 x 78.1 | Find out more |
| Max and Finn Altona Triple Twin | Space-saving and easy assembly | Metal | 78 x 41.5 x 76.5 | Find out more |
| Suncrest Twin Over Twin L-shaped Triple | Good for 3 younger children | Pine Wood | 61.5 x 39 x 75 | Find out more |
| Flieks Triple L-shaped bed with storage | Sleeping, storage, and extra space. | Pine Wood | 78.7 x 37.7 x 61.4 | Find out more |
| Merax Full over Twin and Twin | Unique full over twin | Wood | 99.4 x 80 x 70 | Find out more |
What is a Triple Bunk Bed?
A triple bunk bed is an altered form of the popular traditional bunk bed. If you need to sleep three, no problem. The triple bunk bed sleeps twin-over-twin-over-twin (or the full version), two twin beds over one full, or one full bed over two twin beds.
The triple bunk bed has been around for quite some time, but it's been a basic rendition of the bunk bed until recently. Now, there are many options of triple beds to choose from for your child. We suggest making yourself familiar with the triple bunk bed and then check out our own favorite selection.
Types of Triple Bunk Beds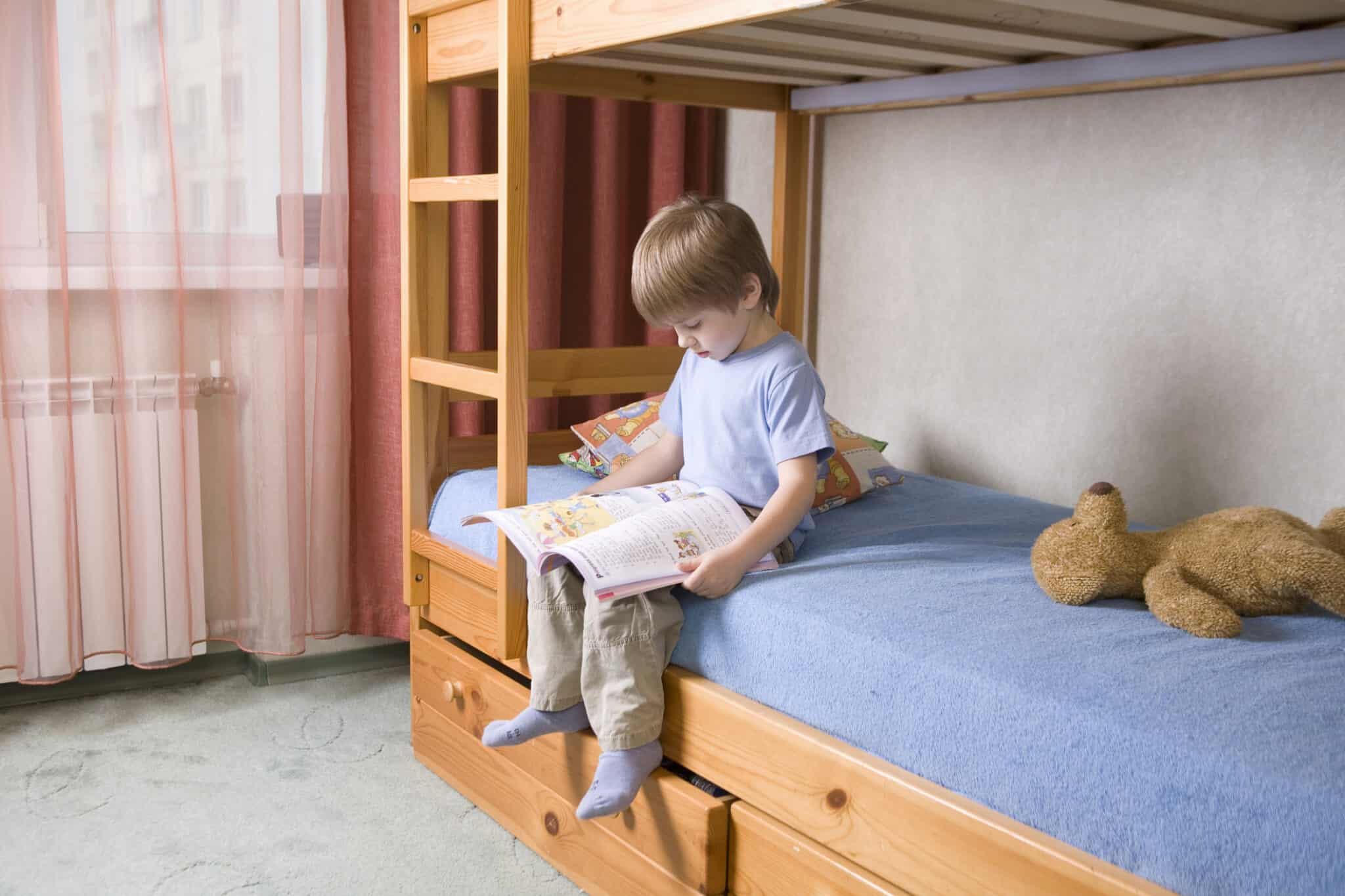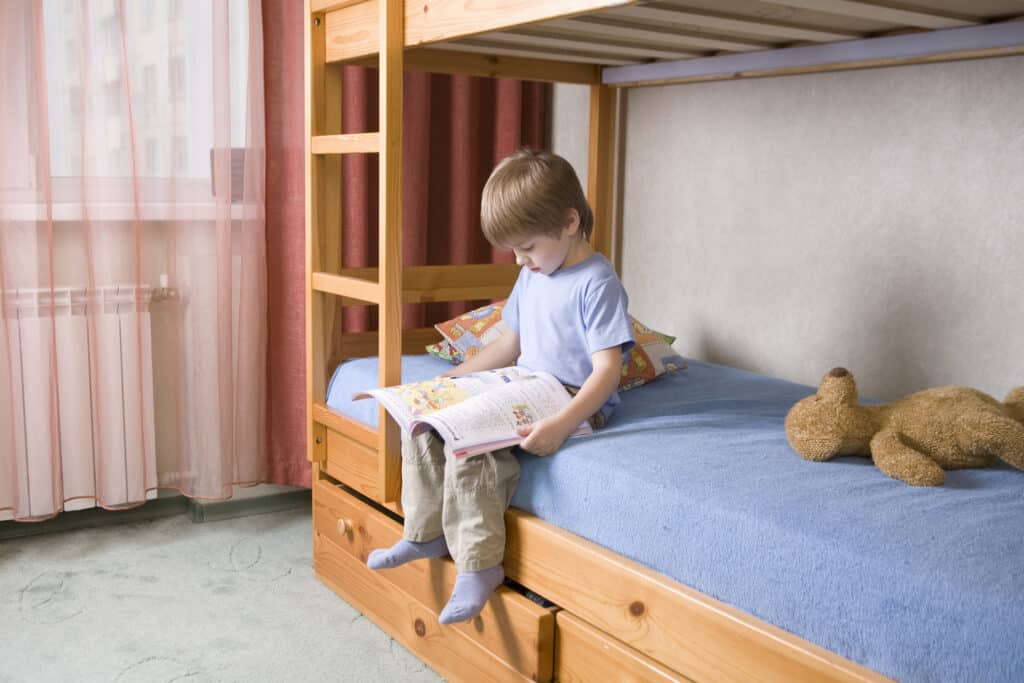 There isn't just one type of bunk bed that fits all. Instead, there are several types of bunk beds to choose from.
The Steel Bed
One of the most basic bunk bed styles, this simple selection of furniture is easy to assemble. It is slightly less sturdy than wood but still perfectly safe for sleeping, as per the weight capacity for each steel bed.
In addition, it can fit neatly in the corner of the room, further stabilizing its structure and providing a safe place for your children to sleep. The steel bed is also easy to clean, using only a solution of soap and water to remove any residue.
Wood Bunk Bed
The basic wood bunk bed has the most stable foundation and is usually built from pine. It is protected with several types of finishes.
If your child is on the rambunctious side, we recommend a sturdy genuine wood bunk bed to weather their moods. While these types of beds may take a bit longer to assemble, they can last for many years.
The Basic Triple-Decker
The basic triple-decker straight bunk bed can be constructed from various materials, namely, steel or wood. The bed foundation is uniform in construction with a simple ladder.
It provides ample room for three children with the addition of top guardrails. These types of bunk beds are usually fitted with twin bunks.
Triple decker/ full size
The triple-decker with full-sized options can be used for sleeping double or for children who need more space during the night.
Whatever the reason, this bed is fitted for full-sized mattresses. Usually, slats eliminate the need for box springs. Weight capacity will also vary between the twin and full-sized options.
Partial Ladder Bunk Beds
The ladder only extends to the second level with these bunk beds, providing easy access to the middle bed. As for the top bunk, children must climb the rest of the way up, which usually isn't a problem for the more active child. However, we wouldn't recommend smaller children using the top bunk.
Extended Ladder Bunk Beds
If everyone needs ladder access to their bunks, the full ladder option is available. This ladder goes from the floor to the top of the bunk bed. If your children aren't as active, this serves that purpose and provides safety for smaller children.
L-shaped With Two Beds on Top and One on the Bottom
This is ideal for two older children who feel safe climbing to the top of the bunk bed. It also provides a unique L-shape if there's a need for this form in the child's room. The bottom bunk is accessible to a smaller child. There is usually ample space underneath the bed for storage as well.
L-shaped With One Bed on Top and Two at the Bottom
The L-shaped triple bunk bed with two at the bottom serves a different purpose than the two on top. With this type of bed, it's ideal for two younger children and one that isn't afraid to climb a bit higher to go to sleep. Again, this shape may complement the room or fit better running from the corner along the wall.
Storage Options and Fun Accessories
Some triple bunk beds come with storage and accessories. One example is the L-shaped bunk bed that can have many storage compartments. Some straight-line beds come with fun accessories like ladders or even ropes to climb to the top bunk.
You can find all sorts of triple bunk beds with added options and accessories to fit your individual needs. Some even have fun slides for really active children.
Bunk Bed Additions and Your Decor
Before deciding on a particular bunk bed, we think it's wise to consider your accessories. This includes mattresses when applicable, bedding, and pillows.
Sleep.org is one place to shop for mattresses. While there are many twin-sized bunk beds, our picks also include full-sized bed frames as well. So when glancing through our list of the best triple bunk beds, take note of which pieces require twin options and which require full-sized bedding.
Also, when accessorizing and choosing colors of bunk beds, you may want to coordinate according to your child's room.
Measure your space, take note of your design, and purchase accordingly when ready. Our guide is here to help you through all of this. Also, ask your child's opinion. After all, they're the ones who will be sleeping in the bunk beds.
Our Best Triple Bunk Bed Picks
These triple bunk bed styles are great for any home, large or small. Whether you have many children or if your child entertains regular sleepovers with friends, these beds serve those purposes well.
There are also a few intriguing styles to choose from as well. We chose these bunk beds based on affordability, positive customer reviews, and availability!
Let's take a look at 7 of the best triple bunk beds on the market:
Dorel Living Triple Bunk Bed is the Best Overall Choice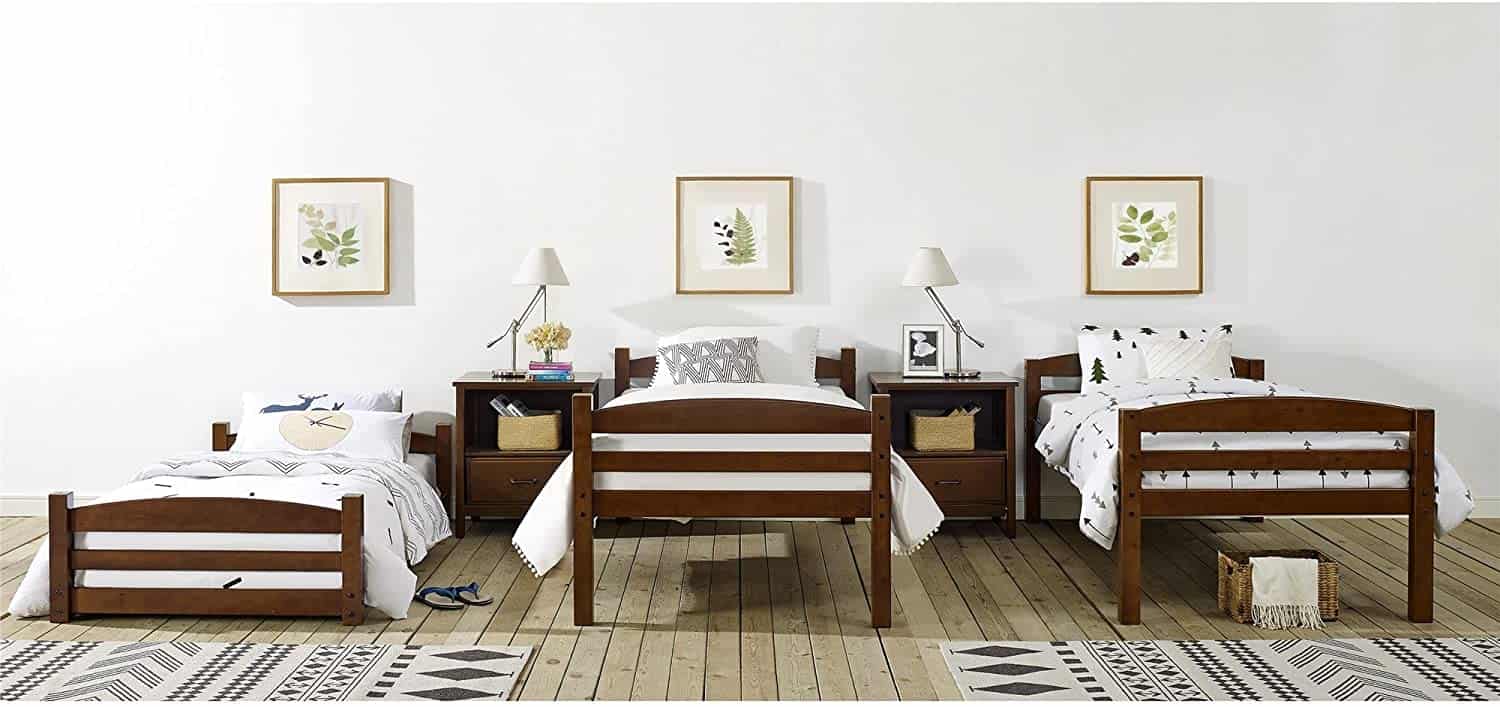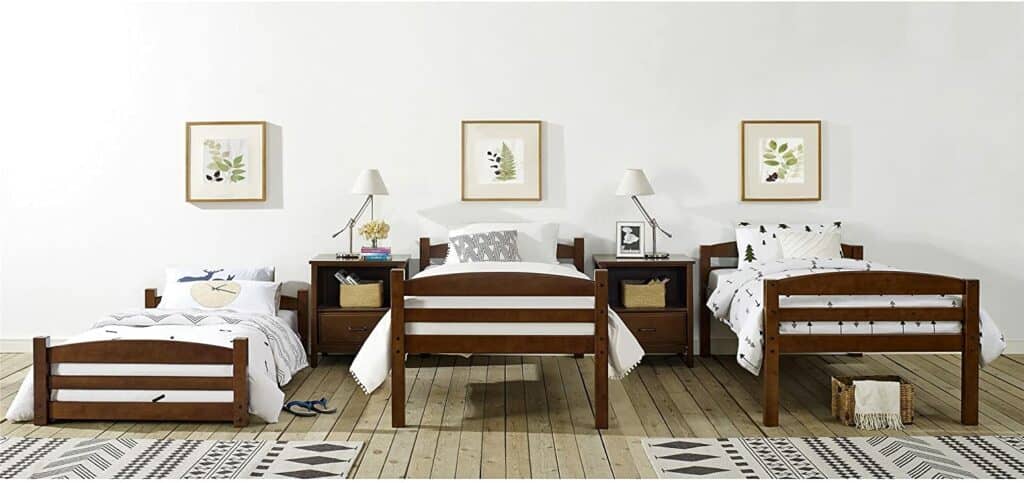 If you're looking for a transitional design, we can point you in the right direction. Dorel Living triple bunk bed optimizes space while providing conversion options. We chose this product because of its ability to convert into a daybed if needed, then back to a triple twin bunk bed once more.
This bed comes in one color, Mocha, which goes well with most other bedroom furniture choices. The product comes with a full ladder from floor to top bunk, a partial ladder to the middle bed, and guardrails on the top two bunks.
Overall dimensions: 79.25 L x 43.5 W x 77.13 H, inches
Weight: 179.3 lbs
Pros
Simple construction
Durable wood foundation
Double ladders and guardrails
Cons
It only comes in one color
No bottom guardrails
Solid Wood Triple Bunk Bed-Walnut, from Homesquare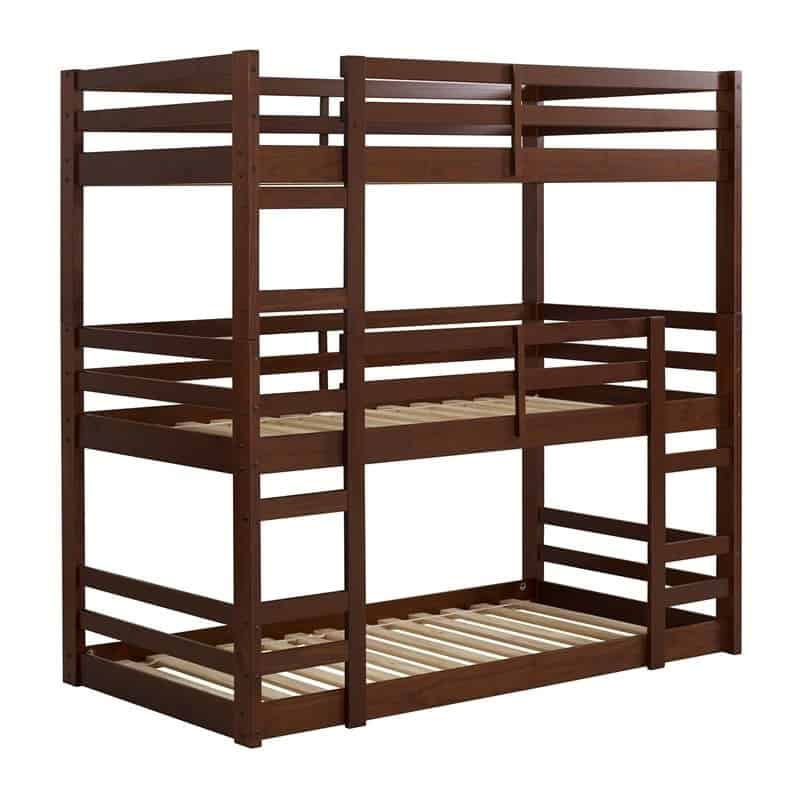 This bunk bed from Homesquare is perfect for small spaces, as it sleeps three in one room. The bottom bunk is perfect for smaller children, as they shouldn't be climbing too high sleeping arrangements. The bed's construction is made from solid pine oak with a walnut finish, which makes it durable and long-lasting.
On the two upper bunks, there are support guard rails for safety. If and when there is no need for a third bunk, the bed is easily adjustable.
Overall dimensions: 78 L x 44 W x 79 H, inches
Weight: 172 lbs
Pros
Made of solid wood
Wooden support slats so no box springs are needed
Guard rails for upper bunks
Cons
This may take a while to assemble
The frame is heavy, as its solid wood
Twin-Over-Twin-Over-Twin Triple Bed with Built-in Ladder from Meraux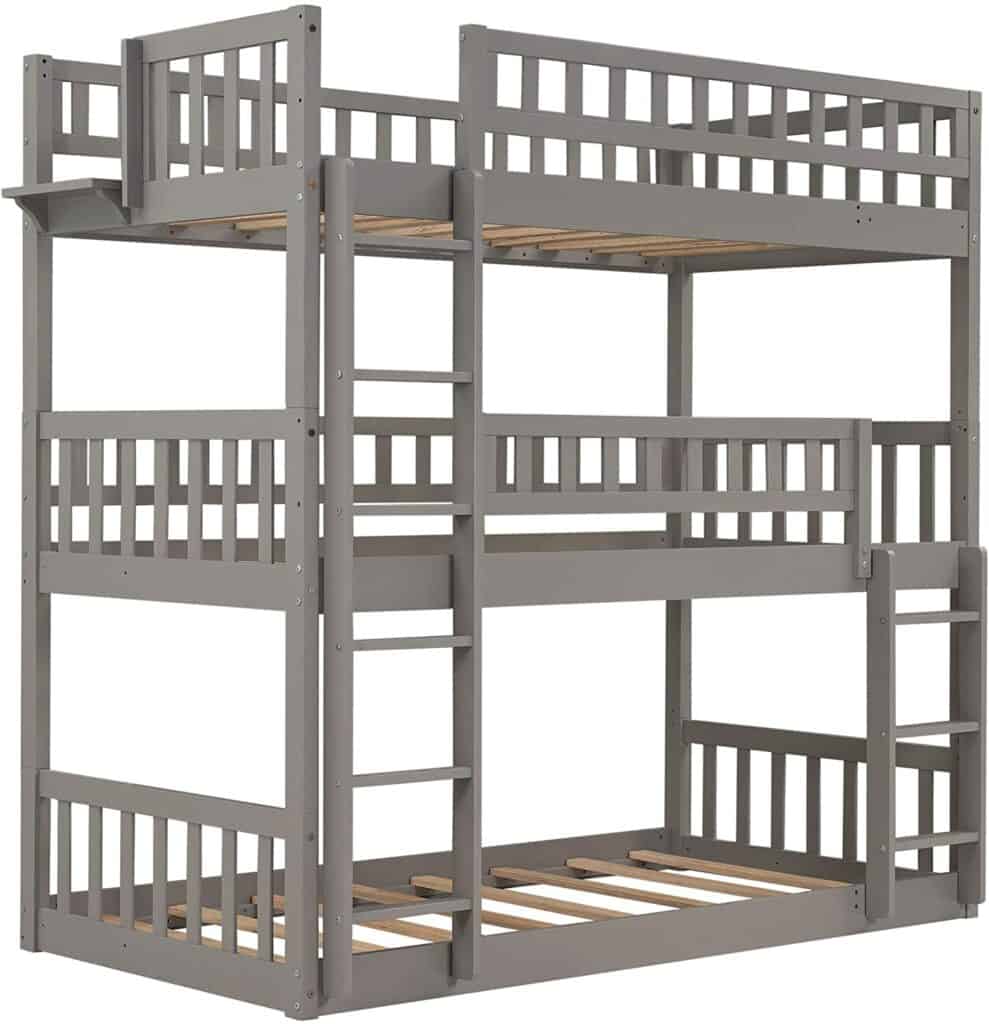 Functionality is only part of this unique triple bed available at Amazon. Made from sturdy pine, this triple accommodation needs no box springs. Both top and middle bed frames are fitted with 10 plywood slats for safety.
We chose this one as a pick because of the addition of the slide and the convertible ladder. And, of course, there are guardrails to add even more safety to your child's sleep and fun time. Considering all the added bells and whistles, we think this triple bed is an affordable option for your family.
Overall dimensions: 77.6 H x 40.4 W x 78.1 L, inches
Weight capacity: bottom – 275 lbs, middle and top – 175 lbs
Pros
The triple bed can be transformed into three single beds or to one double and one single.
Simple assembly is acquired with plenty of instructions
Cons
Mattresses aren't included
It may be harder to get the child to sleep with the addition of the slide.
Max and Finn Altona Metal Triple Bunk Bed/Twin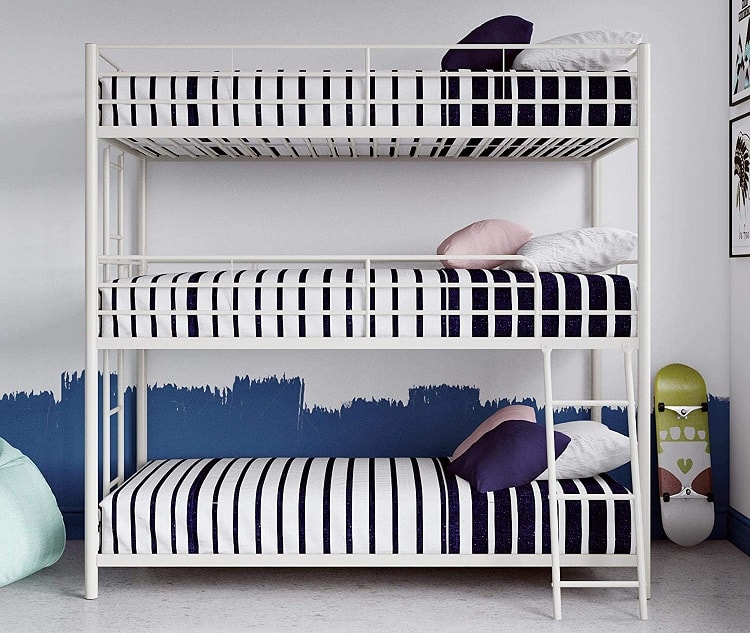 We suggest a simple solution for extra-small rooms, with this metal frame bed. It's one of the best space savers with a ladder that can be used on either side of the frame.
The product comes in three colors: white, black, silver, to help you coordinate your room. There are guardrails on both the top and middle beds to keep your children safe from falls. Find this option on Amazon.
Overall dimensions: 78 H x 41.5 W x 76.5 L, inches
Weight: 134 lbs
Weight capacity: bottom – 250 lbs, middle and top – 200 lbs
Pros
There are two ladders. One goes from floor to top at the end of the bed. The other only goes from the bottom to the middle bunk.
The partial ladder can be used on either side of the bed and is easily removed.
The entire product comes in one box and is easy to assemble
Cons
Mattresses are not included
There is no guardrail on the bottom bunk
Not as sturdy as its wood counterpart
Suncrest Twin-Over-Twin Triple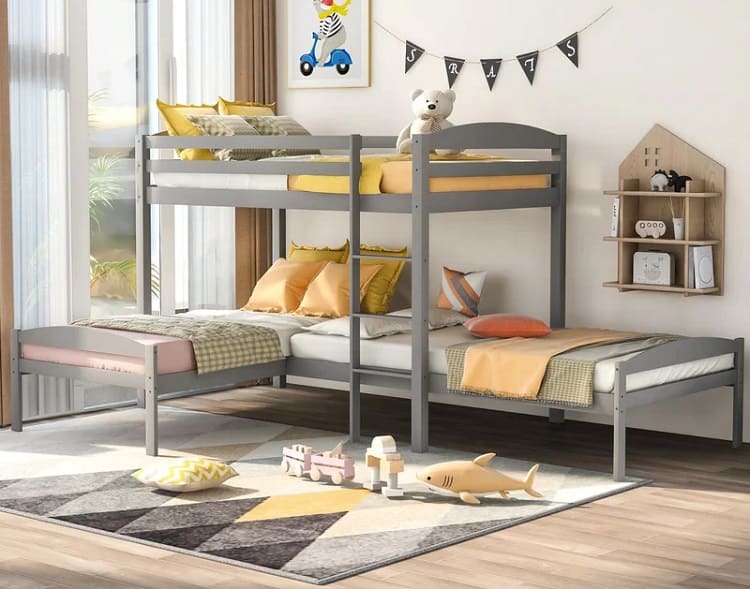 Our list offers a bed that's fun and high quality at the same time. This Suncrest twin over twin, found at Wayfair, is constructed in an L-shape to fit one corner of the room, giving your child's room a quaint look.
The unique features make a child's sleeping place into something magical while offering a better version for some children who do not like sleeping up top. The bed is constructed from pine and completed with a gray finish. The color blends with most any color in the child's décor.
Overall dimensions: 61.5 H x 39 W x 75 L, inches
Weight: 142 lbs
Weight capacity: bottom – 250 lbs, top – 220 lbs
Pros
The bed is built with extra space underneath each side of its L-shaped form
There are full-length guardrails and ladder
Numbered individual parts for easy installation
Cons
Mattresses are not included
The L-shape, while intriguing and fun, may not fit some tiny spaces.
Flieks Twin-Over-Twin-Over-Twin, L-Shaped, Two Ladders, and Storage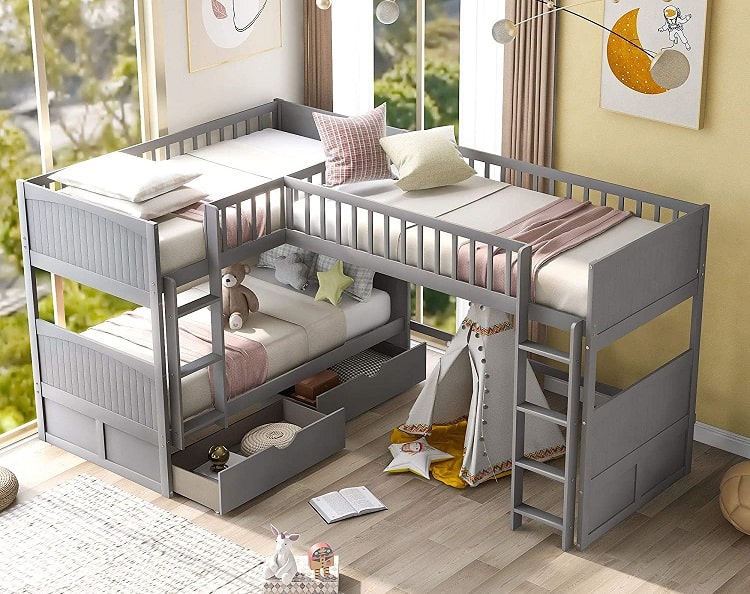 We love this product, found on Amazon, as it offers not only a sleek L-shaped but also storage space. In fact, there are two drawers located underneath the floor bed. There are two ladders, one for the top bunk and the other for a top bunk over empty space.
You can use this empty space to store other things. For instance, this space is great as a play area or even for a small chest of drawers. This triple bed is made of wood and comes in a neutral gray color to match most any décor.
Overall dimensions: 78.7 L x 37.7 W x 61.4 H, inches
Weight capacity: Both top and bottom beds can handle up to 220 lbs
Pros
Unique and beautiful design
Double ladders
Ample storage space
Open space underneath one top bunk for play or more storage options
Cons
It could be more complicated to assemble
It only comes in one color
Merax Wood Quad Rail and Storage, Full Over Twin and Twin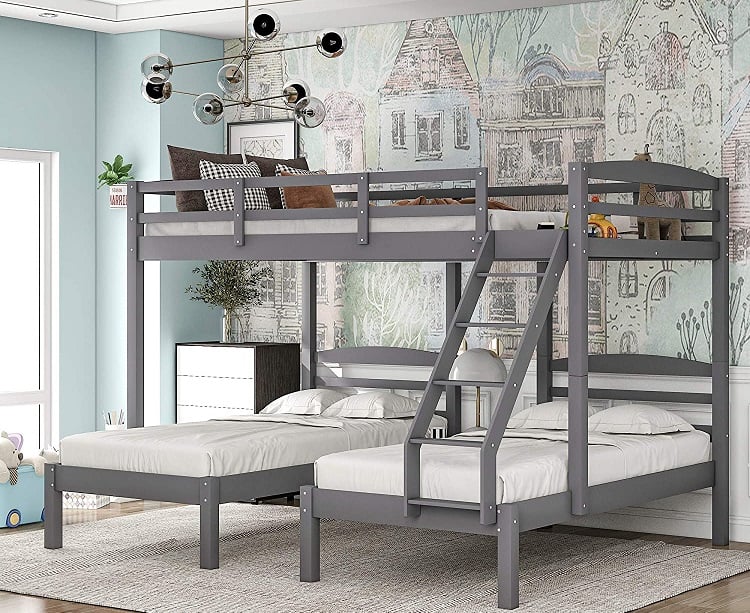 We love this option, as it's great for your children or for sleepovers. With one full bed running horizontally on top, two twin bunks sit side by side beneath in a vertical position. It's a unique and interesting design if you have two small children and a teen, but only one bedroom is available.
What makes this truly different from others is the placement of a nightstand or small drawer between the two bottom beds. This triple bunk bed comes in dark gray wood, is easy to clean, and blends well with almost anything in the bedroom. This bed is made of solid pine and is available on Amazon.
Overall dimensions: 99.4 L x 80 W x 70 H, inches
Weight: 119 lbs
Weight capacity: Bottom beds, 350 lbs, top bunk, 300 lbs
Pros
Useful design with small storage drawer
One full with two twin beds
Sturdy, yet light, pine construction
It has a heavyweight capacity, more than most beds
Cons
It could take more space due to the vertical and horizontal bed design
Storage space is small
It could take more time to assemble as well
FAQs
Question: Can a Top Bunk Bed Collapse?
Answer: The only way a top bunk bed can collapse is if it's not assembled correctly. You only have to make sure all pieces are included when purchasing the bunk bed and all instructions are clear. Follow instructions to the letter, and you should have no problems with this.
Question: Can a 4-year-old Child Sleep in a Bunk Bed?
Answer: The answer is yes, but only in the bottom bunk. The Consumer Product Safety Commission states that children under the age of 6 must not sleep in the upper bunks.
Question: Can Adults Sleep in Bunk Beds?
Answer: They can, but the bunk bed must be constructed for adults. So, yes, there are adult bunk beds as well.
Question: Do All Bunk Beds Have the Same Weight Capacity?
Answer: No, every bunk bed has a noted weight capacity. While some beds can hold up to 350 lbs, others may only accommodate 200 lbs. Therefore, it's important to understand all the measurements and weights before purchasing bunk beds. Triple bunk beds may even have different weight capacities on each of the three bunks.
Final Thoughts on the Best Triple Bunk Bed
The triple bunk bed you decide to buy should be a choice you can be proud of for years to come. These are unique styles and products that fit your budget and room size. Overall, if we had to pick one, we'd go with the Dorel Living Triple Bunk Bed as the best overall triple bunk bed. However, some of the other options may be more suitable for your needs.
For toddlers and babies, you can check out our nursery options. Check out our favorites and see if you have a favorite style of your own.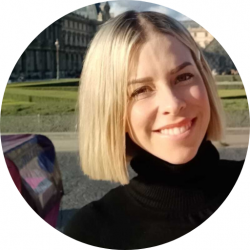 Latest posts by Jodie Chiffey
(see all)