If you're looking for a versatile table that will work in any space, then a white console table may be just what you need. This piece of furniture can function as an end table, coffee table, or dining room sideboard. Plus, it's easy to find at most home stores and upholstery shops. Read on for five ways to style your new white console.
5 Ways on How to Style a White Console Table
Add Some Art
To add some pop to the aesthetic of a white console table, select an art piece that will act as the focal point behind it and decorate your tabletop with complementary pieces. 
Hanging artwork or ornate mirrors on walls surrounding a white console can instantly set it apart from others in its category and offer visitors something beautiful upon which to gawk before exploring further into your home.
Give it Some Light
You can style your white console table with a variety of lighting options. A stylish lamp, wall sconces, or placing the table between floor lamps will not only add practical light to the room but also bring some life and character into it as well.
Bring in New Colors & Textures
The possibilities for how you could style out your console table are truly limitless. You don't have to stick with one style when styling a white console table. You can layer in different neutrals and textures, mix warm tones like wood or marble with cool ones such as metal, bookends, etc.
Showcase some of your favorite objects from travels that bring back great memories. Maybe add these onto shelves alongside other favorites like books so there is always something new around every corner.
Different Heights
A creative way to style a white console table is by having objects of varying heights. This could be accomplished with three different candle holders or vases, one tall object like a globe for dramatic effect, or even adding in decorative planters if you wanted something more contemporary and modern
Accessorize
A wooden console table is a versatile piece of furniture that can serve many purposes. It's been given new life in this home with the addition of warm golden-hued accents, such as brass lamps and lemons.
Top White Console Tables
Here's a review of the best white console tables. We've ranked them based on features, budget, make, and function.
1. Convenience Concepts Oxford: Best Overall White Console Table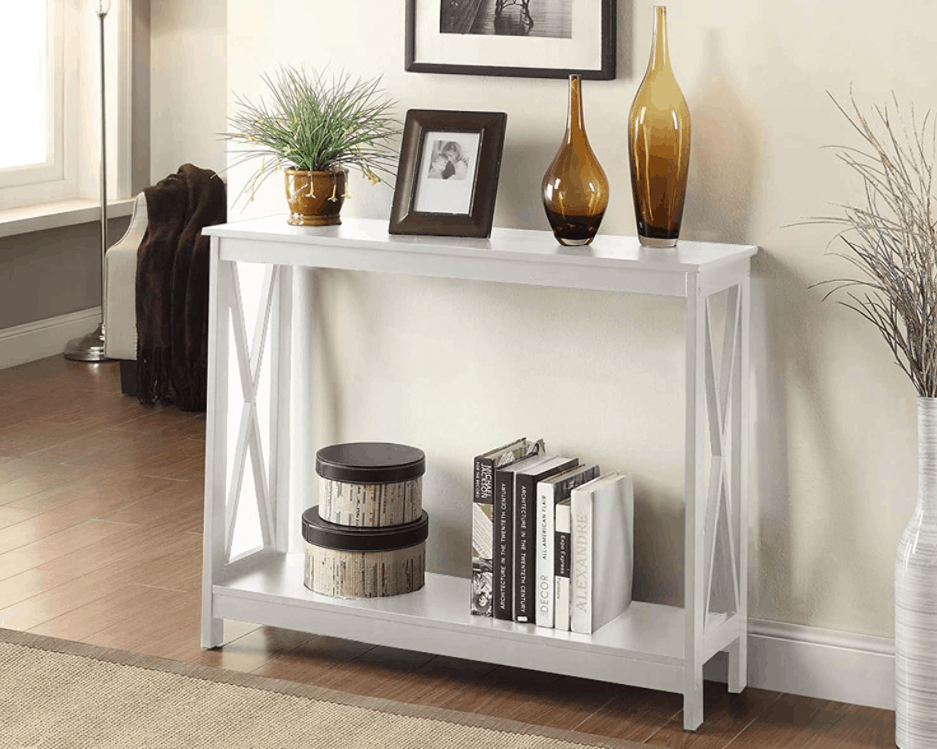 This new white Oxford Console Table is the perfect addition to any home. Being finished in a variety of colors, it's the focal point for your living room or dining area while also adding additional storage with its bottom shelf. 
Thanks to its small size, its trendy and contemporary style matches almost anything but doesn't take up much space when needed. It comes pre-assembled and is only 39.5 inches tall so that it will fit just about anywhere seamlessly, even under low ceilings.
Clean and straightforward, this table is a natural choice for any room. The Oxford Console Table comes in three sizes allowing you to find the right one for your home's needs while still fitting into its surroundings because who wants an ugly piece of furniture?
Pros
It's affordable

It's easy to assemble 

It's durable
Cons
Some come with a pine-induced smell which might be irritating at times.
2. Tucson Console Table: Best Wooden White Console Table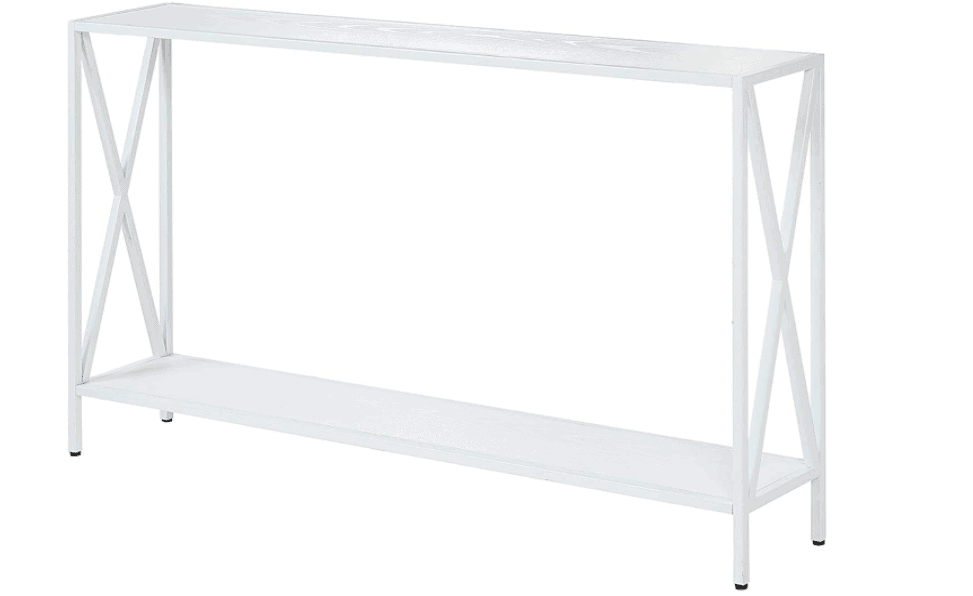 TheTuscon Console Table is suited for households of all sizes. Its extra-deep shelves hold plenty of books or knick-knacks, while the bottom bracket provides space for more storage. At 9 inches wide, this table can be used as a TV stand and has an optional swivel mount that lets you turn your big screen entirely into view. 
This sturdy console table comes in different finishes to fit any home style, like weathered wood to cool nautical themes and dark cherry to warm living rooms without windows. Just choose your desired finish and when it arrives at your doorstep, simply screw on the legs with the provided screws and enjoy those new toys stowed away on your new tabletop.
This Tuscon Console Table is perfect for any space and situation. This stylish yet straightforward piece will keep you on-trend in any home environment, from a cozy nook to a jogger's suite. Get it today before supplies run out.
Pros
Wide styles and varieties to choose

It's elegant

It's sturdy
Cons
It's not easy to put together.
3. Omega Console Table: Best Metallic White Console Table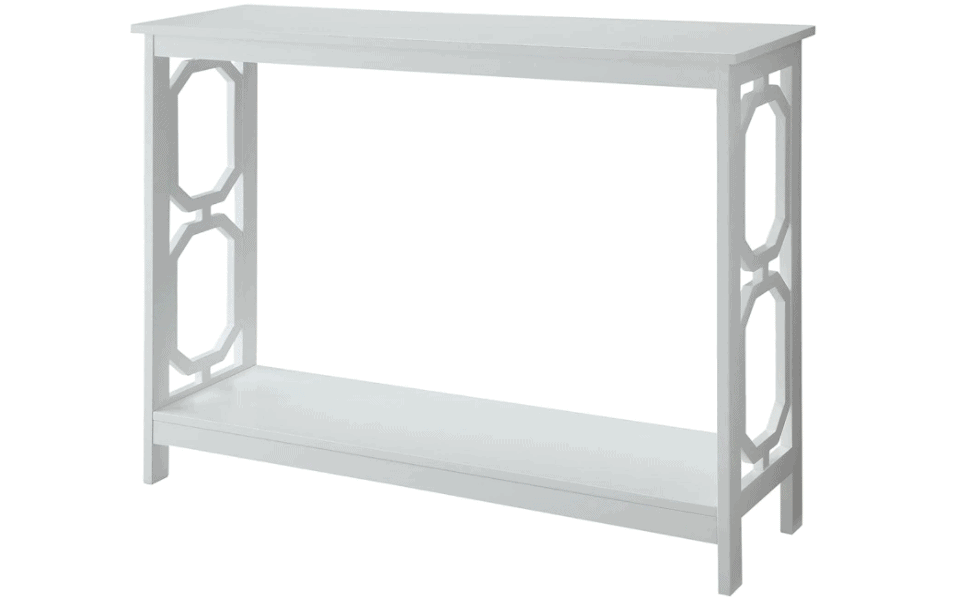 There's a reason this console table is called the Omega Console Table. It's so easy to use. With two tiers of shelving and a structure that supports nearly 160 lbs, you'll be able to organize anything in style. 
The first shelf can house your essentials like remotes and reading glasses while leaving room for food preparation or tray serving on the higher ledge. When deciding how to set up your living space, we believe the Omega Console Table is a must-have. It's available in different colors and finishes, so match it with anything.
This stunning console table with two shelving tiers will be sure to make any space feel welcoming. It's crafted of a durable MDF and particleboard that will stand up to years of use in both busy kitchen and living spaces. 
Pros
It's affordable 

It's easy to assemble

It's durable
Cons
Some come with their holes not drilled correctly.
4. Deluxe 2 Tier Console Table: Most Versatile White Console Table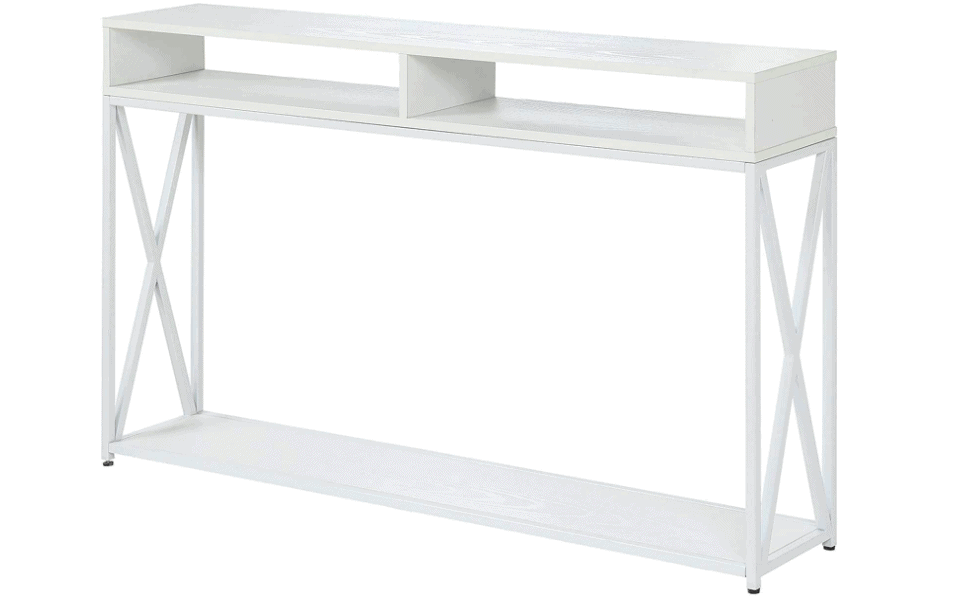 This Deluxe 2 Tier Console Table is one of over 30 stylish table options available in the Tucson Collection. With an exterior that's compact and durable, paired with interior storage for books and other precious items, this console will be your favorite piece of furniture in your home.
The Tucson Deluxe Console has two storage spaces for displaying and storing your belongings. The bottom shelf is perfect for books, DVDs, or other things you want at hand but doesn't need to see all the time. This design will not only be a great addition to any household, but it's also practical with both storage compartments and functional shelving.
This console table is perfect for anyone looking to fill their apartment with a bit of character and comes in multiple colors. But the best part is you can stop going from store to store in search of furniture that will match your color palette because this versatile table works well anywhere.
Pros
It's easy to assemble

It has a marvelous look

It comes with durability.
Cons
It doesn't come with assembly instructions
5. Decor Therapy Bailey 4-Drawer: Best White Console Table for Storage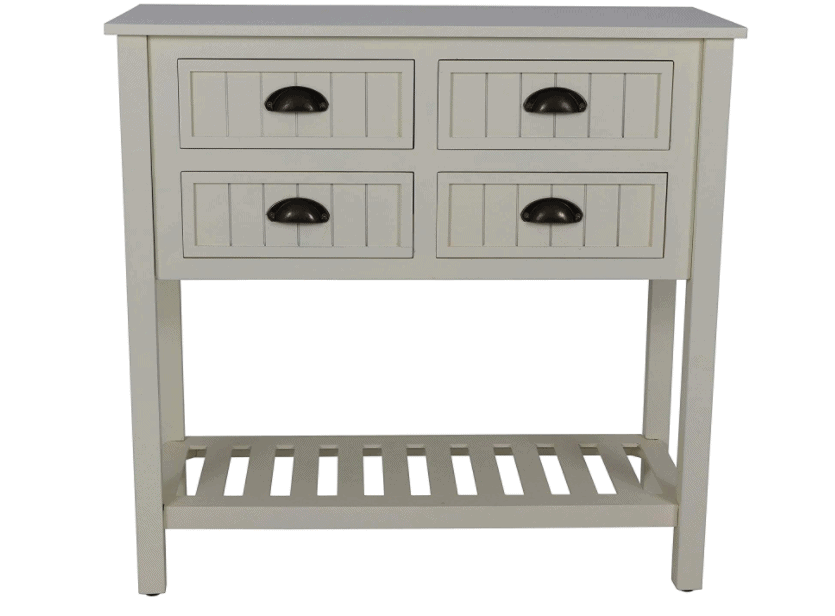 The Bailey Beadboard 4-Drawer Console Table, every room will instantly feel like an extension of who you are and how you live. You can use this versatile table as extra storage for the things that clutter up other surfaces or use it instead of a TV stand.
The perfect accompaniment to your living area, this table is an excellent addition to the modern home. This chic console table is the ideal addition to your living room, kitchen, or bedroom. Hooks on either side are designed for lamps and wall hangings that accentuate your décor. Get this vintage look that will never go out of style.
Pros
it's affordable

It's robust

It's easy to put together
Cons 
Doesn't come with assembly instructions.
6. Safavieh Home Collection: Best Premium White Console Table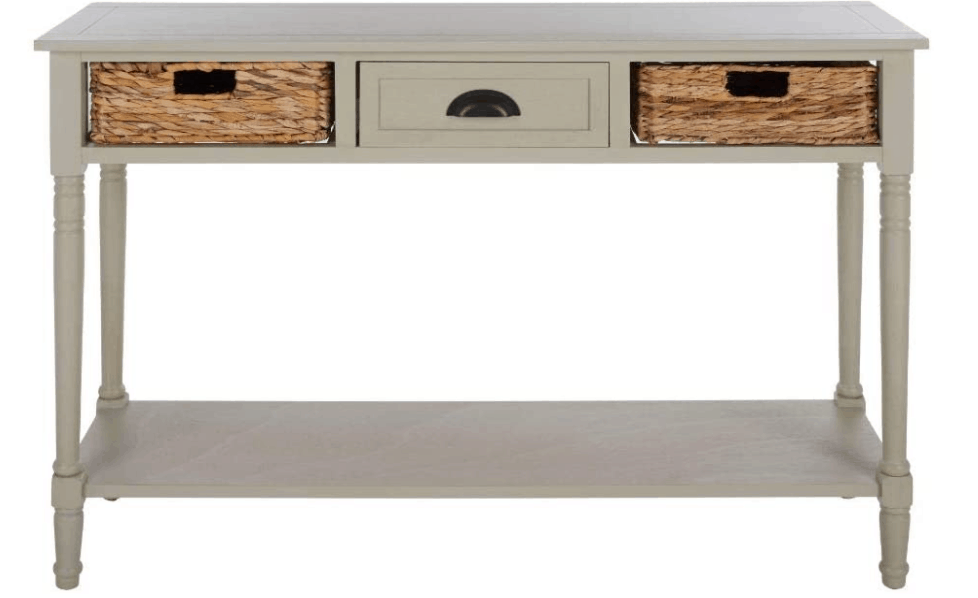 This is  Safavieh's newest version of the classic three-drawer console table. Perfect for any living space in your home, this storage console comes with a fresh vintage look that won't disappoint. With two exciting and different hues to choose from, you can add some pleasantly refreshing color to your decor or complement colors already present. 
You've found the perfect piece of accent furniture to get your drawers together. You'll love this one because it's made from fantastic pinewood and looks like a stylish console for TV loungin'.
The 3-drawer storage console table from Safavieh Home Collection is a versatile table that can serve as an entryway closet or media platform in any modern space.
The bottom has an indented, pared-down chunky build which adds just a touch more stability to this well-built storage console table. Live like someone who matters. Get yours today.
Pros
It matches perfectly with your home decor

It's multifunctional

It's durable
Cons 
Some customers claimed that the console table isn't sturdy enough and that it wobbles.
Factors to Consider When Purchasing A White Console Table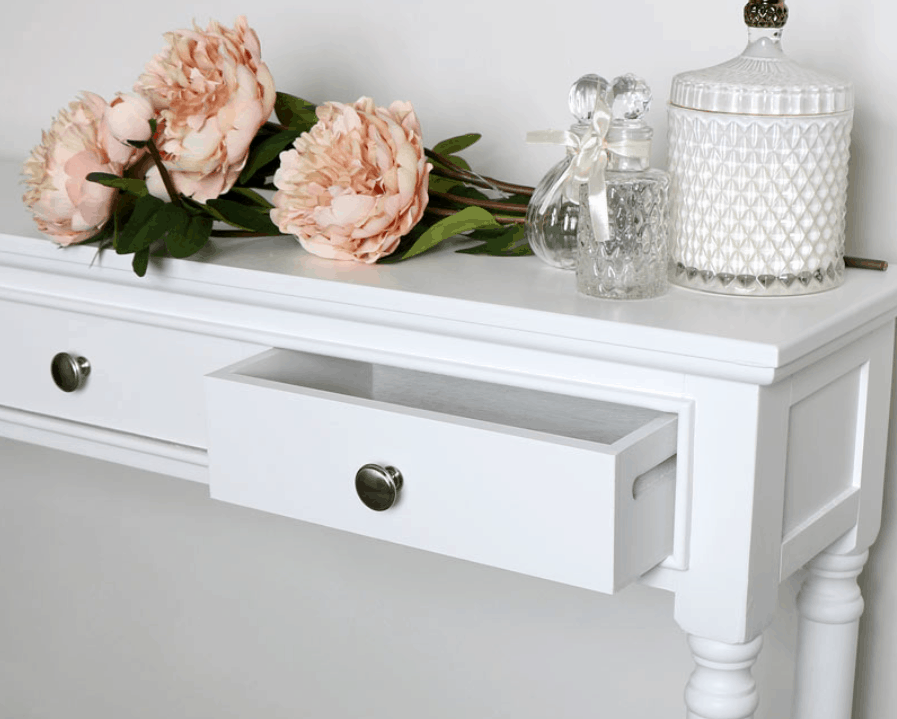 Hallway
White console tables can be a great way to add charm and character to an otherwise dull hallway. In hallways with long or wide dimensions, you must consider the type of lighting suitable for your console table as well. Since the hallway is a pathway to your house, there is nothing better to match your home's decor than placing a console table in the hallway. If you have none, make sure you get one for your home.
Material
When choosing what your white console table will be made out of, don't neglect the material that is going onto it as well. It's not just about picking a wood type. 
Some manufacturers offer these pieces in various other styles such as having uniquely designed glass tabletops or marble-like surface designs for couches and living rooms. Opt for a material that will serve you for a lifetime to come.
Storage
When browsing for console tables, one of the features to consider is storage. Storage consoles are accent pieces because they provide additional places to store things in plain sight or out-of-sight depending on your preference between open shelving and enclosed cabinet drawers.
These can make a room more clutter-free, particularly if it has baskets, multiple compartments/drawers, or cubbies included with its design. If you need as much floor space as possible when furnishing an area like a foyer or dining room, purchasing these table types will be advantageous since their primary purpose is maximizing functionality while also providing extra elements that won't disrupt your aesthetic appeal.
Functionality
It is important to consider functionality when buying white console tables. Look at your lifestyle and décor, then choose a table that will work for you. Think about what purpose the console table has. Do you want it to store items like scarves or small accessories? 
White console tables come in different styles. Some were designed specifically for storage purposes, versus others meant more as accent pieces on walls instead of taking up space because there simply isn't. So before getting one, you should understand what function you are buying the console table to perform.
Style
When it comes to buying white console tables, there are several things you should think about, and one of them is style. When choosing a style for each room in your home, make sure that the styles flow well from one area of the house to another and reflect who you are as an individual. 
It's okay if some rooms have similar styles while others don't. Just be aware of how they all work together, so nothing feels out of place or awkward. There is no right or wrong when it comes to decorating with different types of interior design. Just choose whatever speaks most strongly to you.
FAQs
Question: How do I choose a console size table?
Answer: Many people ask how long a console size is supposed to be when thinking about what kind they want in their home or office space. A typical range is somewhere between half as tall as your couch and just shy of being fully sized up with it depending upon where you would like things stored away from prying eyes. Make sure this will fit all items accordingly while not sticking out awkwardly against other furniture nearby.
Question: What is the purpose of a console table?
Answer: Console tables are very versatile, making them a popular choice for living rooms. They can act as an accent table or side piece, but they're most commonly used to hold electronics like television. Their narrow body makes it easy to fit in small spaces. So if you have doubts,  don't be afraid of using one if you have limited space in your living room.
Question: What is the difference between a sideboard and a console table?
Answer: Sideboards are commonly used for storage in dining rooms and kitchens. They can be any shape or size but often have space to stow dishes and serve food. A console is a type of table popular today because it doesn't take up much room yet still has enough surface area to hold decorative items such as flowers or TVs.
Question: Why is it called a console table?
Answer: The term console derives from the compound Latin verb 'consolor,' which means 'to alleviate or lighten.' This refers to how consoles are commonly used as a support for furniture.
A table whose top surface is supported by corbels or brackets rather than by four legs was called a "console" because it would help ease some of the weight off that area on your floor and make things more comfortable around there.
Question: Can I use a console table as a nightstand?
Answer: Console tables are incredibly versatile pieces of furniture that can fulfill various functions at home. In a bedroom, it is possible to use one as both a desk and nightstand or even for feminine hygiene-related purposes, for example, those involving makeup. The open space on console tables makes them perfect for accommodating chairs, stools, ottomans, and other electronics.
Conclusion
Now that you know the basics, it's time to find your style and start shopping for white console tables. Remember though; just because something is different doesn't mean you should buy it.
Make sure everything matches in your home before making a purchase so that your space feels cohesive and welcoming. We hope that this article helped you find the perfect white console table for your home. 
Which style do you think will work best in your space? Our top pick is the White Convenience Concepts Oxford Console Table since its trendy and contemporary design matches any décor but doesn't take up too much floor space, thanks to its small size.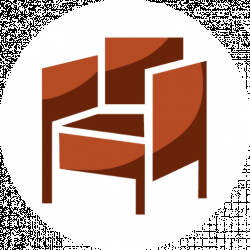 Latest posts by Finally Furnished Team
(see all)