Do you want to be able to have a seat in your home without having a large and expensive sofa or chair? That is why wicker loveseats are the perfect solution for you. They come in great shapes, sizes, and colors so that you can find one that suits your style best.
The Wicker Loveseat's fabric is weather resistant which means that you can use your loveseat year-round. Plus, unlike most pieces of outdoor and indoor furniture, it will not rust or fade. So go ahead and get one.
Do you have a wicker loveseat in your living room? If not, it might be time for an upgrade. Or are you wondering which one to go for? In this article, we've reviewed the top wicker loveseats discussed some factors to consider before buying. In our review, we've featured the best by design, budget, function, and features.
Best Wicker Loveseat: Our Top Picks from Amazon
1. Keter Corfu Resin Wicker Loveseat: Best Wicker Loveseat Overall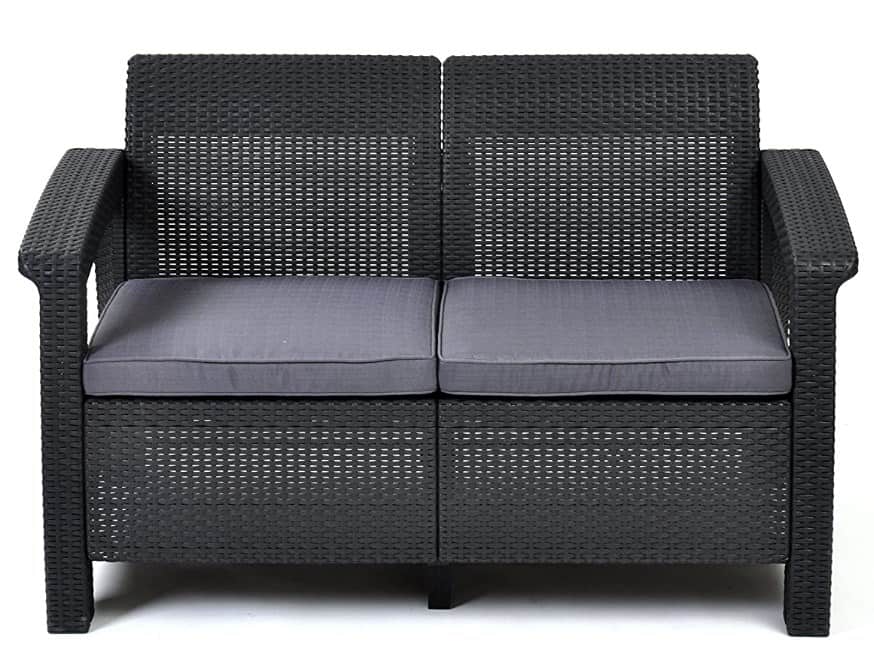 This Keter Corfu resin wicker loveseat for outdoor cushions is perfect for the patio. Made from weather-resistant polypropylene, you'll love its vivid patterns and natural feel. With a weight capacity of up to 484 pounds, this chair creates a cozy spot to relax during lazy summer evenings outside.
You can bring the Keter Corfu Resin Wicker Loveseat outside for summer, and it won't break a sweat. This loveseat is fully assembled so no more struggling to put your furniture together – you'll be relaxing on this weather-resistant piece in just minutes.
The thick cushion covers are made from easy-to-clean fabric that doesn't emit any fumes, keeping allergies at bay while staying sturdy with polypropylene construction. Mother Nature never stood a chance against its durable frame and lightweight yet strong design (and neither will reckless kids).
Pros 
It's affordable

It can fit into small spaces due to its size

It's easy to clean

It's strong and durable
Cons
Customers complained that the cushions are too  thin
2. M&W Wicker Loveseat with Glass Table: Most Versatile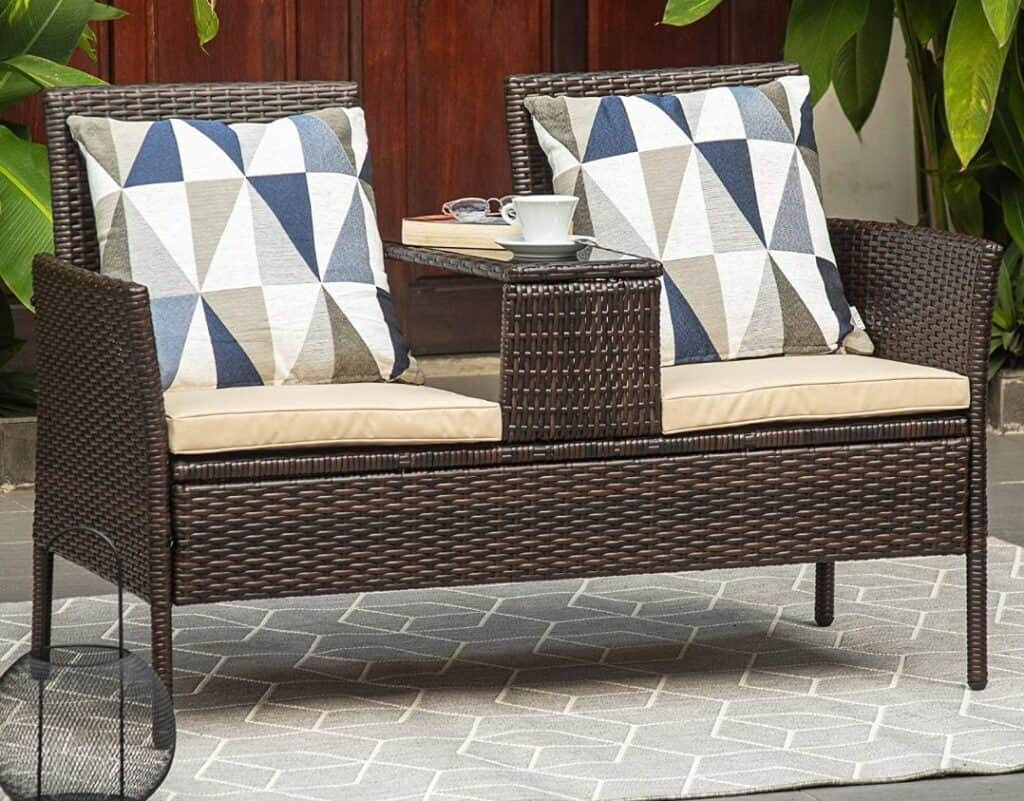 We wanted you to be able to enjoy your patio table and chairs in style this summer, so we have the perfect set of outdoor furniture for you. The M&W Wicker Loveseat is a compact but comfortable steel loveseat with durably waterproof cushions. 
With a subtle yet refined design, this loveseat provides just enough space for two people with their coffee when it's raining outside since it comes with a coffee table.
The simple yet stylish design makes this set great for any size yard because it's lightweight and easy to move around on demand. This set is also primo at staying fresh during afternoons by the pool. Constructed from steel and wicker rattan, the loveseat and coffee table are designed to withstand anything Mother Nature throws at them.
Pros 
Made to be waterproof

Durable due to the high fabric of manufacture

Can withstand extreme weather
Cons
Requires more than one person to assemble
3. C-Hopetree Wicker Loveseat: Most Convenient and Durable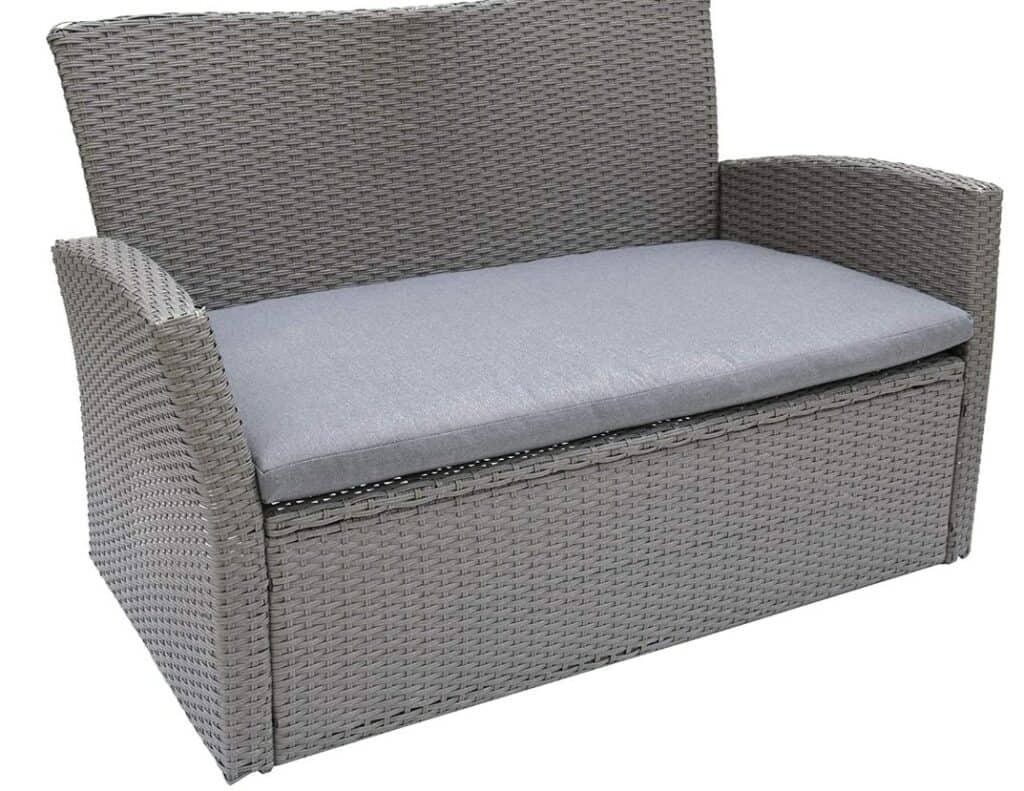 Handwoven PE rattan is hands down the most durable and sustainable fabric in the market, just one major element that sets the C-Hopetree Loveseat apart from other loveseats. 
It's easy to clean up or even hose it off with a powerful water sprayer. The high-quality polyester cushioning is also machine washable so you can easily care for it and give your ‌love seat an exceptional freshness like no other.
This loveseat chair comes with an elegant EPP powder-coated steel frame so it's wonderfully strong.
Pros
The chair is durable and easy to assemble

It can withstand harsh weather conditions
Cons
This loveseat is water-resistant but not waterproof.
4. Christopher Knight Wicker Loveseat: Best Premium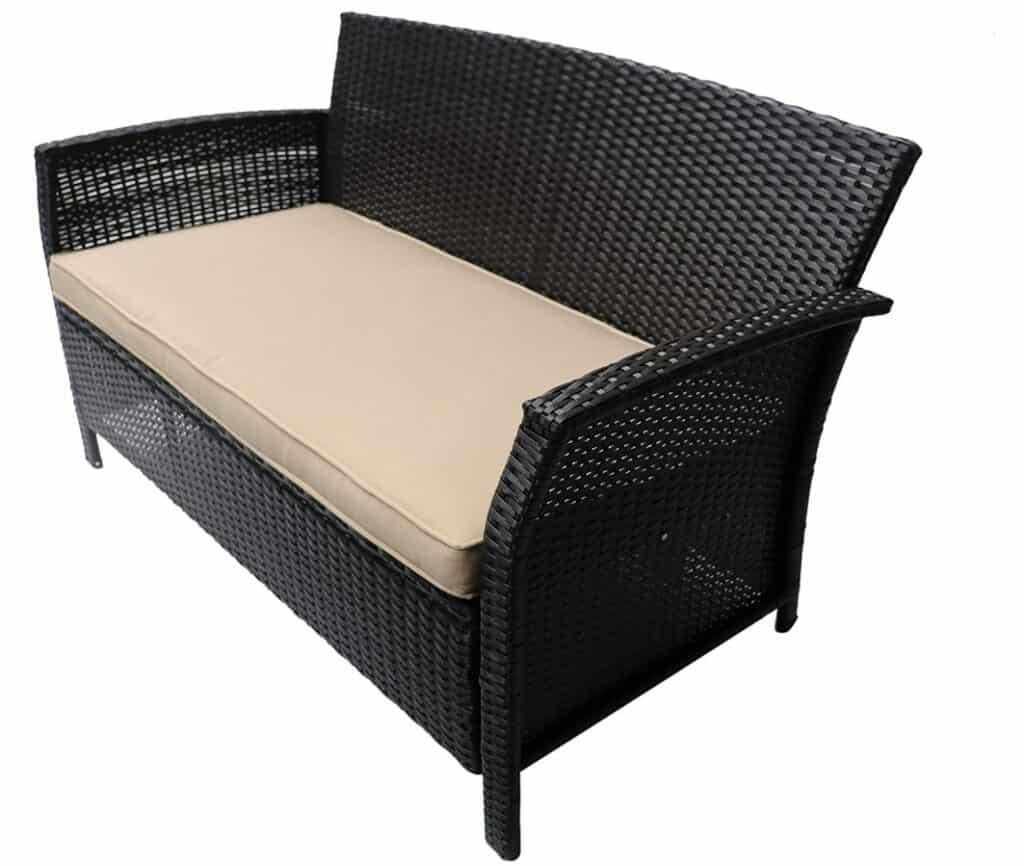 Recline comfortably, sip a cold drink, and feel the stress from your day melt away since you've officially made it to paradise with this brown and tan wicker loveseat. Sold separately, be sure to add one of Christopher Knight Home's other matching pieces for the perfect setup.
With many different armrests available that come in a range of sizes based on what you're looking for, these wicker loveseats are the best spice for your home decor. The cushions are water-resistant, which means they'll not be sliding around during those relaxing backyard days lounging with friends or solo reading time. 
This seat can be assembled with no tools required thanks to its handcrafted design that caters to all different lifestyles, which is why it has become an affordable yet must-have addition for those looking to improve their leisure time in these 100% polyester fabrics.
Pros 
Easy to assemble

The chair is strong and durable

Many colors to choose from
Cons
It needs more than two people to assemble
5. PCAFRS Wicker Loveseat: Most Elegant Design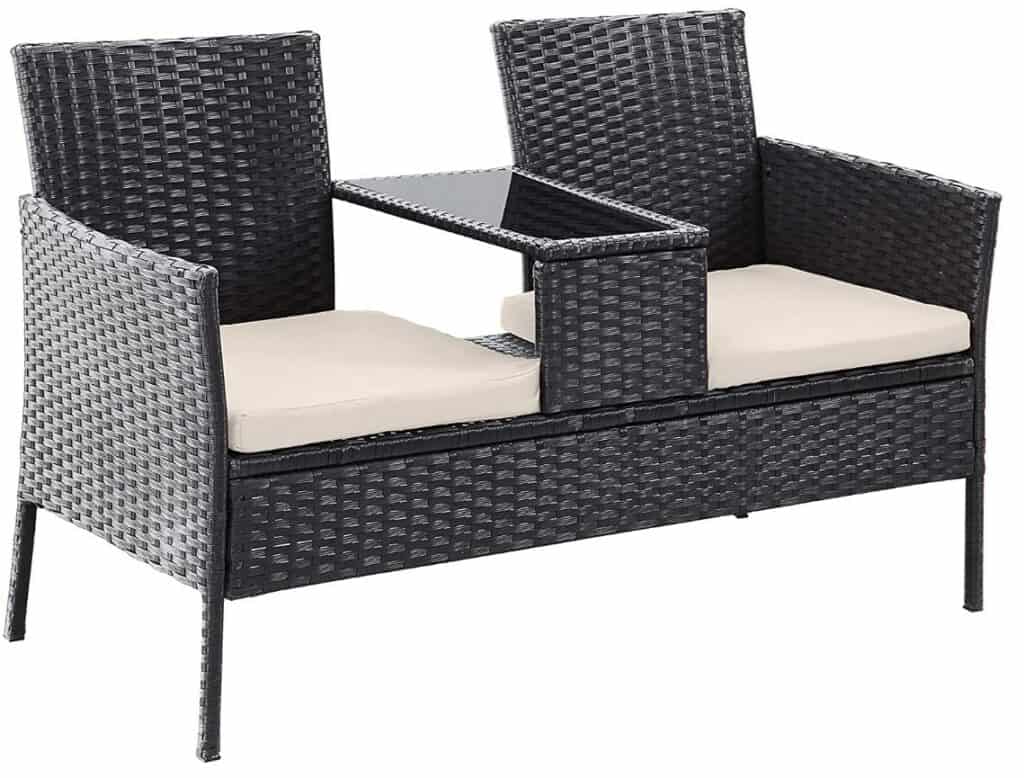 Create a comfortable, vintage-inspired outdoor living area with the PCAFRS Wicker Loveseat set. This four-leg loveseat is crafted of high-quality rattan that gives you warmth like no other furniture. Stylish curves add contemporary freshness to make them an integral part of your modern home decor.
The chair includes a metal table next to the left-hand seat for drinks or just extra surface space. The table also features a storage compartment hidden inside where you'll be able to tuck away cards and magazines until needed again.
The loveseat has two wide pillows for extra comfort while lounging outside, great for morning reading and talks with friends on lazy weekends. It's very easy to assemble, and it's up to you to see that you have the best for your home.
Pros 
Easily assembled by one person

The chair is very comfortable

The price is fair
Cons
Screws and holes to some chairs don't fit weel

The pillows come separately
Factors To Consider Before Purchasing Wicker Loveseats
It's not just about the loveseat, but what it means to you and your space. There are so many options out there, and you couldn't possibly miss one for your home decor. 
What kind of vibe do you want? Casual and comfortable like the ones below from Amazon? Or more formal?  When purchasing new furniture pieces, it's important to consider their longevity and how they'll fit into your space because these are the factors that will affect whether or not you're happy with what you buy. 
Here are more factors:
Comfort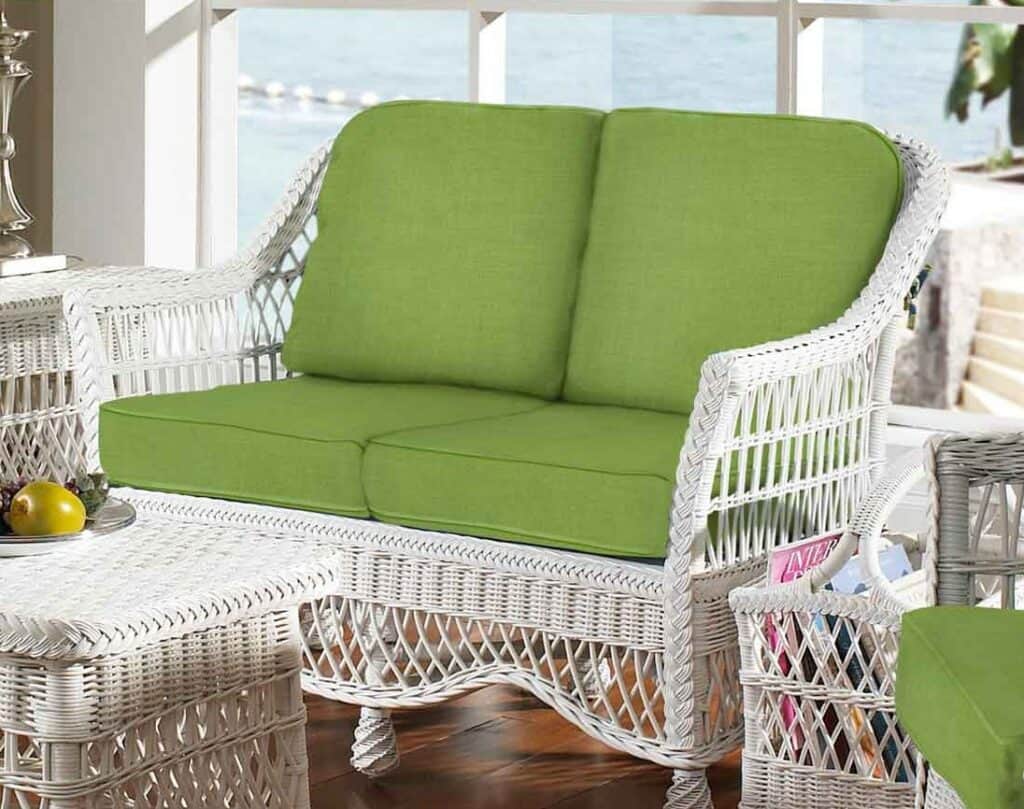 One of the factors to consider when purchasing a wicker loveseat is comfort. You should ensure that it's comfortable enough for you, so no unpleasant surprises after purchasing your new furniture piece. Typically, sofas and chairs have upholstery, but if they don't, you should try another seat like a rocking chair or recliner, which are both good options for comfort. 
When trying out any potential purchase for this purpose, always remember that what may seem comfy now could start feeling stiff after an hour or two spent lounging. So always know your test before making your final decision.
Cost
Price can be one of the most important considerations when purchasing a wicker loveseat. Many people make the common mistake of buying cheap furniture, but that rarely means it will last for years and opting for cheaper. So in order not to waste your money on something you'll have to replace again in less than 5-years, always find the right balance between cost and quality.
Fabric Quality
One of the things to look for when shopping for a new set of wicker furniture is fabric quality. Over time, your fabric will experience all sorts of wear and tear, making it crucial that you purchase high-quality materials so they won't rip or fray after only a few years.  
Fabric quality will vary depending on what is used to make it, such as cotton or polyester, but whether. Still, whether
As an alternative to cost-saving measures, there are synthetic options available that may have more modern frames; however, these won't weather out on your patio or decking area when they're exposed to sun, rain, making them strong for any outcome.
FAQs
Question: How Do You Expand The Life of a Wicker Loveseat?
Answer: The moment you get yourself a wicker loveseat, you will always want it to serve you for many days to come and to achieve this, there are few things you have to put in mind to reach your goal.
First, you should always make sure you protect your loveseat from the sun. The loveseat would probably after sometimes start fading if you expose it to too much sunlight. You can always get pillows that are sun resistant to cover your loveseat, hence minimizing the risk of fading.
Lemon oil has also been a good tool for keeping the wicker loveseats clean since they leave your wicker furniture sparkling. A vacuum cleaning after six months can also be the best way to increase your wicker's life since it assures you all spills have been cleaned off, leaving your wicker clean and furnished.
Question: How Do You Know The Wicker Loveseat You Have Chosen Is The Best Quality?
Answer: One of the key things to look at is material quality. A cheap and fake loveseat will just look cheap since they are made from plastic most of the time. When you sit on them, they will always stick on your clothes and skin, with the color fading away easily. The best Wicker Loveseats are always made from Polyethylene due to their eco-friendly nature and resists cracks. 
The weaving techniques will also tell you if you have gotten the best since the top-quality Wickers are always hand-woven. The support system should also be thick, especially aluminum metal. The frames also show quality since the best companies always give you an aesthetic design to complement your home decor.
Question: What Is The Difference Between a Wicker And A Rattan?
Answer: The difference between wicker and rattan is slightly small since they tend to be in a symbiotic relationship. While rattan is the material, wicker is the technique used in weaving. Think of it like an apple, yet again as apple juice since they tend to be the same.
Another difference can be spotted when you look at natural rattans and synthetic wickers. In as much as both are good for your decor upgrade, they all have their specifications. Most of the time, natural rattan is taken out and returned since it has a weakness to different weather conditions, unlike the synthetic wickers.
If you are considering durability, then the synthetic wickers are the best since the woven material used, polypropylene, makes it live on your porch or patio, unlike the natural ratans. This is the case because when it comes to cleaning, with effects from the weather, the natural rattan will often tend to crack and fade, something not seen in synthetic wickers. 
Question: Do Wicker Loveseats Need Cushions?
Answer: The answer depends on which type of wicker loveseat you have chosen to buy. Standard Wicker Loveseats don't need cushions since they come designed to make you feel comfortable with the base built with the finest fabrics, tufted to give you all-day rest and comfort. 
As much as Wicker Loveseats have tufted cushions, adding extra cushions makes you feel even more comfortable. The only reason why people tend to add cushions is to brighten thicker Lovesaeats and add a more appealing taste to your decor, but in the end, even without them, Wicker Loveseats tend to work just fine.
Conclusion
Wicker loveseats have many advantages if you're looking for an attractive and comfortable option to furnish your outdoor living space. Wicker furniture is durable, breathable, and relatively inexpensive, making it a smart choice if you don't want to worry about replacing the furniture every few years. 
The downside of this type of furniture is that it can be difficult to maintain because it requires regular cleaning with soap and water and oiling on occasion. In addition, some people find that they are uncomfortable when sitting in them because there isn't enough support or cushioning.
We hope these tips will help you make a wise decision when shopping for new patio furniture pieces like wicker loveseat ideas. If you are wondering which one to go for, the Keter Corfu Wicker loveseat is an excellent buy because it's durable, elegant, and affordable.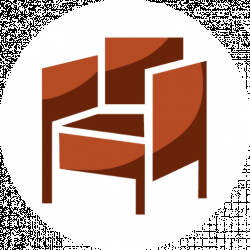 Latest posts by Finally Furnished Team
(see all)