We all know that the right sectional can make or break a living room, and we want to help you find the perfect one for your needs. A black sectional sofa has been a long-time favorite for many homeowners.
The sleek style goes with any decor and is perfect for family game nights, movie nights, or simply lounging around the house. We're going to take you through our favorite designs and styles in order to give you some inspiration on where to start looking. Whether you're considering buying one now or are just curious about what they have to offer, we've got your back.
In this blog post, you'll find some of the top black sectional sofas on Amazon, ranging from the best overall to the best upholstered, together with what you must consider before buying yourself one.
Best Black Sectional Ideas and Inspiration on Amazon
1. Amazon Brand – Rivet Aiden: Best Overall Black Sectional Sofa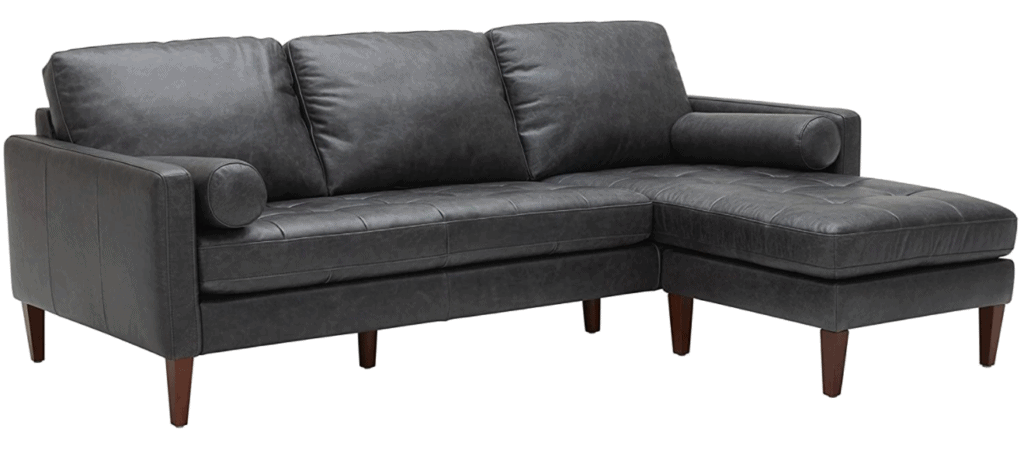 Add some much-needed character and functionality to any space with this Amazon Brand – Rivet Aiden mid-century modern reversible sectional sofa. Combining a solid hardwood frame, tapered wood legs, and foam padding with top-grain leather upholstery for beautiful durability, this piece offers versatile design options to put it anywhere you see fit.
As a bonus, the reversible chaise gives you more furniture positions to choose from. It'll also orient your sectional so it can face right or left—or both. With removable seats and back cushions that can be hand washed spotlessly in cold water, there will never be an unsightly stain on this chic sofa. And the best part? Assembly is imminent thanks to our 15-minute setup.
Pros
It is easy to put together

It is comfortable

It is robust and solid
Cons
Some customers complained about the cushions wearing and tearing quickly.
2. Best Choice: Best Upholstered Black Sectional Sofa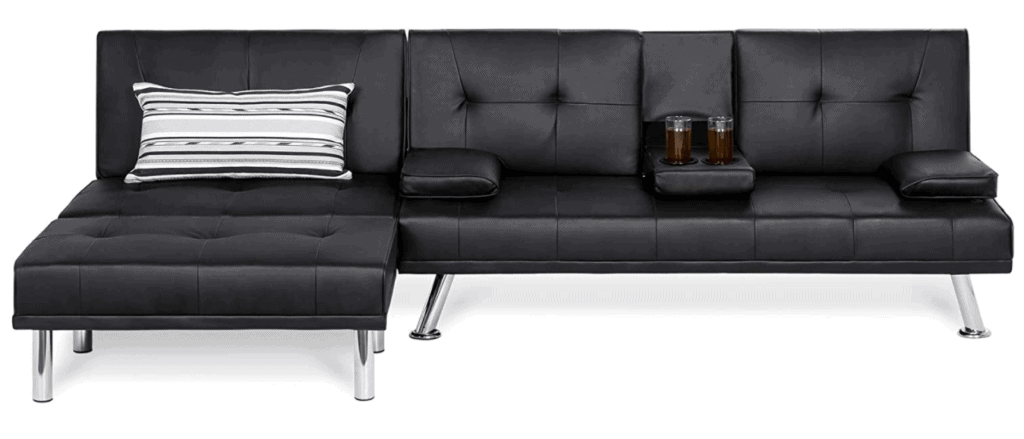 Best Choice Products has created a clever modular living room set that provides you with the opportunity to either extend or divide your space. With its sleek faux leather design and sturdy construction, this 3-piece set will serve as an elegant addition to any room of your home.
The best part? It is completely removable for easy storage when not in use. Whether it is hosting guests in your living room or providing extra seating for family movie nights on the weekend, Best Choice's L-shaped sofa can fit a variety of needs.
With one part transformed into a comfortable futon and the other becoming a cozy single-seat, these well-constructed pieces are perfect for all those sleepy Saturday mornings when snuggling up on the couch just feels right. It is also very easy to set up; just screw the legs in, and you are ready to go.
Pros
It is long-lasting

It is easy to assemble

It is elegant
Cons
Some customers complained that the cushions are low density.
3. Beverly Fine Furniture: Best Wooden Frame Black Sectional Sofa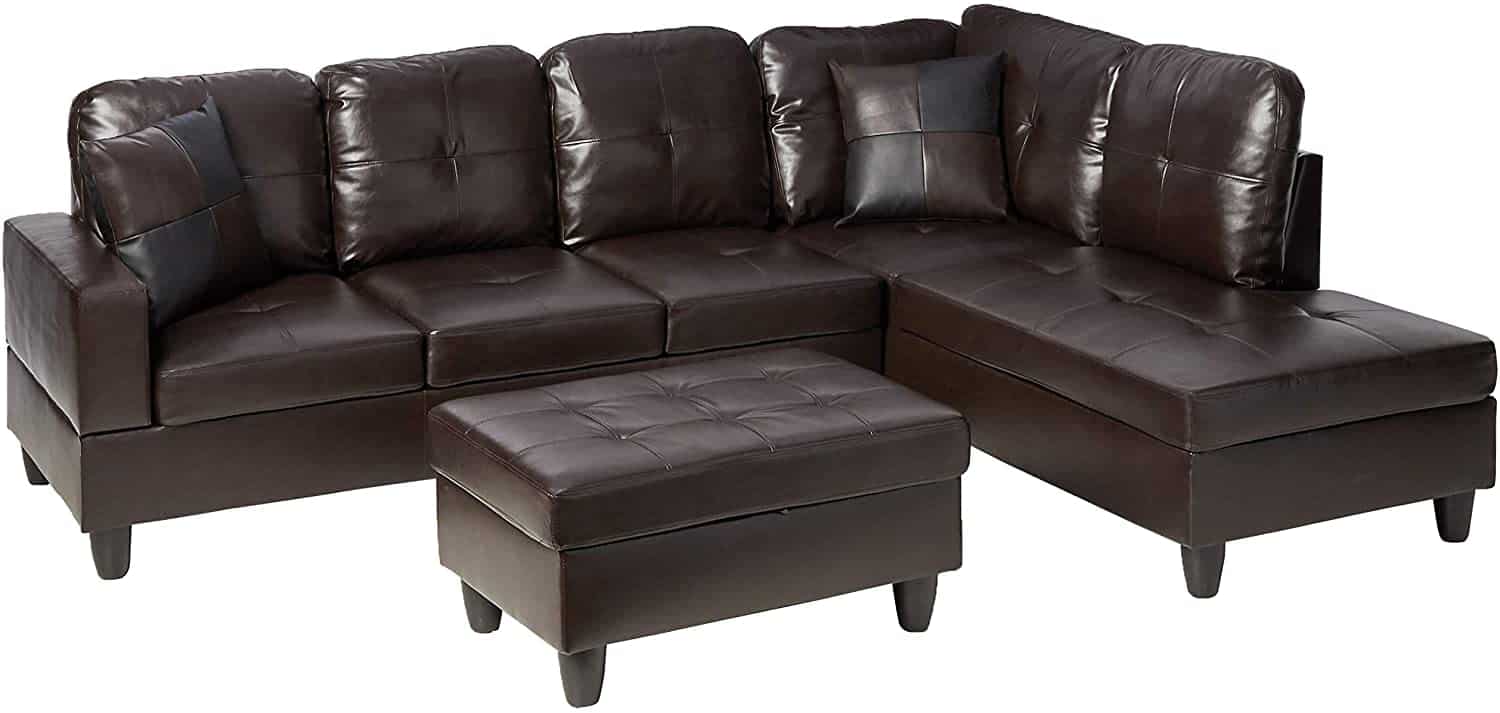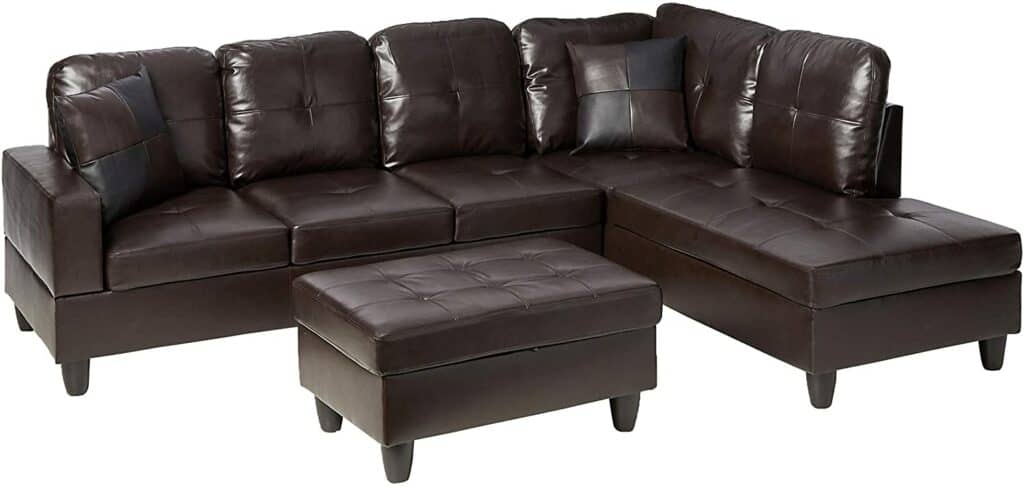 It's the centerpiece of your house and the essence of comfort. The luxury Beverly fine furniture sectional sofa set is handmade from high-quality leather, creating a classic look that will be appreciated in any home.
This Beverly Fine sectional couch set is excellent to use in the living room. With a matching ottoman, it can be used for extra seating or as an end table. The sofa will add the comfort and luxury that your home has been missing.
Beautifully finished frames bestow durability while generously padded back-and-sofa provide plushness and support. Create both contemporary elegance and country charm by selecting bold patterns with rich tones for upholstery fabrics.
Pros
It is easy to put together

It is comfortable

It has an elegant look.

It is sturdy
Cons
Only suitable for small apartments due to their small size
4. Modern Bonded: Best Small Space Black Sectional Sofa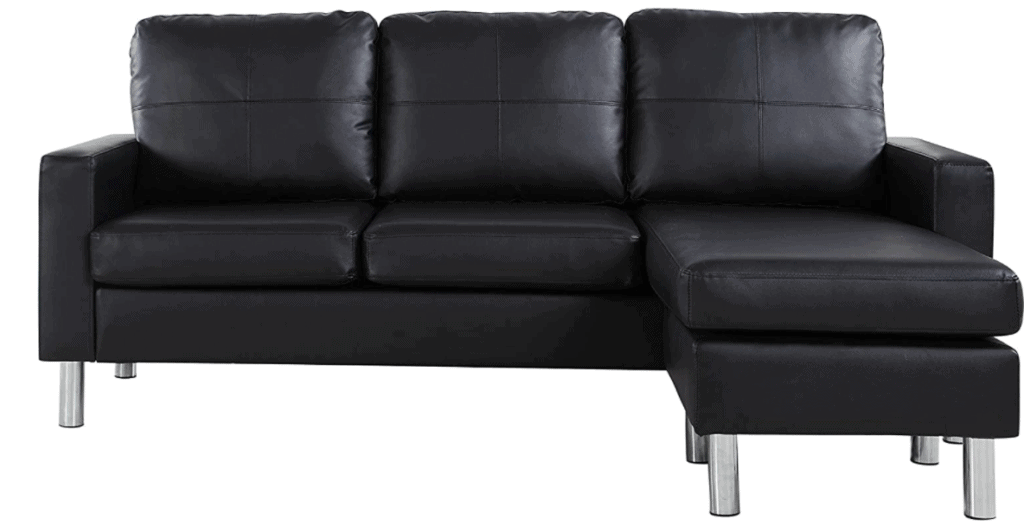 This Modern Bonded chic, low-profile black chaise sectional sofa is perfect for smaller spaces. It gives you the look of two separate couches in one piece and has a modern bonded leather finish.
Plus, it's easy to put together. All you need to do is attach four screws onto the legs, and voila! You have yourself a new couch that provides an excellent seat for any occasion. Speaking of which, it also comes with three decorative pillows as well as ten throw pillows, so you'll never worry about comfort or coziness again. 
It's perfect if you're tight on space but huge on style because this little beauty will fit just about anywhere and still deliver your high-end design dreams time after time.
Pros
It is easy to assemble

It is sturdy

It has a fantastic look
Cons
There are complaints about the fabric used; a few customers said it's not durable enough and will tear easily.
How to Style Your Black Sectional Sofa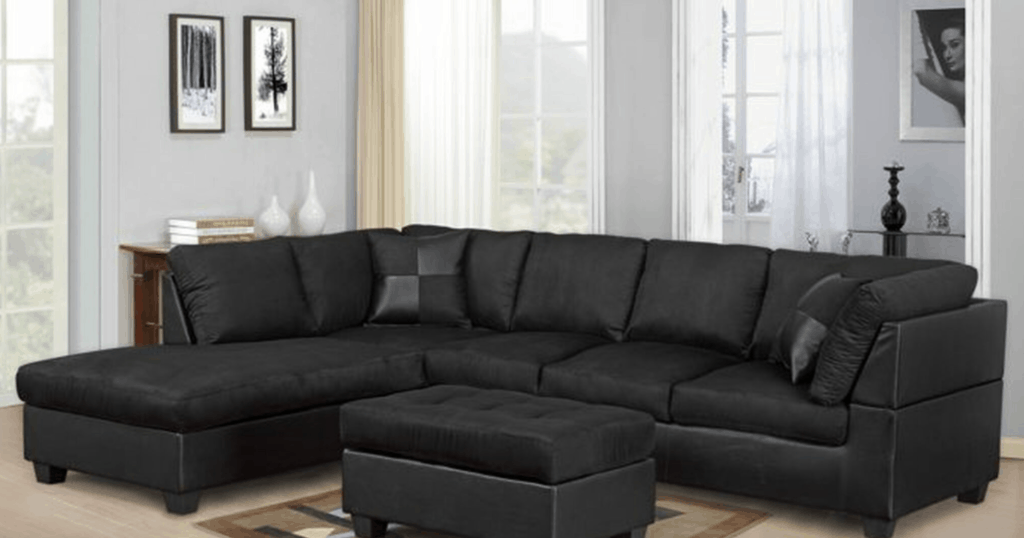 To decorate your black sectional, use scale and proportion as tools. For example, determine how much weight it carries within a space to get an understanding of its overall volume on a design scale. 
If you have limited space in your room, work with pastel-tinted contrasts or bright neutral colors for best results. To add more light to a dark corner, you can place a pair of candlestick lamps behind the sofa table or floor lamp. This will highlight those areas and allow them to shine with bright lighting.
To brighten and contrast the existing space, add touches of red paint to walls. Add a layer in an accent neutral color like white or vanilla on doors trims and moldings as well for added visual interest. You can also have wood tones that offer contrasting colors such as light maple browns against black sectionals when featured with wood floors, side tables, and coffee table sets near the area too.
Why not try out orange and white for your next color combination? It's a classic that never goes out of style.
How to Choose the Best Black Sectional Sofas
Comfort
Sectionals are a great way to add some life to your home. They offer both comfort and style, but they can be challenging to choose from because there are so many different options out there. Before you pick one, consider the size of each person who will sit on it comfortably – enough legroom is essential for everybody's legs.
Excellent back support is also crucial as not all sectional pieces have seats that go straight across; this might make you feel uncomfortable if they need to stay seated for long periods.
Available Configurations
When configuring a black sectional sofa, there are two popular styles: L-shape and U-shaped. An example of an L-shape is the Sofa Chaise with one short chaise next to a longer one. A full stationary version or reclining pieces can be used for these types of sofas, depending on their size in relation to your space at home. 
The most common type is the U shape which provides more seating room than other shapes because it does not include any ottomans or long chaises that take up extra floor space like its counterpart. Whether you choose stationary/non-recliner sections will depend entirely upon how much available area you have in your living room versus what's preferable by quality standards alone.
Where to Place Your Black Sectional Sofa
The layout of your room will have a significant impact on where you place the black sectional. For example, if there's only one door far from the corner, that would be an awkward spot for part of your black sectional to sit without leaving people feeling cramped as they enter or exit through that door. 
In addition, don't forget about the traffic in/out. If someone has to crawl over half of parts A & B just to get out, then no one wants to do it when the company comes over. Before making any big decisions like this, take some time and map everything out first: doors (they can make or break how well-placed certain pieces are), traffic around each piece, etc.
Material
Sectional sofas come in a wide variety of fabrics, including microfiber, polyester, leather, and performance fabrics. If you have young children or cats, it's best to opt for more durable materials that are easily cleanable, like leather, or fabric like vinyl which is machine washable if needed. 
Many retailers offer a protective sealant upon request, preventing stains and covering up rips and tears on the furniture, with some even offering an additional warranty against damage done by animals scratching at the material during their playtime.
The Black Sofa's Dimensions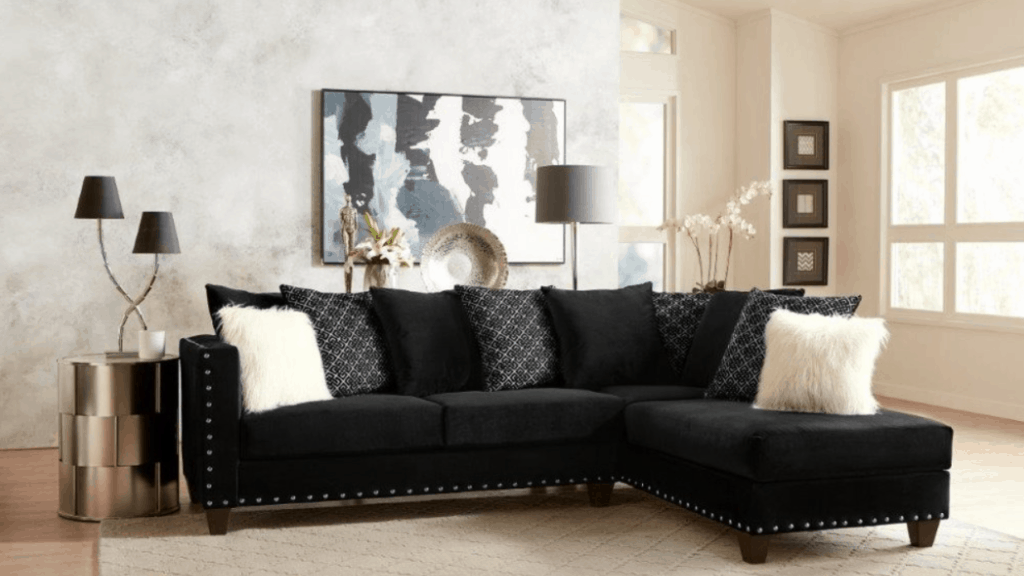 Measure more than just the depth of a couch. You need to measure its length and how far it extends on either side and ensure your feet don't dangle over if you're tall. 
Sectional sofas tend to have chaise components that can be deceivingly long; when measuring the sectional for size, make sure these are included as well in order to avoid outstretched legs. 
FAQs
Question: What Are the Different Types of Black Sectional Sofas?
Answer: The best and most common types of black sectional sofas in the market today include sofa chaise, pit, modular sectional sofa, U-shaped Sectional Sofa with Lumpy cushions for extra comfort. The last type is a versatile one that can be used as both indoor or outdoor furniture, depending on your preference.
Question: How Long Does a Sectional Sofa Last?
Answer: How long your black sectional will last generally depends on how you take care of it. If you are careless with your chair, it will stay for a few years, but it will last for long if you maintain it properly. On average, a black sectional sofa can last for a period of between seven to fifteen years.
Question: Are Sectional Sofas Practical?
Answer: Yes, sectional sofas are practical. They provide this benefit through their center and front placement of the seating area. In addition to being practical, they also make them comfortable and stylish because you can choose your own configuration with different pieces that work for any room or space in your house.
Question: How Do You Determine if a Black Sectional Sofa is of Good Quality?
Answer: A good-quality sectional sofa should have durable upholstery that will remain beautiful for years. The weave type is essential: tightly woven fabrics are more resistant to stains and wear better than loose weaves or even fine ones.
Question: Are Black Sectional Sofas Going Out of Style?
Answer: Sectionals are back and trending with people because of their practicality. They can be used in any space or even command its attention, which makes them perfect for those who like to stay organized without sacrificing style.
Black Sectional Ideas: Conclusion

Don't let the dark color of a black sectional sofa scare you away. There are many advantages to choosing this type of couch that will make it worth your time and money. Black, in general, is known for being elegant, sophisticated, and classy.
 It can be used as an accent or stand-out piece in any room without much effort; it just requires careful planning with the rest of the design elements. Plus, if there are kids or pets around, black furniture won't show dirt easily as lighter colors do. 
We hope we've helped you decide which kind of black sectional sofa best suits your lifestyle needs. Our top black sectional sofa is the Rivet Aiden black sectional sofa. It is durable, has easy maintenance as cushions are washable, and is comfortable- not forgetting how easy it is to assemble.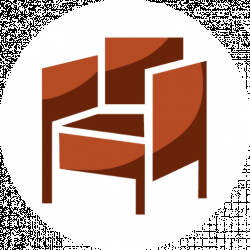 Latest posts by Finally Furnished Team
(see all)