Loveseats are a great option for small spaces. They can be used in an office, bedroom, or living room and provide the perfect place to curl up with your laptop, cuddle with your sweetheart or just relax after work.
While a loveseat almost always conjures images of romance and decadence, you'll be relieved to know it fits into any type of space. Yes! Absolutely anyone can revel in the joys of owning one. But there's an art to selecting the perfect loveseat, and that's why we're here.
This complete guide on the top loveseats in the market will help you understand the best match for your space. Therefore, we've covered design, style, materials, and usage to ensure you make the right purchase decision.
5 Hot Picks: Elegant, Functional, and Versatile Loveseats
With that clue into what you should look for in a loveseat, here's our selection of top loveseats from Amazon and Wayfair. Our review features the most durable, elegant, versatile,  and affordable loveseats.
Modern Upholstered Loveseat Sofa: Best as a Sectional Piece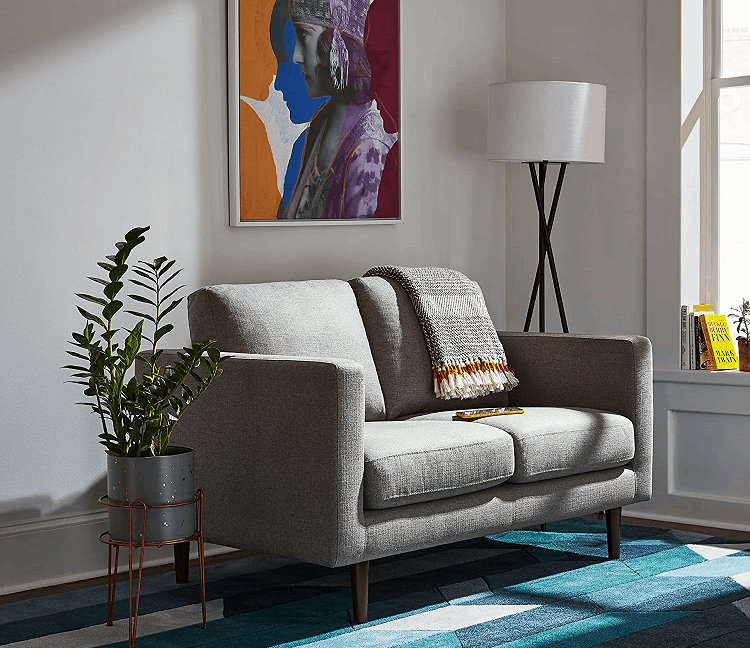 You have a keeper in this modern loveseat from Amazon due to its hardwood frame, solid beech wood legs, and durable polyester upholstery.  The style is a classic mid-century which comes with a tight back, removable back cushions, and track arms.
The overall look is minimalist, meaning it's suitable for any space. Furthermore, you can align it with your room or enhance its comfort by accessorizing with scatter cushions and a throw blanket. It also wouldn't hurt to add an elegant area rug alongside or under it. 
Pros 
It's pretty easy to assemble 

The upholstery fabric is child and pet friendly

It offers you plush, comfortable seating

The frame is stable and durable, and the same goes for the padding and upholstery.

It gives you good value for money
Cons
You might want to bolster it with extra cushions
Chesterfield Loveseat: Best as an Accent Piece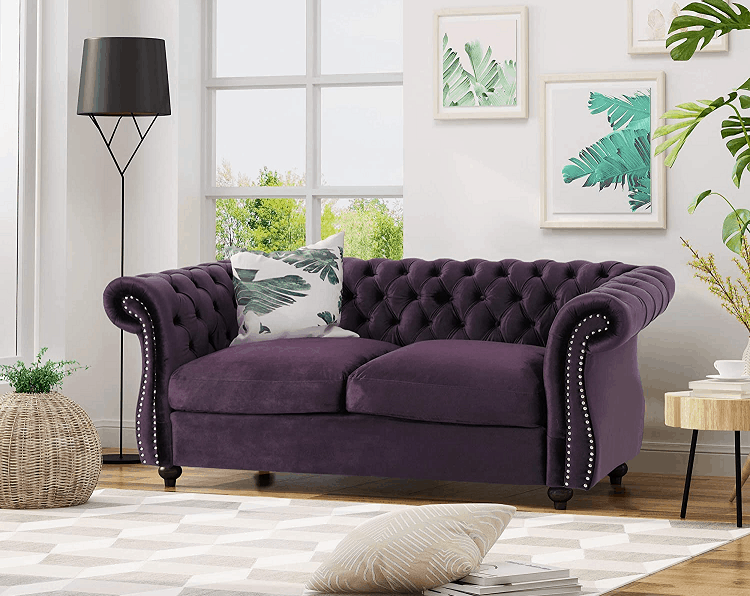 Still on the hunt for the perfect loveseat, look what we found! This great Chesterfield loveseat from Amazon is suitable for your living room and home office. You'll notice it has a deep button tufting along with the backrest and arms that enhance its look and make it comfortable.
On the front end of its rolled arms, you'll notice extra silvery nail head detailing to complement the deep button tufting. This outstanding beauty is made possible by a sturdy frame to support the lush padding and durable upholstery fabric.
Pros
This loveseat has an overall outstanding design

It's pretty comfortable with deep cushions 

It gives you good value for money
Cons
It's relatively low to the ground, so not ideal for the elderly or anyone with weak knees
Sleeper Sofa: Best for Space Saving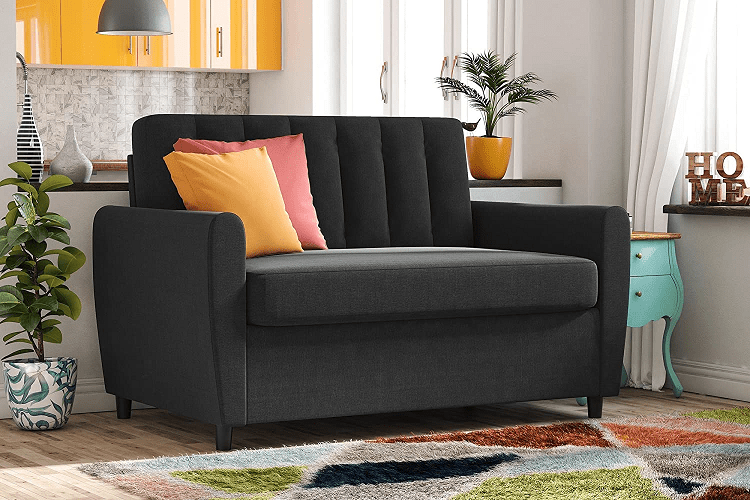 If functionality trumps everything, you'll be happy with this futon loveseat. It has a tight back, track arms, and an independently encased coil sofa seat cushion for extra comfort. It comes in the classic mid-century style with linen upholstery that has piping and ribbed tufting to add to its appeal.
That aside, it opens up to reveal a comfortable sleeping section for two (more ideal for one adult or two children) and all you need to do is pull out the memory foam mattress. This mattress is unique since it's made to contour your body and distribute weight evenly—for comfortable rest, relaxation and sleep.
Pros
This loveseat has the added advantage of multiple functions

It's easy to assemble and operate

You'll get good value for money with it
Cons
Basic fabric upholstery, not lush or luxurious

Not very comfortable
Wingback Loveseat: Best for a Spacious Living Room or Fireplace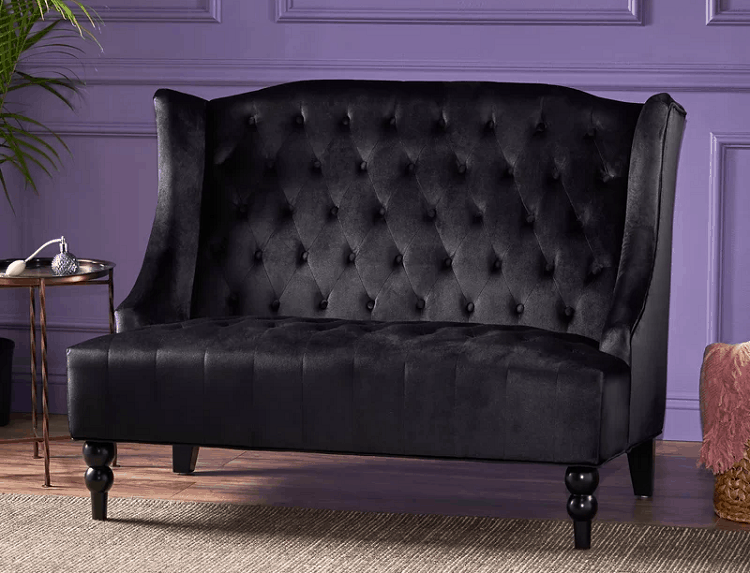 Do consider this elegant wingback loveseat from Wayfair if you're looking for a functional accent piece for your living room. It features a high, tight back with sloping arms and beautifully turned legs. The detailing on the body silhouette consists of a velvet upholstery that comes with deep button tufting in diamond stitching across the backrest and seat cushion. 
Pros 
This loveseat has gorgeous coloring and design to suit any space.

The high-density padding makes it extra comfortable and durable 

You'll get good value for money with it.
Cons
It's relatively low to the ground. 
Recliner Loveseat: Best for Gaming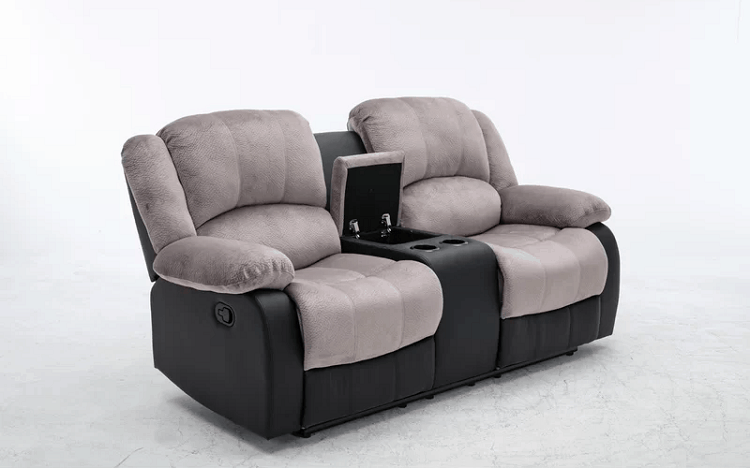 If functionality trumps everything, here's a loveseat you might want to check out. This loveseat comes with two special recliner sections with plush padding on the arm, back, and headrests. 
Further to the design, there are two cup holders and storage for your remotes or phones. The upholstery is champion fabric and polyurethane for your extra comfort and durability. Besides gaming, this loveseat is also suitable for a small living room.
Pros
It comes with added features to enhance your experience

The assembly process is pretty easy

The construction consists of a sturdy, durable frame
Cons
It's rather bulky and not easy to move around 
How to Choose a Loveseat
You must have specific deal breakers you can't revoke in your search and selection, no matter how incredible a loveseat proves to be. So here are the essential factors to help you navigate the loveseat shopping terrain.
Size
A loveseat is the in-betweener of couches since it's larger than an armchair and smaller than a couch. The ideal loveseat is not less than 40 inches and not more than 60. However, due to its versatility, there's been some categorizing over the years based on arm-to-arm length. Thus don't be surprised to find your net, cast as wide as the options below.
Designed for one: 51 inches 

Small ones: 52 inches 

Medium-size: 58 inches 

Full size: up to 64 inches 

Loveseat couches: up to 71 inches 
Still, another way to determine the suitable size is to consider the number of back cushions because even with the arm to arm length, some come with singles. If your preferred loveseat has a single cushion, it means only one person can sit comfortably, and if two sit, then it's only ideal as a snuggler. 
Usage
There are only several ways to use a loveseat: to close off a bare space, save space as an accent piece, or complement your other furniture. So when selecting one, it's essential to have all your requirements at hand. 
For instance, most people tend to use a loveseat for extra seating for two in a living room space, as bedroom furniture, or for use in tandem with a dressing table. However, a standard loveseat isn't ideal for napping or sprawling, which brings us to some vital aspects of a loveseat like design and style, which can impact usage.
Design and Style
Loveseats come in numerous assorted designs and styles. Hence, whatever your needs, your preferred loveseat should at least blend with the size of your space, style, and other furniture pieces. In your bid to meet all or some of these requirements, here's what to expect. 
By Body Design, we Have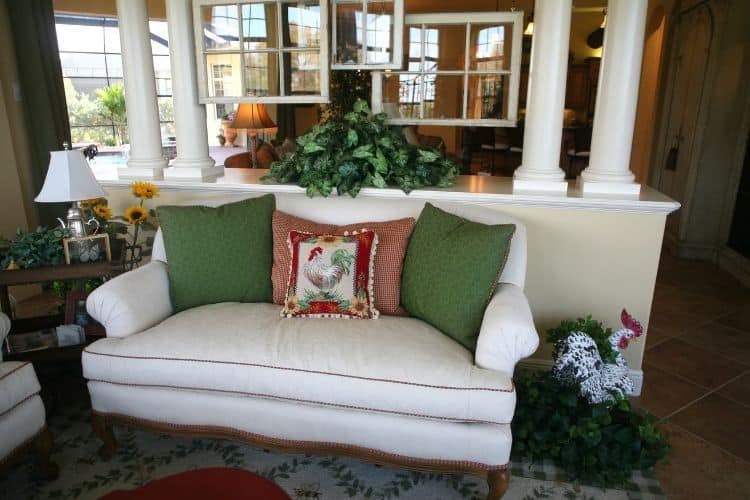 Chaise
Some single-seater loveseats come in this design. You'll recognize a chaise seat for its elongated welt that allows you to relax in a half-sitting, half-lying position.
This type of loveseat is super comfortable for one person and, if it can accommodate two, is the perfect snuggler while watching TV or relaxing by the fire. A loveseat with this design suits a bedroom or complements another piece of furniture in the living room.
Chesterfield 
Chesterfield is distinct for its amazing quilting or tufting. Some loveseats have these designs on the entire body, others on the back and the arms, while others only have it on the backrest and top of the seating cushion. If all you want is a piece of furniture that lifts your space in a whoosh of timeless elegance, you'll do well to consider a chesterfield.
Lawson
You'll know a loveseat has the lawson style if it has a tuxedo design with cushions not attached to the couch frame. The thing about this design is that besides having the modern appeal to it, comfort is its top priority. Its cushions tend to be large, plush, soft, easy to move around and fluff out.
Cabriole
This exquisite loveseat design features exposed wood trimming along the top of the back, arms, and legs. It was a highly fashionable accessory for any home in the 1700s and wasn't comfortable.
The modern version, though, has a significant leaning towards comfort. Yet even as it retains the signature cabriole silhouette shape, there's significantly more padding at the back, arms, and seat cushion.  
Bridgewater
The velvet loveseat is a popular choice among stylish homeowners. This design features soft, padded cushions and an elegant skirt that hides the legs while some modern pieces have exposed bases with rolled arms for added flair. 
It's worth noting that this is a basic design with barely any impact on aesthetics. But you can always count on it to make an impression with its plush comforts.
Mid Century
This design dates back to the 30s all through the 70s. Its appeal lies in the minimalist design and clean lines that are still attractive to a good majority.
While there's not much for these loveseats in the comfort department, their look is sure to give your space a significant style boost. Plus, you can always bolster the comfort element with scatter cushions, throws, or whatever you deem fit.
Camelback
It's evident from its name that it resembles a camel's hump. Indeed, it has a higher back in the center which descends into a continuous line to attach to the arms.  Other features to note are; tight upholstery, often with leather, a shaped seat cushion, high, scrolled arms that provide support, and exposed legs. To enhance its comfort, you can include some throw cushions and blankets. 
While a loveseat isn't suited for napping or sprawling, modern living dictates a switch-up in functionality. The advantage wrought on by a loveseat's size means there's more we can gain from it. Enter sleeper loveseats that feature futons, pull-outs, and bunk beds, and below is a bit about each option to add to your ideas and inspiration.
Futon
A futon is a Japanese word for a traditional bed. The futon loveseat design borrows from this concept in that its recliner back converts it from a couch to a flat cushioned bed. The futon design features compressed layers of material tufted together to keep the batting in place. To ensure it lasts and doesn't become lumpy, you'd need to flip the futon mattress once a week. 
Pull Out Sofa
This type of loveseat serves as a coach in the daytime and a bed in the nighttime. For use as a bed, it folds out to reveal a thin foam or spring mattress.
You'll then take the cushions off, spread the beddings on the mattress, and catch a snooze. That said, there's an important little detail you need to tuck away for future reference, that is,  the best pull-out sofas consist of natural fibers and not chemical-laden synthetic materials.
Bunk Bed Sleeper 
The bunker bed sleeper is a new loveseat design concept suitable for kids' rooms. It's especially ideal for sleepovers and small spaces. This incredible design features a couch bottom that opens up to reveal two mattresses.
These two mattresses connect on the railing to a ladder that folds out from the loveseat's sturdy frame, straps to keep the bedding in place, and zip compartments for pillows.
By Backrest Design, We Have
Tuxedo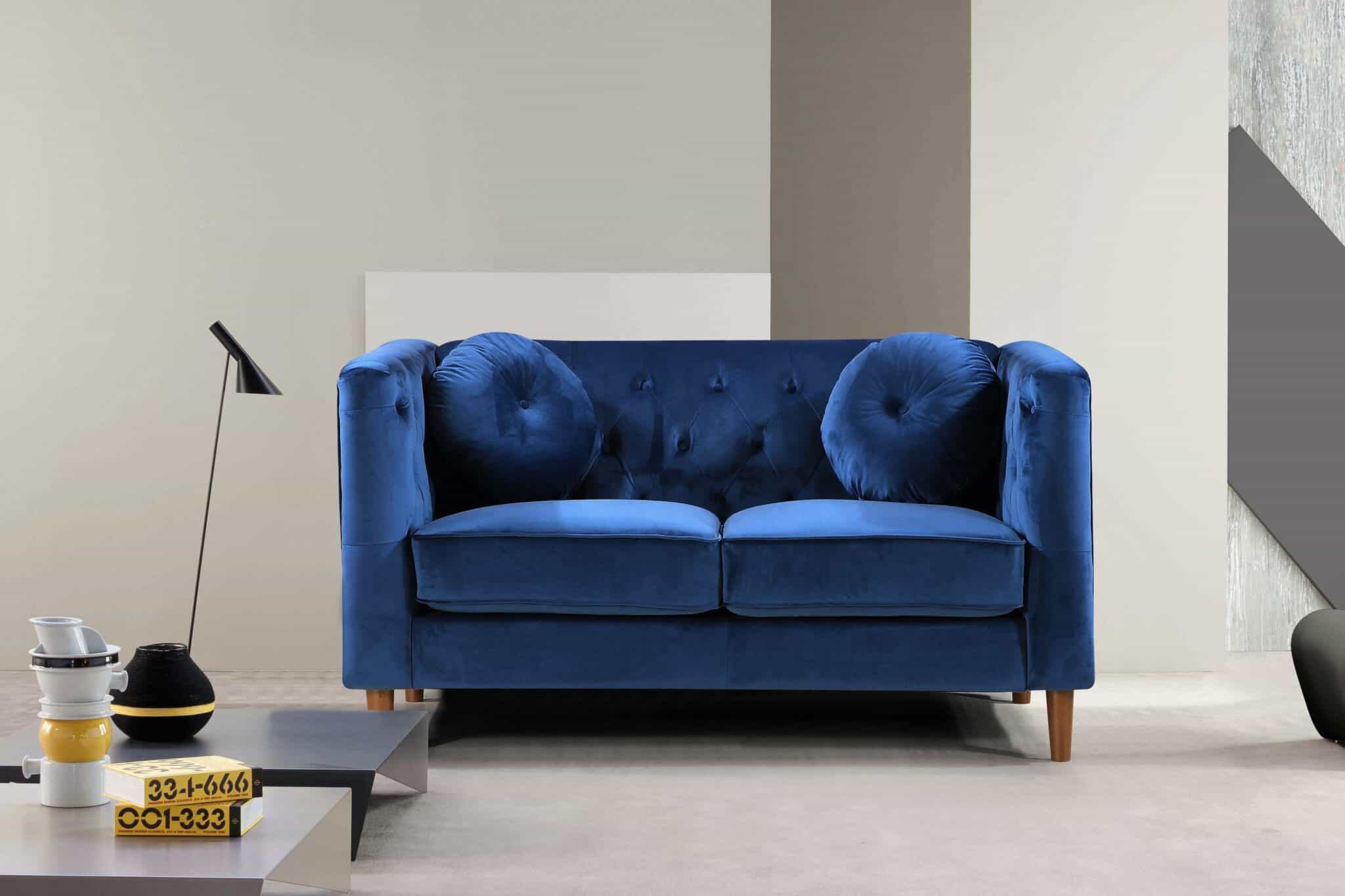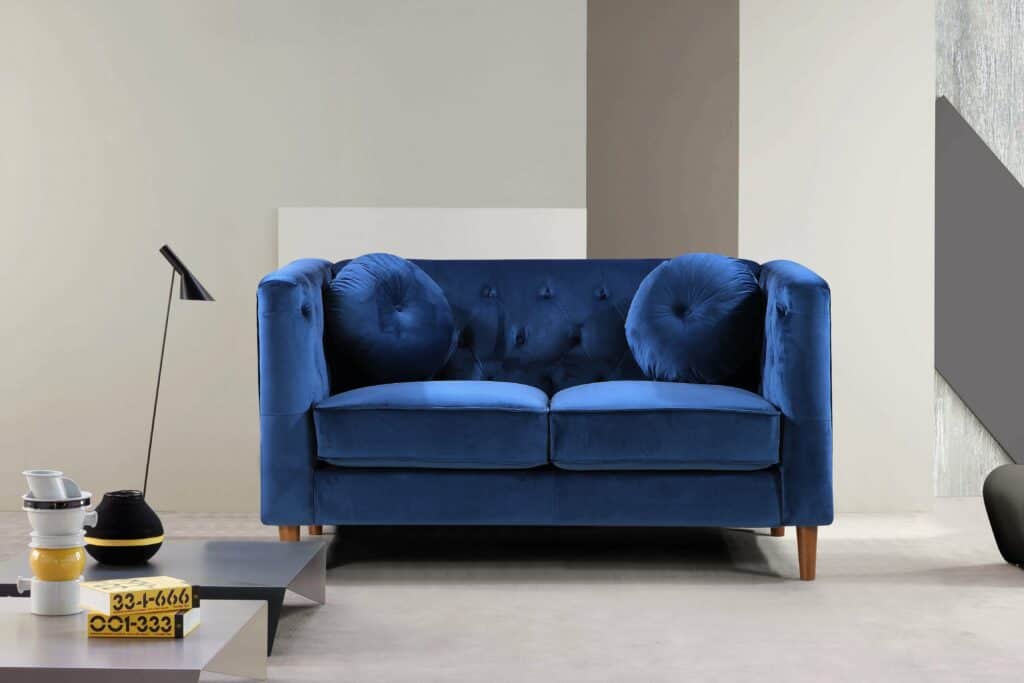 A tuxedo loveseat has a boxy silhouette with slightly flared arms at the same height as the backrest.  The base is often wood or metal legs, while the backs and arms are tight and tufted. This is one to consider if you like a well-defined look with clean lines and angled or gently sloped arms.
Tight Back
This type of loveseat doesn't have cushions floating about or seemingly attached to the back. Instead, it has tight, smooth, or tufted upholstering to maintain its firmness and shape and give it a clean aesthetic.  If you want to make it comfortable, you can always pile it up with soft, plush cushions.
Curved Back
This design fits in with everyone's idea of a loveseat. It makes the seating all the more intimate, and the curved back makes it perfect for any type of interior. Putting it against a wall may not serve well or heighten its effect. So consider it for a fireplace or as an accent piece alongside other furniture pieces.
Pillow (Scatter) Back
If you want loose cushions along the back of your loveseat, this is the design to lay your focus. The cushions are loosely arranged against the backrest. While the upholstery often comes in the same material as the rest of the couch.   
Barrel Back
As the name suggests, this design has the overall look of a barrel. The curve isn't limited to the backrest but extends to the arms making it highly comfortable. 
By Armrest Design, We Have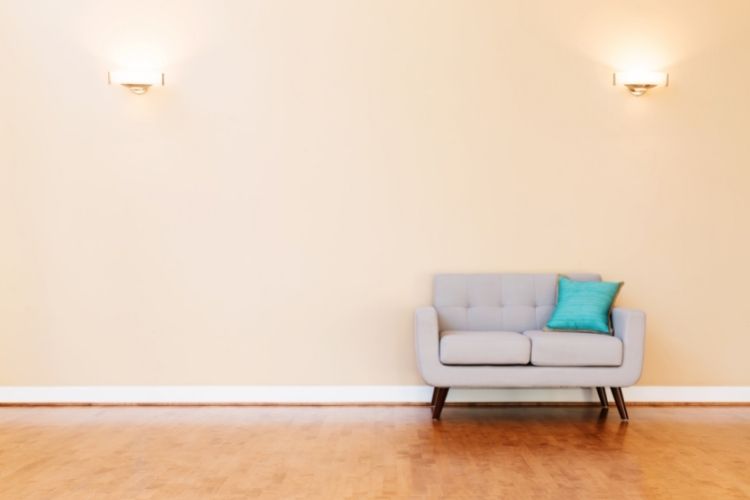 Track Arm
This type of arms design is a low, flat arm on a couch. We like this design because, besides being functional, the arm complements it with a modern twist. If you're looking for the best solution for small spaces, this is the ideal loveseat design.
Saddle Arm
Saddle arms bear their name due to their similarity to a saddle on a riding animal like a horse. These arms' design doesn't seem to come from the sofa; instead, they protrude from the couch due to extra padding in the arm. They're pretty comfortable and ideal for napping or couch surfing.
Rolled (Round) Arm
The arm design slopes to the outside and then curls in on itself; they're the more traditional design because it is a comfortable support for the arms.
Key Sofa Arms 
These arms come directly up and out of the sofa and consist of a minimalist style with understated, sleek, elegant lines. They have pretty sharp angles and are ideal for compact spaces.   ,
Slope Arm 
In this arm design, the arm and the backrest are the same height as the tuxedo. The only difference is, the arms then become shorter from the back as they approach the front of the couch to give a curved, sloppy silhouette.
Pillow Arm 
This design features large, thick cushions draped over the armrest; this gives for an extra comfortable loveseat and ideal solution for living rooms where lengthy sitting is the norm.  
Paris Club 
You'll often find this design on loveseats with natural or faux leather upholstery. The arms come up but don't roll out or angle to the side at all. They may have a panel to cover the front or just the basic shape without additional designs.     
Shelter Arms
A shelter arm is identical for its outward bend from the silhouette and gentle sloping curve. They're pretty comfortable since you tend to feel like the arms are sheltering or cradling you. 
Wooden Arm  
Some loveseats have these retro wooden frame styles that feature bare wood arms without upholstery. This design only works well if you're into rustic or Scandinavia styles or if it's a standalone piece of furniture in a small space.
Armless 
This armless design is timeless, appealing, and multifunctional since it means you can position your loveseat in any space. You can use it against a corner, against a wall, in a walk-in closet, or as an accent piece in a spacious living room. You can also join them up to create sectional seating.
By Upholstery Design, We Have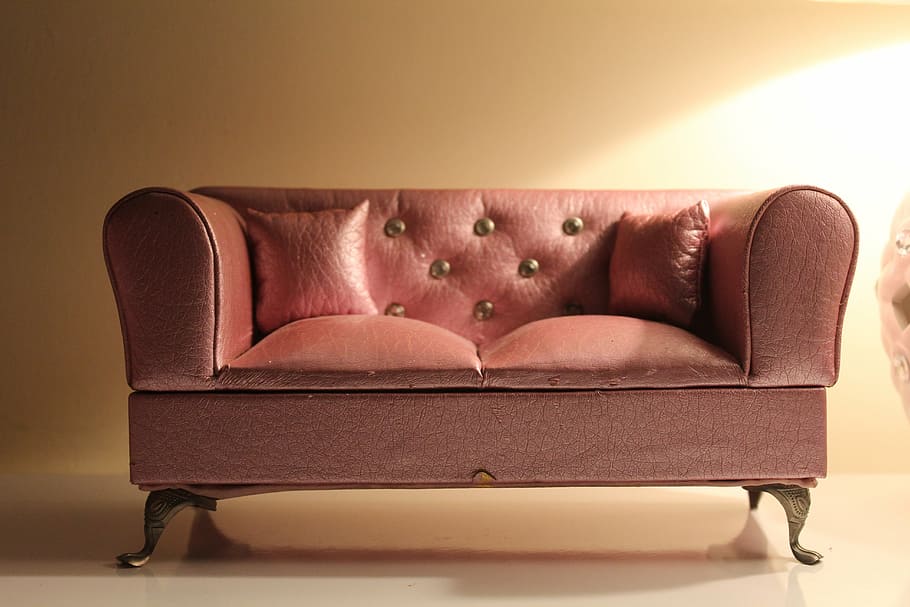 Upholstery is a significant feature to consider in your loveseat search and selection. The best upholstery depends on your usage and personal style. Below are the upholstery choices available to you.
Fabric
If you've got kids and pets, synthetic microfibers or blended fabrics are your best option. They're low maintenance and stain-resistant since they're tightly woven to prevent any soaking. If you're in a high-traffic space, consider fade-resistant and easy-to-clean fabrics. 
For a clean, homely, or casual look, linen and cotton will serve you well. If you want to make a style statement, velvet and silk are bound to wow your guests. If patterns are your thing, think of the appropriateness of the pattern's size on your furniture and its impact on the space. Bold patterns suit large areas, while muted ones are ideal for small spaces.
Leather
Aside from hefty maintenance expenses, leather is the toughest furniture upholstery you can find due to its durability and nonporous nature. It's also appealing and pretty smooth in texture. If you want the leather look without forking a ton, consider faux leather, which is equally attractive but less durable.  
Slip Covers 
You'll find slipcovers particularly useful if you're looking to reduce the maintenance bill, preserve your expensive luxury loveseat or want to have control over swapping diverse looks depending on usage. You can select them based on the type of fabric, color, or patterns.
Other Considerations
Apart from size, function, design, and style, you must consider quality. There's not much point in buying a tuxedo futon only to have it fall apart at the first sitting or sleeping, is there? Here are a few pointers on where to keep your eyes peeled.
Frame
The best loveseats frames are kiln-dried solid hardwoods like oak, maple, and birch. They also come with a steel webbing reinforcement at the base with exposed hand-rubbed wooden parts. The legs should be engineered into the frame or be easy to attach by metal screws and brackets. 
To test a loveseat's sturdiness, lift one leg to a height of about 7 inches. If the other leg doesn't lift, you can be sure the frame will give. You can also test by leaning in hard on the frame or lying on it as you would at home. 
Suspension
The ideal suspension consists of steel springs tied by hand to eight surrounding heavy gauge metal springs along the back and welted with 4 – 6 inches spacings.
If you want quality, avoid anything with meshing or webbing as it will soon give way. To test how well placed the suspension is, feel the springs through the upholstery if you can. It should be firm with good support that doesn't give when you sit.
Padding
The best padding has layers and layers of quality materials, with density denoting quality. The densest, quality padding ideal for the seat cushions is at 3.2 per cubic foot and the least dense at 1.5. 
An adequately padded loveseat has enough filling for the space between the frame and upholstery. It shouldn't also pull over like an ill-fitting suit when you sit, and neither should you feel the springs.
On quality assessment,  always inquire about the type of materials and chemicals used to produce the loveseat. Some manufacturers use pungent, irritating chemicals that can't augur well for children, pets, the sick, and the elderly. 
How to Style a Sofa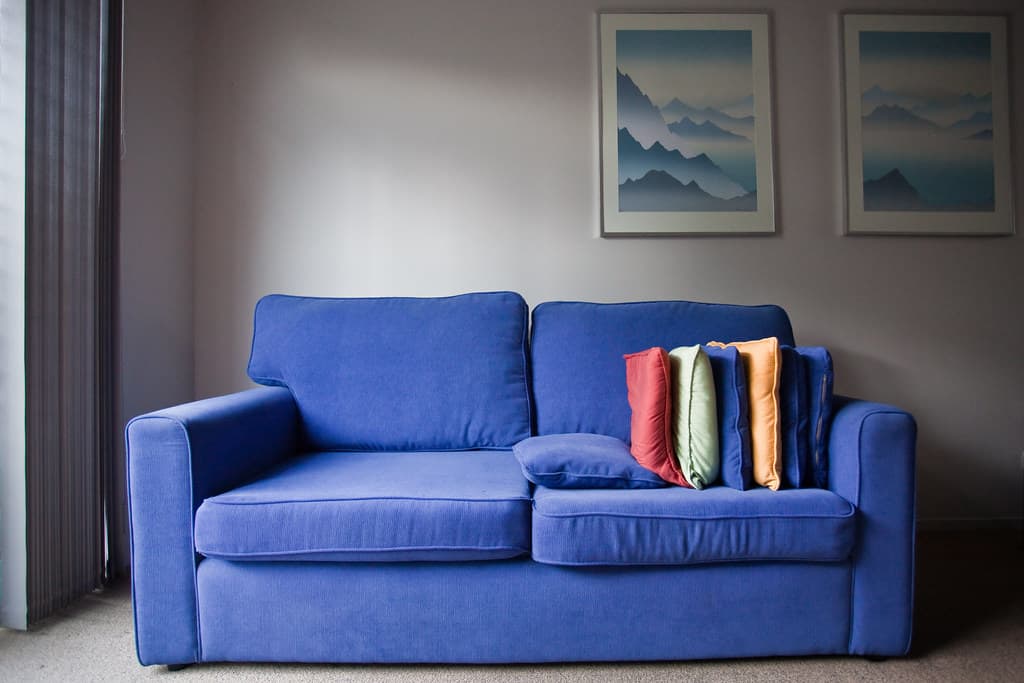 There are countless ways to style and transform your sofa. 
Colors and Textures 
You want your sofa or couch to add to your preferred interior's look and feel, so start from a safe place by using neutral colors to build your design style. It's always been assumed that using one texture is ideal, but don't let this limit your project.—research on textures that work well together and apply accordingly. For instance, velvet and linen work well together.
Cushions
Ensure the dimensions and fillings in your cushions are appropriate for the size of the couch, then apply your desired colors and patterns on them. You can choose to work with one shape of pillows or layer them in different sizes.
Throws 
These days, you can find throws in an assortment of sizes, styles, colors, and patterns, so look out for the one best suited for your style of couch. You could also get two or three versions to use interchangeably in between washes.
Other Accessories
While we tend to think of styling accessories as only those we can place on the couch, anything around the couch can also heighten the effect. Think of the area, rug, coffee tables, accent tables, lighting, and plants.  There are plenty of items you can apply around your couch to give it that all-time edgy, stylish look to make it stand out.
How to Set up Furniture in a Small Living Room
The first thing you should do when laying out a small space is to map it out. The mapping out exercise involves measuring and working out the items you need to place in plus their dimensions.
To ensure you capture all the details, including the look and feel, create a mood board and use a space design or measuring app to ensure you have different ideas on the layout options available to you.
A critical aspect is to identify the focal point, then arrange everything around it. The focal point could be a fireplace, a large cabinet, TV screen (entertainment unit), closet, piano, or large windows with a picturesque view. When selecting furniture, go for minimal pieces with clean lines, as this will blend in and not overpower the overall effect of your small space. 
You should also ensure no bulky stuff or clutter for easy movement in, out, and around the space. That effectively means that you should select the furniture first before any other pieces go into that space. Remember, bold patterns don't work well for small spaces; instead, opt for muted tones and neutral colors. 
If the space involves kids, we'd advise you to install sturdy on-ground shelving or a floating shelf solution to maximize space. Finally, opt for end tables instead of one coffee table because it takes up more space than is sufficient. 
FAQs
Question: What Style of Sofa Is Most Popular?
Answer: Three-seater sofas are often the most popular couches. However, loveseats are also popular in their own right and a must-have for most living spaces. They're famous for being compact, stylish, and versatile, plus you can always rely on them to complete and accentuate a room regardless of size. 
Question: Can You Mix and Match Sofa and Loveseat?
Answer: Yes, you can because a loveseat serves best as a space filler. You can pair it with your other furniture to create sectional seating or simply bolster the existing capacity. However, ensure the coloring and textures are a good match. If not, you can customize several slipcovers to ensure you have a consistent look even in between washes. 
Question: What Is the Size of a Standard Loveseat?
Answer: A standard loveseat is about 51 inches long, not less than 40, and not more than 60. However, there have been changes in arm-to-arm length over the years due to evolving lifestyle needs. Below are the size variations to expect;
• Designed for one: 51 inches 
• Small ones: 52 inches 
• Medium-size: 58 inches 
• Full size: up to 64 inches 
• Loveseat couches: up to 71 inches 
Question: Why Is It Called Loveseat?
Answer: This couch was initially built for ladies with bulky dress hoops in the 17th century. Later it was strictly for a seating of two, and due to the decency restrictions of the time, it offered courting couples a socially acceptable space. Although these days, a loveseat has varied uses.
Question: What Is a Love Bench?
Answer: A love bench is similar to a loveseat in that they're built for two people. However, the design changes since most of them consist of a comfortable and smooth wood or steel frame with no padding and cushions. They're ideal for outdoor seating on a patio, deck, or lawn.
Top Loveseat Ideas: Conclusion

We hope that with this detailed run-down on top loveseats, you're bursting with ideas and inspiration. This information should give you the confidence to tackle this loveseat shopping project with enthusiasm.
Remember, your first step in shopping is to understand your needs for it. Then seek out the preferred loveseat with the exact features to fulfill them, such as size, functionality, design, style, and quality. More to this is to have ideas on how to style the loveseat to ensure it blends in with your space.
Just in case you'd like additional pointers from our product reviews on Amazon and Wayfair, we're torn between the Chesterfield loveseat from Amazon and the recliner loveseat from Wayfair. With its exquisite design and coloring, the Chesterfield makes it ideal as an accent piece and space saver. On the other hand, the recliner loveseat stands out for its versatility, soft padding, and extra features for comfort.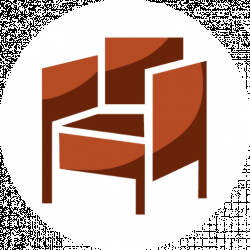 Latest posts by Finally Furnished Team
(see all)