When shopping for furniture pieces for the dining room, there are several things you will need. Fit your room with a quality table and chairs, and don't forget the credenza. A sturdy sideboard or credenza usually has ample storage room in front-facing cupboards with a long wide tabletop.
This guide to the best mid-century modern sideboards and credenzas is designed to help you add that last touch to your dining area. With this added piece, you can complete your dining room storage and host holiday get-togethers with family or parties with friends. To understand which credenza is right for you, there are many aspects you must consider.
But before we get into the specifics, here's a glance at our top 7 options.
At a Glance: Best Mid-Century Modern Sideboard and Credenzas
| | | | | |
| --- | --- | --- | --- | --- |
| Best Mid-Century Modern Sideboards | Best used for | Materials | Dimensions | More Info |
| Walker Edison | Simple storage | Engineered wood | 52 x 15.5 x 30.75 | Find out more |
| Good and Gracious | Dining room style and storage | Engineered wood and faux marble | 48 x 14 x 28 | Find out more |
| HOMCOM Modern | Decorative piece with ample storage | Engineered wood | 51.25 x 15.75 x 33 | Find out more |
| Zuri Modern | Decorative and showcase piece for home | Real wood | 67 x 17 x 30.5 | Find out more |
| Zona Mango Wood Sideboard | Storage and style | Engineered wood | 56 x 16 x 36 | Find out more |
| Janney Sideboard | Ample storage space | Engineered wood | 46.8 x 13. 25 x 29.25 | Find out more |
| Apepro Sideboard | Unique storage and wine storage space | Engineered Wood | 46.06 x 15.75 x 32.68 | Find out more |
Selection Criteria
Providing our criteria for the selected product allows you to weigh your options according to what the piece offers. With strict critique, we've chosen our pick among the list of the best Mid-Century Modern Credenzas.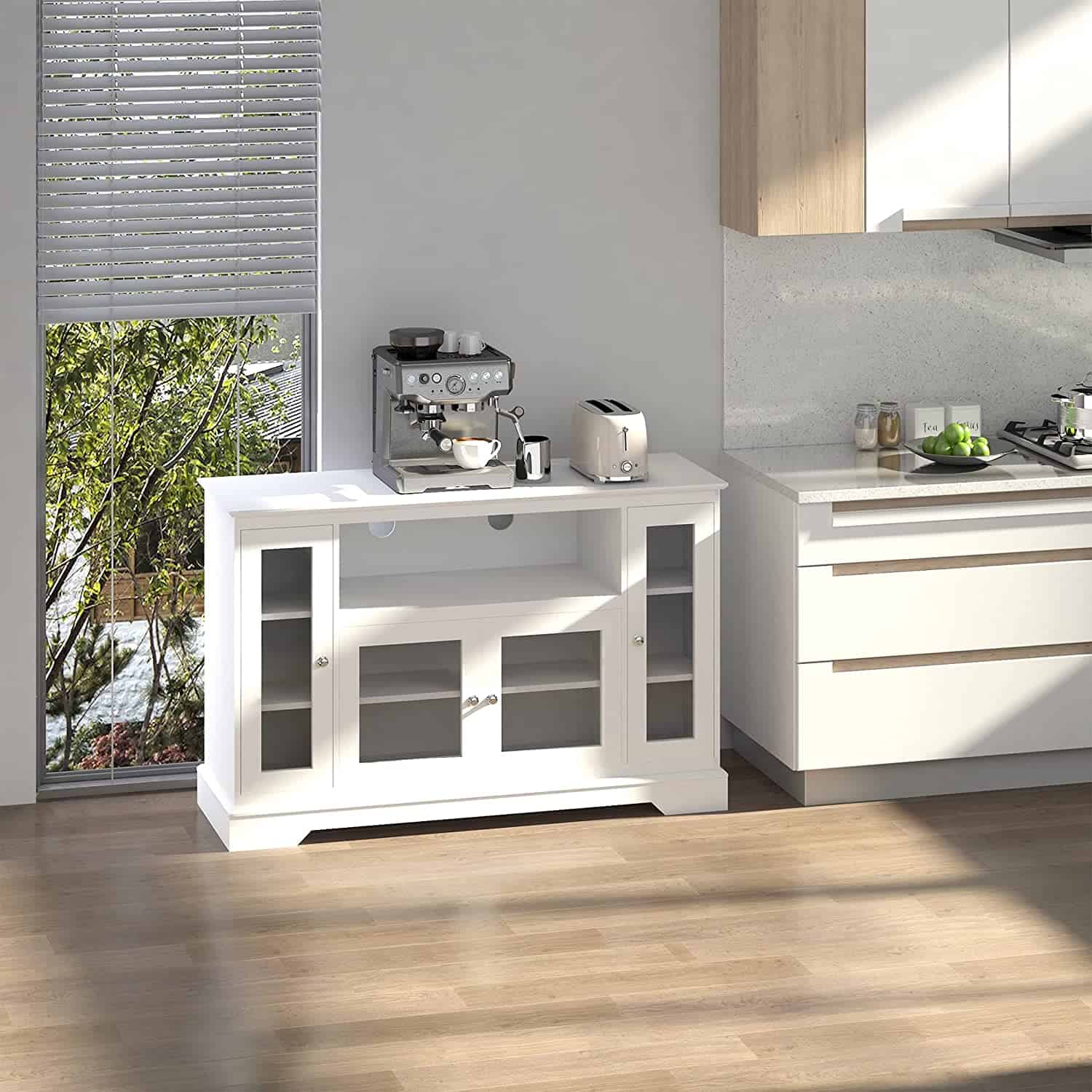 Style
The best credenza is usually a mid-century modern piece complete with a simplistic and useful design. However, small accents or tabletop designs create a high-quality furniture accent that turns heads.
Type of Materials
Credenzas are often constructed from engineered wood over a real wood foundation. The best sideboard pieces can be fully constructed from engineered wood and still provide a solid, sturdy piece for your living space.
Function/Extras
The best credenzas have that extra touch of style, like decorative handles, marble tops, or gold legs. They also have plenty of drawers or storage areas for putting away valuables. The best credenzas can be used in any room of the home.
Types of Mid-Century Modern Sideboards And Credenzas
Among the various mid-century modern pieces, there are several different types of credenzas, from decorative versions to simplistic options that focus on storage. Leaning toward the contemporary, there are sideboards that offer real wood structure, extra legs for stability, and even wine racks.
Materials
Wood
Engineered wood
Metal
Faux marble
Plastic
7 Best Mid-Century Modern Sideboard and Credenza
1. Walker Edison Wood Kitchen – Buffet Sideboard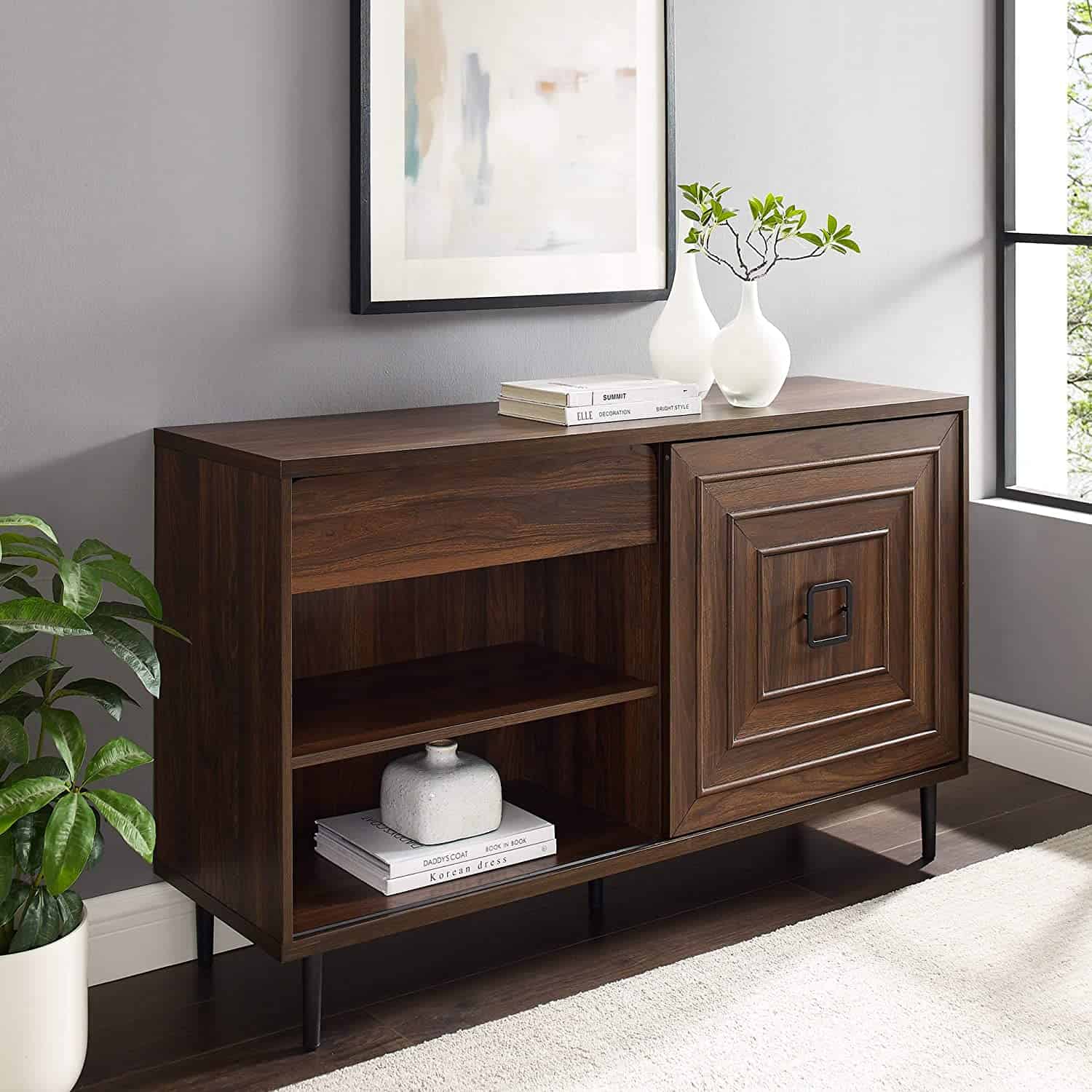 This credenza has multiple uses. It can serve as a buffet stand in the dining room, a console for your television, and a basic storage cabinet. If used for television, the sideboard can only hold a unit up to 58 inches wide. The back has management features to run cables if needed.
This piece is unique with its front sliding door that moves from one side to the other revealing shelf space. If you want to store linens, hide them. If you want to show off valuables, slide to leave the shelving open.
The Walk Edison sideboard is made from engineered wood with a dark walnut finish. It has two legs on each corner with one center leg for added support. The tabletop can be used to serve snacks or entrees during special occasions. It can also be used casually to hold reading material or pictures. Although it's a simple design, square accents and a central metal square handle adorn the sliding door.
Overall Dimensions: 52 L x 15.5 W x 30.75 H
Weight: 100 lbs.
Weight Capacity: 250 lbs.
Pros:
Beautiful finish
Unique sliding front cabinet door
Cons:
All shelving cannot be concealed at once
Not constructed from solid wood
2. Good and Gracious Sideboard Cabinet with Faux Marble Top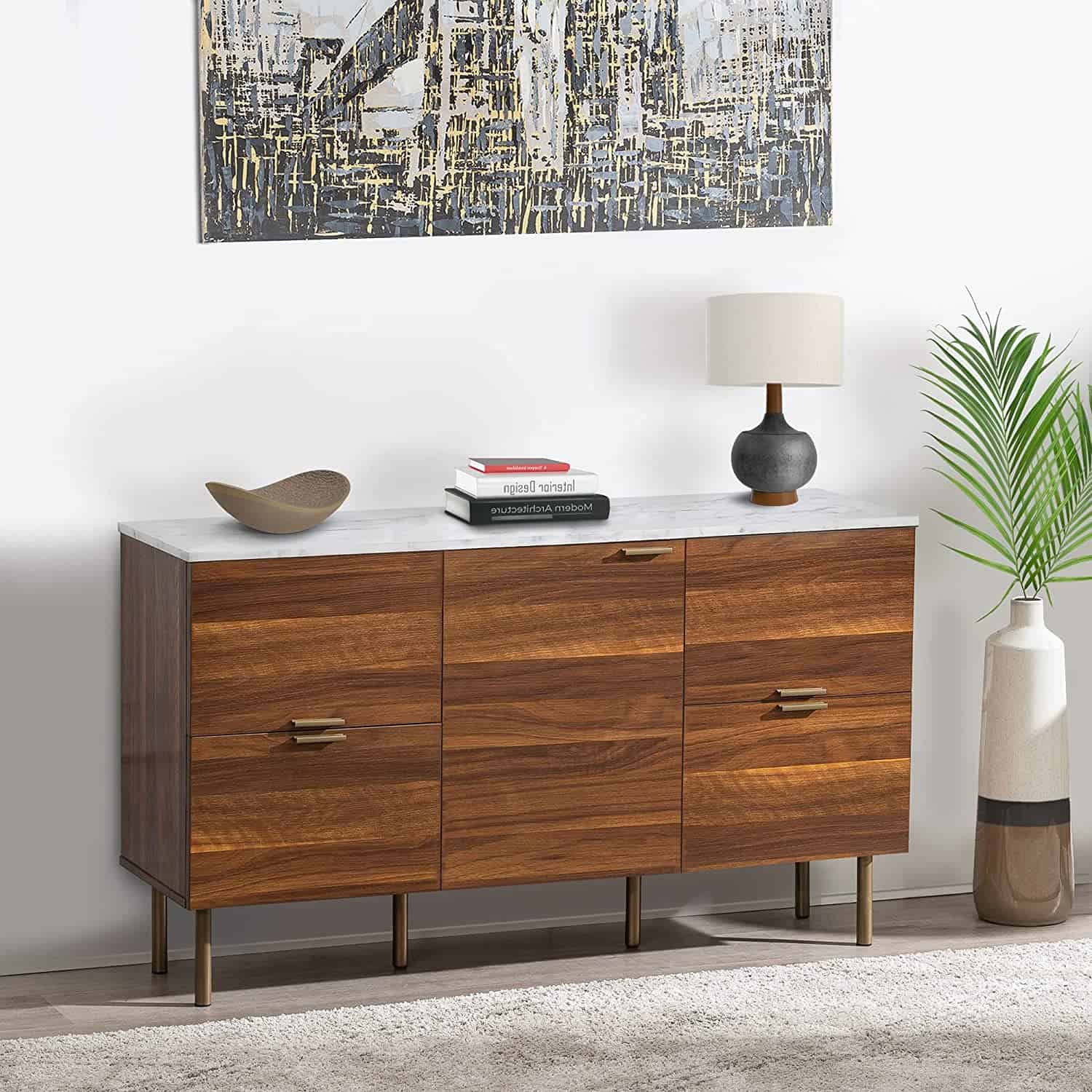 With four drawers and one center cabinet, his stylish credenza, made from engineered wood, has ample room to store many useful items. Behind the center, door sits two shelves, a perfect space for plates and saucers, and the four drawers can hold napkins, tablecloths, and silverware. The beautiful faux marble top is the perfect place for decorative items such as candles or lamps. The credenza has six golden legs for support and metal handles on each sliding drawer.
But don't limit this lovely piece to one room in the home. You can also use the Good and Gracious sideboard in the living room, den, or bedroom for other needed storage. Use it for an extra cabinet to store clothing or bedroom linen, like pillowcases. In the living room, you can use it for extra book storage or simply a place to put away extra important items like remote controls or game controllers. There's no limit to what you can do with this item.
Overall Dimensions: 48 L x 14 W x 28 H
Weight: 76.12 lbs.
Pros:
Loads of storage space
Simplistic and classy design
Faux marble tabletop and gold legs
Has an extra support leg
Cons:
Not made with solid wood
It doesn't support hefty weight
3. HOMCOM Modern Kitchen Sideboard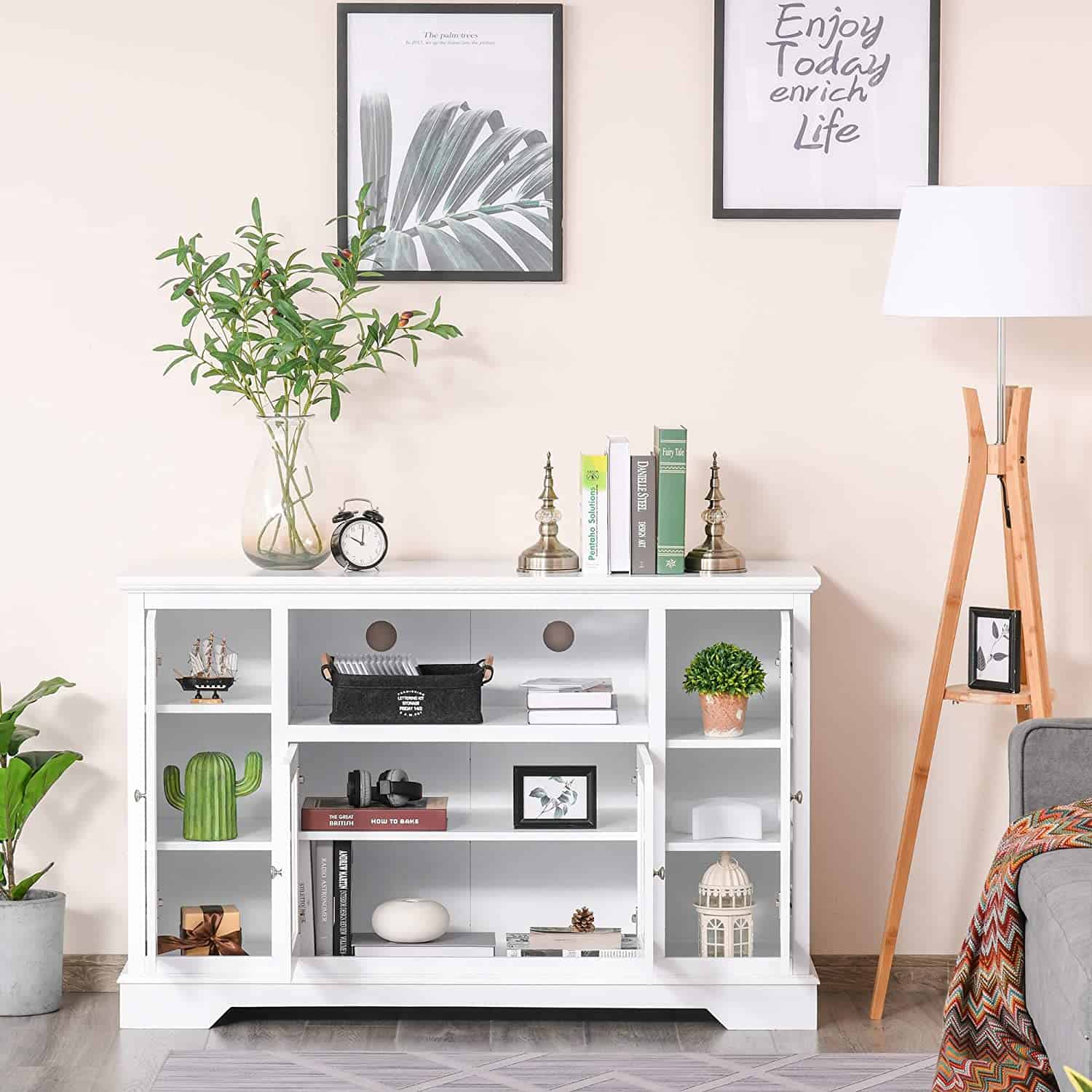 This white glass front kitchen sideboard coordinates well with the rest of the kitchen or dining room. It's the perfect place for a coffee station. The product has three enclosed cabinets with shelves, including a bottom front cabinet with double glass doors. Underneath the center of the tabletop is wide-open storage space as well.
The HOMCOM Modern Kitchen Sideboard is made from engineered wood and sits directly on the floor with a small narrow opening in the bottom front. The piece has metal knobs and two open holes in the top center storage space, so in case you use the sideboard as a console for the television. It's versatile and quite stylish. Use it in any room of the home.
Overall Dimensions: 51.25 L x 15.75 W x 33 H
Weight: 110.4 lbs.
Weight Capacity: 130 lbs.
Pros:
Gorgeous glass front doors
Entertainment cable management area
Clean design and ample storage
Cons:
Not made from real wood
Stains easy
Low weight capacity
4. Zuri Modern Art Black High Gloss Cabinet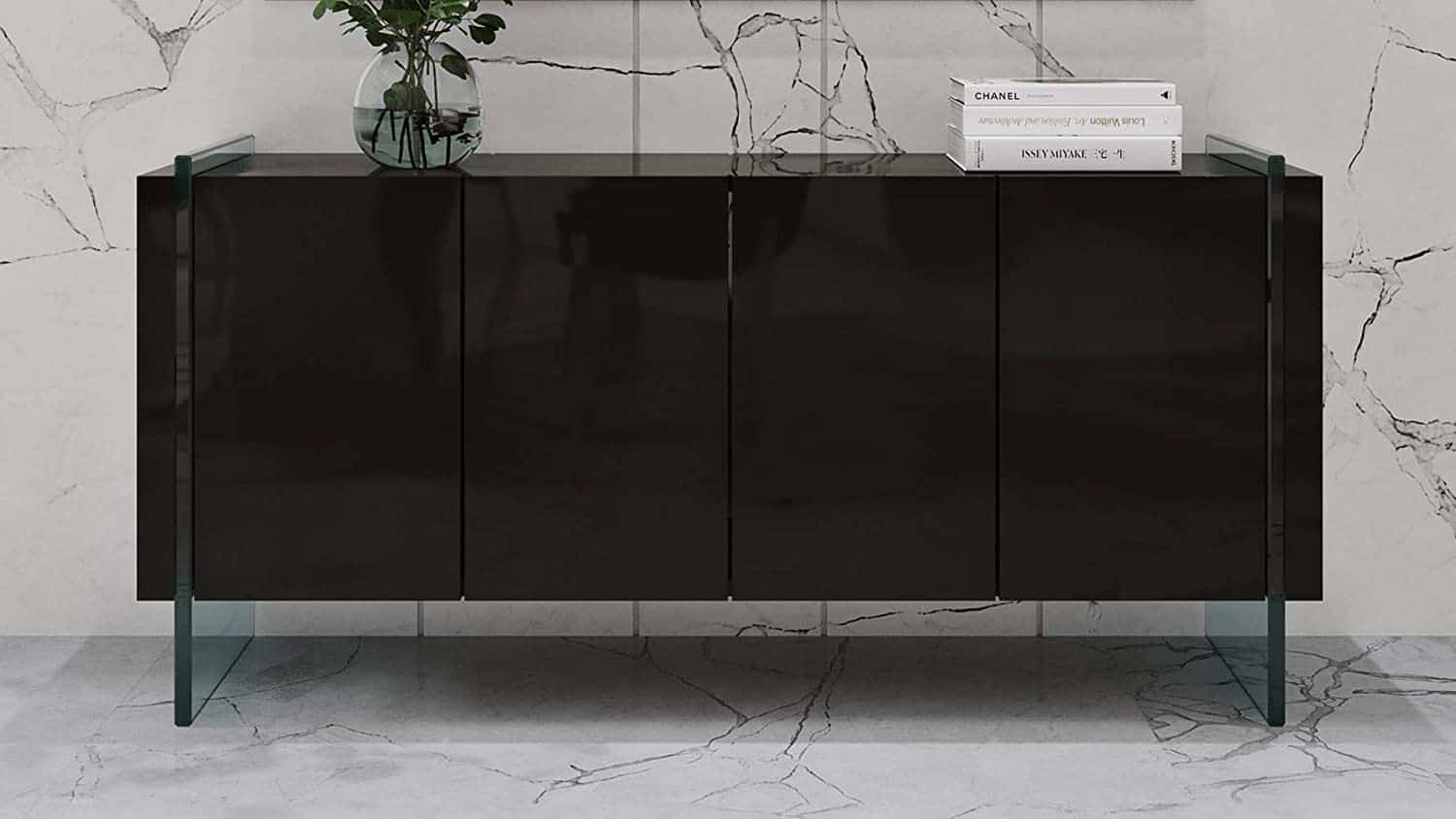 Friends and family will adore this simplistic artsy sideboard as you use the piece for parties or family dinners. Even if you only store dining room linens or utensils, this item will blend perfectly with any other furniture pieces in any of your living spaces. Use it in the bedroom for small clothing items or place it in the living room to hold large entertainment devices. It's just as versatile as it is stylish.
This solid wood credenza has a beautiful high-gloss lacquered finish and wide acrylic legs. There are two cabinets with spacious interior shelving and holes in the cabinet back for media cords if needed. The surface of the sideboard and acrylic legs are easy to clean. Find this product on Amazon.
Overall Dimensions: 67 L x 17 W x 30.5 H
Weight: 99 lbs.
Pros:
Made from real wood
Unique acrylic legs
Modern high gloss finish
Cons:
Not cabinet handles or knobs
No center support leg
5. Zona Mango Wood Sideboard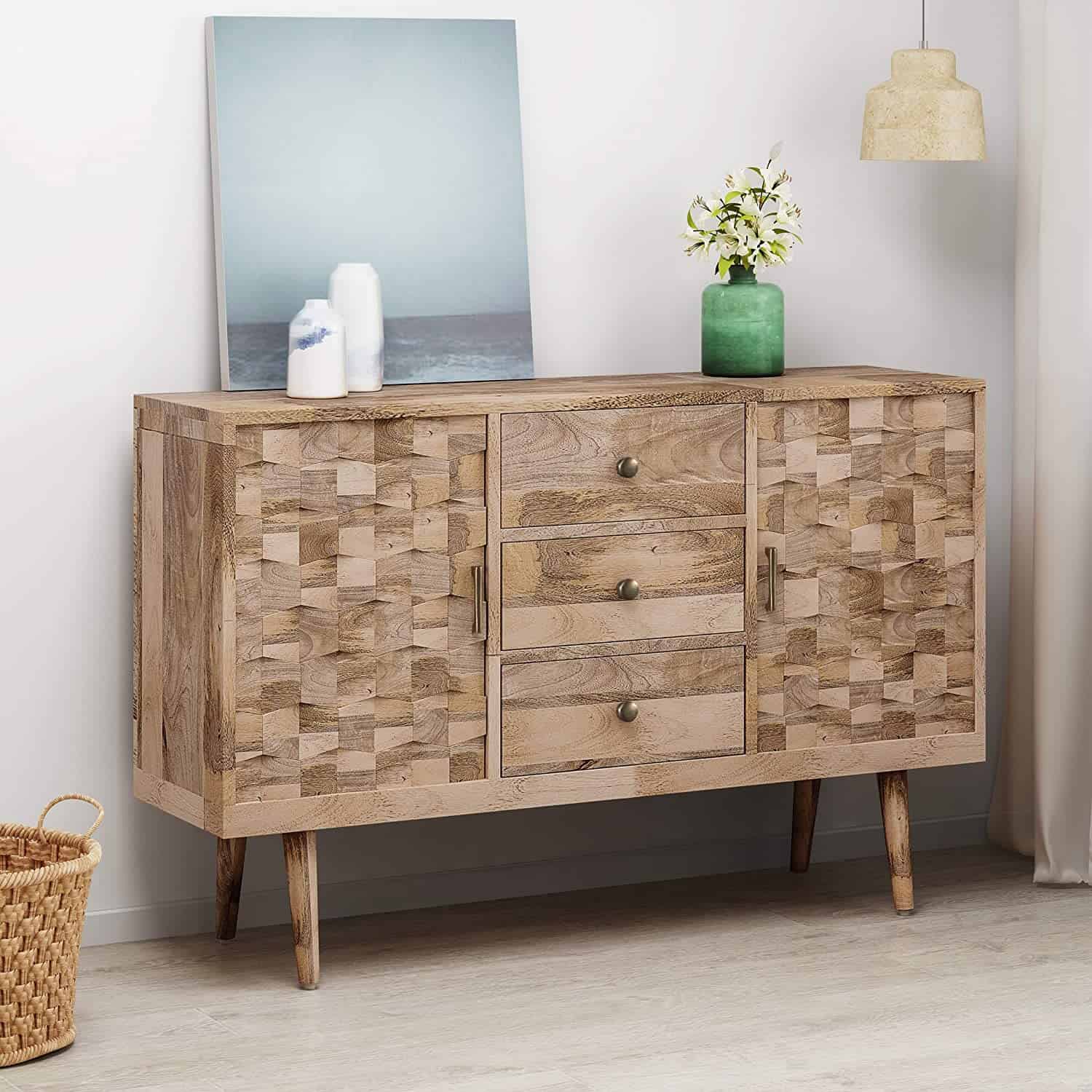 Everyone will appreciate this out-of-the-ordinary credenza. The color design, called splatting, makes each Zona sideboard unique. With three center drawers and a large cabinet on each side, there is plenty of storage room as well. Two sturdy shelves sit behind each large cabinet door offering ample space for plates, bowls, or cups. The center drawers are perfect for folded napkins or small linen items.
This mid-century modern piece has many striking accents. With a solid mango wood frame, four splayed legs, and quirky weaved 3D wood design, and this item proves to be a quality furniture fit for any room. The blended wood surface (mango wood/engineered wood) is stain-resistant and easy to clean. There are two long handles on each cabinet and knobs on the center drawers for easy opening.
Overall Dimensions: 56 L x 16 W x 36 H
Weight: 148 lbs.
Pros:
Great showcase piece
Structure made with real mango wood
Plentiful storage space
Easy to keep clean
Cons:
6. Janney Credenza/sideboard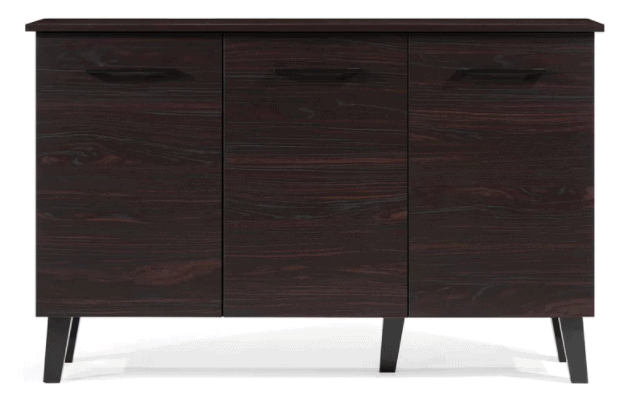 This stylish yet simplistic credenza from Janney comes in both gray and wenge finish to compliment your décor. Whether you use the sideboard in the dining room to store linens or dishes or in another living space, this piece flows nicely with its surroundings. Ample storage space behind three wide doors provides a way to organize a bit of clutter.
The basic structure is constructed from real wood, with an engineered wood tabletop. The five legs supporting the credenza are made from plastic. Double doors open to three extended shelves, and one narrow door on the side conceals three narrow shelving units. Metal handles provide easy access to the storage space. The sideboard has a clean, sleek front when doors are closed.
Overall Dimensions: 46.8 L x 13. 25 W x 29.25 H
Weight: 66 lbs.
Weight Capacity: 50 lbs.
Pros:
Sleek, simple style
Ample storage space
Cons:
Supports less weight than most
It doesn't have drawers
7. Apepro Sideboard/Wine Cabinet/Buffet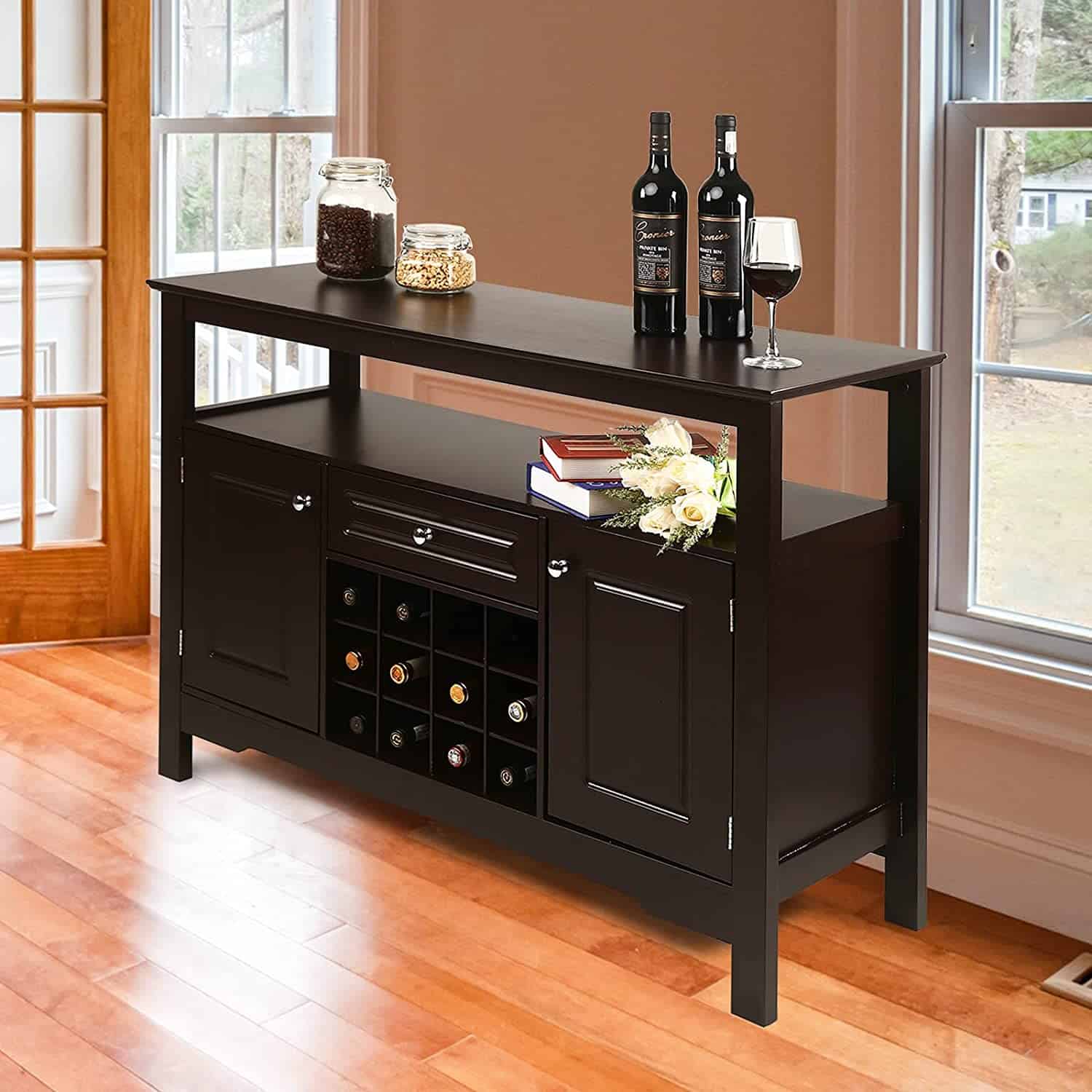 This multifunctional piece from Apepro can be used in a variety of ways in different rooms of your home. It's classy with its wood construction and espresso finish. This furniture accent is designed to resist dust, making the sideboard easy to clean.
With its extra open space just below the tabletop, you get twice the display space as with other pieces. It also has table-style legs for support. It is made from manufactured wood.
The sideboard has a large open shelf under the tabletop and one center drawer directly below. There are two large cabinets on each side of a 12-bottle storage mini wine cabinet. This credenza works especially well for holidays, parties or is used in the dining room for ample storage of your favorites. Place silverware in the middle drawer, plates, saucers, and bowls in the side cabinets, and your favorite Merlot or Cabernet in the wine store.
Overall Dimensions: 46.06 L x 15.75 W x 32.68 H
Weight: 73.3 lbs.
Pros:
Unique design
Double display tops
Build-in table legs
Cons:
Short tabletop length
No shelving in the side cabinets
FAQs
Question: What is a credenza?
Answer: A credenza, also known as a sideboard, is an accent piece usually found in the dining room. There are many styles of credenzas, constructed mainly of wood or engineered wood products. They average around 48 inches in length and 35 inches in height with varying widths. The sideboard has a thick tabletop with front storage space.
Question: How is a credenza used?
Answer: This furniture piece can be used in a variety of ways, with the most common use in the dining room. Most pieces are used to store silverware, dishes, linens, and other similar items. In addition, many people place decorative items or candles on the tabletop until using this surface for holding additional food or snack items for a buffet dinner.
The credenza can also be used in the living room as storage for entertainment items. The sideboard can also be used in the bedroom to hold clothing items or accessories. This accent furniture can be used in other creative ways as well. Basically, it serves as a storage piece for any living space.
Question: Can a sideboard/credenza be used as a desk?
Answer: Yes, the sideboard can be used as a desk, especially pieces that have drawers. These drawers are quite useful for storing small office supplies like pens, pencils, and posted notes. Cabinets are also useful for storing larger office materials or small office devices. You can hide away a small printing device if the storage cabinet is large enough. The tabletop is sturdy enough to hold a desktop or laptop as well.
Question: Are shelves adjustable on the sideboard?
Answer: Most credenzas do have adjustable shelves. Considering they must be assembled after purchase, they can be built with more open space or less, as long as they retain support with the proper stability pieces.
Top Mid Century Modern Sideboard and Credenzas: Final Thoughts
The credenza may be a furniture piece you never knew you needed before. However, the sideboard provides a quality addition to any home with storage space and style. If you've decided to purchase a credenza, our guide can help you select the best piece for your home. Paired with other mid-century modern pieces, this item can prove extremely useful.
Among the many credenzas in our list, there's a favorite. The Good and Gracious Sideboard Cabinet with Faux Marble Top has everything you need for your living space, whether it's the dining room, bedroom, or living room. With plenty of storage space and a beautiful faux marble tabletop, this piece will be a welcome addition to your home.
For complimentary furniture item ideas, you can browse through our choice of chairs and other console options. When you design your home, never forget to add a splash of unique flair to every room. Along with functional pieces, you can enjoy great designs and styles that blow your mind. From front to back, dress our your living space with only the best in home furnishings.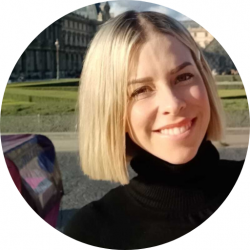 Latest posts by Jodie Chiffey
(see all)