When it comes to finding the right mini couch for your living room space, many things need consideration: color scheme, size/scale, etc. Couches can be difficult pieces because they're typically large and bulky. But with today's technology, furniture companies have created small couches (mini-couches) specifically designed for homes where floor plans require less square footage – such as studio apartments.
If you're looking for the perfect mini couch, this guide will help! We've reviewed all different kinds of these small couches and ranked them by budget. We also looked at what type they are – kids or adults, and what features they have that make them a good choice in terms of function, such as storage spaces and style.
Best Mini Couches for Adults
Everly Quinn Square Arm Sofa Bed: Best Overall Mini Couch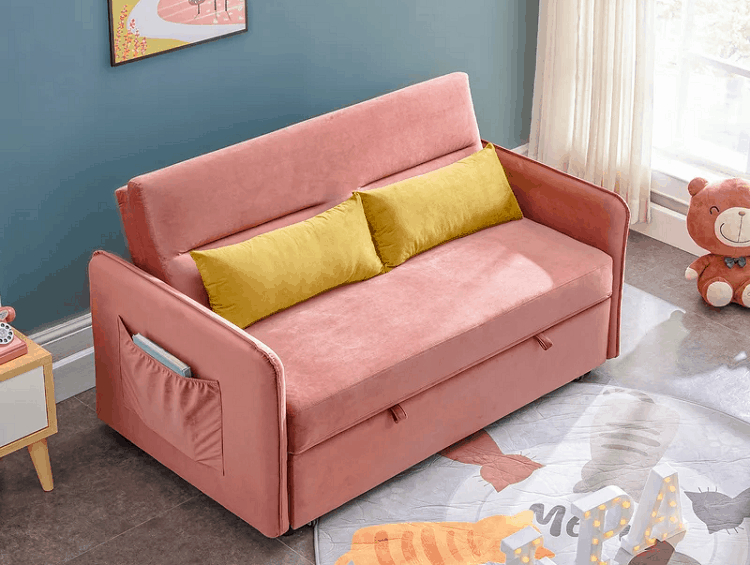 It's time to shake up your space with this sofa bed. With a futon and two lumbar pillows, you'll never have to choose between a sitting area, bed, or where you put your feet up with this convertible mini sofa. Let's face it – when you are in the mood for relaxing on the couch, reading, napping, you sometimes want comfort, but other times you need something hardier.
 A lot of people think these things are mutually exclusive – but not anymore! 
The Square Arm Sofa Bed has you covered. Not only does this piece use high-quality materials, but you're guaranteed sturdiness, so you'll never need to worry about its weight limit – yes, it really is strong enough to hold a weight of up to 600 pounds.
It also features three different levels of reclining that can be adjusted with just one slight push upward. The backrest can go from an angle that's perfect for cuddling or reclining all the way up for when it's time to catch some zzzzs. 
A space-saving solution, make your life so much more luxurious and functional with this multifunctional mini-couch.
Pros
Quality and durable material

Easy assembly and maintenance

It's perfect for small spaces
Cons
Kelm Round Arm Sleeper: Best Mid Century Mini Couch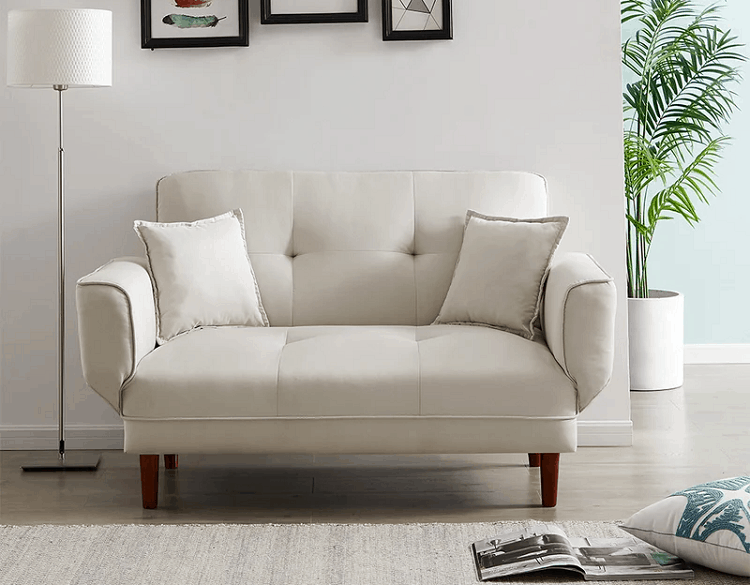 The perfect little lounger for small spaces! With its style-conscious design, the George Oliver Kelm Round Arm Sleeper is also compatible with your relaxed and sophisticated taste while still giving you plenty of ways to use it.  It has an easily adjustable sofa bed with arms that move in three positions, plus five different backrests, so you're styled just right no matter what position you choose to take up. 
The adjustable sofa bed features sturdy wooden armrests but have no worries because they're slatted, so you won't feel uncomfortable while napping or lounging. 
Who would have thought a sleeper couch could be so light and compact? Literally tiny enough to fit in any space with style, comfort, and convenience. Whether you need a date night lounge in the living room or an extra nap cot for guests when they pop in unexpectedly – this mini couch will serve all your needs.
Pros
High-density foam cushions for guaranteed comfort

It can handle up to 300lbs.

Sleek style to match any home decor
Cons
The legs are plastic rather than wood which is considered to be more durable.
Bjorn Rolled Arm Settee: Best Budget Mini Couch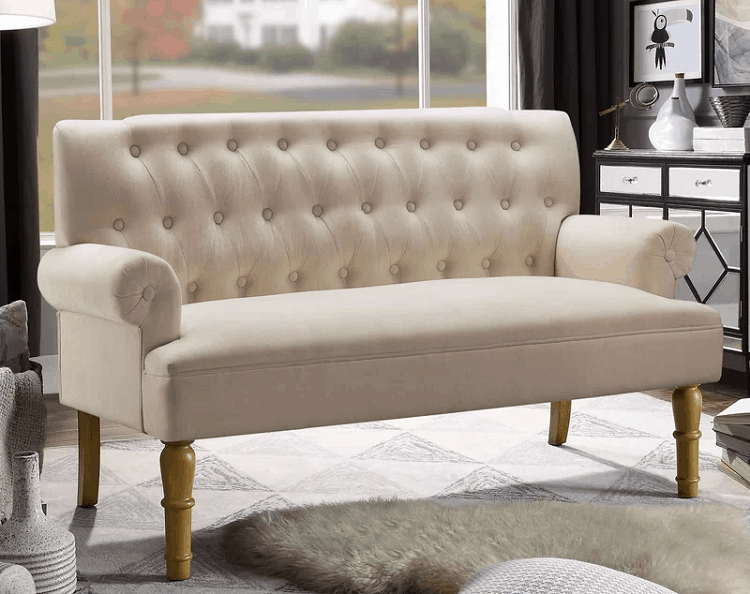 When it comes to small scale, the Bjorn Rolled Arm Settee is a sweet find. The feeling of winding down your day is one that's often enhanced with a cozy couch, and this mini couch is the perfect pick. With comfortable foam padding for lumbar support and web suspension to ensure steady balance, you'll be able to sit back in complete comfort.
At 59″ long, this settee won't take up too much space. And with its traditional design, this settee provides an eye-catching alternative to overstuffed home theatre seating or side chairs. 
There's just something charming about traditional rolled arms and turned walnut finish that you just can't pass on!  It's the best way to create an intimate conversation spot both indoors or outside – so go ahead, kick off your shoes.
Pros
There's a wide range of colors to choose from

Made from strong and durable materials

It has an elegant finish that's sure to complement your home decor.

High weight capacity of up to 1000lbs.

Reasonably priced
Chimel Velvet Round Arm Sofa Bed: Best Premium Mini Couch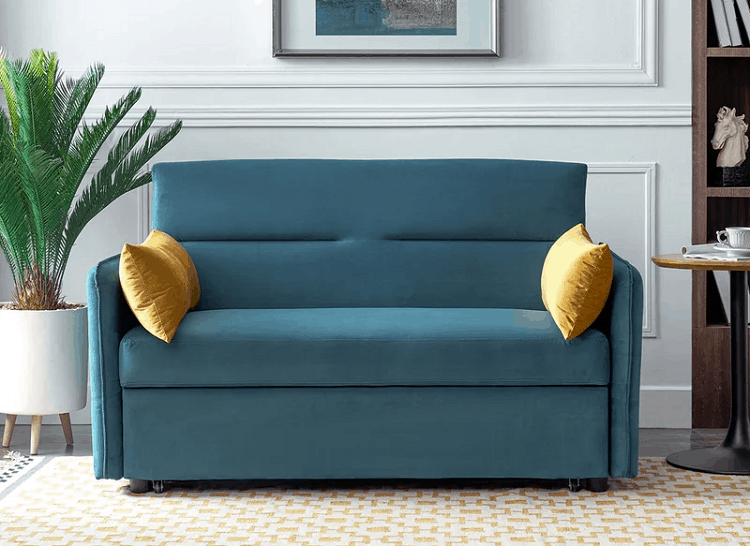 Forget cramming onto an uncomfortable loveseat when you could curl up in the incredibly soft Chimel Velvet Round Arm Sofa Bed! With a tight dense foam filling for maximum comfort, no one will ask why you have such a small piece. 
For your late nights with 6 PM drink-y conversations, this sofa comes complete with two large side pockets to keep all of your necessities right by your arm. And best of all, you can finish assembling it yourself in less than 20 minutes.
Pair it with an equally comfortable ottoman or small chair, and voila! You're good to go. This compact piece of furniture is perfect for any home, especially spaces that are limited in space. It's also durable enough to hold up to 600lbs!
Pros
Soft fabric

High dense cushions to enhance your comfort

High weight capacity.

Easy assembly and maintenance
Cons
It's only available in blue and pink

Pricey
Best Mini Couches for Kids
Keet Plush: Easiest Maintenance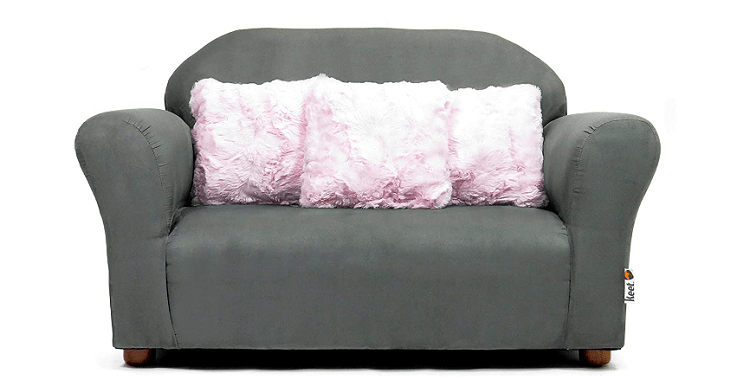 This Keet children's mini couch is the perfect sofa for your little sweetheart with a fun and girly touch. With its light microsuede fabrics, it can easily match any room in your home while still providing comfort and style. 
The strong wood frame covered with high-density foam ensures that this Keet Plush mini couch will last long and hard while also maintaining a weight capacity of 75 pounds. Use warm water and dishwashing soap for spot cleaning only to get up stains before entering the fabric. 
This affordable piece is great for parties or just lounging around with friends or maybe even playing video games on the provided dual controller attachments.
Pros
It is comfortable

It is strong and durable

It is lightweight yet sturdy
Cons
It can only handle a weight of up to 75lbs.
Kids Sofa Couch: Best Wooden Frame Mini Couch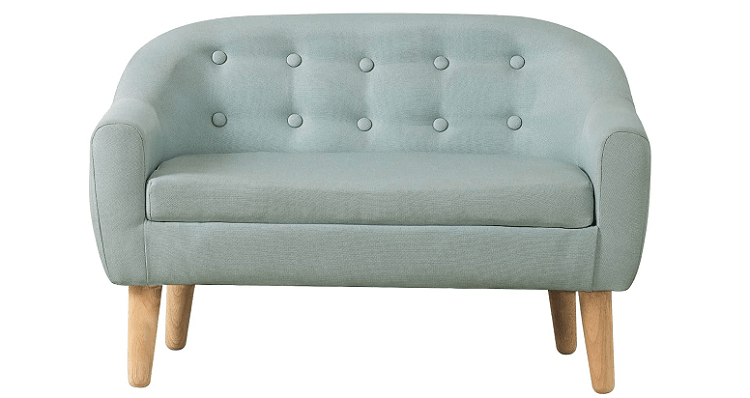 This new and improved Kid's Sofa Couch is perfect for your young child. For kids 1-4 years old, this design has passed the ASTM-963, CPSIA, CPSC, ASTM-F2613 American standard test, so you know it's up to durability. It also features a softer fabric than many of its rivals, with an even more elegant linen material. You can choose from 4 colors, including grey, pink, sage and blue.
It is made of durable but soft linen fabric, which will stand up against many paw prints, ketchup spills, and dribbles from juice boxes – making life easier on parents everywhere! Kids have all the fun. Your flooring and furniture should be no exception to that rule. That's why this elegant kid's sofa couch is just what you need for your toddler. It can hold up to 99lbs while also being decorative in style.
Easy installation means there's no need to worry about assembly. With four wooden legs, this elegant child couch will give any home a touch of class while providing a comfortable place for little ones who don't want to get off their feet from playing with blocks on the floor.
Pros
It is sturdy

It is easy to assemble

It is elegant

It's easy on your floor and carpet
Cons
It's only suited for toddlers
The Whatsit: Best Versatile Mini Couch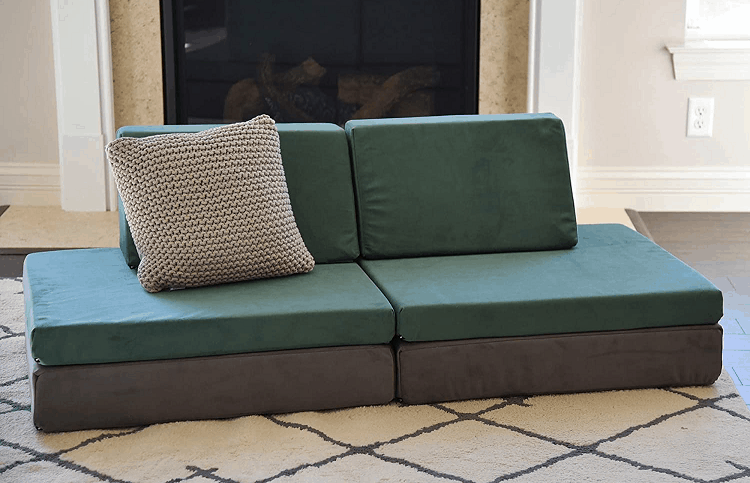 Introducing the Whatsit Kid Couch will let your little one lounge around like a king or queen with its luxurious texture and stunning towered design. It's durable to withstand those roughhousing sessions and perfect for those extended hangouts. The foam is dense enough for those landing after jumps from a height.
The Whatsit Kids Couch is just what you need to give that special someone an awesome place for post-adolescent slumber. It's got all the great qualities of a couch but manages to boast some key features unlike any before it. 
The couch comes with two bottom pieces, two backrests, and two top pieces. You adhere these six pieces together however you please. This compact yet versatile sofa will provide your young adults with comfort, no matter how much rocking or rolling is required.
Pros
It is firm and sturdy

It is lightweight

It is easy to put together
Cons
Customers complained that the cushions wear out quickly if not properly maintained.
Delta Children: Best Modern Mini Couch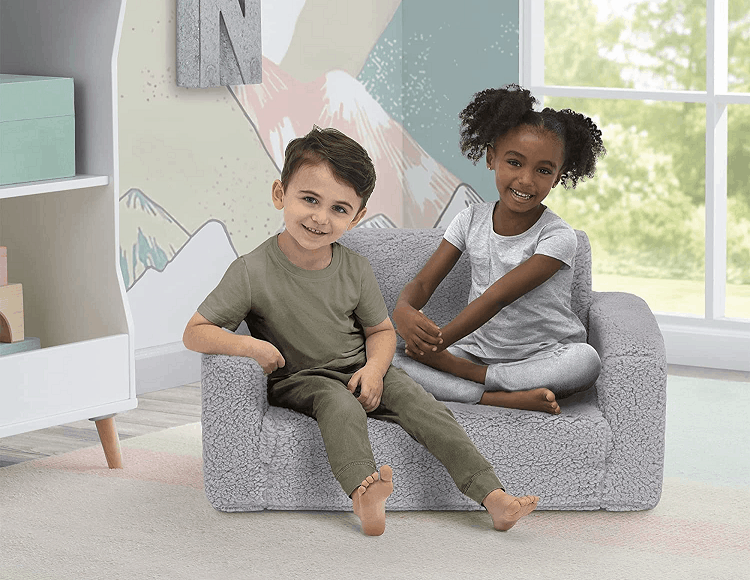 Just because they're little doesn't mean they can't be lounging in style. The Delta Children Cozee Flip-Out Sherpa Sofa is a convertible 2-in-1 design that flips open to reveal a sofa big enough for a child and converts to a sleeper perfect for naptime or an afternoon of reading. 
The couch has been designed specifically with youngsters in mind: it's soft, supportive, and sized just right to offer lots of legroom as well as protected sleeping space when fully reclined. 
And since this one won't outgrow your home too soon, not even during those early stages where parents are still struggling to keep those living spaces tidy, you'll enjoy all the fun times it creates without having to lug around something bigger each time.
The lightweight design folds up into an easy-to-carry piece of furniture that features supportive foam construction that won't lose its shape over time and all-day comfort that can't be beaten. The side zipper pocket also keeps things within reach while enjoying some well-deserved rest time.
Pros
It is cute and cozy

It is durable

It is robust and sturdy
How to Style a Mini Couch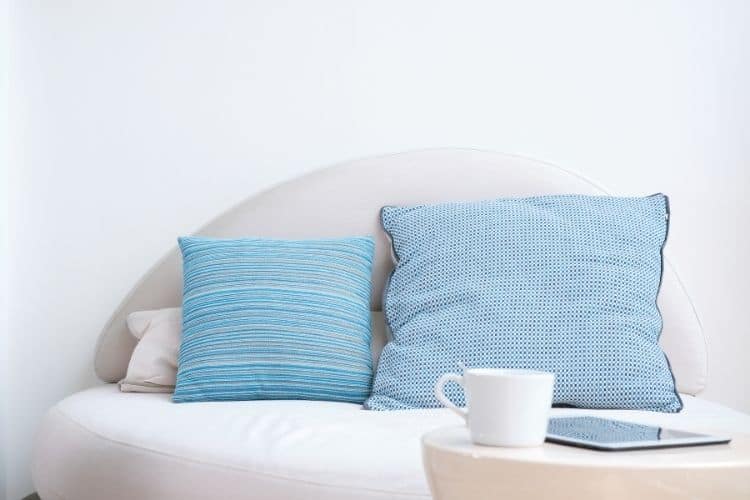 Getting home with a mini couch that looks out of place in the living room can be an intimidating experience. One way to save yourself from this discomfort is by using your creativity to style it accordingly. Here are some top five ideas you can opt to use when styling your mini couch.
Monochroming
The best way to style your mini couch is by giving it a calm monochrome. Many people associate "monochromatic" with black and white, but this isn't entirely accurate. Monotone can also refer to using one single base color in varying tones, shades, saturation, and hues.
You can use various textures and shapes, but if you want something more muted, then choose some plain square cushions that match your sofa's hue perfectly for an exciting accent point on them.
Using Animal Prints
Animal prints can be used as neutral patterns quickly, but they create more excellent contrast that makes your room look attractive when combined with multiple types. When it comes to matching two similar decors on one space, make sure all your patterns have varied dimensions while sharing similarities at the same time. 
Bohemian Texturing
Bohemian decorating is all about using textures to create an inviting and appealing atmosphere. Throw covers nearly every cushion, adding interest without making your home too crowded or overwhelming with patterns.
To achieve a bohemian look, use different shapes but only stick to one color palette as it creates a unified vibe throughout the furniture pieces in your living room.
Minimalism
This design scheme pairs well with all kinds of aesthetics, such as an all-white color palette or natural wood tones. Even those who prefer bold colors can focus this design on bright hues by incorporating pops into every piece they select.
Parallel Combination
If you want your mini couch to pop out, get creative with the colors and patterns. To add layers without it being too overwhelming, pick two analogous colors as well as one contrast color from the same wheel group (i.e., cool or warm). 
For instance, if you have a sky blue cushion already on your chair, then pair that with an emerald green pillow because they are both in between navy and aqua blues-so, they're complimentary. If not sure whether these combinations work together, try asking friends who might know more than you do and do some research beforehand to see which colors complement each other.
What to Look for in a Mini Couch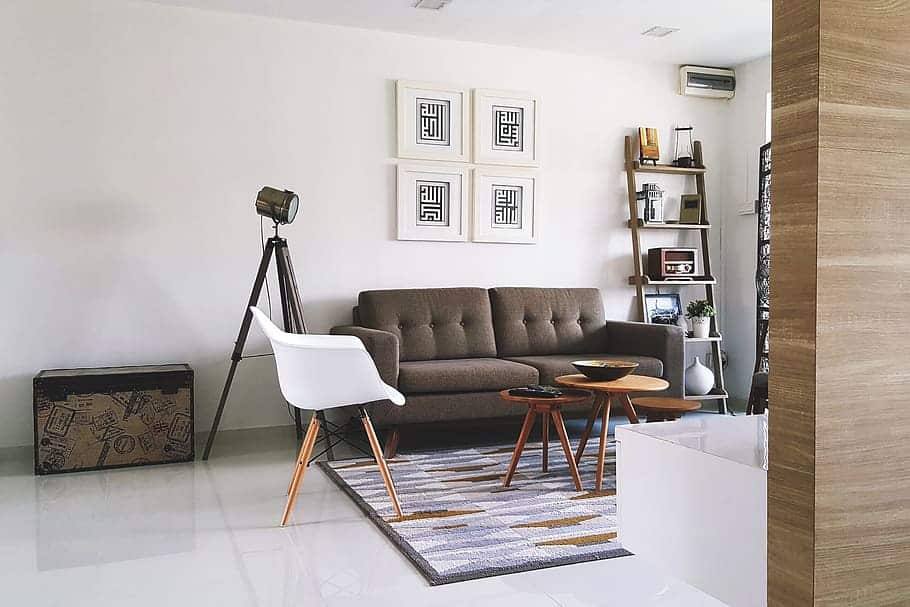 Color 
Before buying a mini couch, one of the factors to consider is color. Though there are many colors available in stores – you can always pick from a range that will match perfectly with what your home decor desires.
A wide variety of options means you have plenty to choose from as well, so feel free and go ahead of yourself when selecting which hue suits your taste best for this furniture piece.
Cushions
There are many kinds of mini couches and cushions that can be used to make them more comfortable. A good mix includes tailored pillows at the bottom for firmness but loose top pillows, which don't look too stiff or formal.
Frame
When you're out shopping for a mini couch, check the frame. The frame should be sturdy enough to not break under pressure or collapse when used regularly as seating so that it lasts longer and is safe.
Fabric
Before buying a mini-couch for your home, consider what the fabric is made of. Some materials are more resilient than others, such as leather compared to polyester and cotton, which tend not to hold up so well under heavy use over extended periods of time.
If you have kids, go for one with an easily cleanable fabric. Silky or velvety fabrics are perfect for adult spaces that require sophistication.
Weight Capacity
If you are considering buying a mini couch, one thing to consider before purchasing is how much it can hold. While some chairs only support 100 pounds of weight capacity, others will go up to 800+ pounds. Determine your needs and buy something that works well at home with this in mind.
FAQs
Question: How Can You Tell If a  Mini Couch Is of Good Quality?
Answer: A mini couch is likely to be of good quality if it has a solid hardwood frame. This includes oak, beech, or ash frames.
Cheaper couches may have more economical and less durable materials such as particleboard, plastic, or metal for the frame, which should raise red flags about their overall build quality in general when looking into purchasing one.
Question: How Do I Choose A Mini Couch That Will Last?
Answer: A mini couch that will last is one with a sturdy frame. The comfort of the couch depends on its cushions, and you should consider timeless upholstery, not any trend in fashion at this moment since the best-tufted cushions will always serve you for a long time.
Additionally, it must be considered how much weight can each mini couch hold because different ones carry varying amounts of load/weight.
Question: Which Are The Most Popular Colors for Mini Couches?
Answer: The number one choice is usually grey or black because they can easily match almost any room decor, while other hues like white might not blend with all surroundings well enough.
Beige appears to have surpassed them both by this point thanks to its simplicity which allows it to work perfectly no matter where you put it at home without being too eye-catching compared with some other colors like blue.
Question: Which Mini Couch Fabric Is Easy To Clean?
Answer: Microfiber sofas are great for homes with kids because they are easy to clean. Leather is a perfect option if you're looking to invest in furniture that will last a long time, but it comes at an expensive cost.
Vinyl has many of the same benefits as leather without costing nearly as much money. However, vinyl doesn't hold up entirely as well under heavy use as microfiber does.
Question: What is the easiest way to clean your furniture?
Answer: Regularly vacuuming up any dust or dirt particles on your couch is one of the best ways to keep it looking fresh and new for a long time.
Make sure you're cleaning all parts of every cushion, like where they meet together at the armrests and back cushions. You can also get rid of dirt by taking apart seat covers and just brushing out their insides with small handheld appliances along with getting into other nooks & crannies.
Best Mini Couch Ideas: Conclusion
We hope these mini couch ideas have inspired you to make space for one in your home. If you've found the perfect size and style, then congratulations. You can shop online or visit a furniture store near you. 
If not, keep looking until you find the best fit for your needs. Remember that no matter which option you choose, it should be functional and affordable so that it doesn't break the bank when buying or using it long-term. Which of these mini couches is your favorite? Leave us a comment with what has caught your eye so far.
Our recommendation? The Everly Quinn Square Arm Sofa Bed is the perfect addition to any small space. This mini couch has an updated design that will look great in your home, and it's made from quality materials for durability.
It's easy to assemble so you can get on with making memories- or just relaxing after a long day at work – without fussing over how things go together like some other furniture sets out there might do.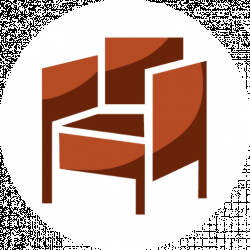 Latest posts by Finally Furnished Team
(see all)