A tall dresser can afford your precious clothes and accessories the pride of place they deserve. An excellent tall dresser should give you at least four drawers of storage, where everything from tops, shirts, underwear and even jewelry can fit. This type of dresser should also save you space and give you an eye-catching statement piece.
However, the search for the perfect tall dresser can be arduous, and that's why we've made it easy for you. This factual guide shares with you everything you need to know about tall dressers. We'll cover designs, sizes, materials, and functionality so you can make an informed purchase decision. 
Types of Dressers
The Vertical
A vertical dresser is the same as a tall dresser and is distinct by its height. It's taller and narrow in width and a suitable solution for extensive storage needs in small spaces. A typical tall dresser has a minimum of four rows of storage, with the upper half often featuring a wood top (like mantelpiece), cabinet, or open shelves for more storage.
The Horizontal 
A horizontal dresser is what's in almost every bedroom; that is the standard size dresses. It's wider than it's tall and features a maximum of three rows of storage. You can use it to organize your stuff and as an accent piece since it provides more options for decorating.
Combo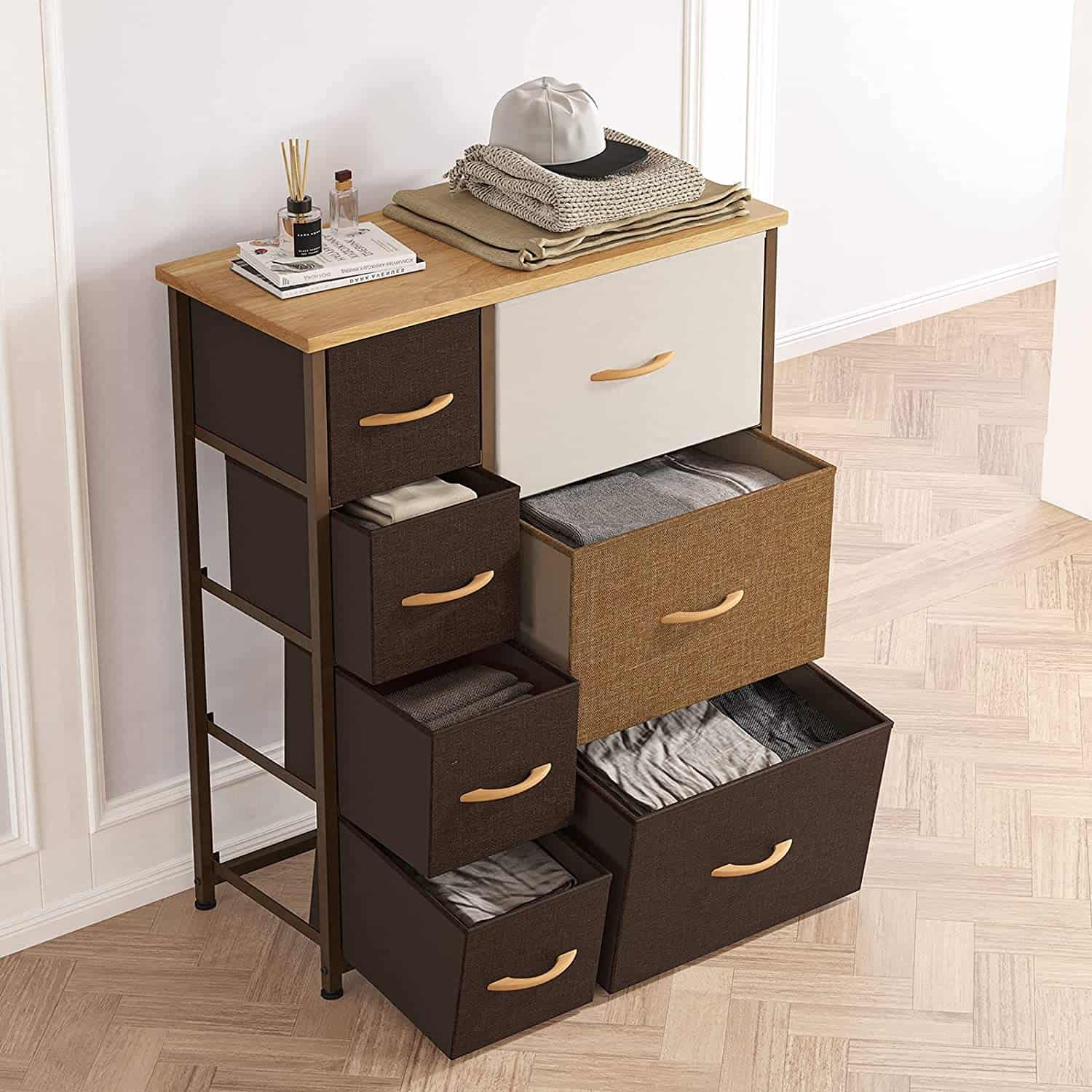 Sometimes you want a mix of both the vertical and horizon, which is where the combo dresser comes in handy. They help you organize your items and provide surfaces on different levels to accommodate your needs. This dresser consists of a broad and low set of drawers attached to another set of tall and slim drawers. 
Lingerie Chest
A lingerie chest is valuable storage for undergarments, night clothing and is an ideal organizer for small spaces. It's a slim and vertically narrow stand with about five or more small drawers.
Some lingerie chests have seven drawers to represent each day of the week, meaning you don't have to rummage about your stuff daily looking for something to wear. Other lingerie chest models come with open shelving and drawer space. 
Bachelor Chest
Also known as a bachelor's chest, it was initially a multipurpose dresser fit for a single man's needs. You'll identify it by its size, which is small, not wide or narrow, with about three to four drawers. It serves as a nightstand and is typically made of walnut, elm, oak, and on occasion, mahogany exteriors and the frame of sturdy pine wood. 
Gentleman's Chest
This dresser gets its name from the tall cabinet with the space and length to hand a gentleman's attire: suits, ties, dress pants, and shirts. It consists of a column of drawers and alongside this, the tall cabinet for hanging clothes. 
Media Chest
If you've got a TV or entertainment unit in your bedroom, a media chest is the type of organizer stand you need. It's as wide as a horizontal dresser with a suitable height to also serve as a TV stand and allow you to enjoy the viewing from your bed.
For storage, it comes with four or more spacious drawers and open compartments with ports in the back for efficient cable management. You can use it to store or hide speakers, DVD players, soundbars, and other valuable entertainment accessories.
To ensure a practical and stress-free shopping experience, match your needs to the type of dresser. If you have a small space, you can now appreciate why a tall dresser is your best solution. Other factors to consider are your space's length, width, and height, solid frame, hardy materials, and spacious storage.
7 Hot Tall Dresser Picks:  Stylish, Spacious, Easy-to-Maintain, and Functional
1. Vertical Dresser Storage Tower: Best for Closets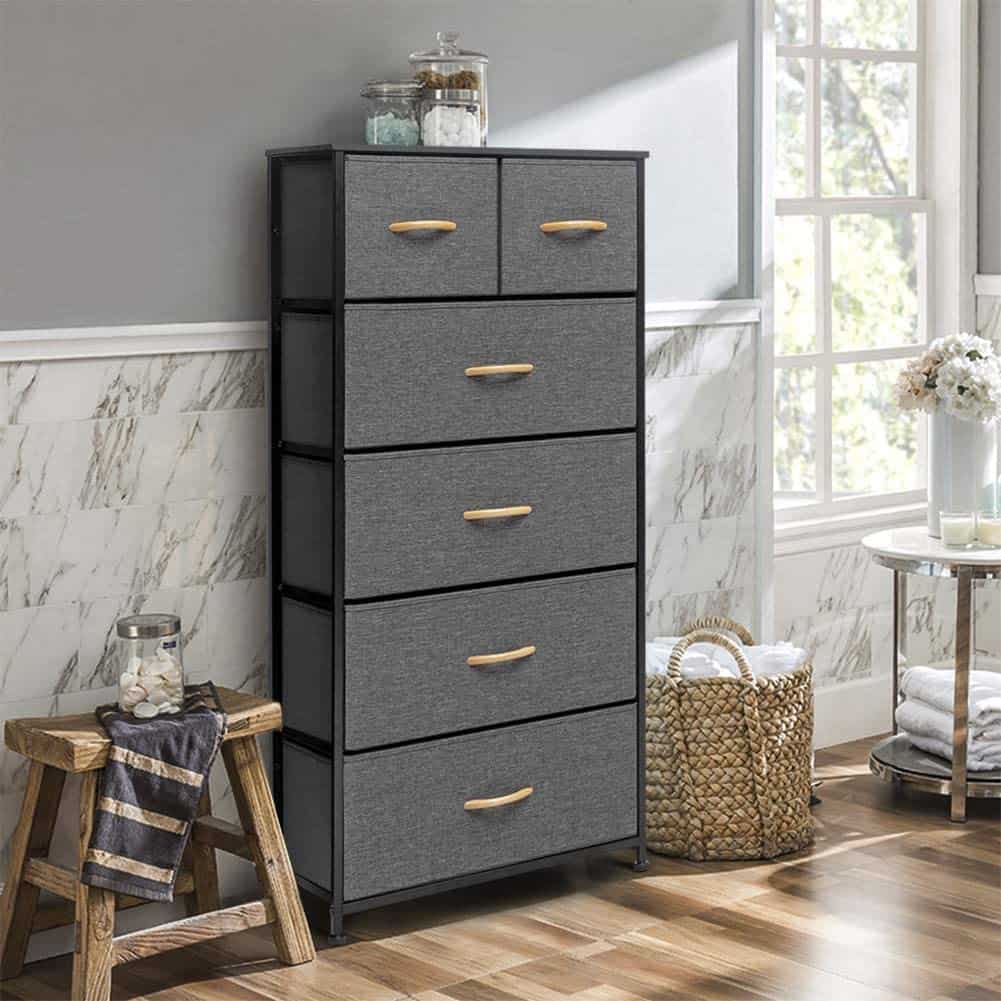 The striking thing about this tall dresser is its slim, lightweight design and stylish gray color suitable for any interior.
On further assessment, you'll notice its detailed distinct construction in a strong steel frame and durable MDF wood top. This look is further enhanced by an exterior of breathable quality fabric, wood handles, and plastic feet protectors, so your floors remain unscratched. What's more, the feet are adjustable for uneven floors, how cool! 
When it comes to functionality, you'll be elated with the six spacious removable drawers. These drawers can fit assorted clothing and more handy stuff like an alarm clock, lamp, or jewelry box on the wood top. If you're fretting about the assembling process, rest easy since it comes with all the necessary hardware. Finally, maintenance is easy because all you need to do is wipe it down with a damp cloth and leave it out to dry.
Pros
Slim fit for small spaces

Can be freestanding or attached to a wall

Easy to assemble

Value for money
Cons
Don't overload to avoid sagging the drawer fabric
2. White Monterey 5 Drawer Chest: Best for Teens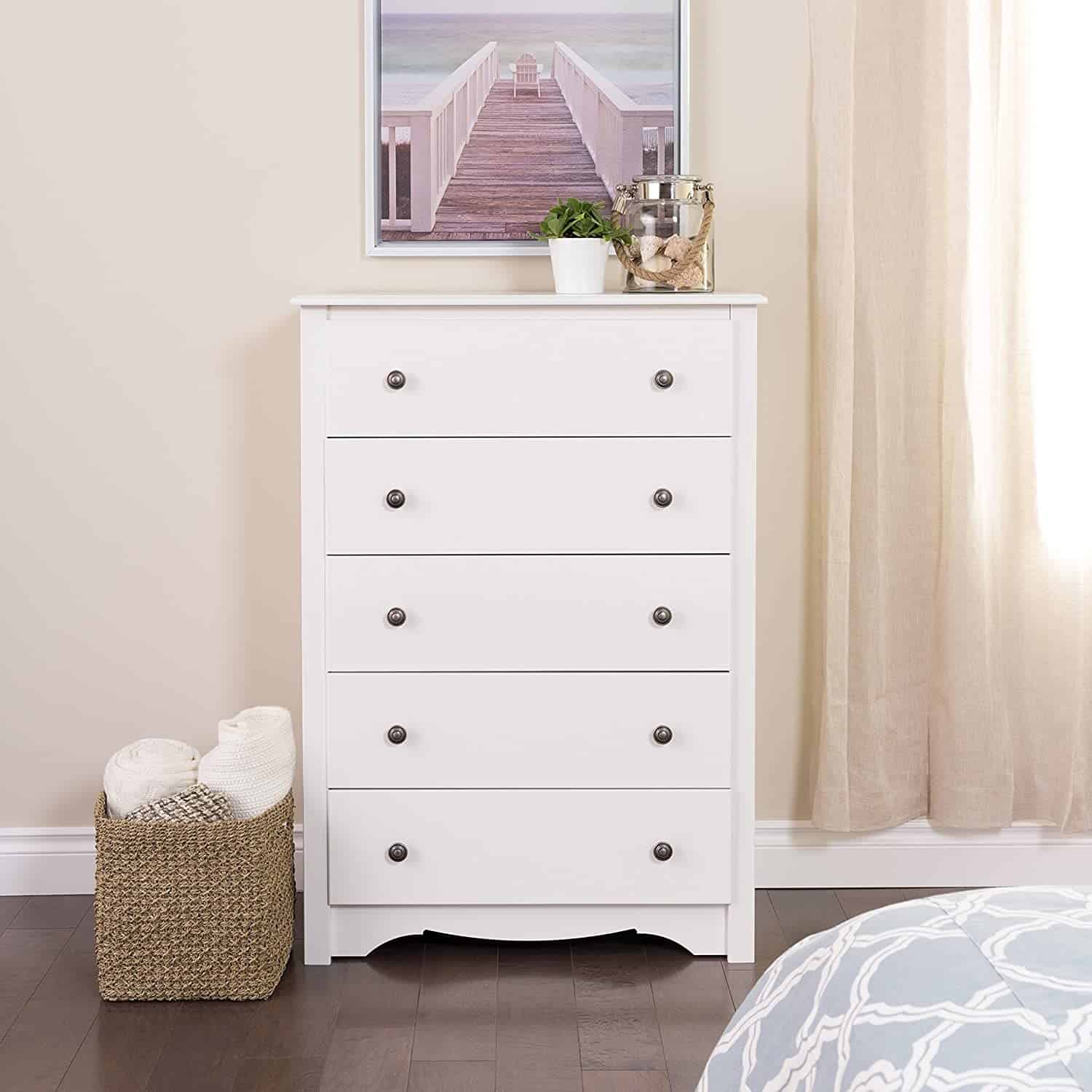 This white tall dresser has an understated elegance and the much-needed proof of space to serve your needs. The design features curved top edges, side moldings, arched base panels, and antique-ish knobs. This elegant design stays anchored in a professional construction consisting of a sturdy, solid pine wood frame with a durable rich espresso laminate finish. 
If you're concerned about the drawers getting stuck as you push or pull, we'll have you know these run smoothly. That's because they've got metal glides with built-in safety stops and a tipping restraint to make your operation hassle-free. The same applies to the assembly process, which comes with all the hardware and precise step-by-step instructions, although you'll need extra hands for a timely setup.
Pros
It comes with extra safety hardware to reinforce the dresser

Spacious drawers with sturdy handles 

Value for money
Cons
It has a tedious assembly process, don't attempt to go at it alone. 
3. Tall Standing Organizer: Best for Small Bedrooms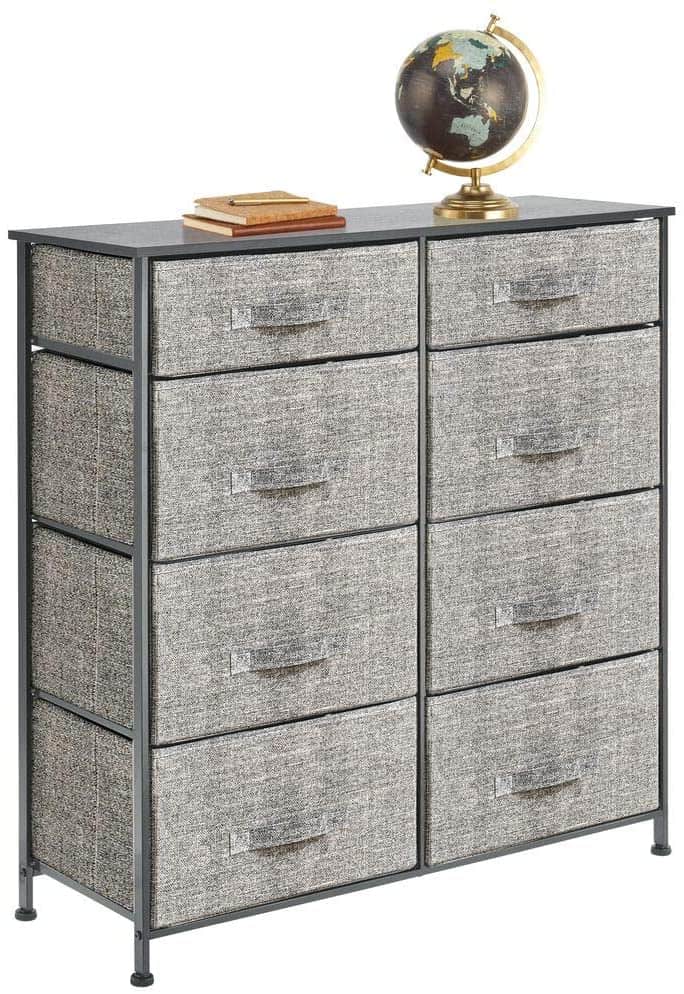 In our search for color variations, away from the grays and whites, we couldn't help but notice this fantastic noir tall dresser. We knew it was a steal between the many drawers and alloy steel frame, so here we are. You'll be drawn to its practicality because it has a slim, lightweight design that's an easy fit for any small space, plus it has eight spacious drawers to fit all your stuff (almost). 
The construction detail features the sturdy steel frame, of course, and easy-to-maintain synthetic fabric upholstery for the drawers.
Something else you should know about this tall dresser is that the removable drawers have easy-to-pull handles and adjustable feet for uneven floors and a plastic finish to avoid scratching your floors. To keep it clean, wipe gently with a damp cloth and appropriate detergents.
Pros
Value for money

Simple and practical

Spacious storage 

Sturdy
Cons
Beware of pungent chemical odor
4. Rustic 5-Drawer Dresser: Best for Dorms and Hostels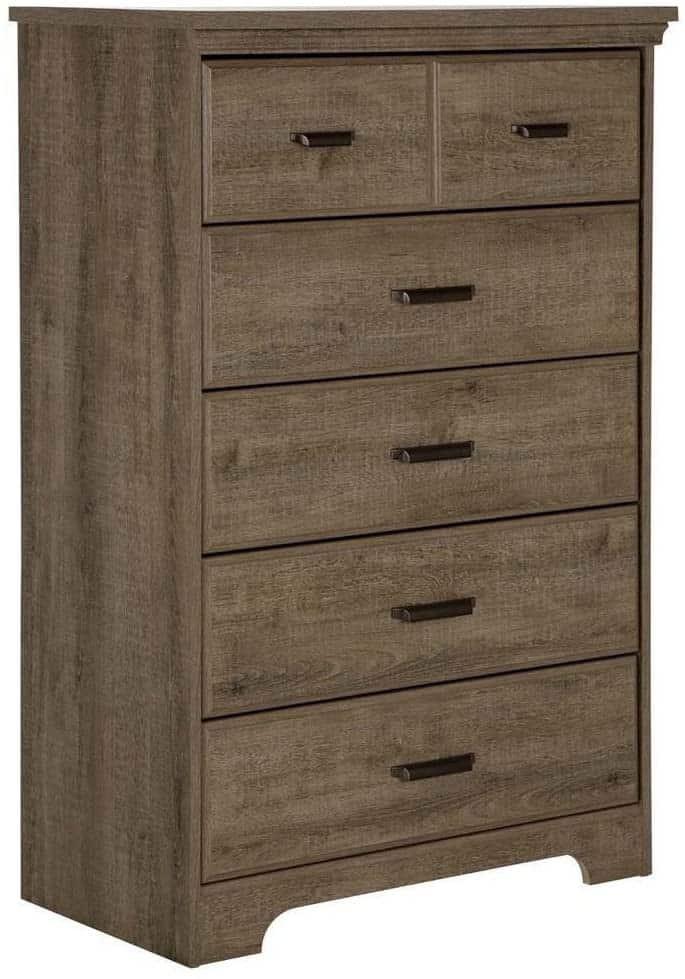 Besides providing ample storage and being perfect for a small space, a tall dresser should also serve to enhance your personal style. If you're into traditional styles like rustic and farmhouse, this storage tower made in North America is perfect for you.
The unique design features five spacious drawers, beveled edges, a curved kickboard, and straight metal handles on each side for your smooth operation.
You'll be happy to know that this dresser consists of certified, environmentally preferred laminated particle panels and a weathered oak finish if you're environmentally conscious. While the assembly process is pretty easy, you'll need extra hands to save time. For your peace of mind, this tall dresser comes with a full five-year warranty and round-the-clock customer service support in case something's not right.
Pros
Elegant, stylish design

Durable due to the laminated particleboard 

It comes with detailed instructions for an easy assembly process
Cons
Some customers complained that it's not sturdy enough
5. 7 Drawer StorageTower: Best for Spacious Closets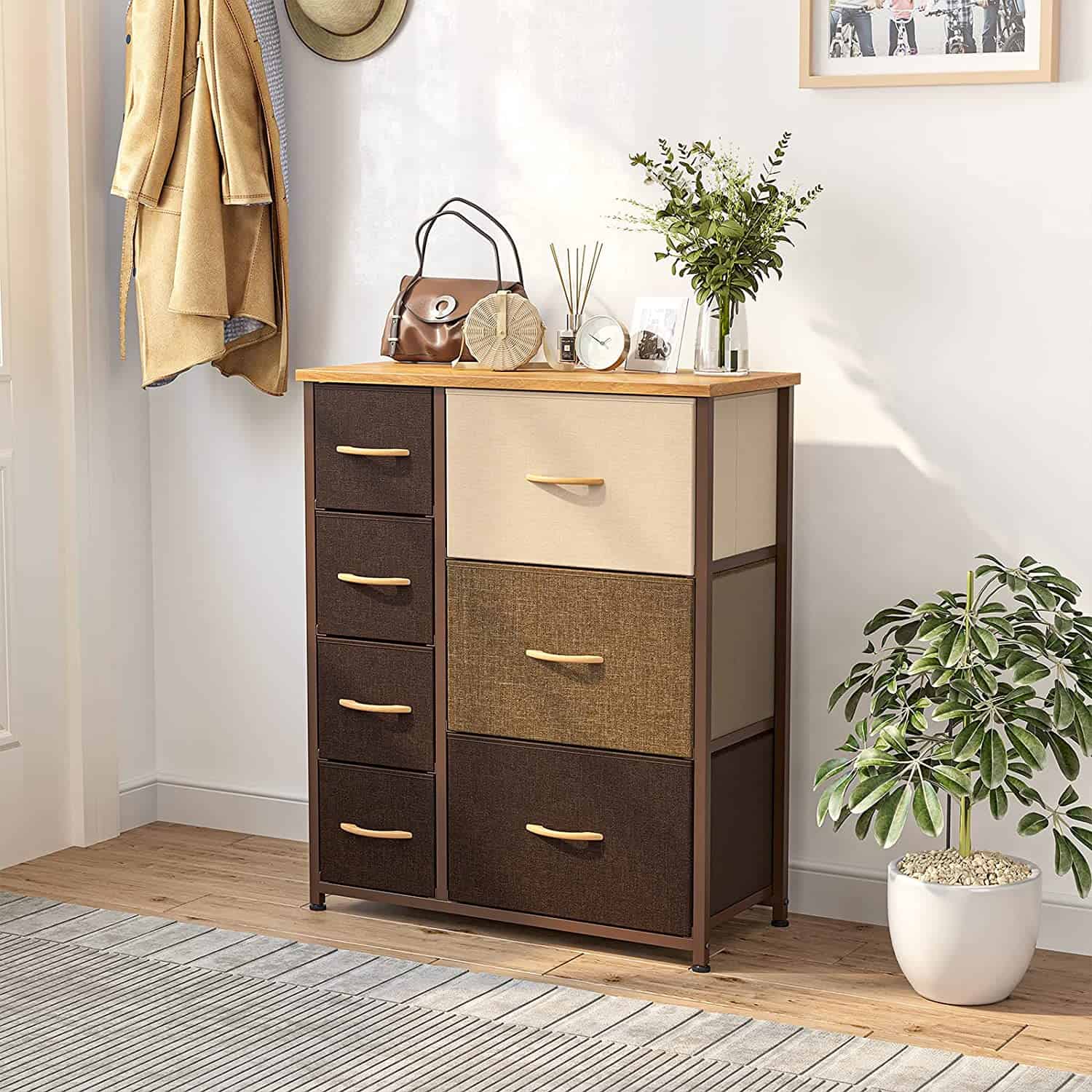 The thing about this tall dresser, besides its gorgeous chocolate easy-to-maintain color, is the drawers' different sizes. It has seven drawers which come in two sizes: The small ones at 9.1″×11″×8.1″, and the big ones, 17.7″×11″×10.8″ making it more spacious than similar models in the market. The construction consists of a beautiful slim structure with a solid powder-coated steel frame and an anti-tipping system to increase stability and loading capacity. 
This dresser's durable waterproof  MDF wood top ensures you can place almost anything on it, and if there's a spillage, you've nothing to worry about. The drawer upholstery on its part has high-grade smooth non-woven foldable fabric that doesn't have any harmful additives, chemicals, or pungent odor. For an easy assembly process, we encourage you to refer to the photos and detailed videos guidance. 
Pros 
Sturdy and spacious

Pretty easy to assemble

Stylish design
Cons
Be sure of your size requirements and needs before ordering.
6. Wood Finish 4-Drawer Chest: Best for Spacious Bedrooms and as an Accent Piece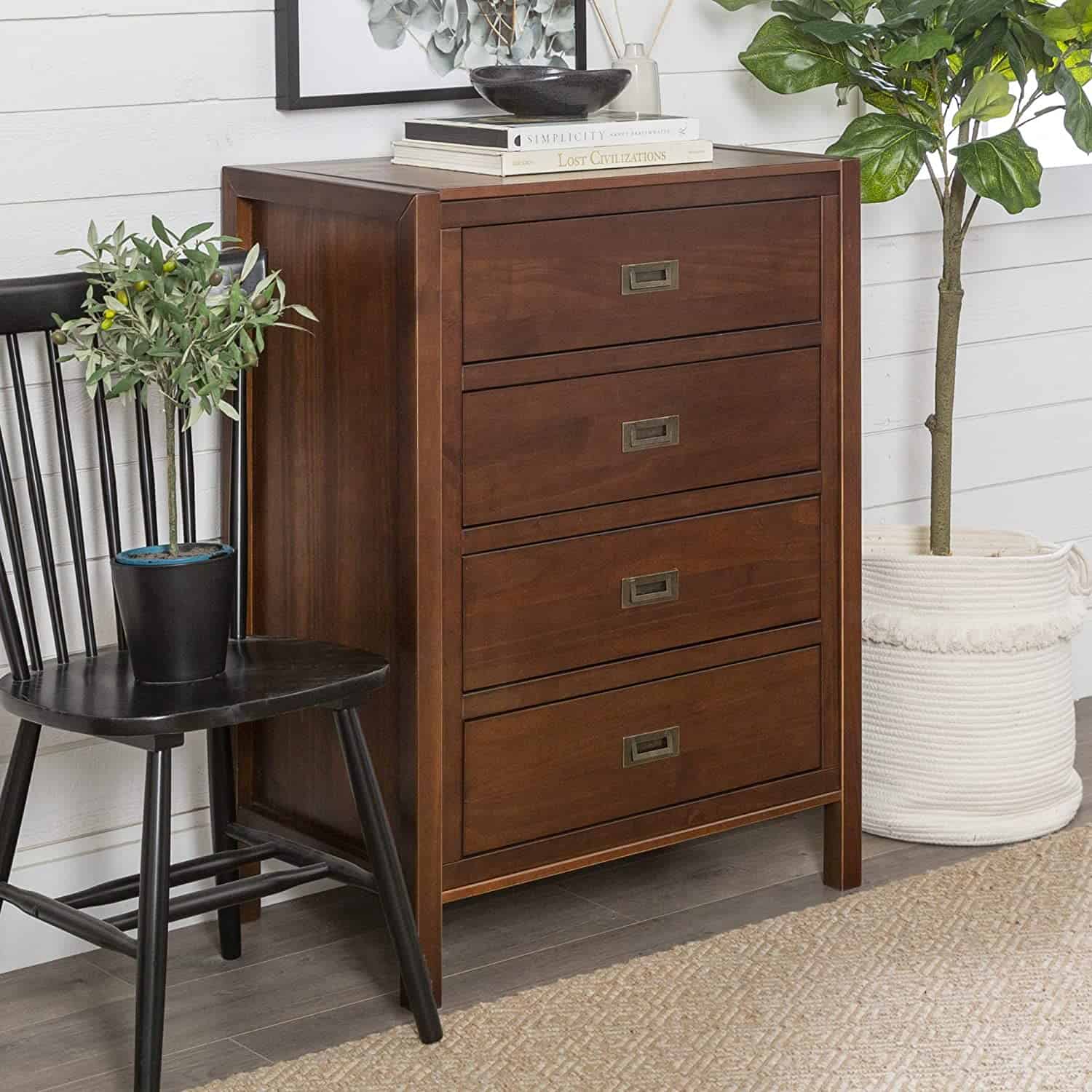 It seems fabric dressers are a thing, but if you're not into them, this wood finishes tall dresser might just be what you need. We're impressed by the modern construction featuring an all-sturdy wood frame with an appealing jamocha (wood)  finish.
The look and feel are ideal for traditional and contemporary decor styles, so they can fit into any interior as long as you style it with appropriate decor accessories. Whatever your personal style, you can make it work by styling with some modern accessories like a clock, floral vase, and books.
For storage, it comes with three small top drawers and three lower ones with extra depth for adequate storage and easy-to-pull handles. This dresser is also thoroughly tested to ensure safety to avoid any tipping incidents. The drawers have metal runners to emphasize safety further, while the safety stops feature a patented T-lock assembly system to ease the assembly process.
Pros
Classic style and design

Spacious storage

Easy to assemble 
Cons
7. Organiser Stand: Best for Kids Bedrooms and Nurseries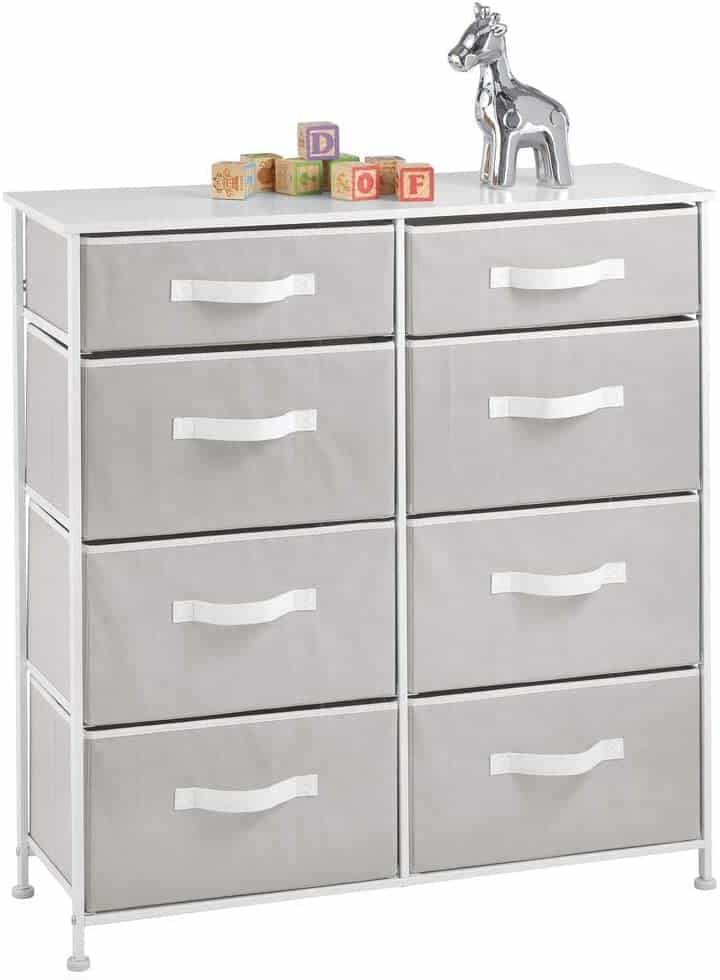 Just in case you'd given up on dressers for a baby room, have a look at this exquisite tall dresser. It has a slim, lightweight design to ensure it's perfect for any small space you're planning to squeeze it into. Its construction features a robust steel frame and durable synthetic fabric with coating for easy cleaning and maintenance. To clean, use appropriate detergents with a damp cloth and leave it to dry. 
It has eight spacious and removable drawers that divide into convenient compartments to keep essential baby clothes and utilities within arm's reach. This thoughtful design helps you organize and collapse and fold down the drawers when not in use. The drawers also come with easy-to-pull handles, making it easy for you to maneuver them. Their plastic feet are sensitive to your floors and are adjustable to function on any type of floor. 
Pros
Slim and lightweight; easy to move around

Easy to assemble

Spacious 

Value for money
Cons
It's delicate so take your time while assembling
How to Style a Tall Dresser
Mirrors and Artwork
If you're looking for ways to spruce up your bedroom without breaking the bank, consider hanging mirrors and artwork on tall dressers. They make a perfect focal point that can be seen from across the room.
 Don't forget about pros like vertically inclined pieces or horizontally inclined ones depending upon what works best with other features in one's home décor. But don't put any upright objects too close together as this may cause eye strain due to vertical reflection off neighboring surfaces when viewing closely 
Light it Up
In the right lighting, a dresser can take on new life. With both table and buffet lamps working well for shorter surfaces but often being too tall when used with tall desks or buffets, opt instead for horizontally inclined lamp bases that offer more width than height if you want to light up your cabinets from above without seeing any of those pesky cords peeking out below.
Other options include paper shade styled lights which will make it appear as though all your dresses are floating in midair; or fabric-covered models providing soft illumination while staying out of sight at night (a perfect solution before bedtime!).
Accessorize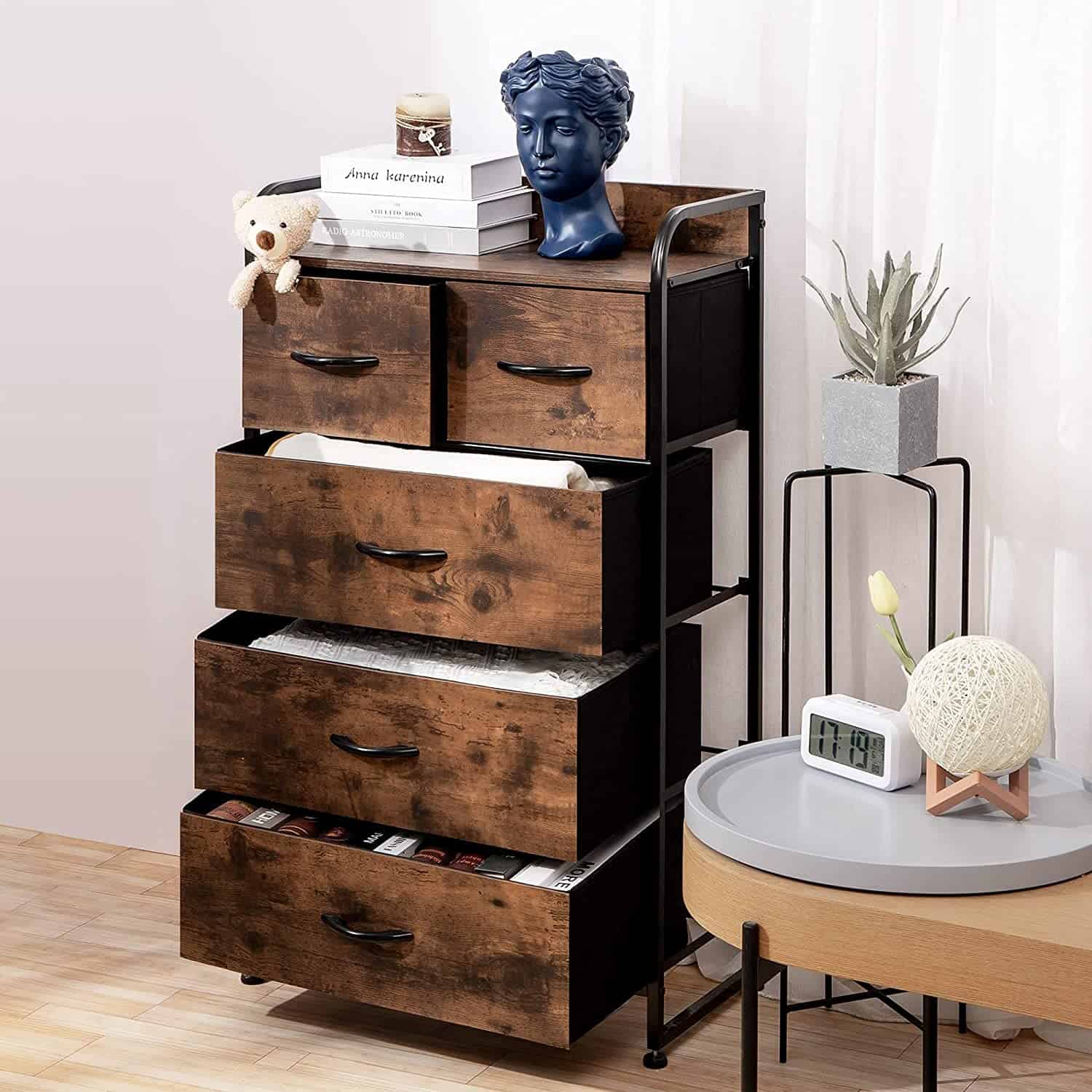 It's time to up your dresser game by transforming it into a tall vanity. This look can be done in an instant and with the use of some simple accessories like sculptures, photos, and vases 
Place taller items at eye level for easy access or place smaller accessories underneath shorter ones so they're easier on sightlines when viewing them upside down as opposed to looking directly forward.
FAQs
Question: What Do You Call a Tall Dresser?
Answer: Tall dressers are distinct by their shape, which is long vertically and narrow horizontally. A chest of drawers qualifies to be a tall dresser if it can afford you at least four rows of storage. These types of drawers go by various names such as vertical dresser or chest, tallboy, highboy, armoire (if the upper half has a cupboard), or lingerie dresser.
Question: What Do You Put On Top of a Tall Chest of Drawers?
Answer: Because of its height, decorating a tall dresser requires a different approach from a standard dresser. Meaning you can either take the decorative or functional route. 
If decorative, ensure that any decor accessories you choose to place on it are of varying heights, arranged in a layered style. These decor accessories should also have arresting views from any angle for heightened effect. You can also choose to spice things up by applying a hanging decor piece above your tall dresser, such as a suncatcher, especially if you don't want to hang anything on the wall. If you're going to hang anything, you can choose from accent mirrors, paintings, or photo frames.
If functional, you can opt for a floating shelf just above the dresser for your books, souvenirs,  or other storage needs. You can also use hooks to hang scarves, hats, ties, and jewelry on the wall above it. Another option would be to hang a mood board, to-do list, or motivational quotes.
Question: Where Should a Tall Dresser Be Placed?
Answer: There's a standard format for laying out your bedroom. Take into consideration the layout and functionality of your bedroom. However, it's your space, and you're the only one who can decide how to arrange it based on your needs. Still, there are some helpful tips to guide you on how to proceed. 
Your tall dresser would do well against an empty wall or corner space. If you have a closet or even a walk-in closet, this would be another ideal station for it. If there are particularly noisy, cold, or drafty areas of the bedroom, consider this and arrange your furniture accordingly. Never place a tall dresser in front of a window or behind a door.
Question: Are Fabric Dressers Good?
Answer: Fabric dressers are a quick solution to a perennial organizational challenge in any home. A dresser evolves with your needs and decor styles; hence you don't need it to last a lifetime. Thus the reason you should consider a fabric dresser. It's affordable, portable, stylish, has collapsible drawers, and is customizable to suit your needs. It can also fit into any space you desire; inside a closet or at a corner.
Question: What Can You Make Out of a Tall Dresser?
Answer: Tired of your used tall dresser? You can turn it into; a bookshelf, rebuild it into a kitchen island or cabinet. If this doesn't appeal to you, you can turn it into an office desk, baby changing table, basket storage for toys, pet chill zone, indoor garden, or TV console. There are endless options of what you can do to make an old tall dresser helpful again.
Conclusion 
There you have it, a complete shopping guide for your tall dresser. A dresser is your bedroom workhorse, your perfect storage organizer, and classic statement piece. If you're going to need a piece of furniture for all these tasks, you need to make an informed purchase decision.
Remember: A tall dresser is vertically long and horizontally short. Despite this, it needs to come with spacious drawers, a sturdy frame, an appealing and durable exterior, plus the right fit not to leave scratches on your floor. Due to its height, ensure it's got all the safety factors, and it's an added plus if it's made of eco-friendly materials without pungent chemical odors.
Based on the summary above, we'd recommend product number 5: The seven-drawer storage tower. It's a simple but functional tall dresser with spacious drawers and a requisite safety component to avoid tipping accidents. What's more, the fabric upholstery is well woven and high quality without chemical additives and pungent odors.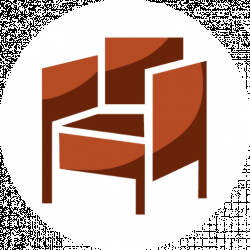 Latest posts by Finally Furnished Team
(see all)