The best grey (or gray) couch ideas include virtually any and all design styles you could imagine. Grey couches will fit in with antique, modern, minimalist, lavish, country, or ornate themed rooms. What could be better? The grey couch is, has been, and will be a premier choice for decking out your living space with seamless flair.
Look At All The Wonderful Greys!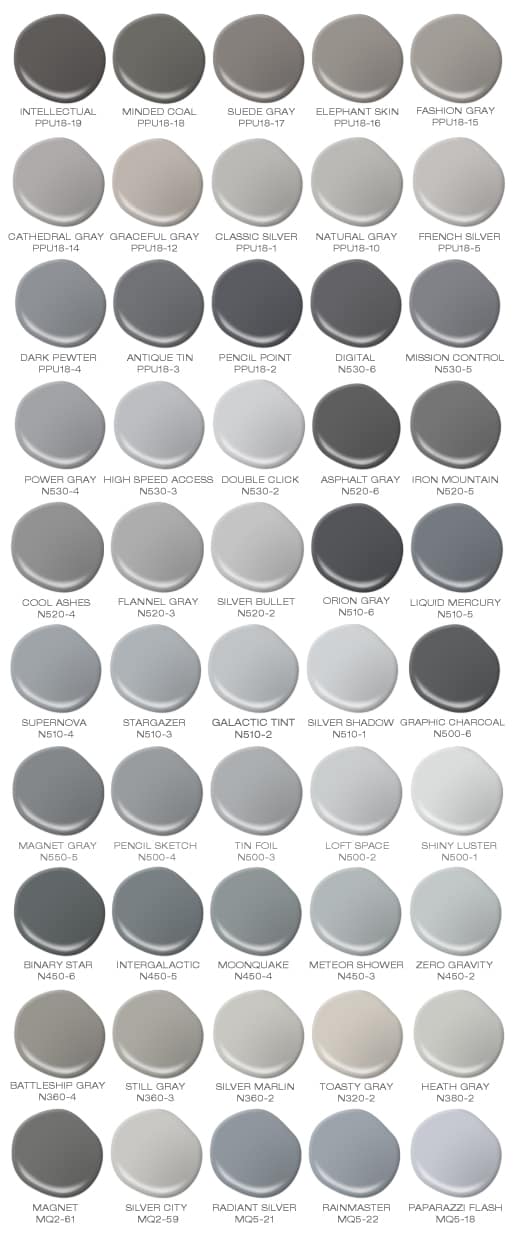 Grey is one of the most popular colors just because of its "blend-ability" with basically anything you can throw in the room!  Grey is considered a neutral color – but don't despair, neutral need not mean bland! There are many grey shades that are bolder, or more feminine, and it's all a matter of your personal choice.
Grey is synonymous with ideas of elegance, understatement, and sophistication. We all know that we can add snug, cozy, and homey to that list just by your choices! The fact of the matter is, that once you find a piece of furniture, art, a rug, or anything – that you love – you will always find a place for it!
It will travel with you if you move, and travel from room to room if you switch up the decor. Your grey couch will stand the test of time as you change wall colors, flooring, pillows, and lamps. It is a solid investment for any living abode, easily incorporating and complementing the different colors around it.
Navigating all the shades of grey available can be overwhelming (and exciting, too!). At one time, grey and the paler colors were thought to be cold, or austere, a look that none of us want to present! Quite quickly, grey became the new black – a staple for homeowners everywhere.
It was used as a foundation on which to add other colors,  or as a whole color scheme with layers of grey hues complementing each other, and many took a darker shade of grey for their couch for an elegant, dramatic focal point.
Layering Greys Can Be Quite Dynamic…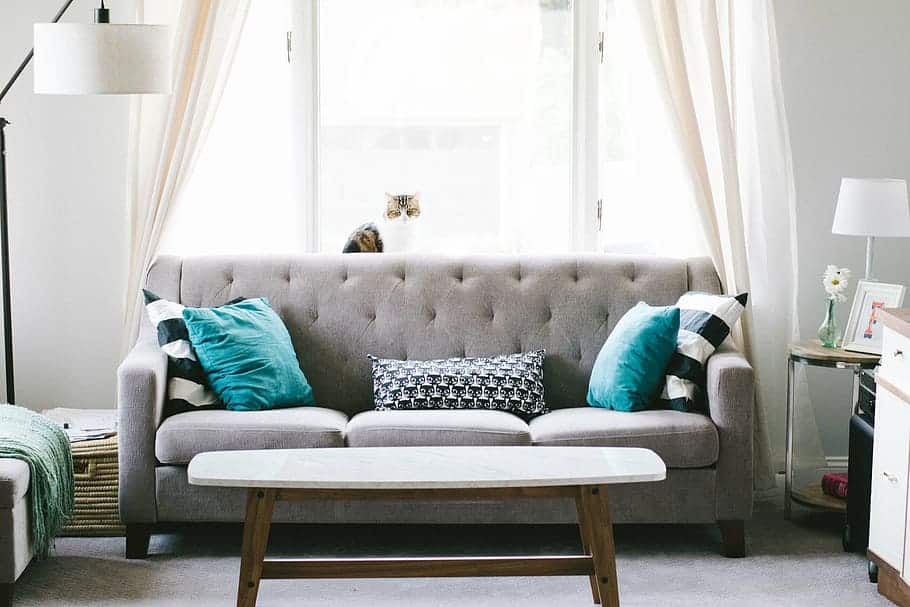 A simple way to create polished appeal is to take one grey hue and have it serve as the "workhorse" for the room.  Here, dove grey is used for the walls and carpeting, with ever so slight tint variations in other places. The use of metallics can also be striking, creating a gloss and sheen that adds spice to the room, or for a more sedate and calm area, forego the metallics for some light cream or pale pinks to complement the grey more subtly.
The use of pinks, pale to darker shades, warmly accentuates this living area and gives a cozy, inviting feel to it.  The whimsical pendant lamp creates a conversation piece, as does the grey sophistication of the artwork adorning the walls.  This is a perfect example of how many styles can work together with the main piece being a grey couch.
The grey couch is versatile, classic, and ready to work with anything that comes it's way. Your grey sofa has unlimited decorated potential and is primed to be your blank canvas on which to throw different colors and styles.
Designer Kelly Collins, Head of Creative at Swyft, advises that the sofa is a large investment, and quite usually the focal point of the room. She recommends choosing grey for a couch as it is an ideal versatile base for a room that will never go out of style.
Couch Pick: An elegant, streamlined, stylish couch choice!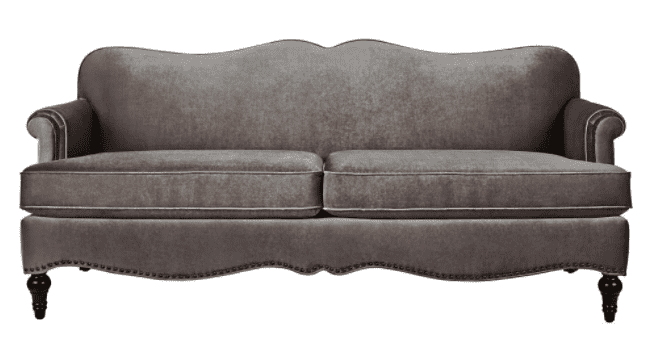 This solid grey, handmade, birch hardwood sofa has rolled arms and turned leg features, with removable and reversible seat cushions. It is upholstered in dark charcoal velvet that lends sophistication to any space. The total dimensions are 81x34x35 inches and can be found at Home Depot (contractors have been keeping this style secret!).
Couches are equal to condensed milk…?
I know it sounds funny, but what is condensed milk? It is the thickest, richest, sweetest, and strongest element of milk. So, too, is your couch a condensed version of who you are – your life and style. A couch equals the thickest, richest, sweetest, and strongest elements of your life (simplified) in one piece of furniture. It says a lot about YOU.
My Couch Pick for Large Grey Couches: Knightsbridge Chesterfield Grey Sectional Couch
This Knightsbridge Chesterfield Grey Sectional Couch is a whopping 117 inches deep, 142 inches in length and 29 inches high!  What a show-stealing sofa! It sure looks cozy as well, thanks to its French Country influences and plush tufted velvet. The grey couch seats 11 people and is a welcoming U shape so everyone can talk, see and listen to each other. Why is this my favorite oversized couch? 
Pros
It invites everyone to mingle – 11 people can sit on it at one time!

Velvet is one of the richest and softest fabrics around
Rolled arms and Tufted back give it a regal look
The Cushions are reversible in case someone has an "Oops!"
Lastly, this couch comes in numerous colors and sizes, and textures, and it can be found at Overstock.
Cons
This is a very sizable piece and will not fit in many spaces, not just because of the length but also its width.

It does have 6 pieces to it, but that can vary depending upon the size of the sectional you choose
Assembly is required, so get some helpers!
Whatever you decide, an option for sectionals like these is to get a much smaller one for a different room or a corner of the living room. This way you have not spent a huge amount of time and money on something that is too large or too complicated. Here is the link for the 5 piece sectional at Overstock. If you do, indeed, love it, you have nothing wasted!  Use the pieces you have to enlarge your sectional to suit you!
Before Buying Your Grey Couch – (Tips)
The first thing to think about is the room size where the couch will be living. Is it large, oblong, round, tiny, cornered, or open and airy? How big your couch should be to appropriately fit the room will steer you towards pieces that are fitting for the setting.
If you have a smaller apartment or narrow hallway for your couch, knowing and having your room measurements with you will bring you back to reality when ogling a gorgeous French Country sectional that is twice the length of your room! The next thing to decide will be what is the couch doing? What is the purpose of it? A family room near the kitchen will have more wear and tear than will an entranceway or a separate living room.
How Do You Plan On Using Your Couch?
How will you use the couch? Will pets be allowed on it? Will food be eaten on it? Will it be the main draw for children or teenagers to bury themselves in (even run and jump on it)? If this is the case, ensure they are built with heavy-duty fabrics and can withstand more use. Just make sure that the upholstery is something such as heavy damasks, jacquard, needlepoints, and pattern-infused linens with lots of colors – or a darker, rich solid.
If it will be in an area that is infrequently used by pets, children, bouncy teenagers, and general everyday chaos (we all have it!), the fabric won't be as important, and anything with a majority of grey in it will work! 
Couch Pick: The Dune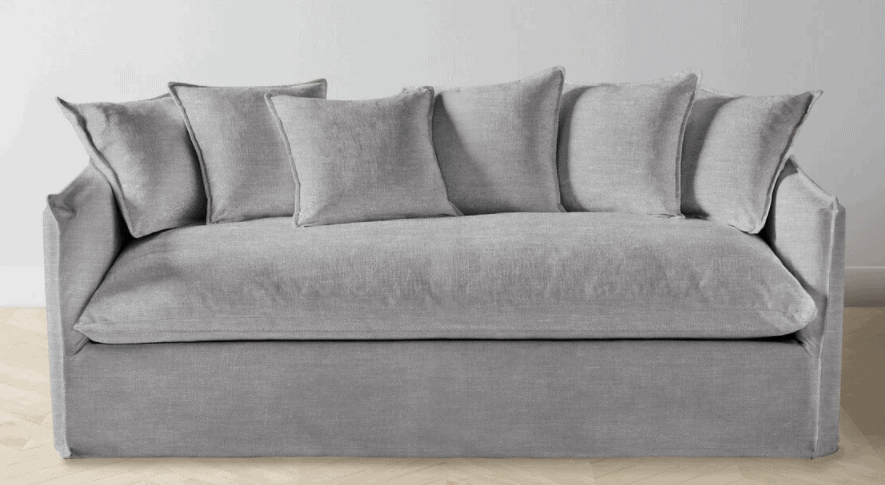 This sweet and understated scattered back couch is handmade to order and comes in many sizes and fabrics.  Shown here is Textured Linen in Oyster Grey. In lengths ranging from 60 to 90 inches, it could also make a great guest bed or harbor a noon-time napper! Speaking of harbors, this enticing couch gives off beachy vibes!  Get a free design consultation for your couch as well, at Maiden Home!
Measuring Your Room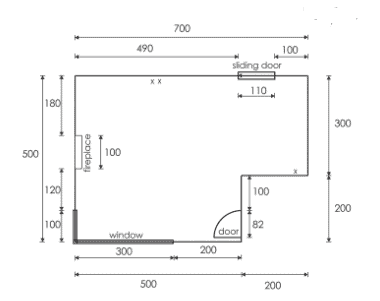 It's important to choose and measure the room, or areas, that you may want to place the couch. The last thing you want to do is put in a couch that dwarfs the other furniture, or even the room!  On the other hand, something diminutive and too small can look inappropriate, or even like a children's sofa (yes, I've had that happen!) if the room is too large for it. 
Measure all the walls, and take into account doorways, fireplaces, windows, built-in cupboards, or bookcases that need to be easily available. Even your ceiling height can influence a couch's appearance, with a 7 or 8-foot ceiling appearing lower with a large, high piece of furniture in the room. 
(Especially remember to measure all doorways and hallways that you will need to fit the couch through- nothing worse than 3 men trying to fit a too-big sofa into a too-small entryway!).
Couch Measurements
Couch Length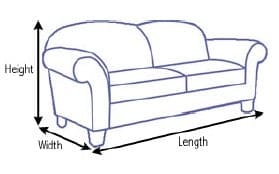 Standard couches and sofas run from 70 inches to 86 inches, based on three people sitting at once. In other words, if a six-foot man laid down, that's 72 inches right there. Remember that the width of the couch isn't how much room you have to sit down. I always like my long legs to be supported by enough seat depth – so read the Seat Depth section below carefully!
Seat Height
Legs, legs, legs. I mean yours, not the couches. Will you need a sofa that sits higher (18, 19, or 20 inches) off the floor to accommodate long legs, or will a shorter (15, 16, or 17 inches) reach to the floor be more appropriate?  From the floor to the top of the couch cushions is the length measured here. Nothing worse than long legs that are not supported, or when a guest's knees are chin-level (again, unfortunately, it happened to me)!  
Couch Height
How high do you want your sofa to be? Modern sofas tend to have lower backs and a straight, sleek line all the way across. A general guide for couch heights is 26 inches to 36 inches, from the floor to the top of the couch back.  
Sofa Depth
Now, let's talk about depth. The depth of the whole sofa (from the front of the arm all down the side toward the back of the couch- where it ends in the back compared to where it ends in front). The whole sofa depth is usually 32 inches to 40 inches. This is important to understand how far out from the wall the couch will be, and what other furniture or doors it will interfere with.  
Seat Depth
Now, the most exciting part of the sofa, in my opinion- the seat depth or cushion depth! This will allow you to nestle into a warm, and snug resting place for watching movies, reading, playing games, or snoozing. This is my favorite kind of couch. Sizes range from about 20 to 25 inches from the front of the sofa seat to the front or beginning of the back. Again, long legs will appreciate the deep seat depths of 24 inches and above. 
I like to start with what is today called a "deep-seat" dimension, which is about 30 to 35 inches. There are deep-seat sofas that offer roughly 28 inches to 35 inches for depth, and then there are extra-deep seat options for over 35 inches.
For the last year, the extra-deep seated sofa has been gaining popularity as more and more people want to be extra-comfy at home for work or binging on their favorite show! Being able to curl up not only is necessary for hours-long interludes with your sofa, but it is also the perfect substitute for the age-old trend of getting a standard sofa, an ottoman, a recliner, and a couch-chaise to accommodate all the different ways your family wants to relax!
Couch Pick: The Warren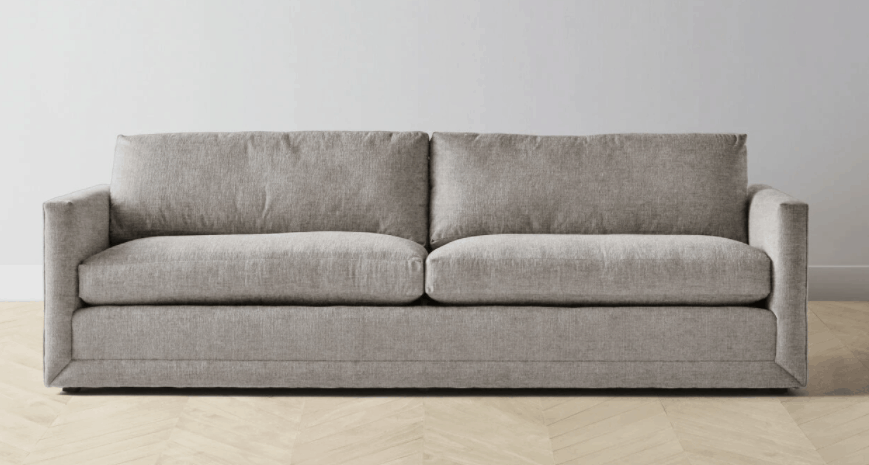 Chic angles make this edgy but equally inviting for a family movie night. The Warren, as it's called, has super deep seating at 39 inches! Made to order by craftsmen in the North Carolina Region, it offers 8 sizes and more than 50 upholstery choices! Total dimensions are 60-100 inches long by 31 inches high and 39 inches wide. This is shown in a light grey tweed. Found at Maiden Home.
Is A Grey Sofa Boring?
The short answer is No, No, No, No! Anything but. Grey couches have been in top demand for decades, not least of which for their versatility and timeless appeal. They go with anything. Dark and dramatic, elegant and pristine, casual and bohemian, modern and minimalistic- the list of moods and styles is endless. I will show you a few here so you can get an idea of what a great investment a grey couch can be. It can speak to who YOU are!
Couch Picks: Vivian Sofa Set
This is the Vivian Sofa Set in grey velvet with tufted back, seat, and sides. The arms are flared outward, giving more comfort and flexibility.
It has silver polished stainless steel feet and has a matching loveseat and chair. The seat depth is quite short, at about 22 inches, so it may be best suited to relaxing horizontally – it sure does look comfy!  It is 92x38x29 inches and can be found at Alla Moda.
Filton Nordic Style Sofa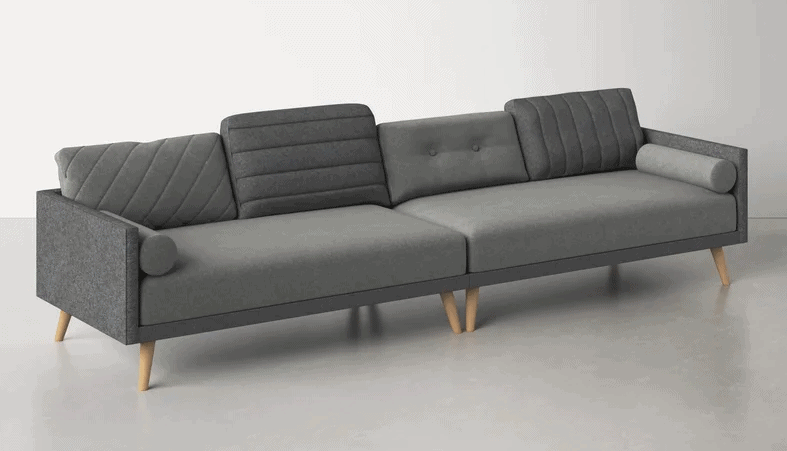 This 124 inches long Filton Nordic style sofa has enough room on it for a little league team!  Switch it up and easily use it for impromptu overnight guests.
It is solid New Zealand Pinewood, with varying fabric designs, rolled bolster cushions, and straight lines for angles. It's 34 inches high and 34 inches wide and has an 800-pound capacity! This gives a modern feel, but the varying cushion textures have warmth and are attached to preserve their appearance. Find it at allmodern.
Ms. Chesterfield
This gorgeous mini version of the Chesterfield sofa comes in so many colors and fabrics and lengths and seat depth options – as well as dozens of leg choices – that I may make it one of my favorite picks! Rarely do we see such a customizable piece for under $3,000.
Amazing. Ranging from 74 to 106 inches in length, you can choose your standard seat depth of 34 inches or opt for a deeper area at 39 inches. You MUST check this couch out at Interior Define.
Jolanda Grey Flannelette Fabric Loveseat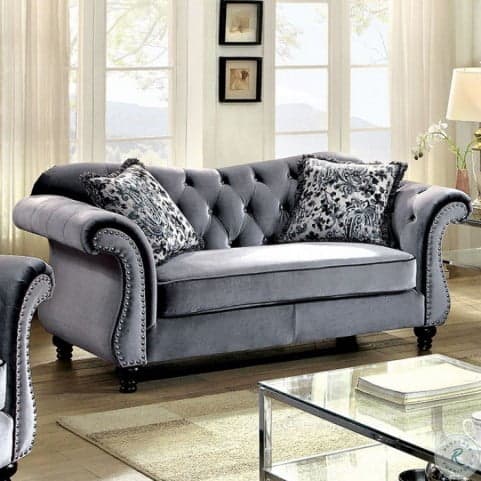 This is the charming Jolanda grey fabric loveseat, with a curved back and tufted detailing, rolled arms, and nailhead trim. There are other pieces that match this as well. I really like the rolling elegance of this couch and especially since it has darker legs and is crafted from solid wood.
The plush cushions look inviting and the use of the darker pattern against white for the pillows really shows off the couch! (A good design tip for accessories!).
I really like the arms that flare out on this as it tends to give a bit more room on the sides and provides a nice place for lolling heads! The reviews for this couch talk of firm cushioning and a high back, and one reviewer with backaches says this couch is great for her back! This loveseat shown is 76x35x34 inches. You can find this and the matching pieces at Coleman Furniture.
2. Is Grey Going Out of Style In Home Decor?
The consensus from trendsetters and designers is a whopping NO. If anything, grey is being used more for decorating as people become aware of the many textures, shades, fabrics, and styles that grey represents well. We realize that grey is fantastic for a foundational color that serves as a magnet to bring all other colors together in harmony.
In this day and age, especially with the pandemic, we are all looking for ways to make our home spaces more versatile and multi-functioning. A living room could be called upon to also be an office and/or the children's play area.
Grey can accommodate these different purposes beautifully by providing a neutral anchor (how neutral will depend on the hue, texture, etc. that you choose – as you saw in the couches above, grey can also be a dramatic focal point) around which you can decorate in different colors according to use. (Bright colored chenille pillows in a corner with some funky lamps for the kids, streamlined laptop accessories on the bottom shelf next to the couch or chair with a desk lamp for an office, etc.).
There has been a trend in recent years to incorporate more warmth into the grey, thereby getting the best of both worlds. People are longing for a more restful, calming environment but still wanting to have the variety of uses that grey provides.  So more subtle, softer greys are increasingly being used. Check out these crazy cool, soft, tranquil grey hues!
So, is grey GONE?  NO WAY, GREY IS HERE TO STAY!
Leather Gray Sofa: Sunpan Baretto 16.5″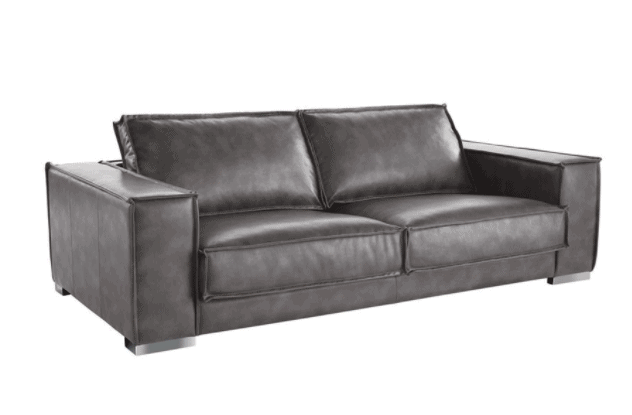 This is a very warm, sleek, eye-catching sofa with deep seating in grey leather. It is modern in style, with a solid wood frame and oversized armrests, and has measurements of 91x43x31 inches. It comes in different colors and lengths and has matching pieces. The feet are large, stainless steel, rectangular and solid. It is by Sunpan and can be found at homesquare.
3. What Color Goes With Grey For Decorating?
Since grey is such a versatile color – pale Oyster grey to Dark Charcoal – it is a delight to add different colors to your style scheme! What is your personality like? Choose colors that reflect you and your home's ambiance, and the grey couch will do the rest! Do you want a crisp, sophisticated, clean look?
Greys and white will neatly pair to bring you that. Painting door frames or moldings white, adding a medium pile white rug, or white lighting can help you achieve that crisp look. A tranquil, calming, and inviting design scheme adds pastel pinks and greens with grey to create a more casual, serene style.
The tone of the colors are important as the more similar they are, the easier they get along with one another!  What is tone?  It is created by taking a color you like and adding grey! Grey creates different tones in colors! No wonder it's a universal favorite. The tone will ultimately depend on the amount of black and white (grey) used.
Did you know that individual color mixing processes are what create hues, tints, shades, and tones of colors?  Choose an unadulterated color (also called a HUE) from the color wheel on the left, then to get some colors with the same tone that will blend nicely together, add the same amount of grey (can be a light grey or dark grey) to each of the colors to achieve a color that you like, and that will slide in next to your grey decor.
The color that you ultimately come up with could be darker or lighter than the original color or hue (pure color with nothing added to change its properties) you started with from the wheel. That is how designers get tones of color.
I'll make this brief – to get tints of color, take a color from the color wheel and add white to it.  This lightens the color and decreases its saturation level.  Tints are made when white is added to a pure color from the color wheel.
Shades of color is created when black is added to any pure color on the color wheel. This darkens the color and creates intensity.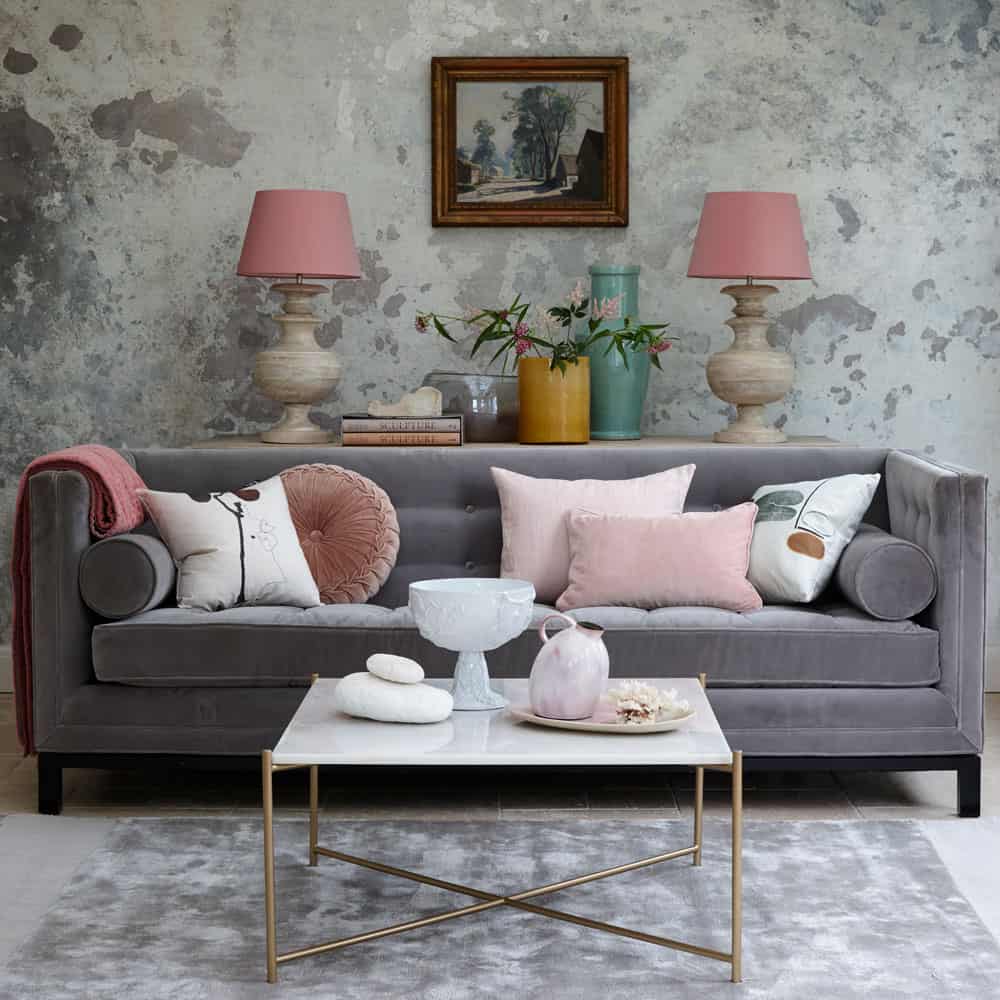 This is an example of color blending with similar tones of pink.  Your eye scans the picture fairly seamlessly and may stop at the salmon-colored tufted round pillow on the couch because that tone is not as closely matched as the other pinks are.
Couch Picks: Kehlani 73.75″ Wide Reversible Sofa & Chaise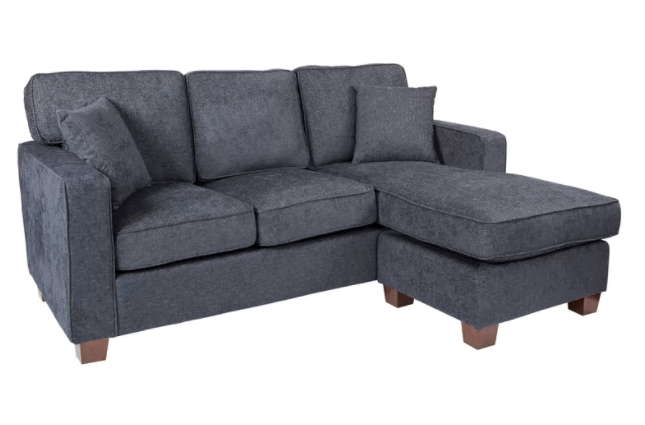 This Kehlani Sofa and Chaise in one has a dark grey fabric and toss pillows included. It is 73x59x35 inches, and the cushions are removable and reversible! It has beautiful wooden legs and is tailored, yet casual. You can find it at Wayfair.
Kjellfrid 54.75" Linen Rolled Arm Curved Loveseat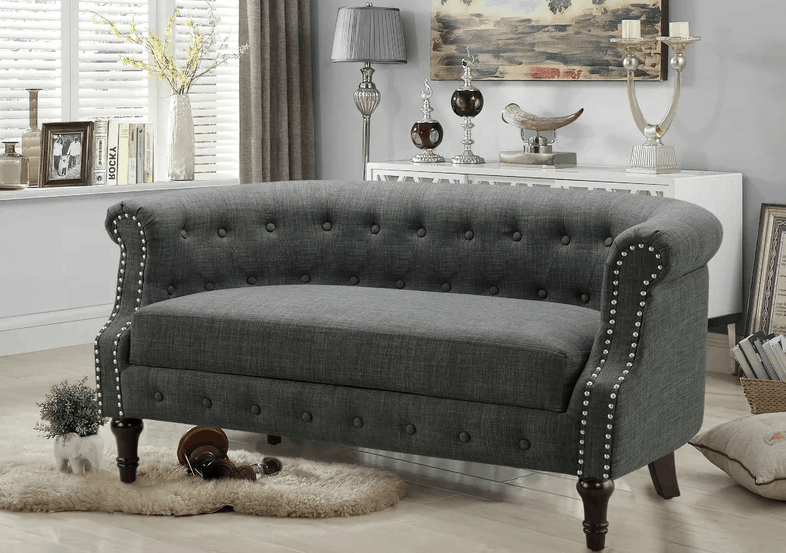 This beckoning silver grey linen curved loveseat boasts rolled arms and hand-detailed nail trim, with wooden legs. This style of sofa has been gracing homes and clubs for centuries, and will certainly be a favorite in the future for its low profile, plush cushioning, and timeless allure.
The dimensions are 55x28x28 inches and it comes in 10+ colors, including multiple grey colors.  It has a solid maple wood frame and is very light at 40 pounds.  You can find it at Wayfair!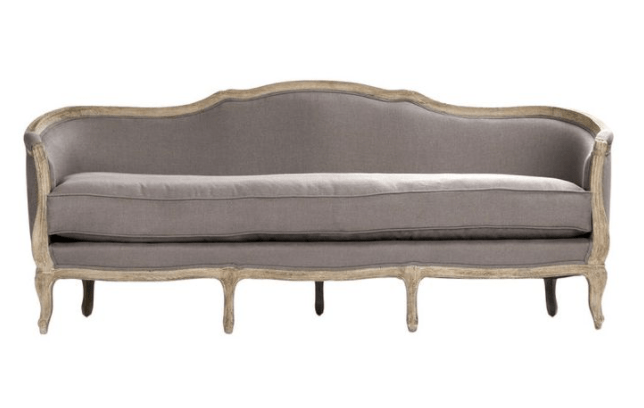 This is one of my all-time favorite couch picks!  At 85 inches long, it's not too big and large enough to be comfortable seating a few people. It has beautiful carvings on its limed gray wood, and is 35 inches high and 28 inches deep. Check this out at LuxeDecor.
4. How Do I Decorate with a Grey Sofa?
Start with the pillows for your grey sofa. You will want to pick up other colors that are in your room (that you like), or colors that you want to be in your room! Designers say that a high-sheen or shiny fabric should be on the first few pillows, and then you can choose a more matte color for the next few.
Throws are a great and economic way to bolster up the decor in your room. You can even find a basket or container to throw your throws into! Choose colors that contrast with your sofa, experiment with textures and patterns, and materials.
I have fake fur, chunky wool, stitched cotton, and fleece throws all over my house – they are great for warmth, to add depth, color and they can be replaced as I get tired of it, or the dog has loved it too much… Coffee tables, rugs, end tables, plants, art, lighting, and on and on…have fun choosing things you love that fit your idea of how design should look!
Best Grey Couch Ideas: In Closing
A grey couch is an amazingly stylish investment into a timeless tradition of anchoring a room and then layering on colors. The different shades, and tints, and tones (I got that right!) are endless and you will be able to find just the right shade that resonates with you.
Grey hides dirt, blends into any decor scheme, and can hold its own while you change colors, rugs, artwork, windows, walls, and even homes! The leathers, chenilles, linens, corduroys, brocades, velvets, and other upholstery choices lend lots of textures and moods, and levels of wearability.
Grey is the MOST neutral color with only white and black colors (and little, if any other color). That means it is the best solid focus in a room. It also means that grey makes other colors pop out at you, and they become much more noticeable. Grey can be used with cool and warm shades, and you can choose a lighter or darker grey to blend them.
Grey can be sharp and angular, it can be curved and rolled, loose and plump, airy and unstructured, elegant, refined, dramatic and so the list goes. Grey is the greatest shapeshifter! So, go with the flow, and know that whatever grey couch strikes you, it will last through years of change. What else can do that?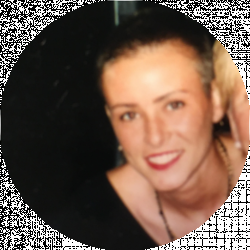 Latest posts by Richelle Tieman
(see all)