Do you want to spice up your living space? Do you need more storage space in your home but do not have the time or money for a major remodel? You can use these amazing ladder bookcase ideas to create something new and exciting.
A ladder bookcase is a space-saving storage solution that can be used in the home, office, or classroom.  Nowadays, you can find many different types of designs and styles for ladder shelves. The most basic design is just two ladders attached to each other with brackets on the backside. Some more complex designs include additional features like wire baskets or shelving units at various heights. 
This blog post will share modern, functional, and stylish ladder bookshelf types and some ideas on what to look for in a good ladder bookshelf.  We've ranked them according to make/design and material used.
Best Ladder Bookcases: Our Top 5 Picks from Amazon
Nathan James: Best Overall Ladder Bookcase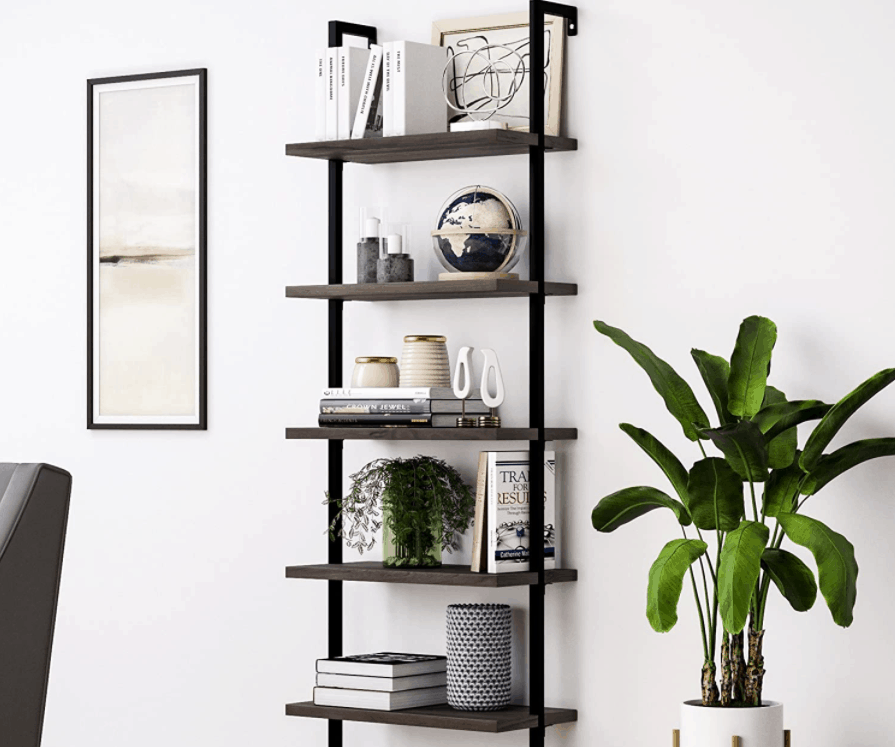 You can't get any better than the Theo Industrial Ladder Shelf. With a sturdy, durable metal frame and oak-laminate reclaimed wood, you'll look hip and fashionable in your home office or living room with this 5 tier bookcase. 
We're not kidding when we say Nathan James Ladder Bookcase is solid: at 50lb capacity per shelf, and there's no chance of anything tipping over on you when it's fully stocked. This contemporary beauty is just what urbane sophisticates have been waiting for.
It doesn't stop at bookshelves; pick up one (or more) ladder shelves to create the perfect working/living space for your unique needs. You can also go artsy with an exposed brick wall and enjoy more floor space by using a corner as your work area.
Pros
It has an easy to assemble design

It has an elegant look

It is durable and sturdy
Cons
Some have chipped shelves
Amazon Basics: Best Wooden Ladder Bookcase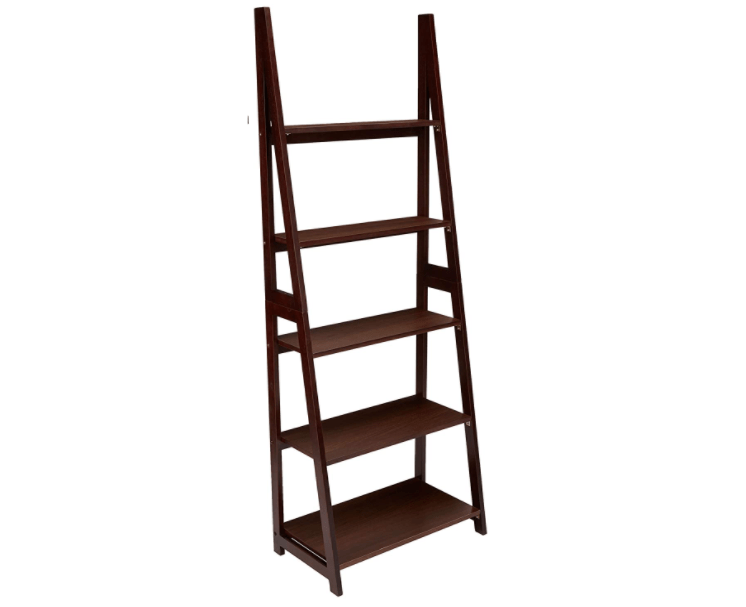 The Amazon Basics Modern 5-Tier Ladder Bookcase Organizer is the perfect combination of function and style. The shelf's descending design with wider shelves in the lower tiers provides plenty of space for decor, books, awards—even bigger collectibles like garden statues or plants.
You can also choose to place your Amazon Basics Ladder Bookcase neatly against a wall or angle it in front to save even more space and free up room on your floor. It's constructed from solid rubberwood to hold up against heavy items, and easy assembly instructions make set-up a breeze.
Why stop at just using this great frame as a bookcase? With a minimalistic design that complements any interior aesthetic, use this sturdy ladder organizer as a bookshelf or mantelpiece.
Pros
It's sturdy

It's durable

It matches easily with other home decors

It's elegant
Cons
Assembly is time-consuming
Casual Home 5-Shelf Ladder Bookcase: Best Espresso Ladder Bookcase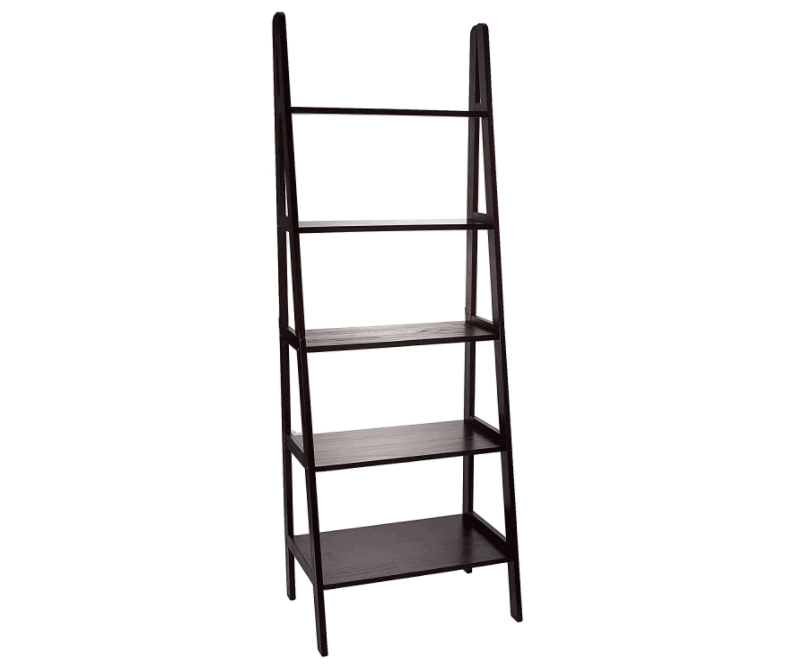 Is your living room feeling cluttered and unorganized? Redecorate your space with the Casual Home 5-Shelf Ladder Bookcase. This compact product will allow for more efficient storage of trophies, collectibles, artwork, or books in any small home. 
The 72-inch high shelf tower measures 24.75 inches wide x 16 deep and is built from sturdy metal that won't weigh down the shelves after repeated use. Each ladder piece vigorously resists tipping so top-heavy items don't become a safety hazard to children or pets roaming around the house.
You can simply consider repositioning it upright using the weight resistance feature located on each pillar post anchor point giving proper stability to other bookcases of this design on the market today. This incredible Casual Home Ladder Bookcase is also easy to assemble.
Pros
It is sturdy

It is durable

It is easy to put together
Cons
Ameriwood Home Lawrence: Best Four-Shelf Ladder Bookcase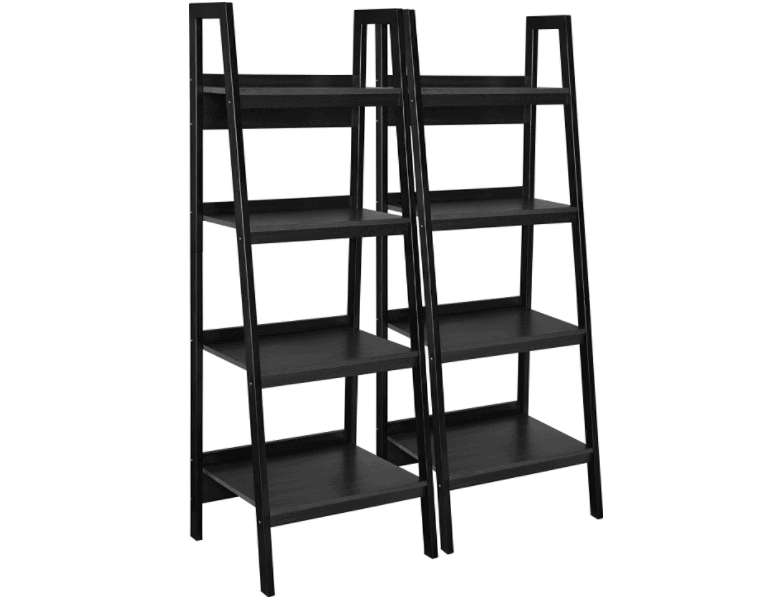 This Ameriwood Home Lawrence 4 Shelf Ladder Bookcase Bundle is the modern way to decorate your living space and organize all of your knick-knacks. In a black finish, this product has four shelves that are both ladders for extra vertical storage.
Ameriwood Home Lawrence Ladder Bookcase comes with an assembly requirement – but you need not worry. We have included every essential hardware piece (nuts, bolts, etc.) in the box so you can start stacking up all of those books and decorations right away. Sprinkle some decoration around or store it neatly in one place with six-foot ceilings; it's totally up to you.
The 60″ height means there will be plenty of room for book lovers who want to maximize their space and is perfect for entryways, bedrooms, or living rooms.
Pros
It is sturdy and durable

Easy to put together

It matches easily with other home decors
Cons
Customers complained that the frames do not sit well owing to unaligned holes.
Blissun Ladder: Best Bathroom Ladder Bookcase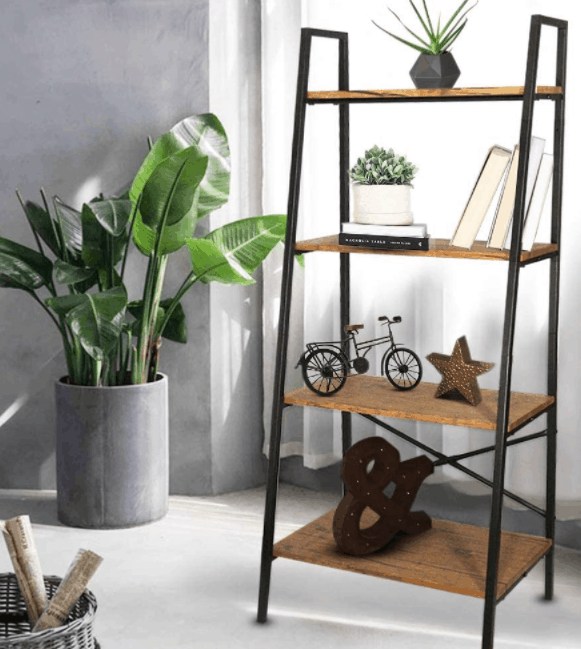 If you want to decorate your space with a ladder bookcase, check out the Blissun Ladder Bookcase. This four-tiered bookcase is available in either gold or black and would look great anywhere from an office to a bedroom. 
The ladder bookcase is a versatile piece of furniture that can be used as a bookshelf and plant stand. The detailed instructions make it easy to assemble, even in tight corners or crowded rooms. Plus, the included tools make everything more straightforward than ever.
Our ladder shelving rack is excellent for maximizing vertical storage wherever you may need it. It has four shelves with plenty of space to hold all your stuff, making decluttering easy peasy lemon squeezy.
Pros
It has a fantastic look

It is sturdy

It is easy to put together
Cons
Lavish Home 5-Tier Ladder Bookcase


Give your home a classy look and get our 5-Tier Ladder Bookcase. This five-tier bookcase gives you the option to store more books, magazines, or other items without taking up too much space in your room. The shelves are sturdy enough for all of these things.
It's lightweight, so you don't even have to worry about maintenance or getting tired when assembling it. You'll be surprised what a difference 5-tiers can make in organizing all of your belongings in style.
This bookcase fits snugly against walls and offers lots of shelving space for books, decorative pieces, picture frames, magazines, and more. Leaning 24 inches deep against the wall will give any room a clean profile while maximizing your interior storage space.
Pros
It has enough storage space

It is sturdy

It has an elegant appearance

It's durable
Cons
While most customers loved it, some thought that the product has a very thin/fragile material
4 Tips on How to Style/ Where to Place Ladder Bookcases 
Ladder bookcases are not just for books. They can be used in various places around your home. Here are the four areas to place a ladder bookcase and how to style it;
An Entryway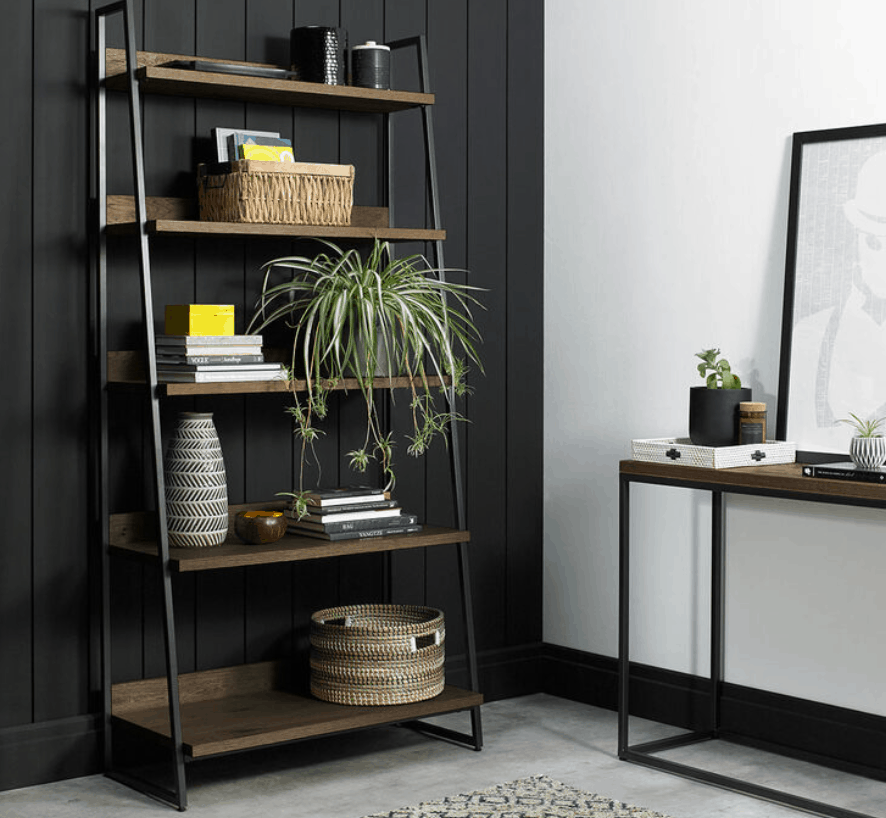 The combination of a bench with hooks and baskets makes for an optimal entryway. The ladder shelf can be used to store keys, hats, scarves, umbrellas, and storing bins or small storage containers underneath the shelves. A toast rack is also great in this spot because it allows people to get their mail without having extra items on top of where they are walking by putting them into one space rather than two different areas.
In the Living Room
Ladder bookcases are great for adding storage space and a pop of color to the living room. Place one beside your sofa, fill it with remote controls, baskets full of throws, or other items you want close by, like vases and picture frames. Next, add an accent lamp above the couch so that its light will be angled down onto whoever is sitting on it!
In the Kitchen
If you want to use a ladder bookcase in your kitchen, it can be placed against the wall and works as an extra pantry area. You could also put vinyl shelf liners on them as they are easy to wipe down when things spill or if there is dirt marking up the shelves. 
Add some plate racks for storing cutting boards and place a picnic basket with towels, napkins, placemats. Hot-glue clothespins along the edge of each step's front part, then clip recipes you want to try onto these.
In the Bathroom
Ladder bookcases can be hung on the wall in a bathroom to provide extra storage space.  They come with convenient shelving for toiletries such as soap bars or bottles of shampoo and conditioner. 
There is also ample room for stacks of towels. To add more style, fill up a bucket with rolled-up washcloths (or any other fabric) that you may have to lie around your house – simply hang it from one side using an included hook, so it's out the way when not needed.
Factors to Consider Before Purchasing Ladder Bookcases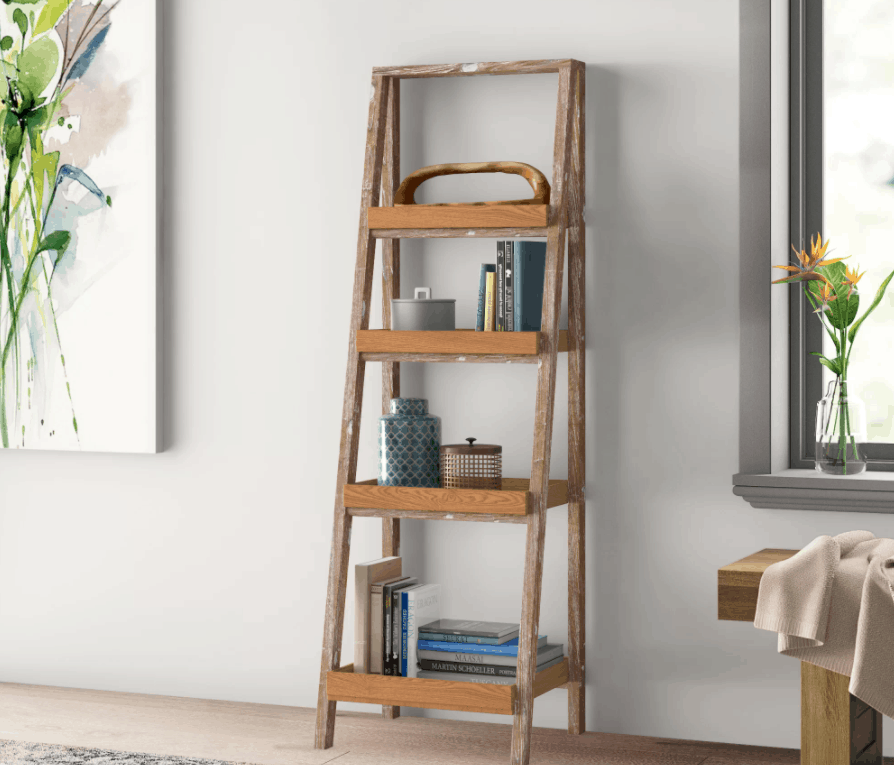 The Size of the Ladder Bookcase
It can be very boring if you purchase a ladder bookcase just to find it too big or too small for your space. This is why it is recommended for you to measure your room's space before purchasing a ladder bookcase. After you measure your room's space, think about what items will fit on the ladder bookcase. Some of these may be unusually tall, so there is a chance it won't work for ladder shelves with narrow spaces between their rungs.
We tend to focus on things at eye level so that the best ladder bookcase will be around 50 inches tall. However, if you want a higher one, it should go further down your shelf where normal humans cannot see them because they are out of sight range.
Material of the Ladder Bookcase
Ladder shelves are very popular in interior decoration because of the versatility that they offer. The material and design used to create them will influence their visual impact on a room, but it is primarily up to you what style you want your ladder shelf to have. 
While wooden ones can give an upscale touch, steel-made pieces might be interesting if we wish for something more industrial instead.
The Functionality of the Bookcase
Ladder bookcases have become incredibly popular in recent years, not only because they are a unique way to store your favorite books and movies but also due to their sleek modern design. Some models even come with additional storage space for things like toys or important documents that you need close by without cluttering up the room.
There is such variety in these ladder designs as well; some open out into flat tables while others will fold away when no longer needed, so there's less clutter around the house. Ladder shelves can be used for children, too – if it has a drawer at its base, then it makes an incredible lego storage box during playtime, and after all of those little pieces get put back inside, simply fold them up until next time.
The Aesthetic Aspect
A ladder bookcase is primarily a decorative piece of furniture. That's why it's unlike other straight shelves in design. To get an aesthetically pleasing one, consider the material used for construction and decorations, color scheme, overall style, and also the size of trays to hold things on top or inside them.
Your Choice of Color
In terms of color, you should always take into account the tone and hue that will best suit your living room sofa set. If a certain piece is already colored in a way that might clash or stand out too much against another item (a lighter shade, for example), it would only make sense to choose something more neutral like white as an accent color instead. 
The choice of light colors also serves other purposes, such as helping highlight objects while creating contrast. This is by highlighting some areas since darker shades tend to dull down those elements which may have been visible otherwise.
Wall-Mounting or Stand-Alone Ladder Bookcase?
There are two types of floating shelves: stand-alone and Wall-mounting. The former has its own feet (3, 4, or more legs) that can be placed on the ground, while the latter is a piece of furniture that takes up space within an existing wall structure as it's attached to one side, such as inside a cabinet or behind a door frame. 
No matter which type you pick for your home, they're both designed to hold objects above the floor level, so you don't have any items stacked along walls cluttering things up.
FAQs
Question: Can You Put a Ladder Bookcase in a Corner?
Answer: Yes, you can place a ladder bookcase in a corner. They are perfect for people who have tight corners in their rooms. You can simply turn the corner into a display with ladder bookcases, especially if you're a huge reader and need to store all of your books close by without taking up too much square footage.
Question: How Do You Balance a Leaning Bookcase?
Answer: If you want to balance your bookshelf, remove all the knickknacks on top and from the two shelves above. Gently push it back; this should be enough to align it with others in its row. Then slide a wooden shim under one of its feet so that there is just an inch or less space between the floor and foot-end of the bookcase (the narrow end).
Add another at right angles for more stability while pushing forward again until balanced properly against other shelves — don't forget about any uneven spots when doing this.
Question: How Do I Keep My Ladder Bookcase From Sliding?
Answer: The non-slip pads are great to keep furniture from sliding around. The rubber grip on the bottom ensures that your bookcase will stay in place effortlessly. All you have to do is cut it into pieces and stick it under the legs of each side for a firmer hold.
Question: How Much Weight Can a Ladder Bookcase hold?
Answer: Each bookcase can hold up to 45 pounds, allowing you the space and freedom to store your heaviest books. However, it's important that each shelf only holds an appropriate amount so as not to make the bookcase appear shaggy – this will also ensure its longevity.
Question: How Do You Secure a Ladder Bookcase?
Answer: To ensure stability when using a ladder-style bookshelf, attach the strap to an upright stud. Ensure that this is done securely by either screwing it or wrapping the cable around the rung and attaching it. If your shelves are wide enough for more than one stud span, then secure them at both points.
Bottomline
Ladder shelves are the perfect solution if you're looking for a unique way to store books or other items. They come in all shapes and sizes, so it's easy to find one that matches your style. 
We recommend Nathan James' Ladder Bookcase as our top pick because of its durability and quality construction.   So if you want a place to store everything from family photos to novels, think about buying some new ladder shelves today.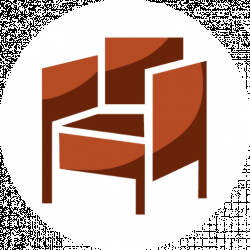 Latest posts by Finally Furnished Team
(see all)