Online and brick and mortar furniture stores feature thousands of loveseat models for good reason, as this type of furniture never goes out of fashion. Our selection of the best Wayfair loveseats will assist you in navigating through the broad assortment of models this online furniture retailer offers.
Terms like settee, couch, sofa, or divan are often used interchangeably with the term loveseat despite their differences. Spotting these differences might be difficult at first, but if you pay attention to the size of a loveseat, you'll notice that it is considerably smaller than an average sofa.
In this guide, you'll discover the origins of Loveseats and why they have become so popular, the different types that exist, things to consider before buying, and finally, reviews of our top 5 recommendations.
Read our guide to finding the best living room couches and sofas if you want to explore other seating options for your living room.
At a Glance – The 5 Best Wayfair Loveseat Picks
The Origins of a Loveseat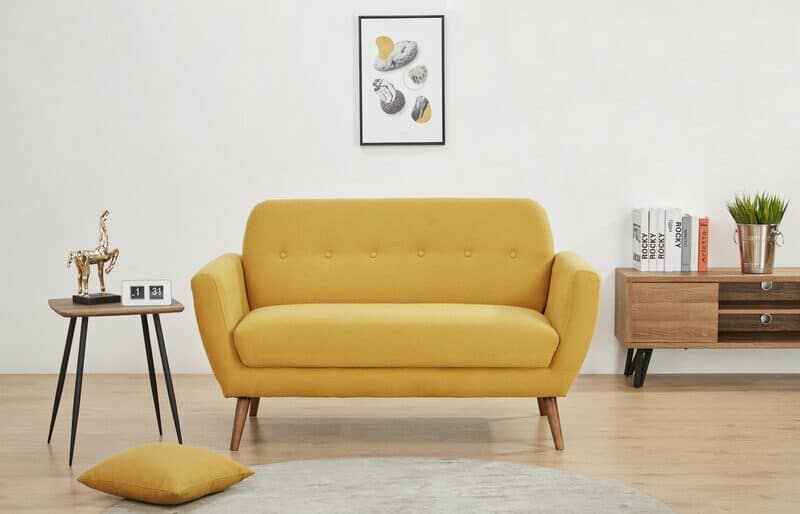 A loveseat is essentially a mini-sofa with two seats. They're often paired with three-seat or four-seat sofas to provide extra seating options in a spacious living room or as a space-saving solution in small apartments. Although the name we use today suggests intimacy, these mini-sofas were initially developed to provide sufficient sitting space for the ladies who were wearing bulky gowns.
The limited sitting space these sofas provide made them suitable for young couples who sought to be close enough to each other so that they could hold hands. As fashion changed towards the end of the 18th century, the term loveseat emerged since these sofas were no longer used solely by women.
Once reserved for the homes of the wealthiest members of society, loveseats went through an enormous transformation and became a standard seating solution in homes around the globe. Go through our living room furniture guide if you're in the process of furnishing your living room.
Loveseat Types
Various versions of loveseats emerged over the centuries, but two types of these mini-sofas defined their contemporary look.
British two-seater
Today, this term refers to any sofa that has only two seats. However, this type of furniture first appeared in English movie theaters and featured a movable armrest that allowed a young couple to sit closer together. Visually, British two-seaters resembled the original mini-sofas, but their appearance was transformed during the 20th century.
Tete-a-tete
These S-shaped sofas feature two seats placed in opposite directions. Their construction allowed a courting couple to face each other while creating enough separation to ensure a proper distance between lovers is maintained. This loveseat type fell out of fashion by the mid-20th century, although some variations of the tete-a-tete loveseat can still be found at Wayfair and similar furniture retail stores.
Check out our guide to microfiber couches if you're considering alternatives to loveseats.
Wayfair's Selection of Loveseat Designs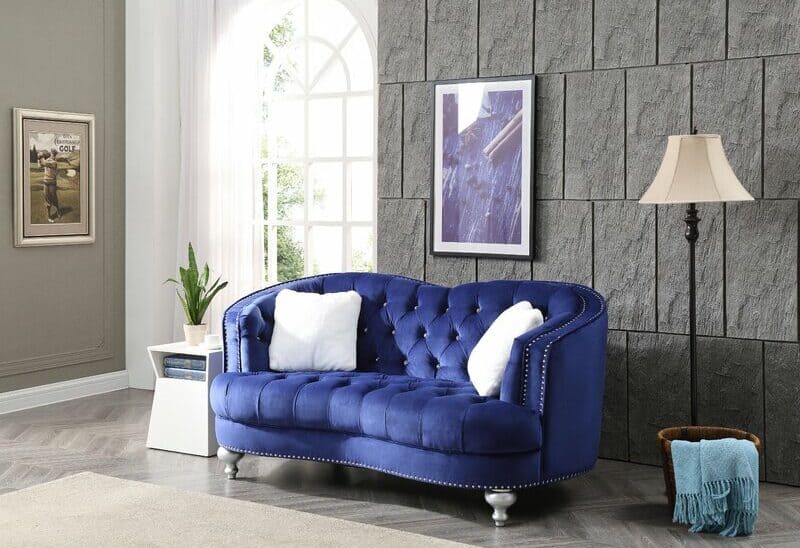 As one of the largest online future retailers, Wayfair offers hundreds of different models available in six different styles. It is worth adding that loveseats from each category can have a traditional, mid-century modern, or contemporary look.
Let's take a closer look at each category of loveseats you can find at Wayfair:
Standard – The models from this group have the characteristics of classic British two-seaters, but their designs and features are far from being identical.
Reclining – Composed of a pair of recliners, these loveseats offer a high degree of comfort by letting you place your legs on their footrest.
Sofa beds – These loveseats serve a dual purpose since you can use them as a seating option during the day or as an extra bed during the night.
Chesterfield – Characterized by rolled armrests and tufted upholstery, the Chesterfield design is both stylish and functional.
Modular – These loveseats contain components that can adjust to the layout of the space or even be separated and placed in different parts of the room.
Curved – Inspired by the tete-a-tete loveseats, these mini-sofas usually have semi-circular backrests and armrests.
Go through our guide to best recliners if a reclining loveseat is too bulky for your living room.
The construction and materials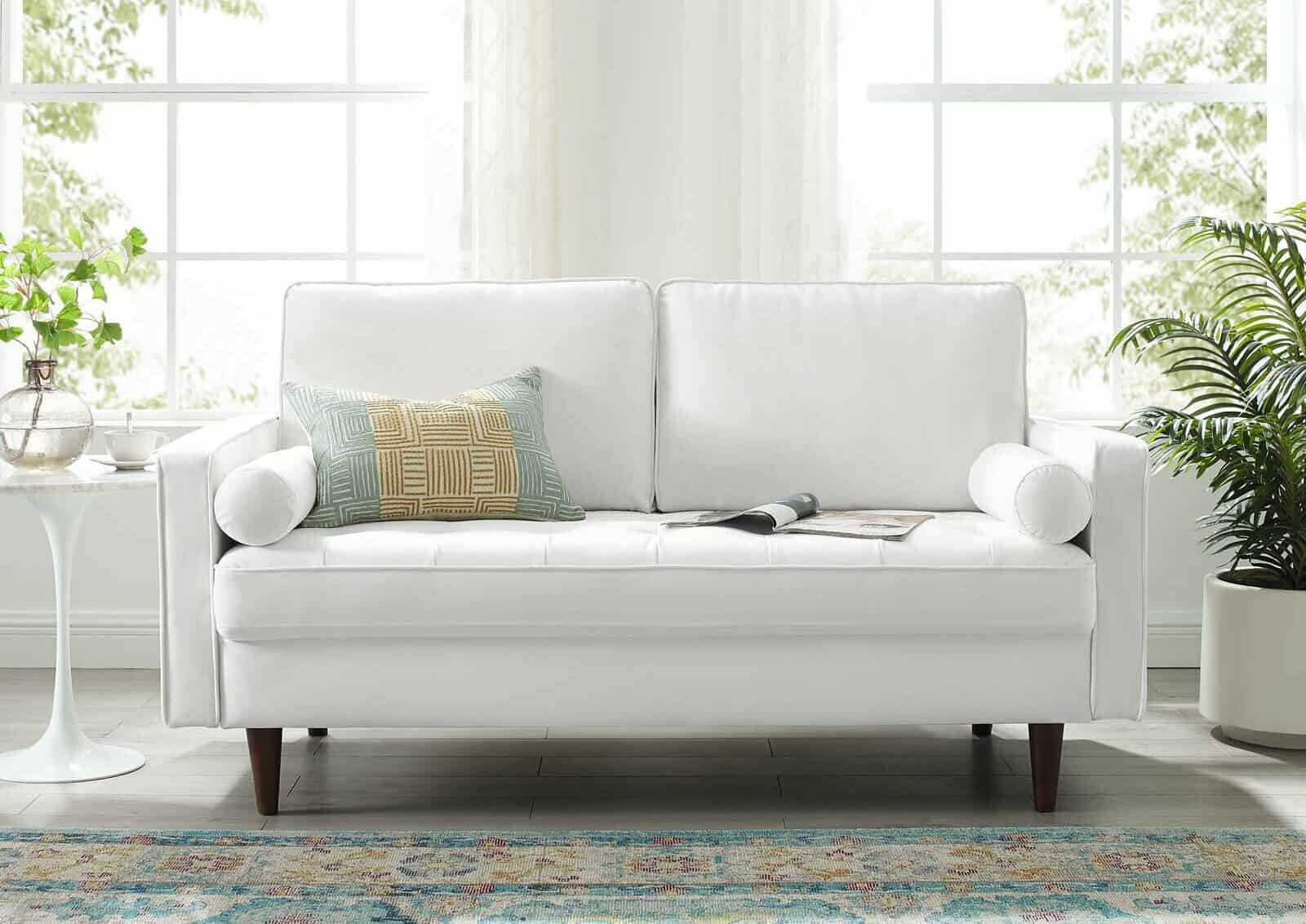 Like all sofas and couches, loveseats are rarely made of just one material. The early versions of these mini-sofas were mostly wood, and they didn't have cozy upholstery.
Contemporary models are usually built from natural materials, and they offer much more comfort than the loveseats produced in the late 19th or early 20th centuries. The following materials are commonly used to make loveseats:
Wood – The legs and the frame of the loveseat are often built from solid wood.
Leather and fabric – The upholstery of these mini-sofas is made of either leather or velvet and similar fabrics.
Polyester – Different versions of polyester can be utilized for decorations and upholstery.
Foam – Foam is used as a back and seat fill material, while on some models, seat fill contains both the foam and coil springs.
Read our guide to console tables to discover furniture you can pair with your loveseat.
The Most Important Things to Consider While Shopping For a Loveseat at Wayfair
Although they're mostly regarded as pieces of living room furniture, loveseats can be used in other areas of your home. Their compact size enables you to utilize them as an alternative seating solution in hallways, bedrooms or as a primary seating option in small living rooms.
Wayfair features an impressive collection of these mini-sofas, enabling you to choose the type, size, and color that matches the room to which you want to add a loveseat. Navigating through hundreds of models can be tiresome, so instead, you should set the criteria that will narrow down your search.
We've shortlisted several factors that will help you find the loveseat you're looking for at Wayfair, so let's take a look at them.
The Product's Dimensions
Measure the free space in your home where you want to place a loveseat before you start the search. This will save you valuable time because it will enable you to eliminate all models that are too bulky or too small.
The dimensions of all loveseats on Wayfair are easily accessible, and it won't take you long to compare them with the dimensions of the space where they should be located. The length of these mini-sofas is usually around 60 inches, although some models can be more than 80 inches long.
Besides the length, you should also check the model's height and the dimensions of its seating area.
The Loveseat's Features
Each model has a specific set of features, and you need to go through a loveseat's specification list to find out which features it offers. For instance, some models might have a storage space hidden under the seating area or feature waterproof upholstery, while others might double as sofa beds equipped with memory foam mattresses.
Wayfair's website lets you filter loveseats based on their features so you can focus your search on the model's storage capacity or the cushion type. Setting the search criteria on Wayfair's website will provide you with an overview of models that have the features you're looking for.
Weight Capacity and Durability
The quality of the loveseat's frame, legs, and seating determine its durability. You should avoid models with plastic legs because they're not as sturdy as legs made of solid wood or iron. On the other hand, plywood frames tend to wear much faster than frames made of wood or metal.
The loveseat's maximum weight capacity depends on its construction, and it varies from 300lbs to 800lbs. Checking this parameter will help you determine if a particular model can withstand high amounts of pressure and decide if it is suitable for the context in which you want to use it.
Customer Ratings
Wayfair's customers can rate the furniture they purchase, but you should bear in mind that some products might not have any reviews. The platform lets you filter your searches based on the customer rating, so you can only preview models that got 5-star reviews.
However, you should also pay attention to the number of reviews a loveseat has, since the products with only a few 5-star reviews might not be as good as the reviews suggest. You can find the reviews below the product description, and you should take the time to read at least some of them to learn more about the experiences the Wayfair's customers had with that product.
Price, Assembly Requirements, And Delivery Times
The vast majority of loveseats on Wayfair don't ship preassembled, so the chances are that you'll have to put the model you purchased together once it is delivered. The platform lets you search for the models that arrive assembled if you want to avoid any risk of accidental damage that can occur during the assembly process.
The delivery times depend on where you live, and it may take between two to six weeks until the loveseat you ordered arrives at your home address.
The platform offers free in-home delivery and shipping for most models, so chances are that you won't have to spend additional money to have the loveseat delivered to your home address. The price of these mini-sofas ranges from approximately $200 to more than $10.000.
The Advantages of Loveseats
Offers an extra seating option in large living rooms
Loveseats are often paired with sofas that provide enough sitting room for 3 or more people. Putting a loveseat next to a couch or a sofa enables you to create an area where your family and friends can enjoy spending time together.
Great seating solution for tight spaces
Bulky furniture can eat up too much space and make a room less functional. Loveseats enable you to free up space in your living room, hallway or bedroom while providing you with a high level of comfort.
A wide range of options
Wayfair offers hundreds if not thousands of loveseat models that come in all styles, colors, shapes, and sizes. Hence, you can select the model that perfectly fits the purpose you want to use it.
The Disadvantages of Loveseats
Cleaning loveseats can be difficult
Leather, velvet, and other frequently used upholstery materials have one thing in common. They all have high upkeep requirements, but each material comes with a different set of care instructions.
That's why you must check how demanding the maintenance of a loveseat model is before you decide to purchase it.
Our Criteria
Before we break down our list of recommendations, we want to show you the criteria we used to choose the loveseats we've listed. The list of loveseats we've created here weren't randomly chosen. Instead, we carefully vetted each of the loveseats in this list. 
All of the dough hooks we put in this list had to be:
Affordable: We wanted to make sure we recommended loveseats of a variety of price ranges. That way, you can be certain to find a loveseat that fits perfectly in your price range.
Positive customer reviews: Besides our own positive testing experiences, we made sure other Wayfair customers using these loveseats also had a generally positive experience.
Sturdily made: We vigorously tested all of the loveseats in this list in a variety of different conditions. This way, we could ensure the loveseats recommended in this guide will withstand the wear and tear your family puts it through. 
Top 5 Wayfair Loveseats
George Oliver Broadmoor Loveseat – The Best Standard Wayfair Loveseat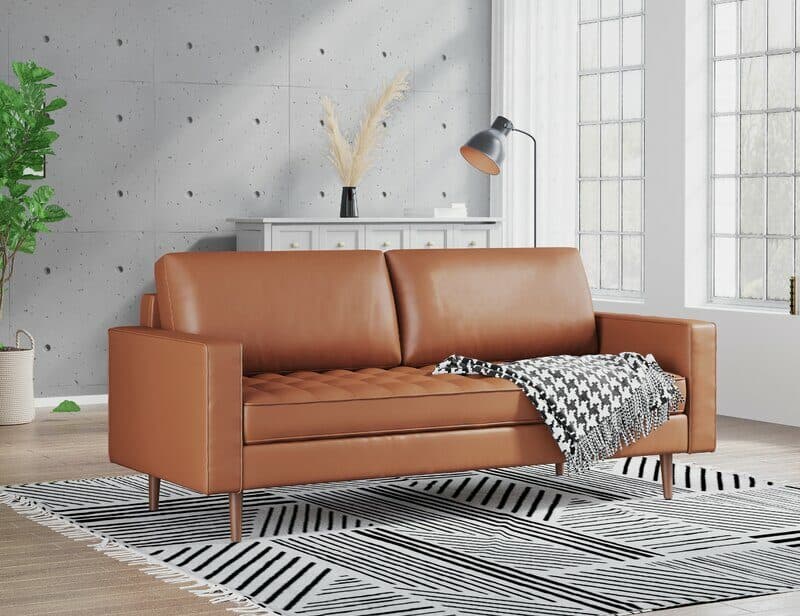 The design of the George Oliver Broadmoor Loveseat is inspired by the classic British two-seater sofas. The squared arms and removable back cushions filled with foam and tufted seats give the loveseat an elegant look that matches traditional and modern home décor styles.
The single-cushion seat features sinuous springs, and it is filled with foam. The upholstery is made of a water-resistant faux letter, and it is available in five different colors. A wooden frame and four wooden legs can carry up to 500lbs.
Pros
Lightweight and compact construction
Requires only partial assembly
Upholstery is water-resistant
Affordable price
Cons
30-day warranty period
The seat is too hard
Mistana Boevange-Sur-Attert Loveseat – The Best Mid-Century Modern Wayfair Loveseat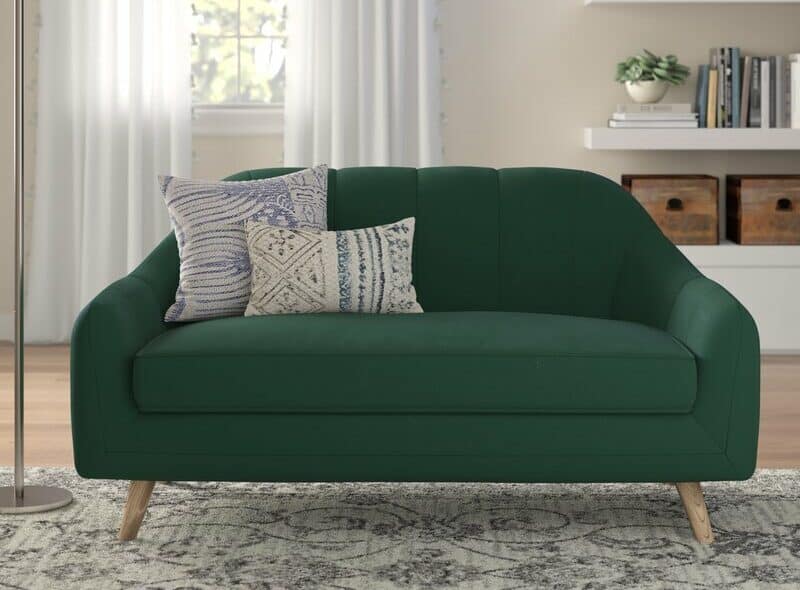 Designed for both residential and commercial use, the Mistana Boevange-Sur-Attert Loveseat can be a great addition to your home office or your living room. A slightly irregular shape of the back accentuates the model's mid-century modern style.
The upholstery is made of velvet, which further contributes to its mid-century look, while its frame and legs were built from solid pinewood and stained oak. The removable seat cushion has a web suspension construction, and its fill contains 70% of foam and 30% fiber.
Although it is stain resistant, Mistana's loveseat has high upkeep requirements, and it offers no protection against water spillage.
Pros
Elegant mid-century modern design
500lbs weight capacity
Durable components
Quick and easy assembly
Cons
Not water-resistant
Low degree of comfort
Birch Lane Eufaula Loveseat – The best Chesterfield Wayfair loveseat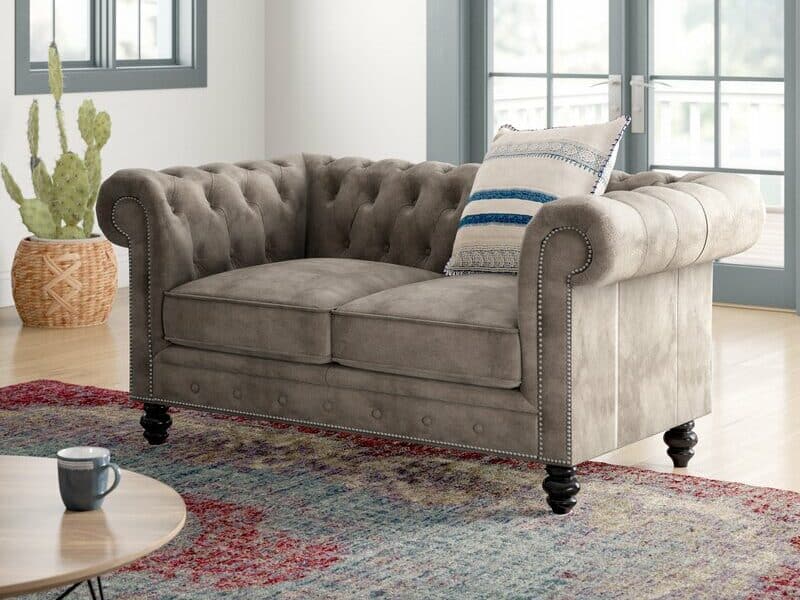 The Birch Lane Eufaula Loveseat features rolled arms that are one of the trademarks of Chesterfield loveseats. In addition, the model's back is tufted and filled with high-density foam. The polyester velvet upholstery is available in two color options.
The brown version of this loveseat has leather upholstery, while the legs and frame on all versions of this Birch Lane's model are made of solid wood. Two-seat cushions have a pocket spring construction, and they have a foam fill wrapped in a Dacron fill that supplies additional support and comfort.
Pros
Suitable for homes and offices
Durable frame
Excellent customer reviews
The loveseat weighs just 83lbs
Cons
The price depends on the upholstery material
1-year warranty
Orren Ellis Batch Loveseat – The best modular Wayfair loveseat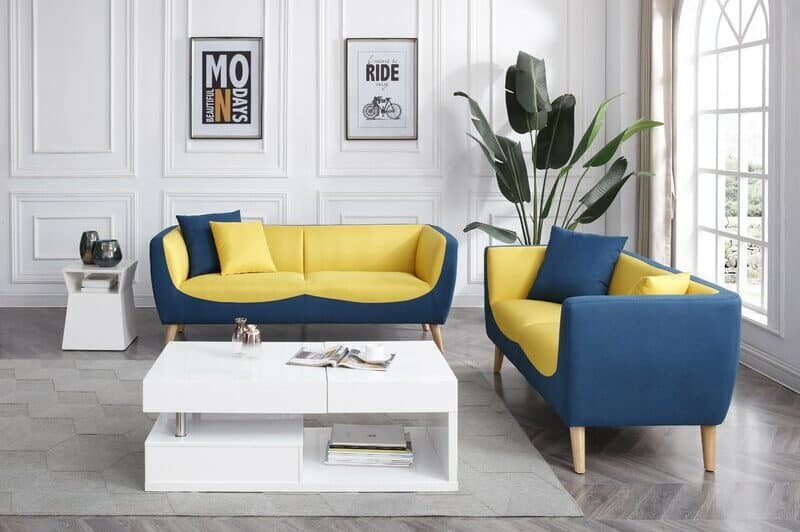 Although small in size, the Orren Ellis Batch Loveseat still has a 400lbs weight limit due to its sturdy manufactured wood frame and solid wood legs.
The combination of blue and yellow or brown and cream colors gives the loveseat a contemporary look that is easy to pair with a broad range of home décor styles. The foam-filled seat has a pocket spring construction that keeps you comfortable even if you sit for hours on this loveseat.
The linen upholstery isn't resistant to water or stains, so you need to be careful not to spill your drink or drop food on this modular loveseat.
Pros
Colorful and modern design
Strong frame and legs
Ships with complimentary pillows
Free in-home delivery
Cons
The back is too low
No warranty
Darby Home Jordynn Loveseat – The Best Curved Wayfair Loveseat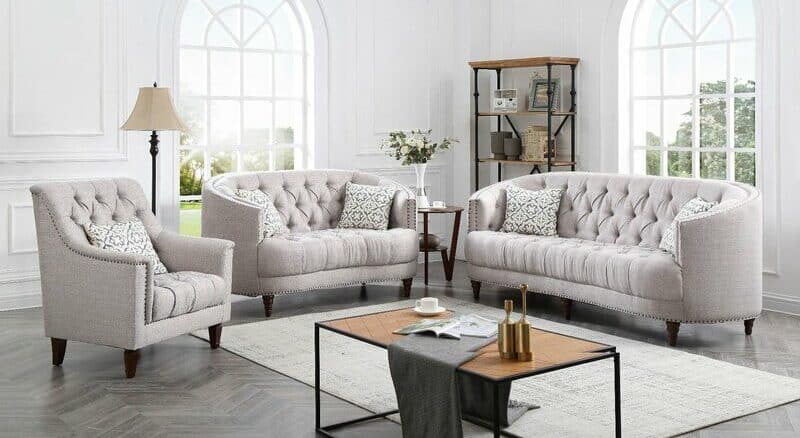 You should take a closer look at the Darby Home Jordynn Loveseat if you're searching for a mini-sofa that doesn't require assembly upon delivery. The curved back merges with the armrest to create a semi-circular shape that characterizes this loveseat.
The frame is constructed from a combination of solid and manufactured wood, while the legs are made of solid wood. Both the seat and tufted back are filled with foam that makes the loveseat cozy. The sinuous spring seat construction prevents sagging and minimizes the motion transfer.
Pros
Traditional curved design
Great for tight spaces
Low upkeep requirements
The loveseat arrives assembled
Cons
Upholstery is made of polyester
Available in just one color
FAQs
Question: Are Wayfair loveseats prone to sagging?
Answer: Yes, they are, but how soon sagging will occur depends on the seat's construction and the quality of the fill.
Question: Can I move a Wayfair loveseat easily?
Answer: Loveseats you can find at Wayfair are considerably lighter than a three-seat or four-seat sofa, so you won't have too much trouble moving them while you're cleaning your house.
Question: Do all Wayfair loveseats have a warranty?
Answer: No, some models are sold without a warranty.
Question: How much does it cost to reupholster a loveseat?
Answer: You'll have to spend between $500 and $2000 to replace the loveseat's upholstery.
Our Verdict: The Best Wayfair Loveseat
Waiting rooms, home offices, hallways, or living rooms are some of the places where a loveseat is much more practical than a conventional sofa. Characterized by their small size and elegance, these mini-sofas blends easily with most home décor styles.
Wayfair lets you choose from a broad spectrum of loveseat models that fall within different price ranges. We recommend getting the Mistana Boevange-Sur-Attert Loveseat because it offers a perfect balance between functionality and style, which justifies its steep price.
A model like the Orren Ellis Batch Loveseat might be a better option if you're on a limited budget. Which of the best loveseat models on Wayfair are you going to choose? Let us know in the comments, or continue reading our home office furniture guide.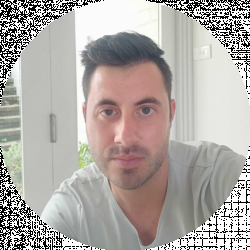 Latest posts by David Borgogni
(see all)