An urban legend has it that a white leather couch is only fit for a brave heart. That it suits a person with the guts for hefty cleaning or reupholstery bills. If these are the fears keeping you from owning one, stop.  
Leather is the toughest furniture upholstery you can find due to its durability and nonporous nature. Its other notable qualities include smooth texture and natural beauty. White leather is pretty easy to clean and maintain. And on top of this, it has a timeless, effortless elegance meaning you can keep it for a while.  
But don't just take our word for it; read this article for factual details on the best white leather couch options for you. We have made a selection based on type, style, and functionality. 
7 Must-Have White Leather Couches in 2021 
1.  3-Piece Modular Sectional Sofa:  Best for Spacious Interiors

The most striking feature of this splendid loft-style white leather couch is its customizable design. Its makers put some thought into functionality, as evidenced by how convertible it is to your needs. Case in point; the 3-piece modular sets are complete to give you an elegant modern L-shape sofa. You can also rearrange the sets to get a chaise lounge, footrest, or coffee table. 
What's more, the two-seater and single-seater sets can recline into beds. The design features a sturdy frame anchored on chrome legs. Its cushioning is firm and smartly wrapped in easy to clean faux leather. You also don't need to keep frequently moving between the fridge and pantry since it has cup holders. Soft and lush removable armrests further enhance comfort. It's also pretty simple to assemble and move around. 
Pros
Affordable and value for money

Multiple functions – chaise lounge, footrest, and coffee table

Durable due to sturdy frame

Easy to assemble

 
Cons
Minimal comfort due to low-quality padding

 
2. Emily Futon Vanilla Faux Leather with Chrome Legs: Best for Small Spaces


This white leather couch delivers the perfect, minimal, modern look. From the sleek, slanted chrome legs to the tufted upholstery, you'll enjoy its classic look and feel. Its versatile functionality kicks in when you adjust the split back to convert to a chaise lounge, bed, or plain sitting.
As if that's not enough to blow your mind, its compact size makes it a convenient fit for any space. In addition to these impressive features, it's easy to assemble as long as you have the right tools. It has a sturdy wood frame to guarantee comfort and durability. To keep it clean, wipe with a damp cloth. 
Pros
Durable with robust wood frame 

Easy to assemble

Multiple functions – bed, chaise, and chair  

Lightweight and portable  

Affordable and value for money
Cons
Not comfortable due to unsuitable foam padding
 3. Left Facing 3PC Sectional Sofa: Best for a Family Unit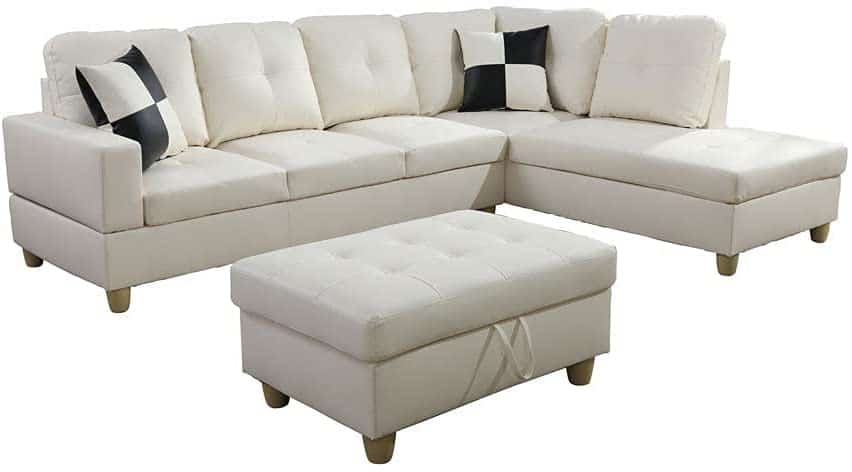 We chose this white leather couch for three reasons; multiple functions, capacity, and comfort. The design style consists of a wood frame with springs, soft foam cushions, and faux leather upholstery. The ottoman bench whips up a versatility that will delight you for its sheer genius. 
It has storage space for books or toys; you can use it as a footrest or align it to the couch to create a chaise lounge. More delights include; hassle-free maintenance, clear instructions for a simple assembling process, and portability.   
Pros
Comfortable with quality thick padding

Easy to assemble with  

Ample instructions Value for money

Multiple functions – storage, footrest, and chaise lounge
Cons
4. Pavilion White Sofa: Best for Commercial Use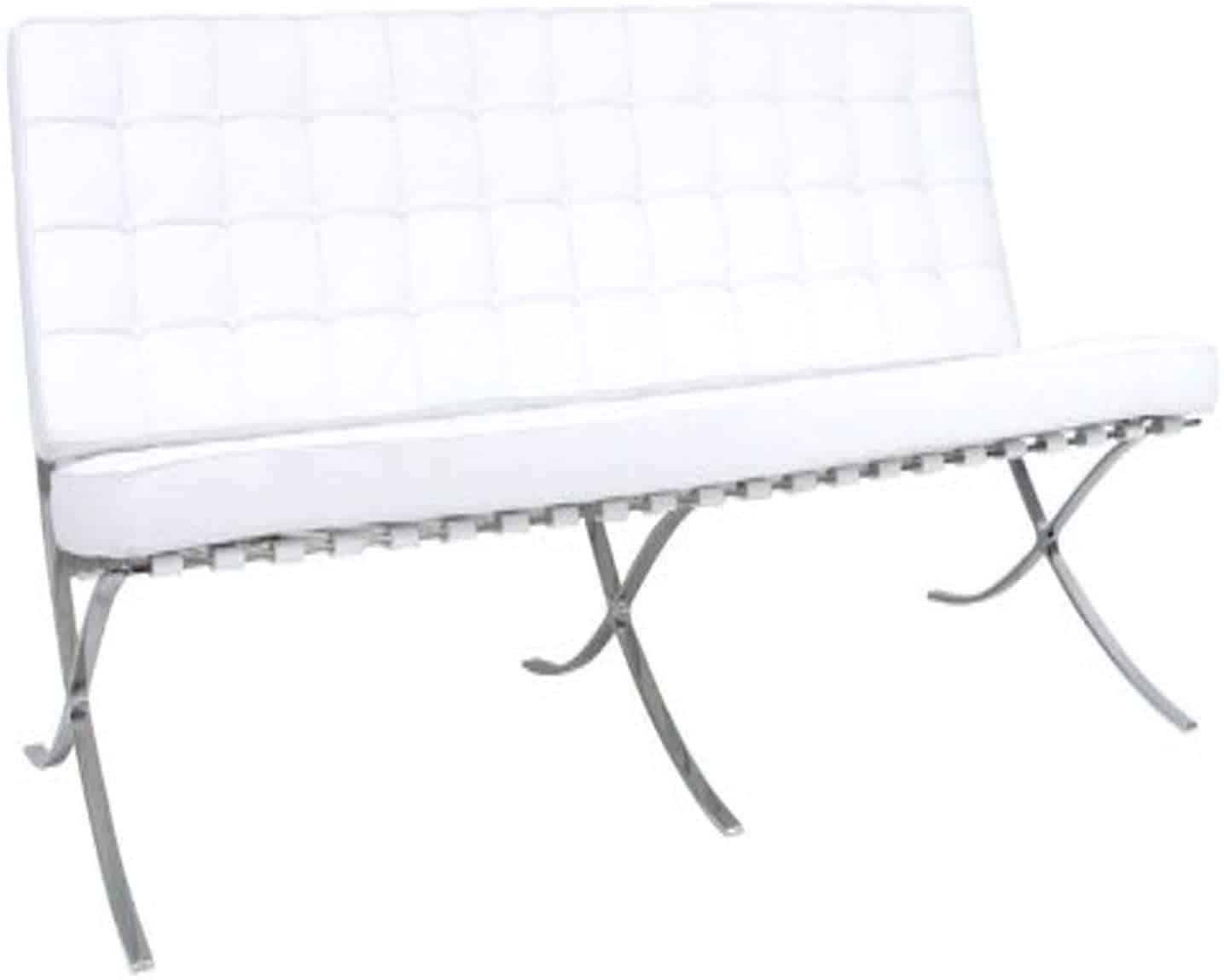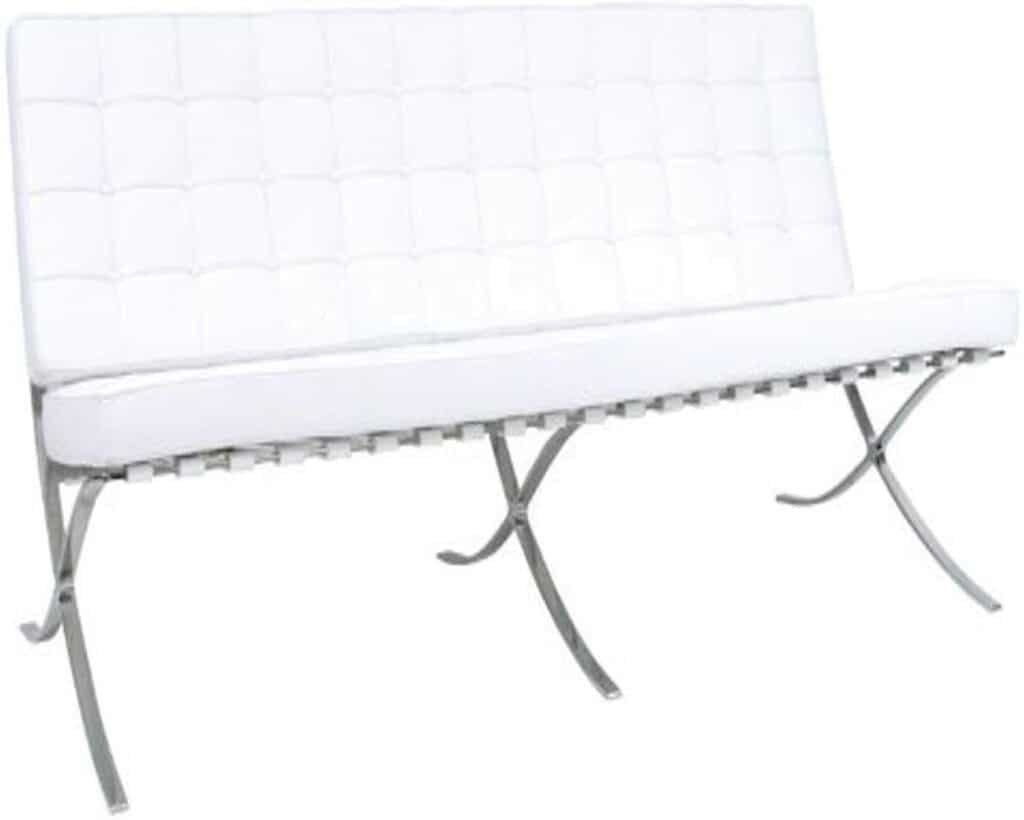 If you're big on trends and aesthetics, this might be the best white leather couch for you. Its design features a magnificent stainless steel frame and saddle leather straps to securely hold the cushions to the frame. Wherever you choose to use it, home or office, its superior quality is indicative of your taste. 
It has Italian leather handmade cushions and upholstery and comes with a 2-year manufacturer's limited warranty. The stitching detail and quality leather guarantee durability. To keep it clean, use a damp microfiber cloth.  
Pros
Premium quality materials and craftsmanship

2-year warranty

Comfortable due to thick padding

Durable 
Cons
5. Sofa Bed with Armrest: Best for a Living Room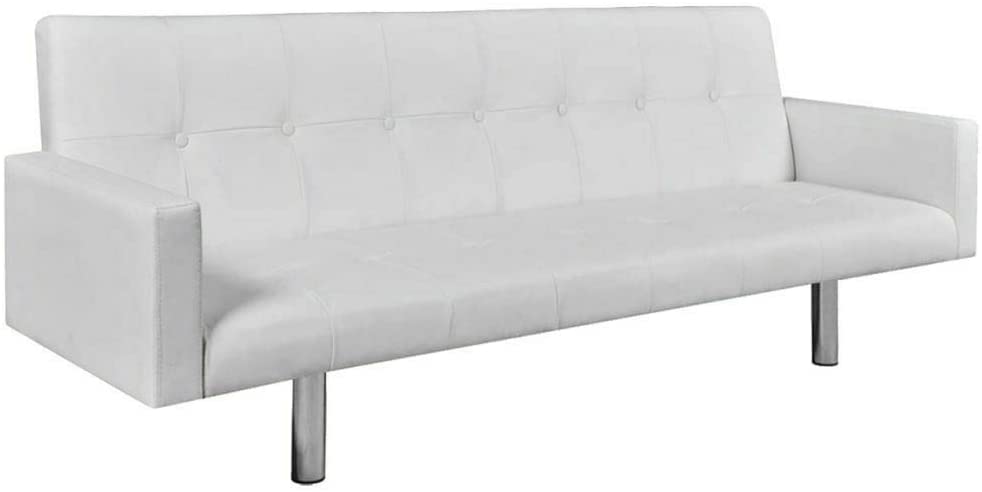 Didn't imagine you would find a premium sofa bed on Amazon?  Check out this little sanctuary of heaven with multiple functions you'll enjoy. This couch gives you convenience by ensuring you can use it as a bed when there's a need for it. You can convert it by reclining it to three comfortable positions; lounge, bed, and chair.  
So, while you sink into an engaging episode of Downton Abbey, you can revel in enhanced comfort from its cushy armrests and back solid support. The design consists of a high-quality wood frame with thick padding and faux leather. Due to the sturdy frame construct, you can be sure it's durable. 
Pros
Premium quality materials 

Durability due to a sturdy frame

 

Multiple functions – lounge, bed, and chair 

Comfortable with removable armrests and thick padded cushions
Cons
6. Mid-Century Modern Sofa Bed: Best for an Office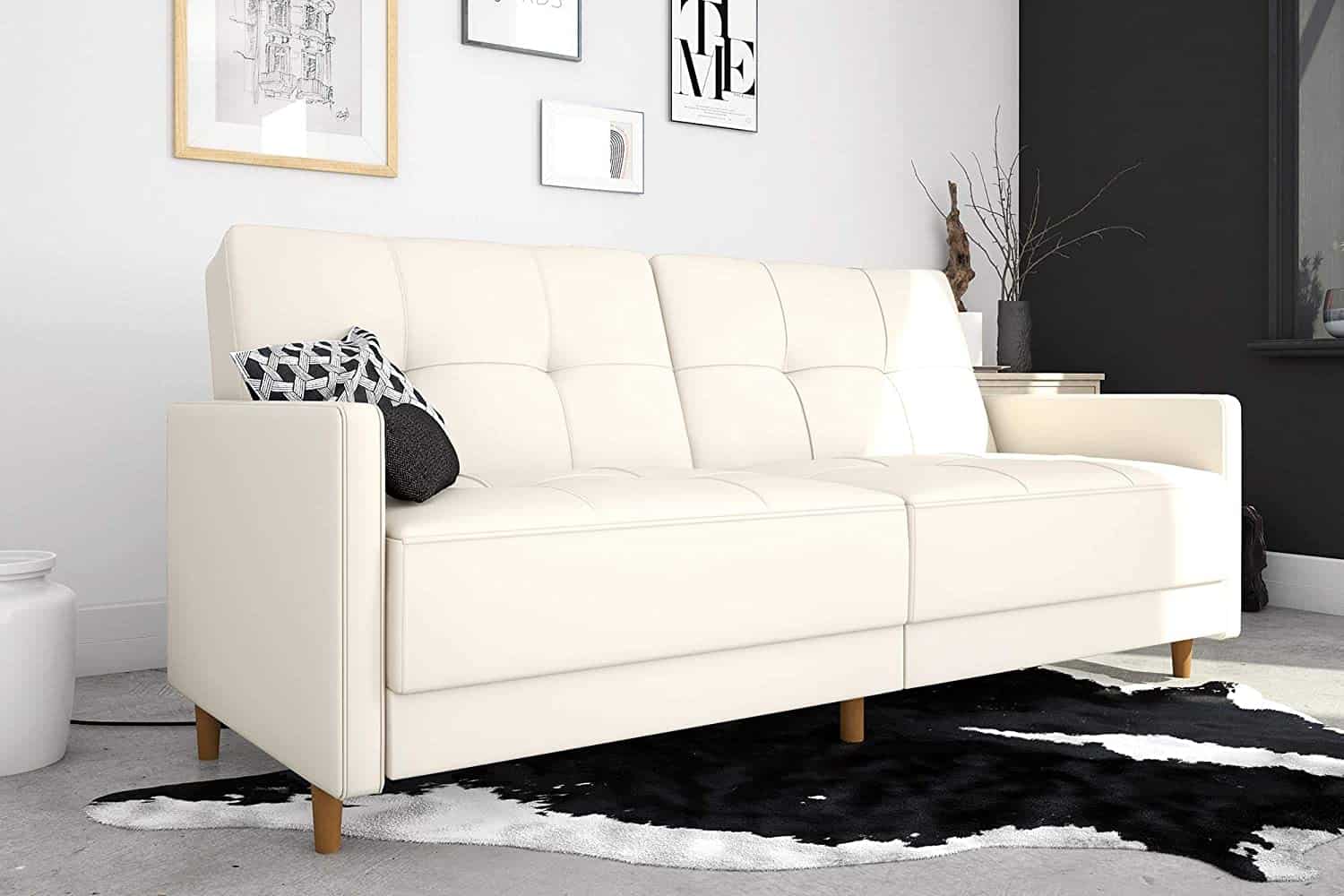 The design on this white leather couch has us saying a big YES. It features tufted leather upholstery, sleek wooden legs, and a split back. You can use it as a lounger, bed, or seat while reading or chatting. The two separate (left and right) recline sections give you flexibility while using it. You can be lounging as someone sleeps flat on the same couch. 
It sounds a lot, but it's pretty comfortable and stable due to independently encased coils and added center legs. You'll find these under the couch in a zip compartment. The reclining mechanism is easy to master as you can learn when to push or pull from the clicks it makes. 
Pros
Comfortable with reclining function, encased coil, and center legs

Sturdy

Easy to assemble with simple instructions

Multiple functions  – lounge, bed, and chair
Cons
Mid-section reduces bed comfort 

Not durable

 
7. Lucille Arched Back Sofa: Best for a Bedroom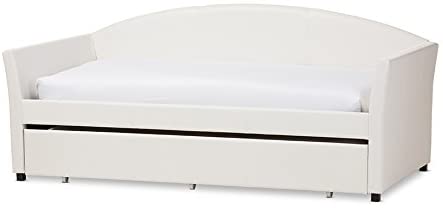 We love this contemporary white leather couch for its unique design style. It features a CARB-compliant solid rubberwood frame with black legs, stitched in white faux leather with foam padding. Gently flared arms arched back, and stitching details highlight the exquisite design.
The set includes two side panels, a  back panel, and a  trundle. Besides giving you a surf zone, these sets come with the added advantage of a twin bed and roll-out trundle bed for guests. With the right tools, it's easy to assemble and move around.
Pros
Unique design

Comfortable with armrests and arched back

Easy to assemble

 

Multiple functions – twin beds and rollout trundle
Cons
Styling Tips for White Leather Couch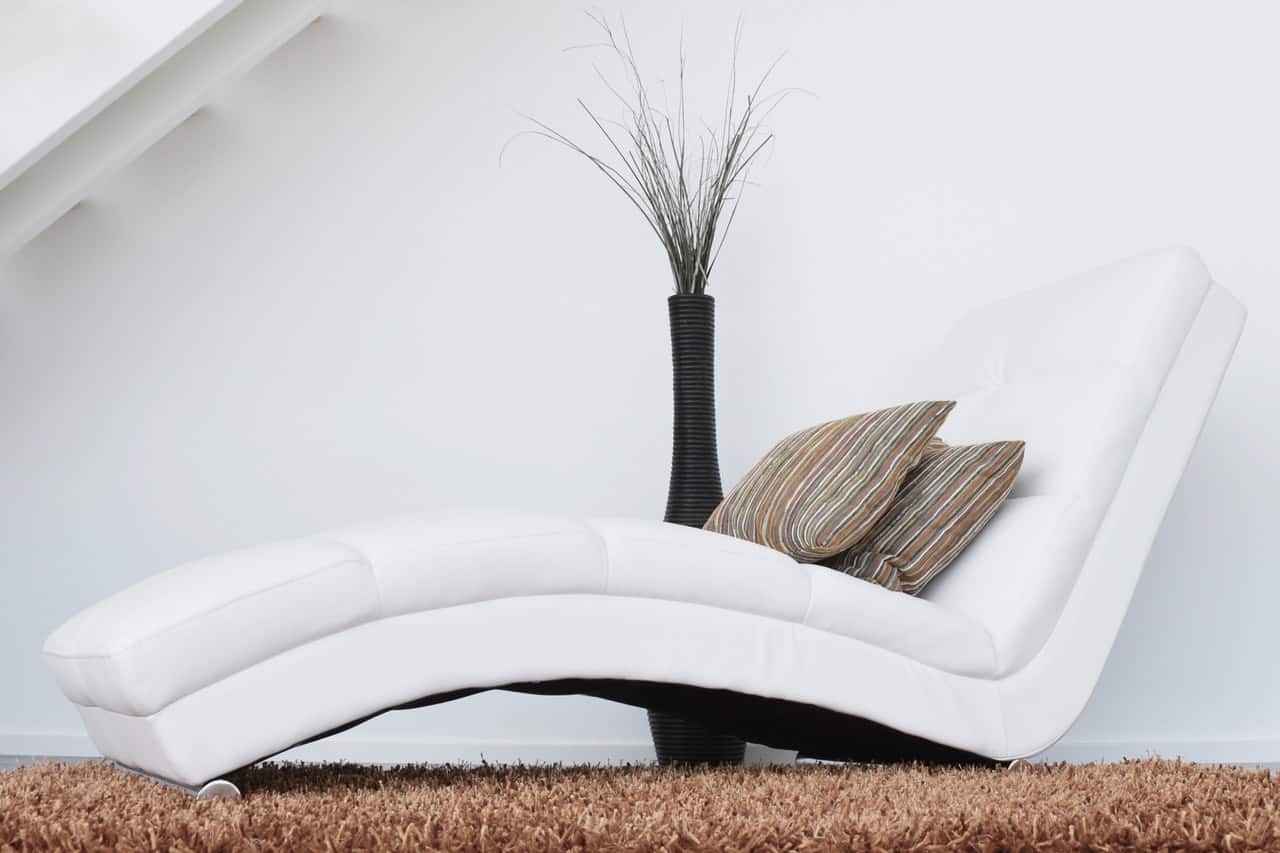 A white leather couch is a fantastic statement piece for any interior. To give it more aesthetic appeal, here are three essential style tips.
Monochromes
It's not a faux pas to go for a white-on-white play at styling your white leather couch. Even if your walls are white or ivory, this is still appropriate. You can do white-only cushions, a blanket throw, and an area rug, or break the whiteness with a bit of cream or ivory.
Your coffee or end tables could also be completely white or with gold, silver, or tan trimmings. It's quite a daring style that could entail painstaking dedication, and some epic fails. But if you manage to pull it off, you'll create a space worthy of a magazine cover.
Checked Colors and Patterns
Checked designs may seem basic, but you'd be surprised at the tons of fantastic options available.  A black and white checked pattern, in particular, is a sophisticated, contemporary look. One option to pull it off is to use black and white cushions, a checked throw, or an area rug. Another option is to play around with black-only decor accessories in and around the white leather couch to achieve a balanced, catchy look.
Bold Colors
For color enthusiasts, here's your chance to make a splash without limitations. Use color, patterns, bling, and any decor piece that's bound to heighten the effect. Aside from what's on the couch, think of what you can do with lighting, curtains, area rugs, and walls. Examples of bold colors to consider are; 
Tangerine (Orange)

Teal

Lime green

Canary yellow

Fire engine red 
FAQs
Question: How to Tell the Quality of a Leather Sofa
Answer: Finding the best white leather couch isn't a one size fits all affair. Owning your dream sofa depends on your style preference, intended use, and budget. So the first step is to align your priorities, then start your search.
• Check upholstery quality: Leather comes in various grades, with full or top-grain being the best. Bonded leather is a mix of full-grain and synthetic, while faux leather is all synthetic. Full-grain leather is exorbitantly pricey, hence the reason most white leather couches feature faux leather.
• Frame sturdiness: The making of the most durable frames relies on thick, laminated hardwoods. So search for a couch with an interlocking frame, which has fewer joints and even fewer (but larger) pieces of wood; this minimizes the stress points on your couch. 
• Durability: The proof of longevity in a new couch is a sturdy frame, quality upholstery material, and cushion fillings. Still, your usage and maintenance will also have a bearing on how long you can continue to surf the world from your home. 
Question: Which Leather is Best for a Sofa?
Answer: The best leather should be durable while retaining a natural appearance and be resistant to spillage and dirt. Full or top grain is the highest quality of genuine leather and most ideal for furniture but quite expensive.  However, semi-aniline has the qualities of the best leather for a sofa and is affordable. In essence, it's premium leather with micro-pigments coloring and a protective topcoat for increased durability.
Question: How Long Does a Leather Couch Last?
Answer: A low-end leather couch can last about 2 – 5 years, while a quality one over 20 years. Regardless of the leather quality, usage and maintenance determine how long you'll enjoy your white leather couch. So to ensure your couch lasts longer, use a protective cover, prohibit pets from sitting on it and use proper cleaning agents to maintain it.
Question: What Looks Good with a White Leather Couch?
Answer: A splash of color, any color, is bound to enhance the stylish appeal of your white couch. However, bold colors and patterns always have the best effect. Matte black, lime green, canary yellow, and fire-engine red, when accessorized elegantly, can transform your space dramatically.
Question: How Do I Make My Leather Couch Cozy?
Answer: Warm colors like red, orange, and yellow will transform your white leather couch into a cozy haven. To bring out the effect, use them on throws and cushions. If your couch is against a wall, search for paintings or wall hangings with these colors. If it's standalone, add an area rug, overhead lampshade, or end tables. 
Question: What Is the Best Grade of Leather for Sofas?
Answer: The best grade of leather for sofas is full-grain. This type of hide will last an incredibly long time and age beautifully. Full-grain hides are durable, strong, and can be passed down through generations without wearing out – it's the reason antique furniture made with real leather is of high value today!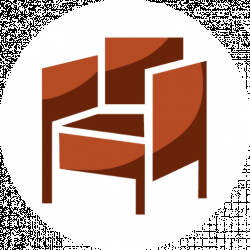 Latest posts by Finally Furnished Team
(see all)