Looking for some white TV stand ideas? Look no further! White TV stands are a great way to add some style to your living room or bedroom. There is no need for a black stand to blend in with the rest of your furniture – go white and be bold! 
But where do you start? What type of material should I look for? How big should my stand be? These are all questions we've asked ourselves before buying our own, so we decided to put together an article on the best white TV stands depending on design, material, and style.
Top 4 White TV Stand Ideas According to Style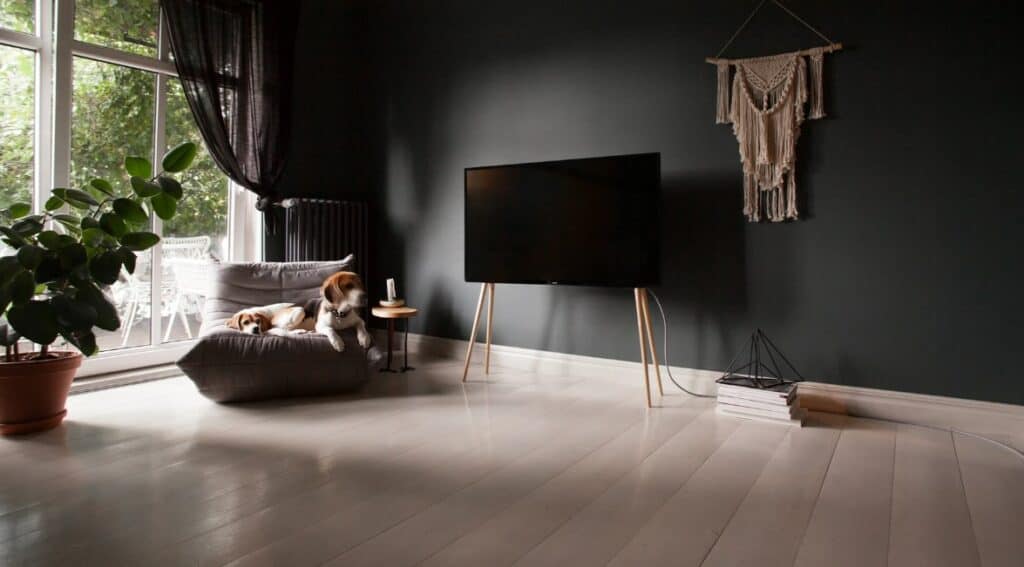 Minimalist
A minimalist TV stand is often made from any material but typically has a very simple design that makes it blend in well with the rest of your interior decor. However, this simplicity might make them less functional than more traditional styles which may have larger amounts of storage space for items like media players and games consoles.
Traditional
The traditional style of TV stands is as timeless and classic today as it was years ago. The beautiful dark woods, such oak or mahogany with intricate carvings will never go out of fashion in any home decorating scheme because they always have a natural appeal that can be seen in anywhere from rustic to formal settings.
One reason why this type has remained popular for decades? Dresser-like cabinetry offers storage space without making the room feel cluttered while solid wood ensures durability so your investment lasts through generations.
Rustic
Rustic wooden furniture often has joints or hardware that can be seen from the outside. This rustic aesthetic is defined by its practicality over aesthetics. It might also appear to have a timeworn look with reclaimed wood and aged metals incorporated into pieces designed for mountain cabins.
Rustic TV stands will be made out of natural materials like wood which may not always show off their best qualities when unfinished. Often these types of tables are finished in an old-fashioned way where people see things like joints or metal fixtures on them. This is because they're meant to give off a more outdoorsy feel than refined appearances.
Modern
Modern furniture has quickly become a leading trend in interior design. It holds an eye-catching look for any space looking to stand out from other trends or express its own unique taste through carefully curated pieces. 
With bold minimalist designs, this avant-garde look emphasizes both form and functionality equally while celebrating some less mainstream materials like metal or glass over traditional materials like wood.
Top 9 White TV Stand Ideas by Design
Open-Shelving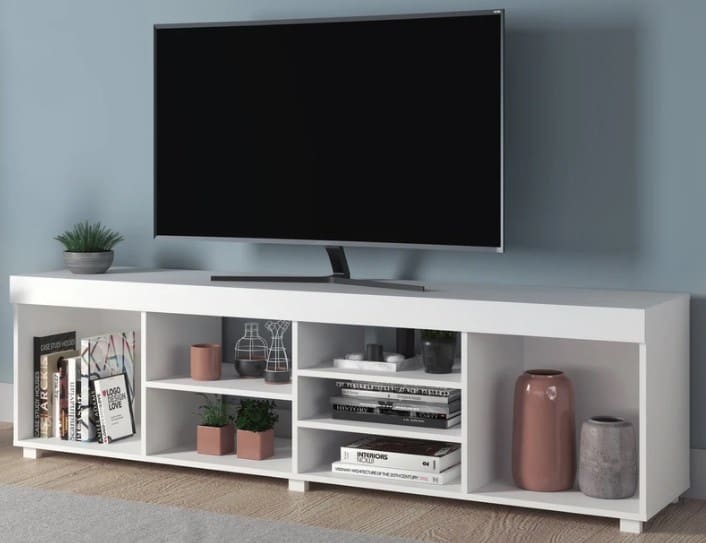 An open shelf-style TV stand is ideally the most popular design. The piece of furniture takes the shape of an average bookshelf with shelves underneath to hold electronics and other things. They can be better in small rooms because they create more space by extending your eye line all around them, making it look like you have much more room than what you really do.
Closed-Shelving
Your living space can be improved by adding closed shelves for your TV. These shelving units usually take the shape of a console table and have room underneath to store items such as DVDs, games, or bookshelves. The doors on these cabinets keep any clutter hidden from view which gives you more storage while also keeping it clean without dust getting in.
Corner
Corner TV stands are ideal for those who want to maximize the space in their home. It may not be a good idea if you move often or plan on frequently rearranging your furniture because this stand will always have to go into one corner of any room it is placed in. 
Cabinet
Cabinet T.V stands are perfect for rooms where you don't want the T.V to be the main focus point. There are two types; depending on where the doors will be fitted. One type will have storage on the lower half, which is enclosed by cabinet doors, and an open unit on top for your television set.
The other type will have cabinets or drawers along one side of it. They are perfect if you live in a small space and want some extra room at home for all those bits and pieces we never seem to use.
Console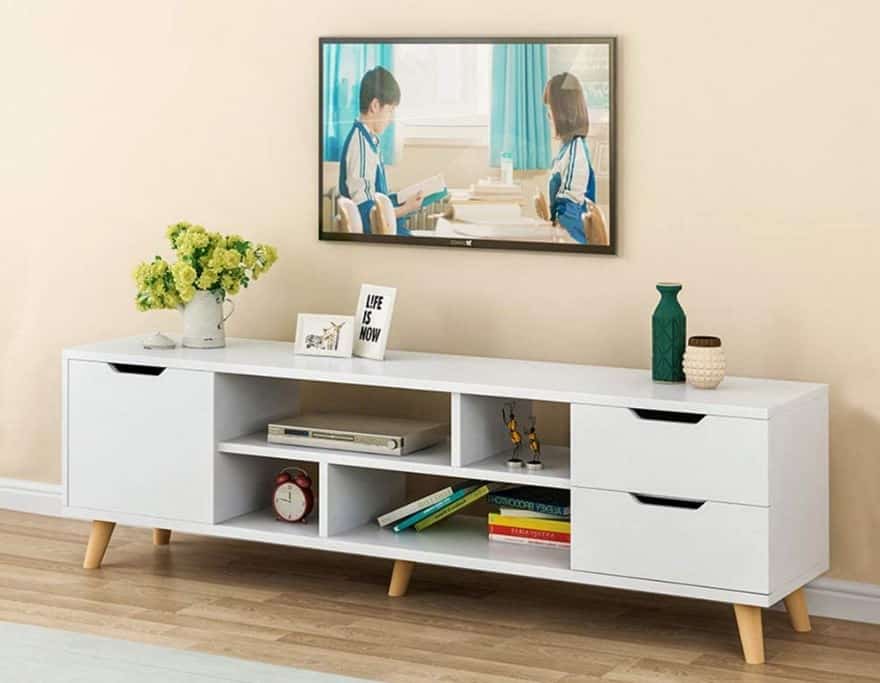 The console design is a simple, elegant TV stand that allows you to proffer the best in both shelving and display space. It's footprint is small but it still has plenty of room for all your entertainment needs with open shelves or closed storage cabinets depending on what works better for you.
Swivel
A swivel TV stand is a must-have for anyone looking for convenience or one who spends a lot of time watching T.V.  With its rotating base, the main portion of the stand can be tilted to any angle you want and adjusted according to your location in the room where it's set up. This ensures that no matter what kind of viewing experience you're looking for there will always be a way to get exactly what we need.
Hutch
A hutch TV stand is a great piece of furniture. This type of tv stand usually has shelves, cabinets, or drawers on the bottom half. The central space is reserved for your television which can be surrounded by additional shelves at the side with overhead storage too.
The large wall requirements make this work well if you live in an apartment without any focal points like a fireplace to center around.
Floating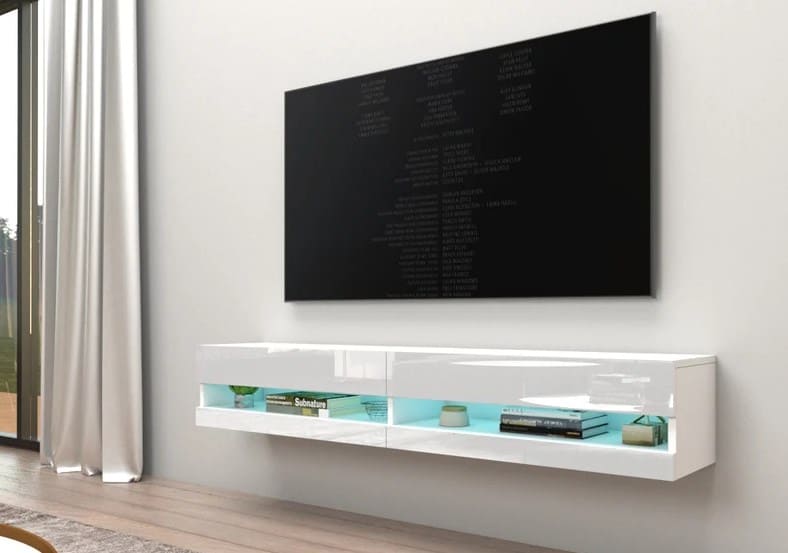 A floating design is a perfect solution for those who are looking to free up some floor space while still wanting their furniture to be sleek, stylish, and unobtrusive.
With no legs, this type of entertainment center can fit in any style room without taking away from its overall look or feel. The shelves inside allow display options so it doesn't have to just solely hold TVs as most units do. They also offer cord concealment if needed.
Entertainment Center
Home entertainment centers allow you to make a focal point in your living room. These large pieces of furniture can be used as a TV stand or they can house all the audio equipment for an entire home, including speakers and receivers. Some models are even made with sliding doors so that shelves may fit flat-screen TVs through them.
Home entertainment centers come in many styles and designs, but their main purpose is to act either solely as floor standing cabinets holding televisions up to wall height. They are too big to fit through the doorway, so they'll need to be assembled in the living room.
Top 5 White TV Stand Ideas by Material
Glass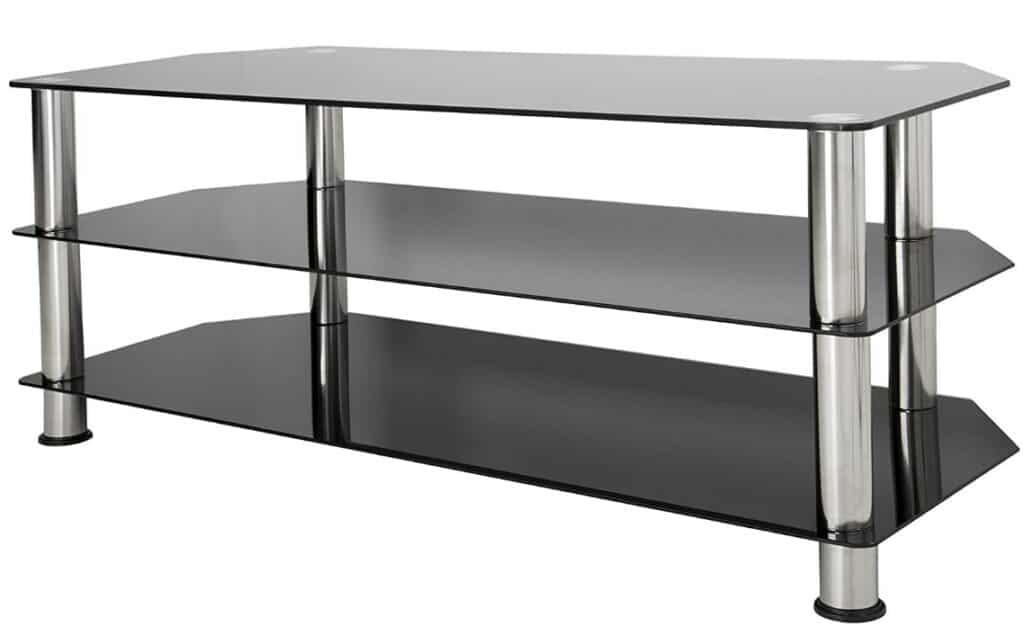 Glass TV stands are a popular choice for those who want to create an entertainment space with clean lines and transparency. Glass is perfect in contemporary or small spaces as it doesn't block sightlines but instead helps the room feel bigger by revealing electronics discreetly, all while giving off that cool futurist vibe.
The glass T.V stands are not entirely made from glass but will instead have glass shelves on metal or wooden frames, which you can paint white.
Metal
Metal TV stands are known for being strong, durable, with a more severe look than wood. They work particularly well in industrial-style interiors but can be painted to match the decor if needed. These models often have metal construction or glass shelving depending on your preference. 
Either way, they're sturdy and lightweight while also having novel configurations that add flavor to living spaces of all types.
Wooden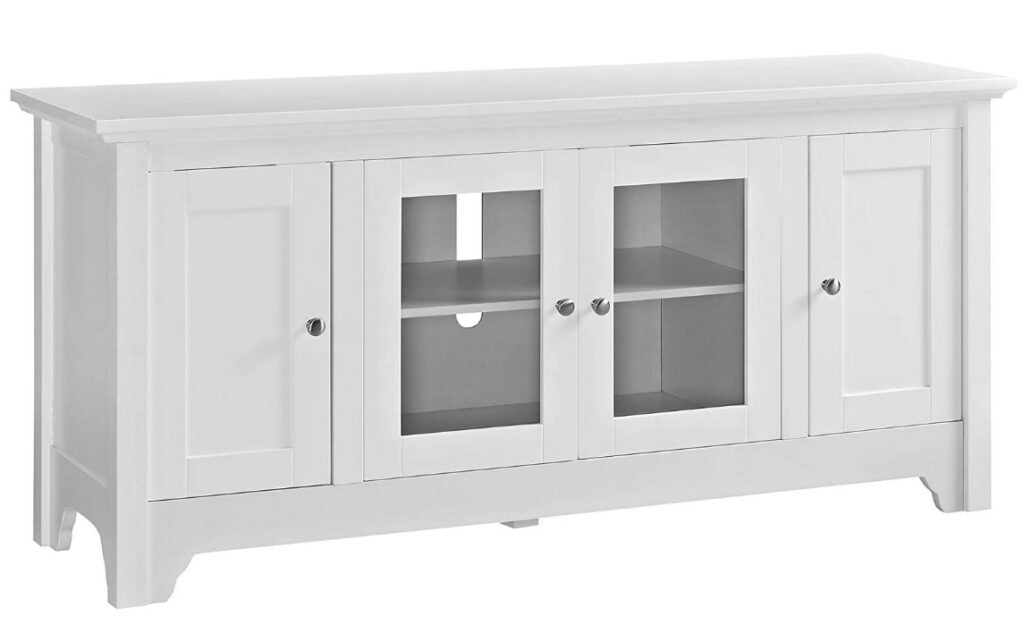 Wood has always been considered the most traditional material for furniture, and there are certainly plenty of reasons to choose it. Wood is a versatile building material with so many different color variations that you can tailor your TV stand specifically to suit your needs. You might want something white-washed or natural – either way, wood should be able to handle any challenge!
The durability of this furniture ensures it won't break too easily, which makes it perfect to store some fragile items on top without worries.
Mirrored
Mirrored TV stands are a great choice for people with small rooms, as they create the illusion of space by reflecting light. Though made from glass and susceptible to breaking or shattering under pressure, these mirrors would make any room look chic.
Leather
TV stands with tufted leather upholstery are a stylish way to add glamor and style to your living room. Whether you prefer faux or genuine leather, you're sure to find the perfect stand for your space that will fit in with your current decor style and personality type.
How to Choose a TV Stand
Comfortable Viewing Height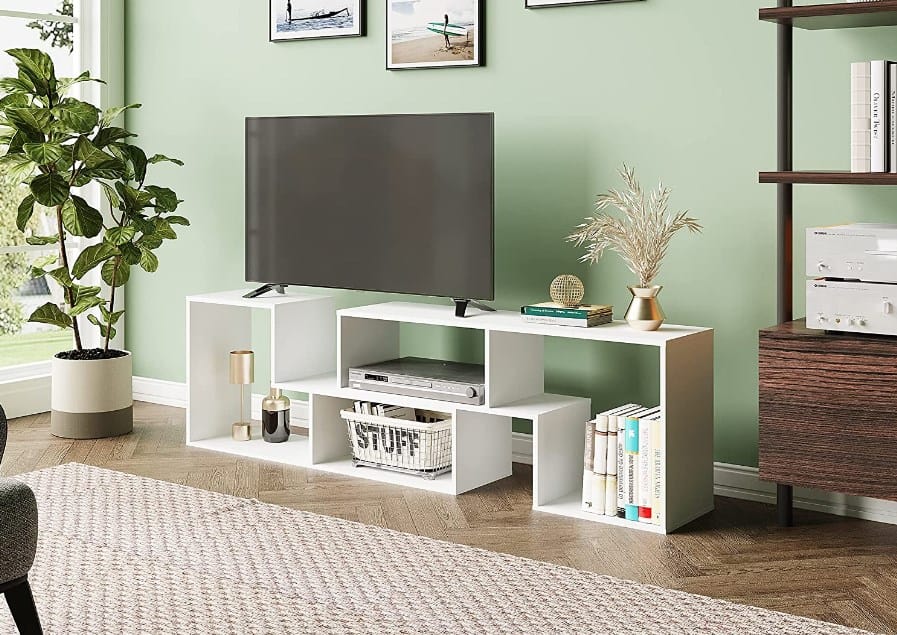 When choosing a television stand, there are many factors to consider but one thing not often considered adequately is viewing height or angle.
Standing directly in front of the potential location, pay attention to which heights work best by standing up straighter than usual while keeping an eye out as far back as possible without losing focus. The ideal height should allow all viewers seated comfortably at their preferred distance to see without having to bend or slant.
TV Size and Width
The last thing you want to do is buy a stand that doesn't fit your TV. Consider the size of your TV before buying a stand for it. The height and width should fit snugly around the television to avoid any wobbling or drooping when you swivel it from side to side, as well as minimize glare at certain angles.
The Room Layout
Do you want your stand to be visible or concealed? Where and how will it fit in the room, taking into account all obstacles like furniture placement and doorways.
These are just a few questions that come up when considering what kind of TV Stand is best for your home. One important consideration is size; this should help determine whether you need a corner model or one with swivel abilities.
The Right Material and Style


Have you ever thought about the room layout, theme, and color of walls when buying a TV stand? If not then it is high time that you do.
A TV stand can make or break the look of your living room, so it's important to take a few considerations into accounts such as wall color, furniture, and theme. For example, if you have dark-colored sofas then adding some light colors on top can make for an interesting space with lots of contrast. 
Mobility
There are many different types of T.V stands that can meet the needs of your home and lifestyle, but choosing one might require a closer look at how you will use it. If mobility is important to you then choose a stand with wheels or casters so that moving it from one corner of the room to another will be easier.
Cost
Just like picking out a new car, there are many different factors that can affect the decision of what type appeals most to you and fits within your budget. You might find yourself sacrificing quality or features if the price is all-important, but this doesn't mean they're less satisfying down the line when something goes wrong with them or they don't fit into their space as well as expected
A good rule of thumb when buying a new TV stand is never to compromise quality over price. It might not seem fair but cheaper stands tend to come with fewer features than higher-priced ones.
FAQs
Question: Are TV Stands Outdated?
Answer: TV stands are not only a great way to display your television,  but also stylish enough for any décor. For some people, it provides the perfect place for their speakers and other electronics as well. However, with more modern televisions becoming less common in today's homes, we may be seeing this item go out of date soon enough.
Question: Is TV Better on the Wall or Stand?
Answer: TVs are better when they're mounted on the wall because you won't need to worry about them falling off a table or stand anymore. Mounting TVs will also make your viewing experience seem more immersive with less glare from light sources in the room like lamps, windows, and ceiling lights. Mounting also saves on space where there isn't much space for additional furniture pieces.
Question: What Kind of TV Stand Should I Get?
Answer: The type of stand you get depends on your decor. If you're looking for a modern or minimalist style then get a minimalist type of stand. For something more traditional look no further than the rustic or wooden stand.
Conclusion
The last thing you want is a TV stand that doesn't match the rest of your furniture. You don't have to worry about that anymore, because we've put together an article on some great white stands to fit any need or design style. Whether it's for your living room or bedroom, there are so many options out there in different shapes and sizes – all with beautiful designs. 
It won't be hard finding one that will make your house feel warm and inviting. Remember to consider the room layout, theme, color, size, and a comfortable viewing height when choosing a T.V stand. You can also put other factors into play such as cost and mobility.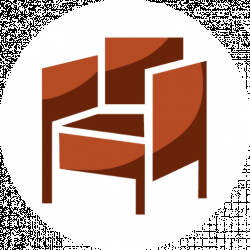 Latest posts by Finally Furnished Team
(see all)