Creating a unique and comfy living is a crucial phase in feathering your nest. Usually, the living area is where you will be spending most of your time when at home. As such, it is crucial you create a relaxing yet inviting and polished atmosphere. 
Whereas naturally, you consider the aesthetics of your living space, comfort is another aspect that should guide your decisions of what elements you are bringing in. You may have a beautiful living room, with décor ticking all the boxes, but nobody would want to spend time there if the furniture does not sit well. 
Almost always, your living space's foundation will be influenced by your seating choice. Choosing the best sofa design has become a challenging task, complicated more by the demand for additional seating, budget, space confinements, and ideas of future entertaining. However, throwing in a bit of mid-century modern sectional sofas can solve most of these challenges. 
Keep reading to learn about some best mid century modern sectional ideas
Sectional vs Standard Sofa Design
If you are new to the world of sofas, here is a brief overview of the differences between sectionals and standard sofas:
Sofas differ from sectionals in that whereas they are single pieces of furniture, sectionals consist of multiple blocks that you fit and configure in various ways. Generally, sofas offer a polished and formal look. Sectionals, on the other hand, are inviting and help achieve a more relaxed atmosphere. 
While sofas can accommodate about three to four people, sectionals can seat many people. Some are so massive they can host over ten people. 
Besides offering you a significant seating space, one of the benefits of sectionals is that you can arrange them to fit in any room size. So, whether you have an extensive living room or you're limited in space, sectionals would be a perfect choice. 
7 Best Mid Century Modern Sectional Ideas
If you aren't sure what mid-century modern sectional design or style to settle for, you aren't alone. Such sofas are diverse and feature-filled, making it challenging to forego one design for another. We get it, and that's why we compiled this list of the best mid-century modern sectionals to help you choose a sofa that is perfect for your house. Our review features the best mid-century modern sectional couches according to features, design, and use.
1. Rivet Aiden Mid-Century Modern Reversible Sectional – Best for Any Room Size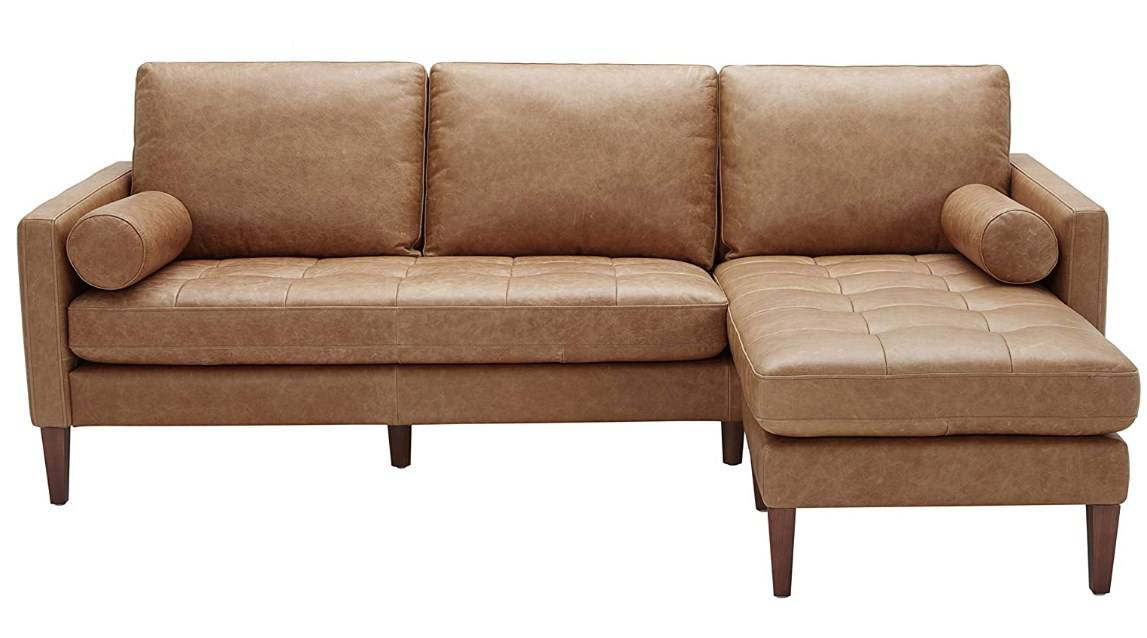 Lounge the day away with the Rivet Aiden Mid Century Modern Sectional. Featuring a seating capacity of 3 adults, this spectacular sectional will solve your challenge of maximizing seating space and style for your small living room. The included button-tufted design boosts the aesthetics of this mid-century sectional, giving it a classy look. 
When you consider the option of right and left-facing arm, along the sofa's diverse upholstering, its leg variations, the Rivet Aiden Mid Century Modern Sectional offers you different options to choose from. 
Are you worried that you cannot find a sectional that fits in your rather huge living space? Rivet Aiden Mid Century Modern Sectional will come in handy. Its design allows you to place it at the center of your living space and still stand out as it breaks up the area a bit, giving a definite décor and focus to your room.
With additional vital elements such as occasional chairs, a console table, or even a coffee table, you will create a unique and relaxing atmosphere with this mid-century modern sectional.
Pros
Button-tufted for additional comfort

Ideal for any room size

Cozy fabric

Durable steel legs

Versatile 

Easy to assemble
Cons 
2. AC Pacific Gary Mid Century Modern Pullout Sectional  – Best for Sleepovers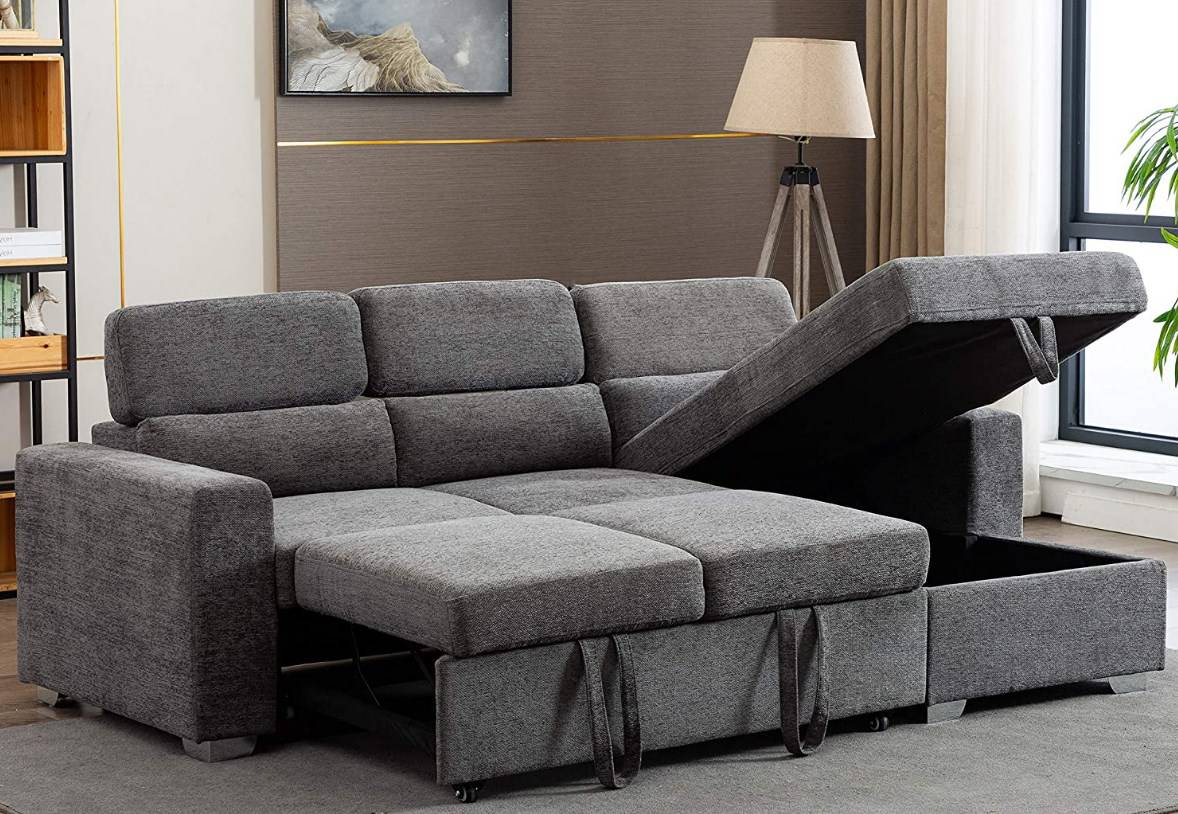 Give your living room a sleek and modern look with the Ac Pacific Gary Mid Century Modern Sectional. This opulent sofa features a ton of upscale fabric variations, making it an outright stunner. One of the reasons this sectional stands out is that you can customize it to your liking – as a pullout sleeper or a selection chaise.
With a modern and sleek yet cozy design, the Ac Pacific Gary Mid Century Modern Sectional will create a statement in any size of living space. It comes with an architectural shape, three soft back cushions, and slim seat cushions to achieve a cozy and lustrous look.
This sofa is reversible, allowing you to switch the chaise from left to right depending on your room's arrangement. The chenille style polyester upholstering is tempting – you won't avoid touching it every time you get into the room. It's just so cozy!
In addition, you won't have to worry about extra storage space in your living room as this sofa includes a storage compartment ideal for pillows and blankets. Ideally, this sectional will transform your place into a relaxation spot!
Pros
Reversible 

Modern and cozy design

Ideal for any room size

Cozy upholstery 

Available in different colors 

Top-quality upholstery 

Durable wooden frame

Built-in storage
Cons 
3. Rivet Goodwin Modern Sectional – Best for Durability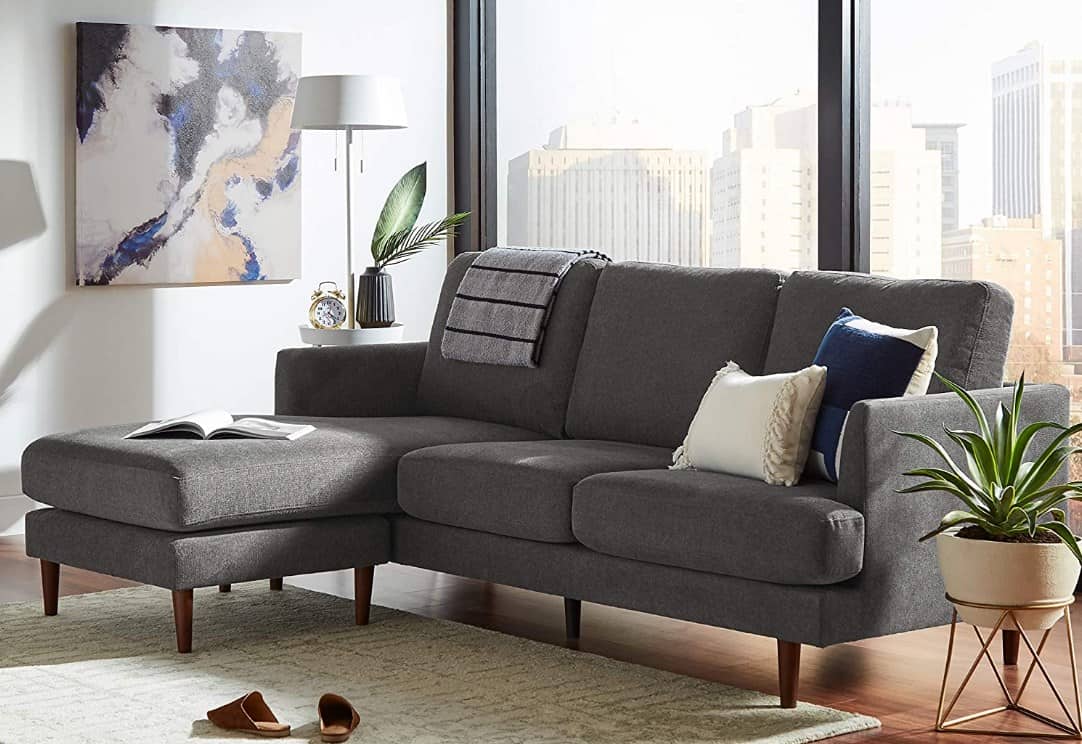 Create a perfect stand-out conversation atmosphere with the Rivet Goodwin mid-century modern sectional. Rivet Goodwin carries the day as a unique combination of modern and class to create a distinctive mid-century silhouette. 
With this masterpiece, you won't have to worry about comfort and durability anymore. The Rivet Goodwin sofa features a solid base and sleek armrests ideal for any contemporary space. Besides, it comes with removable and reversible back cushions and cozy seat cushions for maximum support and comfort. 
The back pillows integrate soft lines to give the tight seat a balance. Additionally, the included cushions are ultra-soft, creating an embracing effect that underscores this sectional's position of luxury. Boost your living space's décor with the Rivet Goodwin sectional that comes with rich textured fabrics, a solid wood frame, and slim solid legs for lifting the sofa off the floor.
Pros
Beautiful charcoal-colored upholstery

Durable wood frame

Comfortable with removable and reversible back pillows

Easy to assemble
Cons
Non-reversible seat cushions
4. Stone & Beam Blaine Modern Sectional Sofa – Best Extra Comfort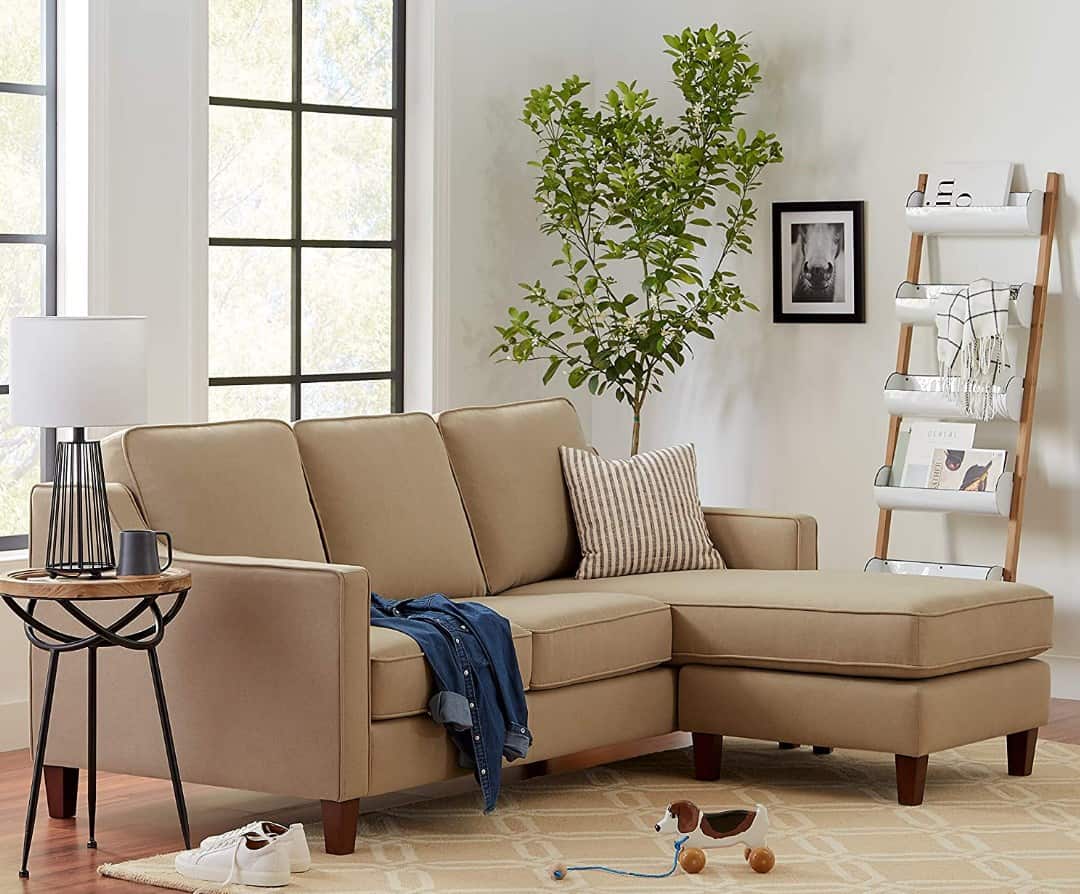 If you are the type that fancies a mix of modern, contemporary, or traditional, then the Stone & Beam Blaine Modern Sectional will be ideal for your house. Plus, the comfort that comes with this transitional style is second to none. You will fall in love with this sectional's traditional-style wooden legs that perfectly complement this rectangular mid-modern silhouette.
Another significant factor that you will love with this mid-century beige sectional is the polyester fabric. The upholstery, along with the wooden frame, gives this sofa a cozy and sturdy configuration. Besides, the reversible and removable cushions boost the seat's aesthetics, comfort, and durability. 
Suppose you like adding a touch of finesse to your furniture. In that case, the customizable back cushions will allow you to do this. 
Pros
Comfortable and durable

Reversible and removable back cushions

Cozy polyester upholstery

Durable wooden frame
Cons
5. Christopher Knight Home Marsh Mid Century Modern Sectional – Best for More Seating Space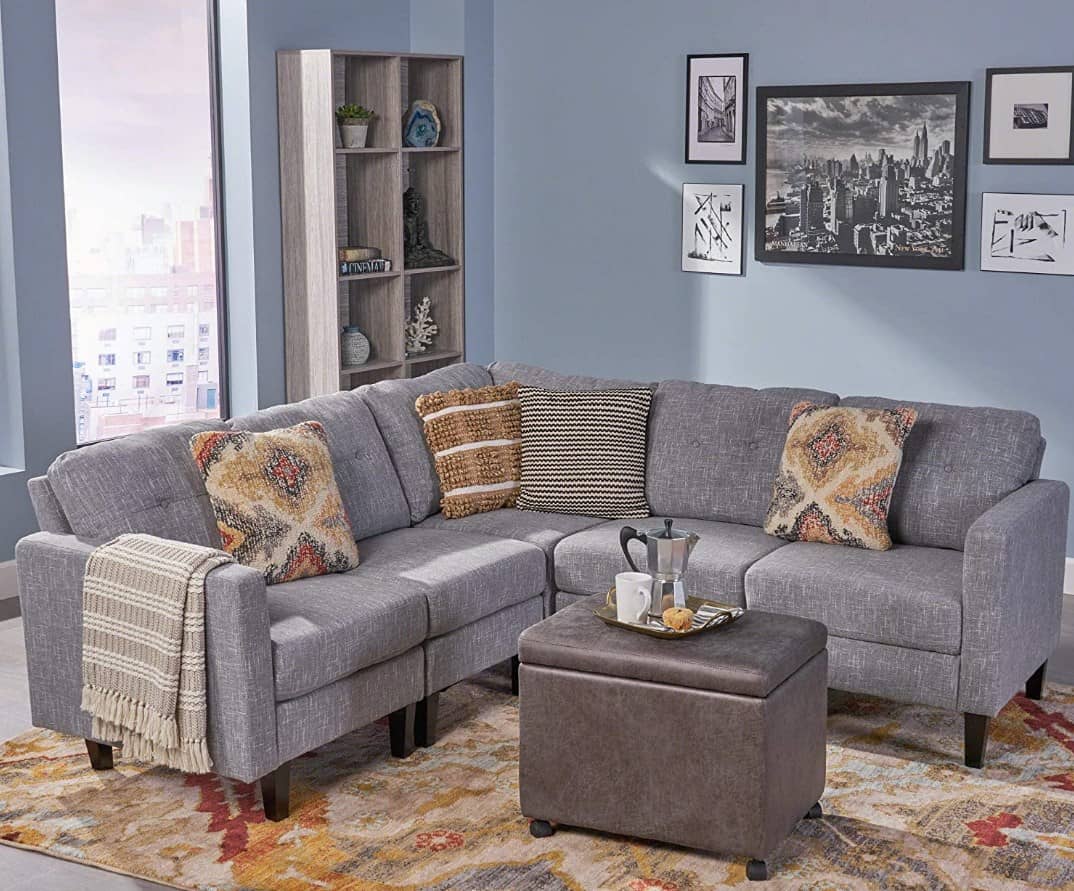 Add some luxe aspects to your house with the Christopher Knight Home Marsh Mid Century Modern Sectional. Most likely, you haven't seen anything more like it before – classic but modern. This sectional crowns the mid-century modern design of sofas, featuring glamorous metal legs and upholstered in exquisite fabrics. Imagine how it would boost the aesthetics of your living room. 
Whether as the centerpiece in your minimalist living room or an opulent den, the dark brown or gray tweed color that complements the rectangular armrests are just dreamy! That's not all – if you love choices, then you have the option of customizing your sofa the way you like it; this sectional is adaptable to various space settings and decor.  
With its unique color variations, you can be sure to get a print that matches your house décor well. What's more, you can choose to rearrange the blocks as you deem suitable to accommodate your space needs. If you have been in the market for furniture for a long time, you can attest to how hard it is to find a piece that makes a statement and isn't tacky. But, with this mid-century modern sectional, you will have added a bit of gorgeous jewelry to your home!
Pros
Available in two colors

Durable wooden legs

Five seating capacity

Ease of reconfiguration

Multiple configurations
Cons
Wooden legs are not durable
6. Liberty Reversible Sleeper Mid Century Modern Sectional – Best for Aesthetics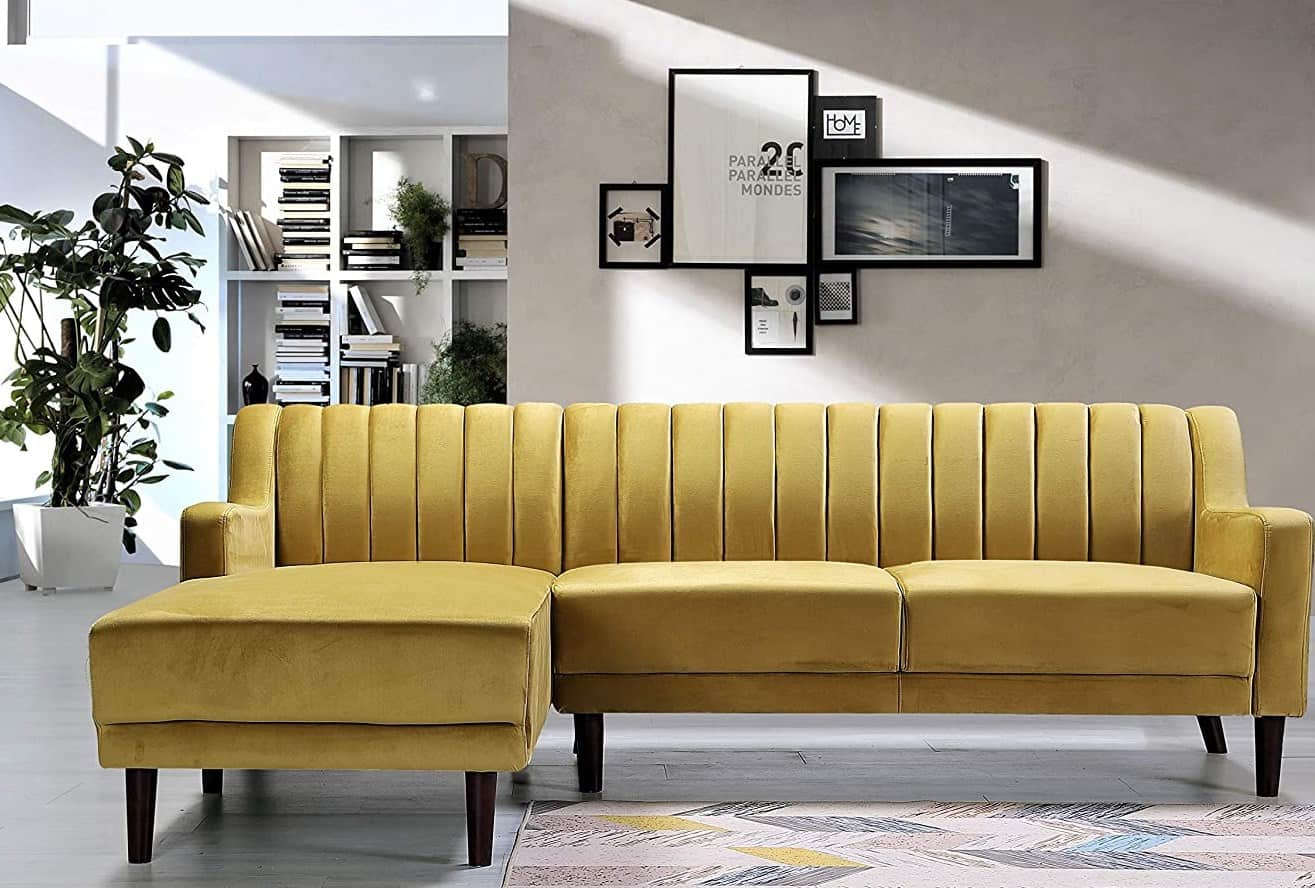 Make a statement with this Liberty Reversible Sectional Sofa. Featuring a mid-century style, this sectional combines classic and trendy design to boost your living room's décor. If you are looking for a subdued, low-profile, neutral-colored sofa with a durable wooden frame, this mid-century sectional will be a perfect bargain.   
Unlike anything you have had before, this modern sectional won't get lost in the background; it will make a unique centerpiece and still allow other décor elements in your living space to shine! You will fall in love with the beautiful brushed legs that give the couch's curves a significant balance; they add a modern edge to this sectional. 
Available in yellow color and sumptuous velvet polyester upholstery, the Liberty Reversible Sleeper Mid-Century Sectional will allow you to create a distinctive and comfy haven in your home. 
Pros
Beautiful polyester upholstery 

Classic and comfy

Durable, strong legs

Button-tufted 

Ease of reconfiguration
Cons
Button-tuftings may fall off after a while

Legs may chip off
7. Christopher Knight Home Harriet Mid Century Modern Sectional – Best for A Contemporary Design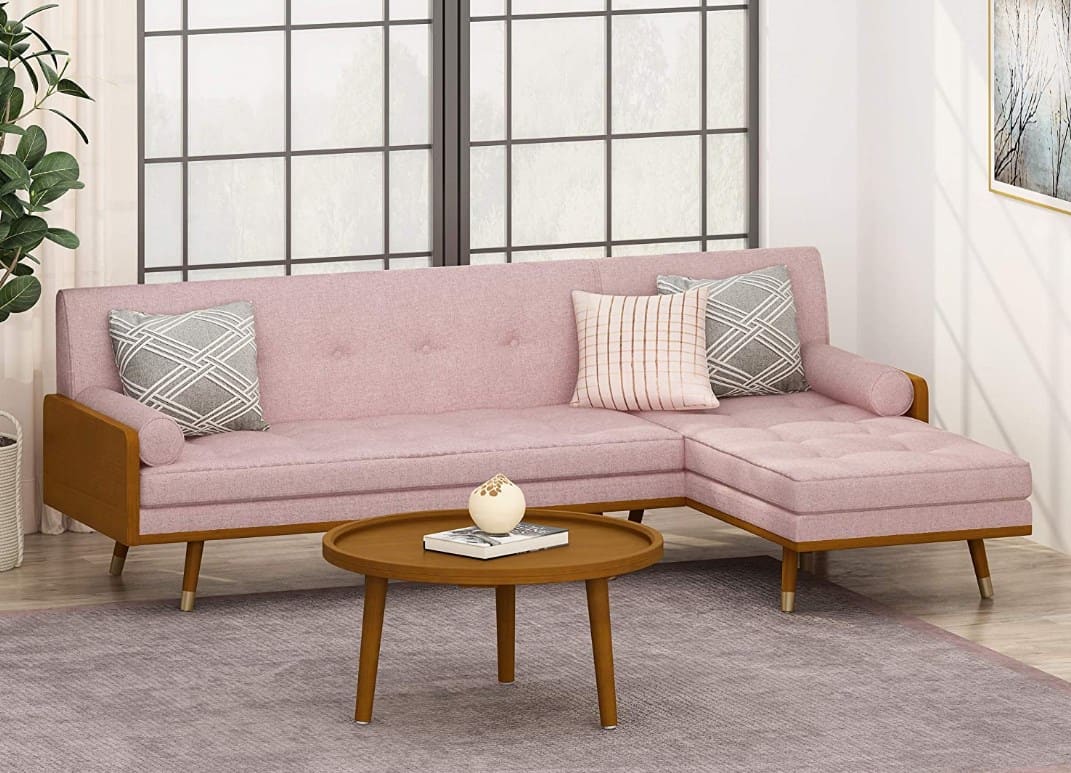 Enjoy an unmatched comfort day after day with the Harriet Mid Century Modern Sectional. This outstanding sofa will be a perfect addition to your modern living space; it features chaise blends, sleek fabrics, dark walnut, and light blush colors. Its hardwood frame includes plush foam wrapping layers to achieve a firm and comfy seating area.
This chic-looking sofa comes in the right and left configurations and features a coordinating chaise and two-seat sofa to create a strong silhouette that you can reconfigure easily at will. With its exceptional design and clean lines, and a combination of new materials, you will easily recreate a traditional yet sleek look in your living area. 
Additionally, the Harriet sectional comes with gold-tipped rubberwood legs, crowning this sofa with an elegant finish. Give your living room a decor boost with the two matching bolster pillows that come with this masterpiece!
Pros
Available in bold colors

Comfortable 

Includes bolster pillows

Durable hardwood frame

Button-tufted waffle stitch

Durable gold-tipped rubberwood legs
Cons
Not too easy to assemble 

Legs weaken over time
How to Style Mid Century Sectional Sofa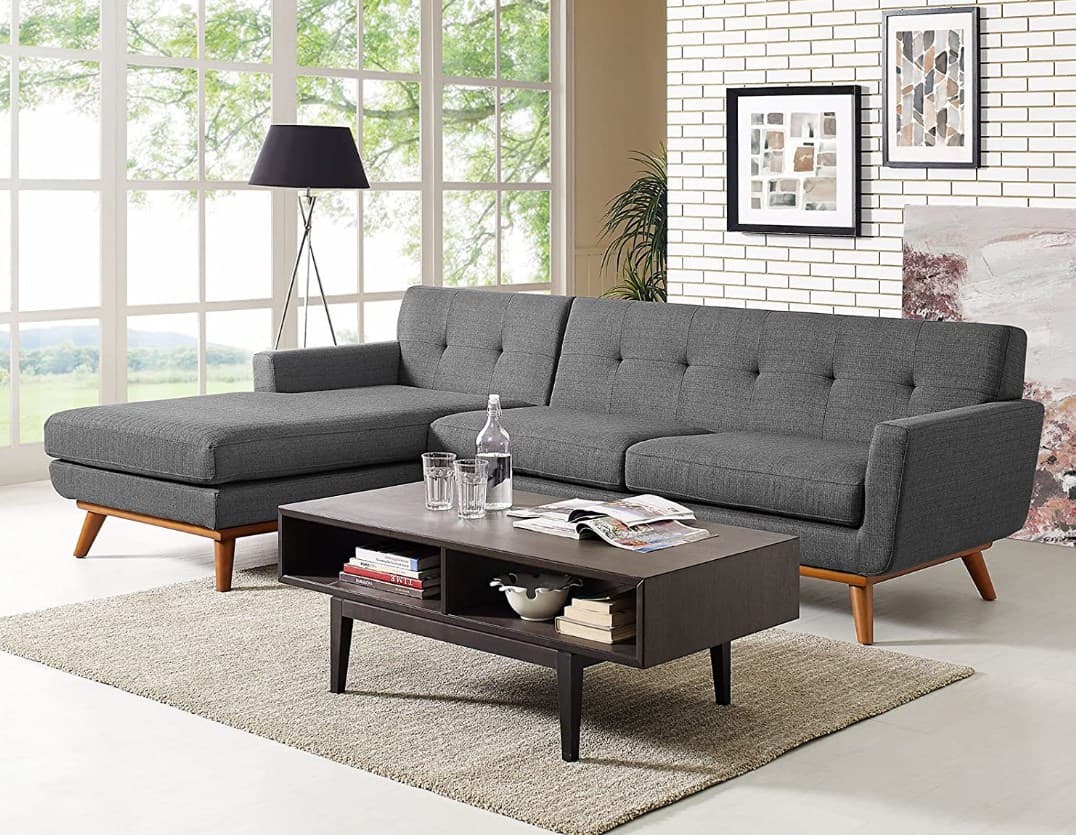 Whether yours is a small, large, or L-shaped space that you want to convert into something stylish, a sectional sofa would do. Entertaining, practical, and chic item, here are several ways to style your sectional couch:
Include Throws
Including a blanket or a throw on your sectional isn't meant for the cozy evenings only. A blanket comes in handy in adding color to the overall design. Whereas the sofa has a neutral touch, throws will soften the whole style. 
During summer or spring, a mix of patterned thin throws will boost the energy in your room, while a chunky wood throw will work well in winter and autumn. 
Include the throw on the sofa arms or around its top to achieve a cozy feel. With this approach, you will add a necessary texture. Alternatively, you can position the throw on top of the cushions to help in preserving the fabric. 
Use Cushions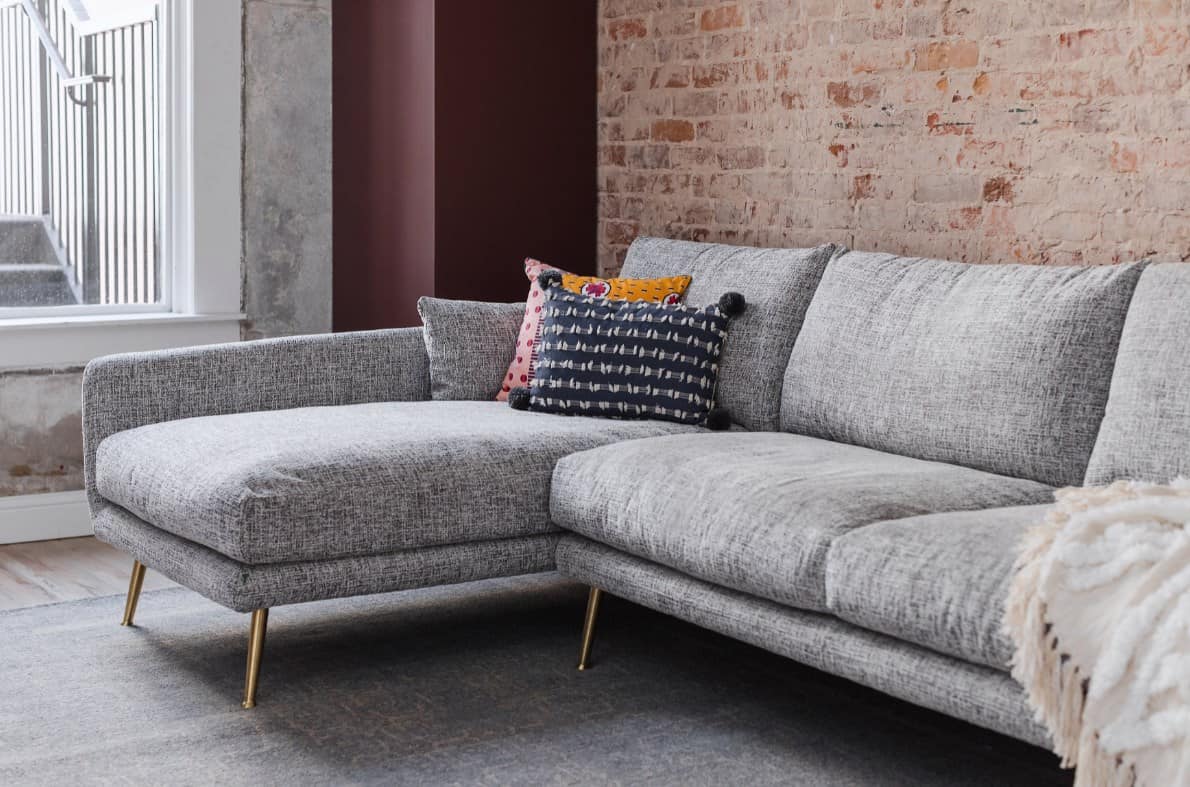 With a layer of new cushions, you will give your sectional sofa a remarkable transformation. Whereas styling your sofa with cushions is an ultimate easy update, it requires the perfect choice of fabrics, texture, and color. 
When you consider patterned cushions, you can achieve a stunning design by clustering together several geometric pillows. In case the arrangement turns out to be dull, brighten it with a few color block pillows.
Use Plants 
Use a plant, which could be of large or medium size, on the one side of the sectional to create a balance in your living room. Additionally, the right choice of plants and proper placement will create a light and natural ambiance. For instance, a vibrant all-green plant will soothe the eyes, offering a modern yet ample look. 
If you want to frame the entire living space, a tall indoor plant will serve the purpose. Consider low-maintenance options such as Areca Palm, Kentia Palm, or the Swiss Cheese Plant. Make sure that you place the plant strategically in a corner or behind your sectional. 
Include a Coffee Table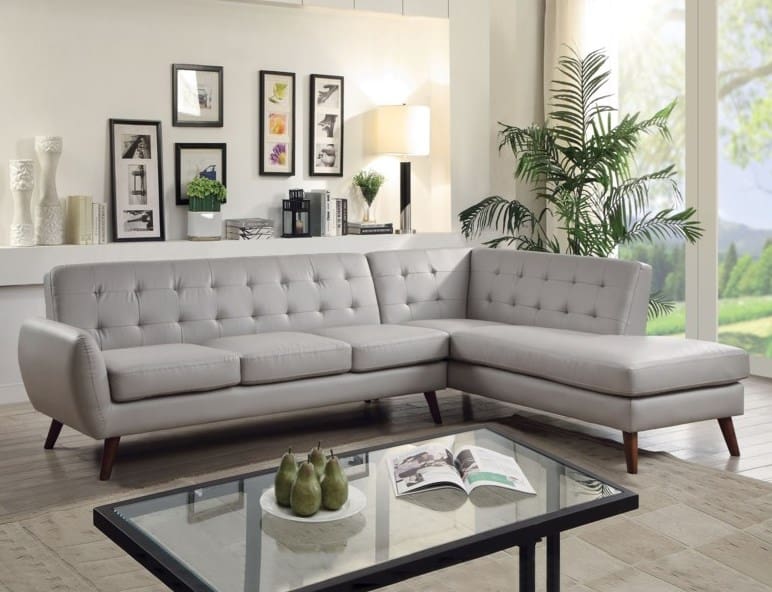 Give your living room a welcoming feel with a spectacular coffee table in front of the sofa. Throw in an oversized art piece, a furry rug, and a simple coffee table in the mix, and watch your living space slowly turn into an absolute stunner!
Add a Footstool
Boost the aesthetics of your sofa with an ottoman, pouf, or footstool. Such décor elements offer a striking complement to any sectional couch, especially where the set is matching. A footstool will also serve as a setting space in case you have an extra guest. 
Additionally, you won't worry about additional storage space in your living room because most footstools come with a storage area where you can keep your blankets, throws, or magazines. 
Mid Century Modern Sectionals – Frequently Asked Questions
Question: How Many Types of Sectionals Are in the Market?
Answer: You will get different types of sectionals in the market. The most popular ones are the U-shaped and the L-shaped. However, you can opt for other types, such as conversation pits, modular sectionals, or sofa chaises.
For a more compact design, go for the sofa chaise. However, if you want something that you can reconfigure, move around, or separate whenever you feel like, the modular type will be ideal.
Question: What Styles of Sectionals Are There?
Answer: Besides having different types of mid-century modern sectionals, you can find diverse sectional styles in the market. The most common ones include tufted sectionals, reversible sectionals, leather sectionals, and fabric sectionals. 
Tufted mid-century modern sectionals embrace a traditional design, but they leave a stylish look when matched with the appropriate silhouettes. The reversible sectionals allow you to rearrange the sofa as required.
On the other hand, Leather sectionals are elegant, high-quality, and modern, and whereas they are beautiful and sleek, you will have limited color options. The fabric sectionals are more preferred because they are available in diverse textures and colors. 
Question: What Makes Sectionals Durable?
Answer: The durability of sectionals is informed by different elements – from the upholstery to the frame. The frame of the sofa is the top factor that determines the durability of a sectional. Some sofas are made from laminated boards and others from plastic and steel. However, the best material is wood. 
Question: Are Sectionals Going Out of Fashion?
Answer: For many years, most people have shunned sectionals and opted for small statement couches. However, these stunning designs are becoming popular in recent years. These sleek designs are trending because most people are opting to spend more time in their living rooms.
Final Thoughts
There you have it – a comprehensive overview of the best mid-century modern sectionals! From the list, you can see that you can choose a sectional sofa for just any décor style and living room size. With all of these sofas embracing the hallmarks of contemporary furniture, all you need is to compare the materials, shapes, and styles to find a sectional that matches your needs!
Are you struggling to find a sectional that's right for your home? We would recommend the Rivet Aiden Mid Century Modern Sectional style. It is ideal for any room size; its design stands out regardless of where you position it. Besides, it gives you the freedom to add vital elements such as occasional chairs, a console table, or even a coffee table. With this sectional, you will find it easy to create a unique and relaxing atmosphere in your living room.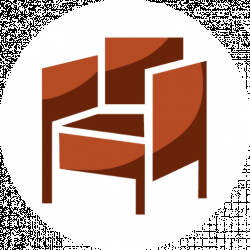 Latest posts by Finally Furnished Team
(see all)