Do you have a thing for decorating with pink but have always believed it is a childish color? There are a lot of misconceptions when it comes to using pink in interior decor, but we're going to break those myths and show you the best pink couch ideas while considering durability, price, quality of materials, and overall design.
Tips for Decorating with Pink
Pink Can Be Masculine
For the longest time, it was believed that pink is a feminine color, but understanding more about gender identity is making people ditch those preconceptions. You can paint a masculine room using a pink-peach tone and that would give it a captivating look.
You don't always have to go with subtle pinks, as the decadent vibrancy when combined with blacks and grays will give any room a very interesting and imposing look.
The Neutral Side of Pink
Soft pink is a more fascinating option than beige and can work well with artwork. This effect can be achieved by tinting a less vivid pink with white. Pink is most easily perceived as neutral when combined with other soft hues.
As far as color theory is concerned, an analogous palette consisting solely of incremental hues ranging from soft pink to off-white would provide a sense of neutrality in the room. Pinks with an ethereal aspect and a trace of color are the most effective at conveying neutrality.
Pink Hues are a Vibe
Since there are plenty of shades of pink to choose from, it is important to know that each of them gives off a different vibe, which makes them more or less suitable for different situations.
A paler pink evokes feelings of gentleness, innocence, delicacy, nurturing, and peacefulness. A brighter pink, such as fuchsia or magenta, on the other hand, might evoke feelings of strength and sexuality
Pink Pairs with Luxury Materials
Plush textiles, such as velvet, impart a sense of luxury. You can also think of pink when it comes to leather or suede. There is even such a thing as pink marble and, once you see it, chances are you'll be obsessing over it.
Layering With Pink
Use surprising textures and surfaces to layer pink into a room, such as a slight welt on a cushion or a drapery cuff. Additionally, you will appreciate its unique aspect whether incorporated into the design of a bespoke rug or even when you see it on a porcelain lampshade.
Avoid clichés such as delicate flower patterns, frills, and pinstripes. Rather than that, adhere to simpler, more structured lines.
Pink Works in Every Room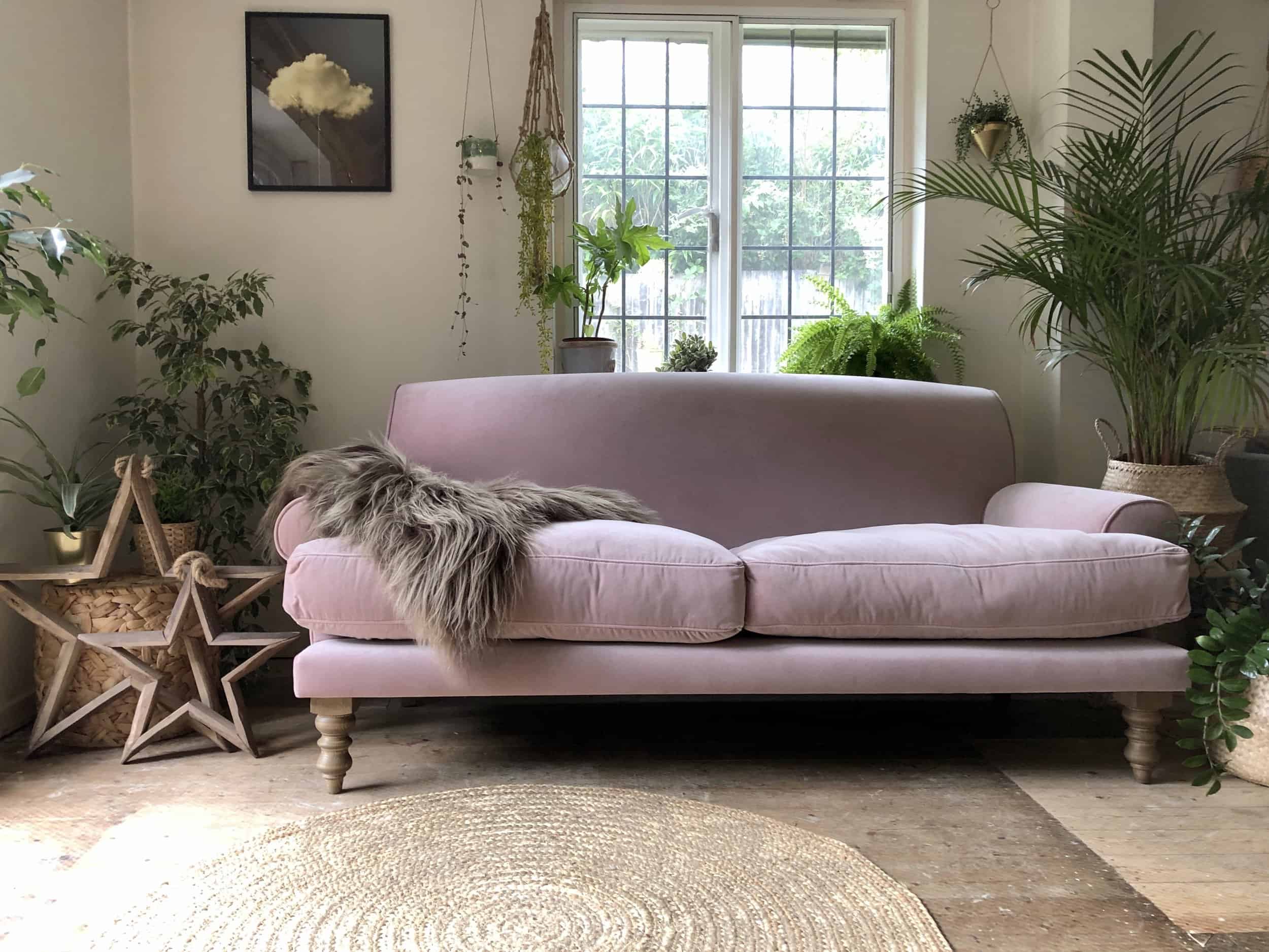 Pink is a lovely color for a dressing room. Not only does the hue serve as a lovely backdrop for your clothes, but it also serves to warm up the space and may be quite appealing on certain skin tones. Foyers are excellent spaces for making a huge impression. It's usually the first room you enter when you move into a new home, and the correct shade of pink in a glossy lacquer may provide a thrilling first impression.
However, kitchens are considered significant investments, and when it comes time to sell, pink can be intimidating. You can use pink accents in subtle ways, such as fresh flowers and dinnerware. You may even incorporate pink into the interiors of cupboards and drawers by lining them with silk or suede.
Common Color Combinations That Go Well with Pink
Without getting into any boring details about color theory, let's take a look at some of the colors that go really well with pink.
Green
Much like white and black, green and pink will complement one another. Given the popularity of outdoor weddings, green and pink are an obvious color combination. The blush shade of pink contrasts beautifully with the greens of the plants and grass. As far as home interior design is concerned, blush pink and emerald-green are excellent companions.
Blue
Blue and pink work well together not because they complement one another (albeit when combined with yellow, they make a triad), but because they are culturally viewed as opposites.
We've grown to assume mistakenly that pink is a girlish color while blue is suitable for a boy's room, therefore juxtaposing them creates a sense of color harmony. Blue and pink can work well together in the home if you experiment with different colors.
Bright Yellow
Yellow and pink are a natural pairing combination. Those of you not particularly fond of the delicate appearance that canary yellow and pastel pink impart, consider combining bright yellow and hot pink.
Grey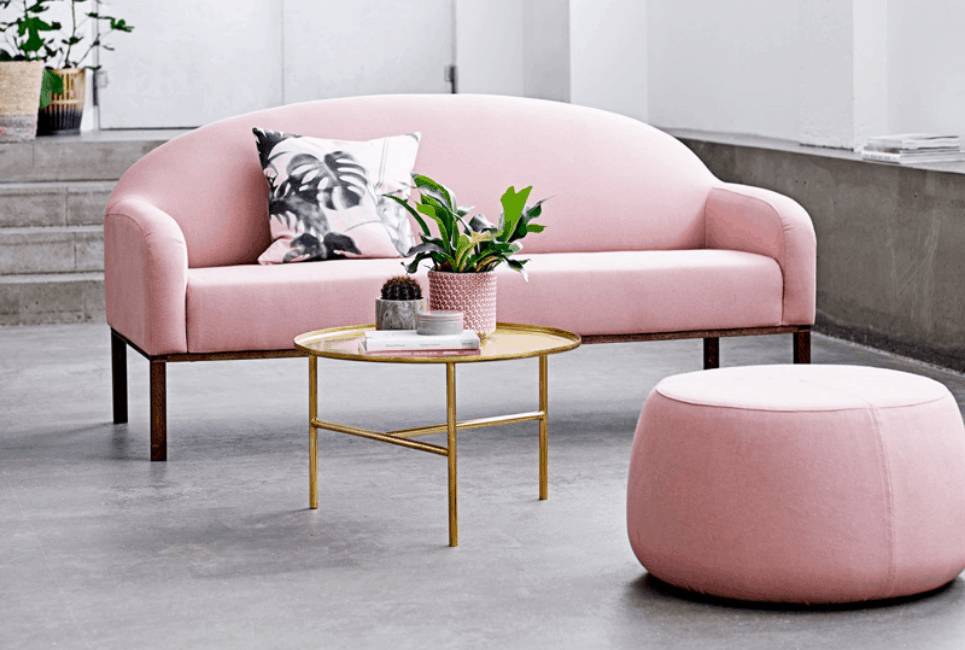 Grey works well with almost anything as a neutral color, but the gentle tint of baby pink looks especially beautiful with a cold grey. Baby pink injects a little flash of color and individuality into an otherwise monochrome ensemble. In terms of interior decor, baby pink may add a touch of femininity to industrial interiors.
Dark Brown
Brown is associated with the ground, with warmth, with healing, and with stability. When combined with pink, the color scheme creates a cozy, inviting atmosphere.
This is why rustic and Bohemian-style homes are appealing. You should be able to easily combine brown with dusty pink to create a soft, feminine style without being overpowering.
Gold
If you want to add a touch of elegance and class to a stunning pink wedding, simply incorporate accents of gold throughout. Apart from weddings, pale pink and gold combine beautifully in a mid-century modern style home.
Pink is one of those colors that is strongly linked with the era, and it pairs perfectly with the gold embellishments featured on different pieces that pertain to this specific home decor style.
Orange
Pink and orange complement one another due to their comparable hues. When paired together, they emit a warm, earthy atmosphere. As is the case with brown and pink, this color combination is soothing and looks well in the bedroom.
Top Pink Couch Ideas
SLEERWAY Velvet Futon Sofa Bed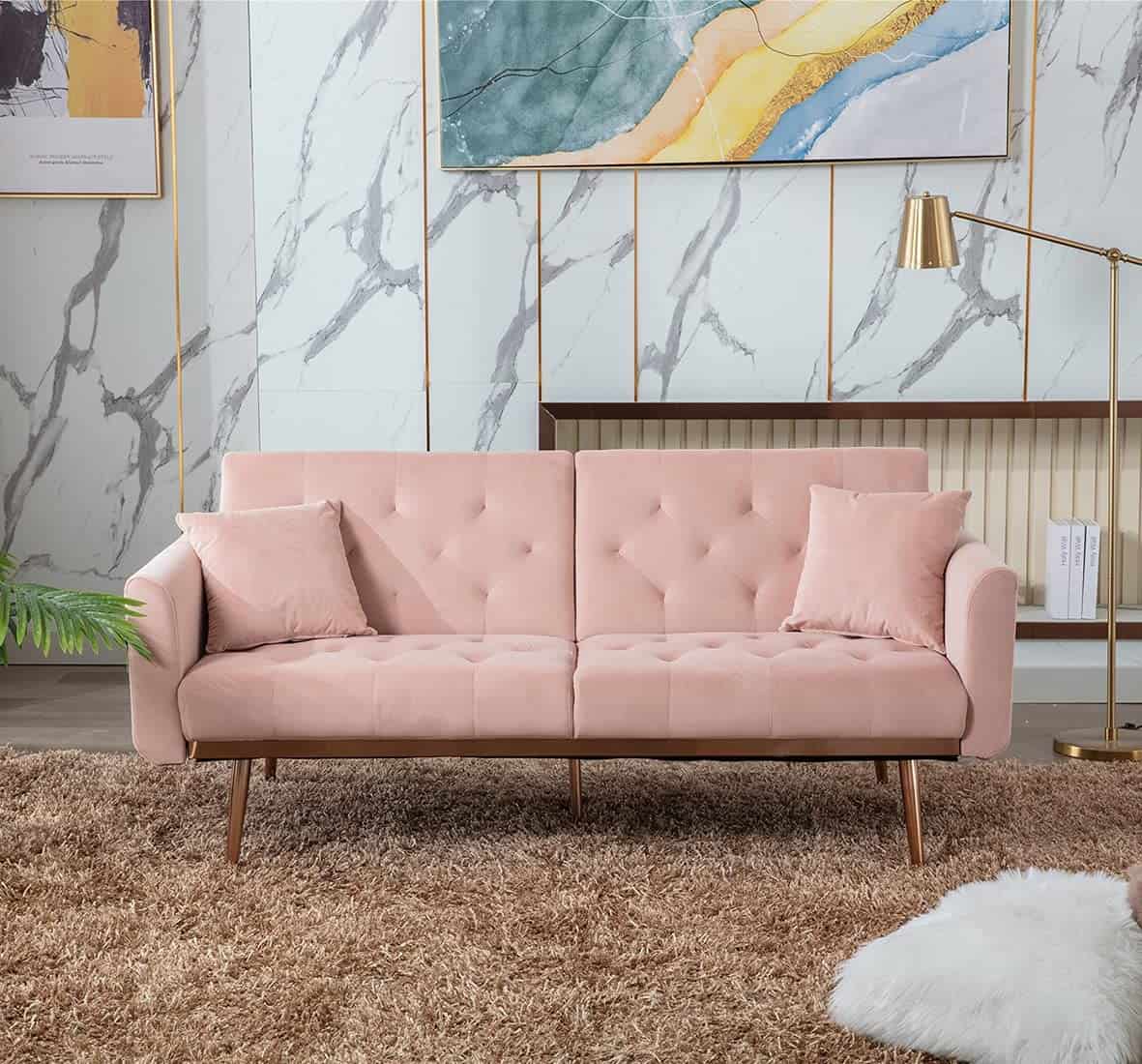 Best Futon
If you want a cool pink futon that can be converted into a sofa bed, this is one product you definitely want to look into. This sofa is upholstered in hand-selected velvet. It is comfy to sit on because it is soft and does not wrinkle quickly. Buy here
Size: 33.1 x 68.1 x 31.1 inches
Materials: velvet upholstery
Color options: 6
Additionally, the seat has been reinforced with a high-density sponge, making it sturdier and more resistant to deformation. Resting upon gold tapered metal legs, the combination between dusty pink and the gold futon is perfect for mid-century modern and glam decors.
Its rhombus-shaped design is basic yet classic, creating dimension to your living area. It can hold up to 700 pounds in weight and comes with two small throw pillows to offer a full couch setup.
Pros
Doubles as a bed
Comes with throw pillows
Middle backrest support
Cons
 Sleeping surface is pretty firm
JULYFOX Store Pink Velvet Fabric Sofa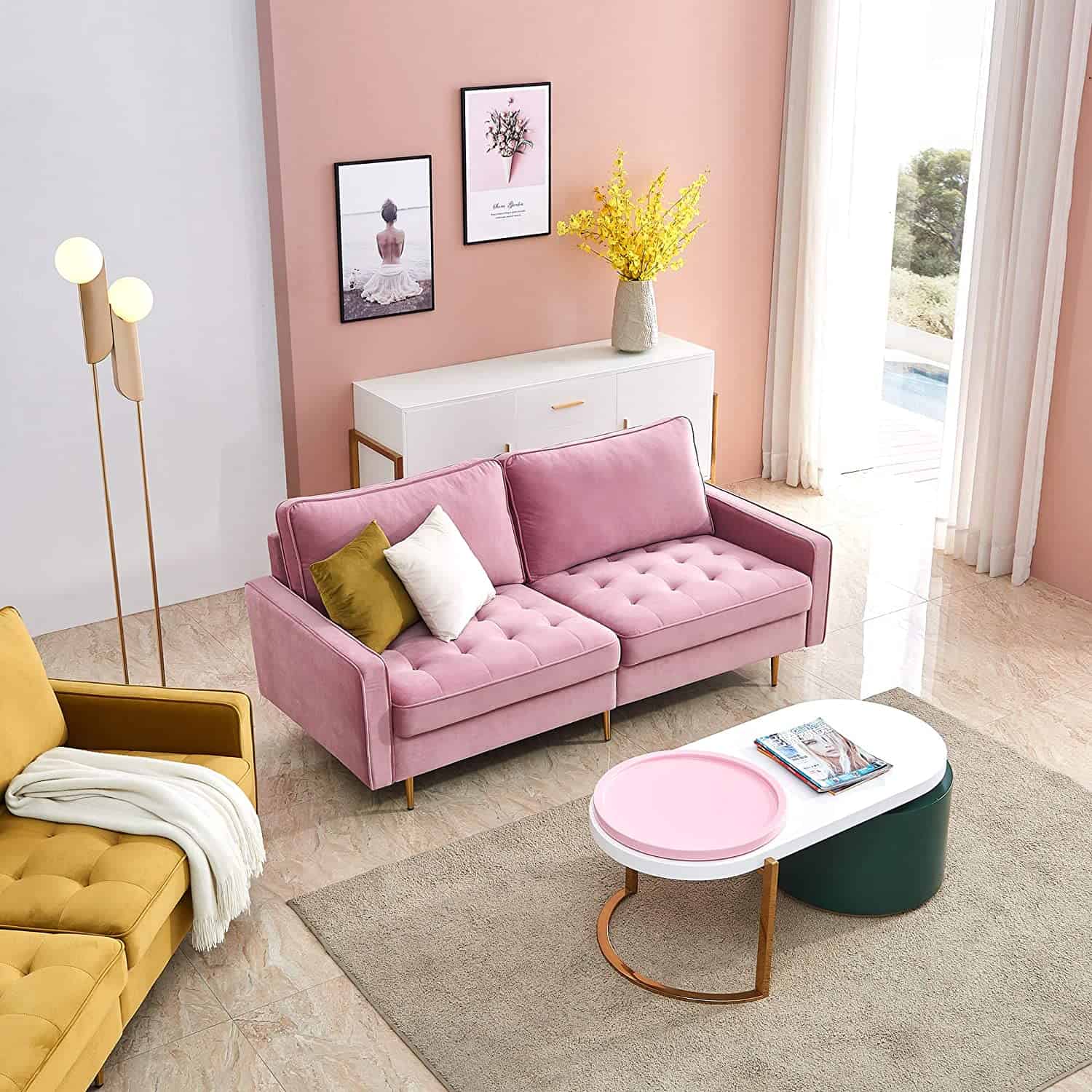 Best Overall
Everything about the JULYFOX Store pink couch is worthy of appreciation, since it offers great value for the price, comes with quality materials in its construction, and has a design that makes it suitable for a variety of interior decor styles. Buy Here
Size: 71 x 31.5 x 31.5 inches
Materials: velvet upholstery, foam and springs seating
Color options: 4
The stunning velvet sofa is oh-so-comfortable. It comes with removable padded cushions that are supported by a high-quality sinuous suspension system, making this velvet sofa ideal for curling up on a foam surface that's comfortable and will retain its shape for long.
It can support a total weight of 700 pounds and comes with gold=polished stainless-steel legs to support the weight on top of the couch for a longer period of time. It takes 15 minutes to put this couch together, which is another reason why this is one of our favorite couch recommendations.
Pros
Easy to assemble
Retains shape for long
Removable foam padded cushions
Cons
Questionable seams quality
Novogratz Brittany Sofa Futon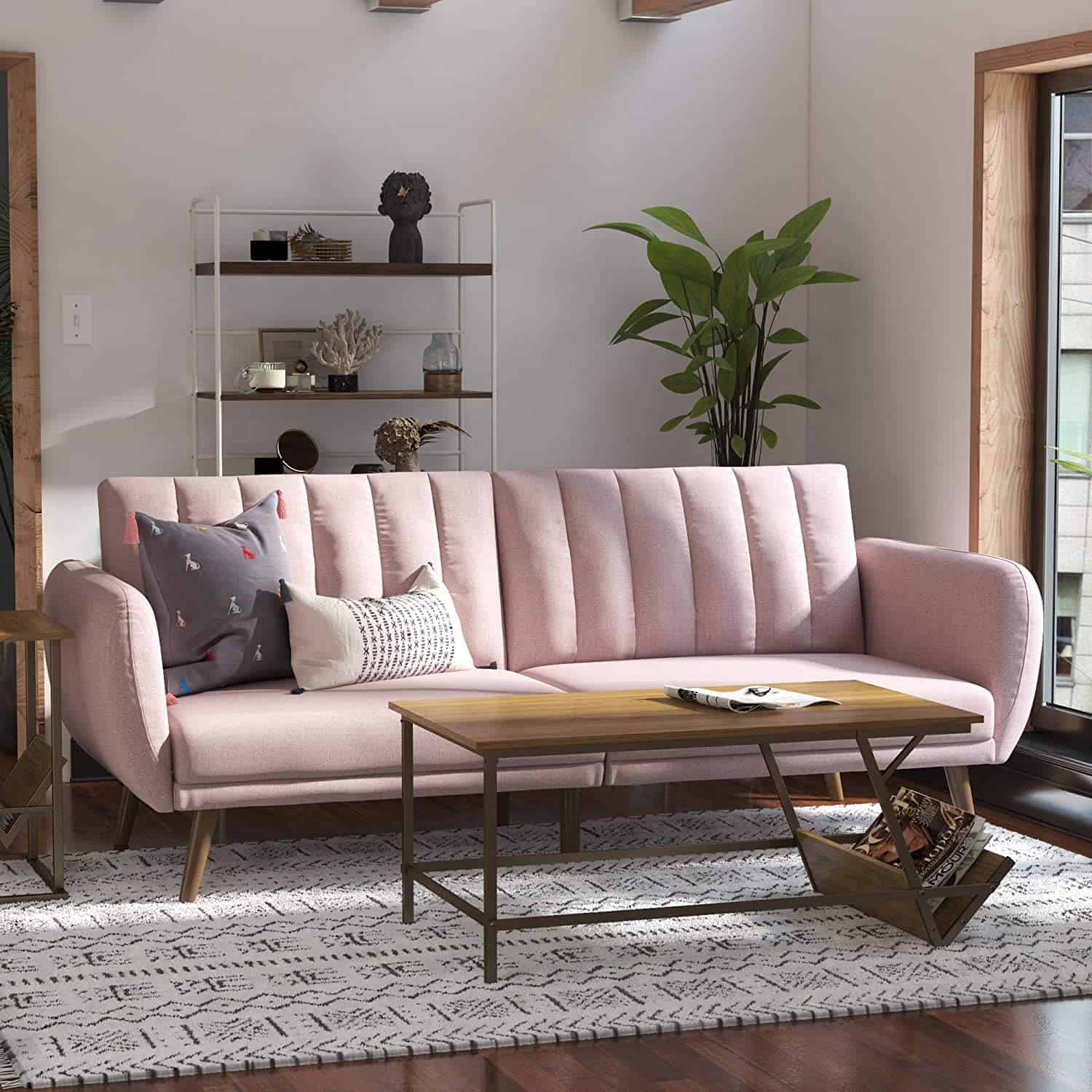 Budget pick
When you're on the market looking to buy an affordable pink couch, we have the following proposition: take a look into what this Novogratz Brittany sofa has to offer. If you're not sure whether or not to opt for pink, there are 11 more colors to choose from. Buy Here
Size: 34.5 x 81.5 x 31.5 inches
Materials: linen upholstery, foam padding
Color options: 12
The mix of slanted legs and curved armrests creates an eye-catching rounded appearance. You can watch the masterful linen upholstery add a layer of refinement to this piece, making it the ideal focal point for any living room. It is padded with foam and polyester and has oak-colored wood legs.
Pros
Cushioned backrest and seating
12 color options
Sturdy oak legs
Cons
Not the softest upholstery
Delta Children Serta Pink Sofa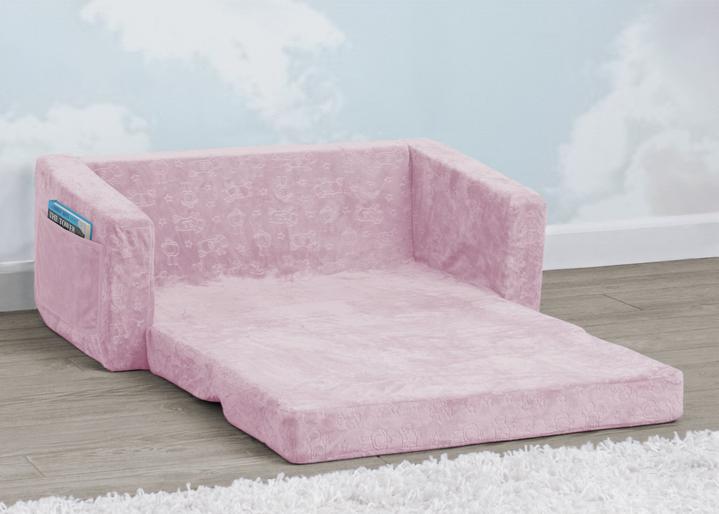 Best for kids
This convertible seat effortlessly flips out to show several options for your child to unwind—they'll enjoy sitting in the chair and reading or watching their favorite movies, but when nap time comes, this seat folds out into a comfortable sleeper bed. Buy Here
Size: 30 x 17 x 15 inches
Materials: foam construction,
Color options: 2
It's large enough to comfortably seat three little children in sofa mode, lightweight enough so that you can easily move it from room to room, and great for sharing during sleepovers.
The ultra-soft slipcover is embossed with a beautiful Serta sheep pattern and includes an easy-to-reach side pocket for storing your child's favorite books or tablet. The supporting foam composition ensures that the mattress maintains its shape and offers all-day comfort.
Pros
Sofa converts to a bed
Easy to move around
Can seat 2 kids
Cons
HOMMOO Modern Reversible Sectional Sofa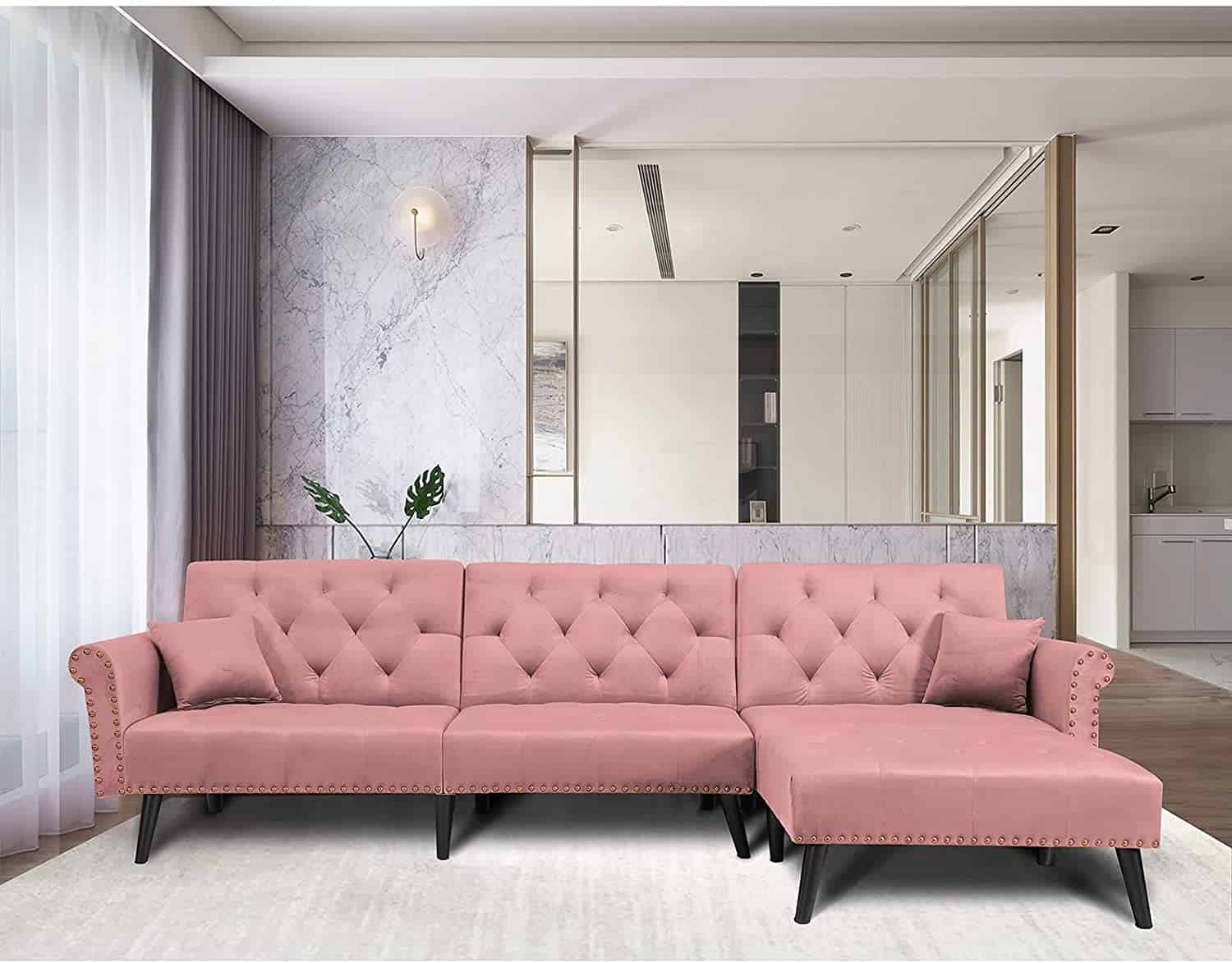 Best for large areas
When you have loads of living room space to fill and are looking for an L-shaped pink sofa at a good price, you may have found it. It has an ergonomic backrest that can recline to have you seated in a more comfortable position. The sponge cushioning provides a decent level of comfort, although we are a bit skeptical about shape retention in the long run. Buy Here
Size: 115 x 59.37 x 32.2 inches
Materials: velvet upholstery, foam and spring seating
Color options: 7
Upholstered in plush velvet with tufted embellishments on the backrest and trimming on the front side of the seating area.  When assembling, the chaise lounge can be positioned to the left or right. This adaptable sectional sofa may be configured as an L-shaped sectional couch, or as a sleeping futon sofa, showing your distinct sense of style through a seamless blend of function and fashion.
Pros
Reversible chaise
Doubles as bed
Chaise doubles as ottoman
Cons
Questionable long-term durability
SLEERWAY Velvet Couch with 2 Small Pillows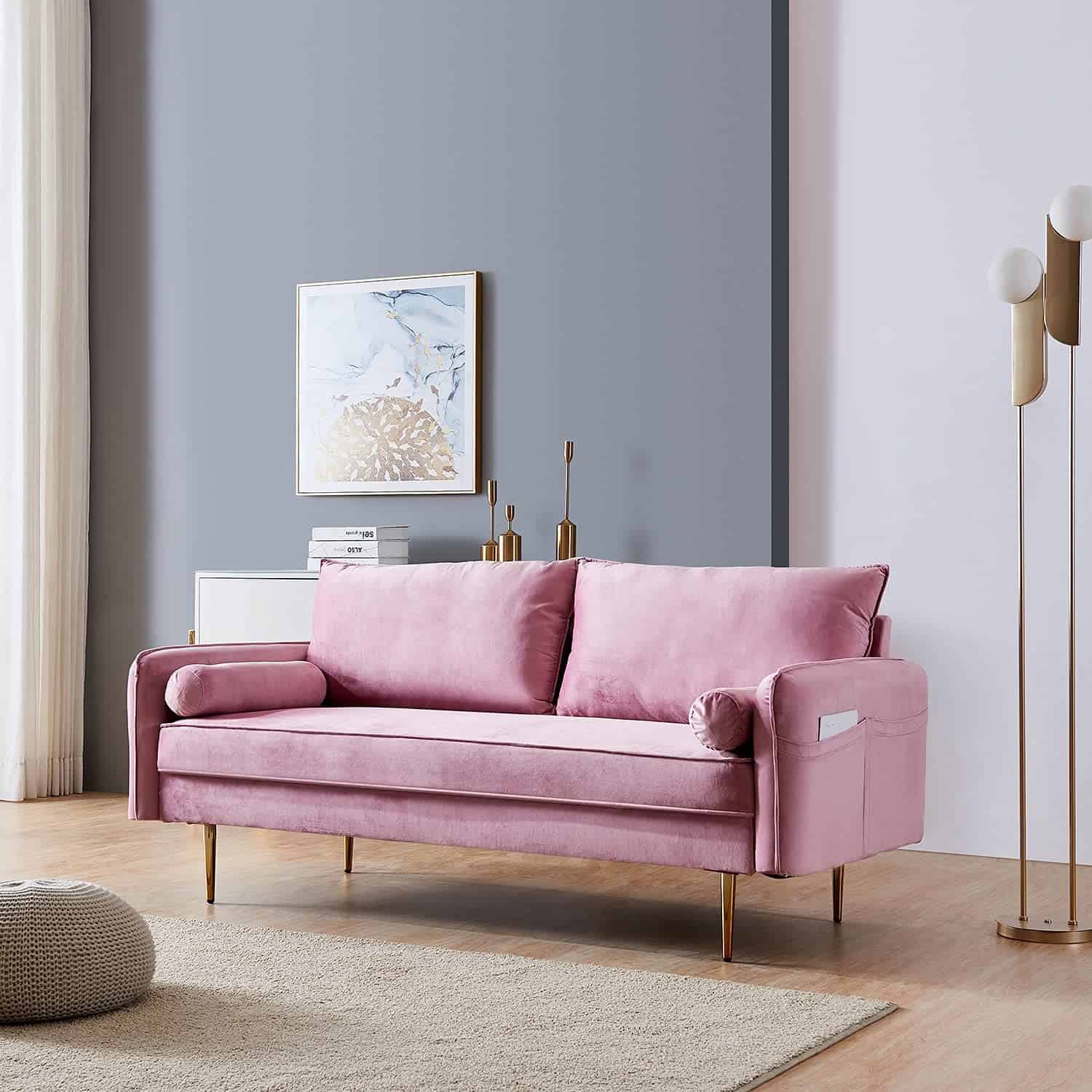 Best value
When it comes to getting good value for the money, this SLEEWAY sofa seems to have it all. The sofa's surface is upholstered in upmarket soft velvet, which has an elegant texture and an inviting feel. It's extremely easy to care for and, unlike fabric sofas, will not wrinkle or fade. Buy Here
Size: 73.2 x 32.7 x 32.3 inches
Materials: velvet cover, spring and foam seating
Color options: 4
This futon sofa is made of plush back cushions and can comfortably support your body. With thickened cushioning, this pink beauty is extremely comfortable to sit on and is more resistant to deformation.
The golden robust tapered legs are extremely solid, and the maximum weight capability is 700 pounds. Inside the couch lie a series of spring coils which are meant to help the couch retain its shape in the long run.
Pros
Side pockets included
Pillows included
Durable eucalyptus frame
Cons
FAQs
Question: What Color Goes with Pink Sofa?
Answer: When light pink is combined with a soft grey, a pleasant, relaxing vibe is created, making your sofa the focal point of the room. If you're designing a Scandi-style environment, a blush pink sofa will complement creams and golds, as well as white.
Question: How Can I Make my Living Room Pink?
Answer: The best and easiest way to do so is to look for accent pieces that match the hue, including curtains, artwork, and even lamp shades. These pieces' varied textures and material will add stunning contrast to your decor while remaining true to the blush color narrative.
Question: What Colors go Good with Pink?
Answer: Pink can be easily combined with colors such as purple, dark brown, blue, green, or gold.
Best Pink Couch Ideas Guide: Final Thoughs
The JULYFOX Store pink couch is our top recommendation because it's available at a good price, offers above-average quality considering the price category it fits in, and is very easy to assemble. If you're not sure whether or not to invest in a pink couch, we have other couch color suggestions for you, so be sure to check them out. Like our guide to the best green couches you can get!
Latest posts by Candace Osmond
(see all)