With the ever-increasing number of TVs in homes comes an inevitable lack of TV storage. This can cause a lot of frustration for people who want to keep their space uncluttered and organized. We'll explore some tall TV stand ideas that might work well for your home. 
TVs come in all shapes and sizes, and there is no one-size-fits-all solution when it comes to finding the perfect place to put them up on display. A good quality tall TV stand will be the ideal solution you have. This blog post will take you through the best tall TV stand options on Amazon, from the best overall to the best durable and the important considerations you should look at before purchasing one.
Best Tall TV stands
VIVO TV Stand: Best Overall Tall Stand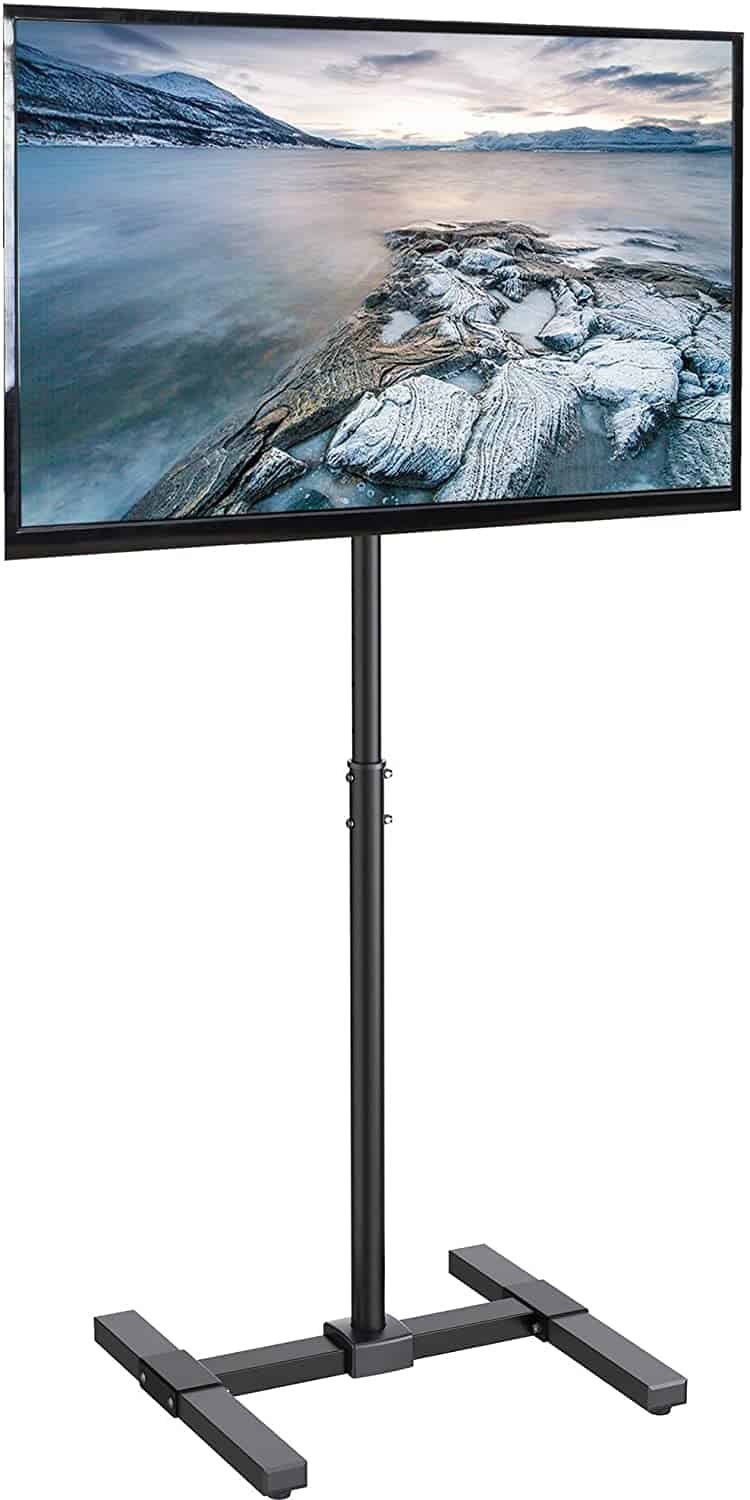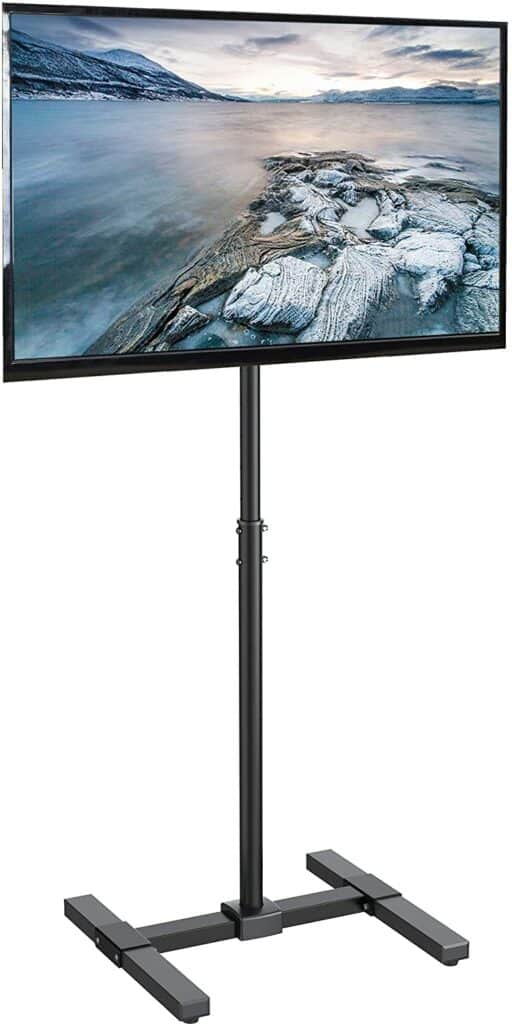 Need to mount your TV, but you're afraid you'll never get it level? Or maybe the floor isn't even and doesn't provide enough space for furniture? You can just mount this awesome VIVO TV floor stand that's got tons of adjustable features, so it fits any size screen. 
It has twelve sets of height adjustments, so you need not worry about tilting screens or wavy furniture. And because this stand is so versatile, it also helps with cable management in style by providing power strips in all three center columns.
If your cable box needs juice, too, there are two extra outlets accessible from the back of the unit. Plus, if some pesky cords refuse to stay out of frame, you can hide them.
Pros
It is heavy duty

It is sturdy

It is durable
Cons
It is challenging to assemble due to poor instructions
Universal Floor: Best Swivel Tall TV Stand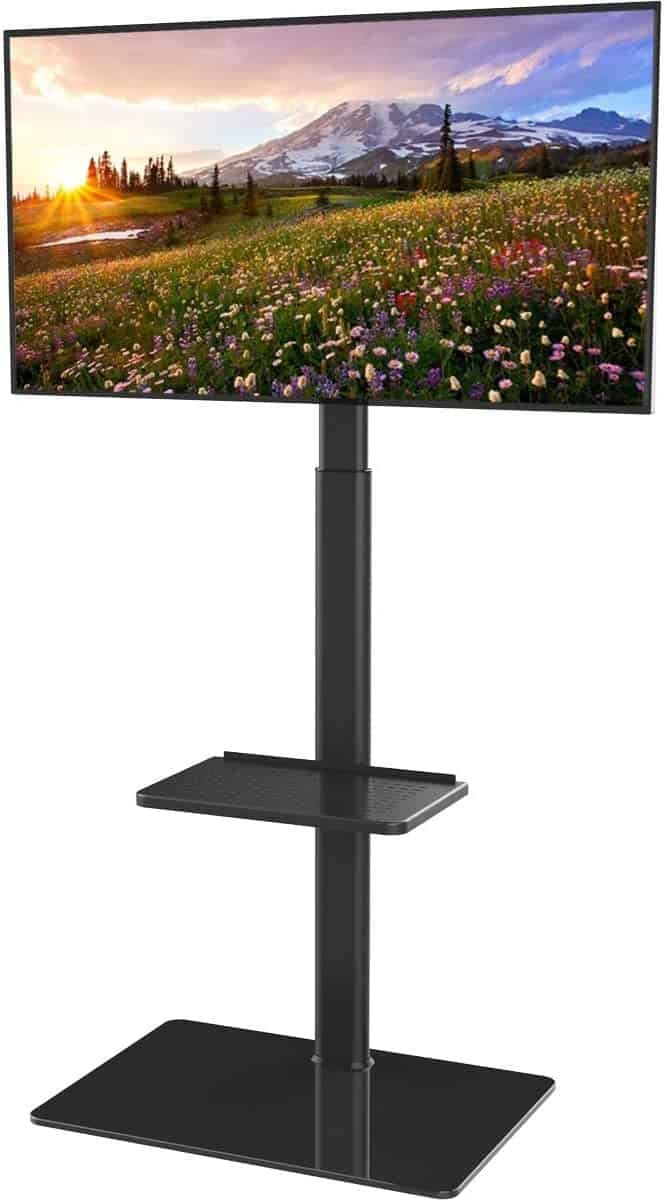 Now you don't need to compromise on the look of your living space and style with your sliding, tilting, swivel tv mount. This TV stand is versatile enough for every room in the house. Just adjust or swing your screen for better viewing and perfect positioning when you want a more dramatic view. 
Once set up and mounted to the best height, this heavy-duty universal floor TV stand displays at eight different positions from -50° to +float up 50° adjustment angle. 
And it's easy as pie — even those with limited experience will be able to assemble this Titan TV stand alone–and without calling a professional installation specialist as well. Make sure that pesky cables are hidden properly away inside your new universal floor TV stand.
Pros
It is sturdy

It has an elegant look

It is easy to assemble
Cons
TAVR Universal Floor TV Stand Base: Best Budget Tall TV stand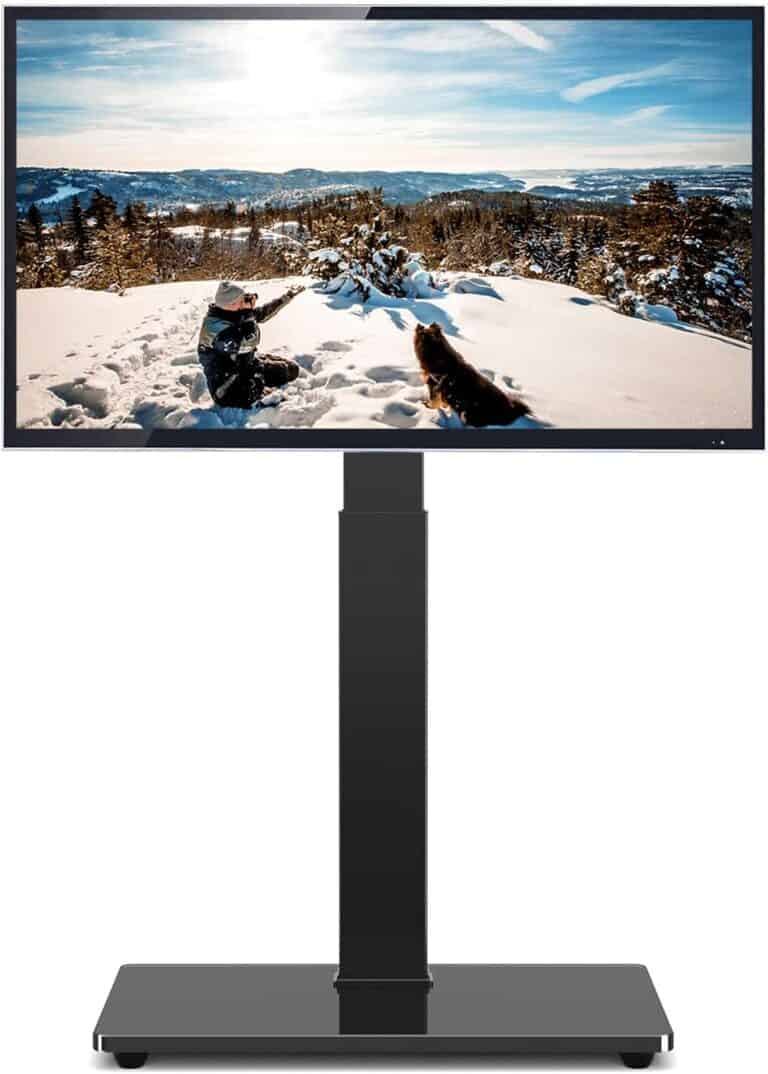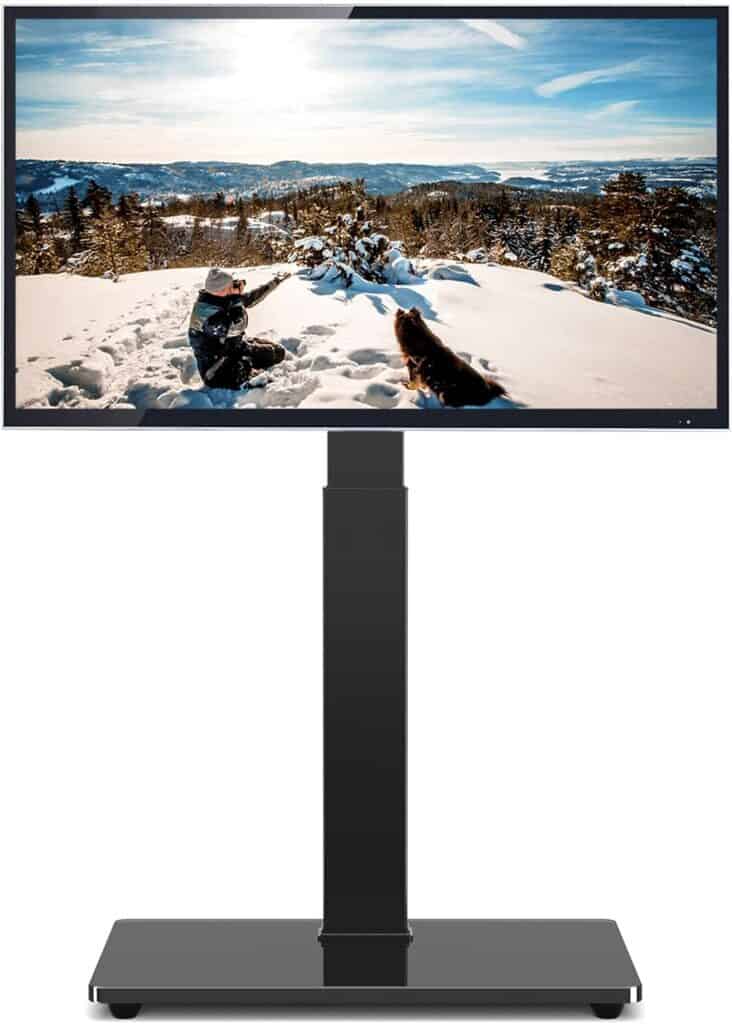 The perfect way to balance form and function is with this TAVR universal floor TV stand. It not only supports your television, but it can also take up a good chunk of room and hide the cords and wires.  The glass-faced bottom provides both protection for its contents as well as making it easy for you to find remotes and other essential items that tend to be lost easily under carpets or behind furniture. 
Available in black, this will match any décor beautifully and offer enticing entertainment space, no matter how much space is at your disposal.
Pros
It's easy to put together

It is sturdy and solid

It has non slip legs
Cons
Convenience Concepts: Best Premium Tall TV Stand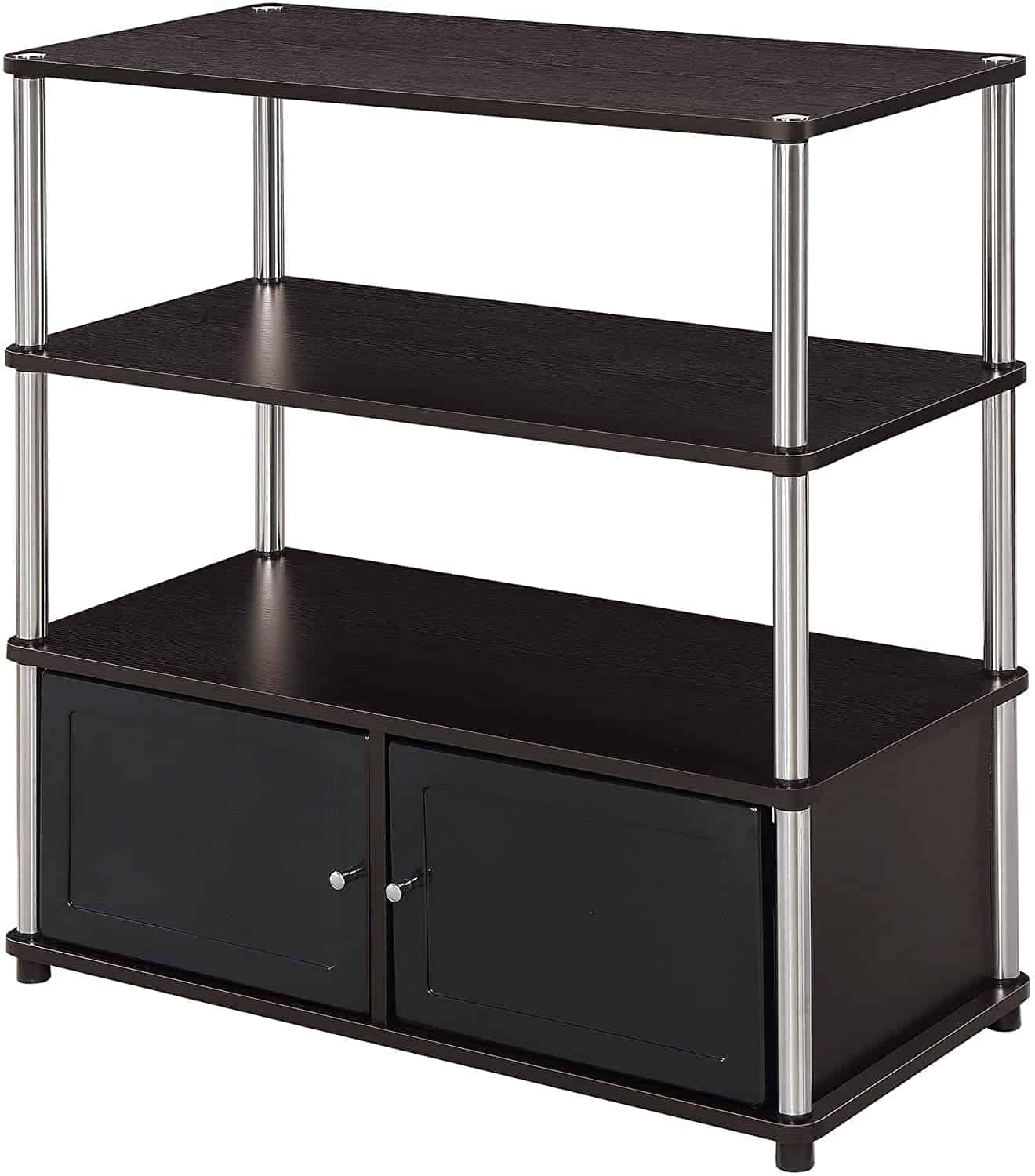 Ready to declutter your TV area? Tired of lugging heavy equipment around each time you want to watch a show on your new smart TVs? Do some spring cleaning and clear out excess furniture with this easy setup, 3-tier highboy.
This convenience concept tall TV stand is designed for quick and simple assembly (without tools) and allows you to store all the electronics, peripherals, remotes, or magazines that make it hard for you to find what you're looking for. 
With durable black plastic doors and the sleek espresso finish, we know this one will suit any décor.
Pros
It is easy to assemble

It is easy to clean and maintain

It has an elegant look
Cons
Customers have complained that their cushions are made with poor quality material.
TAVR Mobile TV Stand: Best Tall TV Stand with Lockable wheels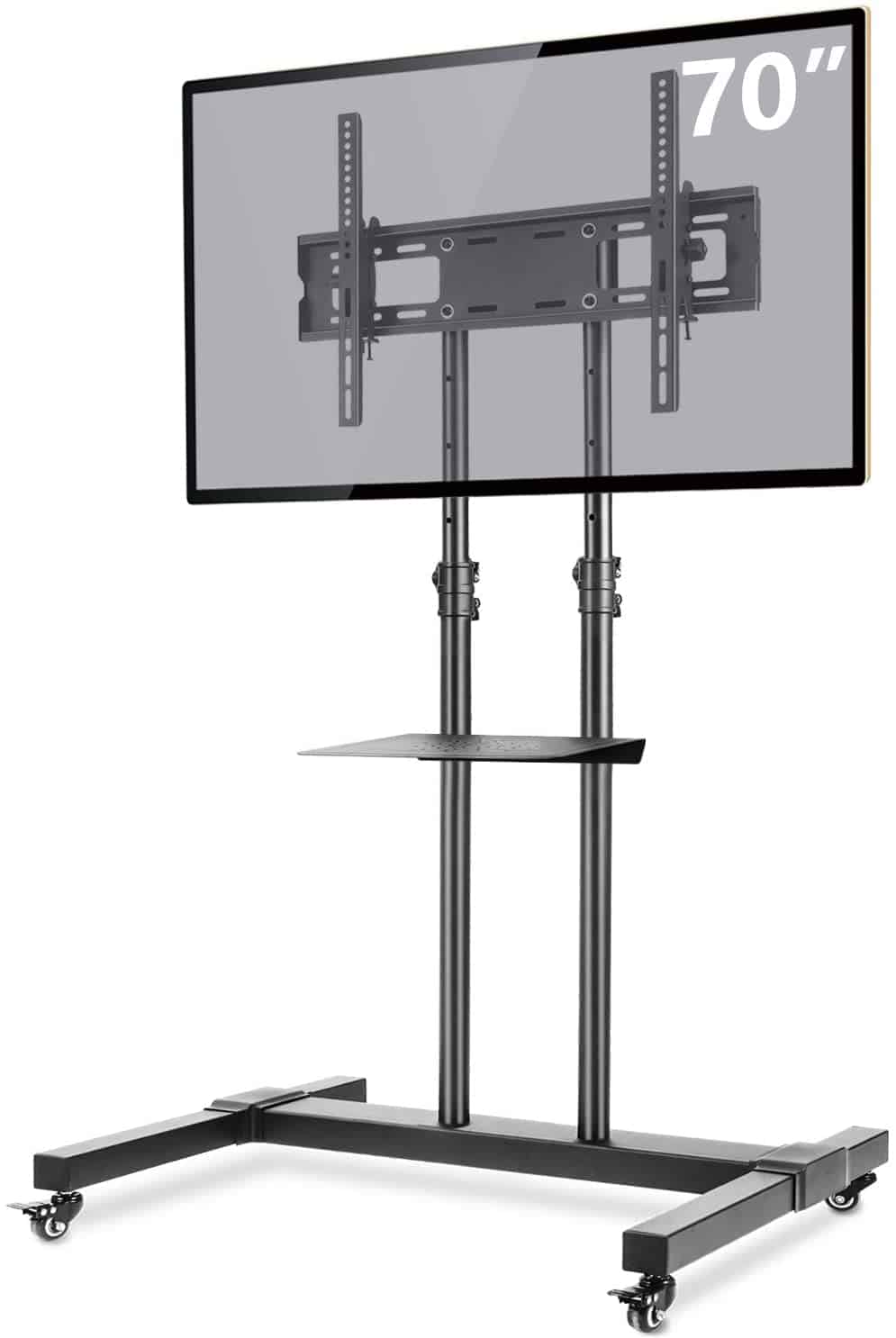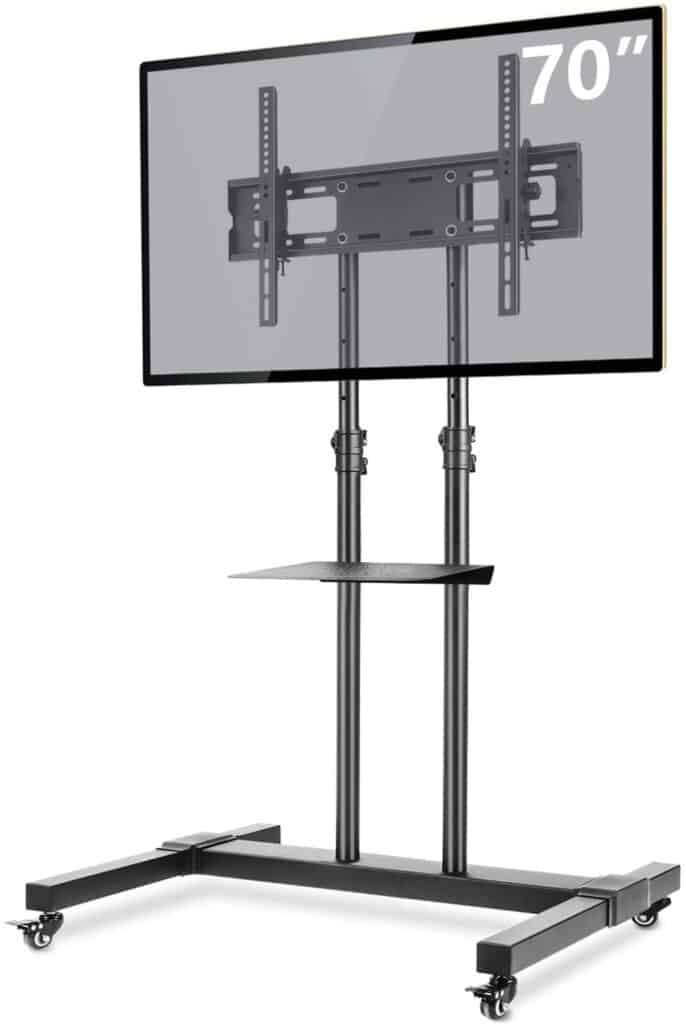 This TAVR mobile TV stand cart is perfect for most standard televisions. It has an eight-step height adjustment which makes managing your viewing angle a breeze. Make it stationary or mobile with the included swivel casters. 
The locking wheels on this cabinet are super convenient to keep your television equipment out of the way when not in use. With flexible options, this tall TV stand can fit any space you need, whether at home or office. Wheels make handling easy and storage more convenient—no heavy lifting required. 
Pros
It has wheels that ease movement

It is durable

It offers a lot of room for storage
Cons
Customers have complained that it's not sturdy enough
How to Style a Tall TV Stand
If you are bored with the outlook of your TV stand, then styling it to match your decor is something you can always consider.  Check out these simple ways you can devise to make your TV stand more outshining. 
Use Accessories
If you have tall TV stands that are the same color as your accessories, try blending them. You can place a vase or candle on either side of your stand to give it some character.
Use Trays and Books 
If you own a tall TV stand, instead of using it for just storing stuff like keys and remotes, use trays and books to style your space. The tray can be used as an accessory holder while the book lights up the electric vibe that makes your room complete.
Drape With Curtains
If you place your TV stand near a window, cover it with white curtains. This will reflect light onto the surface of your television stand and make for an aesthetically pleasing effect. If you want to give off more of a modern vibe, consider purchasing some simple yet bold curtains that really pop out against the background color on both sides to create a contrast between them all.
Use a Floor lantern
With these elegant antiques, you can never get enough. Floor lanterns not only give your tall TV stand that classic look but are also great for movie nights. With different color bulbs and options to choose from in the evening, it's an essential item all homeowners should have around their homes.
Factors To Consider When Buying a Tall TV Stand
There is no better solution than a TV stand when it comes to lifting your TV off the floor. Here are some essential factors that you must put into consideration: 
Size
One thing you should always consider when out there for a tall TV stand purchase is the size. If you don't have the correct measurements in mind, first try to measure the diagonals of your TV.  The width measurement also matters since it's the main determinant of the stand you'll pick.
For instance, if your TV is 55 inches, the tall TV stand should be at least six inches wider to allow base balance. But if you want your TV hanging, you can still purchase a wide stand and position your TV at the center, allowing you more space on either side to add decorations. From a variety available in the store, make the right decision for your TV.
Material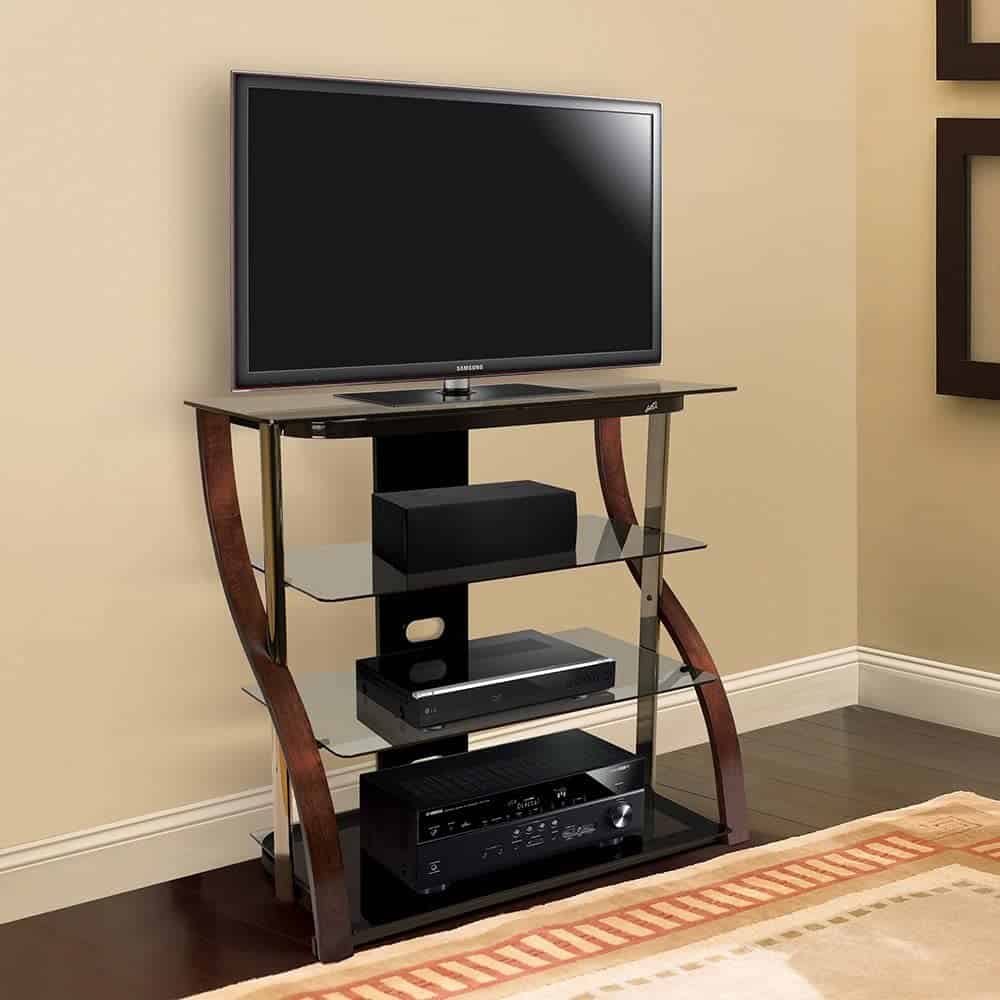 Wood and metal are the common TV stand materials available in the market. Wood TV stands add a rustic, more traditional style to homes, while metal works well for modern ones. 
Woods used include mahogany, oak, maple, and cherry, so you can choose which one looks good with your budget limitations. Metal finishes options include chrome or powder that enhances their appearance depending on what suits the home's décor best.
Color 
Brown is a popular color for tall TV stands because it fits well with many styles and looks. It's also safe to choose, but more unique colors can work as well, depending on the larger color scheme in your living room. Black will be an excellent choice if you're going contemporary style.  Brown and black are often used together by those who love world travel or western themes like cowboys.
Function 
Tall TV stands come with various features and advantages. For instance, tall TV stands that have adjustable shelves are helpful if you want to fit items of different sizes into the stand. On top of that, they also help conceal your media library from view, so people only see the television set on display along with the stand itself. 
Furthermore, when shopping for a tall TV stand, ensure it is sturdy to prevent injury should someone accidentally bump against or fall onto it by mistake.
Style 
When buying a tall TV stand, choosing the style that best fits your home is important. Traditional tall Tv stands are great if you live up to tradition, and durability is what matters most for you. 
For those who want something more modern, go with a television stand that will always have an edge in your living room. They often come along with other features such as extra storage space or shelves of various sizes depending on where they fit best within the house design scheme. 
Before choosing one over another, consider how well this choice matches the overall outlook of your home before making any moves towards finalizing anything.
Type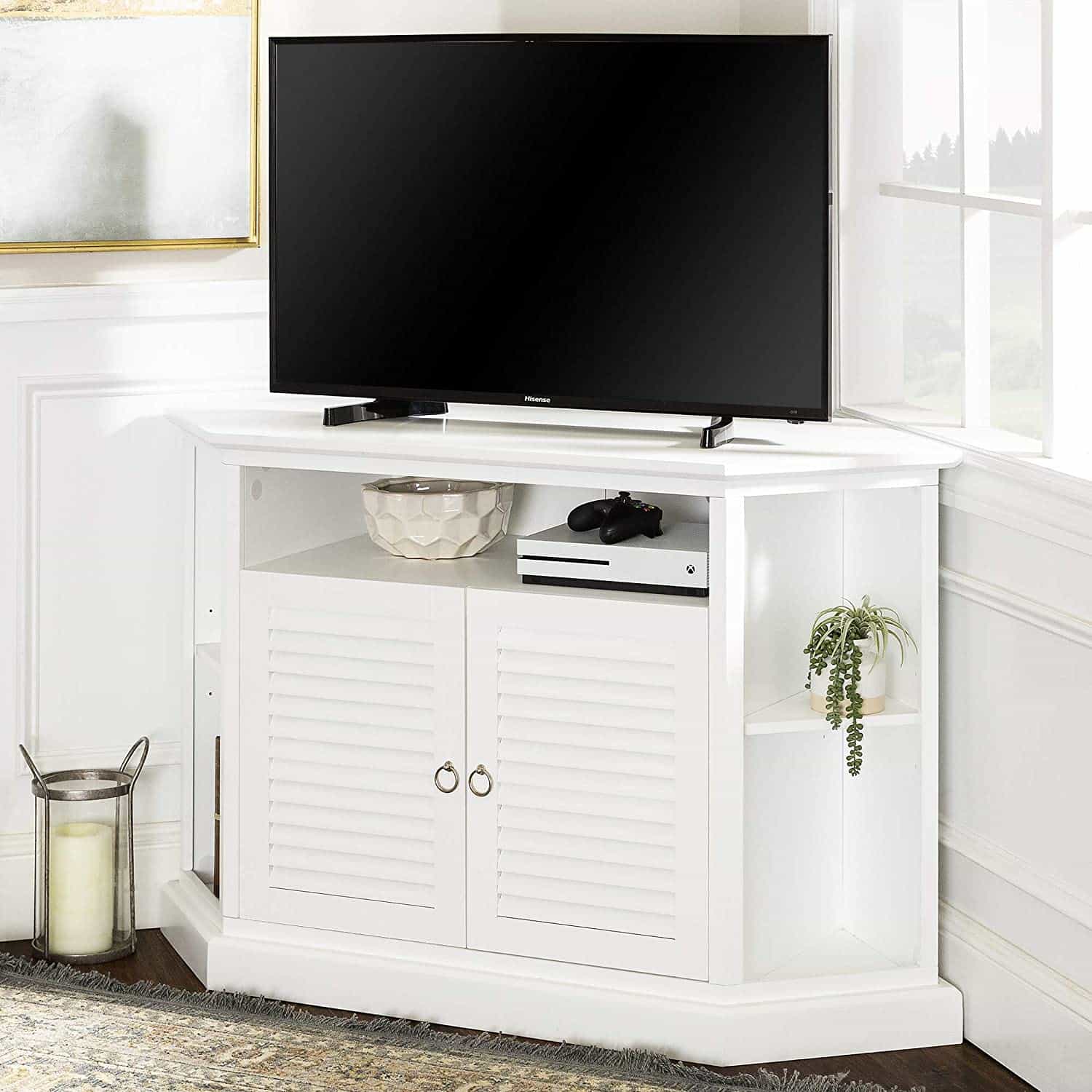 The three most popular TV stands are corner TV stands, entertainment centers, and television hutches. Entertainment centers have plenty of storage for other devices such as cable boxes or video game consoles, while the design allows you to easily connect any cords from these devices to your new flat screen.
Corner-TVs stand out because they provide a unique shape with less focus on having an enclosed space inside it. In contrast, televisions hutches enclose more around its area but provide more focused attention than that one in the living room.
FAQs
Question: How Do I Know If a TV Stand Will Fit My TV?
Answer: The first thing to always consider before purchasing a TV stand is the size of the TV you own. Measuring the length and the width of your TV will allow you to know which size will fit your TV. With that in mind, you can go for a tall TV stand a few inches wider than your TV to allow the best extra space to sit on and that visual acuity and balance. 
Question: What Height Should I Get for My TV Stand?
Answer: The best position for your TV depends on the height of your sofa or chairs. The recommended height is about 42 inches, but it's not written in stone and may vary from person to person depending on how they like to watch their shows.
Question: How Can One Adjust The Height Of A TV Stand?
Answer: TV stands can be adjusted to the height you want by simply using a few adjustments. You pull out or tighten brackets depending on what kind of TV stand it is and if that design allows for a height adjustment. Some have adjustable bases that make them easier to adjust, while others are fixed into place with no option for changing their positions.
Question: Can You Use a TV Without a  TV Stand?
Answer: Wall Mounting Your TV is a great way to keep your space clean and give you the best viewing angles no matter what position you're in. Tilting mounts are also available so that if sitting, standing, or lying in bed or on the couch doesn't bring optimal results for viewers, they can tilt up and down accordingly.
Question: Is It Necessary To Own A TV Stand?
Answer: If you are a homeowner and probably have space in your living room, you can save on a TV stand by just mounting your TV on the wall.  What matters most is that everyone at home, even the smallest of the kids, gets a chance to glance. Regardless, if you tend to own a home and feel your TV is not in the right spot, you need a TV stand to bring out that balance and elegance in your living room.
Conclusion
It's easy to see why tall TV stands are such a popular choice. They not only free up floor space but also allow you to get the most out of your home entertainment system without feeling like it dominates the living room or bedroom. 
When shopping for a new stand, there are many factors to consider, and we hope this blog post has helped illustrate some key points worth considering when making your purchase decision. We recommend the VIVO tall TV stand because it's heavy-duty, durable, and strong. What we loved most about this tv stand are the 12 height adjustments to ensure comfortable viewing.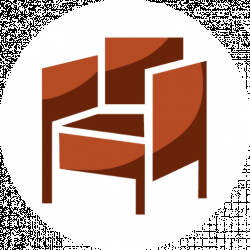 Latest posts by Finally Furnished Team
(see all)