What's the first thing you think of when I say TV stand? If you're like me, you might think about a basic black TV stand. These are typically made from manufactured wood and have plenty of room for your flat-screen TV. They usually come in one size, but many other options are out there if they don't fit your needs. Some even include storage space to make them more functional.
It can be hard to find the perfect option for your home with all these different styles and materials. This blog post will cover some of the best black tv stand ideas on the market today and the tips on choosing the best black tv stands. We've ranked them based on their design, style, and make; you'll surely not miss your favorite type here.
Best Black TV Stand Ideas From Amazon
Walker Edison: Best Overall Black Tv Stand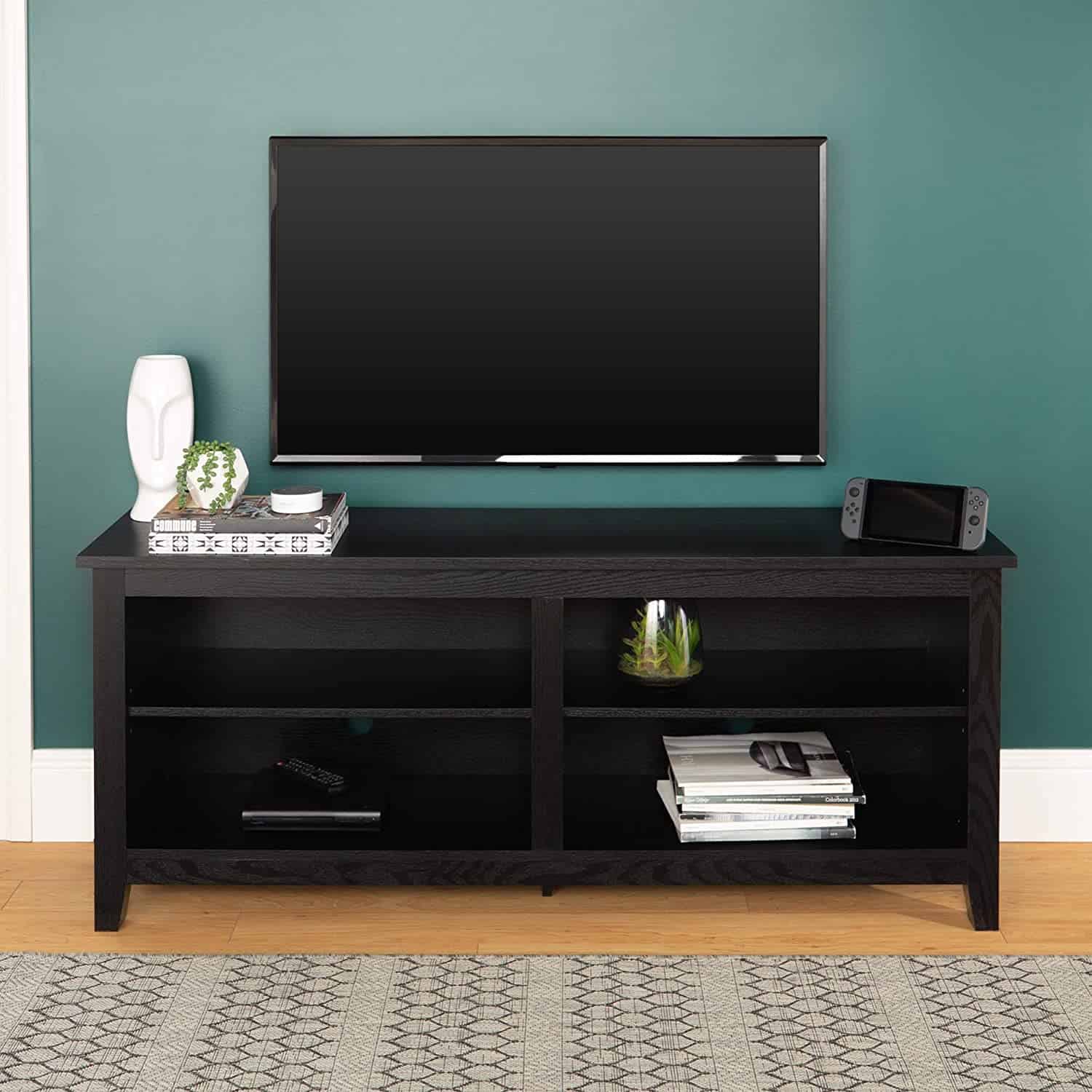 This broad and classic black TV stand is the best friend to your TV watching the next binge-watching session. With four cubby compartments filled with shelves, you'll never run out of space for all those snacks or DVD collections. 
The Walker Edison Black TV Stand can support TVs up to 65 Lbs, so there's no need to worry about whether it supports your heavy-duty Vizio. Ventilation holes help keep things cool, too, just in case that latest episode finally broke a sweat – both yours and theirs.
Speaking of breaking a sweat, this also sports four cord management ports at the back, which are sure to tame all those cords before they get tangled like wet noodles. Buying this piece will be life-changing.
Pros
It has a durable laminate finish

It has a customizable storage space

It is easy to clean

It has an elegant look
Cons
It doesn't come with enough wood glue
Ameriwood Home Carson: Best Trendy Black TV Stand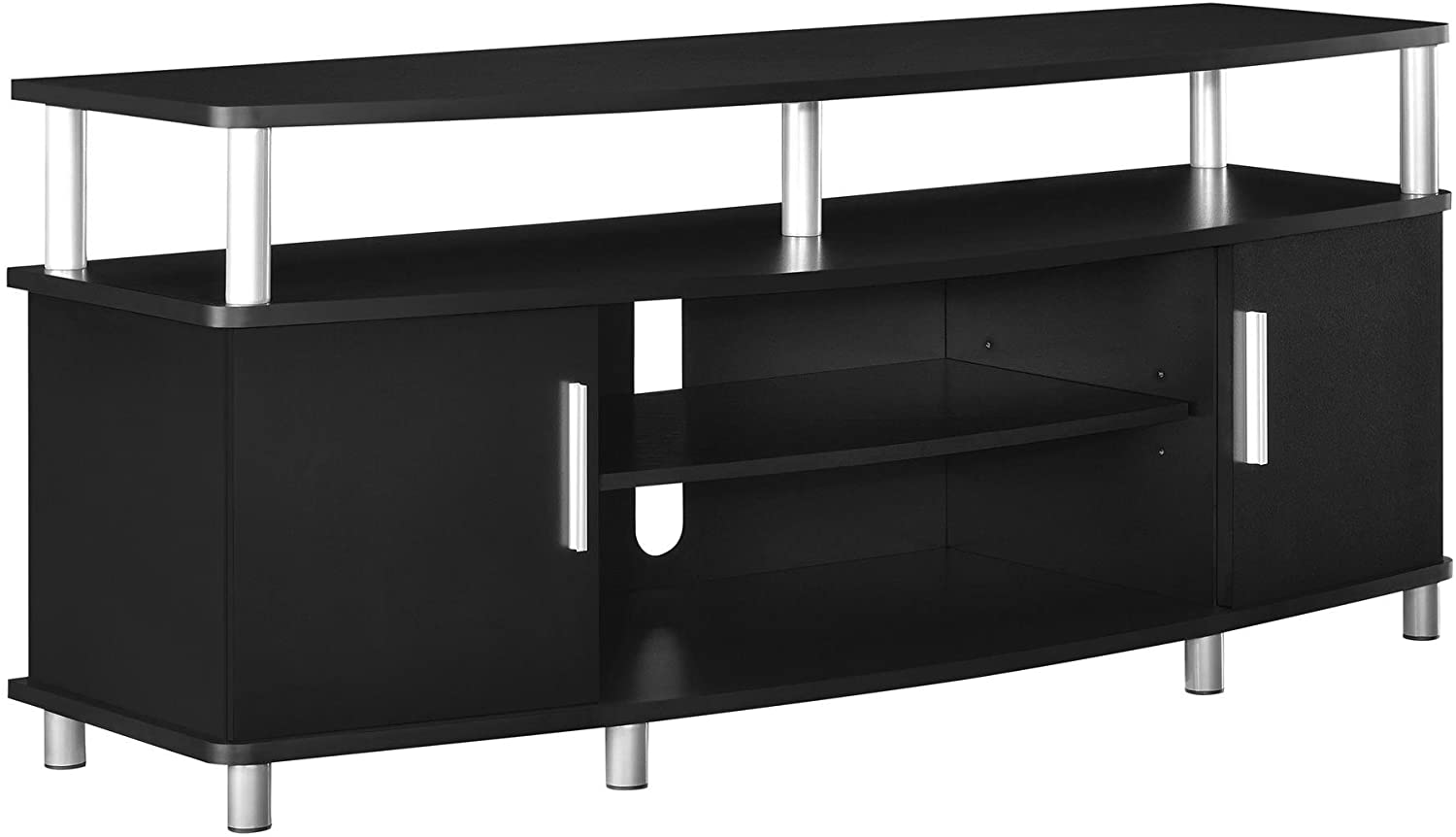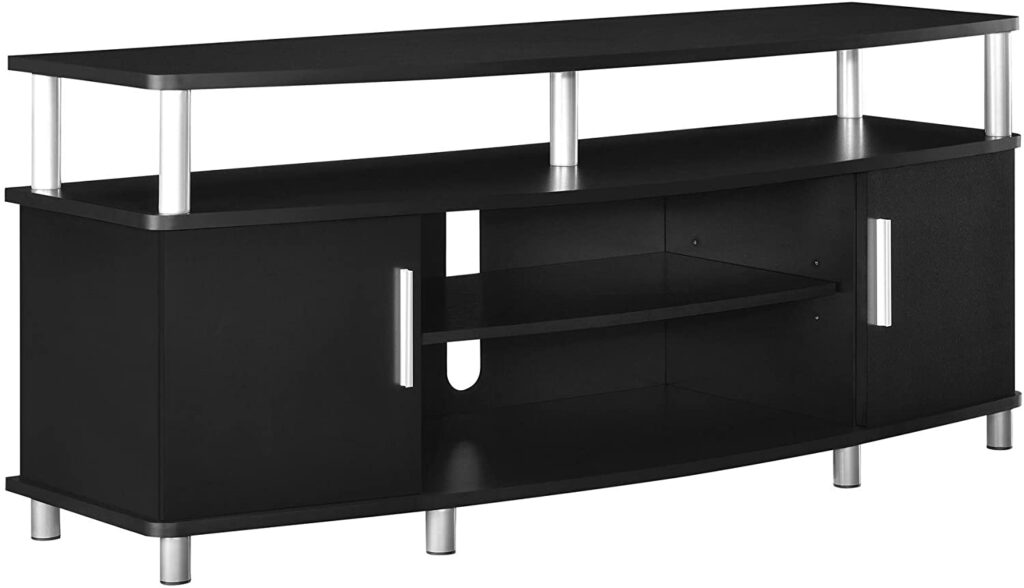 This Ameriwood TV stand has a modern look that will suit any living room. Its Sonoma Oak Finish gives the clean lines and woodgrain finish an elegant, sophisticated touch. Its sleek black metal accents add the perfect touch of contrast.
This Ameriwood Home Carson Black TV stand is made from beautiful laminate oak wood grain particle board with black metal accents to provide durability and warmth for years to come. This piece has plenty of space for all your entertainment components.
There are two cabinets, upon which you can store DVDs on adjustable shelves, and two open center compartments for storing consoles or receivers speakers, etc. There is also one large open compartment up top where you have more storage underneath. You can easily fit up to 50 inch TVs on this incredible trendy black TV stand.
Pros
It is sturdy

It is durable

It is easy to clean using a dry cloth
Cons
Requires more than one person to assemble
Furinno JAYA: Best Simple Design Black TV Stand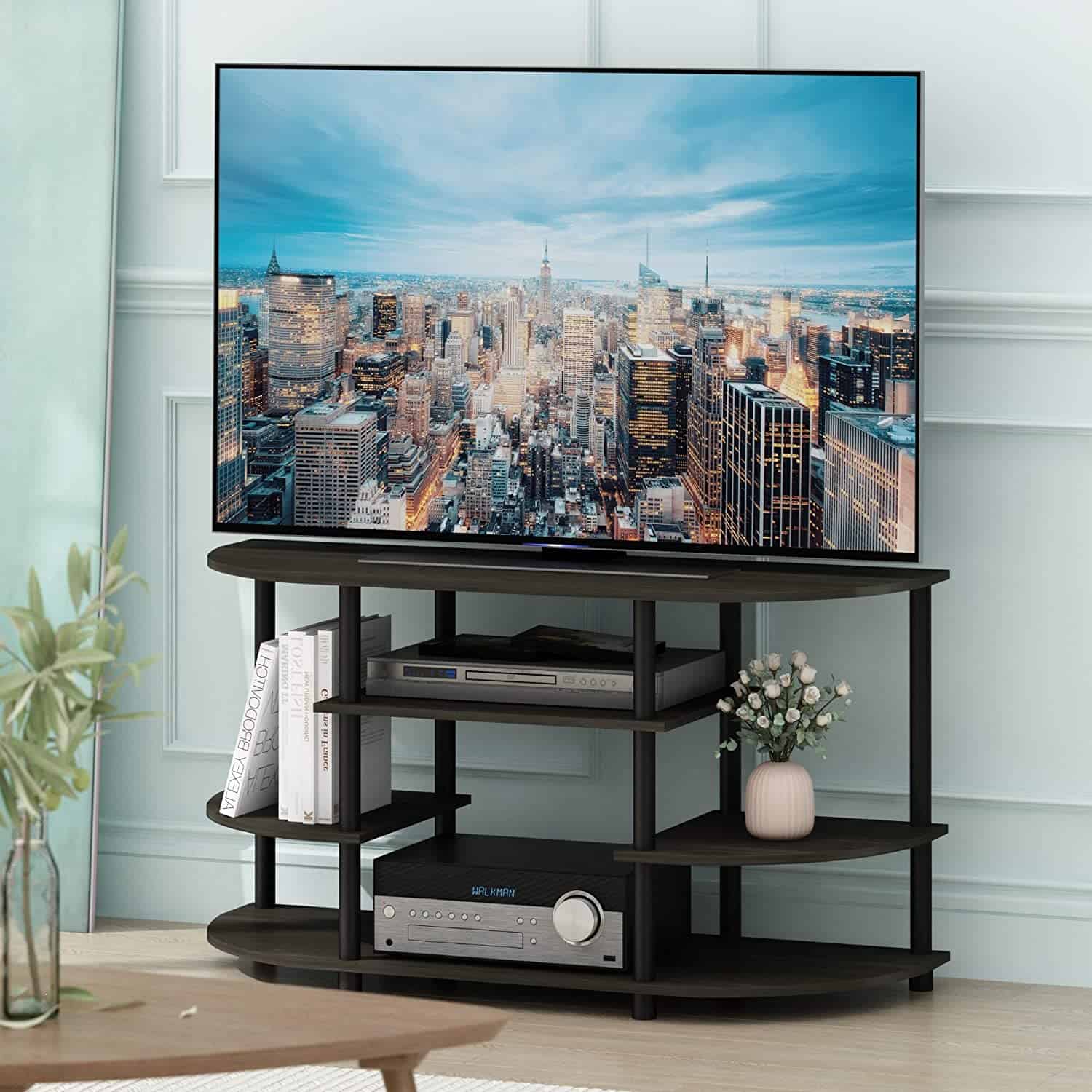 The Furinno JAYA black TV stand is a stylish, functional, and affordable black Tv stand. It is made of composite wood with PVC tubes that feel even sturdier than the usual plastic to give your flat-screen TV more stability on a surface.
Plenty of storage spaces for all your media equipment and accessories while keeping things tidy throughout the house. Or simply just need somewhere for your lamp or plant? No problem. The stand's open-air design helps keep everything nice and fresh in there.
Something unusual about this stand is that it can be assembled in a few minutes. This is because all parts come pre-cut, so when you open up that box, 10 minutes from now, you'll have yourself the perfect simple design black TV stand.
Pros
It is versatile

It is easy to clean

It is durable

It is easy to assemble with a unique structure
Cons
Convenience Concepts Designs2Go: Best Fixed Black TV stand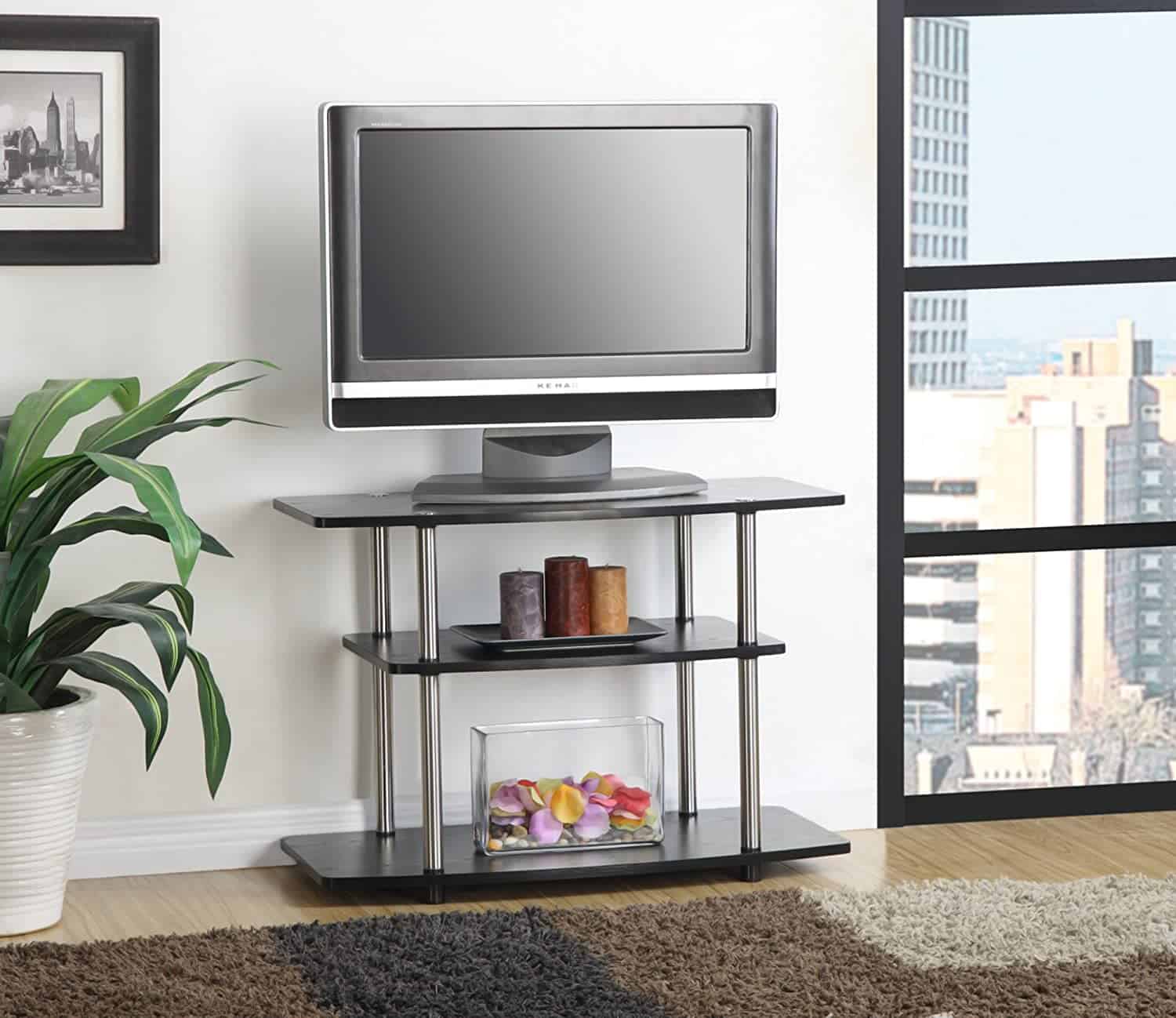 This is the sleek TV stand of the future, and it's also one of the easiest to assemble. With hardly any effort, you'll have your new technology center up and running in a matter of minutes.
This stylish unit is perfect for organizing all those remotes. It provides plenty of space for everyday items like DVDs, CDs, or gaming systems with storage compartments on shelves that measure 18 inches deep by 16 inches wide. 
With its crisp black finish and minimalist design, this Convenience Concept Black piece will complement any home decor while keeping things easy to access without taking up too much precious floor space. Plus, with enough room inside this 3-tier media console to accommodate TVs from 32″ up to 50″, there's no reason why anyone should not get it.
Pros
It is easy to assemble

It is available in a variety of styles

It is durable

It is affordable
Cons
It may take you a long time to clean
Meble Furniture: Best Modern Black TV Stand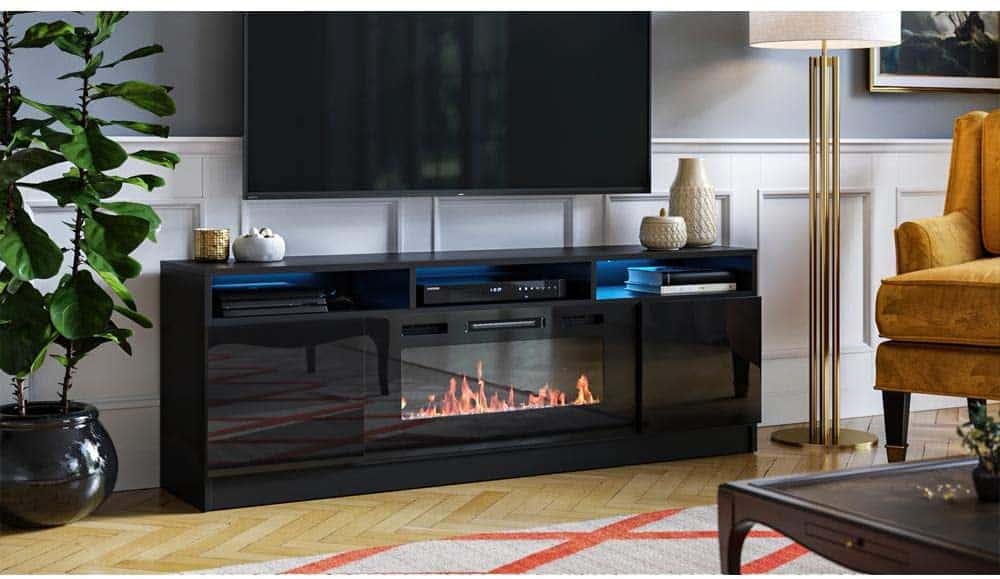 Meble Furniture Reno 05 is the latest modern entertainment stand and TV wall mount shelf designed to match any living space sleekly. It's so easy to assemble, and you can do it yourself.
Reno 05 stands smartly as a functional piece of art that helps bring your home into this century with its slim design and versatility for all rooms. This unit features a 63″ TV stand with a powerful built-in 3D electric fireplace, rear cable management for hidden wire access, four different height positions (26.5″, 34.25″, 41″ or 45″), and enough room to store prominent speakers on top of the unit's cabinet doors. 
With practical components like black tempered glass shelves, classy hardware finishings, and versatile design options for cord concealment, this new edition has everything needed to create an inviting space that you will not regret.
Pros
It has a unique and modern design

It is durable

It is sturdy
Leick Black: Best Hardwood Black TV Stand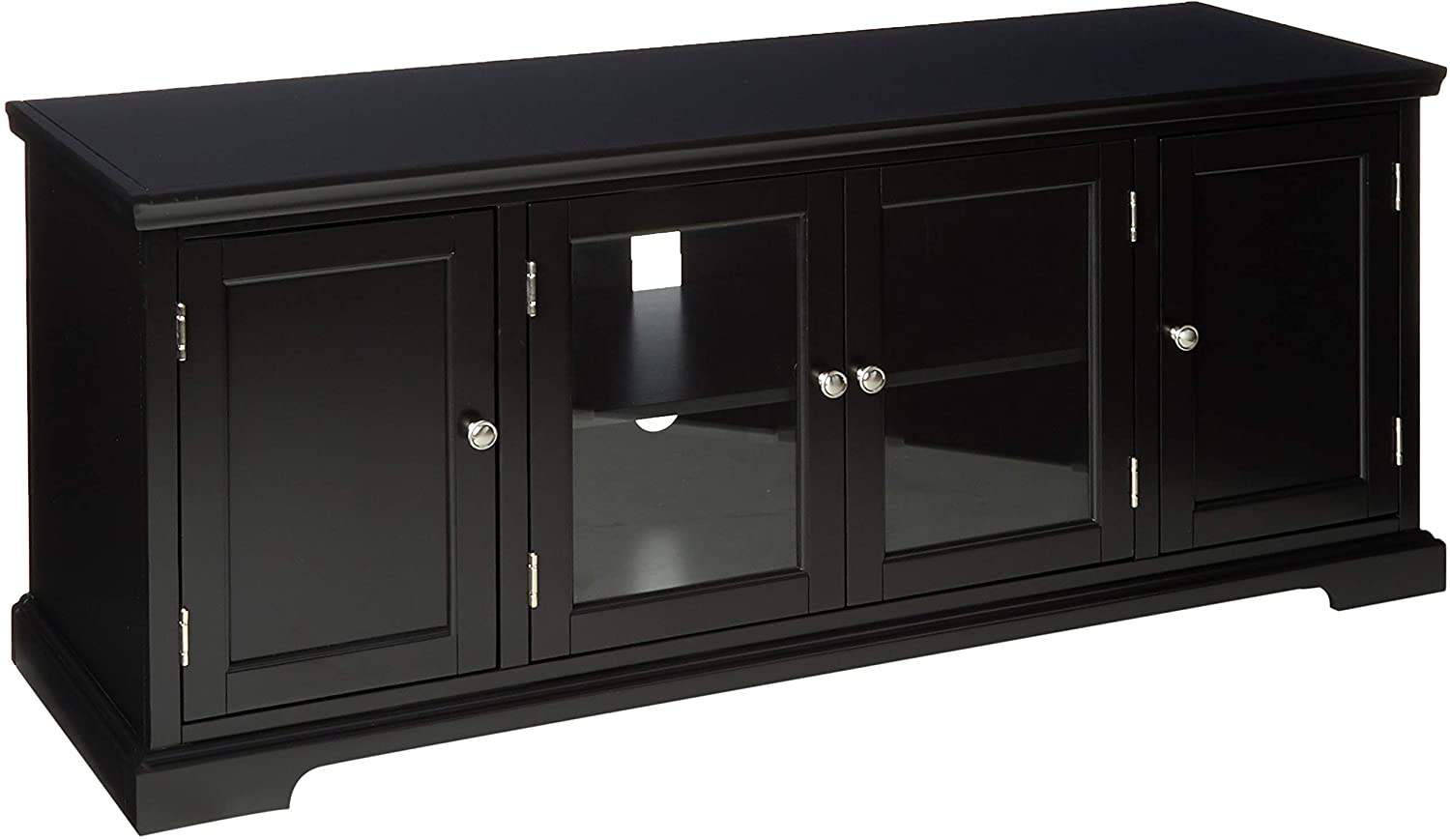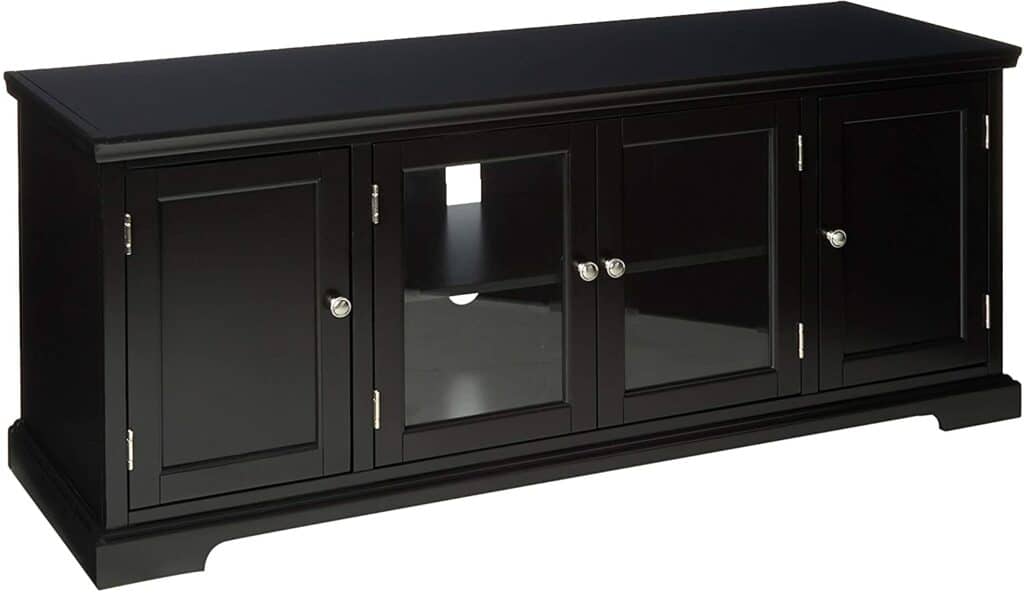 With its clean, uncluttered lines and crisp black finish, the Leick Black TV Stand emanates a contemporary style. It will feel stylish in a home office or traditional living room displayed with plush greige sofas for cozy evening movie watching.
Featuring adjustable shelves behind tempered safety glass for storing your electronics and wires, this functional piece has enough space for everything you need to keep within arm's reach of your media center. This quality piece of furniture is built strong from select hardwoods and wood veneers, guaranteeing it will stand the test of time as well as any Hollywood blockbuster. It is also simple to assemble this incredible black TV stand.
Pros
It is easy to put together

It is durable

It is easy to clean

It has a beautiful look
Cons
Factors to Consider When Purchasing Black TV Stands
Cable Management
Nothing beats a TV stand with lots of storage and space for additional equipment. It's the perfect solution to all your entertainment needs. Ensure that it enables effective cable management, so you can organize them in an organized way without having any problems whatsoever.
Remember that you would have prevented trip hazards caused by wires hanging carelessly if your TV stand has a sound cable management system.
The Stands Size
According to experts, when deciding how big or small, for that matter, it depends on where you will be placing this furniture and what would fit best in the space available.
To maximize the size of your TV, you must purchase a stand that can support its weight. Otherwise, if left unsupported by anything other than floor or window sill mounting brackets, the TV will have an unbalanced appearance and possible screen damage over time.
For those with limited space, minimalist Black TV stands are a must – they take up less room than the bigger ones. For larger rooms on the other end of that spectrum, extensive black tv stands will work best to showcase your favorite shows in style.
Budget
You must formulate a reasonable budget before you buy your black TV stand. You will be able to determine whether the price is within your limit and know which one would work best for what you're looking for in terms of features.
Safety Factors
You should consider the safety of your TV when choosing a black TV stand. You should select from durable materials that will withstand any mishaps or accidents without risking breaking at all, especially if you have kids.
Storage Requirements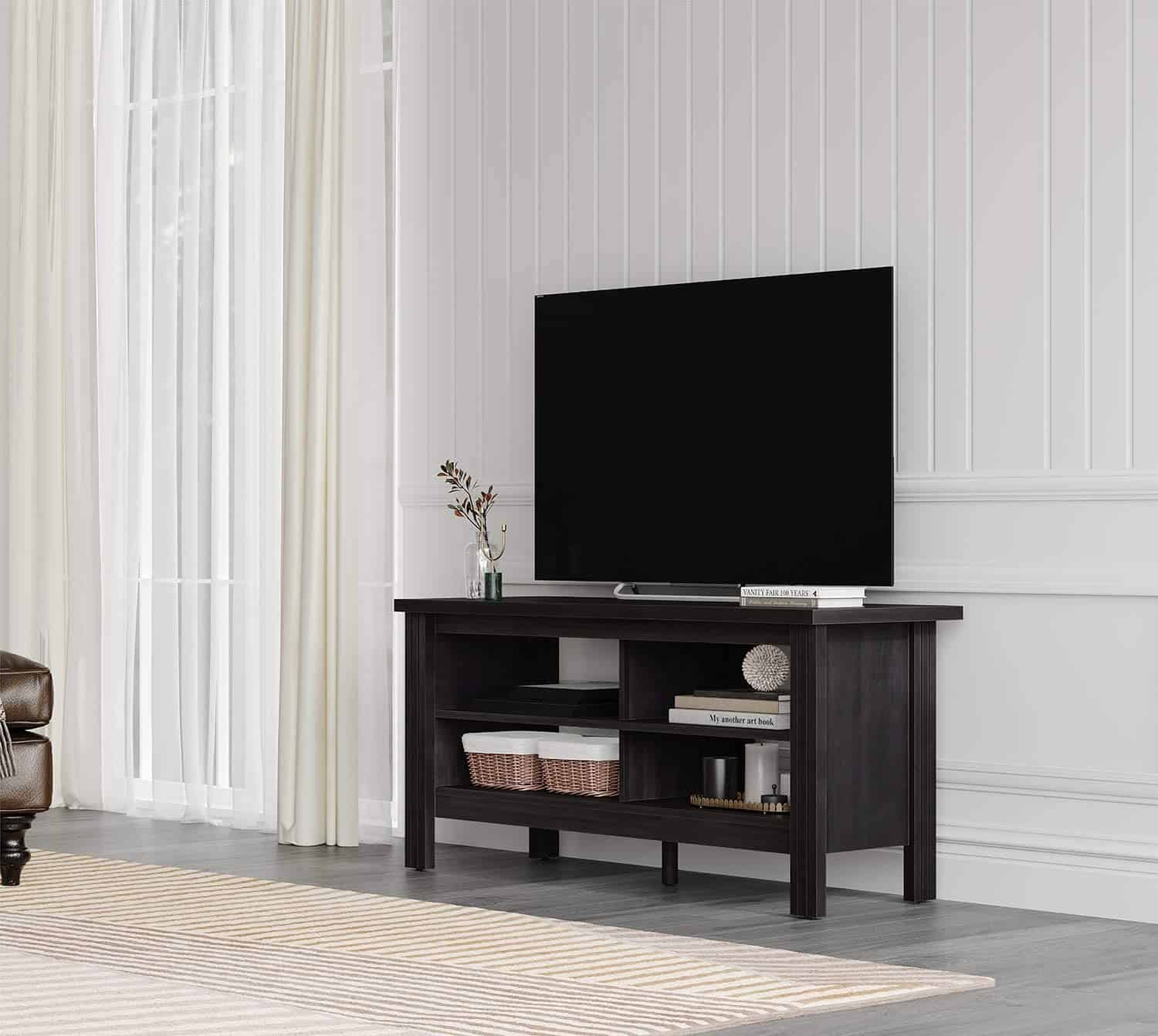 Black TV stands come in all shapes and sizes, but storage is the most important thing to consider when choosing a stand. This will depend on what devices you plan to connect with your new TV, such as gaming consoles.
 It's always good if black tv stands have cabinets, shelves, and drawers that can help organize anything else we need for our entertainment room like DVDs or video games.
Frequently Asked Questions
Question: Is It Possible to Have a Bigger TV Than the Black Stand?
Answer: The suitable TV stand for your media set-up will depend on several factors, but one basic rule is that it should be at least 3 feet wider than the base of your television. This ensures there's plenty of clearance to put down other display items while giving you ample space when moving around and adjusting cables in the back without running into anything.
A straightforward way to ensure an attractive arrangement is by ensuring each element has enough room, no matter how big or small they are. If you have this problem too often with remotes, cords, and more cluttering up what could otherwise be a stylish living setup, then make sure every inch counts with choosing the right size black tv stand, preferably at least three times as wide as all objects added.
Question: How Can One Adjust the Height of a Black TV Stand?
Answer: Pull the black TV stand out from the wall, and check behind it for adjustment brackets that would allow you to heighten its position. If an adjustable unit is found, then lift on one of its legs until you reach your desired level; secure with whatever fastener is unique to your particular model of this type of furniture piece.
Question: What is the Correct Height for a Black TV Stand?
Answer: Some people don't know how to measure the height of their black TV stands correctly. Your television's base must be 25 inches from the ground so it can comfortably align with eye-level at 40″. This way, you'll have a perfect viewing experience without straining your neck or back.
Question: Which Material is Best for Black TV Stands?
Answer: You will look great in your living room with a black TV stand of wood and metal. Wood is a traditional, robust, and durable material that makes for the perfect complement to any furnishings in your home.  Metals are sturdy, slim, and have lightweight designs that make them ideal for an apartment or small space.
For many homeowners choosing between wooden black tv stands or those made out of metal can be difficult. This is because they both offer their unique benefits depending on what you need them for. If you're looking for something heavier duty, then there's nothing better than solid oak furniture.
Question: How Do I Know What Black TV Stand I Need?
Answer: A Black TV stand can be a complicated purchase to make because there are so many different sizes. However, the key is knowing how wide your TV will measure from left to right.
Use this easy formula: take a measuring tape and place it on one side of the screen until you meet its opposite edge; write down that measurement in inches or centimeters for future reference when shopping around.
Conclusion
We hope that this blog post helped you understand what a black TV stand can do for your home. Remember, the best way to determine which one is right for you is by looking at different options and seeing how they fit in with your needs and preferences. 
One size does not always fit all, so it's important to explore before making any purchase decisions. Which of these stands did we miss? Share them with us in the comments if there are any other questions about our picks. One of our top picks is the Walker Edison Black TV stand because of its durable laminate finish and elegant look.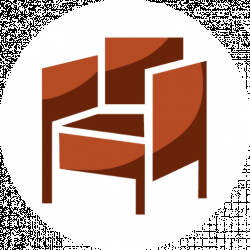 Latest posts by Finally Furnished Team
(see all)