A timeless question that almost everyone asks at one time in their life is, "What color couch should I get?". It doesn't matter whether you are pondering from a chalet, apartment, small condo, home, or castle.  Everyone wonders and no one wants to make a wrong decision! 
But, it can be a manageable decision if you break it down into smaller questions about functionality, decorating themes, and your personality! Let me just say before we get started, that depending upon what website you land on, the most popular couch colors can change!
My findings for four different sites had these statistics in common:
Blue ranked at number one 

Grey came in a close, close second

White came in third place, but with about half the popularity of blue
Pink came in fourth, almost as popular as White
Other colors all came in waaaay down on the popularity scale compared to the top four.
The bottom line is that it really doesn't matter what a website tells you, or what color couch your neighbors have.  It comes down to you. Do you even like any of the top four colors? If you truly love the things you buy, they will always find a home somewhere, wherever you live.
This is one of my favorite couches of all time! It's a Traditional Couch that combines practicality with timeless elegance in an alluring shade of Colonial Blue and comes in 16 colors.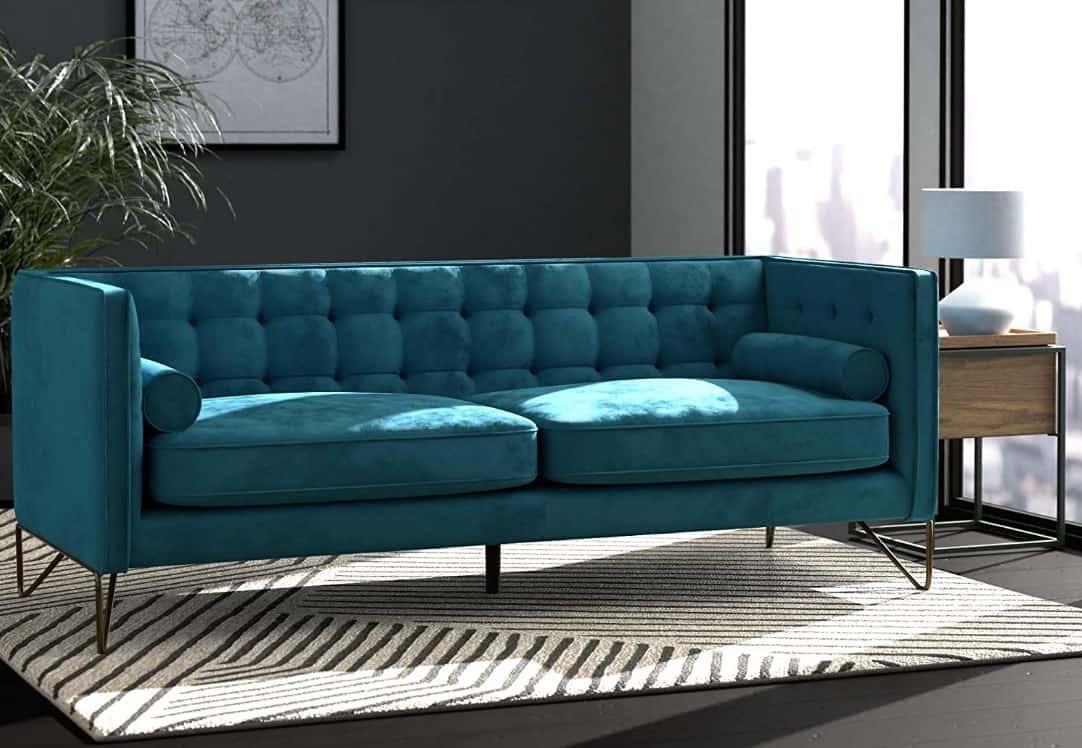 Neutrality, Blendability, and Centerpiece
The best blue couch ideas include virtually any and all design styles you could imagine. Blue couches will fit in with antique, modern, minimalist, lavish, country, or ornate themed rooms. What could be better? The blue couch is, has been, and will be a premier choice for decking out your living space with seamless flair.
Blue is the most popular color because of its immediate addition of personality and for its "blend-ability" with basically anything you can throw in the room! Blue is considered a neutral color – and neutral does not mean bland!
There are many blue shades that are bold, or feminine, dramatic or relaxing, and it's all a matter of your personal choice.
This elegant, unique, deep-blue Traditional Couch set exhibits the imaginative nature of the color blue. With a curved back, rolling arms, exposed wood, and ornamental gilt it is a very detailed piece – almost Victorian, if it weren't for the more simple structure and lines.
All this and not to mention the patterned fabric! With a sizable dimension of 93x36x36 inches, black legs and removable cushions, and a velvet-like 100% cotton fabric – it is sumptuous. Luxurious. There is a sofa and loveseat and chair all in the same velvet blue and fabric pattern.
For a more casual look with the same gorgeous pieces, opt for a simple tailored coffee table and a very neutral cream or beige rug to anchor the busy look. Also, take away most of the accent pillows, and use them in adjoining rooms to carry over the colors!
Try keeping the square gold and perhaps the silk stripe ones to dilute the formality.  (Or, you can keep it as is to create a formal living room or sitting room for guests to be entertained). Find these pieces here at Wayfair!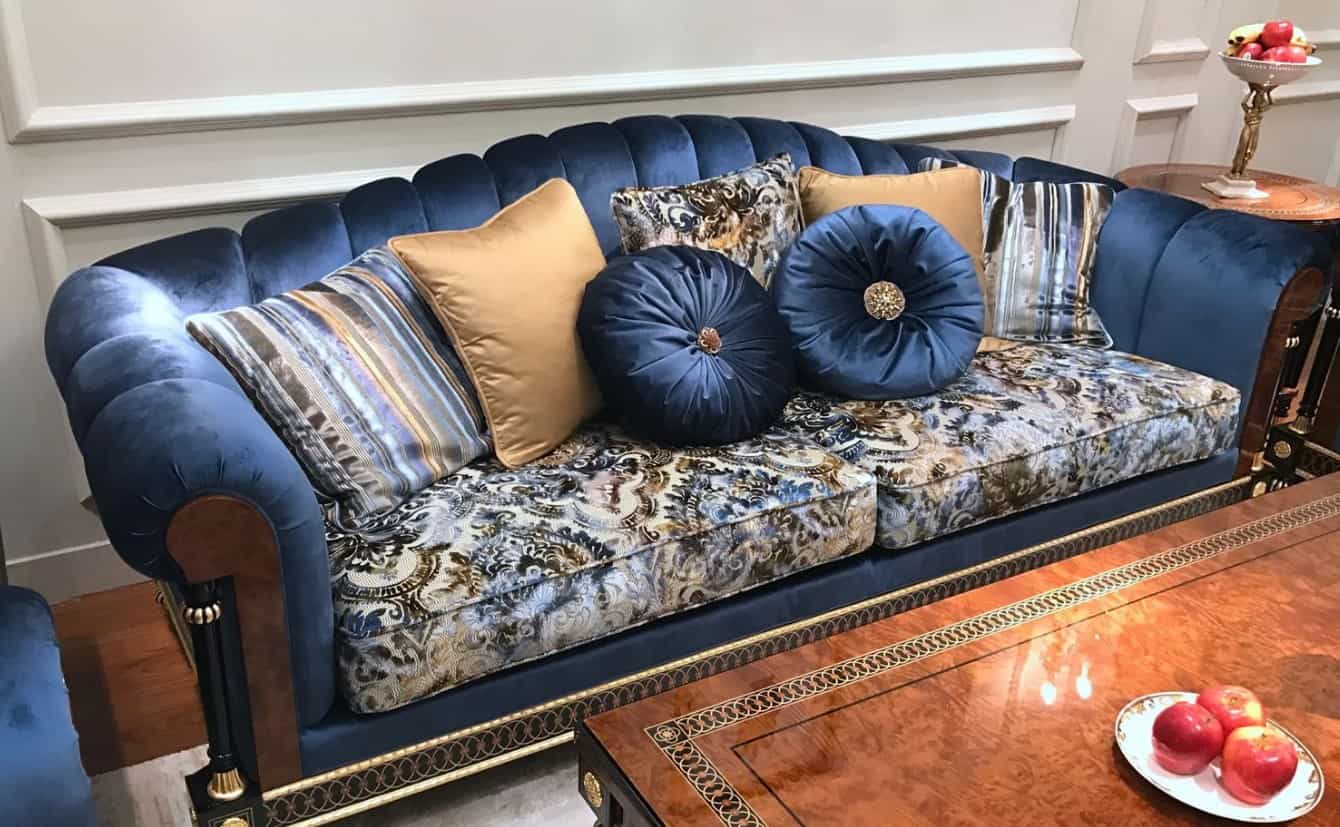 Neutrality, Blendability, and Center Stage
For a room with true neutrality, that has beiges, grays, and metallics as a foundation, try choosing chambray blues, or lighter color blues that seamlessly slide into the picture and complement the color group collective. I say "color group collective" because, with a truly neutral theme, the colors work as a team, together, with each taking on equal responsibility and no one color popping out to be the shining star!
Couch Pick and Style Tip!
This Victorian-style Couch is one of my favorites because of its drift-away blue wavy fabric and hand-carved solid wood that is so indicative of the Victorian era. Another reason this is one of my favorites is the Chenille fabric, so soft and graceful to mesh with the scalloped curves and gold gilt.
Removable and reversible seat cushions make cleaning a cinch. At 91x41x44 inches high, and 150 lbs., it is a solid, substantial piece despite its dainty and detailed appearance.
Easy enough to dress down with some matte finish toss pillows in cream colors or even a rich brown to absorb some of "gleam" and have casual elegance take over. Less formal lighting and tables will also do the trick. For an immediate fix, go with several throws in varying textures and colors to help share the spotlight.
If you want to showcase your couch and have it stand out (in a good way!) you can always choose to add darker shades of blue, or a blue-green color (peacock green is one of my favorites) if you want more vibrancy but still want to stay within the "blendable" scheme. And, there are always countless different colors you can add with blankets, pillows, lampshades, wall art, rugs, glassware, and wooden sculptures, etc.
For those who want a darker palette, but still want a "team" of colors that work together, try the neutrals of:
Charcoal Brown
Navy Blue
Dark Brown
Dark Gold
Black
The Meaning of Blue…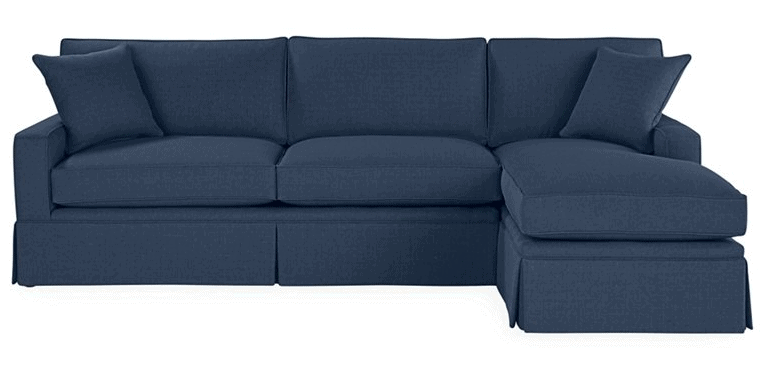 Blue conjures up images of the sky and the sea, lots of open spaces where your imagination can soar. Every shade and tint of blue is in the waters that both separate and connect us. Water – that has been an element of healing to us for centuries.
Intuition and Inspiration also are associated with blue. Look up to the sky for prayer and inspiration, clouds for imaginary shapes, stars for revelation and truths. Blue=creativity. Blue is exploratory, and this is key to being creative. Blue is less literal. These are scientific connections made by Dr. Juliet Zhu.
Uniforms! Bravery, protection, and patriotism are all represented by the color blue.  Just seeing the color blue can lower blood pressure and heart rate, and even calm breathing.
This Indigo, kiln-dried solid wood framed Chaise Sleeper sofa has so many features that it's impossible NOT to love it! Made to order, it has linen upholstery and is a whopping 105x64x35 inches of dense foam-covered coils.  Quality made at every stage, it has a skirted bottom, (you can also find it with wooden legs) relaxed lines, and two throw pillows included.
The seat depth is on the low to standard side at 23 inches and the seat height is high at 20 inches. This piece weighs 270 pounds and is unique to One Kings Lane!
The World Swirls in Blue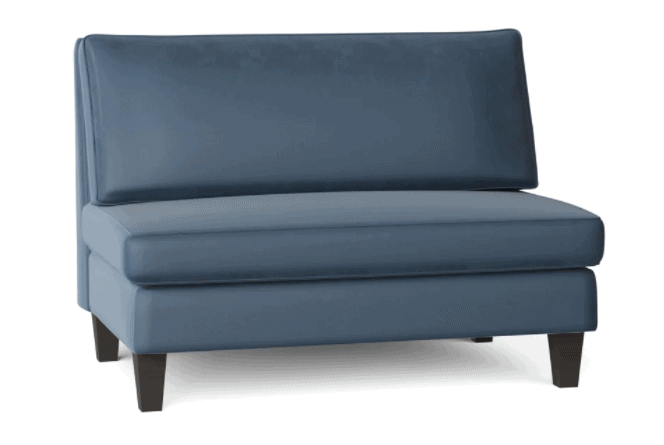 We are surrounded by this hue every day and in every way. It's no wonder that it feels natural and familiar to us. The fact of the matter is, that once you find a piece of furniture, art, a rug, or anything – that you love – you will always find a place for it! 
It will travel with you if you move, and travel from room to room if you switch up the decor. Your blue couch will stand the test of time as you change wall colors, flooring, pillows, and lamps. It is a solid investment for any living abode, easily incorporating and complementing the different colors around it.
Navigating all the shades of blue available can be overwhelming (and exciting, too!). Did you know that UltraMarine Blue, which was derived from lapis lazuli stone, is the superlative, end-all blue?
This chick Loveseat is so universal that it has to be one of my favorites! It can literally fit anywhere you need some seating – at 50x32x34 inches, it can squeeze into your kitchen, dining room, foyer, living room, or bedroom at the foot of your bed!
A perfect banquette for a breakfast nook. This loveseat comes in over 65 colors and fabrics! And, with 7 leg colors to choose from! These are so handy for additional seating options, that I have shown you just a few of the blues to choose from. A must-see at Perigold.
Stare Deeply Into Ultramarine Blue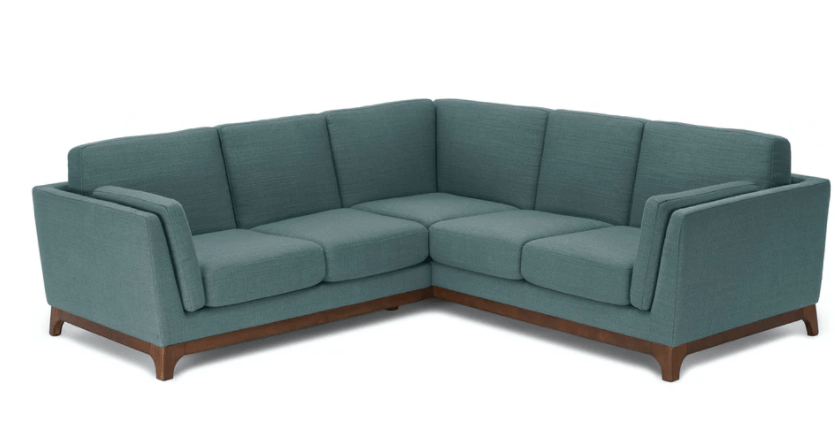 Ultramarine Blue is the costliest color to come by, and that up until 1824, there was no synthetic alternative for it, and the only place to get the precious lapis lazuli was a small strip of mountains in Afghanistan. Once having the stone, it had to be ground up into a very fine powder, adding in melted wax, oils, and pine resin, and then kneading it. After that, it needed to be put into a lye solution and kneaded again! 
Many of the greatest painters of all time had challenges with how to procure and use this incredible color. It is said that since Michelangelo could not afford this pigment, some of his greatest works went unfinished.  
This Mid-Century Modern Corner Sectional has removable seat, back, and side cushions for easy cleaning!
The Aquamarine Blue is one of my favorite colors, and this couch is a real gem for any corner (or in the middle of the room with high tables flanking its back, with colorful lamps and a slice of Quartz on display!) of a gathering area – a delightful and unique breakfast nook!
At 88x88x31 inches, it is quite sizeable (with 35 inches for width on each end) which adds to its appeal for families or groups, or a neat and tailored workspace. The clean lines of this couch, along with its flared hardwood legs, and sturdy build will anchor any space, and add an element of quiet with its marine-inspired color. Find it at Article.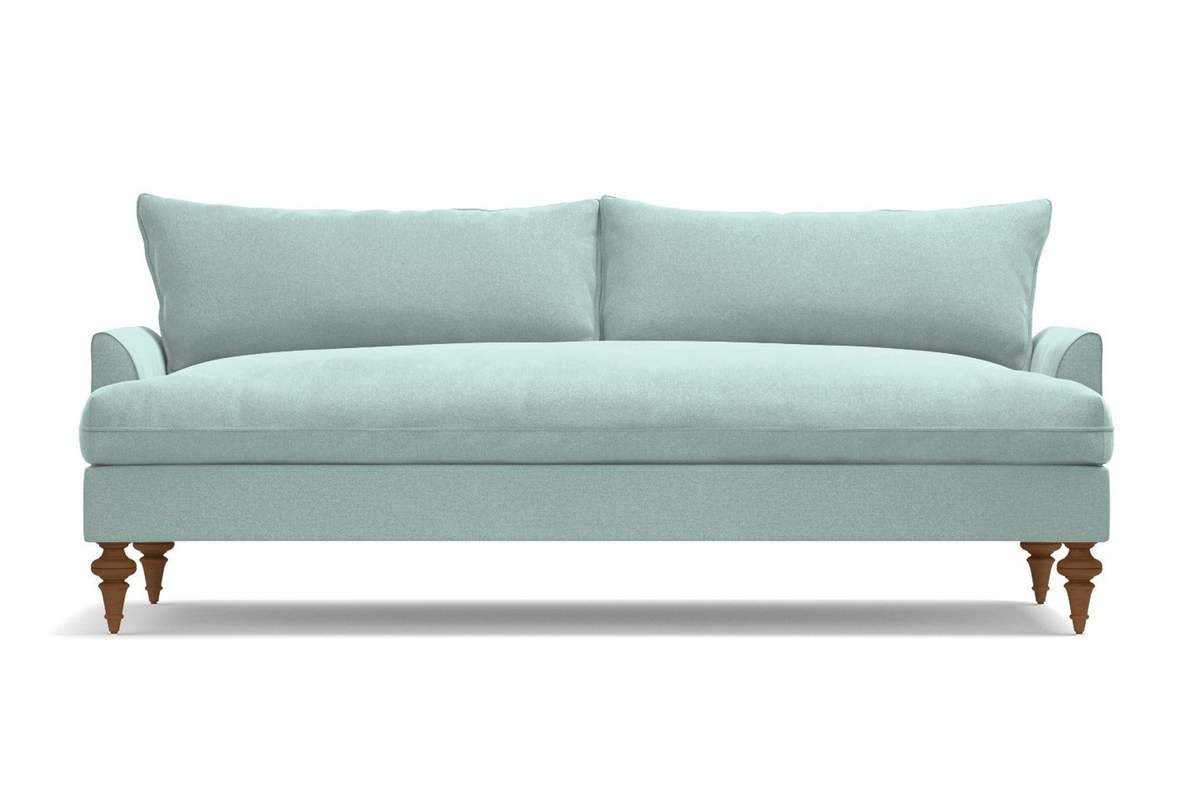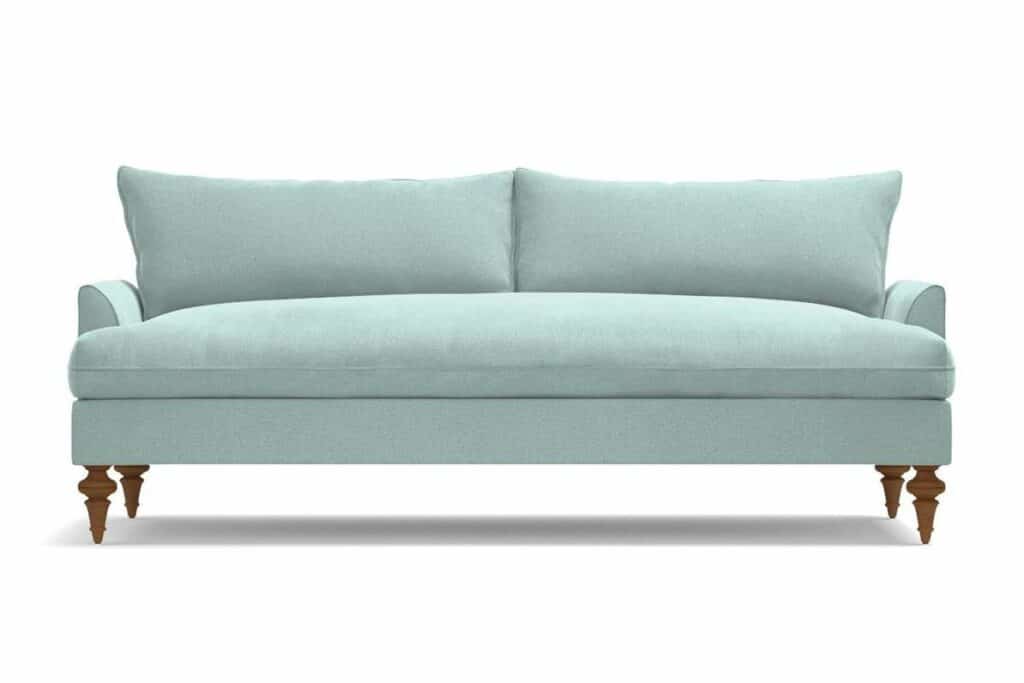 This light blue shabby-chic Transitional Traditional style sofa is custom made in Los Angeles and has hypo-allergenic fabric that is easy to clean. Ultra-plush cushioning and deep seating with a pillowed back make this super comfortable while also being elegant with an icy shade of aquamarine.
It is 80x37x32 inches and has great versatility to be dressed down (with colorful throws and pillows) or dressed up with sophisticated tables and lighting.
Another thing to LOVE about this couch is its zippered removable cushion covers that are reversible!  It will be your antique to hand down for generations as it has a solid Alderwood frame, and timeless knife-edge upholstery with Victorian turned feet. It blends multiple styles and is one of their coziest sofas to date!  You must take a look at it here on apt2b.
How to Know What Kind of Couch to Buy?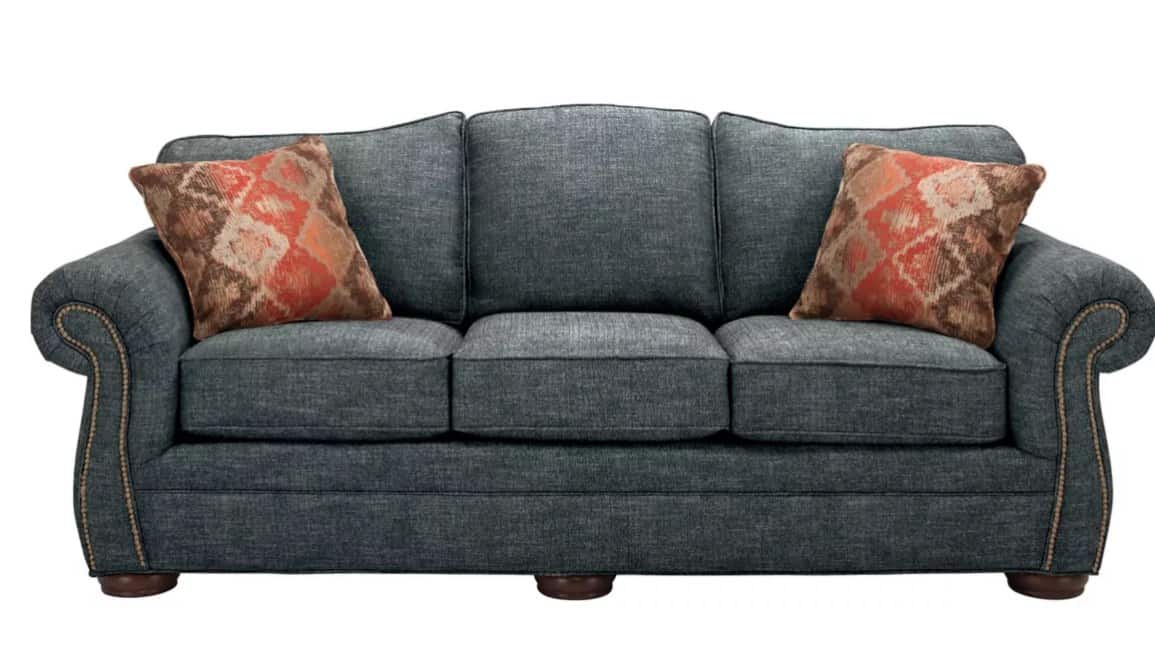 There are so many different kinds of couches available nowadays, all with different names, that it can seem an insurmountable challenge to choose just one! The two most awkward words to use are "sofa" and "couch".  Which one is it? The words couch and sofa have meant different things in the past but have evolved together so closely over the last 50 years that today they ultimately mean the same thing.
The word "couch" is a shortened version of the French word "coucher" which means to "sleep, lay down, or bed down", depending on how the word is used in a French sentence.
The word "sofa" comes from the Arabic "suffah" which translates to a type of long, low bench that is used to recline on. There are low benches filled with pillows and cushions that are against every wall in many overseas homes today.
(Interestingly, the word "suffah" became "sopha" when it became part of the French language in the 1600s).
"Divan" is similar to "sopha" in that it means a low bench with a mattress-like cushion on top of it.
"Loveseat" is a word we all pretty much know, meaning a smaller version of a couch. Chaise lounge is also a word quite familiar to many of us and brings to mind relaxing, reclining, or taking a snooze on a long chair that extends to your feet, with a reclining or adjustable back.
Sectional Sofa is a fairly recent term and a very popular choice! It refers to a large couch with different pieces that can be shaped in various styles with a long bed-like side or large, seat-like ottomans in the middle spaces.
"Futon" is a term we know (many of us from college or first apartment days) that equals a couch and a bed in one. Easy, convenient, and comfortable – the back of the couch reclines to lay flat and create a bed. The most common sizes for Futons are twin and double, with queen sizes available but less prevalent. Futons are also used as beds worldwide, and often placed on the floor or a very low frame.
A Sleeper Sofa is just that. A sofa that you can sleep on. Sleeper Sofas can come in any size desired – twin to king. Typically having an iron frame bed with a thin mattress within the couch, hiding under the cushions, it just needs to be pulled out and unfolded and the couch cushions stacked up against a wall or on a chair.
A couch or a sofa is simply not just a couch or a sofa anymore. We have broken down the concept of seating in countless classifications and styles, and unless one studies interior design, it can be very confusing.
Through these images above, I have shown some of the more prevalent design styles and names used when describing and organizing couches/sofas.
A fantastic, incredibly good-looking, Standard, traditional sofa with gently rolled arms, nailhead trim, and piping.  With dimensions of 90x39x39 inches, it is long enough to lay down and take a snooze!
Features include loose, reversible seat cushions and attached back cushions. This Heathmont couch is a breath stealer in a dark blue denim-like linen! There is a loveseat and a chair that match, and the set can be found at Raymour & Flanigan.
I Spy a Seat!
While your couch may not lead a tyrannical rule over your decorating style, it will, however, be one of the first things (if not the first) that everyone who enters will gravitate toward. As soon as a room is entered, all pairs of eyes scan and search for a comfy seat, and then assess everyone else's movements for signs of a race towards one particularly appealing couch! Yes, I may have been guilty of that once or twice…but only in the most desperate of situations…?
The point being that your couch will be first and foremost on most people's minds, and so it should occupy an appropriately aligned space in yours. We all want our couches to fit, not be the sore thumb, and not impede pedestrian right-of-way. With that in mind, remember these few norms:
Your sofa/couch should not take up an entire wall length
Leave about 18 inches free on each side of the couch (or on each side of the side tables, if they are next to the couch)
If you go with a sectional or a couch with a chaise or ottoman, the long part should not stretch more than halfway across the room
Do not block the "path" that your traffic will take – free-flowing and free of obstacles is best
36 inches of space between the furniture is a standard measure to ensure there are no strategic plans needed to leave the room
Please leave room between the wall and couch (I have seen people hit their heads as they sit down on a one-piece "wallcouch")
Space needed between couch and wall?  About 5 inches- unless you have to access plants or windows from that route- you could have 12 inches but I prefer about 15-18 inches (don't want to "shimmy" like I'm on the breakers!)
What Will Your Couch Be Up To?
One of the first questions (that you may already know), is what will your couch be doing? Do you see it standing still while guests and family carefully sit on it? Is it moving a bit as people plonk themselves down, or is it skating across the floor as children, pets, and teens run and jump into it? Will it serve as a team hangout, family escape (pet included), guest bed, or will it be in a seating area removed from daily traffic?  
This question of how you want your couch to function will determine quite a few things. Type of fabric, style of couch, the dimensions of the couch (to fit large families or groups, or just one or two people for visiting?).
Couch Pick!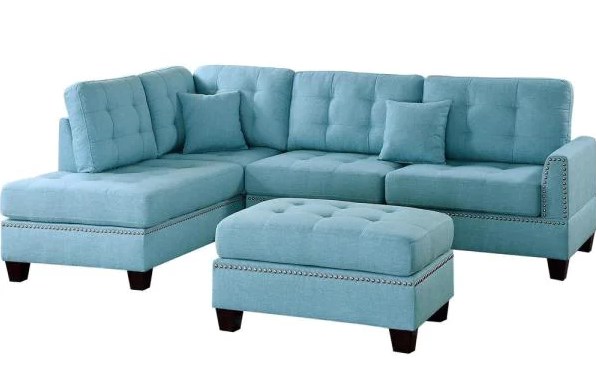 Barcelona Blue, L-shaped Sectional with chaise is perfectly multi-purpose! This Liz Osborne creation is inviting and the fabric is easy to clean. The dimensions are 104x75x34 inches and it weighs 200 pounds.
The seat depth is 34 inches, which classifies this as a deep-seater! I really like this couch for its tidy appearance, the stretch-out chaise, the included ottoman (35x24x19 inches), and the tufted back with dark wood legs. The couch and ottoman feature neatly tailored nailhead trim and straight, clean lines.  You can find this at Home Depot!
Another Question For You Is…
"Will your couch be the center of the room – the focal point – or will it be put into an already fully decorated room (and have to fit the existing decor)?". This is also a game-changer for your decisions.
Huge sectional or diminutive loveseat?

Victorian style or modern?

Velvet or tweed?
Many people and designers put a couch with neutral colors in an already decorated room. The neutrality does not grab your attention as soon as you walk in, and blends in nicely with almost every color scheme. Some even suggest in keeping the color of the sofa the same color as the walls for true synchronicity. I would have a hard time with that philosophy – too much neutrality -but that's just me! (Blue does fit into the neutral tone category, as designated by interior decorators). Think of blue as your favorite pair of jeans. There isn't anything that doesn't go with jeans!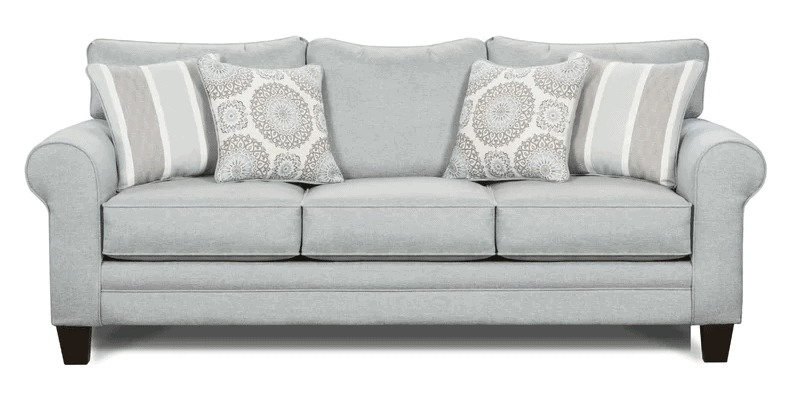 This Sleeper Sofa by Darby Home relaxes in a neutral shade of blue that is serene and tranquil. It has round arms and reversible cushions for oops-prone adults, with dark wood legs, standard seat depth, and high seat height.
The 88-inch long couch features a Queen size sleeper, and more than one reviewer commented on the mattress comfort. It is 37 inches high and 38 inches wide and comes with one toss pillow. This is a sturdy, comfortable couch with a queen-size sleeper in it!  I adore the pale blue effervescence of it, almost like seafoam!  Learn more about it at Wayfair.
Another Factor to Ponder…Large or Small – How Big is Your Abode?
The shape of your space will dictate, to some extent, the size and type of couch that will be able to fit and serve its desired purpose. Many times, large open expansive rooms are used in more than one way – a living room and dining area, a living room/family room, a home office space, and a spare bedroom – the combinations are endless.
Not only the shape and size of the room will matter, but any special ingredients in it, such as built-in cupboards, bookshelves, fireplaces, closets, doorways, bay windows, and stairways. Decide what you need access to on a regular basis – do windows pop out to be cleaned? How much open area do you need around a fireplace? Which direction does the door swing? Is it okay if the couch covers half the window?
These questions may seem like a lot, but it will save many headaches down the road if you plan for these things before buying your dreamy blue couch. Take some masking tape and map out areas around built-ins, fireplaces, doors, windows, and stairs. Then account for furniture that you know absolutely will be in the room. Map that out.
Take the space that's left and begin to envision a cozy plush sectional, or a smaller, dainty settee, or a traditional sleeper sofa. There are small sectionals and large settees – just imagine the type of couch you want and you can find it.  Below, I have listed some smaller types of blue couches.
Smaller Couch Picks!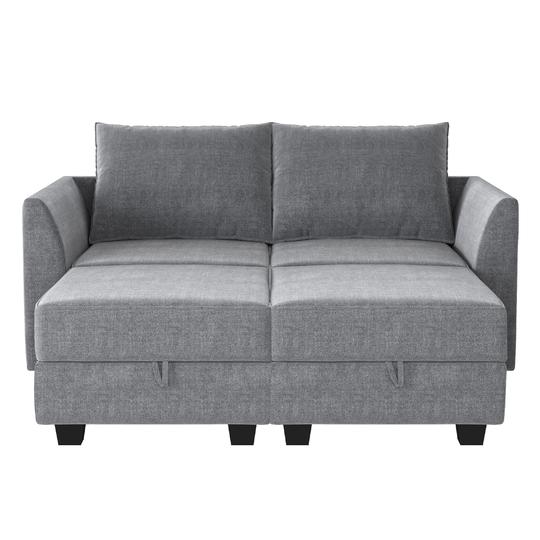 This petite beauty almost does it all in 61x55x33 inches! This convertible modular Sectional/Futon/Sleeper/Chaise (and it will make your coffee in the morning-I wish) has storage space under every seat and the back cushions have removable covers!
Wooden feet and high-density foam and springs make this an excellent chaise/bed for a nap or overnight guest. I really like the fact that it has easily movable pieces so you can add or subtract and reposition as you like. This blue color is, again, like the one above, in a dark-rinse denim-like color, with a bit of gray in it. It has great reviews, and you can find it at HONBAY.
This darling tufted Futon couch is in an exquisite shade of the coveted Ultramarine Blue! The deep color lends an air of drama and the straight narrow legs and angular lines make it a timeless modern piece of seat-worthy art. It is 75x34x30 inches, so just a few inches over a six-foot-tall man lying down. This blue futon couch is also a twin-size sleeper that has three positions, sitting, reclining, and lying flat. 
I love the fact that it has adjustable sides – you can lay one side down while keeping the other back straight! This is great for someone who wants to bring their laptop or tablet up on the couch with them and sit cross-legged, while someone else sits up to read. It comes with two pillows and can be found at Wayfair.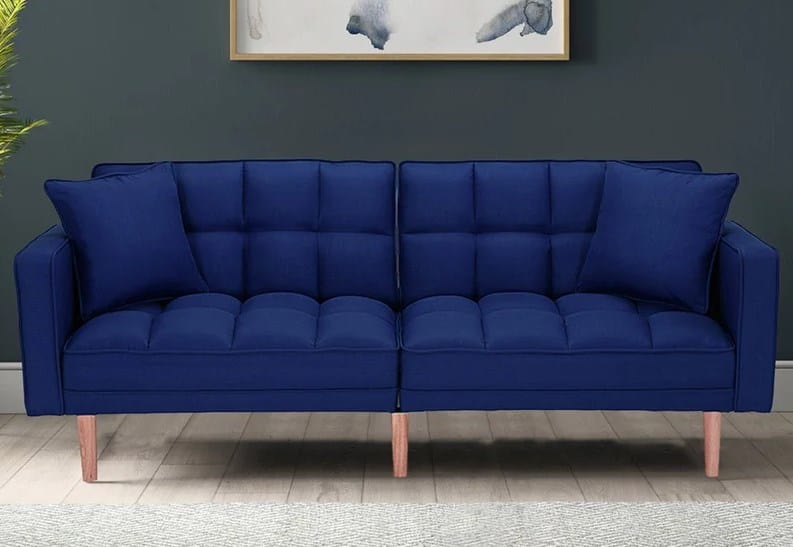 This Loveseat with piping, button-tufted detail, flared legs, and plush foam-filled cushions is neatly tailored and comes with two accent pillows. The Ocean Blue color is demure enough to blend stylishly with your existing decor, and its dimensions are 56x30x32 inches.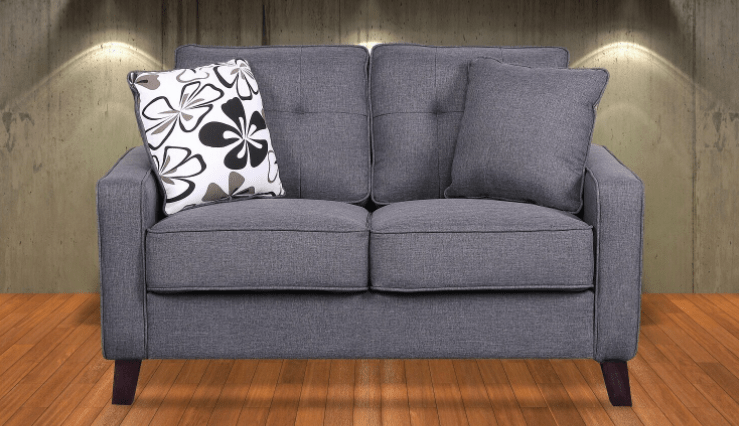 The smaller scale of loveseats makes them great additions to apartments or a tiny room in your home. It can be found at Overstock.com.
This exquisitely colored Cabriolet/Chesterfield Loveseat is featured in Turquoise Blue linen with a tufted back and Birchwood turned legs finished in dark brown. There is a hand-tacked pewter nailhead trim and rolled arms.  The cushion is not removable.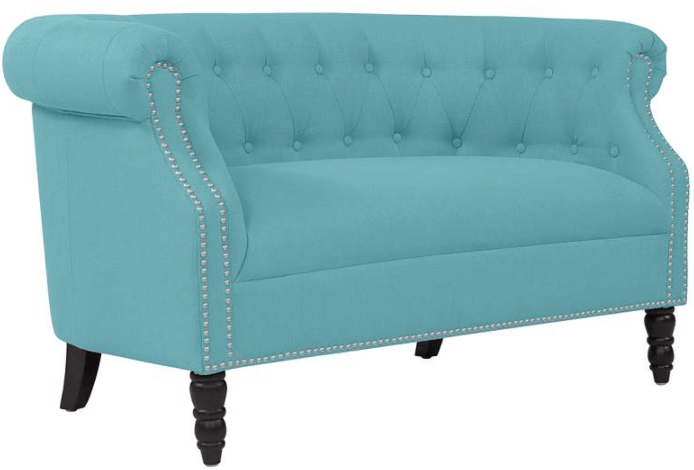 Its small-scale size makes it a perfect fit for tight spaces, breakfast nook elegance, bedroom conversations, and even dining room seating! The dimensions are 54x28x28 inches and it holds up to 600 lbs.  You must take a closer look at this on Lamps Plus!
FAQs
Question: Is a blue couch in style?
Answer: A big YES to this!  Blue is perennially in style and exudes calm and orderly energy.  Blue is native to us, the color of the sky that hangs over everything, the color of the sea which makes up most of our earth, Alice's ensemble (in both Wonderland and The Brady Bunch!).  It is seen as traditional and stable.
The emotions that we get when looking at certain colors depend upon our experiences and our cultural background to a large extent.  However, there are universal connotations that we ascribe to certain colors and studies have shown that certain colors lead to specific emotions from most people.
Scientists have even found that people can be more productive in blue rooms!  Blue is a natural choice because it has many capacities just by its tint and shade.  It can carry a room's colors, it can also anchor the room.  It can set the energy from calm to motivated just based on the hue.
There are many shades of blue, and each one may evoke something different in you – so pay attention to that and choose a tint that is right for you, because BLUE was, is, and will be a constant staple of homeowners everywhere.
Question: What looks good with a blue sofa?
Answer: The answer is…what colors do you want to see? What colors make you feel relaxed, motivated, happy? Is there something with color in it that you know will be in the same room as your blue couch? 
Starting there is a good idea, and then build off that.  If you have a rug, or wall art that has yellows or greens in, go for a medium shade of that color for throws, pillows, and rugs.  What about the color of the walls?  Taking that color and using it to blend in with the blue looks clean and neat.
Blue and white will always be in style- a timeless traditional pair – mixing serenity with fresh, open, and clean infused design
If you have a light blue couch, pastels like lavenders, pinks, greys, and mint greens blend in seamlessly and create an airy feel
For larger rooms, a patterned couch is fantastic because it doesn't look too busy 
For a darker blue sofa, hardwood floors and brick provide the perfect amount of solidity to hold that deeper tint
Darker blue sofas can be set off dramatically with burnt orange or dark reds or forest green
Natural materials such as jute, bamboo, sisal, seagrass, and hemp tone down the blue color or formality of your couch
Question: What color rug should I get with a blue couch?
Answer: Having a blue couch means there are a million ways to show it off.  You want your rug to make your sofa either pop with bold, dramatic flair or pop with soft, delicate, earthiness.
For a darker blue couch, choose earth tones or an aqua or ivory rug to play off the deeper tints and create a more vivid picture
For a lighter blue couch, pastels and white are recommended to compliment the calming energy
The same golden rule applies, however, that if you love something (in this case a rug) it will be able to make its way in any area that you choose, with a little blending and mixing of color from you.  (See above question for more guidelines on colors)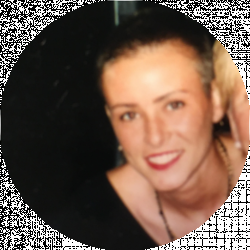 Latest posts by Richelle Tieman
(see all)