Rustic TV stands have been around for years, but they've recently resurfaced due to their popularity. Most homeowners love the idea that they're bringing back a vintage feel into their homes by using this design choice. There are many different styles and designs available for you to choose from.
The charm of the rustic style is in its simplicity. This blog post will identify some of our favorite rustic designs. We've ranked and chosen them according to design, price, and features.
Best Rustic TV Stand Ideas Guide
Walker Edison Georgetown TV Stand: Best Modern Rustic TV Stand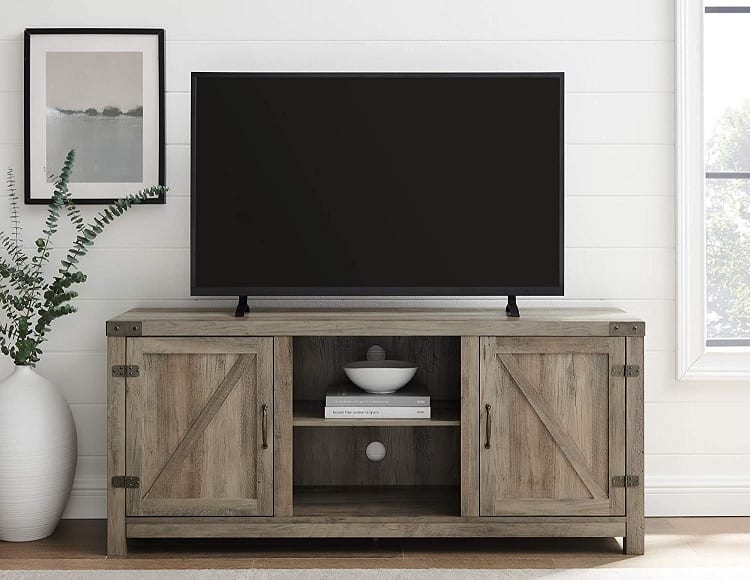 This TV stand from Walker Edison smartly houses your flat-screen TV with its clean lines and hidden cord management ports. This substantial piece for a small space makes it easy to switch your entertainment center to reflect seasonal decor or current tastes in home décor without having to make room for extra furniture. 
The top surface is sturdy enough that you can place stacks of books, picture frames, knickknacks, and anything else weighing up to 150 pounds. 
Walker Edison Rustic TV Stand features three adjustable shelves that support objects up to 30 pounds each.
Pros
It's wholly sturdy and elegant.

Easy to assemble because it comes with all the assembling instructions.

Blends easily with different types of decor.

It has two doors that provide hidden storage
Cons
There are complaints that doors are too thin
Ameriwood Home Farmington TV Console: Best Premium Rustic TV Stand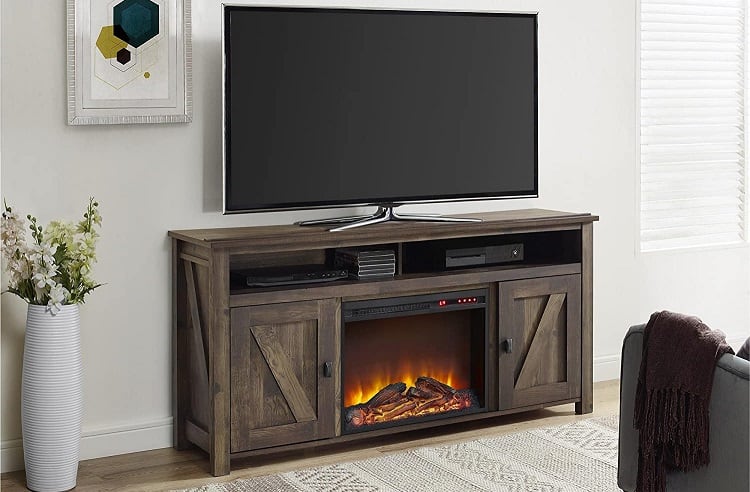 The Farmington TV console has everything you'll need for your ever-rigid technology needs. The 23″ electric insert sits comfortably in the fireplace offering the perfect ambiance with its LED lights. Along with the included remote control, this unit is just what you need to change room temperature, make quick adjustments and manage electronic devices without a hassle. 
Made from sturdy MDF with a distressed medium brown finish that gives any space and earthy appeal, Ameriwood's Farmington Electric Fireplace Console is a must-have for anyone interested in modernizing their home living or entertainment area!
Pros
It is sturdy and durable

Has a gorgeous appearance.

It comes with an electric fireplace

Offers enough storage space.
Cons
VASAGLE Stand with Storage and Sliding Barn Doors: Best Versatile Rustic TV Stand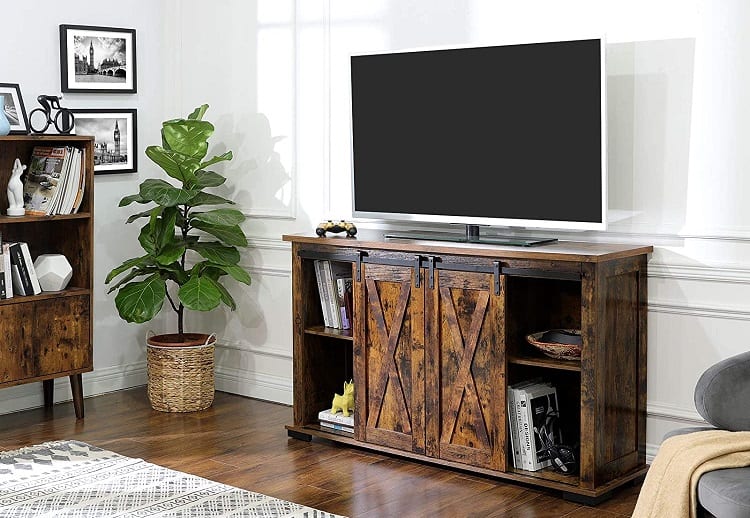 Unlike your grandfather's cabinet, the VASAGLE Stand for 60-inch TVs is a modern storage solution that will make you want to plow through your Netflix queue faster than ever before. The sliding barn doors on the front hideaway DVD boxes and game consoles with ease, while two adjustable shelves in the middle can hold all of your movies or video games. 
At 66 lbs capacity, this TV stand with storage gets even better when you perform it with three holes to run cables behind panels. This gives you a clean finish, whether it's standing still or rolling from one room to another.  Durable metal hardware means years of reliable use. No more cheap plastic pieces getting broken.
Pros
It's sturdy and easy to assemble.

Designed to be durable and can serve you for a long time.

It offers enough storage space as it features draws and shelves

easy to clean

It features adjustable feet to enhance balance
Cons
Some purchasers have complained about it not coming with.
Twin Star Home Sliding Barn Door TV Stand: Simple Design Rustic TV Stand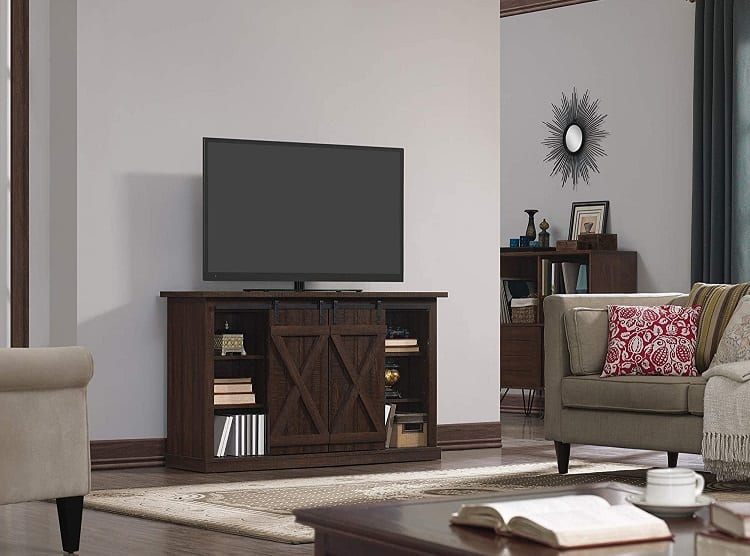 Twin Star Home Sliding Barn Door TV Stand is the perfect media center for your home. It accommodates most flat-screen TVs up to 60″.
Twin Star Stand is finished in an Espresso finish with a plank-style top and integrated cable management system. This stand will seamlessly complement your home décor or bedroom furniture aesthetics, effortlessly bringing life to even those living spaces where it's hard to make room for electronics accessories. 
Perfect as a headboard, side table, or TV armoire in small bedrooms, the Twin Star Home Sliding Barn Door TV Stand can also be conveniently stored against walls out of sight when not in use – leaving more space.
Pros
It is versatile because it can be used in different places, be it the bedroom, living room, or game lounge.

It offers a great storage space

Has sliding barn doors that promote privacy

It is durable
Cons
Some holes might not be well screwed
ROCK POINT TV Stand Storage Media Console: Best Budget Rustic TV Stand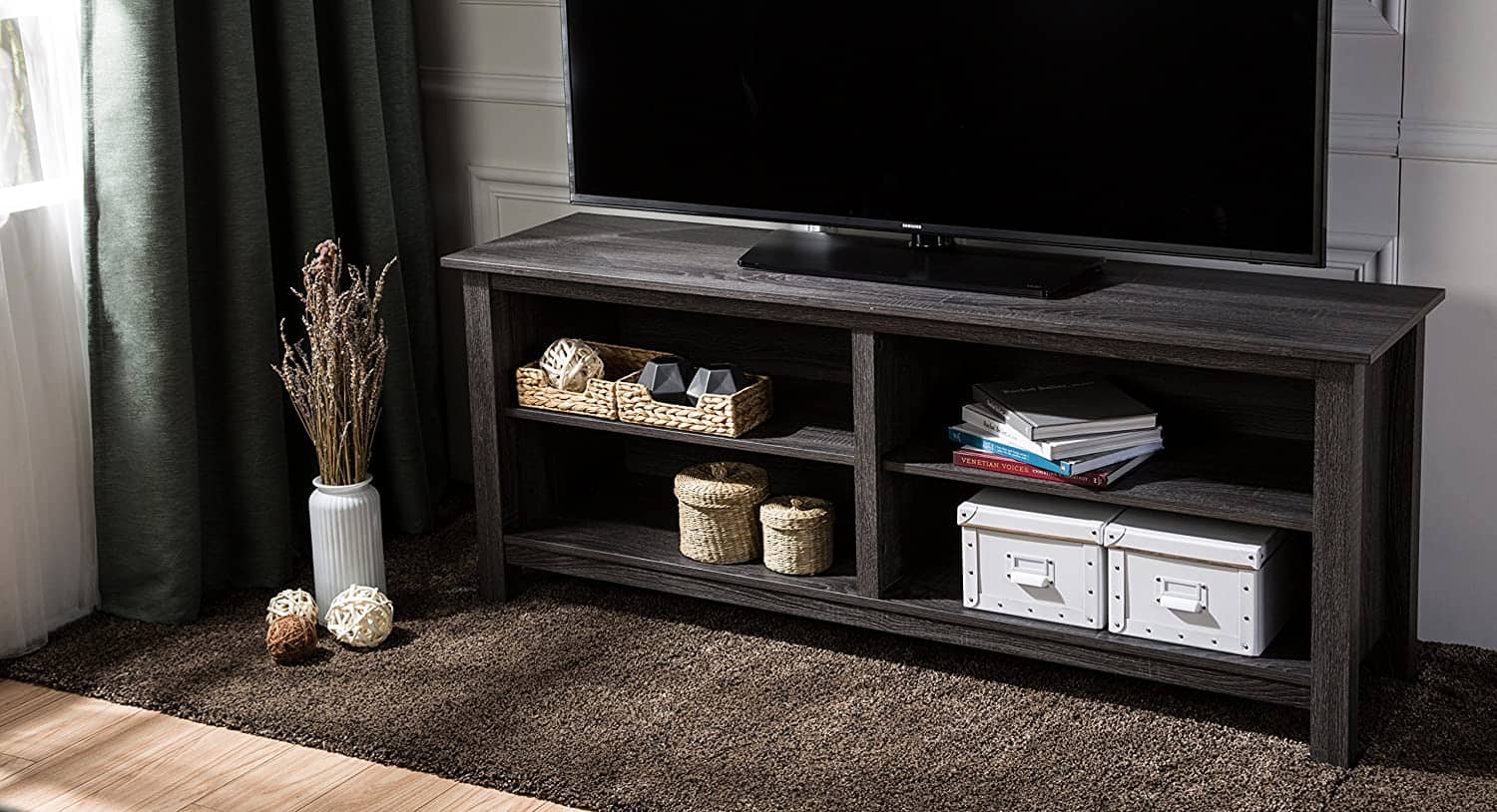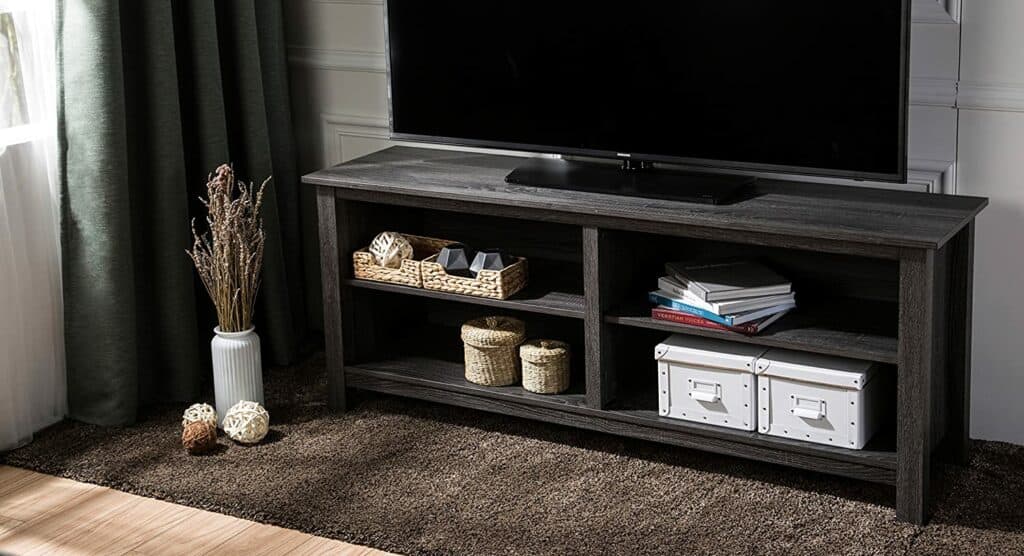 The ROCKPOINT Media Console Storage Stand features a high-grade MDF, durable laminate construction with cable management. The ROCKPOINT TV Stand is ideal for living rooms and game rooms alike. It comes complete with adjustable shelves for extra storage space and a 4-cord cord management system to keep your cables concealed in style. 
This TV stand can handle any flat screen up to 60″ wide.
Pros
It has an elegant look courtesy of its cable management system.

Has enough storage space provided by shelves and a vertical panel

It's sturdy and durable;

made by MDF wood construction.
How to Choose the Right Solid Wood Rustic TV Stand
Choosing a suitable rustic TV stand can be an arduous task because there are so many of them in the market today. With every manufacturer claiming to produce the best, you need to be very careful.
In many cases, TVs are measured from one corner to another, but that is not the case with TV stands. You'll need to measure some measurements so that you get a rustic TV design that will fit your TV. 
Here are some critical measurements that you should always take:
The width and height of your television

The back and front of your television

Measure your floor space.

Know the depth of it and whether it's enough space for your desired rustic TV stand.

For a perfect viewing experience, consider measuring the distance between the television and where you'll be sitting.
Key Features You Should Look Out For
Rustic TV stands are made from solid hardwood, making them strong enough to hold most things ranging from media players and speakers. The two most common features include:
Storage
Storage is very important because you might be needing discreet storage for DVDs, cords, media players, or even gaming systems. Always seek rustic TV stands that fit what you have for a functional entertainment hub experience.
Shelves
It's a norm for many people to display decorative elements or even knick-knacks in their room. If this is the same case with you, shelves are essential in your rustic TV stand.
Cord Holes
Having TV and other cords running around the TV stand and on the floor is not only unsightly but also dangerous, especially where there are pets and children around. It's easy to trip over them or for a pet to chew on them. Look for a TV stand that has holes drilled so you can pass your cables safely behind it without the worry of any accidents around the house.
Factors to Consider Before Buying Rustic TV Stand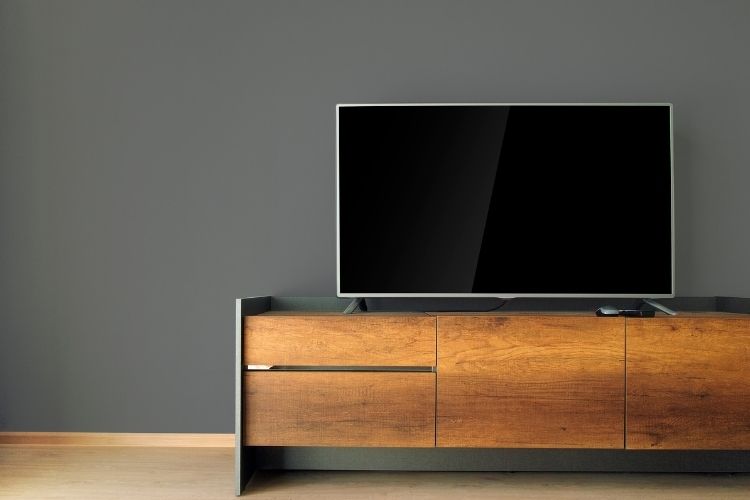 Your Television Size
One thing to think about before you buy a rustic TV stand is the size of your television. You're not going off measurements from when you first bought it, for its new dimensions will be based on height and width. 
This means that if you know exactly how much space in inches your screen takes up, then seeing which stands fit, those requirements should make things easier. It's also important because an unstable TV may lead to injury or distraction while watching – so don't forget this crucial factor as well during purchase time.
What You Use Your TV For
You may not know it, but how you use your TV has a lot to do with what kind of rustic TV stand is best for you. For example, if video games are your thing and you enjoy having a sound system, you'll want one that offers both audio storing capabilities as well as ample shelving or drawer spaces on either side. 
If lounging around in front of Netflix soothes away all your worries, then make sure there's enough room within arm's reach.
If you are one who likes watching movies or sports with friends, then opt for something large enough so everyone can have an unobstructed view.
Does it Fit the Room?
Consider how your space will be impacted when you use the TV stand. There are many different types of TV stands that work in different rooms. For example, if your bedroom space has limited height and width, then there might not be enough space for an entertainment center with columns or other large pieces of furniture. You want all areas on either side, including behind the TV stand to have adequate access, so the room doesn't seem crowded.
Seek Durability
Rustic TV stands are designed to have a natural feel and appearance. The wood offers beauty in terms of color, grain texture, and a sense of warmth one would not find with metal or glass shelving units. To ensure you get the best for your home, it is vital to consider the type of wood chosen for durability purposes.
There are many different types of woods from which to choose, and while some may be better than others, it's best not to go for softwoods since they can warp if left out in humid environments or exposed too often. Stands made with hardwood will last longer because their denser composition prevents them from warping as much when subjected consistently to damp conditions that softer wood products would typically succumb quickly under.
Check the Construction of the Rustic Stand Carefully
The perfect rustic TV stand should be carefully constructed to ensure durability. You can tell if the wood is processed by looking at its color. A true quality piece will always have fresh, vibrant colors and not fading paint. Be careful to avoid stands that are made from particle boards because they will quickly turn yellow-ish brown after only months of use.
FAQs
Question: What Can I Use Instead of a TV Stand?
Answer: There are many alternatives to using an entertainment center, or as they're also called, "TV stands." One option is mounting your screen on the wall. This frees up space and eliminates the need for bulky furniture. You could also install shelving on your wall if you have enough space and don't mind having one item in each section.
Question: What is the Best Color for a Rustic TV Stand?
Answer: Rustic TV stands are a perfect way to incorporate the natural beauty of wood in your home décor. Brown is an excellent choice for those who want something that will work with any room and style theme, but black may be favored by those looking for modern-style furniture pieces.
Question: How Do You Clean a Rustic TV Stand?
Answer: Dab a dilute solution of water and dish soap onto your soft cloth, then clean the wood, using only as much liquid on each spot. The goal is to gently remove dirt from the surface without saturating or soaking in any excess liquids.
You should use very little force when wiping, too. Once finished with one section, move to another until all surfaces have been cleaned before rinsing out your cleaning rag. 
It's important not to over-saturate or soak the wooden furniture while washing because doing so can warp and break down certain parts more quickly than normal wear would do.
Conclusion
If you are looking for a suitable rustic TV stand, there are a few things to consider before making your purchase. First of all, what is your budget? How much space do you have available in your living room? What is the size of your TV in height and width? Where would it go in the home, and how does that affect its design?
You should also think about whether you need built-in shelving or drawers to hide away clutter and other items. Finally, take into consideration any additional features like USB ports, cord management systems, or even storage areas below the rustic TV stand.
If you are still unsure of what to go for, we can recommend our number one pick: Walker Edison Georgetown TV Stand. It's fairly priced, durable, features cord management cords, and let's not forget; it is Amazon's Choice rated!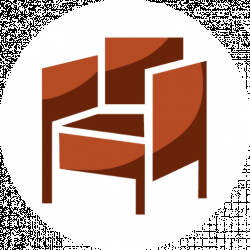 Latest posts by Finally Furnished Team
(see all)