If you're a book lover, finding the best bookcase is a top priority. And, as you probably know, not all bookcases are the same. Not all bookcases will match the décor of your home or fit in the room space of your choice. This best Target bookcases guide explains everything you need to know about the various types of bookcase products you can find at Target stores or online that are suited for your needs.
With the various styles, bookcases are versatile. While most of these pieces are placed in the den or library, some styles also blend quite well in the children's room, the living room, paired with a gorgeous new table, and even your own bedroom. You can find interesting chairs that match the design of your bookcase, and here you can browse through your collection.
As you can see, choosing the right bookcase for your home is important. In this guide, you will find (in our opinion) the best Target bookcases. Here's a quick look at our top picks.
At a Glance: 7 Best Target Bookcases
| | | | | |
| --- | --- | --- | --- | --- |
| Best Target Bookcases | Best Used for | Materials | Dimensions | More info |
| Normandy 9 – Cube Bookcase | A large collection of books | Pine Solid Wood | 44 x 15. 75 x 48 | Find out more |
| Ronni Contemporary Corner Bookcase | Accent piece for small assortment of books. | Walnut Wood | 15.7 x 15.7 x 70.8 | Find out more |
| Yorktown Industrial Bookcase | Storage for books at home or office | Iron and Fir Wood | 36.5 x 17.5 x 66.75 | Find out more |
| Carson Horizontal Bookcase | Favorites book collection | Oak Hardwood and Plywood | 53.9 x 13.6 x 32 | Find out more |
| Netherton Contemporary Bookcase | Decorative items and some small books | Metal and Melamine Veneer | 48 x 15 x 70.25 | Find out more |
| Hadley Library Cabinet | Storing books and other belongings | Wood, metal, and Glass | 32.9 x 14.8 x 56.2 | Find out more |
| Shaker Bookcase with Lower Doors | Small, lightweight books | Hardwood | 32 x 12 x 72 | Find out more |
Selection Criteria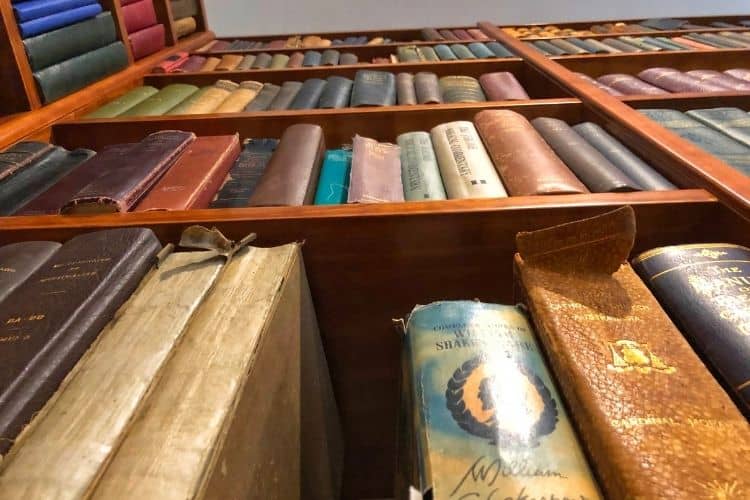 According to functionality and aesthetics, here are the specifications used to choose our picks of the best Target bookcases.
Style
A unique covered frame in neutral tones compliments most any home décor and creates a quality bookcase. Double doors, cabinets, or drawers add to the quaint appearance of a traditional style, which is popular.
Materials
The best aspect of the traditional bookcases is that they are generally constructed of multiple types of materials. Wood, metal, and glass are often used in products to bring out certain aspects of craftsmanship. Reinforced shelves and lifted wooden legs at the bottom make a bookcase more accessible.
Function / Extras
A quality bookcase functions well for storing many books with room for a few other items. An enclosure eliminates dust and other debris from damaging your important belongings.
Extra features usually include double doors with knobs and a quality finished surface. Quality bookcases are usually found in neutral colors to match the decor. An added bonus: anti-tip hardware.
Types of Bookcases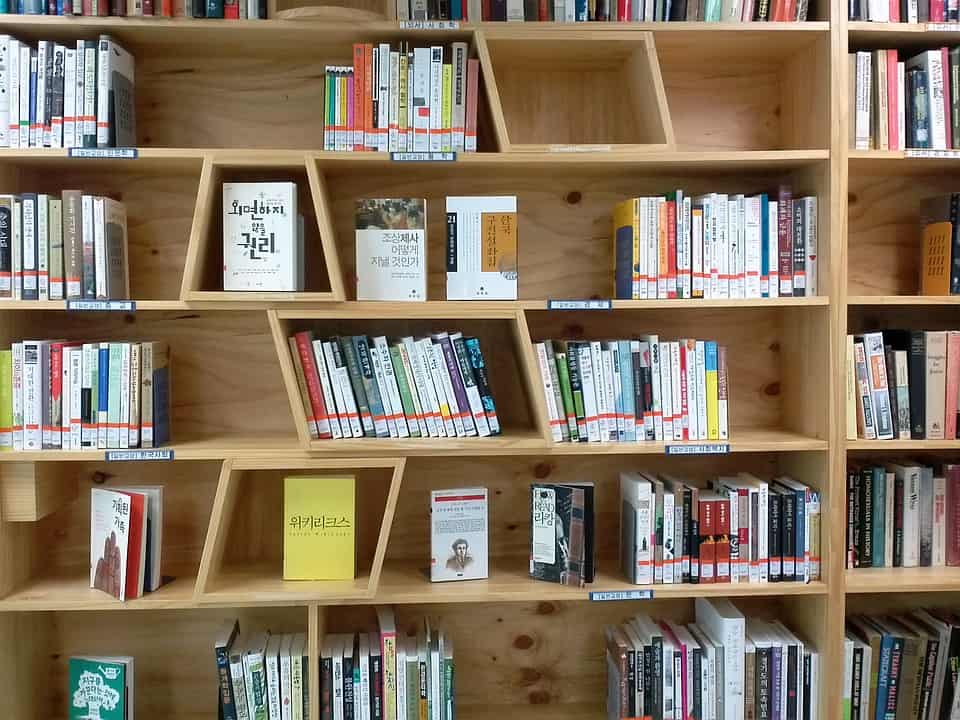 As mentioned before, there are many types of bookcases to choose from. Here are the basics that help you fit your criteria to your choice.
Materials
Bookcases are constructed in many types of materials. From wood to metal, numerous materials are used to construct quality furniture pieces to house your favorite books and belongings. Here are a few examples:
Wood
MDF
Particle Board
Metal
Glass
Laminate
Types
There are also numerous types of bookcases, aside from material and design. These products are built to fit many designs and punctuality needs for the home and office.
Vertical
Height is greater than length. The purpose of the vertical bookcase is to preserve more room for other pieces or other collections of vertical bookcases. Although they have little room above wall hangings, they generally have ample space for your favorite reads.
Horizontal
Length is greater than height. The horizontal bookcase is a good choice for two reasons: It allows for more wall space and keeps books at a lower level so they can be reached with little effort.
Utility Storage
Industrial-shaped bookcases. The pieces are created to accommodate books in both the industrial-styled home or in the office. They are also good choices for various studio workspaces.
Cube Dividers
Bookcases with cube-shaped sections. These sections can be either permanently attached forming the bookcase or adjustable. They are deeper and wider than the traditional bookcase format.
Book Racks
Bookcases are used in the form of racks. Sometimes secured to the wall and used in businesses. Book racks are curiously great for nurseries or daycare centers that only have a select small group of important children's books.
Console Bookcases
Bookcases with shelves, sometimes drawers or cabinets. It can have a wide tabletop that can hold things as heavy as televisions or stereo systems. The console bookcase serves multiple purposes, and many families appreciate this space-saving option.
Novelty Bookshelves
Unusual modern or contemporary shaped bookcases are usually purchased as an aesthetic accent to their decor. They are, however, quite functional as bookcases.
Ladder Bookshelves
Corner bookshelves
Cube-stacked bookshelves
Styles/Designs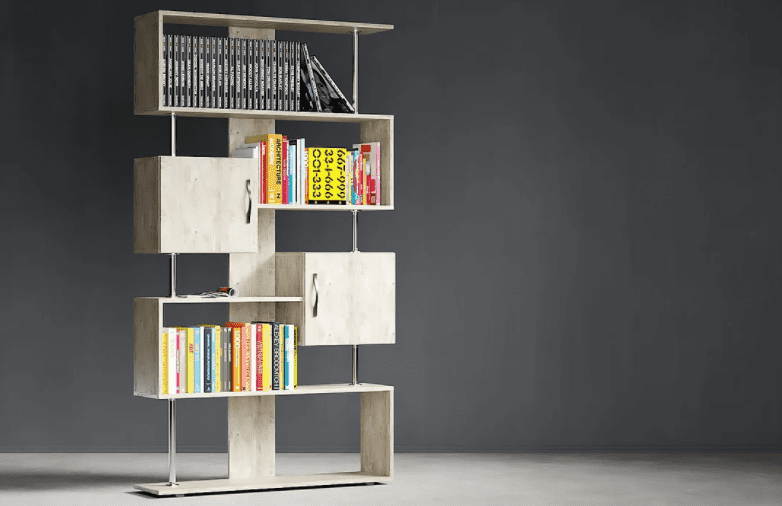 Modern
The modern style bookcase is usually simplistic in form. It can be a bookcase that sits flat, or it can have legs with storage space underneath.
Mid-Century Modern
This style is modern in basic form but sometimes includes added cabinets or drawers. Mid-century modern bookcases often have quirky-style legs on the bottom as well.
Contemporary
This style includes corner bookcases in odd shapes, ladder bookcases, and other out-of-the-ordinary style bookshelves. This design is highly influenced by artistic ideas, eclectic tastes, and other select alternative themes.
Traditional
The traditional bookcase is made with functionality in mind more than design. These pieces are either vertical or horizontal bookcases with many deep shelves. They can be simplistic or embellished with rounded wide feet or ornamental curved baseboards.
Farmhouse
The farmhouse style is rustic in color and design, showing wood grains and distressed wood surfaces. Farmhouse bookcases are usually chosen to match the same themed designs in the home.
Industrial
This design is usually found constructed with metals, acrylics, glass, and also wood. The style is almost always open in front and back to allow more space for larger books and objects.
Luxury
The luxury style is decorative and made with lightweight materials, including metal and glass. Sometimes wood is used with the shelves, but most other accents are constructed with manufactured materials.
7 Best Target Bookcases – In Detail
Normandy 9 – Cube Bookcase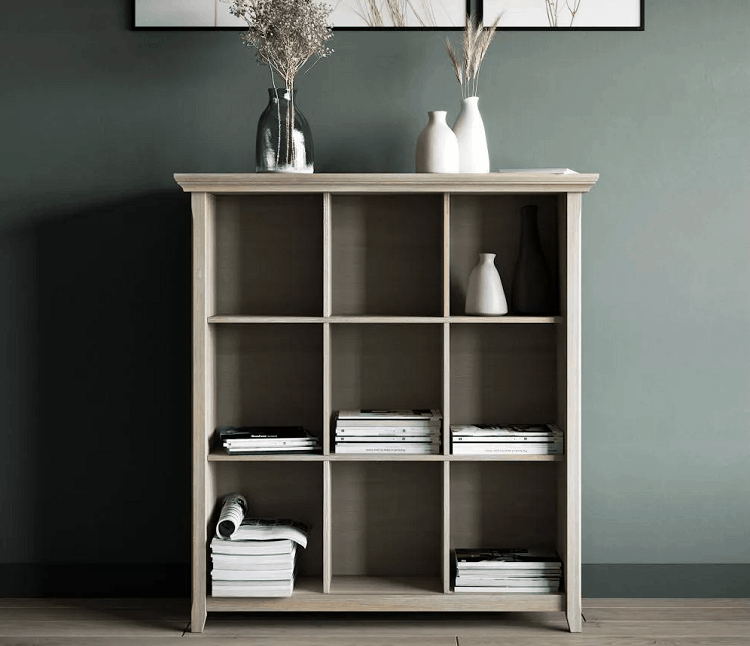 What's better than owning a large set of deep cubes for your books? This Traditional large bookcase has 9 cubes to house your book collection. The product is made from solid wood, stronger than particle board or wood trim with paper board shelves like in some bookcases.
You can use this bookcase in any room you want for versatile storage and durability. With 9 large-storage cubbies, you're ensured this bookcase can support quite the load of reading material no matter the environment. It's simply a book lover's dream, easy to assemble, and plenty of space for future books.
So if you're looking for the ultimate bookcase, take a look at this one.
Overall Dimensions: 44 L x 15. 75 W x 48 H
Weight: 61.7 lbs.
Pros
Plenty of book space
Beautiful Cubby design
Sturdy
Cons
It takes a bit more assembly than usual
Ronni Contemporary 5 Shelf Corner Bookcase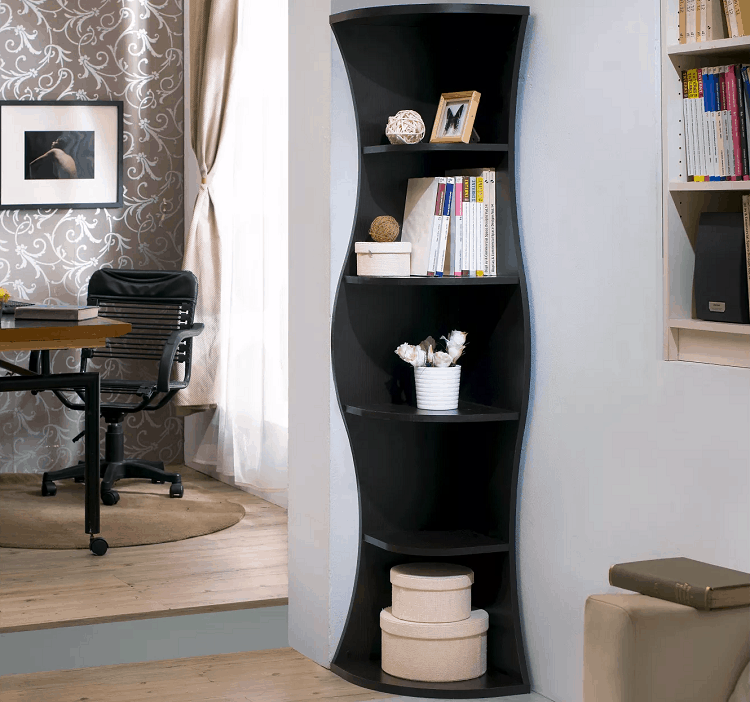 From traditional to contemporary, from large to small, everyone has their own distinct tastes. As for this bookshelf, corners work great for holding your favorite books.
The Ronni Contemporary corner bookcase provides just the right space for those who read books that do not have a huge collection unless, of course, they have one of these shelves in every corner!
The Target beauty is made from Espresso finished Walnut wood with flowing curved sides and smooth edges. This one is a great choice for small spaces or to match other pieces in a contemporary themed room. Although just 5 in number, the shelves are spacious and sturdy, holding books, vases, and other valuables.
Overall Dimensions: 15.7 L x 15.7 W x 70.8 H
Weight: 53 lbs.
Weight Capacity: 40 lbs.
Pros
Unique and smart design
Beautiful dark finish
Perfect corner shelf
Sturdy
Cons
Holds a small number of books
Only fits corners
Yorktown 5-Shelf Industrial Bookcase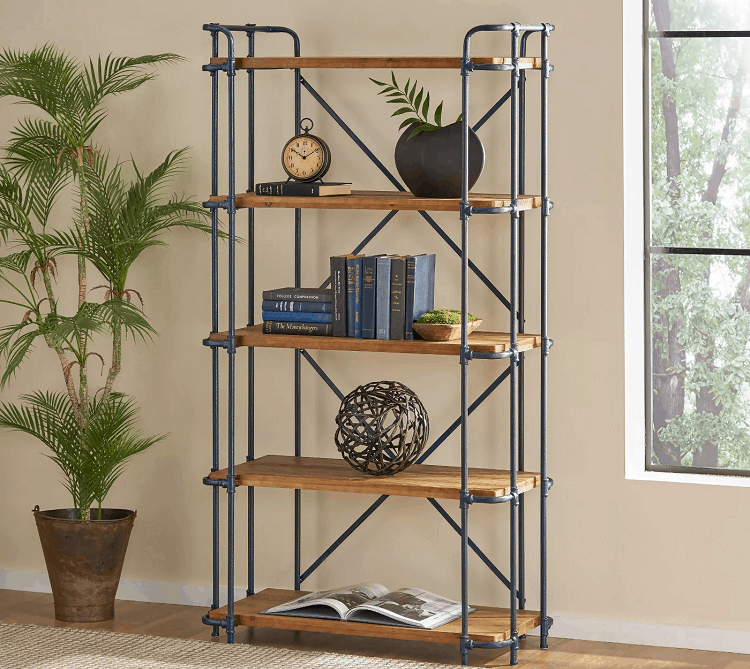 This industrial-style bookcase is designed for either home or office, providing space for books and other important files. If desired, this bookshelf coordinates well with picture frames, knick-knacks, and even small houseplants. That's because the basic framework is iron.
It has an open and clean look with a metal piping frame and real fir wood shelves. This is an open-back bookshelf, so larger books fit perfectly without the risk of falling off the shelf.
The Yorktown Industrial Bookcase is designed to endure heavy use for a long time. If you design your home in an unfinished, raw design, this industrial bookcase will fit right into the décor.
Overall Dimensions: 36.5 L x 17.5 W x 66.75 H
Weight: 46 lbs.
Weight Capacity: 250 lbs.
Pros
One of the strongest bookcases
Open back design
Sturdy shelves
Cons
It may be too simple for your décor
Smaller books aren't good with open-back design
Carson Horizontal Bookcase with Adjustable Shelves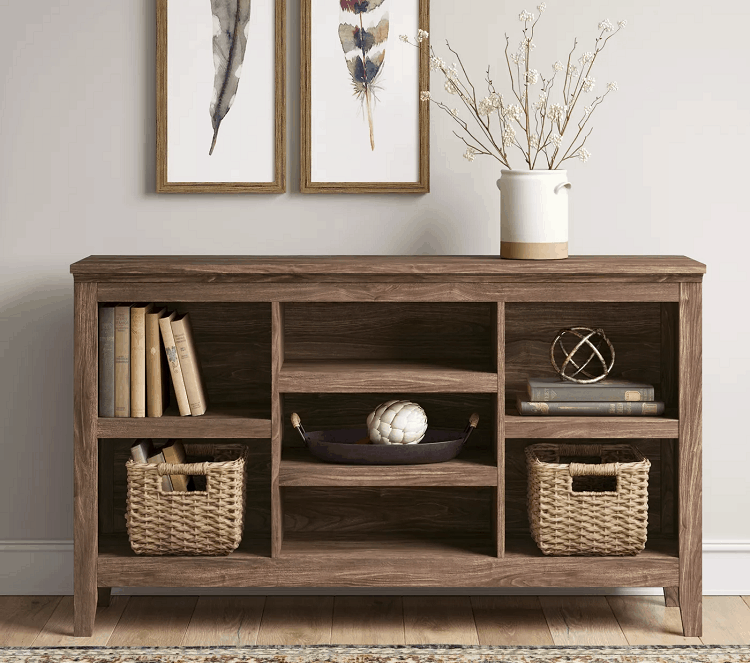 Suitable for farmhouse style décor, this bookcase offers a nice gray wood grain surface on the exterior and interior product. With small rectangular feet, this product stands off the floor so books can be reached easier. Since the bookcase is horizontal, it has a top that's perfect for a few plants or Collectibles.
Made from Oak Hardwood and Plywood, this bookcase is extremely sturdy and durable. It has adjustable shelves to house either small or large books.
If your entire home décor is in a rustic or farmhouse style, this Carson Bookcase, found at Target, will fit in any room of the house. Pair this one with a similar farmhouse-designed table or end table.
Overall Dimensions: 53.9 L x 13.6 W x 32 H
Weight: 66. 44 lbs.
Weight Capacity: 200 lbs.
Pros
Lovely farmhouse style
Adjustable shelves
It comes in several colors
Cons
Netherton Contemporary Open-Shelves Bookcase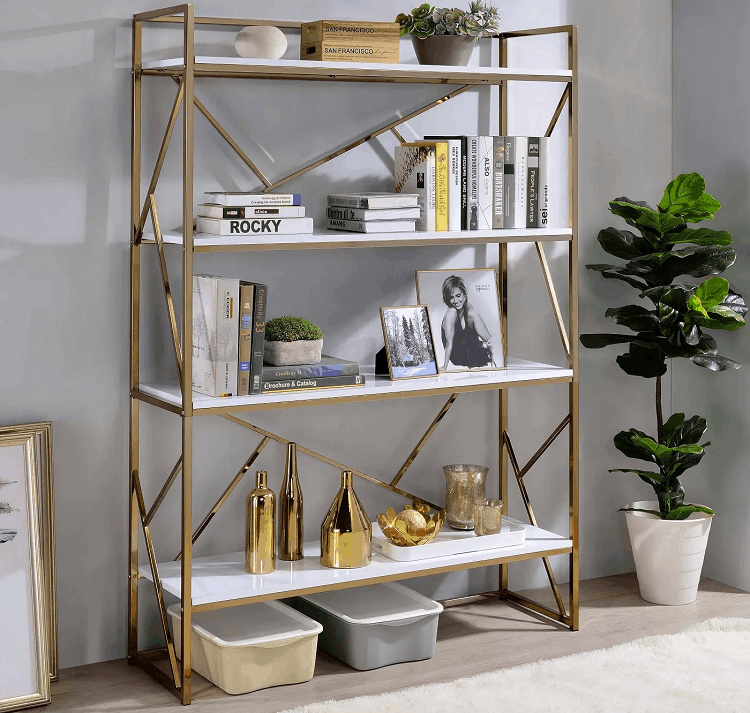 This unique bookcase can be used for many things, including many books. It's contemporary but has a luxurious feel with its geometric shapes across the open back of the frame.
The foundation itself is gold in color with white shelving, adding to this simplistic/stylistic combination design. This product looks amazing in the living room or the den.
Made from high-gloss metal and melamine veneer, this bookcase has 3 regular shelves and one high top shelf with a small rail on each side.
The top would be more fitting for picture frames or decorative items, while the other 3 shelves can house books of many sizes. So if you've designed your home in a high glamor style, this bookcase is the one to get.
Overall Dimensions: 48 L x 15 W x 70.25 H
Weight: 86 lbs.
Weight Capacity: 80 lbs.
Pros
Decorative luxury bookcase
Open back design
Lightweight
Cons
Not as sturdy as wood counterparts
It doesn't match all décor
Hadley Library Cabinet with Glass Shell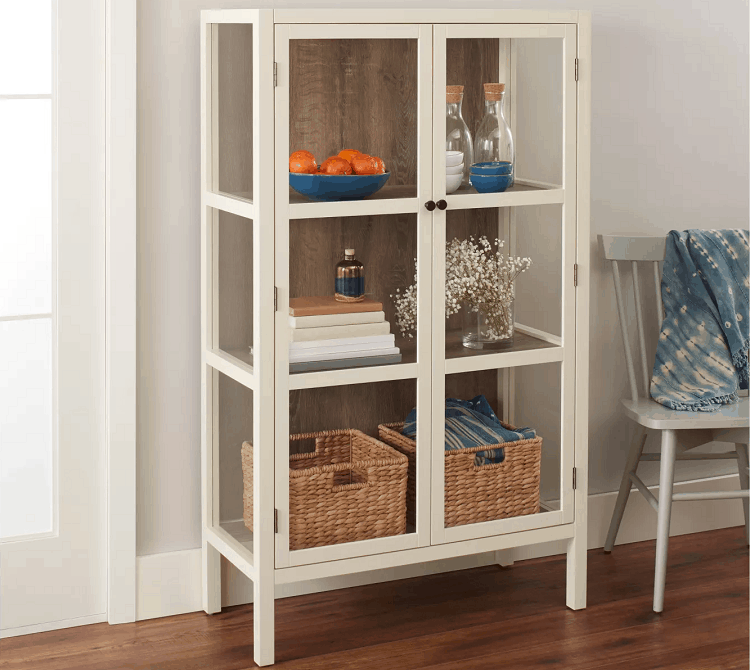 This is a quality bookcase choice for those who cannot decide how to match their existing interior design. It's also a cabinet that can be used for books and many other things as well. You can display your favorite titles and keep them free from dust with this fully encapsulated glass shell cabinet.
The frame of the Hadley Library Cabinet, available at Target, is made with a wood frame and laminated, painted metal. Surface materials, including door fronts, are made of glass.
Metal knobs sit high on each inner section of the front doors. The entire cabinet is lifted on long rectangular legs to offer a small bit of space underneath. This product complements contemporary, farmhouse, or traditional designs.
Overall Dimensions: 32.9 L x 14.8 W x 56.2 H
Weight: 79.6 lbs.
Weight Capacity: 210 lbs.
Pros
Glass encased cabinet design
Elevated bookcase/cabinet
Strong and durable
Cons
Risk of broken glass
Risk of damage to doors
Shaker Bookcase with Two Lower Doors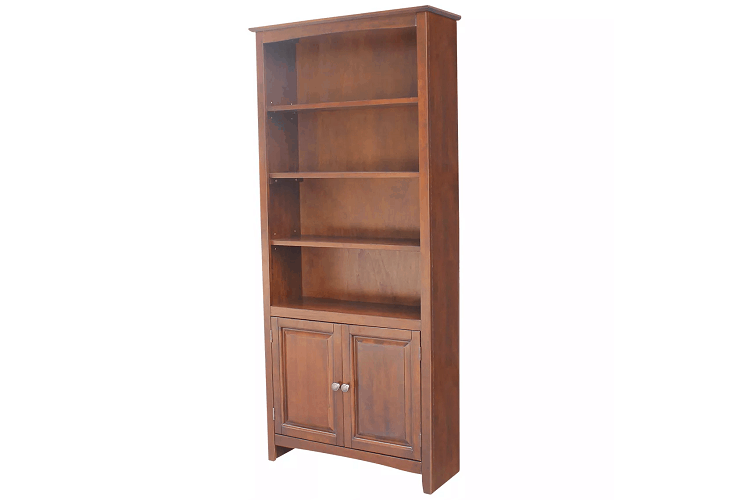 Sometimes simplicity and functionality are the most important aspects of a quality bookcase. This product fits the bill. This traditional style bookcase is finished in either espresso or gray, made with real hardwood with a butcher block surface.
The Shaker Bookcase has 4 shelves and a two-door cabinet at the bottom, complete with metal accent knobs. Three of the shelves are adjustable, while two are fixed in place.
This beautiful piece of furniture can blend in with any type of décor while providing a space for your lighter-weight books, as the shelves have less weight capacity than normal.
Overall Dimensions: 32 L x 12 W x 72 H
Weight: 110 lbs.
Weight Capacity: 10 lbs.
Pros
Simple and beautiful design and color
Added cabinet
Made of Hardwood
Cons
Light-weight capacity per shelf
FAQs
Question: Do All Bookcases Have the Same Weight Capacity?
Answer: No, according to the company and manufacturer, each type, style, and design provide weight capacity information with a particular product.
For example, some smaller bookcases may hold heavier weight while larger ones aren't as sturdy, and likewise. Never purchase a product under the assumption that all bookcases have the same weight capacity.
Question: Is there a Difference Between a 'Bookcase' and a 'Bookshelf'?
Answer: Although the terms are used much of the time interchangeably, there is a difference. Basically, the main difference between a bookcase and a bookshelf is that a bookcase has enclosed sides, and a bookshelf is a more open structure.
Question: What do You Call Bookcases With Doors?
Answer: A bookcase with doors can have many names, including 'cupboard' or 'library.' They are used to protect books from the elements like dust or humidity.
Question: What is the Best Shelf Spacing?
Answer: You can space your shelves however you want; however, the average spacing between shelves in a bookcase is between 8-12 inches. This provides room for most small and large books. Adjustable shelves
Question: Are Bookcases Easy to Move?
Answer: Most bookcases can be moved multiple times without any compromises to their structure. However, lightweight bookcases, while lighter to move, can also be easier to damage if snagged.
Heavy bookcases will always be a bit harder to relocate but are usually sturdier and more resilient to bumps or accidents. You must always make allowances for damages that could occur when moving furniture. This helps you arrange for padding or other safety materials that help with moving the bookcase.
Final Thoughts on Target Bookcases
Utilizing this guide when choosing a quality Target bookcase will both educate and inspire you to make a quality choice for your home. Whether you need a horizontal or vertical aligned shelving system, there are many varieties to fill these needs.
Our pick among this list of quality bookshelves is the Hadley Library Cabinet and Glass Shell. It's versatile and unique, providing everything you need in a bookcase and more. You can find other living area pieces to complement this bookcase and lighting to accentuate the glass shell and double doors. Carefully weigh your pros and cons before purchase.
Looking to fill your home with even more beautiful furniture and accessories? Take a peek at a few things for the nursery or the home office. Everything you need is at your fingertips.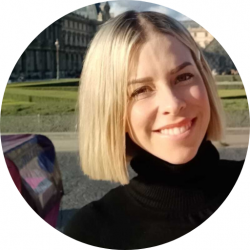 Latest posts by Jodie Chiffey
(see all)