Think of three-story homes with steeply pitched roofs, ornate gables, and turrets, round towers, decorated railings, overhanging bay windows, filagree rooftop finials, and fireplaces. A stormy night with nervous daughters peering out in great, sweeping dresses to watch the hurried pedestrians with umbrellas obscuring their identities.
The reality is, regardless of what architectural style dominates your living abode, Victorian decor can easily fit right in.  It is, however, the opposite of "modern", being a maximalist theme originally.
Victorian style is and has been consistently popular with decorators and homeowners for its luxurious richness and detailed appearances. There hasn't ever been a time when the antique feeling of Victorian decorating wasn't sought after! Owning a furniture piece that represents Victorian history is not only a quick conversation starter, but also offers an immediate, lustrous ambiance that welcomes family and guests.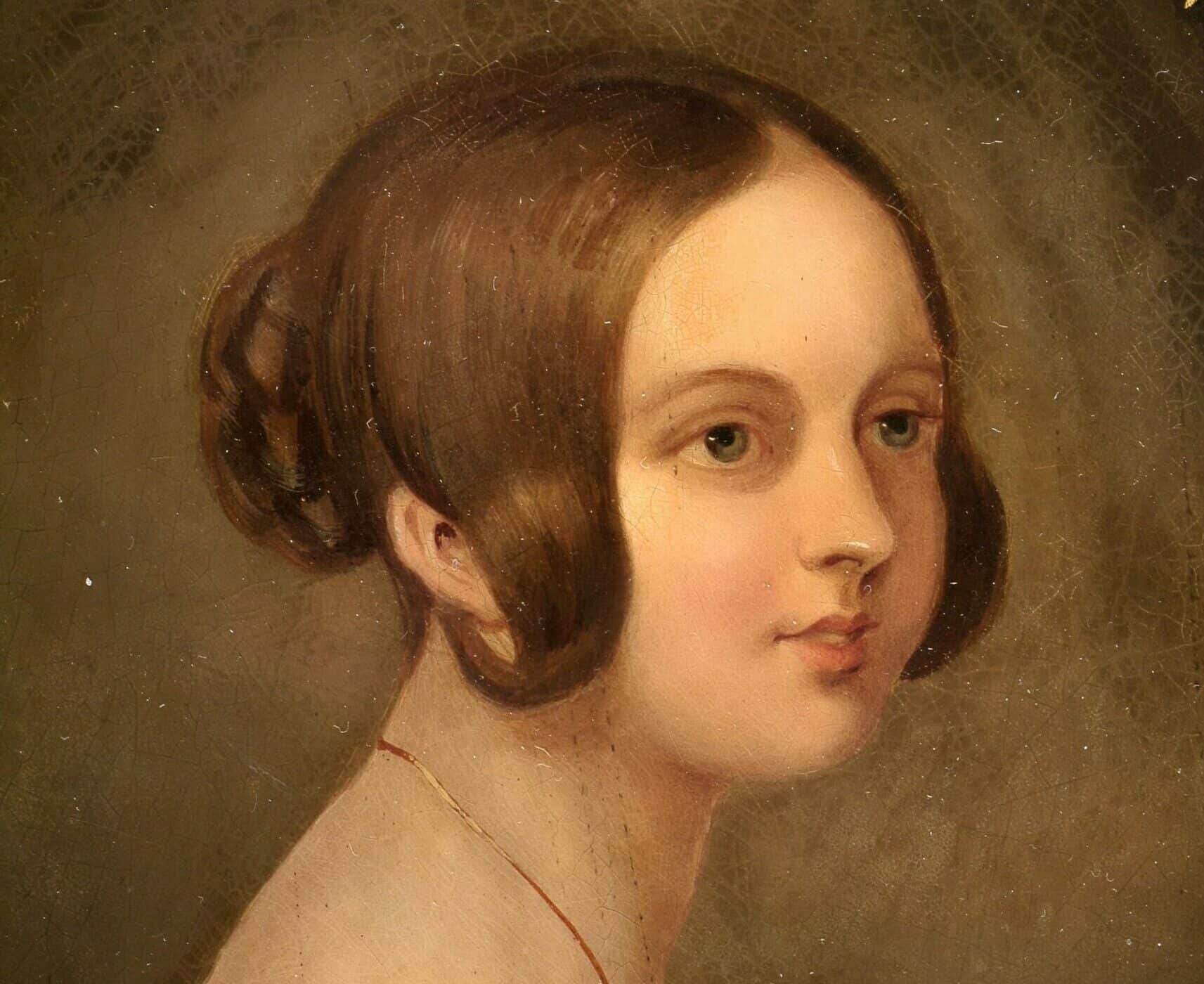 The inspiration for this rather elaborate and ornamental style was Queen Victoria herself, who reigned in England from 1837-1901. The Victorian furniture style is noted to be from 1830-1890.
Queen Victoria had a tremendous taste for ornate, intricately carved furnishings, hand-made lace, and sporting a large amount of china and glassware to both use and display. "Less is More" did not apply to Victorian philosophy, as a growing middle class demanded mountains of furnishings to show off their wealth and emulate the aristocracy.
Today, decorating with a Victorian motif signals us to expect a warm welcoming, with a bit of a romantic feel as we sprawl out in the deeply cushioned seats and feel the rounded edges and rolled arms of a large, inviting sofa.  It has become a sign of comfort, warmth, and personal taste, and is a nod to history.
Things like gilt, moldings, mountings, and inlays with many wood carvings, and ornate bases on the tables and dressers, etc., distinguish Victorian style. Soft, thick velvet surrounding you and a plethora of glasses and serving trays, lace doilies, and lighting with swaying fringe. A soothing place to elegantly entertain or to kick back and hunker down with a book while the rain pounds at the door.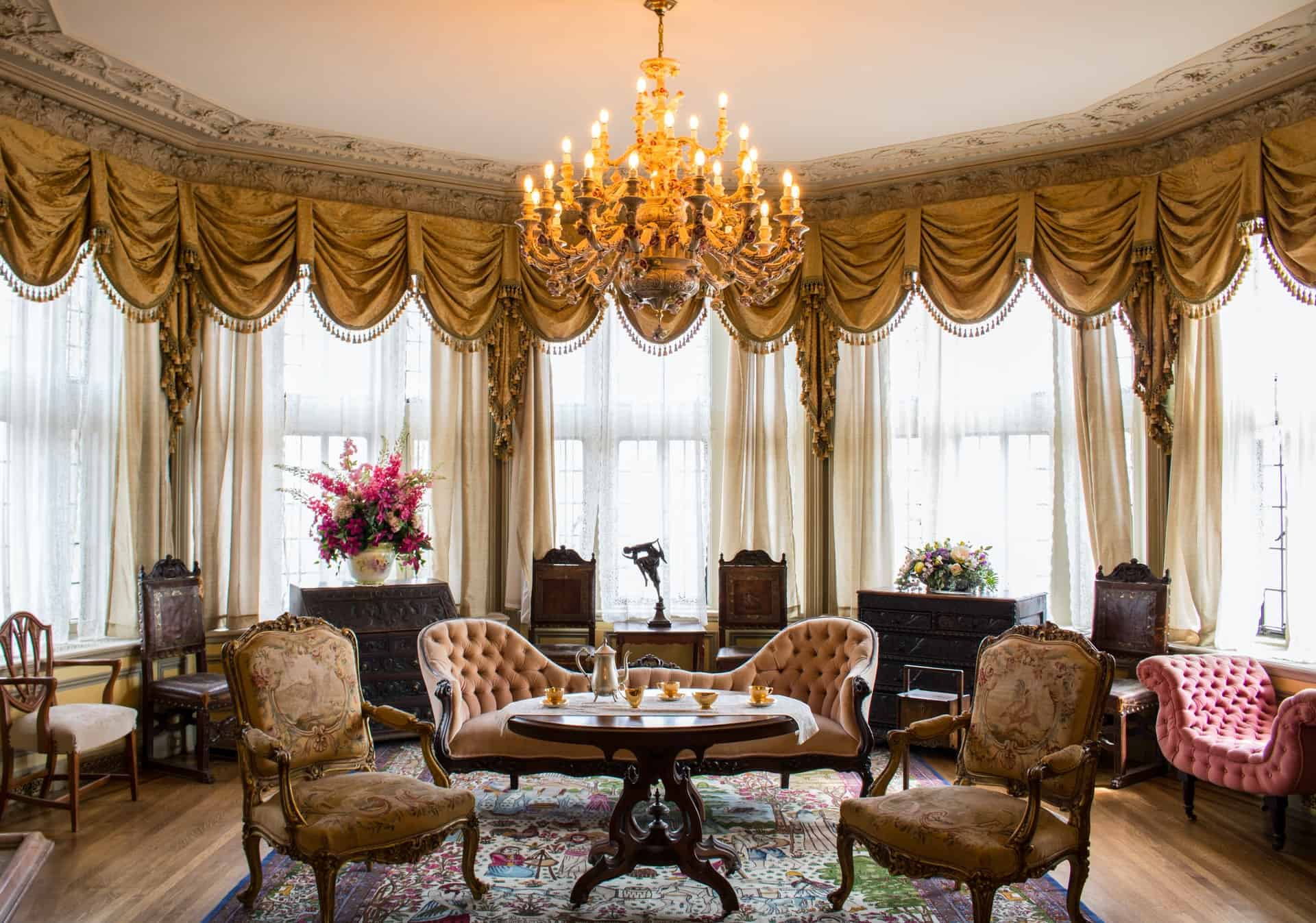 Your room style will allow guests to chat about the detailed work that has gone into your sofa or loveseat, and the Victorian style automatically draws the eyes around the room, stopping at each bit of intricacy and interest-catching features.
Rich walnut and mahogany wood boasting swirls and curls, arched backs, and deep cushions on which to faint.  (Hence, the "fainting couch" popular in the Victorian era as it let women take a breather from tight corsets!).  Thankfully, today we don't have to utilize it for its original purposes and it provides an enticing option on which to perch.
There are many alluring couches from which to choose, it's just a matter of your own personal preference!  It's hard to get just one, and many people choose two or more to continue the theme into the next room!
What Is A Victorian Couch?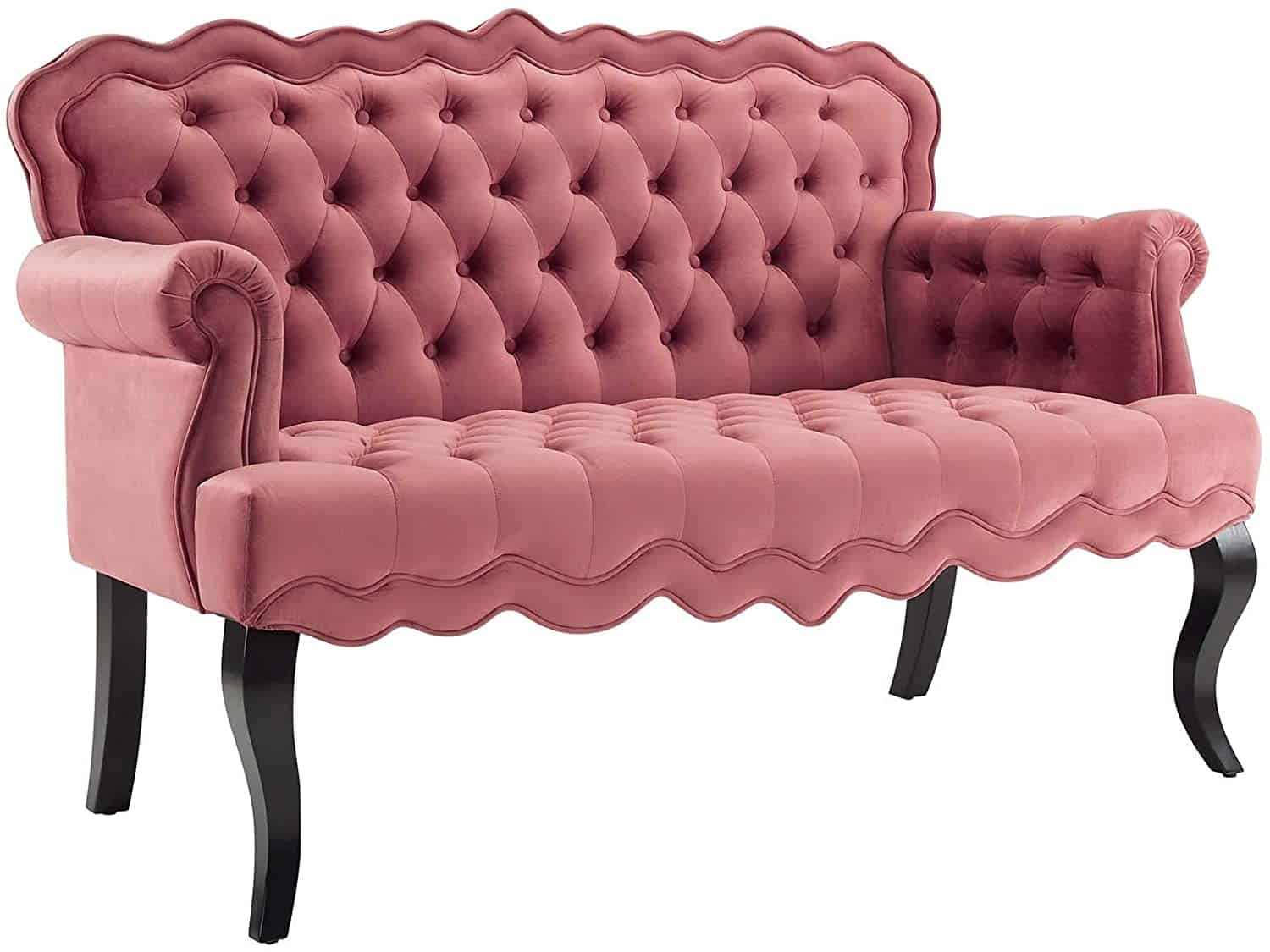 Victorian couches are an especially appealing piece of furniture to start with when decorating a room. Usually made with dark woods and stains, deep and low seats (to accommodate the sizable dresses of the time), and heavy, opulent fabrics (to withstand the coil springs that were newly patented).
Heavy fabrics in either rich, jewel-tone solids or floral and nature patterns abound. Who doesn't love a sumptuous, cozy room with lots of raised decorations to run your fingers over? Bump, bump, bump, as your fingers run over the dark, deeply polished mahogany scrolls and vines adorning your Victorian couch.
Heavy, large, dark, fancy, curved, carved, rolled, plush, and formal are words that come to mind with Victorian couches. In reality, romantic, graceful, and delicate also apply as one can see with the mixture of Rococo, Baroque, Renaissance, Gothic, and Jacobean (to name a few) influences.
Top 3 Picks For Favorite Victorian Fainting Couches!
Fitzgerald Fainting Sofa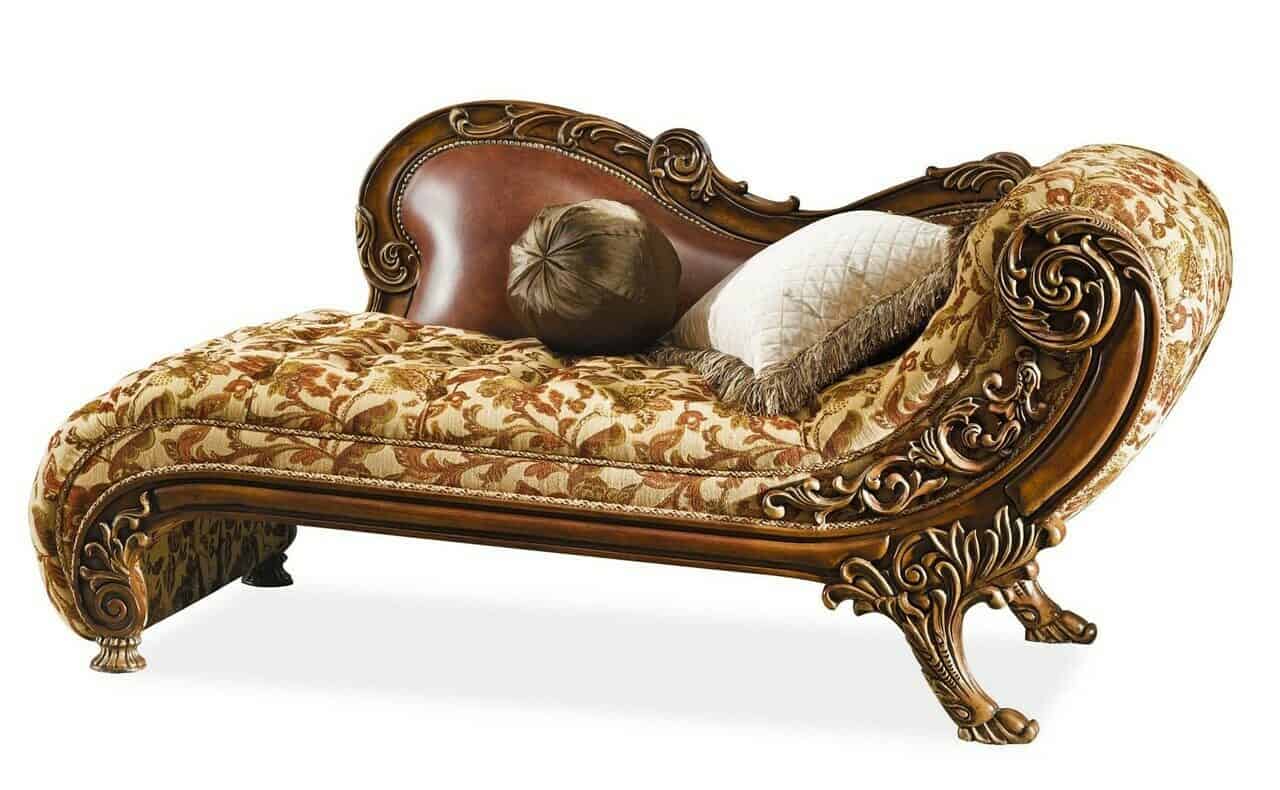 This Fitzgerald style fainting sofa has the chaise styling of curved and rolling lines as it swoops down towards the floor and then back up to roll over for a padded head rest.
This will have you fainting with its padded Italian leather and high-grade European fabric in an Antique Walnut finish! The dimensions are 80x35x38 inches, so it is long enough to actually provide ample space for two! It is available at Magnolia Hall.
Vendome Cherry Chaise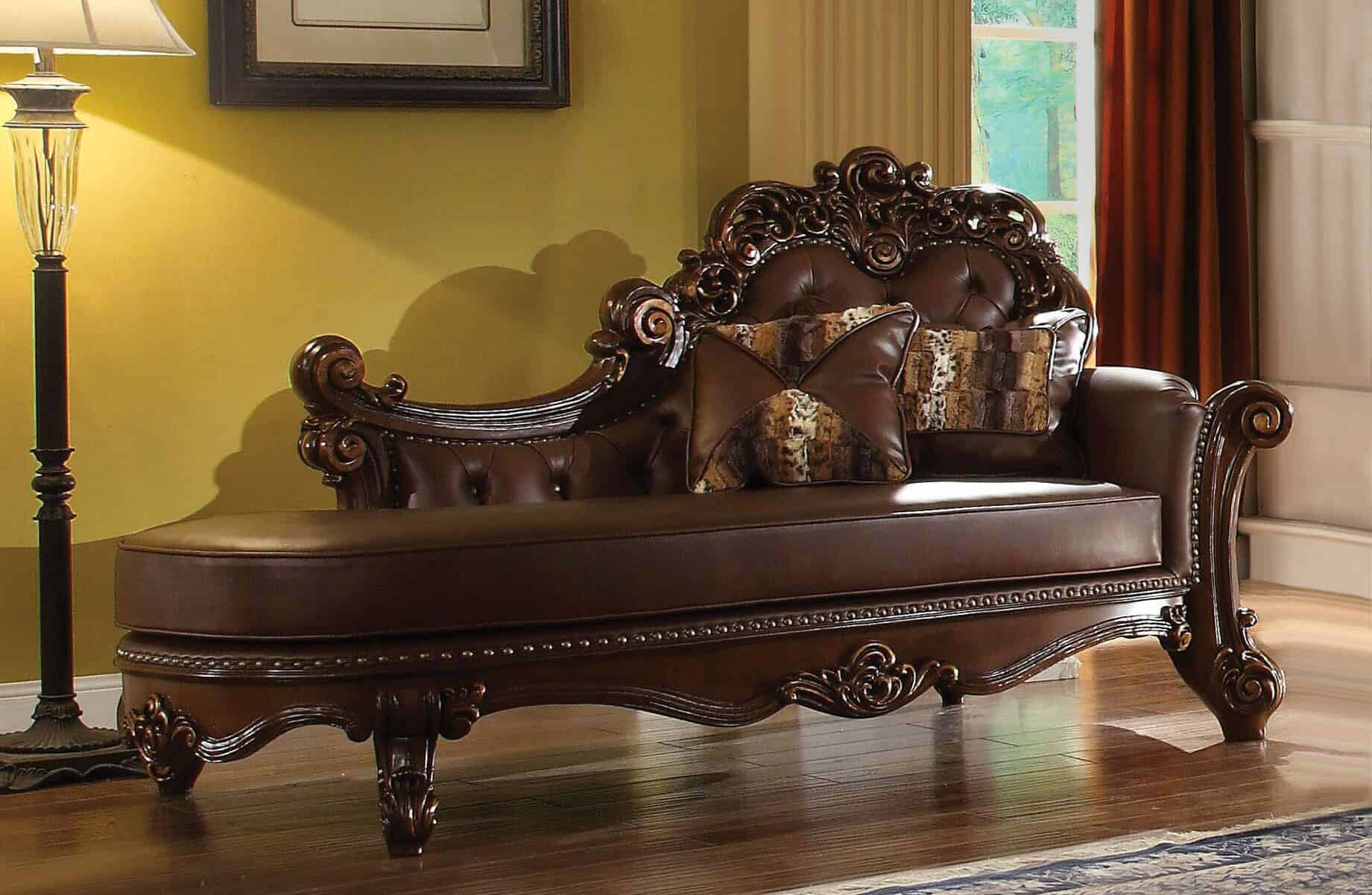 This rich leather and dark wood Fainting Couch is sumptuous and ready to be a focal point of any room! With a dark Cherry finish and button-tufted back, it is luxurious at 81x40x45!  It is a bit larger than the average sofa, so remember to check your measurements.  Find it at ComfyCo Furniture.
Swan Fainting Couch Left Version

This swan fainting couch boasts hand-rubbed mahogany, golden-colored brocade jacquard fabric, and a rolled"neck". It is a bit more serene and scaled-down at 73x28x34. Better for those with shorter legs, as floor to seat, is only 15 inches, this delicate Victorian charmer has a maximum weight load of about 550 pounds. Not for your pack of Saint Bernards or Mastiffs! It is offered at Toscano.
Use of Lace in Victorian Design
Decorating your home in the Victorian style would not be complete without lace. Using lace in decor as well as clothing was applied during the Victorian era more than any other time in history. It was Queen Victoria's passion for lace that drove this fancy, as well as her patriotism to a country that was seeing more and more skilled artisans in poverty due to the Industrial Revolution and the advent of manufacturing.
A huge piece of specially designed lace was used in Queen Victoria's wedding gown, and pieces of it were removed as time went by for use in other dresses.
White was chosen as the fabric color of the wedding gown as that best highlighted the incredibly detailed lace (not because it represented purity – a notion that only came about one hundred years later). This wedding dress with copious lace, therefore, created a statement of fashion that the growing population would strive to copy.  Thus, the "lace race" was on!
Along with this demand for lace in clothing, came the fixation of adding lace patterns to everything that was used in the home. From furniture ornamentation to fabrics, to dishware and lighting, lace was everywhere!
Lace fringes, netted lace, chain lace, plaited lace, lace with animals and different scenes sewn into it, beaded lace, and metallic lace! You can incorporate lace into virtually anything in the room – from dish patterns to dishcloths to gilt-edged mirrors and lace wallpaper. A lamp with a velvet shade and fringed lace, or a piece of lace you find to put over your couch arms and back would fit perfectly into a Victorian-themed home.
Top Pick for Lace infused Victorian Sofa
Kensington Traditional Loveseat Beige Chenille Brown & Gold Jacquard Carved Wood Frame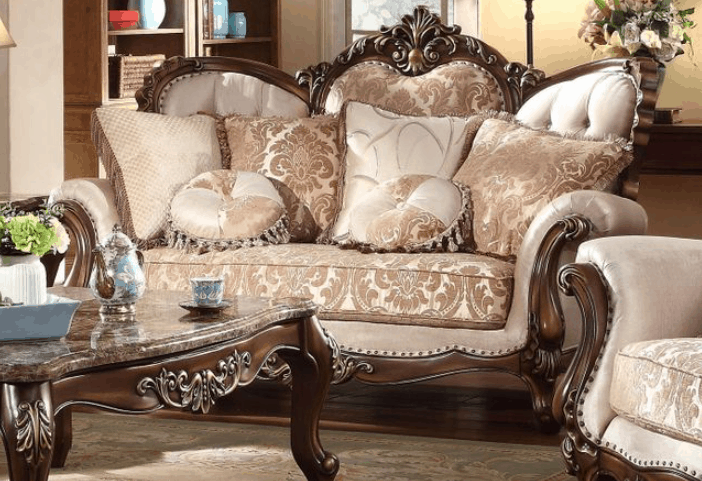 This beige and gold chenille, lace-patterned Victorian loveseat features nailhead trim. Opulent lace fringing, button-tufted back, and wingback design make this solid Birchwood loveseat truly royal.
Finished with a dark brown stain and including 5 pillows, it has matching coordinates to make a fully furnished living room! The loveseat is 71x44x48 and has a complete matching set that goes with it. Tables, chairs, and a 90-inch couch make the perfect Victoria scene. Find it at Shop Factory Direct.
Flowers and Vines and Arches, Oh My!
Victorian inspirations come from elaborate carvings of flowers, vines, and animals, and later, from human forms and masculine arches. There is both elegance and heavily ornamented, dark design when considering Victorian decor.
There is also the coveted "French Provincial" style of Victorian themes, and the terminology can get a bit tricky depending upon what words you Google!  French Country, French Provincial, Victorian, Gothic, and on and on.  Many characteristics of these styles overlap.
A true stand-alone design type is the "Arts and Crafts" Victorian style (starting in about 1880). It is less dependent upon the intricate carvings and scrollwork and more indicative of simple beauty and straighter lines.  Taking the approach of more provincial and country themes, oftentimes you can get a Victorian couch from the late 1800s if you simply Google "French Country".  Below are my favorite choices for Victorian country couches.
One of My All-Time Favorite Victorian couches… Homey Design HD-111 Victorian Sofa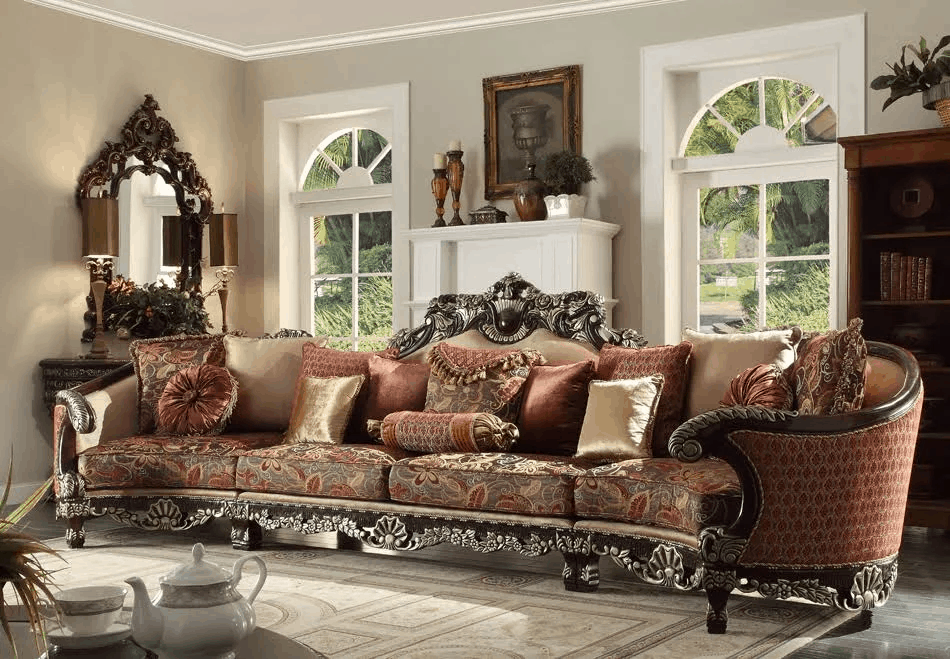 Is huge! At 163L x 48W x 51H, it is big enough for family and friends to stretch out, it's inviting, and it will surely be the talk of the room! Carvings, embossing, dark woods, and comfortable, rich fabric give this couch a universal appeal. You can learn more at Nationwide Furniture Outlet. There are multiple options, with middle sectional parts and end pieces with arms or chaise, so pay attention to the description of what you are getting!
Top 4 Victorian Couches In Different Fashions Of The Era
No less gorgeous than what came before it, it also finds appeal in fine woodwork and attention to detail. You can find more tailored pieces that are Victorian by focusing on a specific time period within Queen Victoria's reign, and looking for features that are Jacobean or Arts and Crafts-like.
Dolman Configurable Sofa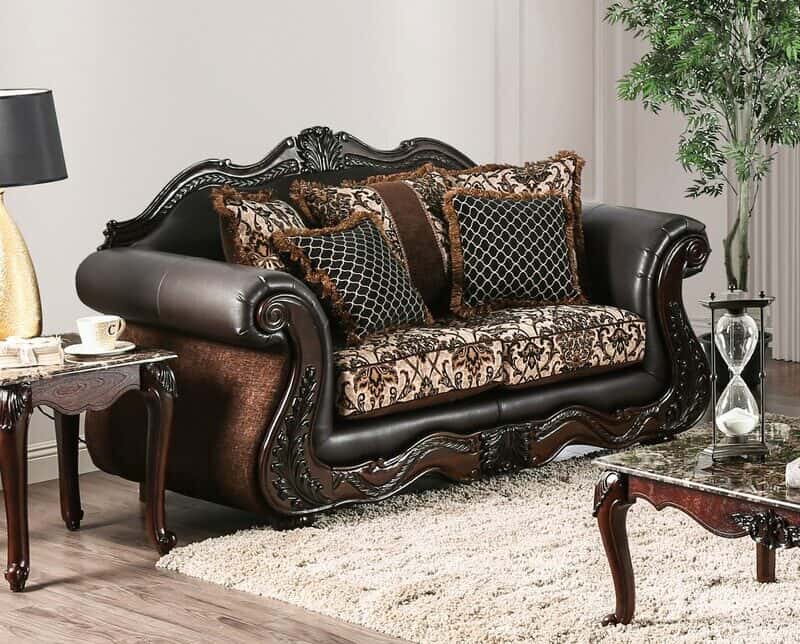 This is a heavenly Victorian Dolman sofa, with chenille upholstery covering the removable seat cushions (handy for vacuuming up stray snacks). It seats 3, and the dimensions are 94 inches wide by 44 inches high and 37 inches deep.  The floor to cushion space is 19 inches, making it a better choice for those of us with long legs! Elegance and sophistication abound with this choice that also offers a matching loveseat. Find it at Wayfair! 
Larna Park French European Victorian Sofa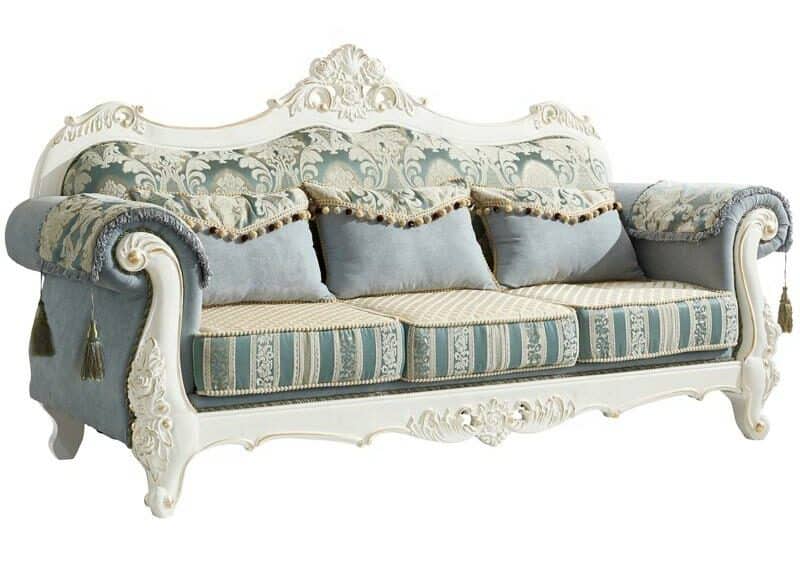 Our second pick is for Victorian French Country style with a solid wood couch finished in White Pearl with Gold accents. It has lace and fringed tassels with rolled arms and is 100% hand-carved heirloom-quality Teak wood. In light chambray blue fabrics, it is made to be handed down from generation to generation. It has a whole matching living room set that is equally gorgeous. You can view it here at Wish Posh. 
French Louis XV Style Settee or Canape with Floral Upholstery in Red & White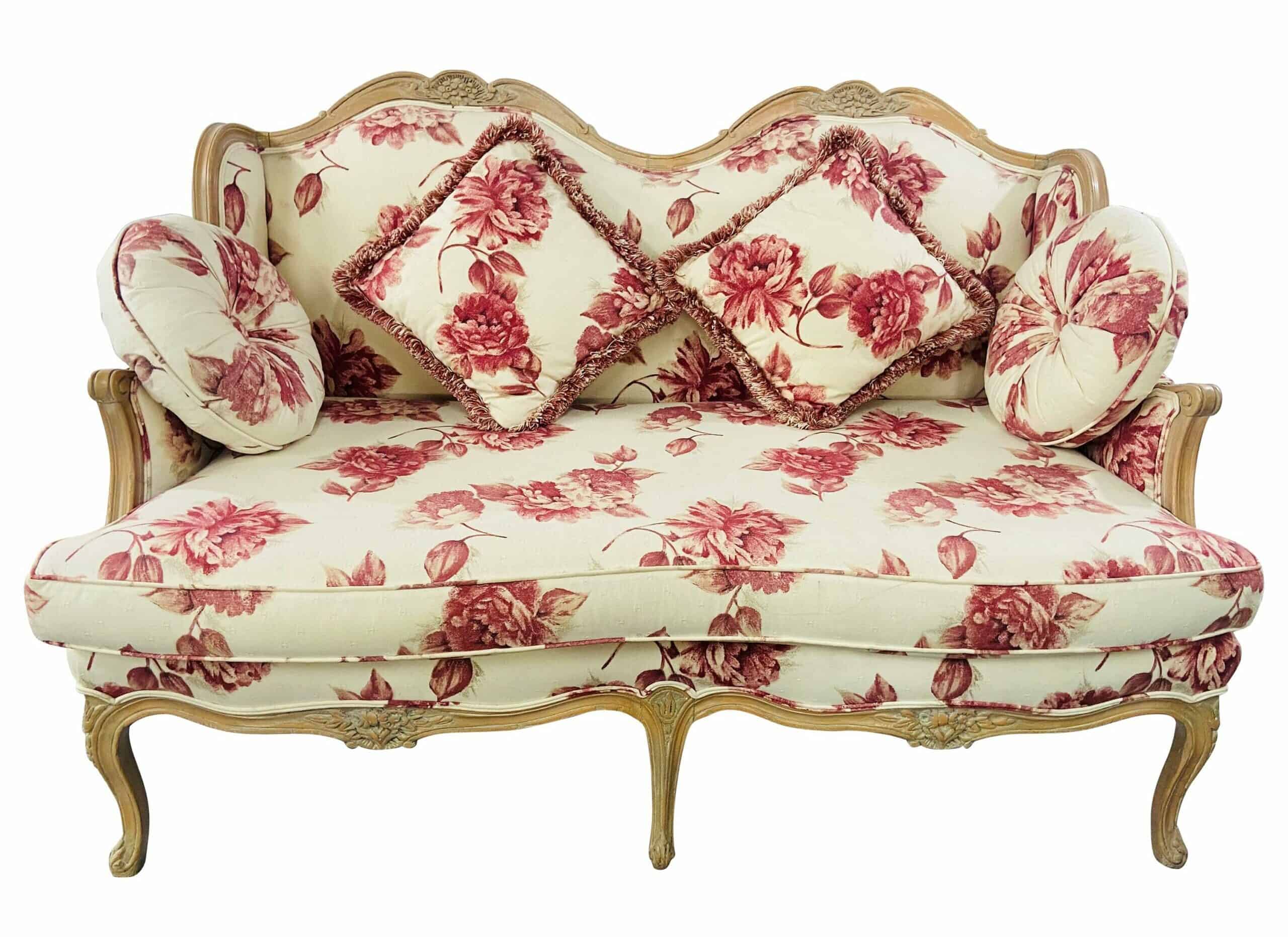 Our third choice for a more provincial Victorian appeal is this vintage, newly upholstered 59-inch long settee with a tufted back. It is in good condition and has two round and two square accent pillows that are included. The back has a serpentine crest curvature.
The Walnut wood is carved with an acanthus design, and it has five carved cabriole legs for stability. Truly a delicate but substantial piece of history, it is a replica of Victorian Provincial style and will complement many already existing room pieces, or stand-alone with delicate French Country decor.  It is being sold at 1stDibs.
Furniture of America Matteo Burgundy Brown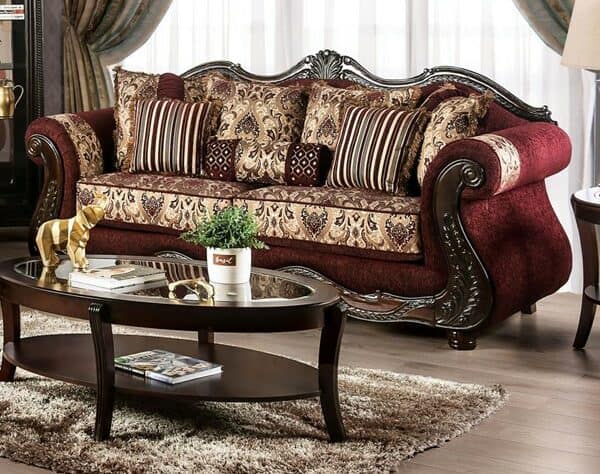 Our fourth favorite is a dark, swirled, rolled-arm, burgundy beauty with a mix of floral and stripe patterns that give it a warm, inviting allure.
You can find this at The Classy Home. It is a wonderfully large, heavy piece that also has a loveseat to match. These would be great pieces for anchoring a room. The sofa is quite solid at 94x37x44 inches, and all the pillows are included with it!
Before Buying Notes
It's important to choose and measure the room, or areas, that you may want to place the couch.  The last thing you want to do is put in a couch that dwarfs the other furniture, or even the room!  Or, a Victorian couch that long legs are not supported by, or where a guest's knees are chin-level! 
Measure all the walls, and take into account doorways, fireplaces, windows, built-in cupboards, or bookcases that need to be easily available.  Even your ceiling height can influence a couch's appearance, with a 7 or 8-foot ceiling appearing lower with a large, high piece of furniture in the room. 
(Especially remember to measure all doorways and hallways that you will need to fit the couch through- nothing worse than 3 men trying to fit a too-big sofa into a too-small entryway!).
Two More of My Favorite Victorian Couches!
Homey Design Sofa

This striking Victorian couch is designed in dark, red mahogany with metallic antique gold velvet fabric.  The tassels and fringed bottom of the couch all represent the "More is More" philosophy, as do the dimensions of 95x47x44 inches!  Solid wood construction with detailed carving, ultra-plush cushions, and included accent pillows make this an invitation to relax in Victorian style! See it here at New Star Living.
Traditional Button-Tufted Brown Floral Fabric Sofa w/ Carved Wood Frame

This majestic Victorian sofa, at 90x35x50 inches, is truly regal.  Crystal button-tufted back, deep Walnut finish, rolled arms and hand-carved designs make this solid wood couch a dramatic winner! Tassels drop down from the arms, there is corded trim, and the throw pillows are included.
This is a very large piece, with a high back (which is removable for easy moving).  There is a whole set that you can get to match it, complete with a loveseat, chairs, end tables, and coffee table!  This is a must to see at Shop Factory Direct.
Couch Measurements
Couch Length
Remember that the style of the day was for large, heavy pieces that may be bigger than you would think with an ordinary, everyday sofa. Your enticing sectional may give you a rough idea, but standard couches and sofas run from 70 inches to 86 inches, based on three people sitting at once. In other words, if a six-foot man laid down, that's 72 inches right there.  
Victorian couches run all the way to 103 inches (and some more) long! This is for a couch. The Victorian's distinguished between couches, settees, sofas, and chaise lounges, with sofas and settees coming in around 70 inches from side to side. Make sure you are noting the word that is used!
Seat Height
Legs, legs, legs.  I mean yours, not the couches. Will you need a sofa that sits higher (18, 19, or 20 inches) off the floor to accommodate long legs, or will a shorter (15, 16, or 17 inches) reach to the floor be more appropriate?  From the floor to the top of the couch cushions is the length measured here.
Couch Height
How high do you want your sofa to be?  Modern sofas tend to have lower backs and a straight, sleek line all the way across. Victorian couches are known for their backs with curves, curls, slopes, hills, and valleys, so to speak.  A general guide for couch heights is 26 inches to 36 inches, from the floor to the top of the couch back. 
A higher back will mean more traditional, heavy, and most likely, Victorian, with couches having upwards of a 50 inch high back (from floor to top of back). This extra height leaves plenty of room for adornments and embellishments.
Sofa Depth
Now, let's talk about depth. The depth of the whole sofa (from the front of the arm all down the side toward the back of the couch- where it ends in the back compared to where it ends in front). The whole sofa depth is usually 32 inches to 40 inches. 
This is important to understand how far out from the wall the couch will be, and what other furniture or doors it will interfere with. It's important to note that some Victorian couches will come out as far as 45 inches. That is a lot of depth!  Almost four feet, larger than most kitchen islands!
Seat Depth
Now, the most exciting part of the sofa, in my opinion- the seat depth or cushion depth! This will allow you to nestle into an almost a bed-like, warm, and snug resting place for watching movies, reading, playing games, or snoozing.
This is my favorite kind of couch. Sizes range from about 20 to 25 inches from the front of the sofa seat to the front or beginning of the back.  Again, longer legs will appreciate the deep seat depths of 24 inches and above.  Victorian couches will usually provide as much or more than a regular couch, so I like to start with what is today called a "deep-seat" dimension, which is about 30 to 35 inches. Make sure you email or measure the seat depth if you buy in person or online. This is opposed to the total sofa depth mentioned above.
There are deep-seat sofas that offer roughly 28 inches to 35 inches for depth, and then there are extra-deep seat options for over 35 inches. Just looking at a variety of online Victorian couches, I found measurements that were so much bigger than many people think!  Some of them were:
104ʺW × 39ʺD × 44.5ʺH

90x40x48  

94x35x50  

100x41x50

97x42x51
This Victorian sofa and loveseat make appealing decor anchors for any room with their solid wood, gold gilt, and brown finishes. They have rolled arms and intricate carvings with a lace motif. The dimensions of the loveseat are 72x39x47 inches and the couch is 85x39x47 inches. You can find them here and here, at New Star Living!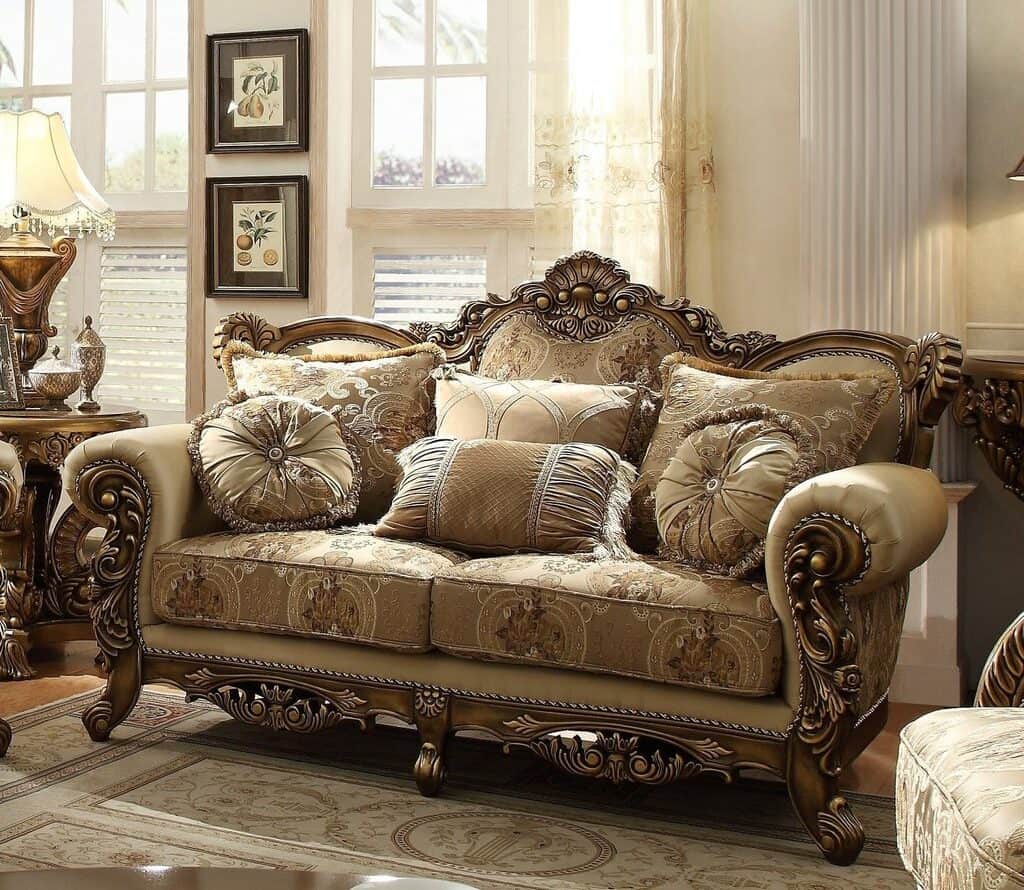 Pros and Cons of Victorian Style Decorating
Victorian design can be charming, romantic, comforting, elegant, and immensely appealing.  The dark, heavy wood that shows off detailed carvings and swirls and twisted legs, thick opulent fabrics in jewel-tone colors or busily patterned in rose and gold flora are upholstered on deep-seated cushions of sizeable chairs, couches, loveseats, daybeds, and chaises.
Large enough to anchor a room, a couch in the Victorian design can offer roominess for a whole family to delve into!  There are plenty of antique and second-hand sites where you can find original pieces during that time period, or you can ensure perfect condition by buying new and get a crafted replica of varying price and quality.
The whole concept of designing with Victorian elements is luxury, layers, elegant yet sometimes cumbersome, and covering every bare inch of floor, wall, and ceiling with some sort of embellishment.  To sum it up, some of the wonderful things about this style:
Pros
Elegant, detailed, and romantic
Large, deep-seated chairs and couches
Easy to find exactly what mix of colors and types of wood you like
Cons
You will need a fairly large room for a couch or sofa to fit in- measure, measure, measure!
Can be easy to "overwhelm" the senses with too much frills, fringes, lace and tassels
Make sure that you absolutely fall in love with whatever piece you are choosing, that way if you opt to change up styles, there will always be another place in your home to accommodate this very strong look.
FAQs
Question: What to look for when buying a Victorian couch or sofa?
Answer: When searching for Victorian-style couches, look for surface decorations. A rolling, curvaceous line to the back, sides, and upholstery is a very good clue.  Intricately twirled or detailed feet with different shapes are another good trait to look for.
A popular and practical choice is a couch, sofa, loveseat, settee, divan, chaise lounge, or whatever you choose to call a cozy, comfy, place to park yourself. A Victorian sofa is lovely to look at, and the deep seats made for large skirts are sure to accommodate even the longest of legs!  It is a great place to sit cross-legged or stretch out with pillows and read a book or watch tv.
It's hard to have Victorian decor without at least one antique or antique replica involved, so get something that will last through the years if you decide to change rugs or tables or China.  A couch that you love will find a place in your nest, wherever that may be, or wherever you move.
Question: How do I know which Victorian couch to buy?
Answer: How will you use the couch?  Will pets be allowed on it?  Will food be eaten on it?  Will it be a main draw for children or teenagers to bury themselves in (even run and jump on it)?  Well, you are in lunch with a Victorian couch as they are built with heavy-duty fabrics and can withstand more use. 
Just make sure that the fabric upholstery is, indeed, indicative of the Victorian style (think heavy damasks, jacquard, needlepoints, and pattern infused linens with lots of colors – or a darker, rich solid!).
If it will be in an area that is infrequently used by pets, children, bouncy teenagers, and general everyday chaos (we all have it!), the fabric won't be as important, and a solid color in a jewel tone may work better.
Question: What were Victorian couches called?
Answer: Many words and many uses were accorded to the Victorian couch, not the least of which was the "fainting couch".  Aptly named with a natural curve of a lazy sideways "S", and a full or partial back on which to lean, this household necessity allowed women to go into another room and somewhat "stretch out" to take a breather from tight corsets!  Another word used for Victorian couches is settee (such as the "tete-a-tete settee" featuring opposite-facing seating areas attached to create a couch that was useful to discreetly gossip or engage in intimate chat).  Other words are divan, chaise lounge, Chesterfield, Meridienne, and day-bed.
Question: What were Victorian couches made of?
Answer: As mentioned above, rich and heavy fabrics such as brocade, jacquard, velvet, damask, needlepoints, and patterned linens were chiefly what was found in Victorian-era homes, especially in the homes of those that could afford to emulate the aristocracy and royal families.  Victorian couches are an especially appealing piece of furniture to start with when decorating a room. 
Usually made with dark woods and stains, deep and low seats (to accommodate the sizable dresses of the time), and heavy, opulent fabrics (to withstand the coil springs that were newly patented). Heavy, large, dark, fancy, curved, carved, rolled, plush, and formal are words that come to mind with Victorian couches.  In reality, romantic, graceful, and delicate also apply as one can see with the mixture of Rococo, Baroque, Renaissance, Gothic, and Jacobean (to name a few) influences.
Question: How do I get a Victorian look?
Answer: If you are just starting out with a Victorian-style in mind, first try aiming for smaller items or one large piece from which to draw off.
Try finding placemats or a table cloth, or even a wall tapestry to hang in an opportune area that will begin to develop the richness and plush flavor of Victorian style. Smaller items and ideas such as this will certainly give you some ideas about the colors and patterns that you like and will help steer your eye when making larger purchases.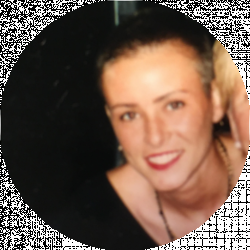 Latest posts by Richelle Tieman
(see all)